Playing bongo drums is a sweet, charming and feet tapping way into anyone's heart. For music lovers, nothing matches the energizing beats and the groovy rhythms of a good bongo drum. LP Aspire Series LPA601-AW Bongo Drum is the bongo drum that can help achieve all these musical feats. Made with the best possible materials and design, these bongo drums are sure to make anyone get up on their feet and start tapping their feet. If not, simply listening to the magical beats that resonate from its drum heads can be serene. Enter the world of bongo playing with the best in business, Latin Percussion (LP) and their renowned product Latin Percussion LPA601AW Bongo Drum.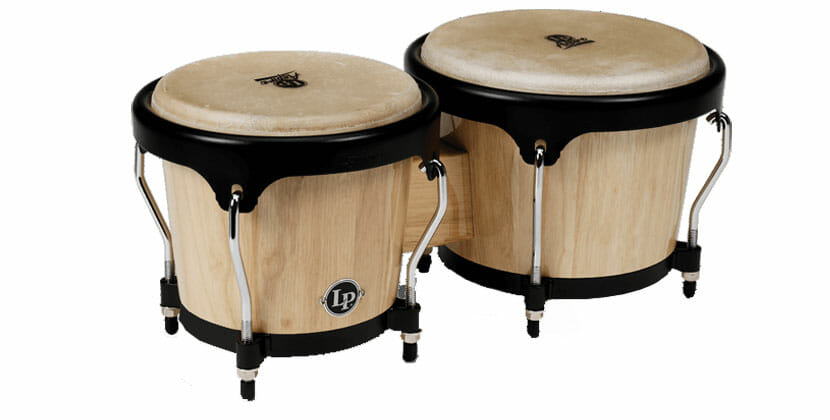 Table of Contents
Basic Construction
The dimensions of the bongo heads are 8 inches.
These bongos have traditional Cuban style steel bottoms.
The bongo drums have been made with natural wood shell.
The hardware is a traditional style one that offers maximum reliability.
It has an EZ curve rim for maximum comfort.
The bongos have tucked heads.
A tuning wrench has been included in the package.
Attractive Features
The sounds and beats of the bongos vary in range, pitch and tone. A good tuning can produce high pitched beats that is an unmatched feat in other products.
The musical quality of the bongos is exceptional and utterly professional.
The natural wood shell bongo drums offer high protection against wear and tear and make the body of the drums super sturdy and strong.
The EZ curve rim work wonders to aid your musical performance. They provide superior comfort to the player so that there is no interference during your magical show.
The traditional Cuban steel bottoms offer another layer of sturdiness and high quality to the bongo drums so that they can be placed effortlessly on the floor and played flawlessly.
The traditional hardware provides reliability and longevity for the bongo drums.
The tuning wrench is a much needed companion to these beautiful bongo drum and works wondrously.

How Does It Fare?
Bongo drums are a sure shot way to make any afternoon spring up with joy or fill any evening with musical sparks. The Latin Percussion LPA601AW Bongo Drum has been designed to achieve this very purpose. It is especially great for a beginner who is just starting to polish their bongo playing skills. It offers an unmatched musical professionalism for such music lovers. The bongo drums surpass every expectation you may hold from a Latin percussion drum. It is durable, sturdy and built with high quality materials.
Value For Money
LP Aspire Series LPA601-AW Bongo Drums are the best bet into professional quality bongo drums that you can get at such a price. The natural wood shells, an EZ curve rim, traditional hardware and traditional Cuban style steel bottoms are some of the many features of these drums that make them an absolute steal at the price. Moreover, besides all these features, one gets the stamp of approval from Latin Percussion (LP), that have been creating the best percussion instruments internationally.
Don't Miss Out to Check the Following Bongo Drums: