Zen 12 Chinese Zodiac Table Gong manufactured by KT has twelve signs of the Chinese zodiac symbols as its basic theme. It is usually used as a decorative piece for display at homes and also in office spaces. The table gong offers a chime which clears the mind. Furthermore, the loudness of the chime makes it perfect for keeping it in homes, shops or offices.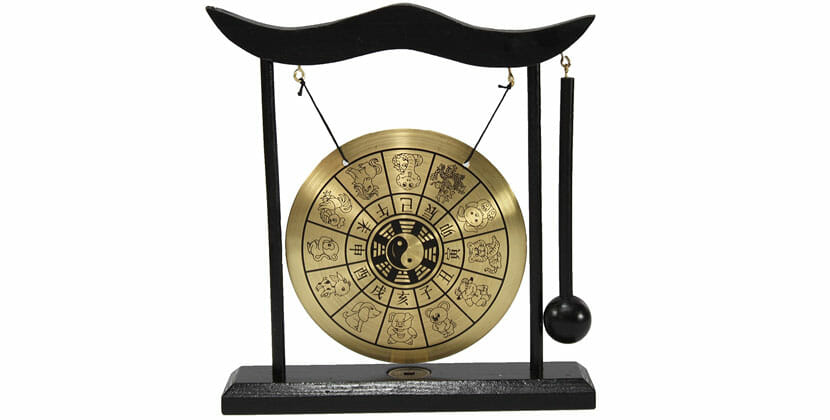 Table of Contents
Basic Construction
This small gong weighs about 8.8 ounces, has a length of 8 inches, a breadth of 7.7 inches and a width of 1.75 inches. The outer frame which has the gong is made up of wood while the metal gong is attached to the frame by strings. The gong which has a diameter of 5 inches is made of copper which leads to a good resonating chime. This item is quite weightless with most of the weight being contributed by the metallic gong.
Attractive Features
In addition to perking up the atmosphere of the room, this item has got a list of features which makes it quite a hit among customers. Let's look at some of the reasons.
The small size of the entire table gong makes it perfect for an ideal gift for anyone. It can be also used in general to improve the mood of the whole atmosphere with its pleasing chimes.
Its basic theme of the twelve zodiac signs is quite attractive because of the former's high significance in Chinese astrology. Each of the signs are quite similar to the zodiac symbols being followed in western astrology except that they stand for a whole year instead of a month.
The sharp sound is believed to attune both halves of the brain for the highest level of concentration. This is what makes it perfect for a meditative environment.
The smaller size does not take up too much space and can be placed almost anywhere. The tiny size does not lead to any reduction in its performance with the heavy gong giving off quite a loud and pleasing chime indeed!
How does it Fare?
The Chinese themed table gong is perfect for any kind of location and can also be used as a ringing bell. The twelve zodiac signs make it an attractive theme in providing a Zen like atmosphere. The heavy metal gong gives a sharp sound that makes the mind clear through the perfect resonance of chime.
Value for Money
This beautiful gong is available at most stores and can also be ordered online on various shopping sites. The cheap price of this attractive gong makes it a perfect housewarming gift. On a whole, it is recommended to buy this product for the aesthetic appeal and also to send a message of goodwill to your dear ones.
You Can Also Try These Amazing Gongs: