Zen Art Feng Shui Desktop Gong H1303 is a lucky charm that is said to bring peace and harmony wherever placed. This desktop gong, as the name suggests, can be kept on a table at your home or in a class room or on your office desk. It is sure to attract lots of attention with its looks and the kind; and if you believe, it may bring peace and harmony to you as well.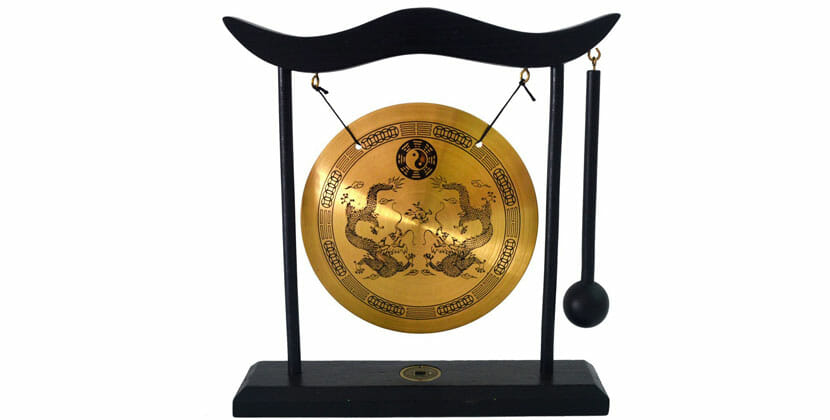 Table of Contents
Basic Construction
Zen Art Feng Shui Desktop Gong H1303 is made of brass and it beautifully designed with 2 dragons engraved covering the entire circle. There is a Chinese peace symbol on the top mid of the gong, which is what the chime depicts. The set-up is placed on a wooden frame, which integrates the whole system. The gong comes along with a rammer, which is used to hit the gong and is hanged besides it. The wooden frame is black in color, a perfect combination for the brass color of the gong. The dimensions of the whole apparatus is 7.5 x 2 x 8 inches (19 x 5 x 20 cm) and it weighs around 272 grams (8.8 ounces).
Attractive Features
Although the whole set-up looks really amazing, below are some of the prominent features that this gong offers:
The product is compact and light weight, which makes it capable of being placed in any small corner of the house or your office or in a class room.
It comes with a hammer, which when hit, the gong makes a sound.
The sound of the gong is divine and calming; and it can be a perfect companion for meditation.
The product is made of high class brass and has been tested for its quality and robustness.
Every part of the item is carefully placed and examined.
It has a very neat finishing and serves the purpose efficiently.
The product is definite to grab some attention when kept at your office desk or at your home as a décor item.
How Does The Product Fare?
The product is efficient in delivering what has been promised and serves the purpose rightfully. This will be a very considerable gift for your close ones, as this is known to bring peace and fortune for people. Talking about the quality, it is made of superior quality material- brass and wood. The threads which hang the gong and the hammer is strong enough to carry the weights and makes it more durable gong. This item can be used in various ways- for meditation purpose or even like a stop watch.
Value for Money
The gong is a great value for money, as all the exciting things with this come in a very nominal price. Make your friends and loved ones feel cared and loved by presenting this lucky charm and show them your concern for them. Or simply buy this for yourself or for your decoration desk, this will be a complimenting addition.
Don't Miss Out to Check the Following Gongs: