Piccolo Snare Drum is the perfect drum to improve the overall sound and look of your drum set. This amazing product by Griffin is made of real poplar wood shell with a black hickory finish and a coated drum head. A great product for beginners and professionals alike, the high quality piccolo snare drum is sure to vastly level up the sound of your drums. It can be used as either a primary or a secondary snare drum. It has a high-pitched tone, while its lugs ensure that you get as tight a sound as you need. It's also exceedingly versatile: you can use it as part of your drum set in a variety of venues, from school to studios. The cherry on top is that it comes with a full one-year replacement warranty, if anything doesn't work.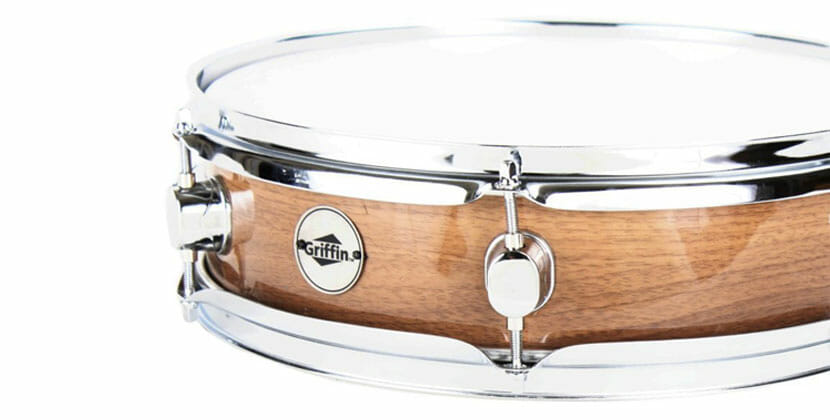 Table of Contents
About the Design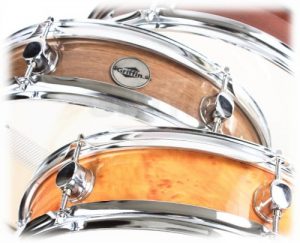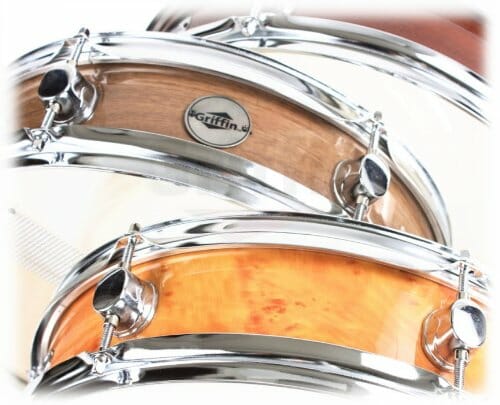 The luxurious design of the Piccolo Snare Drum by Griffin is sure to take you in. It weighs a light five pounds, with dimensions of 13 x 3.5 inches. Beautifully designed, the final look of this snare drum is appealing to people of all tastes. It also includes 6 lugs, and the snare wire count is 20 strands. The drum head top is coated a classy white, and the drum head bottom is a smooth clear. The finish of all hardware is chrome, because at Griffin, even the little things matter. It's made of 7.5 mm, 3-ply poplar wood shell. It has a beautiful black hickory glossy finish. It looks good aesthetically. It's also designed to give you the most you can get from a snare drum, and you get a great sound with terrific attacks.
Attractive Features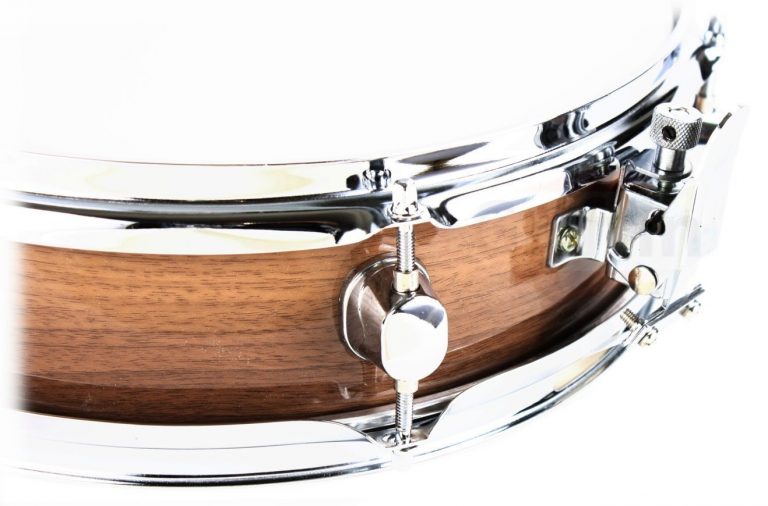 Beautiful design and finish – it's very appealing to the eye and will surely make your drum set look prettier. Made of poplar wood with a glossy finish, it's certainly a beautiful sight.
Produces a great, tight sound that is exactly what you need from a snare drum.
Light in weight and small in size, which enables it to produce a perfect high-pitched tone.
Comes with one-year replacement guarantee – if you're unsure whether or not to buy it, or whether everything will work perfectly, don't fret!
Perfect for any venue. Whether you're playing at school or at a gig somewhere, or even when you're in the recording studio, this snare drum is suitable for all.
Affordable price – you get a high-quality drum for a great price. Most other drums of high quality are very expensive, so you don't have to think twice before buying this one.
How Does it Fare?
The Piccolo snare drum works great. It can be used as both a primary and a secondary drum, and its construction gives you the chance to get the sound you're after. It's perfect for beginners as it's a very versatile drum and super easy to use. It plays great and will quickly become one of your favorites. You get a high-pitched tone with tight sound, all packaged up in an attractive design.
Value for Money
Undoubtedly, one of the best features of the Piccolo Snare Drum by Griffin is what a great deal it is. Priced very reasonably, it is within the reach of all drummers. You don't have to buy snare drum worth hundreds of dollars to get the perfect snare sound. Griffin believes in quality products that are not overpriced and affordable to all. This is easily the best deal in the market for snare drums. It's also a durable product – and it will grow to become a trusty part of your drum set.
Don't Like this one? Checkout the Below Mentioned Snare Drums Instead: