Help make your child the next tabla maestro with this new and efficient Kids tabla kit designed perfectly to suit his needs as well as offer him ample practicing chance. This tabla made completely of high-quality wood and is easy to tune and learn. It is made ensuring no excessive pressure is applied on your child's hand as he learns to produce some chest thumping beats with this instrument.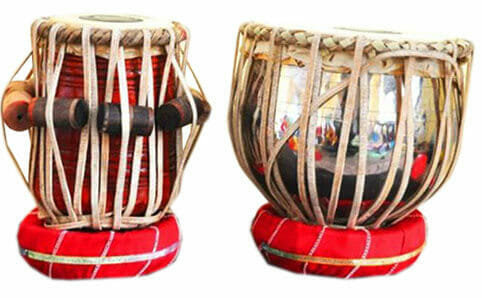 Table of Contents
Basic Construction
This tabla contains two basic Bayan and Dayan components of Tabla, with the Bayan having a top diameter of 9.5" and Dayan having the diameter of 6". Made out of high-quality wood this instrument is made out of high-quality wood which one can feel as soon as they get a chance to touch this piece of beauty. The tuning blocks as well as the ropes are made out of high-quality fiber and thereby ensuring that the ropes don't break as you tune this tabla to produce high resonating frequencies and beats.
Attractive Features
A great gift for your music loving child, this Tabla comes with pretty attractive features, some of which are listed beneath for your perusal.
High-quality wood has been used in the making the Bayan and Dayan, as well as the tuning blocks which firstly do provide elegance to this Tabla, while at the same time ensuring long life and durability of same.
This Tabla is light weight and comes with carrying bags to offer kids easy carrying options and to help keep this Tabla in the best shape possible.
There are 8 tuning blocks along with hammer included. Therefore you can tune this Tabla according to your needs and produce the inspiring music which everyone loves to hear.
Tabla covers provided with the kit along with the base ring so as to help you maintain the perfect balance of this instrument as you run the magic of your finger on its face.
How Does It Fare?
A boon for a music lover this tabla definitely fares well, considering all the features and price bracket it is available in. The quality of the wood is good, and the complete weight of this instrument set is less than 15 pounds which ensure that your child can carry this to his music classes with comfort. There are additional accessories provided such as the tabla cover, the base ring, the tuning blocks as well as the tuning hammer which do save in any extra costs you need to spend after buying this product. It fares well as far as the material, costs and or durability is concerned.
Value For Money
This tabla kit for kids is sold on e-commerce platforms within a reasonable price range. One can get hold of this product from any part of the world as the seller offers international shipping at some additional cost. So, if you plan on giving your music lover child some gift this birthday, there can't be anything greater than this tabla kit, as he would be amazed by this great gift of yours.
If you think that your child might not be able to handle this expensive product and or he might end up damaging this, then you needn't worry as the seller provides some warranty with this product.
A good product with elegant design, this Tabla might be the key to unlocking the hidden talent contained within your child.
Don't Like this one? Checkout the Below Mentioned Tabla Drum Sets Instead: