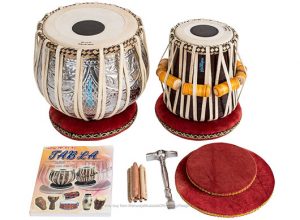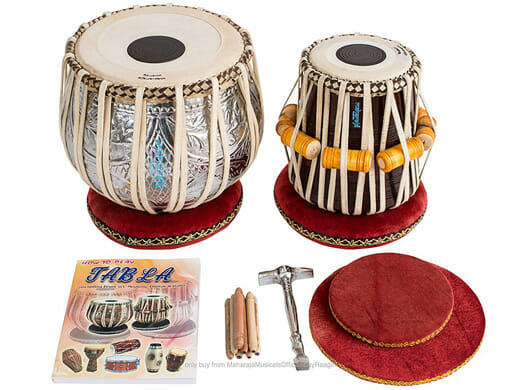 Tablas are a musical percussion instrument that originated in India. They are an integral part of Indian classical music in many ways. A tabla set has two parts- a bayan and a dayan. They both are played simultaneously to get the perfect sound tone. The sound tones produced by tabla are unique and can be seldom produced by any other musical instrument. If you want to learn something unique, soothing and different, go for tabla. Here are the top nine tabla sets available in the market to get you started.
Quick Summery : Our Top 9 Selection
---
---
---
---
---
---
---
---
---
Frequently Asked Questions About Tabla Sets
1. What are the parts of a tabla?
A tabla is made of a two drums called bayan (baya) and dayan (daya). The bayan is played with the left hand and is about 8 inches in diameter and 10 inches in height. The dayan is played with the right hand and is about 6 inches in diameter and 10 inches in height.
2. How difficult is to play a tabla?
Tabla is played entirely by hand and involves the use of fingers and palms extensively. You can create a variety of sound tones through the combination of your fingers and palm movements. It requires a considerable amount of practice and therefore it is advisable to engage a suitable tutor if you want to learn this instrument.
3. What materials is tabla made of?
The bayan is made of metal in most cases and some also use brass. In general copper and steel are the most used metals. Also, chrome coating is used to give a shiny finish. The metal used determines the sound tone of the bayan.
The dayan is mainly made from wood (sheesham wood). This wood is light and is perfect for a resonant sound.
4. What if the bayan has a dent?
The bayan may have a dent due to transportation but this does not affect its sound tones in any manner. You can get it replaced if you want but it is generally not required.
5. Can the heads of tabla be replaced?
The tabla heads can be replaced but it is not advisable to do the same on your own. Contact your nearer store or the tabla's manufacturer for the same.
6. How many years will a tabla last?
A good quality tabla can last for more than 15 years without any drum head replacement.
---
Glossary
Bayan
The larger drum of the tabla set and is played by the left hand.
Dayan
The smaller drum of the tabla set and is played by the right hand.
Puddi
The goat head skin or the tabla's drum head is called a puddi.
Conclusion
Tabla sets can be divided into three main groups—for professionals, for beginners and for kids (10 yrs and below). If you are a professional looking for something that will go well with your expertise and will be perfect for concerts, then go for Haridas Vhatkar Tabla Drum Set or MAHARAJA Concert Designer Tabla Drum Set.
For beginners or people who are not much of an expert, Tabla Set by Maharaja Musicals, Basic Tabla Drums Set and Chopra Tabla Drum Set are good options. Kids should go for Tabla for Kids – Kids Tabla Kit which is lighter in weight than other tabla drum set.