Meinl Percussion ATD-L Wood African Talking Drum is a great one to try your hand at drumming or in improving the overall quality of the music that you are working on! This amazing talking drum is handcrafted with all the intricate specifications and crafts making it a wonderful instrument to add groove to your beat for sure. It is created by using the classic mahogany wood and goat skin to carve a perfect drumming instrument for delving into high beats and indulging in the famous talking drums manufactured from West Africa.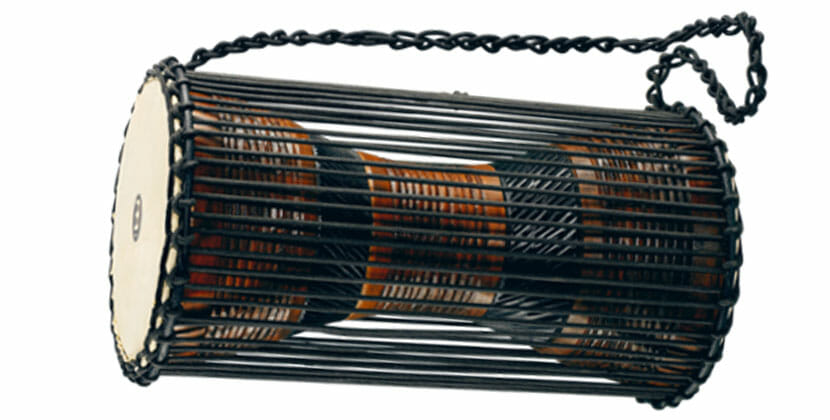 Table of Contents
Basic Construction
Meinl Percussion ATD-L Wood African Talking Drum is made intricately with the use of handicrafts and blending everything in a conventional design. The drum is constructed in the structure of an hourglass with the use of Mahogany wood and is carved tastefully. For the head of this drum, goatskin is employed to cover both top and bottom and the ropes that are all around this beautifully designed drum are actually made from nylon. The mahogany wood from which this drum is structured is known for its flexibility as well as sturdiness and augments the same for this talking drum.
Attractive Features
This drum is actually made wholly in Indonesia and with the use of a traditional design employed since a long time ago in making of African Talking Drums.
Meinl Percussion ATD-L Wood African Talking Drum is carved nicely with the use of various handicrafts along with strong Mahogany wood and goatskin to make its whole design.
Mahogany wood from which the structure of this talking drum is made, really gives it strength and sturdiness plus also adding to the percussion and tones that come while playing this drum.
Coming to the performance of this Meinl talking drum, it has been rated as amazing by the users and the percussion is actually great when it comes to the use of talking drum and you can almost sense the world-class tone that emanates when intricately carved drums like this one are use in musical environment.
If you are trying to innovate the quality of music for a tuneful work, this talking drum can actually augment the tone of a musical piece while in case you are just curious about how African talking drums are played, you can go for this marvelous drum and begin playing! The best part about talking drums is the accessibility they avail for learners as well as experienced musicians letting even a layman try his/her hand at these beautiful percussion drums.
How Does It Fare?
Talking drums have their own distinguished place amidst the other quality drums and Meinl Percussion ATD-L Wood African Talking Drum will surely impress you with its incomparability in performance and percussion. This drum is convenient for both beginners as well as experienced drummers and the making of it using handicrafts actually sets this drum apart from others. Goatskin and mahogany woods are employed for amazing percussion as well as ensuring toughness while the nylon ropes are used for binding this drum in an awesome hourglass design. Hence, Meinl Talking drum ensures of an astonishing performance along with its hand-crafted classic design!
Value For Money
Looking for this drum on Amazon, you can find it at affordable price. This drum is best deal, if you take a look at the craftiness and performance that this drum assures of. Also, it can be played simply by a learner without putting too much effort while the classic design of this talking drum is amazing to look at. So, the price gets justified with the use of crafts employed in the making along with the percussion quality for this drum and it can be guaranteed that you will never regret buying this incredible instrument.
You Can Also Check Other Popular Talking Drums: