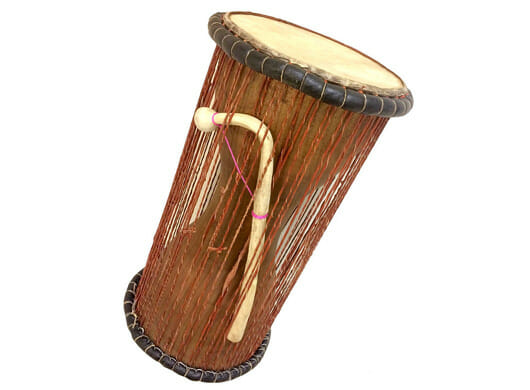 Talking drums are originally from Africa and the unique thing about them is that you can manipulate their pitch to mimic the tone of human speech. This feature is the reason why they are called 'talking' drums. The drum has two drum-heads and these are joined by ropes or cords that are used to change the pitch. Whether you are a beginner or a professional drummer, these talking drums will make any occasion fun!
Table of Contents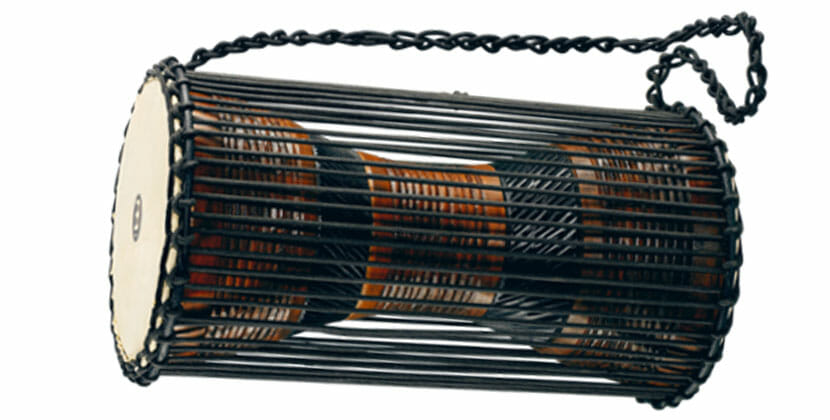 This wooden talking drum from Meinl Percussion is made with many careful considerations. You can get this model in two sizes—large and medium. If you are a professional drummer, then do check this out as it has many striking features.
Pros
The carving is done from a single piece of Mahogany wood. This wood is ensured to be of high quality before it is used to make a talking drum.
All the beautiful carvings on the exterior body are also handmade.
It comes with a striking stick.
Cons
This drum is mainly meant for professionals.
Meinl Percussion have taken care that you get the best construction in this talking drum. From the nylon ropes to the goatskin drum-head selected by hand. Everything is made to ensure, professional drummers get their money's worth.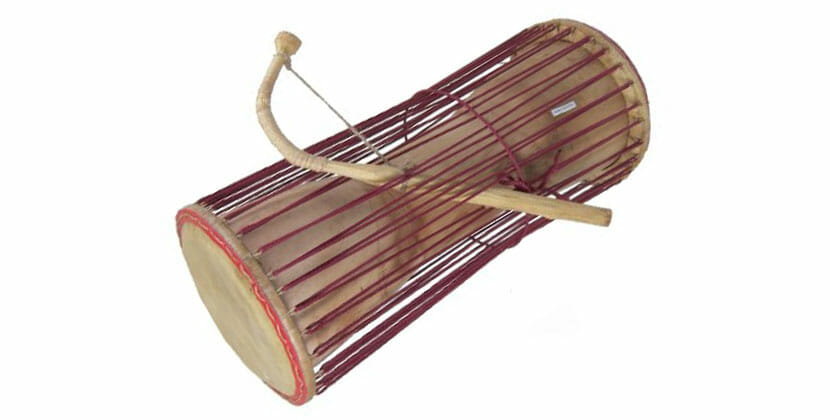 If you are looking for a traditional talking drum that is as close to its roots as possible then don't forget to check out this classic talking drum by Heartwood. It comes with a large talking drum stick and solid construction to take your heart close to Africa.
Pros
The drumhead has a varying pitch and therefore you can experiment with different sound tones.
This talking drum is made by hand and is completely carved by the artisans of Ghana.
All the things used in the construction are very authentic and traditional.
The price is very reasonable.
Cons
This is an authentic product and therefore only has one authentic seller–Africa Heartwood Project instruments.
This talking drum by Heartwood combines the traditional elements to give you an authentic instrument. The goat skin which is tanned, a beater with a curved shape, vertical ropes made of tanned goat skin etc are some features that ensure how original this product actually is.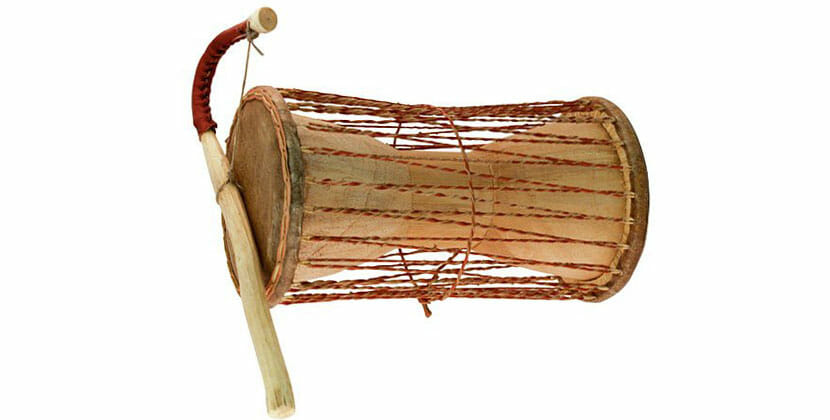 Overseas Connection has a really low cost African Talking Drum that gets really close to an authentic talking drum. This one comes with a beater and is perfect for beginners.
Pros
The price is low.
A durable and authentic construction.
Can be played by anyone—kids, beginners or people who just want to play a drum!
Cons
Not meant for professionals.
This talking drum is made for fun and can be played by anyone. If you are looking to play drums at a party or just want to have fun, go with this talking drum.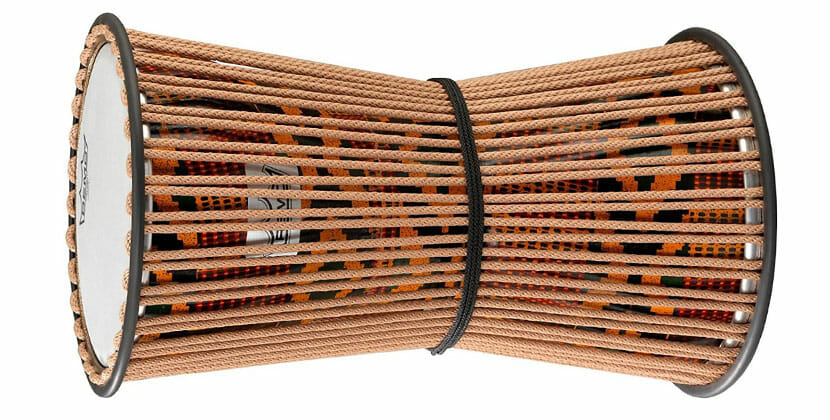 This talking drum by Remo is 18×8 inch in size and is meant for professionals. Remo is a known name in the field of music percussion instruments. This model also has a shoulder strap to help you carry out this drum and also to help you play while roaming around!
Pros
The drumheads have a high quality.
This drum is made for professionals.
Cons
You will have to buy the striker separately.
The cost is very expensive.
You can trust REMO to give you a high quality product that will last longer and will also give you a high sound quality. The expensive cost is worth it because of many things—the construction, drumheads and a good sound quality.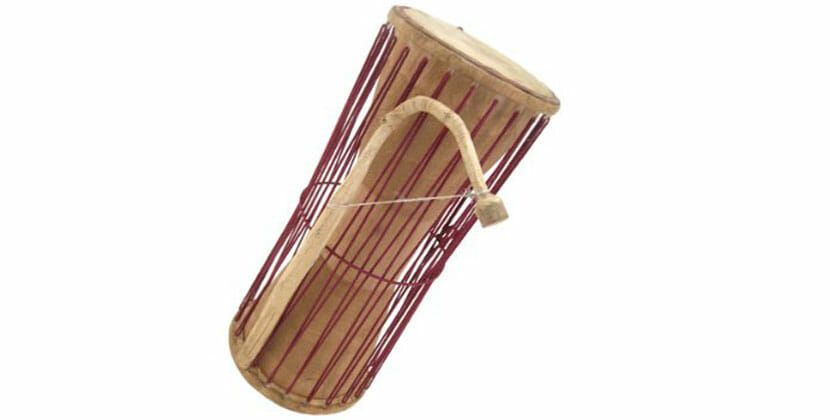 This African Talking Drum is by Africa Heartwood Project. This drum has a size of about 7 by 15 inches. This talking drum is not only constructed impeccably but also has a charitable purpose. All the products are made in Africa itself by artists in Ghana and even Burkina Faso. This ensures that you get an original talking drum and also provides livelihood to poor artisans.
Pros
The drumheads are made of African sheep skin and the ropes are made of goat skin.
A stick or a drum beater is also included with this drum.
The drum is completely carved out of hand.
Cons
This has a little rough finish as it is completely made from hand.
This talking drum is made for people who want an authentic product. If you are a beginner or even a collector, go for this drum.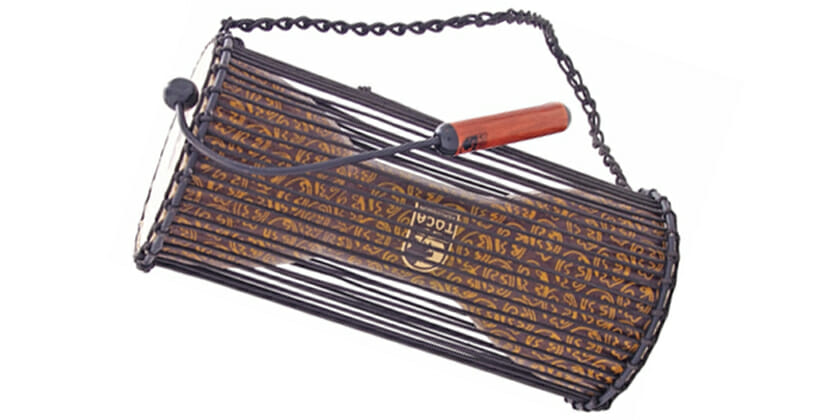 This talking drum by TOCA comes with a striker and is perfect for both beginners and professionals.
Pros
The pitch can be manipulated easily.
This drum uses authentic goat skin heads.
It does not weigh too much and is also quite tough as it is made of a synthetic shell.
Cons
The sound quality might not be at par with other talking drums in this list.
Overall, this talking drum is a good buy if you want a tough product that will last longer. Both professionals and beginners can use this drum quite easily without any hassles.
Frequently Asked Questions About Talking Drums
What is the talking drum made of?
The talking drum has two parts—the outer body and the drumheads. The outer shell is made of wood and the drumheads are made of goat skin. There are cords connecting the two drumheads and these are generally made of leather or a synthetic material like nylon.
How is the talking drum played?
The talking drum can be played in many ways—in a sitting or a standing position. A curved striker is used to hit the drumheads to produce sound tones.
What is the use of talking drums in modern music?
Talking drums are used by many artists—mainly musicians who play African folk music. Furthermore, they have been prominently featured in many movies in the past.
Do the talking drums really mimic how humans speak?
Talking drums were used as a means to communicate in the ancient times by Africans. The pitch is manipulated to copy the human sound tones and speech patterns. They don't actually spell out consonants and vowels but rather can capture our speech rhythm, pitch, volume and tone. Different beats are used as words and skilled professional players can actually spell out phrases.
Conclusion
This hourglass shaped drum is something you won't regret buying. You don't have to be a professional to enjoy playing this drum and have some fun. If you are a beginner or someone who just wants to play this drum for fun then go for Classic Heartwood Dondo Talking Drum or Overseas Connection African Talking Drum. African Talking Drum with Beater is also a good choice for people who like to collect musical instruments from all over the world.
If you are a professional who is skilled enough then go for Meinl Percussion ATD-L Wood African Talking Drum or Remo Talking Drum. Talking drums are unique in many ways and owning one will definitely not disappoint you!