The Libre Timbale Set by AM Percussion with a stand and cowbell is the perfect product to start your beautiful journey in the world of timbale music. Made with finesse and care, the Libre Timbale set is geared to give you a lively and rich sound– no matter what genre you play your timbales in. These are perfect for both beginners and experienced timbaleros. These are an ideal pair of timbales that offer a professional grade sound for a fraction of the cost.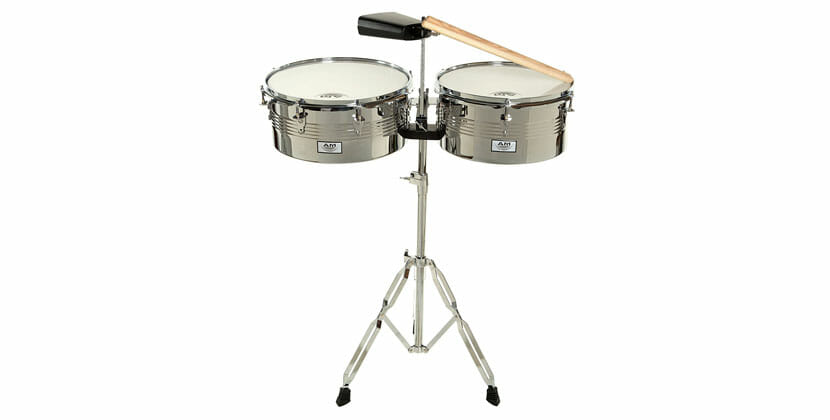 Table of Contents
Basic Construction
This timbale set is designed artistically, but also for maximum efficiency. It's made of sturdy metal with a classy chrome finish that is appealing no matter what your personal taste is. The dimensions of the product are 29 inches x 21 inches x 9 inches. It weighs only about 20.7 pound, so it's easy for you to handle but with no decrease whatsoever in quality and sturdiness. The product comes not only with a pair of timbales but also a stand and a cowbell. The metal stand is two pronged for greater balance. The two drums are tuned perfectly to the style and quality of an actual drum kit. The cowbell too comes with its own holder to increase your convenience.
Attractive Features
It has a trendy look that is neither too subdued nor too flashy. Its chrome finish gives it a discreet attractive look.
The cowbell and its holder that is included in the product will enhance the quality of your music all while helping you to keep count as well.
The tuning key is of great utility. It makes it easier than ever before to tune your drums to the exact pitch where you need them.
The double pronged drum stand is extremely durable. It will stay steady no matter how hard you're working the timbales.
The drums are designed in a way to give you the best quality sound possible.
The other hardware, such as the stand, are manufactured for their exceptional sturdiness and durability.
How Does It Fare?
The entire process of making every pair of Percussion's Libre Timbale set is done keeping the customer in mind at every step. These timbales give you a professional and clear sound that is no different from high end, overpriced ones. The benefit of this sound is accentuated by its accompanying hardware that is reliable and makes the product easier to operate.
Value For Money
These timbales are priced at a low-price bracket easily making them the best quality timbales in this price range. Owing to their stability and durability, they're a worthy investment to make. Libre's Timbales are priced low enough for all percussion enthusiasts to purchase without any drop whatsoever in the quality of the product.
Here are Some Timbales To Checkout: