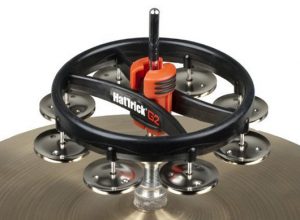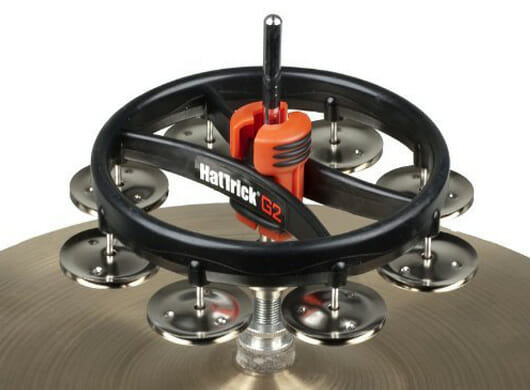 Tambourines are an inseparable part of any drum set. They have been an important part of many popular songs and have also been often used by many famous musicians. Apart from their use as an important musical instrument, they are also used for many other purposes like in some dance forms, for recreational etc.
Table of Contents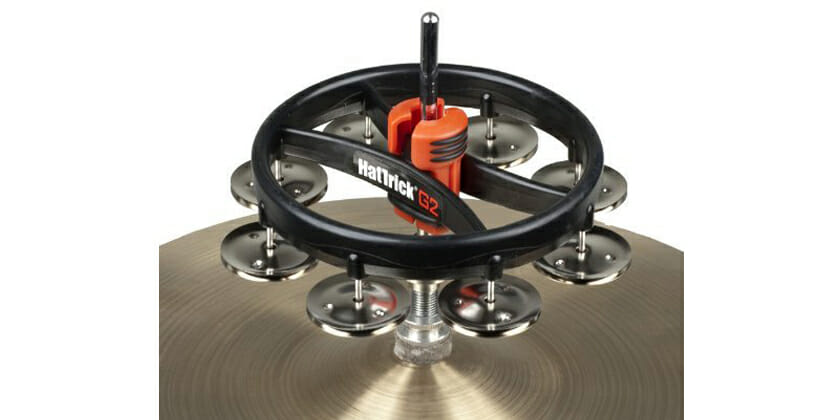 RhythmTech is a popular musical instruments manufacturer and almost all its products are guaranteed to be highly rated-quality wise. Therefore, its mounted tambourine RT7420 has a great sound, is extremely strong, and is easy to mount.
Pros
It has an easy mechanism to load and unload the tambourine.
The construction is sturdy but light in weight.
Will cost you less than others.
Cons
The jingles may not sustain if not handled properly.
This musical instrument is more suited for people who are just beginning to drum. As this is an inexpensive product, you can replace this tambourine after continuous use.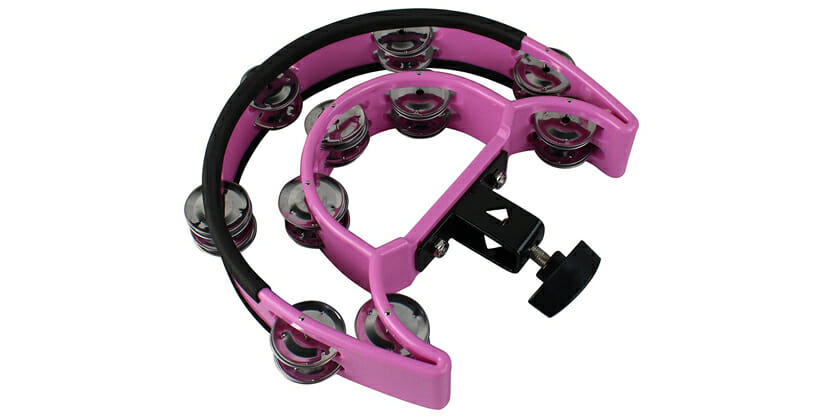 Half Moon Tambourine for drum set is available in pink color to enliven your drum set. This is a half tambourine (has a hemispherical shape) and has around 20 tinkles that are arranged in double rows of ten. There is also a mechanism which will keep this tambourine locked in its place without any unwanted sliding.
Pros
A locking machinery keeps it in place.
Has a good design.
Cons
It does not have a strong construction.
This tambourine is trendier than others available in the market. The lock which comes with this tambourine makes it attached to the stand without any trouble.
The jingles are arranged in a wooden circle that is about six inches thick. The biggest advantage of Toca Jingle-Hit Tambourine is its unique construction. A rubber strip is attached on the circumference edge and this enables the user to play this tambourine even only by hand.
Pros
You can play this tambourine by both your hand and stick.
Double rows of jingles ensure a good sound quality
Cons
It is not suitable for too much rigorous drum play.
The main advantage of this product is its rubber strip. This will help you all those times your drum stick goes missing. The sound quality is at par to what most musicians will need.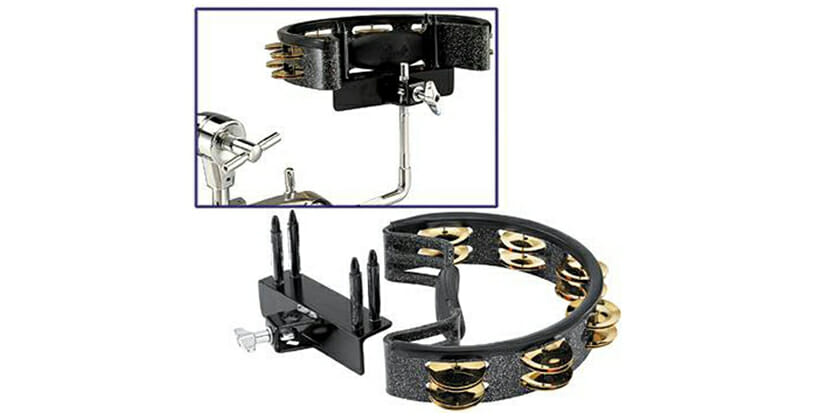 PTM10GH from Pearl is a half tambourine and has a very sleek design. It comes in two options—hand held and mounted. You can choose what works for you from these. Another advantage of this tambourine is that it has a solid hold on the handle when you mount it.
Pros
You can attach this tambourine in all kinds of stands with ease.
A solid grip is another great advantage.
Cons
I don't think that there any major problems with this product.
This tambourine by Pearl is perfect for professional musicians who need to tour a lot. The reasons for the same is that it is highly durable and has a great sound quality!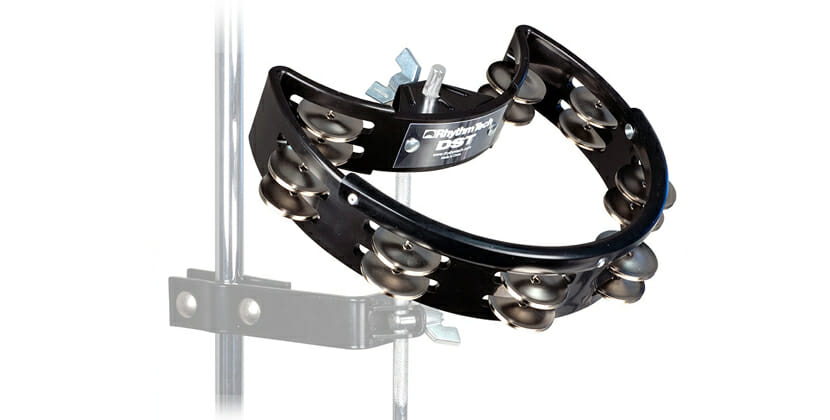 Tambourine DST10 is another popular product from RhythmTech. One noteworthy thing is that this is a half tambourine. It has a solid black color and is highly compatible with drum sets. This means that it lasts longer due to a superior construction and does not loosen its grip even during intense drum plays. Also, you can remove and attach it quite easily.
Pros
It can be easily attached and removed from the stands.
The playing edges are made of polymer and this makes this tambourine versatile
It is very durable due to its solid construction.
Cons
There are no major cons that we could find for this product.
This tambourine too is great for professional musicians and even beginners who are just starting to drum. It will withstand all kinds of intense drum plays without sliding off from its stand and its polymer attached edges will give you a versatility in use.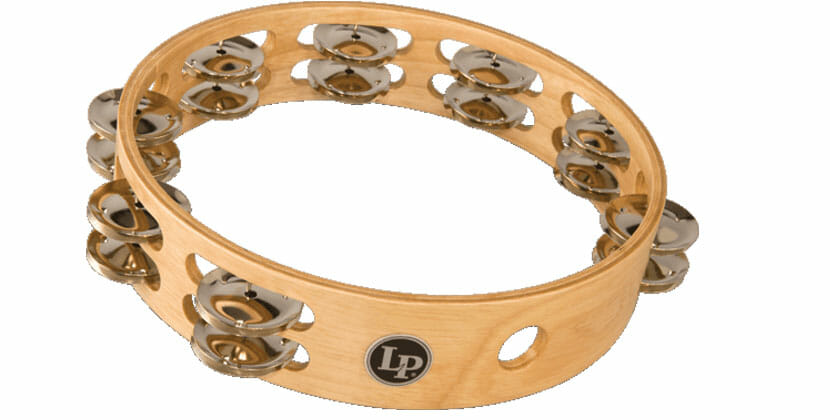 Latin Percussion is yet another name that produces stellar quality musical instruments. LP380B LP has double rows of jingles attached in a wooden construction. There are about sixteen pairs of jingles in total here. The wooden shell is about 10 inches in thickness and is made of superior quality wood. Because there are double rows and more number of jingles, it makes loud sound tone as compared to other tambourines.
Pros
The shell is made of a special wood called Siam Oak. This ensures that it lasts longer and has a smoother finish.
It has a high sound quality.
Cons
It comes at an expensive cost as compared to other tambourines.
If you keep the expensive cost aside, this tambourine by Latin Percussion is actually a great product! The main point to note is its superior sound tones that will be heard across kilometres!
Frequently Asked Questions About Tambourines
What is tambourine roll?
This is similar to drum roll and can be used both on hand or as mounted tambourines. In hand held, you need to continuously move your tambourine forward and backwards while twisting your wrist. For mounted tambourines, you need to hit your stick on the tambourine in a same rhythm as in drum roll.
What are some uses of tambourine?
Tambourines are a secondary musical instrument in many bands or choirs. They can be a great addition to drum sets, congas or basically any type of drum. They are also regularly used in many styles of music from pop to classical music. Many dances too employ tambourines for a distinctive style.
What are the different types of tambourine?
Tambourines are classified into two groups – Hand played and Mounted. Hand played as the name suggests is only played by hand and does not have any mechanism for a stand attachment. The Mounted tambourine is generally to accompany drum sets and has to attached to a stand to play. Many of them can also be played by hand easily.
Where do you mount your tambourine on your drum set?
You can mount your tambourine on the cymbal stand near the bass drum for ease of play.
Conclusion
Mounted tambourines can come in a spherical shape or even a half crescent moon shape. If you buy the former, you will get a louder sound tone than the latter. Many drummers prefer the semi-circular shape (crescent moon) as compared to a fuller one as it suits their music.
Professional musicians should go for high durability and good sound quality. This is available in Pearl PTM10GH Ultra Grip Tambourine and RhythmTech DST10 Drum Set Tambourine. The main advantage with these are that they will withstand rough play and are portable. So, they will be major help to bands who go on regular tours.
Beginner musicians should go for an inexpensive product. RhythmTech RT7420 Hat Trick G2 and Toca Jingle-Hit Tambourine will give them a great quality at a really low price.
To conclude, there are many tambourines for sale in the market and you need to make the right choice based on usage and your level of expertise in music.