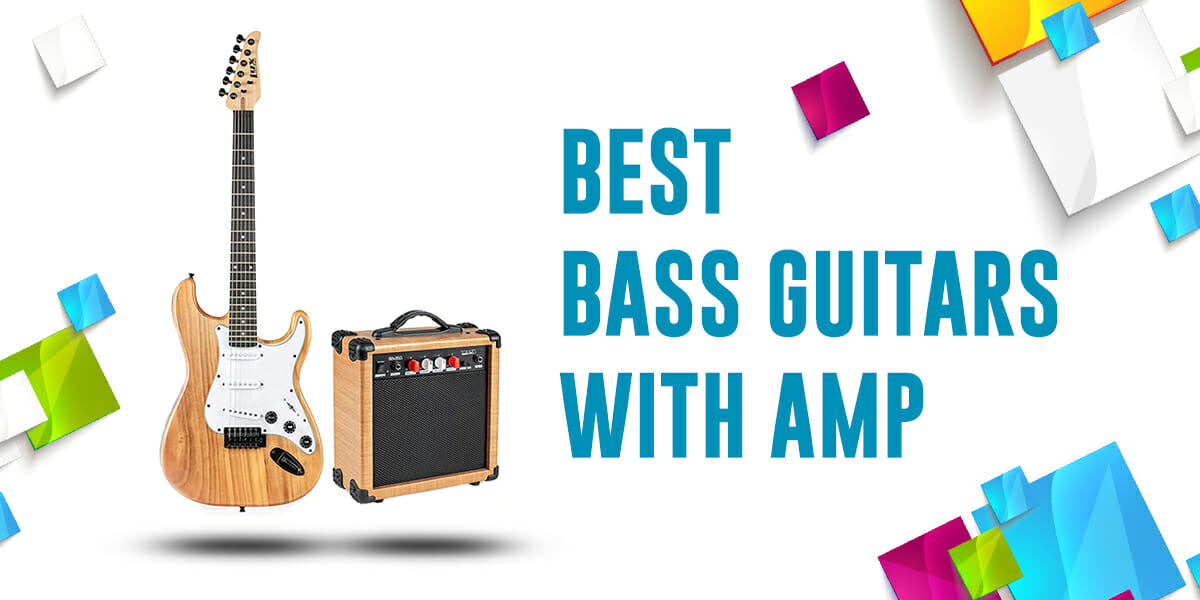 If you are not familiar with bass guitars, it is a member of the guitar family but has the lowest pitch. A bass guitar is very similar to an electric guitar but it has four or more strings (typically four) and a long neck with more scales. Bass guitars (also known as electric bass or just bass) have become increasingly popular in the music industry in recent years after replacing the double bass.
Bass amps or guitar amps provide clarity to a guitar's weak sound output. While guitar amps are typically designed to make the guitar sound better, bass amps work fine as well.
If you're planning on trying a bass guitar and haven't been able to decide the perfect bass guitar with amp combo, we've curated a list of the six best options we came across that might just turn out perfect for your needs.
Table of Contents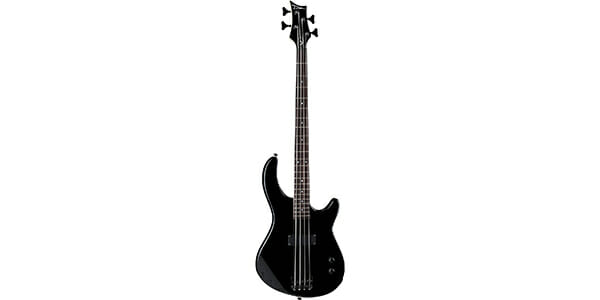 This one right here is a complete bass guitar package and more than sufficient if you are a beginner. The E09 (Edge) electric bass comes with a 10W Bassola bass amp which provides power from an 8' speaker (or even headphones if you wish), a tuner, strap, and a gig bag as well. The guitar has a sharp look with a custom neck joint and uninterrupted neck access is ensured by the four bolt asymmetrical pattern.
Pros
Presence, Mid, Bass, and Treble controls available
stereo headphone jack available
maple neck, lightweighting basswood body, abalone dot inlays
Cons
Gig bag and other starters not of great quality, adjustments needed for perfect tuning
The E09 electric bass is designed to be comfortable for beginners with uninterrupted access to the octave neck, the chrome hardware and multiple control options making it even more convenient. And the bass is quite decent for a beginner too.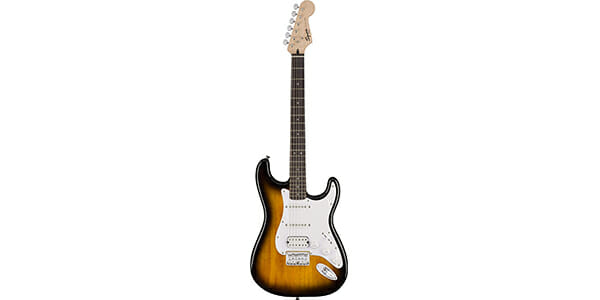 The Fender Squire Sunburst Bundle has a poplar wood body and maple neck, Laurel fretboard and comes with S-S-S pickup configuration. You get vintage style 6-straddle synchronised tremolo in the guitar bridge system and the Frontman 10G amp provides enough boost to make the instrument sound amazing. You wouldn't believe you are playing a bass this inexpensive sounding so great.
Pros
Comes with headphone jack and aux input
Classic pitch effects owing to the three single-coil pickups
Beautiful finish, sturdy built quality
Cons
The amp is small (adequate for small rooms, strings could be better
You shouldn't be having any complaints for the price you're paying for this full size bass. The real star is the tremolo bridge system giving those perfect vintage vibes.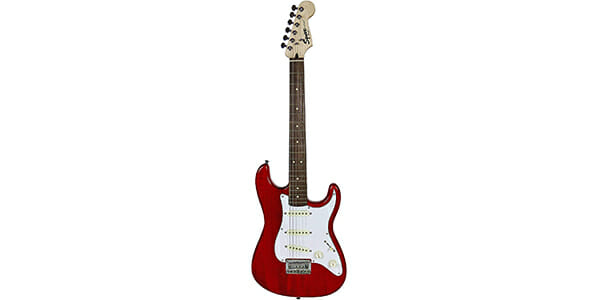 You cannot go without hearing of Squier by Fender while it comes to bass guitars. This short scale 24-inch stratocaster is an ideal preference if you have small hands and you want a smooth learning curve. With a lightweight and solid tuning owing to the hardtail bridge and a 10G Frontman Amplifier, the instrument is sure to enhance your musical experience. But the best part is that you're not compromising on sound because of the same pickups as other full scale guitars.
Pros
Perfect choice for a person with a short built
comes with an instrument cable and clip-on chromatic tuner
headphone jack for private lessons
Cons
Basic hardware, strings could have been better
A beautiful instrument for someone who has more than a passing interest in learning a bass guitar, this package comes with everything you need to master your passion for music.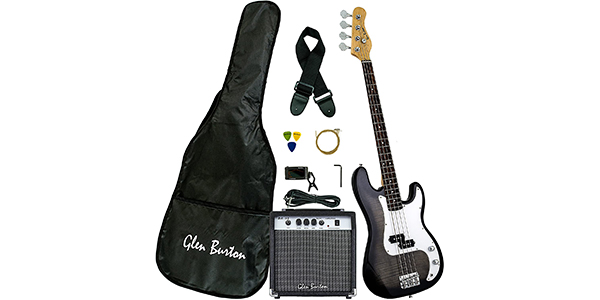 This modest full-size Glen Burton design has a bold-on neck with a solid alder body and comes with a 15W amplifier. The guitar has a rosewood fingerboard, a clip-on tuner which is digital, a truss rod, and machine heads which are chrome die cast. The entire package includes picks, strings and a gig bag as well. The guitar is an especially great option if you want decent sound in a beginner electric bass module.
Pros
Comes with 6 strings
Straps, P & J pickups included in the package
Dual action truss rod
Spinoff of the classic Gibson tuners
Cons
No ornamentation or inlay, mild built quality issues over fretboard
The amp that comes with this guitar gives decent sound quality and the guitars play really well after setting it up nicely. If good vintage sound is what you have in mind, this option might just do the trick for you.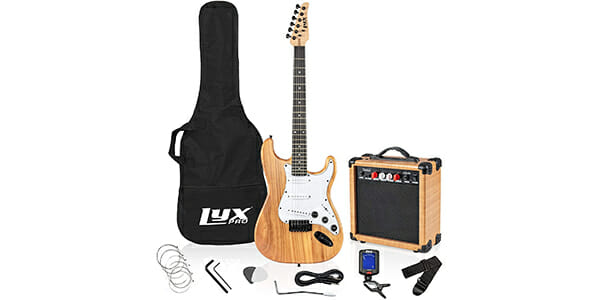 The LyxPro set has a harmonious design with a rosewood fingerboard and Canadian maple neck. The full size bass comes with straps, S-S-S picks, digital clip-on tuning, battery, soft case and has a 20W amp with built-in speaker to give you that edgy low-pitched bass sound. The guitar has aux and headphone jack units so you don't have to worry about your private practice sessions. The unit comes with multiple control options.
Pros
Volume, Treble, Gain, Grind and Bass controls
The clip-on tuner is battery operated
Comes with extra 6 strings, comfortable strap
Cons
Mid-level string quality, straps need movement, mediocre cable
This bass guitar set is a good choice if you are looking to have fun with your instrument as a beginner/intermediate level player. The 20W amp works really great with the well-built guitar set, and is perfect for a decent size room.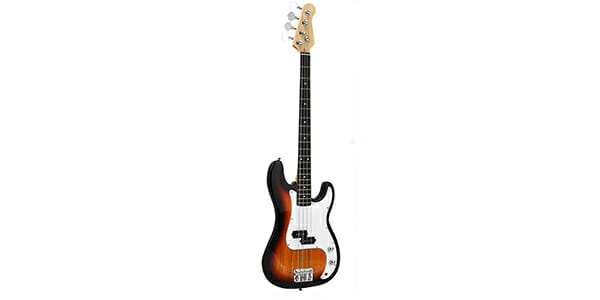 The durable Costzon Bass body is made up of Paulownia, Maple and Rosewood. The bidirectional stem for regulation and headstock for steady intonation are attractive features; the bass has good tone display with smooth tone complementing the warm sounds of the solid wood. Now this kit has everything but an amp but hear us out here. You could easily combine an amp along with this awesome sounding bass which is quite inexpensive in itself and there, you have a complete instrument kit weighing light on your pocket.
Pros
Great built quality and laminated finish
Tremolo bridge system
Piezoelectric pickup configuration
Cons
Amp needs to be purchased in a combo separately
For those who are familiar with Fenders, this electric bass would be an absolute delight if we're talking about the built quality. You seriously don't need anything more economical than this guitar after combining it with an amp.
Frequently Asked Questions
Can you use a guitar amp for bass?
Yes. Guitar amps aren't typically designed for handling bass, but you can plug bass into guitar amps. You need to be very cautious while doing so as the guitar amp isn't used to handling such low frequencies that the bass might produce and it could distort the sound or damage your amp.
What is the best amp for a bass guitar?
Some of the best rated amps for bass guitars are: Gallien-Krueger MB Fusion, Fender Rumble 500, Behringer Ultrabass BXD2000H, Ampeg SVT-7 Stack, Hartke HD500,etc. The best features to look at are quick controls, easy navigation and versatility.
Why do electric guitars need amps?
Guitar amplifiers are important for strengthening weak signals coming from the instrument and the sound could be reproduced through single or multiple loudspeakers. Amps are also useful for emphasizing certain frequencies by means of EQ controls to produce the signature electric guitar sound.
Can you play a bass through a tube guitar amp?
Technically yes. But here's the catch. A bass puts out quite low frequencies that a guitar speaker might not be designed for. So while the amp itself might be safe, the speakers might experience some potential damage. Also, it wouldn't sound the same as a bass amp.
Can I use a bass cab with a guitar head?
Yes. It should work fine but whether you like the results or not, it totally depends on you. Bass cabs are obviously known for handling more wattage than guitar cabs so there wouldn't be any question of overpowering.
What happens if you plug a guitar into a bass amp?
A bass amp might sound too flat for a guitar, but the outcome wouldn't be damaging at all. Bass amps cannot suffer damage from the high tones of your guitar, so in many cases if you like the sound, it's actually fine.
Can I play bass without an amp?
Yes. There are multiple options such as computers and smartphones where you can play bass with headphones or even speakers without connecting it to an amp. Easily plug your multi-effects pedal and have silent guitar learning sessions without disturbing the neighbors.
Conclusion
It is worth noting that you need a bass amp for playing a bass guitar because the guitar itself wouldn't be producing any sound. Bass amps are designed to create those vibrations which are characteristic of the low-pitching electric bass sound, therefore, for beginners or even intermediates, complete packages of bass with amps are pretty economical. As it goes without saying, you may decide on the quality as per your own musical needs.