A guitar cable is an important gear as it can create a world of difference in setting the perfect tune but most people don't put enough thought or research before buying one.
Each cable comprises of so many features that it can confuse the buyers. The choice you make depends upon the purpose, usage and obviously your budget since many of the cables can be expensive. Here, we have compiled a list of the best guitar cables of 2023 according to their features. Let's take a look!
Table of Contents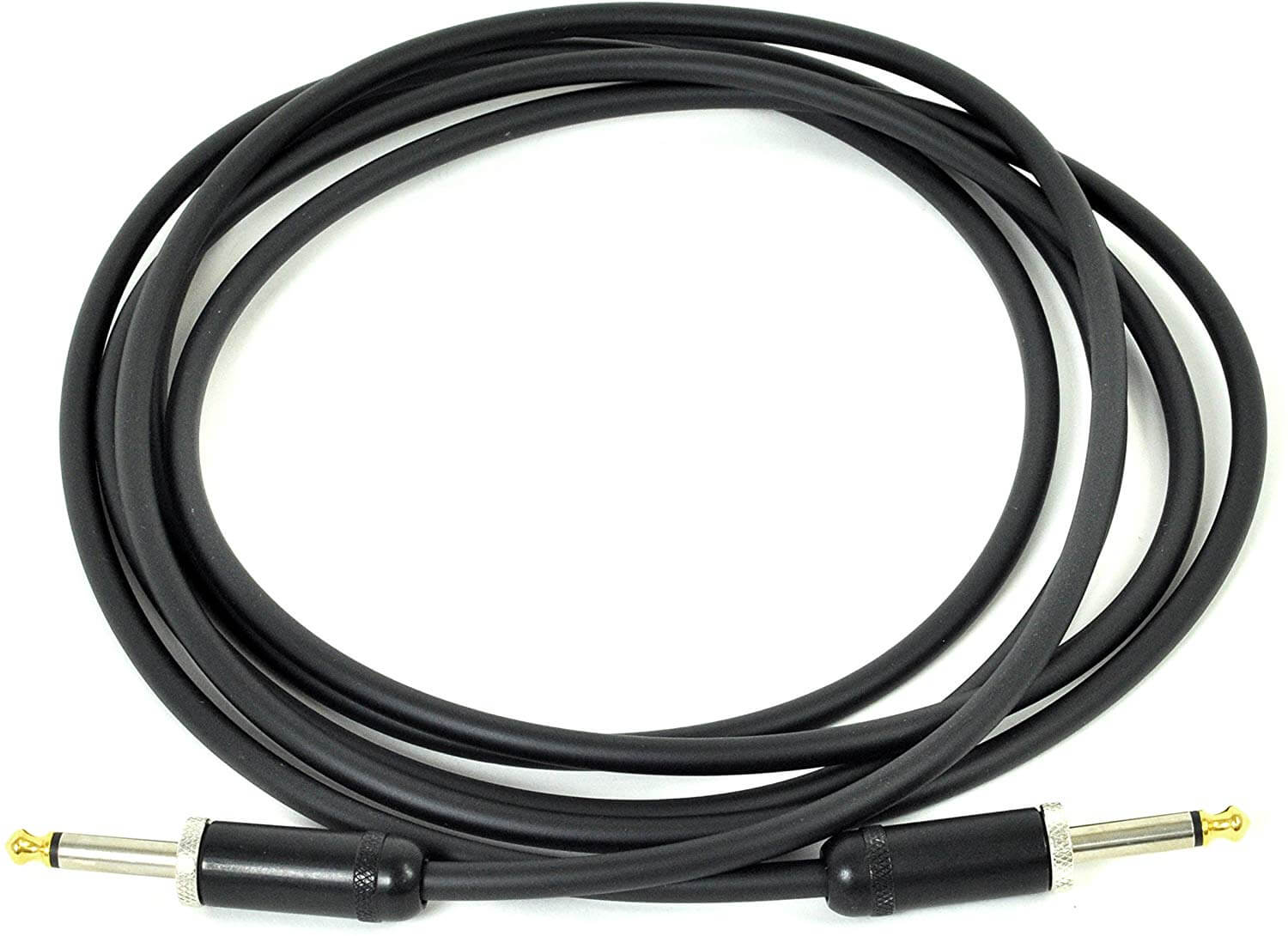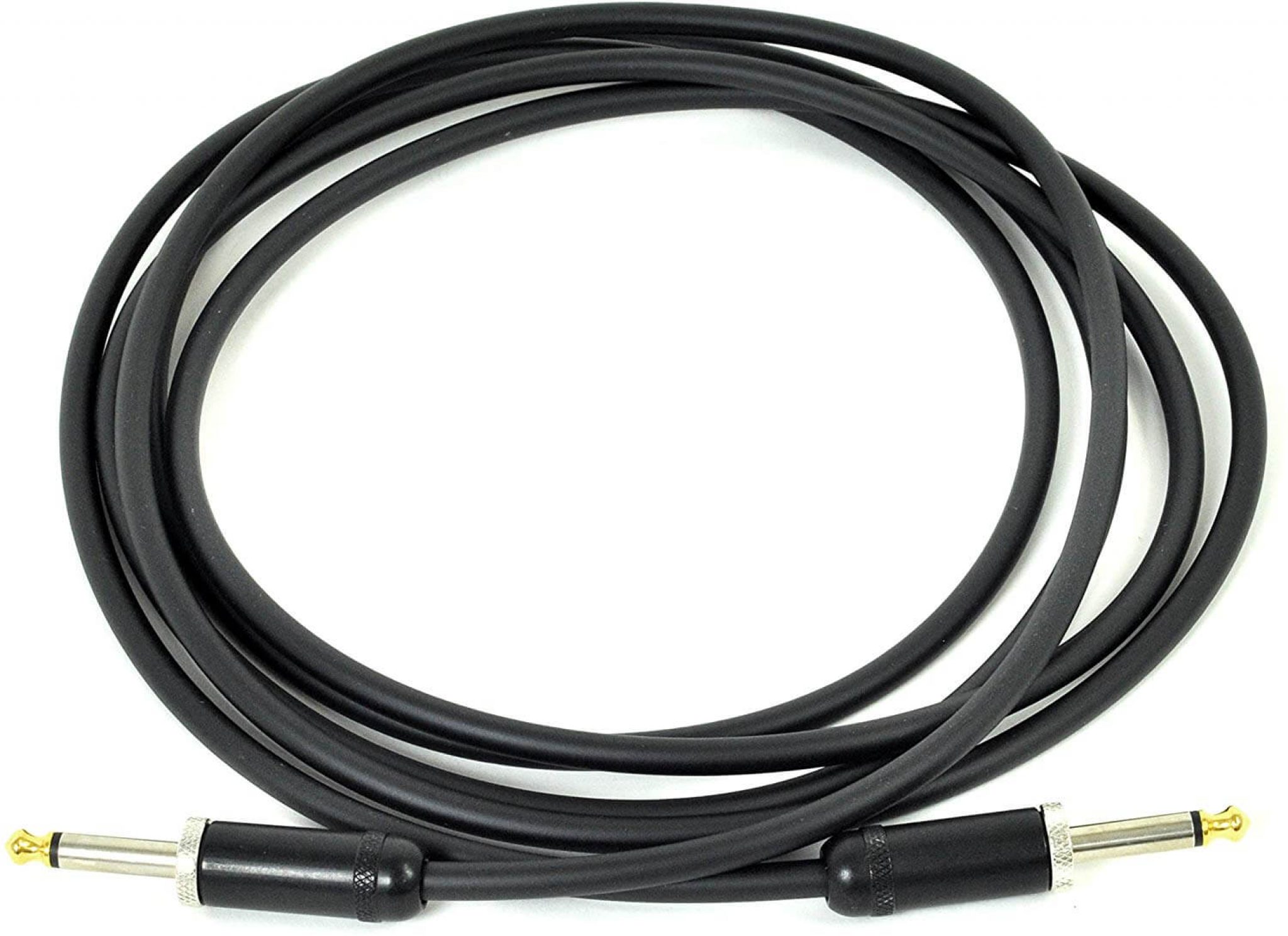 A part of the D'Addario brands, Planet Waves has been in the market of music accessories for a long time. This cable from the company sets the bar high when it comes to quality and is available at a very nominal price.
It has HelioFused soldering which gives the cable its strength and durability, and offers strain relief without any change in the tone. This cable also has in-line solder joints which provides extra strength and a smooth conductivity of the signal.
American stage cable has patented Geo-tip plug, which is manufactured by Neutrik. This plug has a special shape which ensures a reliable and secure connection. It also provides excellent electromagnetic interference rejection and makes a sturdy and flexible cable.
The signal reproduced is high quality because of the in=out technology. It is available in 10, 15 and 30 foot lengths. It is a great choice for both, hobbyists and recording guitarists.
Pros
Strong and sturdy built.
Good sound quality.
Cons
Stiff and hard to roll.
Occasional signal issues.
Geo-tip does not fit in a few instruments.
It provides premium features, like Geo-tip, at a mid-range budget. It is simply one of the best cables available at this price in the market.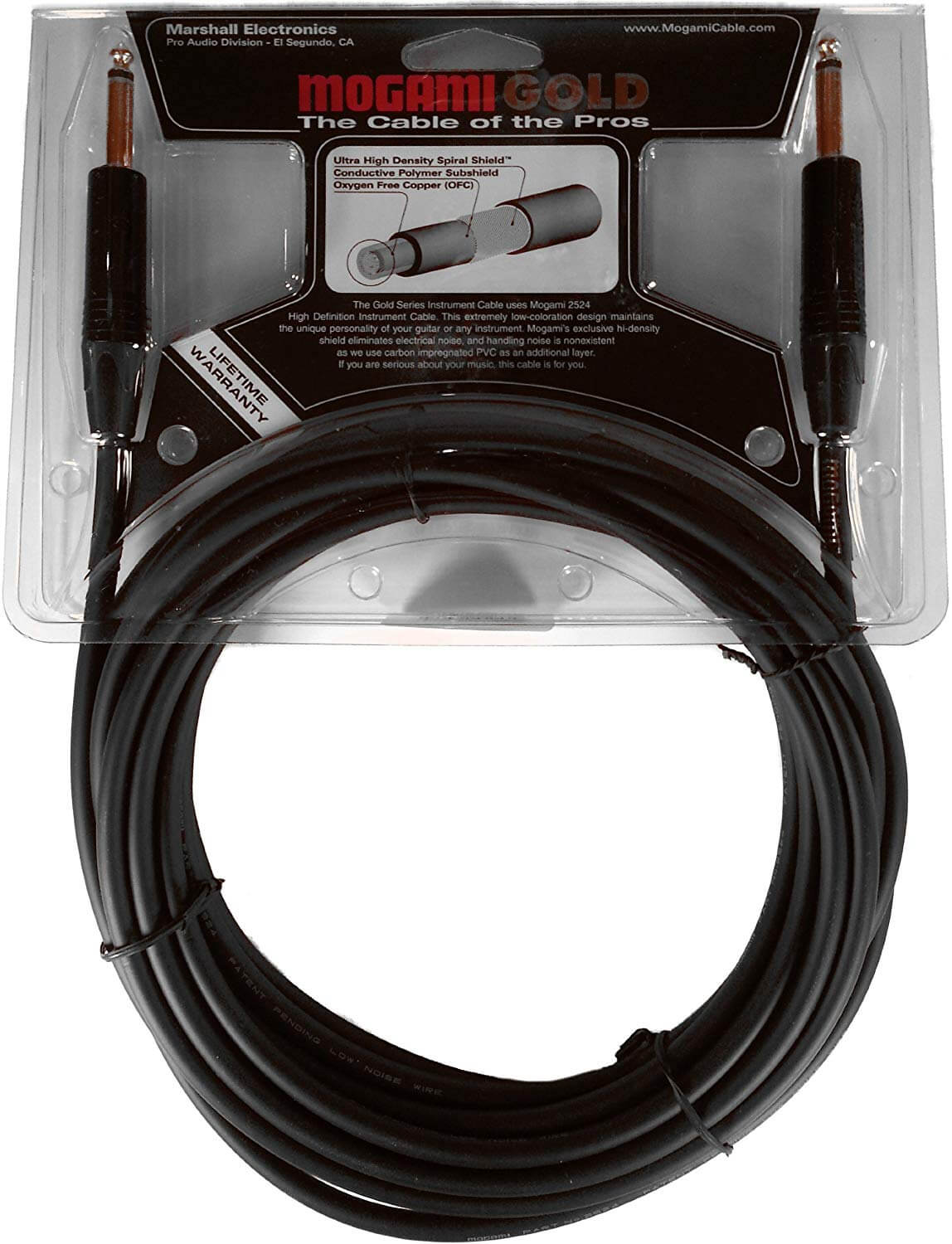 Mogami is a trusted brand among professional musicians because they provide premium quality products with a lifetime warranty. This cable from Mogami is perfect for professional recording guitarists as it provides a clear tone without any background buzz.
Even though it's expensive but it is definitely worth it. Mogami gold guitar instrument cable has a conductive polymers sub-shield, UHD spiral shield and an OFC core. It is also very efficient in masking any noise created while moving the cable with the help of the PVC anti-static shield layer. This cable can be used to connect to any type of guitar, keyboard or pedal. It is available in different sizes. So, you can buy according to your requirement.
Pros
Clear tone.
No background noises.
Lifetime warranty.
It has premium features along with a lifetime warranty. It is a perfect choice for professionals and guitar hobbyists alike.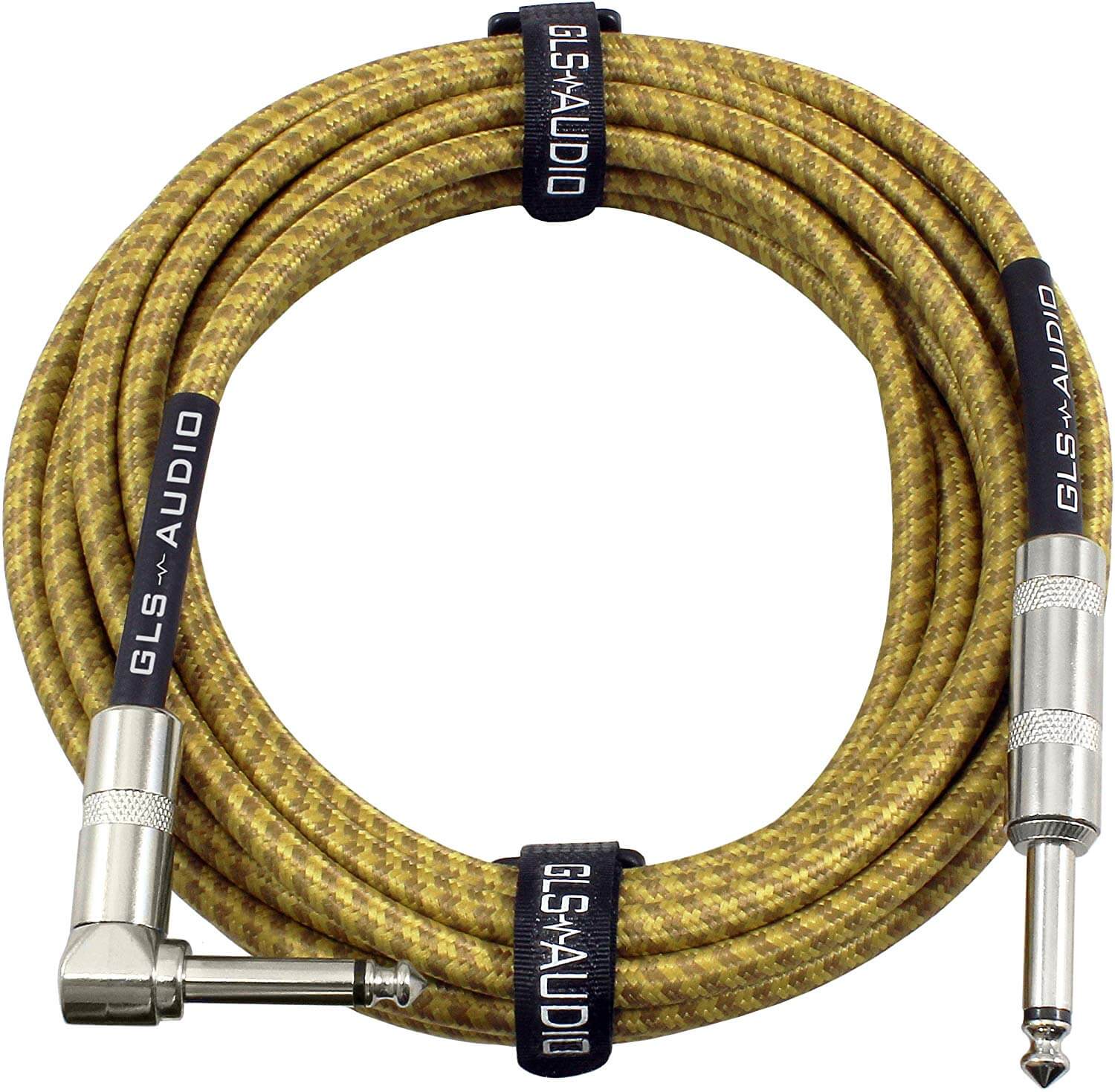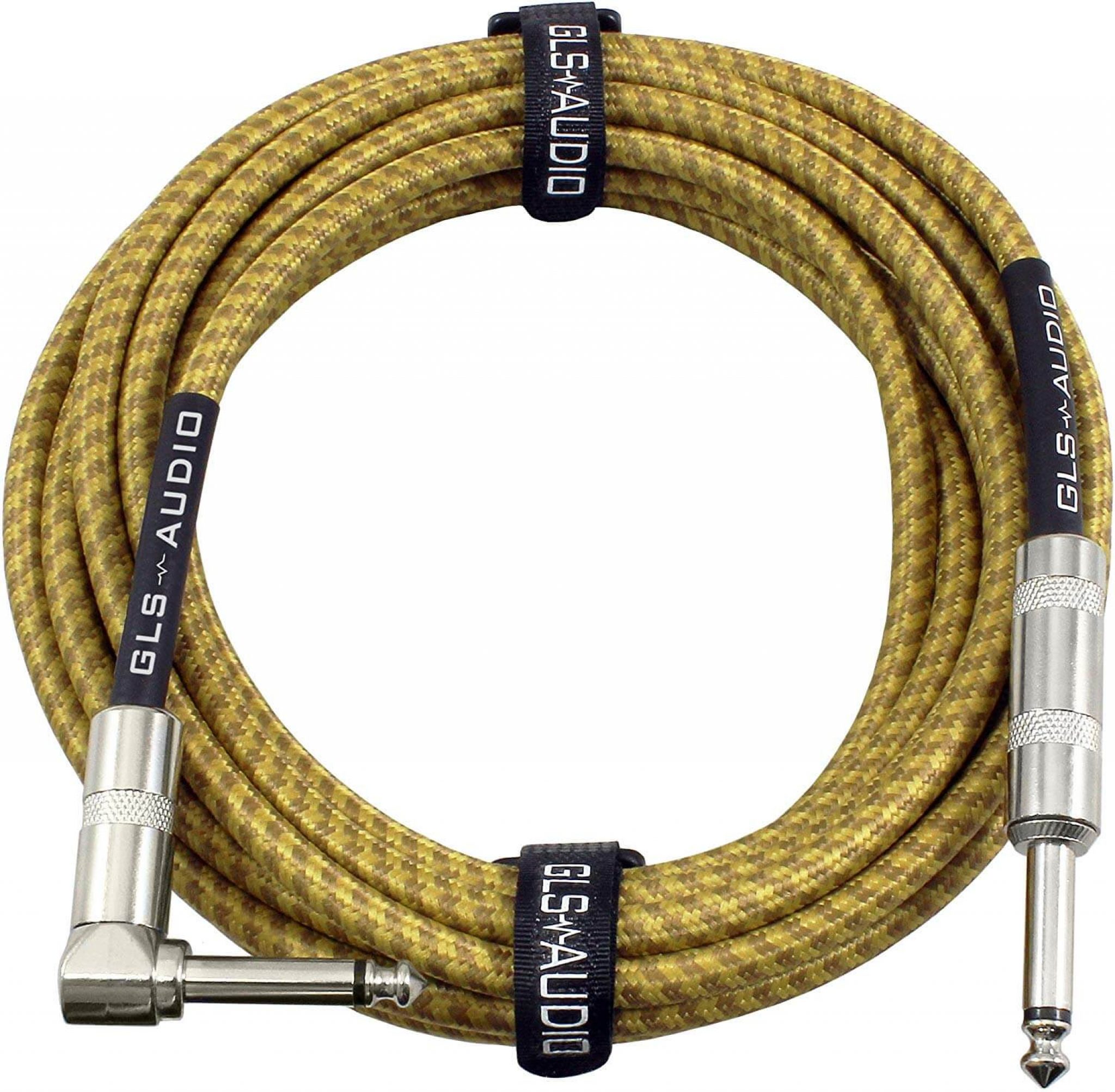 This standard cable from GLS is a great choice for all the guitarists because it provides high quality at an affordable price. It features braided tweed cloth jacket and has super durable and flexible design. It has an OFC insulated shield and a conductive PVC shield. For both the center conductor and insulator shield, oxygen free copper has been used. These cables also feature cool and stylish looking patterns over the cloth covering.
Picofarad rating is a very important feature to look for while buying a guitar cable as it has a huge effect in sound quality. It has very low capacitance which is clearly evident by the low Picofarad rating.
The Velcro loop helps to keep it coiled and prevents it from tangling. GLS Audio Guitar Instrument Cable has triple strain relief system:
external rubber heat shrink strain relief
internal rubber wood strain relief
internal metal clamp strain relief
This makes the cable durable and withstand rough usage. Overall, it is a great cable for clear tone and delivers great performance.
Pros
Right angled plug.
Velcro loops.
No background buzzes.
Cons
Not very convenient for moving around while playing.
It provides excellent sound quality at a very affordable budget. It has a very low Picofarad rating which is a proof of its great sound quality.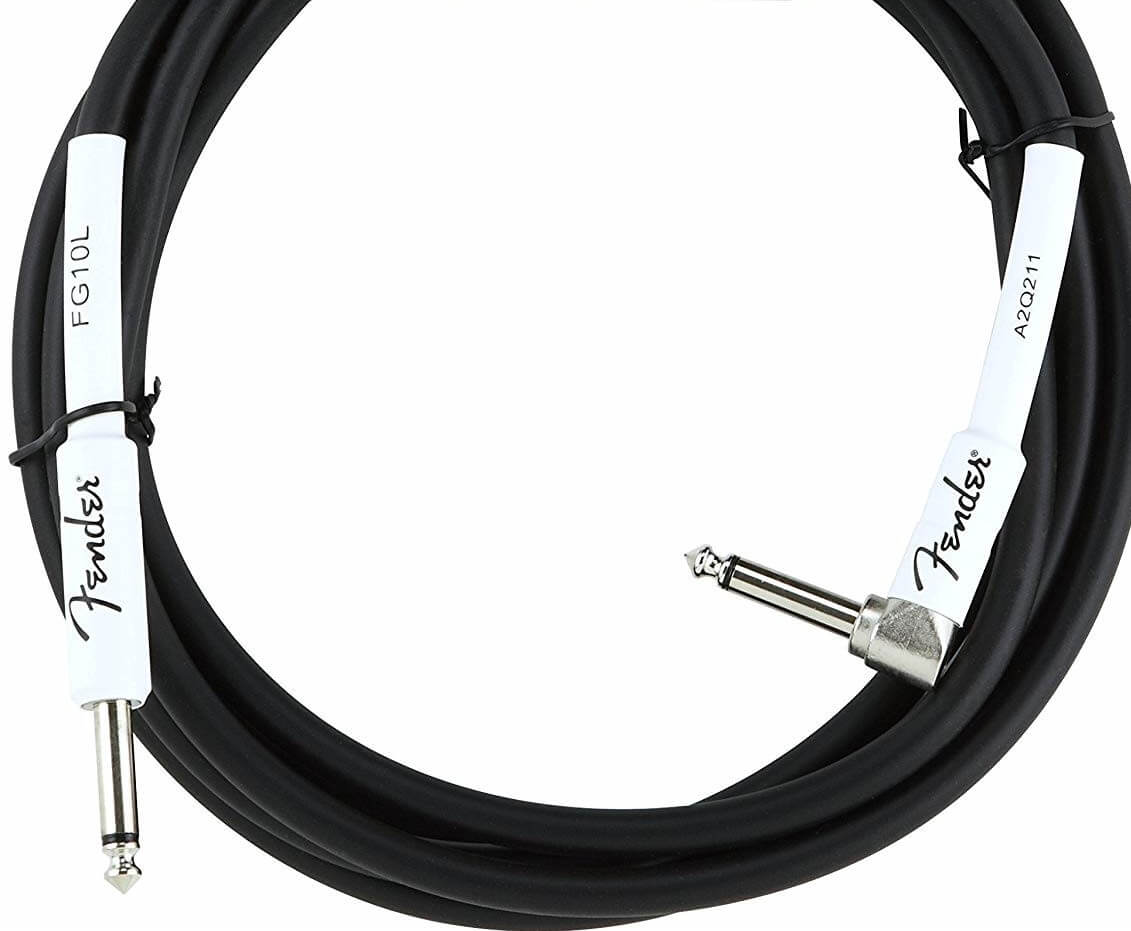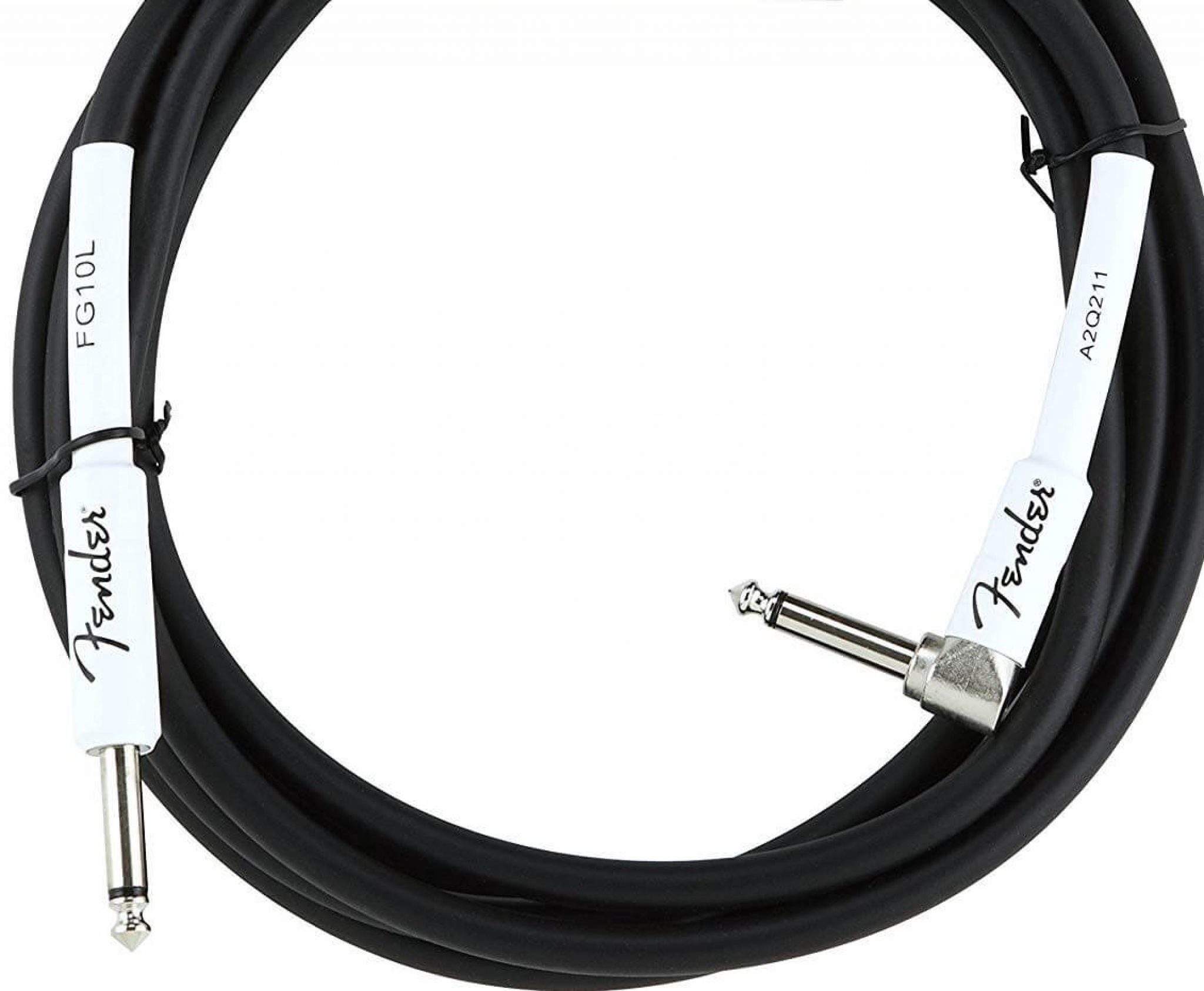 Fender musical instruments corporation has been making standard musical instruments and products since its foundation, in 1946. This cable is one of the fine products from the company. It is one of the best cables available in the market considering all the essential factors like conductor design, conduction and insulation material, length, etc. It is equipped with an extra thick 8 mm diameter black PVC jacket which reduces the impact of external noise and provides molded strain relief.
Fender performance series cables are perfect for professional use which needs a flexible and durable cable that is built for rough usage. The 90% copper shield reduces any electronic buzz and produces superior sound quality. It is available in different lengths. Its flexible design prevents it from tangling, twisting and permanent kinks. It can be used with any instrument having quarter inch jack like bass, guitar, mandolin and keyboard.
Pros
Superior sound quality.
Flexible design eliminates kinking.
Good for rough use.
Cons
No lifetime warranty.
May not last as long as other more premium cables.
It is one of the cables used by professionals and comes from a trusted brand. It is perfect for gigs and rough use.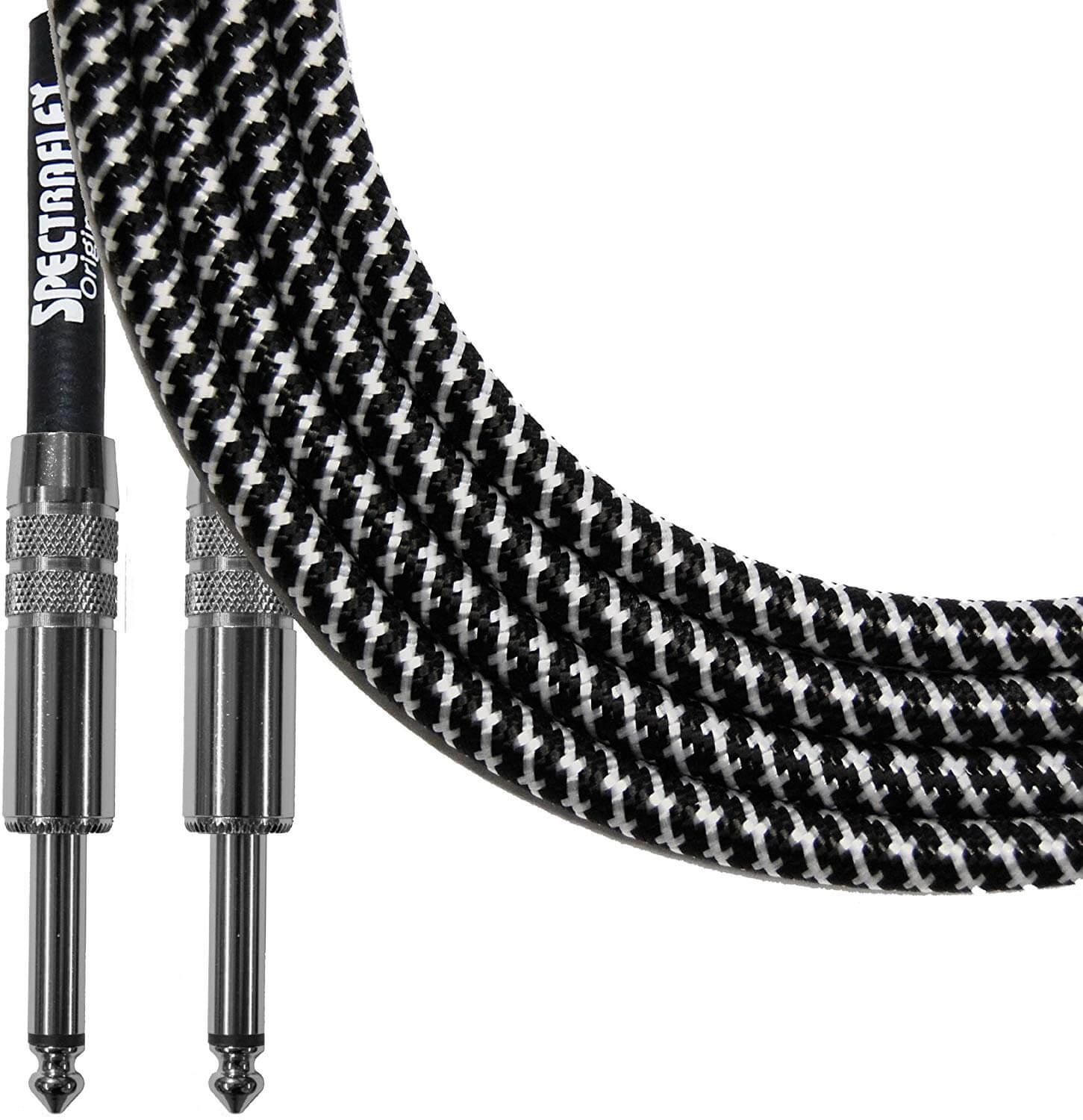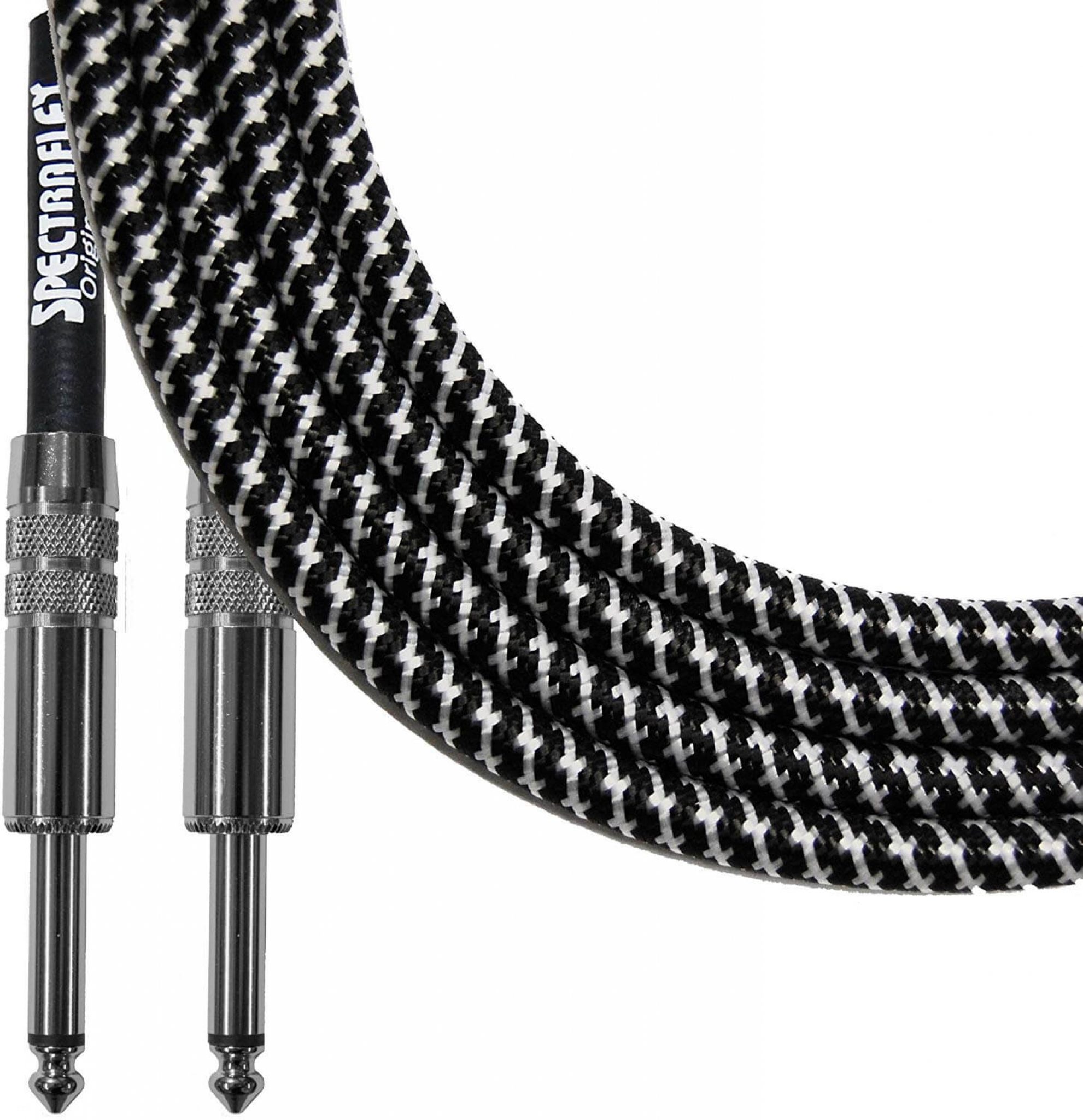 Spectraflex is relatively new to market but have produced a large number of great products which makes it one of the most promising brands. It has an innovative braided cable structure and is one of the first braided cable in the market which provides lot of durability and flexibility.
Spectraflex instrument cable is equipped with an ultra-pure copper center conductor and has conductive polymer shield coverage. It has great connecters. Its capacitance is as low as 39 pf/ft. It is available in a variety of colors, patterns and lengths.
Pros
Perfect shielding.
Good sound quality.
Very flexible design.
Lifetime warranty.
Cons
Has a tendency to get tangled frequently.
It provides great quality at a lower price range. It has an innovative braided cable structure which makes it flexible and long lasting.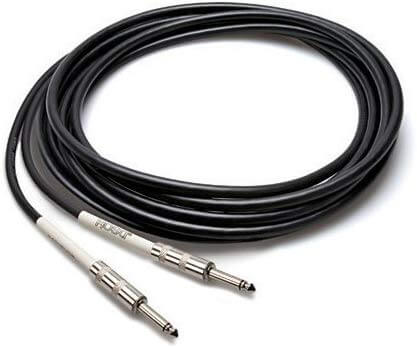 Hosa technology, Inc. produces and supplies leading range of products for musical instruments and professional audio industries. Established in 1984, it has become one of the leading companies which produces quality cables for guitar.
Hosa GTR-210 straight to straight guitar cable is one of the most inexpensive cables on our list. But at this cost it does not compromise on quality! Its features are comparable to the other cables which are 2-3 times the cost.
It is made from high quality materials and is equipped with oxygen free copper conductor which ensures a better and enhanced clarity of signal with great sound reproduction.
A high-density OFC braided shield provides very good EMI and RFI rejection. It is perfect for gigs as it is made up of flexible wire materials. This cable does not produce any humming or buzz which is an issue in other cheap cables. Unlike other cables of this price range, which have plastic around the soldering, this cable has a metal around it which can be unscrewed, in case it goes out. It is available in various lengths.
Pros
Good sound quality.
Very flexible.
Inexpensive.
Cons
Cable ends have a tendency to get unscrewed.
This is one of the cheapest cables with best features available in the market. It is a must buy for anyone looking for a good budget cable.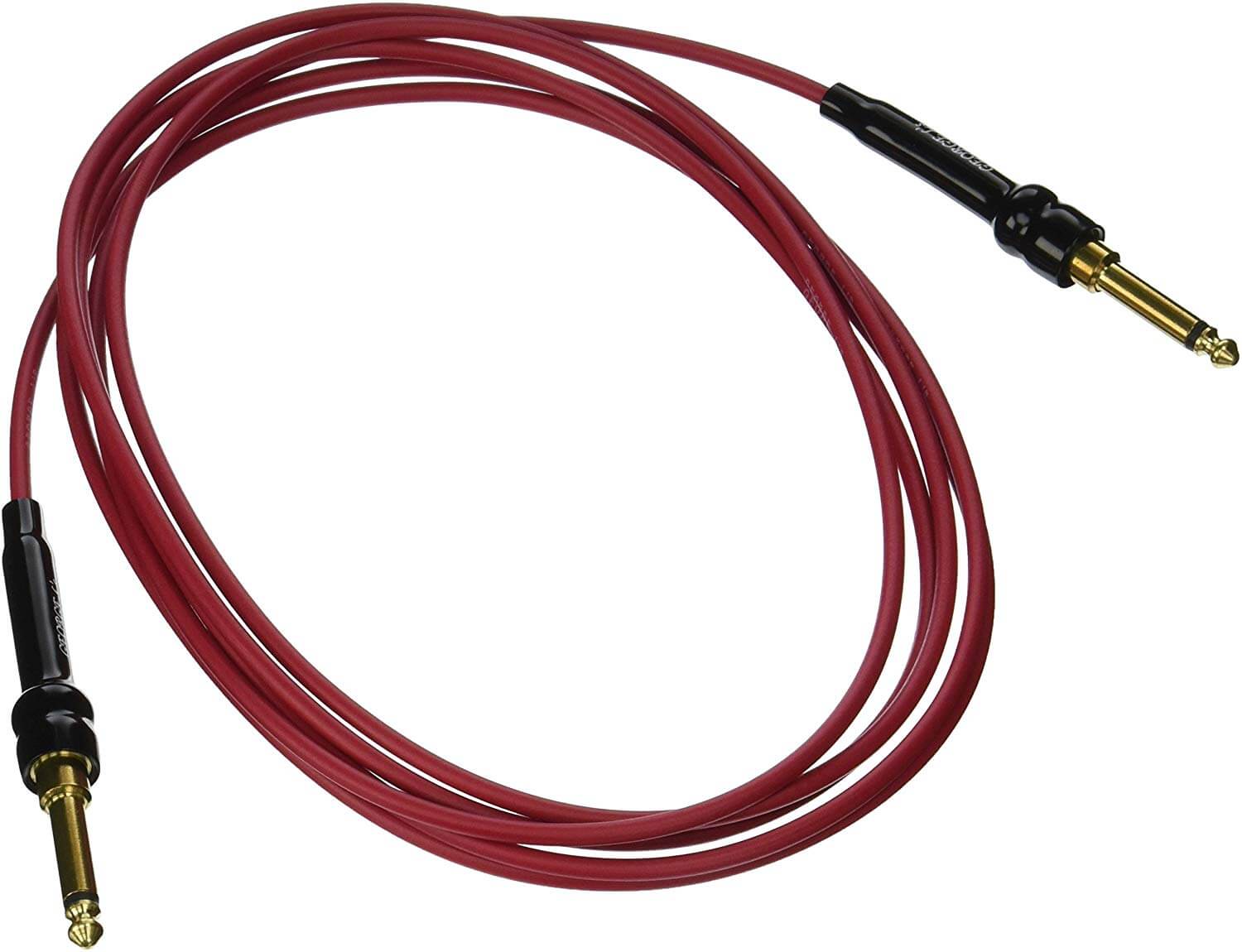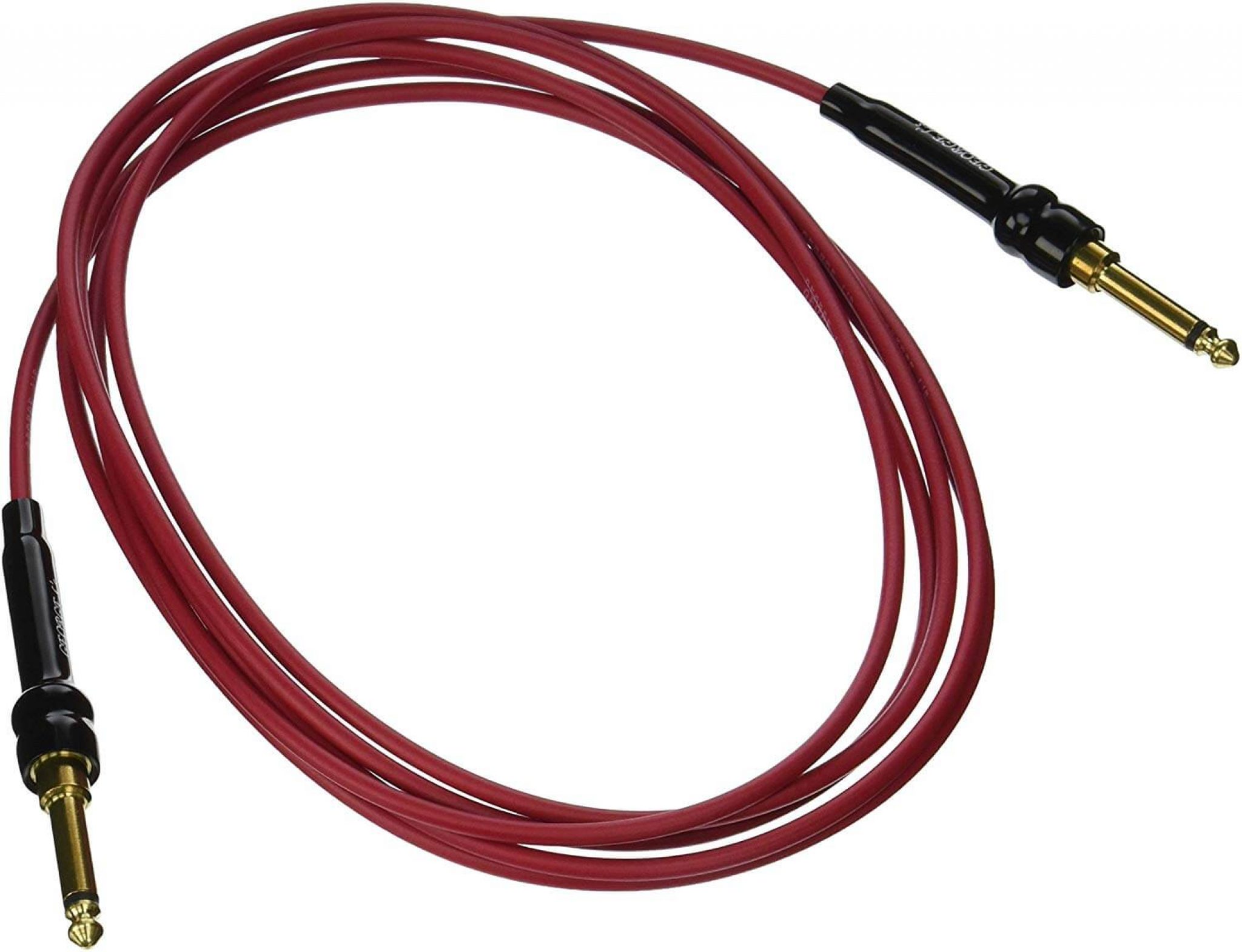 George L has been in the market for more than three decades and have produced some good quality instrument cables. This cable from the company is no exception. It produces perfect tone because of its special features. An anti-stat in the cable eliminates microphonic noise and helps the signal to flow smoothly without any buzz or interference.
155 gauge electric guitar cable has stress relief rubber jacket on both jacks. It is available in various lengths and vibrant colors. Its quality is similar to the more premium cables from Mogami. This cable from George L is very lightweight and attractive even though it has a tendency to get tangled. The cable is very thin which makes it easy to fit it in small spaces and carry anywhere.
Pros
Great sound quality.
Anti-stat reduces buzz.
Thin and compact.
Cons
Can be a bit stiff and difficult to move around.
It has an anti-stat which makes the sound quality extra clear. It is also one of the cool looking guitar cables out there!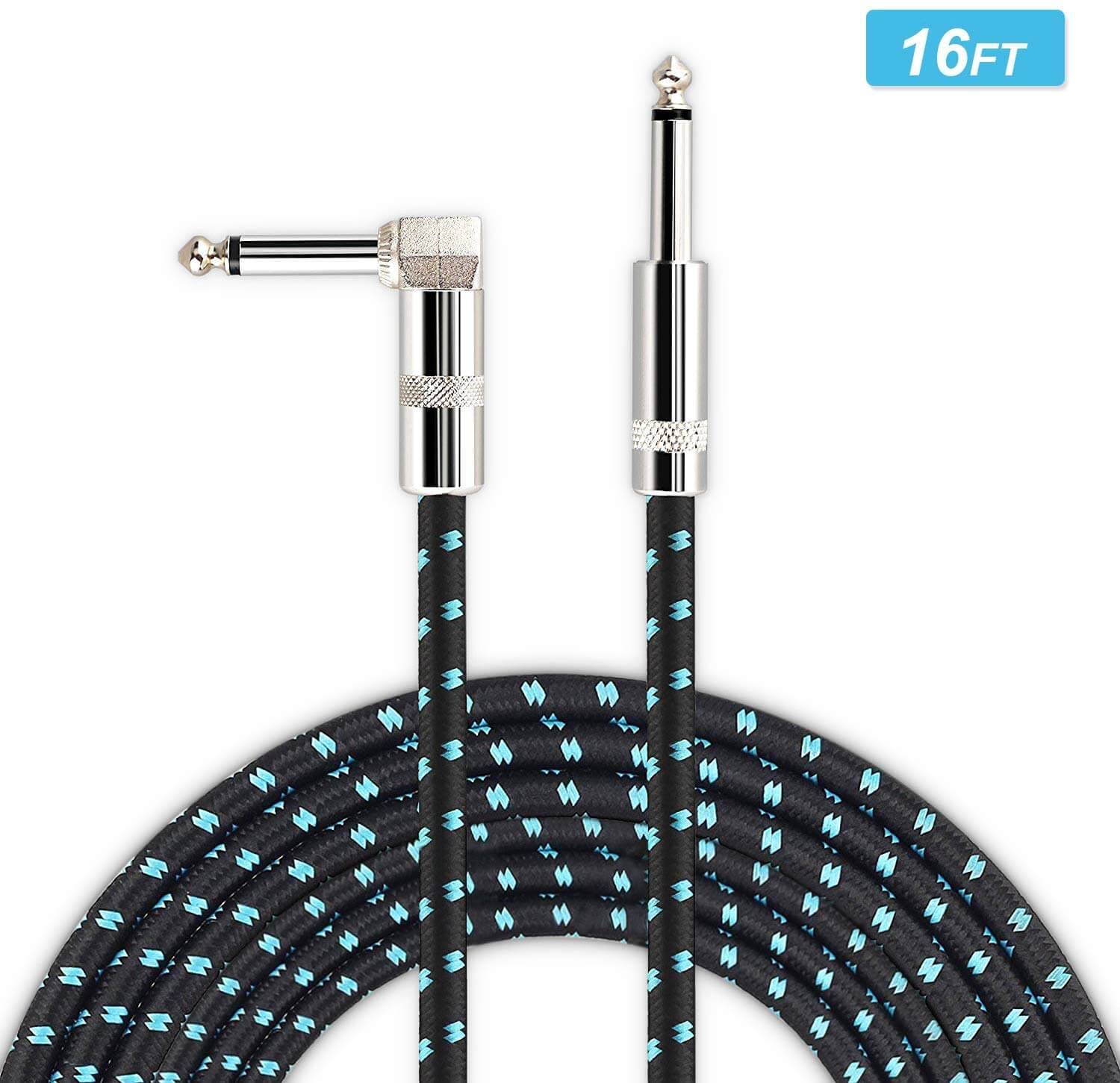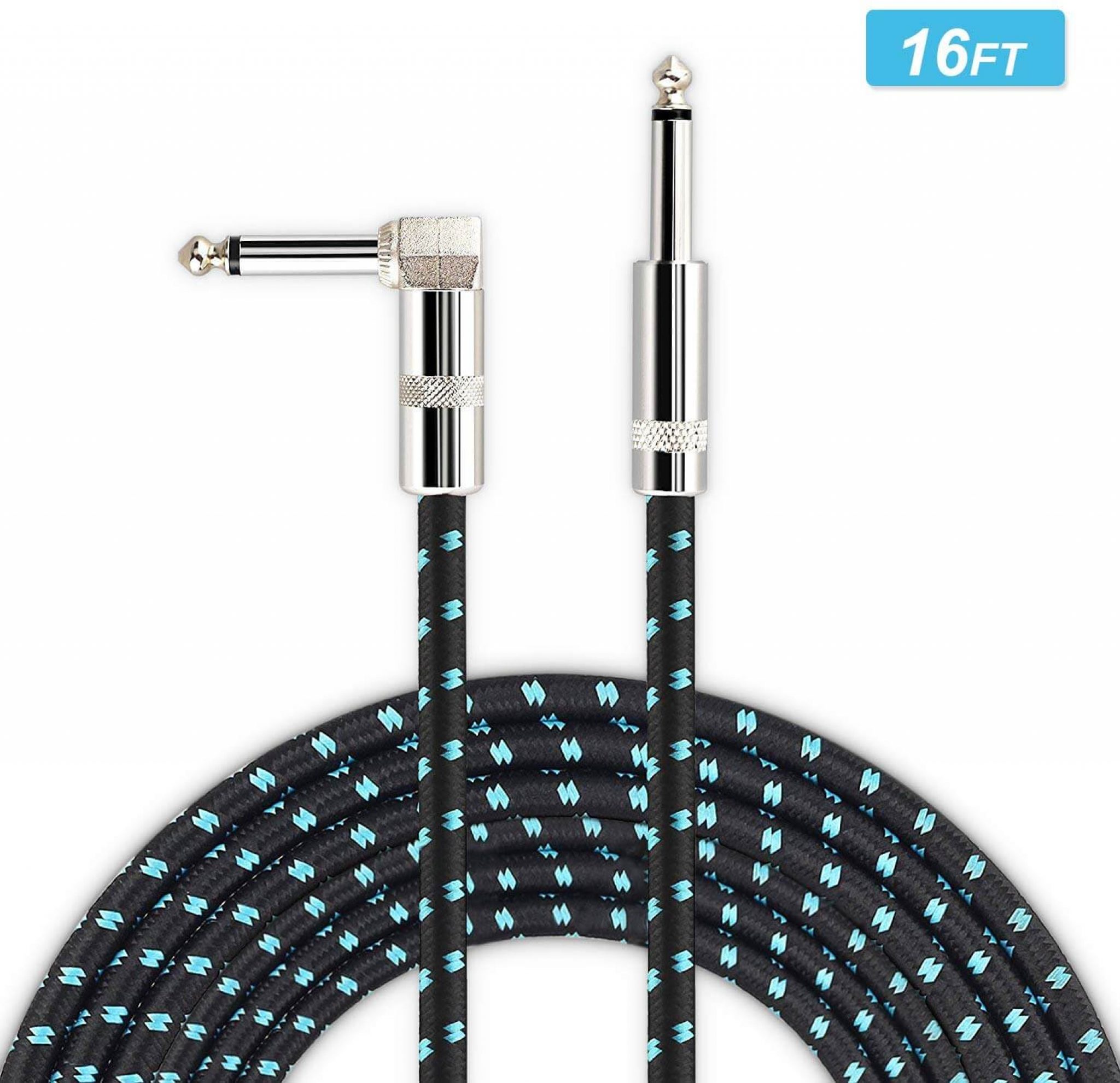 This cable is one of the inexpensive options to go for if you want quality products while saving up some bucks, just like the Hosa cable. It is noise less and prevents all sorts of interference. In case of twisting and kinking, the conductor is well protected by cotton braided jacket.
Mugig professional cable has oxygen free copper in the center conductor and insulator shield. The cable is double shielded with conductive OFC insulator shield. The built quality is strong and sturdy along with anti-winding ability. It comes with a 6-month warranty from the company. It is good for those who play guitar as a hobby.
Pros
Inexpensive.
Flexible.
Braided cloth jacket.
Cons
Some interference issues.
It is one of the most inexpensive cables with great quality. It has cotton braided jacket which makes it resistant to damage from twisting and kinking.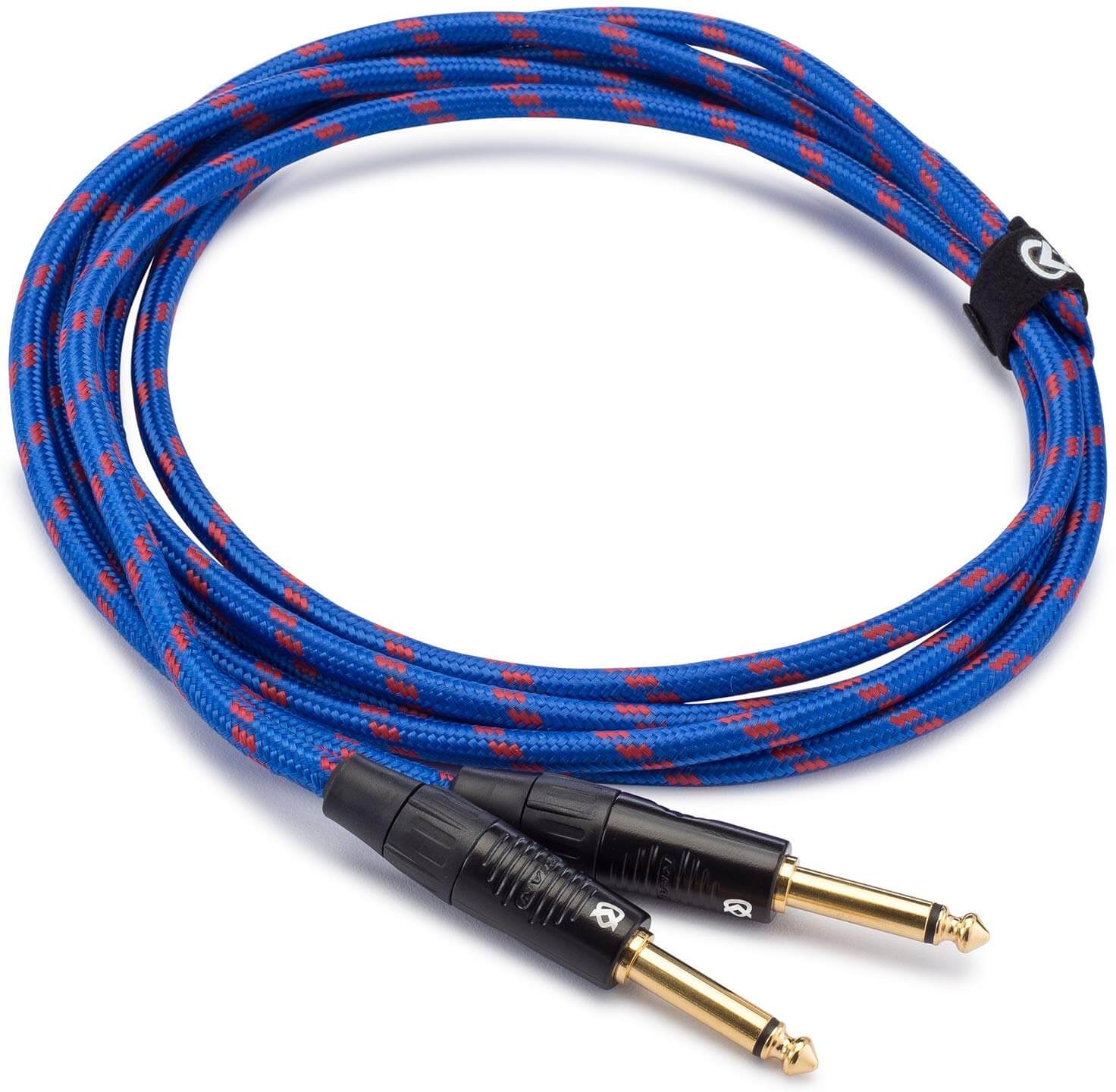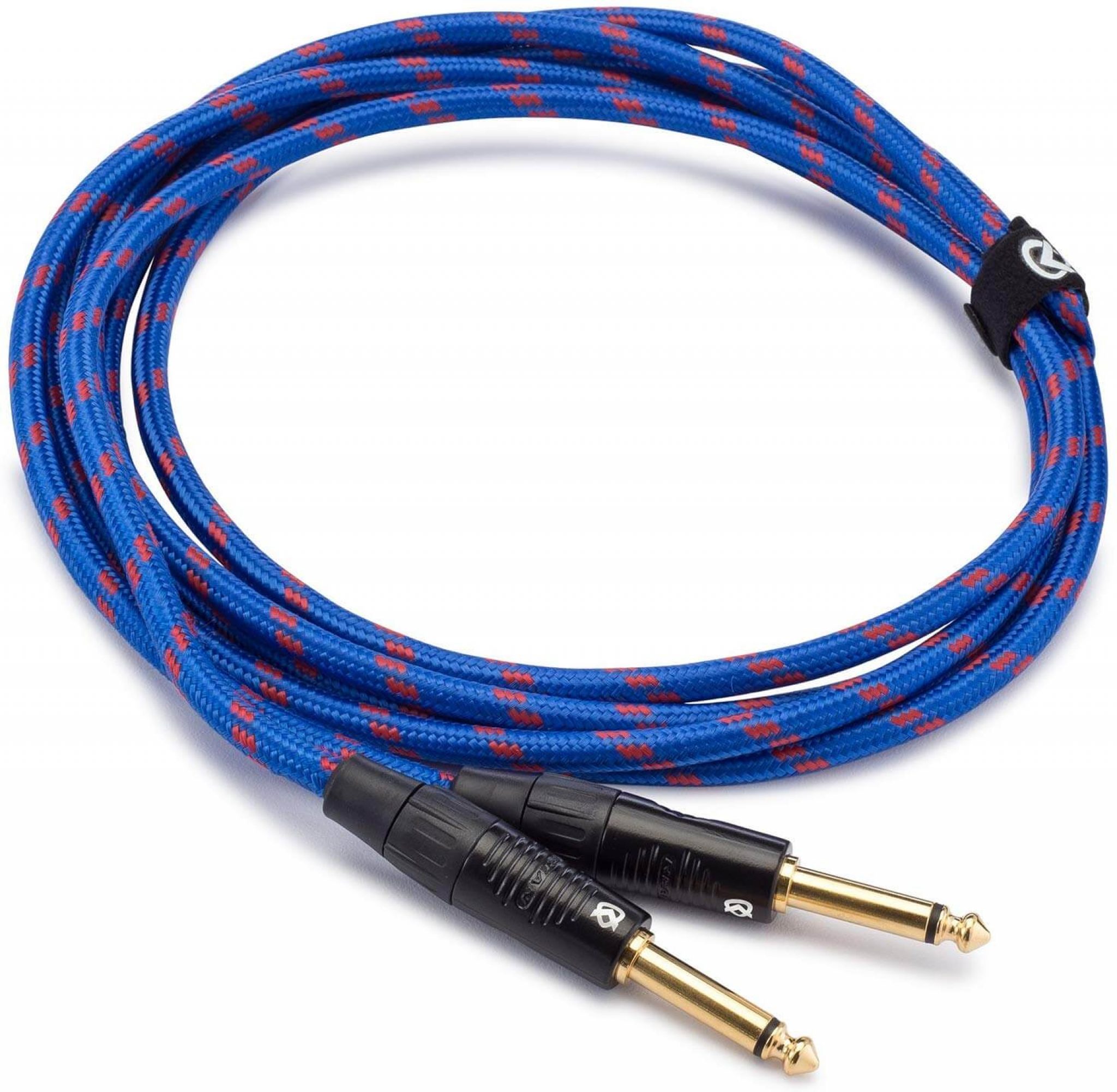 KLIQ guitar instrument cable is equipped with a 24 AWG oxygen-free pure copper core and high-density OFC 99% braided shield which provides low capacitance and results in low buzz and enhanced frequency response. It is able to transport the tone smoothly, minimizing any handling noise or interference. This cable is perfect for professional studio because of its tough build along with powerful strain relief system.
It also provides superior connectors manufactured by Neutrik. The plugs are plated with 24k gold which increase conductivity and makes it last long. The cable remains very flexible and can resist tangling even with the large number of layers of shielding and insulation. This makes it perfect for gigs where you can just move around with your guitar freely. It also comes with a lifetime warranty which makes it a reliable cable to buy.
Pros
Tough built.
Neutrik Plug.
Flexible.
Lifetime warranty.
Cons
May have manufacturing defects but it is not an issue since lifetime warranty is provided.
It provides features similar to that of Fender on Monster cables at lesser price. It is one of the cables you should try if you are looking for some cheap and good quality cable.
A great guitar cable is the one which provides great features at an affordable price. It doesn't necessarily have to be from a popular brand. Many new brands are creating innovations in guitar cables which can generate even better sound quality. To find a good guitar cable one should look for certain qualities like length, conductor material, conductor design, connector quality and the type of shielding.