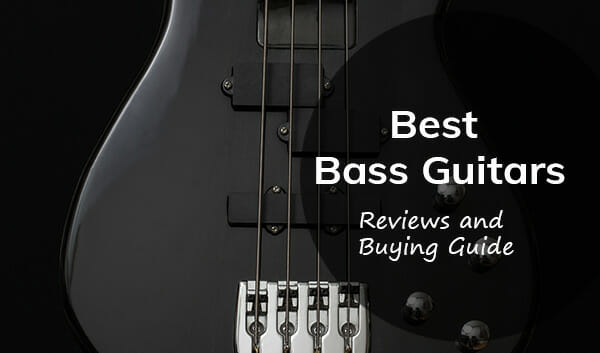 The Bass Guitar is not just a tricky instrument to master but also a notoriously tough instrument to manufacture.
Which is why not every brand and model is to be trusted but thankfully, we have compiled this nifty guide to save you the trouble of choosing the best bass guitar in 2023.
Doesn't matter if you're a beginner looking to get your first or a seasoned veteran looking to upgrade, we have got you sorted.
Table of Contents
Top Bass Guitar Reviews of 2023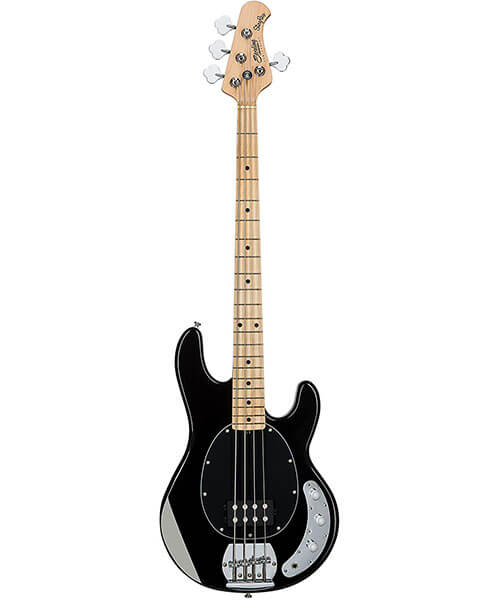 Let us start off by an entry level bass model that will surprise you with what you get considering its price bracket.
The Sterling Music Man series has been around for a while and there is no way to dislike the fast and smooth rhythmic deep ends of this standard bass model.
What we like about it the best is just how well built this unit is, the bridge is not flimsy at all, the tuner on the top seems to be well crafted and it has the standard yet iconic shape, nothing you can dislike here.
Another thing to watch out for in this nifty little package is just how customizable they have made this model, feeling a little fret buzz? Change the keys. Not happy with the strings? They are easily swappable.
Complete with the iconic 6 Bolt neck design which is a hallmark of the StingRay brand this is a bass guitar that will definitely not disappoint you and one which we recommend highly.
Pros
Extremely Well Built.
Super User Friendly and Easily Customizable.
Clear tones which outperform its Price Bracket.
Cons
Not as versatile as models higher up in the price bracket.
It comes from an iconic line of bass guitar makers which know their craft and have constructed a handy, sturdy entry level bass fit for everyone.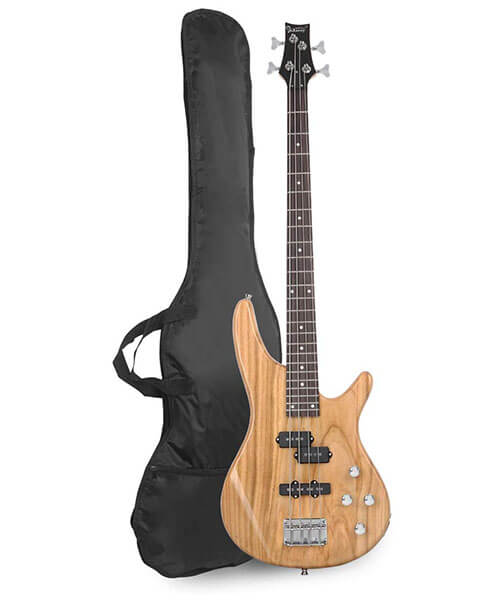 Who says a Bass Guitar can't sound and look good at the same time? Glarry are clearly here to step up the game in both brackets of performance and appearance and they seemed to have knocked this one out of the park.
A full-size bass that has thicker than the usual bass strings right out of the box, a single strum of them and you'll be greeted with its deep reverb and higher string tension.
Owing to its high reverb value, it makes it easier to blend in with vocals. So it does a great job of being a full-size bass but still being accessible to entry level players.
Then we have how it looks, no pick guard on its face you are greeted by just a beautiful panel of tint wood and over and above it comes included with a Power Line and Wrench tool which is convenient.
Overall there are no complaints you can have with this one, a must buy for every level bassist out there.
Pros
Exquisite looking tint wood finish.
Comes included with a Power Line and Wrench.
Thicker strings that'll last longer.
Cons
Thick strings might restrict mobility.
Not ideal for Slapping on Bass.
No overhead costs of purchasing upkeep tools, well built and sounds brilliant and looks elegant. What is not to like about this model?
It is time to go premium with our options here and what better place to start than with the Yamaha 6 series, a true stalwart of the bass guitar game they have done nothing to make us doubt that claim with this model.
Perfectly and precisely engineered, this bass guitar is one for the ages. It looks and feels phenomenal with its expertly sculpted body laminated to feel comfortable on the hands.
Its weight distribution is second to none, and its action is smooth with its bass tones being throaty yet subtle enough to pick up lower notes with ease.
It has a quad pole piece design and alnico magnets that power the active circuit and make it easier to capture every nuance even in passive mode, which is just a home run.
Yamaha is known for its attention to detail and the quick key system on the top makes it easy and completely road ready, just a few twists and it will match the voice you want it to and you're ready to rock.
Pros
Sensitive controls to match your tone.
Road Ready and easily setup.
Looks great with Tiger Maple striping.
Cons
The striping design might not be for everyone.
Quad Pole designs tend to be tougher to handle.
Yamaha is a brand that you can trust blindly any issues that you might have with this guitar (which we don't think you will) can be resolved easily, and it just sounds phenomenal.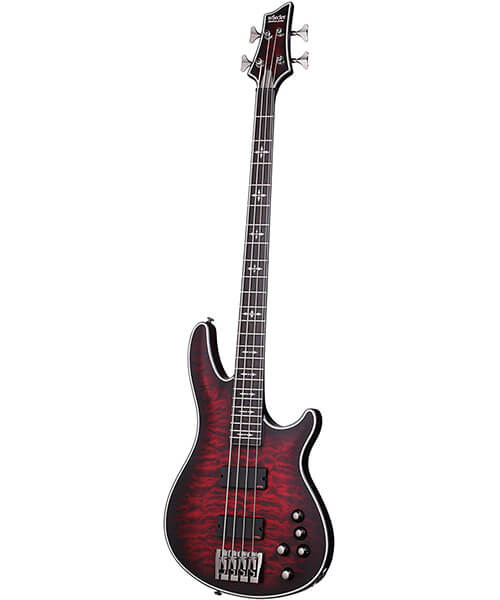 Schetter is another big name in the bass market and Hellraiser Extreme is their newest addition to the mix in the market and it is fair to say that they have really shaken up the landscape.
Available in both a 4-string version and a 5-string version, it has a beautiful neck through design, the neck and the body being just one piece and not being bolted on really adds to how elegant it looks.
The boosted and cut knobs on the side really add to its robust look and are well built and completely functional.
The sound of the bass in general is really heavy and can add a massive amount of low-end in your setup which can be suited to some people, but it is a very versatile bass so you can get a lot of range on it.
The string spacing on the bass is narrower than usual as opposed to the industry standard 19mm it places it at 17mm, so it is more convenient for people with less hand range to play it too.
Pros
The narrow string spaces make it a pro level guitar accessible to novices.
A 24 fret neck gives it incredible range.
The matte black finish is a very versatile look.
Cons
The narrow string space might create adjustability issues.
This mammoth of a bass combines easy access with professional setups and is the perfect bass for every level of player, moreover the neck through design adds just a little bit extra to its charm.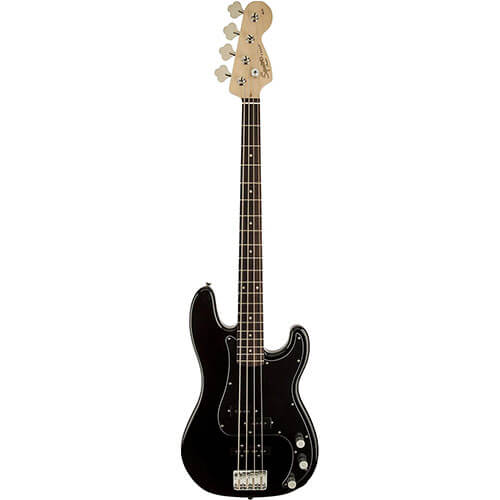 Let us circle back to entry level bass guitars after exploring the higher ups in the market and the Squier series by Fender is one of, if not the most entry level friendly guitar line out there.
Rarely do we ever see an entry level bass with separate volume controls for each pickup and the Fender here really shines over its competitors.
Complete with a rosewood fingerboard, it is little touches like these that tells you that Squier is trying its hardest to give you a premium feel in this price bracket and for the most part, they are succeeding.
It has a glossy back, evenly distributed weight and like any other entry level bass guitar it is a jack of all trades, medium jumbo frets and moderate string density you can slap, strum and low end to your heart's content.
Pros
Solid guitar structure and classy built.
Versatile Sound range.
Premium touch on a budget guitar.
Cons
Like most entry level bass guitars, this one can't really make the jump to higher levels of playing.
For a budget and entry level bass there isn't really much to complain about, its affordable compatible with most skill levels and sturdy yet elegant in its own way, complete bang for your buck.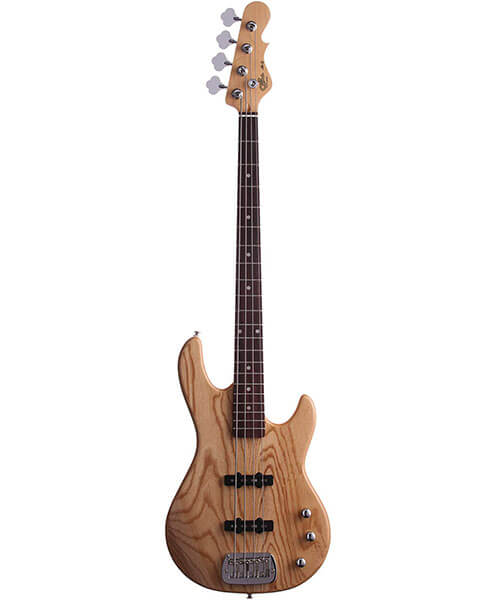 This 34-inch masterpiece is really an all in one package, it is perhaps the most versatile bass guitar in this list you will not be able to figure out whether this is a professional or entry level guitar, which is where its charm lies.
The Scale two Leo Fender design coupled with the Hard rock maple neck in this guitar really lend it a classy look and the same is available in Rosewood too.
It perfectly blends the classic Alcino single coil tones and drops with the low end of the modern Fender sounds and boy does it create the perfect mix for a bass worthy of the versatile tag.
While it's not a neck in design, there is a particular old school charm about how sturdy and well-built the bolt on bass guitars feel and sound. And all of that old school charm is cut elegantly with modern fender design changes.
Don't be fooled, there is nothing revolutionary about this bass guitar but as the old adage says "if it isn't broken don't fix it" it keeps true to its classical roots and shines with an unparalleled old school charm.
Pros
Classical build, classical sound and classical success.
Performs excellently on every level.
One of the best-looking guitars out there.
Cons
The classical design and features might be too basic for some.
Built over an old relay system.
This might just be our favourite guitar on the list, it outperforms almost everyone in its price bracket and who doesn't love a piece of classical history strumming on their fingers?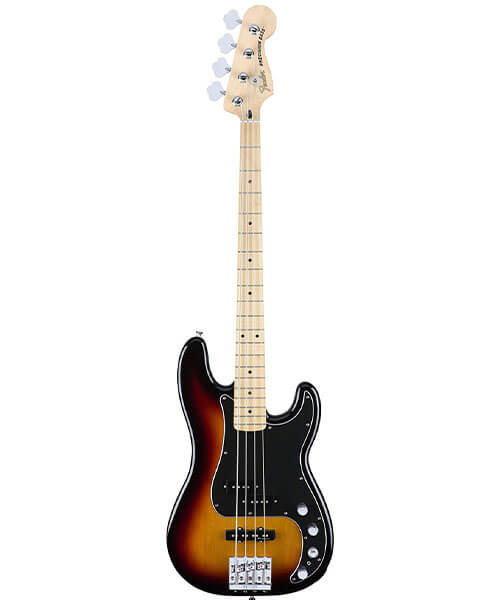 Another Fender entry on the list but with a company so decorated and so vastly experienced in the business of crafting fine musical instruments, are you even surprised?
Included with a gig bag this Bass Guitar has a PJ pickup configuration complete with a split coil precision bass and a vintage noiseless bass pickup line which will leave you wanting for more.
The maple fingerboard has a classy yet modern look which makes the guitar even more appealing to those who would want to look good while sounding better.
Speaking of sound, you wouldn't be shocked to hear that Fender has knocked it out of the park again with how the reverb of this guitar perfectly matches the deep ends and slapping pickups, this truly is a work of art.
You need to check this bass guitar out if you want to get your hands on true musical quality, you will not be disappointed after all it is Fender we are talking about here these guys know what they are doing.
Pros
Classic Fender sound and built.
Long lasting string bolts.
Includes a Gig Bag.
Cons
Split coil precision has occasional syncing issues with basic amps.
This guitar perfectly blends the quality and workmanship of Fender with the newer trends in the industry related to longevity and range of voice, this is a brilliant buy at this price point.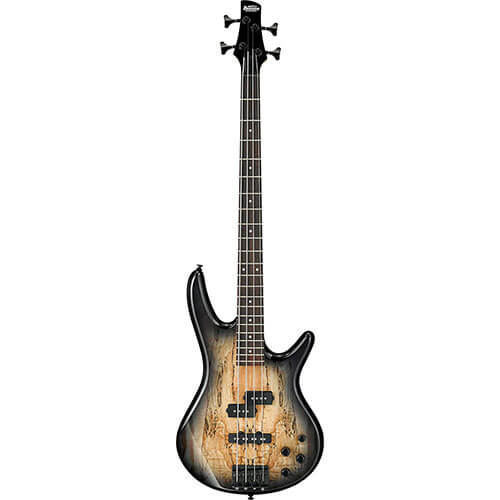 The Ibanez 200 is for those who are on a budget but want the same features and sounds of the higher up price brackets and it really does bridge the gap between budget and premium.
The body is really light and has a really good comfort fit whether you are playing sitting down or standing up it does the job well.
Ibanez has done it again when it comes to constructing an easy to play yet good sounding guitar, it is so easily playable with a rosewood fingerboard giving you easy access to the 22-fret music machine.
It has a great tone as well, with a great sounding low end but one very cool feature is the Fat 2 active bass boost that lends it that extra X factor that its competitors do not have.
Pros
Affordable yet classy.
Well constructed rosewood fingerboard.
Perfect for recording with its Bass boost feature.
Cons
Same as all high end basses, your amp has to match the quality of your bass which means extra expenditure if you don't have an amp good enough.
We like it because it is a perfect guitar for budget buyers that feels surprisingly premium and with Ibanez involved you know they will never cheap out on quality.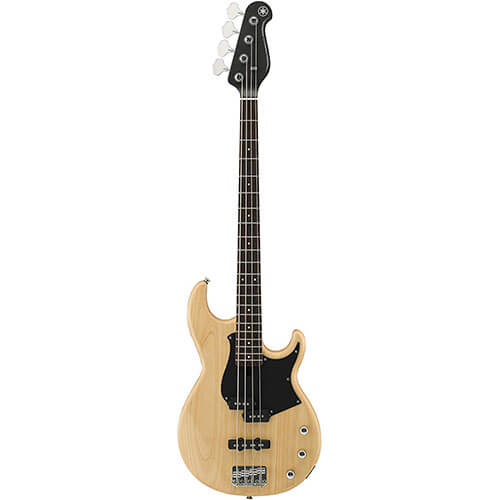 This is one really cool Bass Guitar with one of the best low-end productions in the market may it be live on the show or back in the studio. If you want to add that depth to your song, this guitar is the one to go for.
It looks beautiful too with the sleek and simple wooden finish. It's all outer design with its ceramic pickups with each pickup having its own volume toggle that provides great controls.
It accommodates a lot of different playing styles, the open pack tuners on the head-stock of this guitar have been lightened so it provides a better balance to it whether you play it on a strap or your leg.
Pros
One of the most Balanced guitars on the market
Great controls on a good price point.
Smooth finishes and deep low ends.
Cons
The light tuners might feel cheap to some.
Somewhat less durable than other basses.
It is the little things that matter when all the big boys provide you the same features and Yamaha have just that eye for precision. The lightened tuners really do the trick for us.
Frequently Asked Questions About Bass Guitars
What Bass Guitar is best for you?
Every person has a particular style and preference for their bass guitar, and what you need to figure out first is what sort of use would you want out of this guitar?
If you want more range go for a 5 string, if you want compactness spring for an entry level one. Figure out your sound and make an informed purchase.
What accessories do you need with a Bass Guitar?
Pretty standard guitar stuff here, an amplifier a tuner and guitar picks and you are sorted.
Pitch in for guitar straps and extra strings and you are good to go for the future and performances too.
What stuff do I need to change strings on a Bass guitar?
Considering your strings are wearing or are somehow damaged, all you need is a new set of strings, a wire cutter and a tuner and the process is quite simple.
Should I buy a fretless bass?
It really depends on your level of expertise, if you are a seasoned bass player and have a good ear for music, a fretless guitar can give you free movement and transitions.
Although newer players should stick to frets as it makes it easier to identify notes.
Which Bass is best for beginners?
The Squier by Fender would be our top pick and you can scroll up and check out just why.
How many strings should my Bass have?
The choice between a 4-string bass and a 5-string bass should be made based on skill and it is suggested that beginners start off with a 4-string model and work their way up.
Is a Bass with more knobs better for me?
Not really, while the added knobs give you more customizability in altering your sound if you are just starting off get a simple one. So you can focus on the strings and learn your trade.
Best Bass Guitar Brands
This has to be the best time in the market for a Bass Guitar enthusiast with the new entrants into the market making sure that the big-name brands do not get complacent and continue to push their boundaries.
1. Ibanez
Ibanez has to be one of the best brands out there and many avid bass heads repeatedly profess their love for this stalwart and make it their go to brand for all their bass guitar needs.
It has to do with the fact that the level of consistency over time Ibanez have maintained, simply put they just don't put out a bad guitar out in the market and it their respectable track record is one to envy for sure.
2. Music Man
The American guitar stalwart is another one of the big heavy hitters in the guitar industry and has been for the longest time.
They have been making bass guitars since 1976 and such historical expertise into the matter really seeps through and their quality products are only given more reputation by each passing minute.
3. Fender
This list would be incomplete without adding a brand like Fender to the mix, not only do they have multiple entries in our list they also have every right to call themselves one of the biggest bass brands out there.
Guitars ranging from the entry level all the way to the seasoned veteran top tier.
Moreover, Iconic legends like Sting and Roger Waters have been public about their love for Fenders, don't take my word take theirs.
4. Yamaha
Yamaha is another ruler of the bass guitar world, scarily similar to Ibanez and their size and shape they boast a gigantic roster of bass guitars ranging from three to three thousand dollars.
They cover a wide range of styles and sizes which make them an appealing yet accessible brand.
5. Gibson
Gibson is a gigantic guitar manufacturer but not many people know that they also make bass guitars, while there aren't many notable industry leaders if you want one to do the job well you cannot go wrong with a Gibson.
Conclusion
The world is full of Bass Guitars that are average, but we assure you that none of the ones here have an average component in their build and are excelling in their respective areas.
Save yourself some trouble and buy the top of the tier guitars out there no matter what your needs we have a suggestion for you.