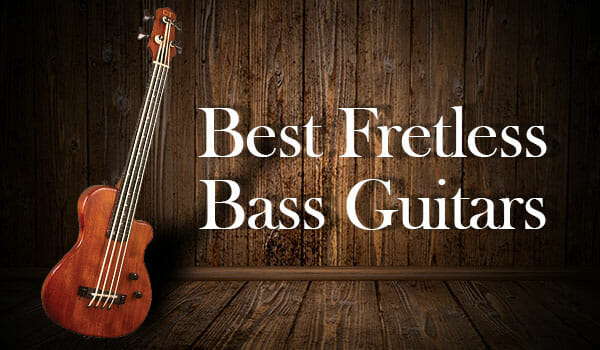 Fretless guitars are the underdogs of the guitar world. They don't get mentioned a lot and are a little different from your standard fretted guitar.
Frets, to put it simply, are the raised metal strips on the neck of your guitar. These are in place so that the players know which note is where thus, making it easy to play specific notes.
Here are some of the best fretless guitars for you to choose from in 2023.
Table of Contents
Top Pocket Guitar Reviews of 2023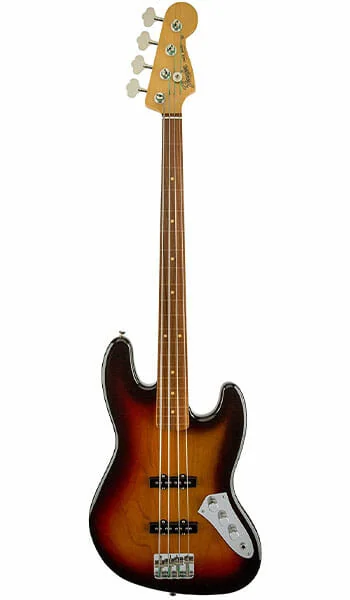 Fender Jaco Pastorious Fretless Jazz Bass is a tribute to the legendary John Francis Postorious who was a very well known bassist. This model is very professional but at the same time; is somewhat pricey.
It is reminiscent of Fender's original Jazz Bass. It comes with single coil pickups and 3 – colour sunburst. As it is a tribute to Jaco Pastorious, it has the signature neck plate. They also have eliminated the pickguards.
This Fender has fret lines, to help you manoeuvre around the fretboard and catch tones with ease. The top quality tonewood and pickups not only gives you undisturbed sound, but also allows you to play a wide range of sounds as per your need.
It is very skillfully constructed and professional.
Pros
Very good sound.
Best for jazz.
Sturdy built.
Wide tonal range.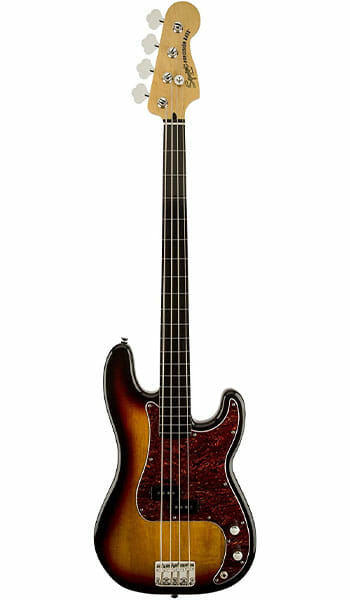 Next on our list is the Squier Vintage Modified Precision Bass. All the Fender products are iconic, that goes without a say. That is why it is such a huge name in the industry. They are also very cost effective. The Squier Vintage Modified Precision Bass lives up to this hype.
This also comes with fret lines in the ebonol fretboard. It features a modern C neck made out of maple wood. It has the signature split single coil. This allows you to play deep as well as punchy tones. You can see that it is similar to other basses by Squier, but also some unique features with an affordable price tag.
The Squier Vintage Modified Precision Bass is the best option I'd you don't want anything complicated and want to keep things simple without compromising the quality of sound and tones.
Pros
Good tone.
Fret lines for better navigation on the fretboard.
Sunburst finish.
Cons
Pickup sounds are not admirable.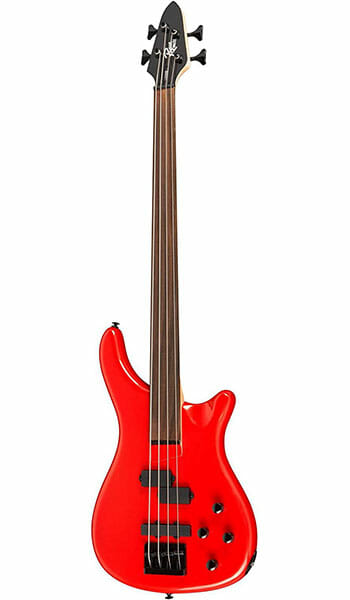 Rogue LX200BF Fretless Series III Electric Basic is a good option if you're not very sure about what you're getting into with this whole fretless guitar thing and are a bit clueless.
It is considerably kind on your pockets. Thus, great for entry level players. Even if you end up not playing regularly, you won't have wasted a lot of money.
Its price is not a testament to its quality though. It had a basswood and rosewood neck. The neck comes with a J and a P style pickup. These make transitioning very smooth and easy.
It doesn't provide you a lot of tonal range and variety. But it is the perfect choice, if you just want to dabble in the world for fretless guitars and play around, without costing you a fortune.
Pros
Budget friendly.
Good for beginners.
Sturdy sound quality.
Cons
Built is not very strong.
Wiring can be a little complicated.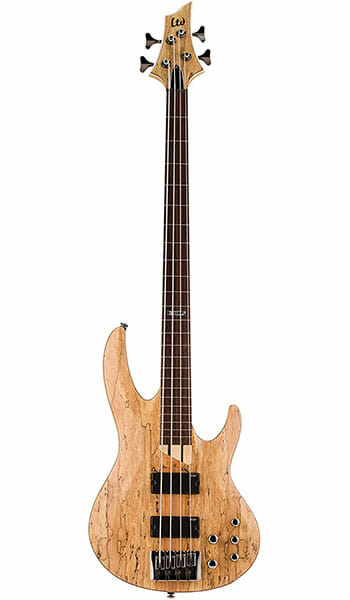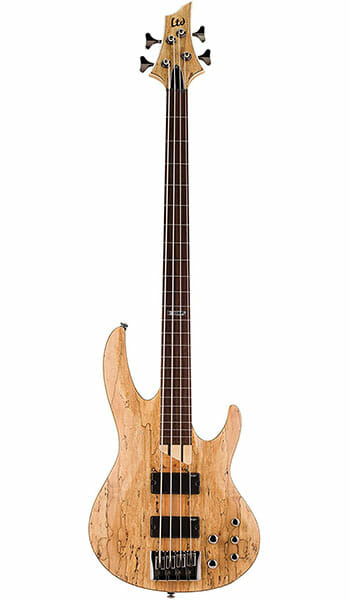 Up next we have the ESP LTD B – 204SM, which is one of the best ESP has to offer in the fretless range.
It has a basic yet technically sound structure. It is a right hand guitar with a fixed bridge system. This makes it very easy to play. It is a four string guitar, thus reducing the complexity. It is made of ash wood and is decently sturdy. The fretboard is made of rosewood, along with the neck, which is very high quality. The spalted top, featuring maple wood, gives you the rich, warm tones.
The body is a natural shade of satin, with jet black nickel hardware. It sports 5 knobs, which are very smooth to adjust. These provide effortless ease in adjusting the tone and help you deliver an amazing performance. The quality of sound is also professional.
Godin A4 Ultra Natural Fretless SA is an electric – acoustic bass guitar, and it comes with a 5 string model too.
The fretboard, which is made of ebony with a rock maple for the neck, is as long as 20 frets and gives a very wide range of tones. You do not need to adjust the neck a lot which is definitely a plus. It is very comfortable to play due to the C neck shape.
Whether you acoustically or otherwise, Godin A4 Ultra Natural Fretless SA does not disappoint. It features a sturdy body with silver leaf maple with a sleek, glossy finish.
This guitar comes with one of the best tuners, which holds even after hours of continuous playing. It also provides a lot to tonal range with a decent sized fretboard. The dual chamber body eliminates all the feedback.
Pros
Great tonal range.
13 pin connectors.
Allows you to control the tones a lot.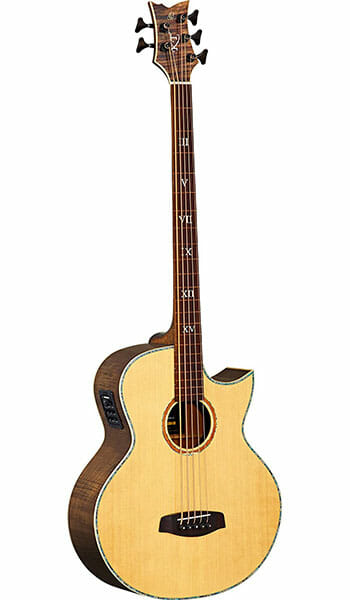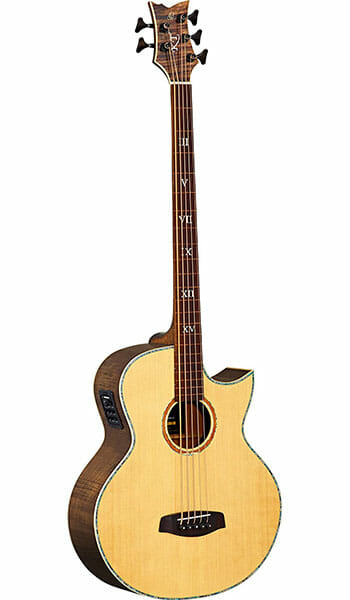 Ortega KTSM – 5FL Ken Taylor 5 – String Lined Fretless Acoustic Bass is definitely one of the best Ortega has to offer.
The shape of this guitar is cut away. This makes playing high tones extremely easy. The mahogany sides, neck and back, rosewood fingerboard, the spruce top, give you warm, rich tones. The neck is very stable because of the double truss rod and makes adjustments very smooth and uncomplicated.
This Ortega features an inbuilt tuner. This makes things fairly simple and efficient. This way, you don't have to carry an external tuner everywhere. The preamp is strong and stable. The pickup system gives you wonderful sound quality. Both are made by Fishman, the name speaks for itself. It also comes with a bag and leather strap.
Pros
Free bag and strap.
Inbuilt tuner.
Good preamp.
Next on our list is the Ibanez Workshop SRF700, which is a mid range product in terms of price. It has a sturdy and aesthetically pleasing body, and is very well built. It has 4 strings.
The guitar comes with a Piezo pickup system, a mahogany body and a maple wood neck. It features 2 double coil, humbucker pickups. This gives you a thicker sound, which is perfect for genres like rock or metal. It also provides a superior high sonic sound.
It could be a little difficult for beginners to grasp, but is best for professionals or players with mid range skill level.
This is a guitar that gives you sufficient range, is affordable, very efficient, along with comfort. It is also extremely durable because of the strong, sturdy, well made body.
Pros
Durable.
Good for metal and rock.
Humbucker pickups.
Affordable.
Cons
Not a good choice for beginners.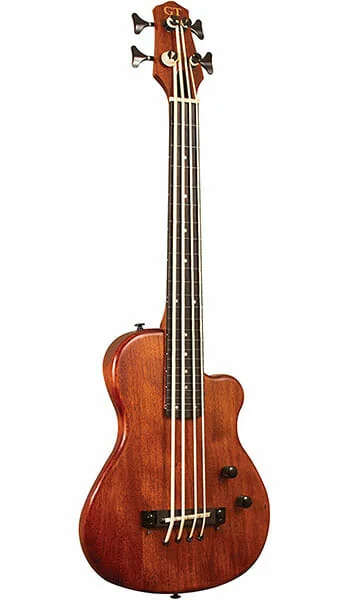 Gold Tone ME Bass FL Solid Body MicroBass Fretless Guitar is another Gold Tone product with amazing sonic quality though it might come at a hefty price.
The mahogany body is structurally flawless, very sturdy and durable. The Piezo Transducers is on board and gives you that crisp, warm sound quality. The Electric control has a slide control. This slide controller allows you to adjust EQ and volume, giving you the tones and sound you want either almost ease.
The bridge system can also be manipulated according to one's personal preference. This is neither the most affordable option nor the easiest to play due to the technicalities. But if you are a professional who knows what they're doing and considerable skill, you will get a bang for your buck.
Gold tone also gives you a bag along with it, this makes it very portable.
Pros
Electronic controller.
Adjustable bridge system.
Durable.
Cons
Bit pricey.
Not for beginners.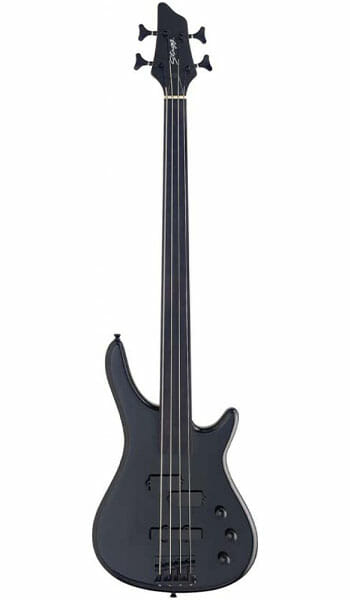 Lastly we have Stagg BC300FL Fretless 4 – String Fusion Electric Bass. Stagg is known for their wonderful craftsmanship, elegance, and reasonable price tag. The Stagg BC300FL Fretless 4 – String Fusion Electric Bass is no different.
The looks on this guitar are absolutely magnificent. The smooth, sleek, glossy, black finish makes it look very, very stylish. It is truly a work of art and a beauty to look at.
But looks are not the only thing this guitar has. It is extremely light weight, that is, 9.3 pounds to be prices, this makes it very undemanding and effortless to play. The neck is made of maple wood with a rosewood fingerboard and alder body.
Don't let the fancy looks fool you. It in no way means that the guitar is delicate. The elder body is very sturdy and durable. This is a right hand guitar with 4 strings. The bridge system on this is vintage.
The easy, straightforward playability and affordability makes it a good option for beginners. Along with a pocket friendly price tag, and the looks, it also has great sound quality.
Pros
Very stylish.
Durable.
Good for live performances.
Honourable Mentions
Ibanez SR375E SR Standard Fretless
Fretless 5 String Electric Bass Bolt
Fender Tony Franklin Fretless Precision Bass
Ibanez SRF700 Portamento 4 – String Fretless Electric Bass
Sire Marcus Miller V9 Alder/Quilted Maple 4-String Fretless Bass
Squier by Fender 0306808500
Best Brands: Fretless Guitars
1. Fender
Fender is one of the most popular names in the music industry. They have a signature style, which is very recognizable. Their quality products are still unmatched and incomparable. They're truly the veterans of the art of making quality guitars. They produce top notch electric as well as acoustic guitars. Along with that they have a very vast range of products. They've got guitars for left handed people, for beginners, guitars with baritone, guitars for professionals, guitars with hollow bodies, you name it, and they have it.
Fender has always appealed to the bug shots of music like, Jimi Hendrix, Eric Clapton, etc.
Other Fender fretless guitars:
Tony Franklin Precision Bass
Classic Vibe '60s Jazz Bass
American Professional Jazz Bass Fretless
2. Ibanez
Ibanez is about innovation while holding on to the traditional. It has continued to make groundbreaking inventions in the field of music for more than a century. This is why Ibanez is held in high regard by top musicians across genres all over the world. This has caused Ibanez to gain a reputation in the west in spite of being a Japanese company. It was the first Japanese company to do so.
Some notable artists who used an Ibanez were, Mick Thomson, Steve Vai, etc.
They give you a wide, wide range of instruments to choose from. Whether you're a beginner or a pro, Ibanez has got you covered.
Other Ibanez Fretless guitars:
Ibanez Garry Wills Signature Fretless GWB205
Ibanez SRF706
Ibanez Standard SR370E Fretless
3. Gold Tones
Gold Tones is most notably known for their banjos. But their guitars are also very commendable. It was started by Wayne Rogers and Robyn Rogers, who were musicians themselves, as a small music store called Strings N' Things Music Centre. This was back in the late 1970's.
The Gold Tones that we know today was started by them in the early 1990's. They have been providing exquisite quality products since the very beginning. This, along with the affordable price tag, has customers flocking to Gold Tones. They have many products along with banjos and guitars like mandolins, ukuleles, Hawaiian guitars etc.
Other Gold Tones fretless guitar:
ME Bass 23 inch scale Fretless Electric MicroBass
M – Bass FL 23 inch scale Fretless Acoustic Electric MicroBass
M Bass 25 FL
4. Stagg
Stagg is also a company that started out in Japan that has made its mark on the music industry through its consistency in delivering top quality instruments. Later on, it was relaunched by the Belgian music giant it is now, by Leonardo Baldocci in the mid 1990's. Now they operate from Brussels.
They produce all sorts of music instruments from percussion instruments to stringed to brass. They are very passionate and enthusiastic about their instruments and this has caused them to rise up in the competitive industry.
However, they only make the BC300FL Fusion in the fretless guitar category.
5. ESP
ESP Company Limited, in which 'ESP' stands for Electric Sound Products, started as a small shop in Tokyo. Hisatake Shibuya started it as a passion project out of his love music and its mechanics. He used to provide replacements of the parts of the guitar in this humble shop. And since ESP has never looked back. Now they make a variety of products that will provide for your every need. They make custom, made in Japan, products as well as mass produced Korean products.
Whether you're a jazz musician or an acoustic musician or a heavy metal person, ESP has you covered.
Other ESP fretless guitars:
B – 205SM Fretless
ESP LTD B Series B50BLK Electric Bass Guitar
Frequently Asked Question About Fretless Bass Guitars
Why would I get a fretless guitar?
Fretless guitars are uncommonly low key. But they're known for the tones they provide. Major part of their appeal is the warm and smooth sound. So, if you're looking for that particular tone range, you get a fretless guitar.
Is a fretless guitar easy to play?
No instrument "easy" to play. You can only get there with practice. However, a fretless guitar can prove to be a bit on the more intricate side of skill.
Is a fretless guitar good for beginners?
If you're getting a fretless guitar as a beginner be ready to be disappointed and frustrated at times, as it is harder to master than a fretted guitar. It will take time and hard work. But it is definitely not impossible. 
Why do guitars have frets?
Frets are the metal strips on the neck of the guitar. These are there to make it easier to get desired notes while playing. They're strategically placed to produce specific notes. 
Is a fretless guitar comparable to a violin?
Only in the fact that both do not have frets.
What are some other instruments that don't have frets?
A lot of other instruments do not have frets, like violins, double basses, cellos and some traditional instruments. 
What accessories do I need with a fretless guitar?
Some accessories you might need are – tuner, amp, extra strings, cables, etc.
Conclusion
Now that you're well acquainted with the ins and outs of a fretless guitar, you're ready to buy yourself one.
Do not stress about it, try different versions, and see what suits your style and preferences the best. At the end of it, it all comes down to personal taste, and the needs of your style or project.
Hoping this guide helped.