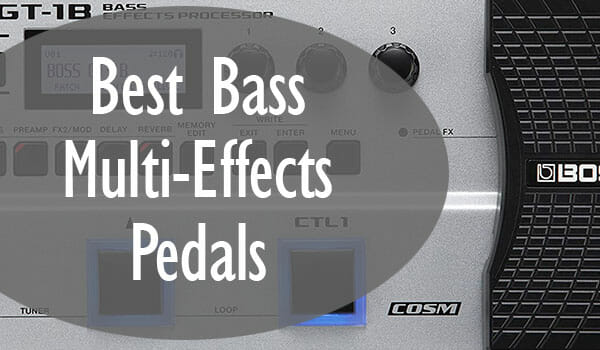 Multi-effect pedals are one of the most sought after accessories for bassists. There are a lot of pedals out there, including compression, distortion and whatnot. Multi-effect pedal is a single piece of equipment that does the job of many.
You don't need to buy any other dedicated pedal for compression or distortion; a multi-effect pedal does it all for you. In this article, we are presenting a list of 9 best multi-effect pedals for bass of 2023, along with the buying guide.
Without further ado, let's begin.
Table of Contents
Top Bass Multi-Effects Pedals In 2023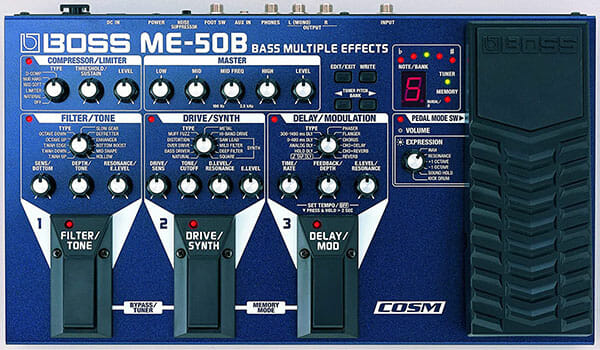 ME-50B has got to be the best product released by Boss until now. It has everything that a bassist could ask for. It is a floor-based unit that features all of the widespread effects including compressor, limiter, filter, tone, modulation and delay.
Boss ME-50B is a one-stop solution for bassists. It is a sibling pedal of the ME-80, which was designed for guitarists. Also, it is one of the oldest multi-effect pedals in the market as it has been around for more than 15 years. On the surface, ME-50B seems pretty durable, and the metal chassis looks like it can withstand a substantial amount of wear and tear.
When it comes to controls, no other pedal comes even close to the ME-50B due to the sheer number of them. There are a total of 23 knobs which is way more than any other entry in this list. So many controls might overwhelm you if you're a beginner. There are also three footswitches, namely, filter, synth and delay and an onboard expression pedal which you can assign options like wah and octave. These controls are divided into six sections that allow you to modify a specific aspect of your tone.
ME-50B comes with a slight modification of the sound on sound feature, which is highly popular among guitarists. These functions are called the Kick Drum and the Sound Hold function. The former allows you to add a drum and create loops, while the latter will enable you to extend a low note endlessly.
Another brilliant feature is the choice of power supply. You can either do that with AA batteries or via a 9 Volt adapter which you'll have to buy separately. I would recommend the Boss ME-50B if you are an experienced player who is looking for an upgrade over his/her existing pedal.
Pros
Numerous features.
Brilliant effects.
Several functions.
Warm sound quality.
Cons
So many knobs and buttons can be confusing for a beginner.
Boss ME-50B might be the best multi-effect pedal in the market. It is an all in one package with innovative features like Sound Hold and Kick Drum.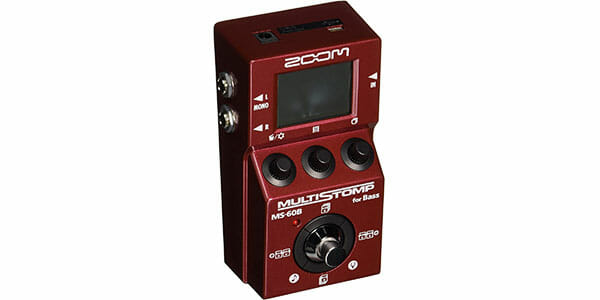 Zoom is also one of the leading manufacturers of effect pedals, and MS-60B is yet another entry in their line of terrific products. It comes in a stompbox-style design which is also quite small and highly convenient in saving that precious pedalboard space. MS-60B is also one of the most uncomplicated yet highly sophisticated multi-effect pedals in the market.
The design is pretty basic; you won't find too many controls that'll confuse you. Instead, there are only a handful of controls present. A single footswitch, three knobs and four buttons are all that you're going to find on the MS-60B. That being said, this pedal will not disappoint you when it comes to performance. MS-60B comes preloaded with 58 effects for bass including delay, reverb, modulation and many others. Most of these effects are emulations of renowned individual pedals. For instance, the Distortion or Overdrive effect emulates the sound of Boss ODB-3 and EHX Big Muff. You can use up to four effects simultaneously. There's also 30 preset patches and a chromatic tuner which supports both drop and standard bass tunings.
Zoom has put in many other additional features that give MS-60B an edge over its competitors. The auto-save feature automatically saves the edits and modifications you made on the presets. Tap Tempo is another great feature by which you can set delay times and modulation frequencies simultaneously as you play.
MS-60B can go on for 7 hours on AA batteries, or you can power it using a 9 Volt adapter. If you're looking for a pedal that does the job without the fancy controls, then I strongly suggest you go for the Zoom MS-60B.
Pros
Great sound quality.
USB connectivity.
Auto-save feature.
Compact stompbox design.
Cons
Fewer controls might inhibit your tweaking abilities.
Zoom MS-60B is a pedal that is designed for those who believe in simple living high thinking. It does the job of a heavy-duty pedal despite being half the size.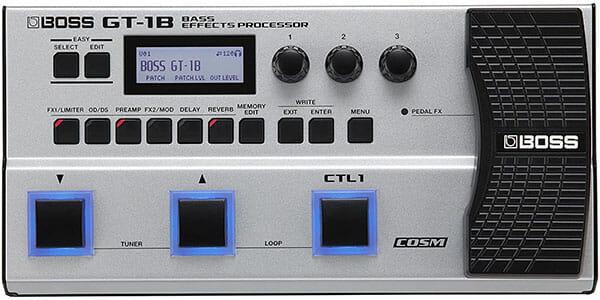 When you hear the name Boss, you can expect quality with that product. Same goes for the GT-1B. It is one of the easiest to operate multi-effect pedals in the market and has a plethora of brilliant features. GT-1B comes with a professional class sound engine from Boss, which makes it perfect for both for on-stage and studio environments. Moreover, Boss has done a marvellous job in making this pedal so compact and lightweight, without compromising on the features and effects.
Speaking of effects, this is an area where GT-1B won't disappoint. It comes with a total of 25 effects including all the notable ones like distortion, compressor, limiter, chorus, synth and much more. Also, you'll find 13 preamps, including many versions of delay and reverb.
On the surface, you'll come across an expression pedal on the right, three knobs, three foot switches and a bunch of buttons that are used to add different effects. The rightmost switch is the CT1 which you can assign many different functions like toggling tempo and effects. The buttons and the knobs allow you to perform seamless adjustments to your sound. Features like Easy Edit and Easy Select will further enhance your experience if you want to create patches. There is also a small screen in the middle that displays the menu. The menu operation is very straightforward and makes using the GT-1B a piece of cake.
In terms of connectivity, GT-1B is one of the best multi-effects pedals in the market. You can connect an external expression pedal or two more footswitches if you like to have more control. There's also an AUX port, and it also comes with USB connectivity. Furthermore, GT-1B is also compatible with the Boss Tone Studio software that expands the limits of this pedal even beyond that you can imagine. If you think that this is the pedal that you were looking for, then, by all means, go for it.
Pros
Impressive sound quality due to the professional sound engine.
Numerous presets and effects.
Brilliant connectivity including USB.
Compact and lightweight.
Cons
No true bypass functioning which might disappoint some of you.
Boss GT-1B is a relatively small multi-effect pedal that packs a lot of punch. It has superb tonal quality and can be easily connected to your computer via USB.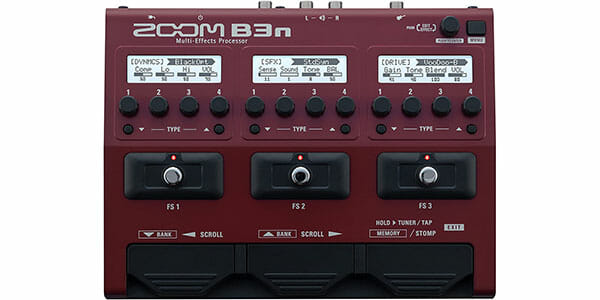 B3n is the second entry by Zoom, and this one is for the ones who are looking for some more controls than the MS-60B. B3n is the successor of the legendary B3 pedal from Zoom. Although it comes with a plug and play feature, I wouldn't suggest this pedal to an amateur. I recommend this if you can afford it and feel confident that you'll be able to get the best out of it.
Looking at the controls, you'll find three footswitches, 12 knobs and a bunch of buttons. Three small LCD screens give you an idea of what you're actually doing. In total, there are 67 effects including many versions of modulation, reverb, overdrive and distortion. Zoom pedals are known for emulating the legendary pedals of the bygone era, and B3n is no different. It is designed to mimic the amp and cabinets including Ampeg SVT-810E cabinet, Aguilar GS410 among many more. You can use up to 7 effects or amps simultaneously in any order you desire. B3n also allows you to save up to 150 of your self created custom effects as patches.
It comes with a looper which can work as both stereo and mono, and more than 60 rhythm patterns. You can use them in tandem with the looper to create the desired effects and sounds. Another terrific feature of this pedal is that it works like a charm with the Guitar Lab app from Zoom. This app grants you access to a collection of many more effects and amps.
Although it looks brilliant on the surface, B3n has a couple of minor setbacks. Firstly, it doesn't work on battery; you'll have to purchase a separate adapter. Secondly, it is not compatible with all expression pedals. You can expect only Zoom and a few other pedals to be compatible with it.
If you can overlook these minor shortcomings of B3n, then there's no reason you shouldn't buy it.
Pros
Terrific looper and tuner.
Numerous controls.
Three LCD screens.
Brilliant features.
Cons
Not compatible with all expression pedals.
Even though B3n has its flaws, it still is one of the most versatile multi-effect pedals in the market. It offers a wide range of effects and amps that overshadow its shortcomings.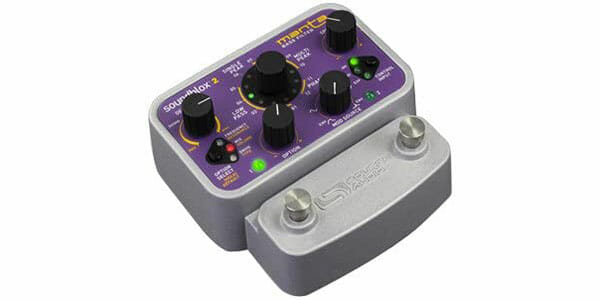 Soundblox 2 is a family of 7 pedals by Source Audio. From this line of terrific pedals, the Manta Bass Filter is of interest to us. All of the brakes in this product line look very different from any usual pedal. This unique shape and design can be pleasing to some and repelling for others. Nonetheless, Source Audio has made this pedal to be a go-to pedal for bassists.
Plenty of controls are provided, including two footswitches at the bottom and a bunch of knobs. You'll also find a few LEDs on either side. Manta Bass Filter is pretty small, and the aluminium build appears to be quite robust. Also, the small size is a huge plus point. While carrying you don't have to worry about the damage, this bad boy can take it all. Source Audio hasn't added a dedicated foot pedal, although you can always buy an external one and connect it.
As the name suggests, it is more of a filter pedal. Soundblox 2 Manta comes with more than 20 filter effects including high pass, low pass, single peak and many others. Besides, there are eight effects of distortion and overdrive. Overall the number of effects is not as high as other entries in the list. Experienced players might be disappointed due to this. However, this can be a great choice if you're a beginner.
There are some exceptional features like the choice between true bypass or buffered, and MIDI compatibility. Also, Soundblox 2 Manta is one of the few bass pedals that includes the 9 V power supply. I would highly recommend this pedal if you're a beginner or on a tight budget.
Pros
Pocket-friendly.
MIDI compatibility.
Compact and easy to carry around.
Cons
A limited number of effects.
SB2 Manta Bass Filter by Source Audio might not be the most eye-catching piece of equipment in your rig, but it surely is one of the most efficient.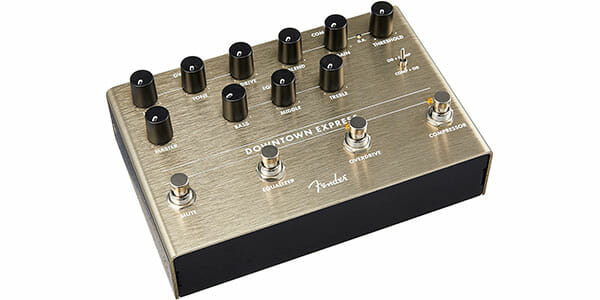 Fender is known worldwide for being a manufacturer of state of the art guitar products. Downtown Express Multi-effect pedal is their flagship offering in the effect pedal segment. Aesthetically, this might be the most elegant looking pedal out there. The gold and black finish looks stunning and oozes class. As always, Fender finds a way of standing out from the crowd.
Talking about the controls, there are more than a few. In total there are four footswitches, one toggle switch and ten knobs. The most astonishing thing about the Downtown Express pedal is its simplicity. Most of the pedals in this list have focused on the ridiculous number of effects they offer. Downtown Multi-effect pedal, on the other hand, comes with only three primary effects. These are – overdrive, compressor and a three band EQ. These three are the primary effects that any player must have a good grip on. Although on paper it sounds too few to be even considered for this list, you shouldn't write off this pedal just yet. The range might not be comprehensive, but it sure is deep. You can do so much to your sound using only these three effects that you'll never again need another pedal.
A brilliant feature of Downtown Express is that it probably is the only pedal in the market that comes with LED illuminated knobs. This can come in extremely handy while playing in poorly lit areas. Another great feature is the master volume knob which lowers the volume of all the effects simultaneously while retaining their earlier levels.
If it is quality that you're after and not the number of effects, then look no further, this pedal was made keeping you in mind.
Pros
Stunning looks.
LED illuminated knobs.
Master volume knob.
Simple and easy to operate.
Cons
Might not satisfy the ones who are looking for more effects.
Fender Downtown Multi-Effect pedal is a classy device with elegant looks and elementary operation. It comes with innovative features that further enhance the user experience.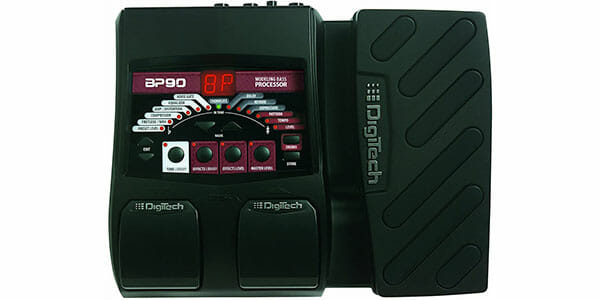 Digitech is one of the most underrated music equipment companies, and their products are often overlooked. But not the BP90, as it is one of the most popular multi-effect pedals among guitarists and bassists alike. Also, it is one of the pedals in the list that provide very high value in return for a trivial amount of money. The build quality is not that brilliant as it gives a plastic feel. Still, the small size might appeal to you when you have to move around with it.
The controls are many but are not like what you'd expect. You won't find any knobs; instead, you'll find a bunch of buttons and two control pedals. Loaded with effects, which are 27 in total, BP90 also features a number of amps, cabinets and stompboxes. You'll also have access to 100 presets out of which 50 are user, and 50 are factory. Digitech has gone one step further and added inbuilt chromatic tuner for silent practising and an expression pedal for wah and whammy effects. There's also a headphone jack if you ever need it. A drum machine which includes up to 40 drum patterns is an additional feature.
Impressive as it is, there are a few pitfalls, one of which is the lack of USB connectivity and no battery operation. Still, I would highly recommend this if you are on a tight budget.
Pros
Inbuilt chromatic tuner.
Impressive preset library.
Expression pedal.
Drum machine with 40 patterns.
Cons
Not a robust build quality.
Lack of connectivity option.
Though it has its flaws, Digitech BP90 is an excellent option if you're looking for a device that has a built-in tuner and an expression pedal at an affordable price.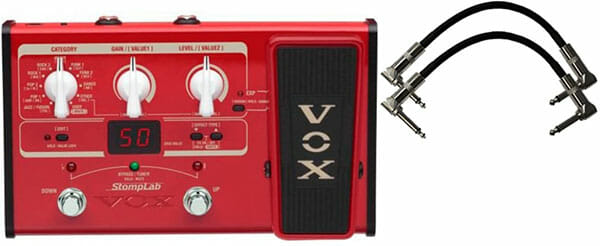 Stomplab series by Vox is a line of multi-effect pedals that are antique looking and pack a lot of features in a relatively small space. These are small metal boxes capable of withstanding substantial damage. Unfortunately, we could choose only one of them, so we chose Stomplab 2 for this list.
At first look, it appears pretty basic with minimal controls and a tiny screen in the middle. There are three knobs and two foot switches at the bottom. The leftmost knob controls the presets, which are more than 100 in total. Vox has done you a favour by categorising these presets into different genres including rock, pop, blues and metal. Navigating through these presets can take a while as you'll have to do this via knobs. There are more than 60 effects, out of which nine are pedal effects, including compression, wah, auto-wah, octave and many others. There is also a wide range of modulation, reverb and delay effects. In addition to these effects, there are the amp and cabinet models as well. You can save up to 20 of your user-edited patches along with the 100 presets that are already present.
As Stomplab is one of the older units in this list, it has its shortfalls due to this. Most notably, it has limited connectivity options; there is only one input and one output port. No USB or MIDI connectivity is available.
If you can overlook these flaws and only the number of presets and effects matter to you, then you should buy this pedal as soon as possible.
Pros
Genre-based effect presets.
Inbuilt expression pedal.
Easy to use interface.Limited options for connectivity.
Cons
Limited options for connectivity.
Vox Stomplab 2B is a medium-sized pedal that can work for beginners and seasoned players alike. It is simple to use and comes with a lot of presets that make using it an enjoyable experience.

We have chosen Bass Fly Rig Pedal from Tech 21 to end this list. Initially, the company had not released a Fly Rig pedal for bass; they made these for acoustic and electric guitars. But after the guitar pedal versions became extremely popular, bassists all over the world sent in hundreds of requests to Tech 21 to develop a pedal exclusively for Bassists. The result was Bass Fly Rig pedal, and the rest is history.
It has quite an unusual shape; most of the pedals are more or less like cubes. This one has a more elongated shape; the width is less while the length is considerable. There are four footswitches and plenty of knobs that are placed in a single line. All of these are categorised into four sections, namely, SansAamp, octafilter, chorus, and compressor. One of the cool features that Fly Rig shares with the Fender Downtown is the LED illuminated knobs. Fly Rig goes one step further, by colour coding the knobs. This means the knobs in every section will glow in a different colour. Talking about the build quality, the metal chassis appears to be rugged and can endure wear and tear of stage playing.
Each one of the sections gives a distinct effect to your tone. For example, the octafilter part is for fuzz and octave, while the SansAmp section is for character control. Bass Fly Rig also features a three-band EQ which is quite rare in a multi-effect pedal. Unfortunately, there's no option for USB connectivity.
Bass Fly Rig can work on a battery or on a 9 Volt power supply, which Tech 21 was generous enough to give it free with the pedal. If all this appeals to you, then go out there and buy this terrific pedal right now.
Pros
SansAmp filter for character control.
Three-band EQ.
LED illuminated knobs.
Included power supply.
Tech 21 Bass Fly Rig has a distinct shape and packs a lot of unique features that set it apart from the rest. SansAmp is one of these features.
Top Brands: Multi-Effect Pedals
1. Boss
Boss is one of the most famous names in the music electronics business. They are a subsidiary of the Japanese multinational company Roland Corporation. Roland is the goliath of the music electronics industry and Boss is their division that takes care of pedals. Boss has a diverse product line and they cater to the needs of all sorts of musicians.
2. Zoom
Zoom is a 35-year-old Japanese company known for making musical equipment. Founded in Tokyo, the company has established itself as a manufacturer of innovative and affordable products which are based on original microchip designs.
3. Digitech
DigiTech is one of the leading companies in the world who deals exclusively in guitar products. Their pedal range includes all versions including distortion, overdrive, synth, multi-effect and many others.
4. Vox
Vox is one of the oldest musical equipment companies in the world that originated in the 1950s. The company was founded in England and their instruments have been used by many renowned artists including the Beatles, Queen, The Kinks and many others.
5. Fender
Fender is an American company that deals primarily in stringed instruments and amps. They also manufacture some other equipment, including effect pedals and speaker cabinets. They have been in this business for more than 70 years and are now one of the most prominent names worldwide.
FAQs: Multi-Effect Pedals
What are multi-effects pedals used for?
As the name suggests, multi-effect pedals are used for adding different effects to your tone using only a single piece of equipment. For example, you can add distortion, overdrive, synth, reverb, or compression to your tone using only a single device. Otherwise, you'd have to buy an individual pedal for each of the effects you want to add.
What is the cost of an average multi-effect pedal
There is no right answer to this question. The price of a high-end multi-effect pedal can go well beyond a couple of hundred dollars. There are also cheaper models that you can get for less than a hundred dollars. Also, if you go for a used version of a high-end pedal, you might be able to get it for less than half the original price.
What is the difference between a multi-effect pedal and a distortion pedal?
Distortion pedals usually add distortion or overdrive to your tone, nothing else. You don't have the option to do anything else with it whereas the multi-effect pedals allow you to have a complete range of effects which includes not only distortion but many others including reverb, delay, compression, tuner and much more. 
Can I use the same pedal with an electric and a bass guitar?
Of course, you can. Except for a few of the items in the list, nearly all of the pedals we have mentioned are equally compatible with electric and bass guitars. You might have to change the settings for the two different instruments. Other than that, you're good to go.
Should I buy individual pedals or a multi-effect pedal?
Well, this totally depends on your preference and your budget. Buying a high-end multi-effects pedal will cost you more than 300 bucks and it will do the job of almost every pedal that you'll ever need. Individual pedals, on the other hand, will cost around 100 dollars each which can rack up to be a substantial amount. That being said, the effects offered by the individual pedals might be of higher quality.
Conclusion
Multi-effect pedals can save a lot of pedalboard space for you. Buying a separate pedal for compression, distortion and synth can be a costly and bulky affair. We hope that you liked this list and found the multi-effects pedal that you were looking for.
Just a friendly advice, don't go for the pedal with most features of the highest price tag, instead, go for the one that compliments your playing style.