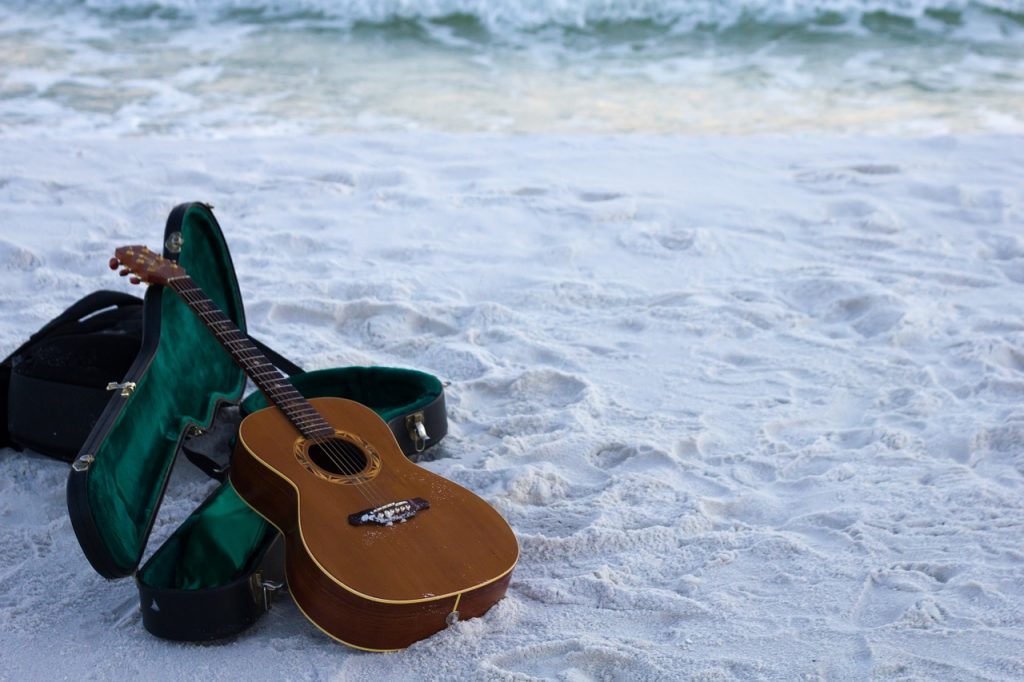 We all are emotionally attached to our guitar and the thought of getting it scratched while traveling is frightening. This is probably the main reason why you won't take it along in your next trip.
Wouldn't it be nice if you can strum your favorite 6-string while camping on a beach or hiking? Well, you are in luck as there are many durable guitars available on the market which you can take along to your next vacation. In this article, we bring you the 9 best travel guitars of 2022 available in the market:
Table of Contents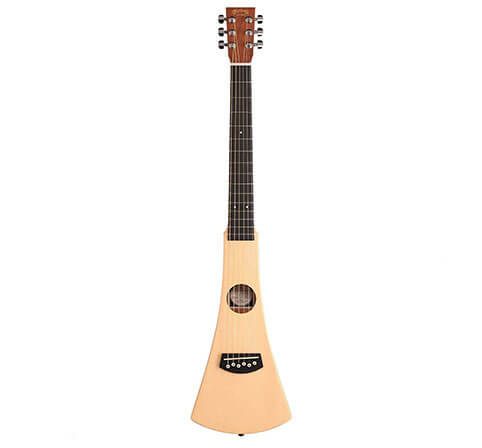 If you are a serious guitar player, you will agree that Martin guitars are exceptionally well-built and sound fantastic at the same time. Martin's Backpacker travel guitar is probably one of the first travel guitars made in the world and is a perfect travel companion.
The guitar has a spruce top while the back, neck and sides are made from mahogany. It features a rich lite finger-board and bridge. This odd-looking guitar is robust and sounds phenomenal while being affordable at the same time.
The guitar ships with a padded bag which can easily fit into the overhead compartment of flights and is super convenient to lift and carry around.
Pros
Light weight and easy to pack.
Excellent sound quality.
Stays in tune for a long time.
Rugged and superb workmanship.
Cons
Sound is not very loud as compared with other guitars in the same price range.
The odd shape takes a while to get used to and the guitar is a bit difficult to play while sitting down.
The small form factor and light weight makes it ideal for traveling. The exceptional sound and built quality provide value for money.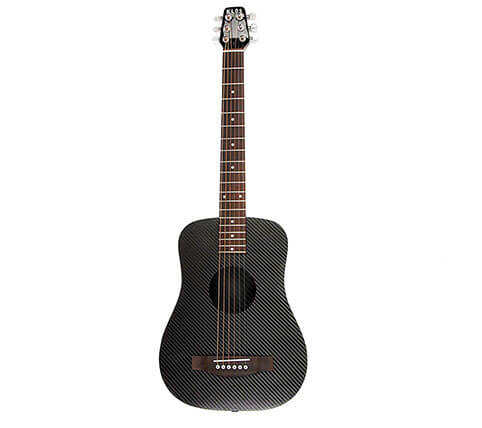 The KLOS Travel Acoustic Guitar is the only hybrid carbon fiber and wooden acoustic guitar ever built. The carbon fiber body is durable and the sound quality is exceptional. This portable guitar is ideal for beginners as well as experts.
The guitar comes in a package with a strap, a special sleeve for protecting its neck, a custom-made rain cover and accessories like a screw driver, an aluminum capo and a hex wrench. The guitar has a balanced tone and amazing resonance.
However, these qualities come at a price and this seems to be the only negative point about this guitar. The KLOS Travel Acoustic Guitar is ideal for musicians on the go who need a quality instrument at their disposal all the time.
Pros
Light-weight and durable guitar ideal for traveling.
Comfortable to play.
Sound quality is flawless.
Although the KLOS guitar is travel size, it is still large enough to play comfortably and produces good sound. Yes, this guitar comes with a price but it is definitely worth investing and this extra money will go a long way.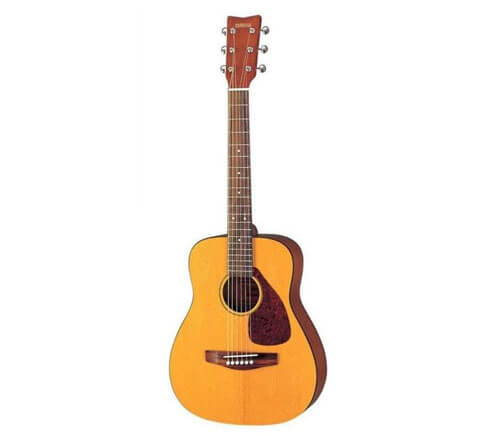 Yamaha is famous for its design and sound and this guitar does not disappoint on either of these qualities. This acoustic guitar from Yamaha is perfect for traveling due to its small size and light weight.
High quality materials like rosewood and meranti wood are used to make the guitar which offer great sound. The size of this guitar is ¾th of a full-size guitar and it is perfect for beginners.
Yamaha JR1 features a classic spruce top and the fret-board is smooth and convenient to play. The guitar kit with legacy accessories includes clip-on tuner, capo, guitar strap, legacy picks, peg winder and folk guitar strings.
Pros
A lot of useful accessories are included with the kit.
Very convenient to play, perfect for beginners.
Sound quality is great.
Value for money.
This guitar from Yamaha is affordable and sound quality is great. This durable and small sized guitar is easy to carry.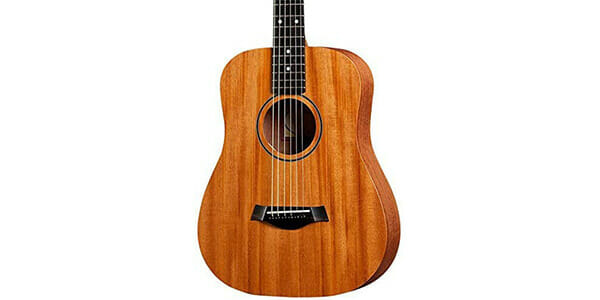 This beautiful guitar from the iconic American brand is made out from mahogany wood. It is durable and its compact size is perfect for traveling.
The small size does not compromise on the sound quality or functionality but allows expressive mid and high tones instead.
It is one of the most popular guitars and is also used by some professional musicians while they travel. Taylor BT2 is available with a padded travel case which offers sufficient protection.
Pros
Natural finish and mahogany wood make this guitar a treat for eyes.
The guitar is made from strong materials and is durable.
Convenient to play and perfect for beginners.
Bass response is outstanding.
Cons
Requires regular tuning.
A bit costly when compared with other options available in the market.
The Taylor BT2 Baby Taylor guitar is one of the most popular travel guitars with a mature and strong sound. It is easy to carry around and is highly recommended by professional guitar players.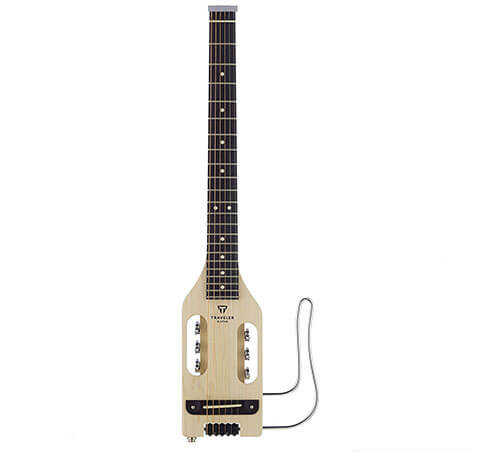 Traveler Guitar is a company that made their business entirely based on travel guitars. The Traveler Guitar Ultra-Light is an impressive combination of electric and acoustic guitar. It is light in weight and has a detachable lap rest for portability.
The guitar's body and neck are made from a single piece of maple wood with a silky finish. It is available with an in-body tuning system and does not require a head-stock for tuning.
This guitar provides a full-scale sound and is ideal for players who want to enjoy the sound of an electric as well as an acoustic guitar. A protective gig bag, chrome tuners and a piezo pickup is included with this guitar kit.
Pros
Full scale guitar.
Light weight.
Can be plugged into any recording device.
Cons
It is a bit pricey.
The neck is quite thin.
The in-body tuners are tricky to use.
This electro-acoustic guitar is impressive in design and offers full scale quality sound. Its compact size makes it convenient to pack and carry around.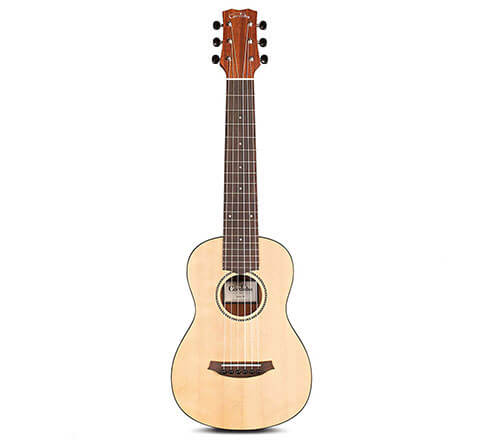 The Cordoba Mini M Travel Guitar has a lightweight body and compact size. It features nylon strings which are perfect for beginners. Despite being small in size, it produces loud sound.
The back and sides of the guitar are constructed using mahogany wood and the overall build quality is impressive. The guitar is well crafted with thin matte finish.
A padded Cordoba gig bag is included with the overall purchase which can fit easily in the overhead compartments of an airplane. This guitar is an ideal companion for trekking, backpacking and road trips.
Pros
Nylon strings and convenient design make this guitar easy to play.
The sound quality is amazing.
High quality materials ensure durability.
Cons
The guitar makes a faint buzzing noise while playing.
A bit pricey.
The guitar is durable, lightweight and convenient to play. The sound quality is top class and the guitar excels in overall performance.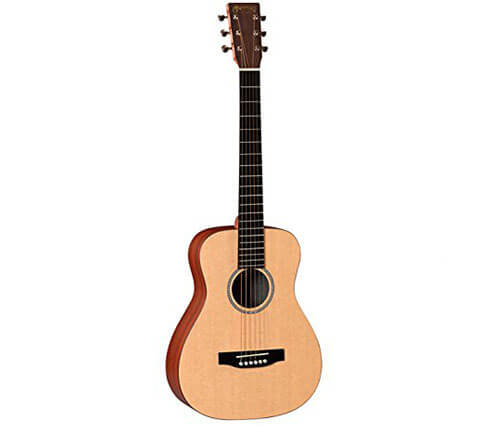 Martin LXM is another classic product from a reputed guitar maker. The sound quality and volume are incredible for a compact guitar.
Martin usually makes guitars with laminated wood but they decided to go with spruce and mahogany with this model. Mahogany wood on sides and brown-white wood on front and back gives a nice contrast and classic touch to this guitar.
The fingerboard is made from rosewood which ensures convenience when you play the guitar. The strings, in particular are very durable and high quality.
The guitar is easy to hold (and play) which makes it ideal for beginners. This guitar comes with a soft gig bag for support while traveling. The guitar has a unique tone and its sound quality is more suited for contemporary music.
Pros
Use of quality materials in construction makes the guitar durable.
The guitar design is convenient to play.
Stays tuned for a long time.
Cons
The guitar gives a humming noise when it goes out of tune.
Martin LXM travel guitar is designed to offer great experience while playing. The sound quality is awesome and the guitar is durable. This is probably one of the best travel guitars available in the market.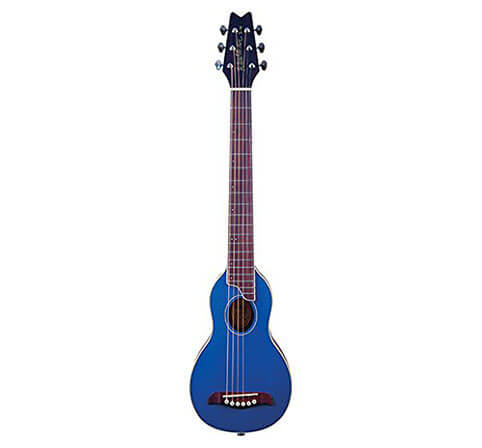 The Washburn RO10TB Rover Steel String is a great travel guitar and is suitable for beginners as well as experts. It has a standard neck size of 24" and sounds like a full-size guitar.
The guitar is beautiful to look at and convenient to hold and play. This guitar is made from spruce (top) and mahogany (sides and back) which makes it agile.
The guitar produces a well-balanced sound of moderate volume. Despite being ultra-compact in size, the sound quality is comparable with that of a full-size acoustic guitar.
The cushioned gig bag keeps the guitar safe during travel. The kit is available with useful accessories like a strap, a couple of picks, an additional bridge saddle and a wrench.
Pros
The guitar offers outstanding sound quality.
This guitar is durable and easy to play.
The guitar provides great value for money.
Cons
It needs frequent tuning.
Strings are a somewhat high on the bridge.
This high quality guitar is one of the best travel guitars available in the market. The guitar is easy to pack and fits in the overhead compartments of any flight. This guitar looks beautiful and sounds awesome.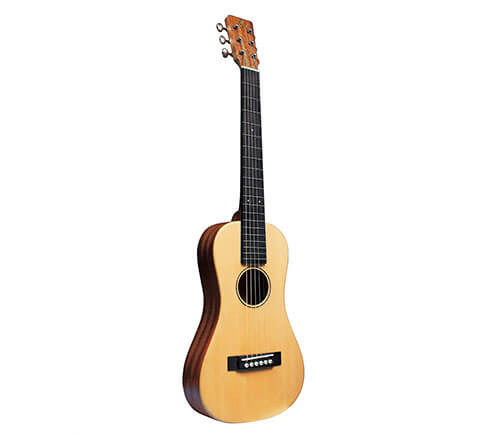 SX Trav 1 is an interesting travel guitar that reminds of classical old Spanish acoustic guitar and is fun to play. A slightly elongated shape renders powerful mid-tones. The solid spruce top gives it a crystal clear sound.
Sides and back of the guitar are made from mahogany offering it durability. The neck and bridge are made from rosewood providing great sound quality.
The saddle is made from innovative Graphtech NuBone material. The shape of the guitar is nice and you don't require a strap while playing it on your knee. The guitar has a tough gig bag included that offers protection during travel.
Pros
The guitar has a full-size neck.
Convenient to pack and travel.
Cons
Does not stay in tune.
Due to its small size it might not be that suitable for people with big hands.
This guitar has an innovative design and is probably the most convenient travel guitar. High quality material used in the construction offers great sound quality and durability. This guitar is ideal for small gatherings.
We have tried to include the 9 best travel guitars available in the market and hope that this article was informative and helpful to select your travel guitar. Did we miss your favorite brand or model?
Please write back and we will be happy to include it in our list.
All the best with your next purchase!