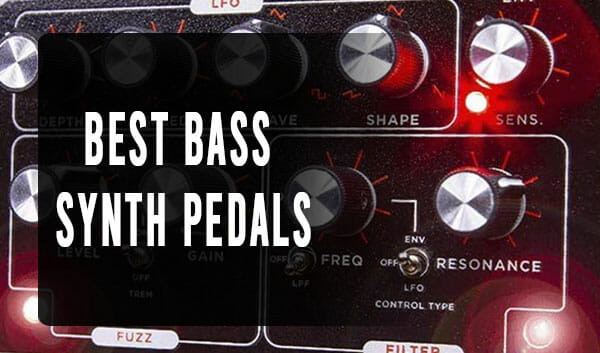 Everyone knows about distortion and compression pedals, but there is very little mention of synth pedals. Well, we're about to change that. We'll be talking about the nine best synth pedals of 2021 for bass guitars.
As the name suggests, synth pedals make your guitar sound like a synthesiser. They have been around for quite some time, and many prominent artists have used them to modify their tones. Usually, synth pedals came strictly under a guitarist's domain, but now, bassists as well are using them frequently.
So without wasting much time, let's talk about the best synth pedals.
Top Bass Synth Pedal Reviews In 2021
---
---
---
---
---
---
---
---
---
Buying Guide: Bass Synth Pedals
These are the 9 of the best in the market. But not all of them might be suitable for you. Each synth pedal comes with a unique set of benefits and flaws. Before making the final purchase decision, you must weigh out all the options against specific criteria. And what might that criteria be?
We are here to help you with that. Below we have listed a few factors that define criteria on which you can classify synth pedals. These are also the factors that you must consider when you go out shopping for a pedal.
1. Budget
This is the first criteria that matters to everyone, even if you are filthy rich. The price range is pretty broad and diverse when it comes to synth pedals. The most expensive ones can cost hundreds of dollars, while a cheaper model or a used device is priced below 100 dollars. Our advice is that you don't go overboard and buy the costliest pedals. Instead, make a budget, list all the options that you can buy within that budget and then make a choice.
2. Analog or digital
Synth pedals fall into one of these 2 categories. Analog pedals have been around for longer than their digital counterparts. While digital technology is modern and has more effects, analog sound is widely coveted by musicians. Analog signals are considered to be purer and more authentic than digital ones. So, in the end, the choice is between more effects or better sound quality.
3. Monophonic or Polyphonic
Pedals can also be classified as monophonic or polyphonic depending upon the type of music they can process. In layman's terms, monophonic pedals are those who can track only a single note at a time. Polyphonic pedals, on the other hand, can follow multiple notes simultaneously.
4. Few controls or more
Pedals come with a wide variety of controls. Some have more control knobs than others. However, having more controls doesn't directly relate to higher quality. More controls only give you more options to alter the sound, nothing else. It can be extremely beneficial if you're a veteran and you know what you're doing. But it can be a limitation if you are a beginner, as it can take some time to get used to the sheer volume of control options.
5. Sliders or Knobs
Most synth pedals or any pedal usually had knobs for tweaking. But lately, many brands are trying to move away from this practice and provide something unique. Now you'll see many pedals have sliders in place of knobs like the EHX MicroSynth. Many of us are accustomed to using knobs so they won't switch, but if you're looking for a fresh perspective, then you can always try out a pedal with sliders.
Top Brands: Bass Synth Pedals
1. Boss
Boss is one of the most prominent names in the music electronics business. They are a subsidiary of the Japanese multinational company Roland Corporation. Roland is the goliath of the music electronics industry and Boss is their division that takes care of pedals and similar devices. Boss has a diverse product line and they cater to the needs of all sorts of musicians.
2. Electro-Harmonix
EHX or Electro-Harmonix is an American company that was founded in 1968 by Mike Mathews. They have come a long way since then, building quite a reputation for themselves. Mainly they are known for making high-end vacuum tubes and effect pedals. Their pedals in particular are first choice of many famous rockstars.
3. Zoom
Zoom is a Japanese corporation known for making musical equipment which has been operating for more than 35 years. Founded in Tokyo, the company has established a reputation as a manufacturer of innovative and affordable products which are based on original microchip designs.
4. Seymour Duncan
Seymour Duncan is an American firm who primarily operates in the market of guitar and bass pickups. They have also released a few effect pedals that have widespread critical acclaim.
The company has been in the business for more than 40 years and now has more than 100 employees.
5. Digitech
DigiTech is one of the largest companies in the world who deals exclusively in guitar products. Their pedal range includes all version including distortion, overdrive, synth, multi-effect and many others.
FAQs About Bass Synth Pedals
1. What is the average cost of a bass synth pedal?
There is a wide variety of synth pedals in the market, with a diverse price range. You can get a right pedal below 100 dollars if you go for some of the low-end models. Or you can go for a used version of a high-end model, which will also come at a similar price. Brand new high-end pedals might cost hundreds of dollars.
2. What is the difference between a synth pedal and a distortion pedal?
As the name suggests, synth pedals are used to give a synthesiser like sound to your tone. Distortion pedals, on the other hand, are used to distort the input signal to get a more rugged or crisp output.
3. Can I use the same synth pedal for my electric guitar and bass guitar?
Definitely, in fact not only with guitars, but many synth pedals are also compatible with keyboards and other musical instruments. I strongly recommend you try plugging your pedal to a keyboard if you have one.
4. Which type of music is suited for synth pedals?
Synth pedals are used to recreate the sound of classic synthesisers. So, classic rock seems the most obvious answer. However, many modern genres of rock and metal actively use synth pedals.
5. How can I get the maximum out of my synth pedal?
This can be done by ensuring that tracking happens efficiently. You can do this making the input signal as clean as possible, meaning no sloppy playing. Sometimes, adjusting the tone knob yields the desired tracking results.
---
Conclusion
Well, this is it. There are a lot of choices when it comes to buying the best synth pedal for bass guitars. Unfortunately, we cannot buy all of them. Each pedal will give a distinct shape to the music you create and will eventually help you become the musician you want to be.
So, in the end, it is for you to decide which pedal suits you and your musical style. I hope this article helped you get some clarity, and now you can make a more informed decision.