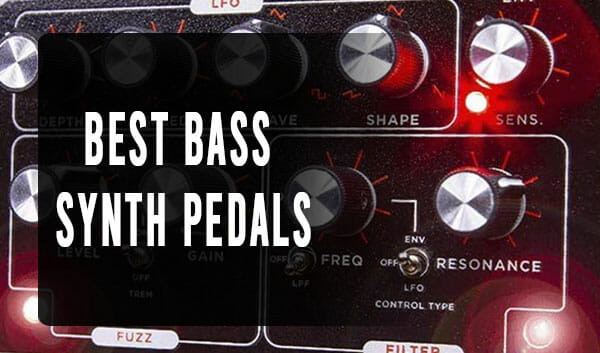 Everyone knows about distortion and compression pedals, but there is very little mention of synth pedals. Well, we're about to change that. We'll be talking about the nine best synth pedals of 2023 for bass guitars.
As the name suggests, synth pedals make your guitar sound like a synthesiser. They have been around for quite some time, and many prominent artists have used them to modify their tones. Usually, synth pedals came strictly under a guitarist's domain, but now, bassists as well are using them frequently.
So without wasting much time, let's talk about the best synth pedals.
Table of Contents
Top Bass Synth Pedal Reviews In 2023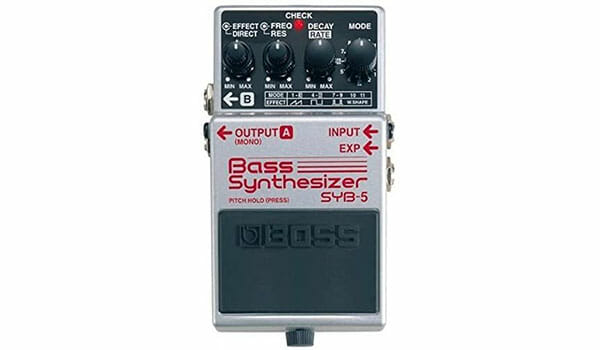 Boss came out with SYB-5 bass synthesiser pedal a few years back, and since then, the pedal has garnered massive support for itself. It uses an advanced DSP technology which helps in producing the classic sound of analog synthesisers. SYB-3 is the successor of the well-respected SYB-3, and it is also better than it in many regards, most importantly, sound quality.
SYB-5 comes with three types of oscillator waveforms, namely, saw, square, and pulse synth waves. Each one of these waveforms can be modified using 11 different available DSP variations. All of these DSP sounds have been enhanced and augmented to deliver a fatter and cutting sound. Saw, Square and Pulse variations are used to build sounds that can be modulated according to the envelope and LFO transitions.
The build is metallic and appears to be sturdy. Boss offers a 5-year warranty, which means that this product is built to last.
Another plus point is the external pedal input jack you can use to connect an expression pedal.
When it comes to controls, there are four knobs and an input switch. The four knobs are mode, decay/rate, frequency/resonance and effect/direct. All of these, when used in tandem, provide you with an ample opportunity to tweak the various parameters of your sound.
Pros
Sturdy build quality.
11 DSP variations for saw, square and pulse waves.
External pedal input jack.
Cons
It can take some time to get the hang of it as it has quite a learning curve.
Boss SYB-5 is the synth pedal you need to go for if you want something reliable and robust. This pedal is suitable for indoor as well as outdoor use and will last for years.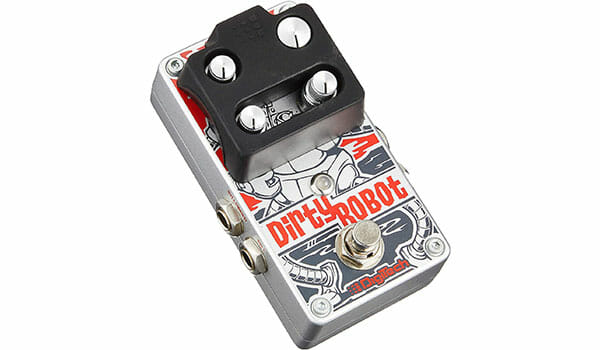 If you're a fan of true bypass, then Digitech has something for you. They present the Dirty Robot, an analog pedal with cutting edge sound. True-bypass preserves the shape of your tone when the pedal is in bypass mode.
Dirty Robot is best suited for the 70s or 80s music as it produces some of the warmest synth effects you'll ever hear. You'll have the option to choose from 2 synth voices without needing any external pickup. One of them is for traditional sweeps and the other is for emulating a vocoder or talk box effects.
Aesthetically, Dirty Robot might be the meanest looking synth pedal out there. The chassis is quite solid and seems durable. While red and black artwork of a robot on a white background is out of the ordinary. Also, it is tiny, which means you'll save considerable real estate on your pedalboard.
You'll notice four knobs and a central knob. Three of those four knobs are dual function, meaning, they can tweak two parameters. Mix, modulation and sensitivity are some of the settings that you can tweak. The dedicated drift knob allows you to merge square waveforms with sub and octave waves.
When it comes to performance, Dirty Robot will take you back a few decades. It is one of the best pedals when it comes to tracking and emulates the sound of classic synthesisers. Effects like vibrato and chorus come in handy in this regard which adds colour to your tone.
The standout feature of DIrty Robot is that it can function normally in high voltage conditions. This boosts signal quality and ensures minimal signal loss.
Pros
Two voice settings.
Multi-functional knobs.
Brilliant effects.
Original 70s and 80s sound quality.
With Dirty Robot, Digitech offers a simple yet brilliant pedal that does its job entirely. Moreover, the two voice feature is always a plus.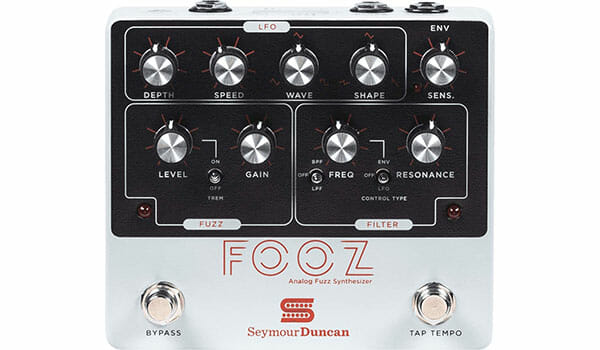 Seymour Duncan presents the most distinct synth pedal in the market. Fooz fundamentally transforms your guitar into an oscillator, as it is more of a fuzz synth pedal. Fooz is famous for creating highly saturated and fuzzy synth tones, unlike any other pedal.
Most pedals are rectangular, whereas Fooz is square-shaped, which further enhances its uniqueness. Also, the output and input ports are located at the top. Both of these factors will save you some space on the pedalboard.
Although this is a list for synth pedals, Fooz is a special mention as it is more than your average synth pedal. It is a 3 in one pedal which also functions as a filter, fuzz or tremolo pedal. You can also connect an expression pedal and manually select the parameters that you want to control.
Fooz is one of the most versatile pedals around. It is evident that a lot of hard work went behind designing this pedal. You can use it as a fuzz-wah, auto-wah or straight up fuzz pedal as well.
The controls are divided into three broad sections, namely, fuzz, filter and LFO. You'll find a few knobs under each of these sections which control the respective parameters. Level and gain knobs are under the fuzz section, while frequency and resonance are under filter section. Four other knobs are present under LFO.
Additionally, there is also an envelope knob which controls the depth rate. Each of these knobs alters specific parameters of the sound and produces different output under every setting. So it can be said there are plenty of options to tweak your audio and add a unique flavour to it.
If you're looking for a pedal that solves multiple problems at once, then Seymour Duncan Fooz might be the best option for you.
Pros
Extremely versatile.
Multiple knobs which enables tweaking.
A terrific blend of tremolo, fuzz and filter with a touch of synth.
Fooz by Seymour Duncan is an all-rounder. From creating fuzzy tones to tremolo effects, there is nothing that this pedal cannot do.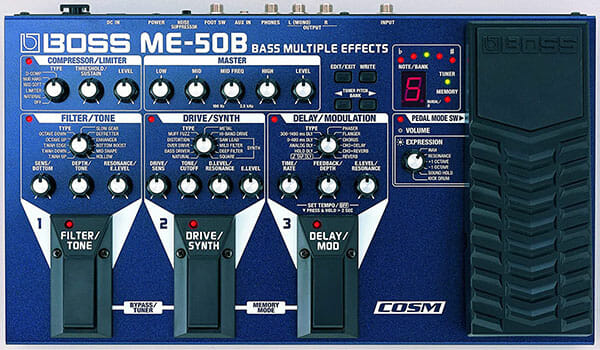 Technically, ME-50B is not a synth pedal. Instead, it is a multi-effect pedal, which means that it is a Compressor, Limiter, Master, Filter, Synth, Delay and Expression Pedal, all rolled into one. Boss has made this as an all-round solution for bassists.
No need to buy extra equipment, when you can have all of them in one. This all in one function goes a long way, saving space on the pedalboard. However, these multiple effects come with an extra cost, as Boss ME-50B is one of the costlier entries in this list.
At first glance, you'll notice the plethora of controls which can overwhelm any beginner. So it is a suggestion that you go for a dedicated synth pedal and not for a multi-effect pedal if you're an amateur.
Talking specifically about the synth section, you'll find five knobs. These are drive, tone, e-level, d-level and type. The type knob among these is the most interesting one. This knob toggles the drive effects, which to be honest are pretty cool and give overdriven sounds. Some of these effects are metal, bass driver and others.
There are also three footswitches, namely, filter, synth and delay and an onboard expression pedal which is routed to options like wah and octave. You can play around with these knobs and arrive at the perfect mix of settings that you need. Eventually, you'll find that ME-50B produces a warm and natural sound.
However, in the end, it all boils down to one thing in synth pedals, the tracking ability. And Boss ME-50B is exceptional in this regard if you have saved enough and are looking to buy that all in one solution for your problems, then buying ME-50B makes perfect sense.
Pros
Numerous features.
Brilliant effects.
Multiple functions.
Warm sound quality.
Cons
Not recommended if you're looking for a dedicated synth pedal.
Boss ME-50B might be the best multi-effect pedal in the market. It is an all in one package which contains a synth, compressor and limiter among many others.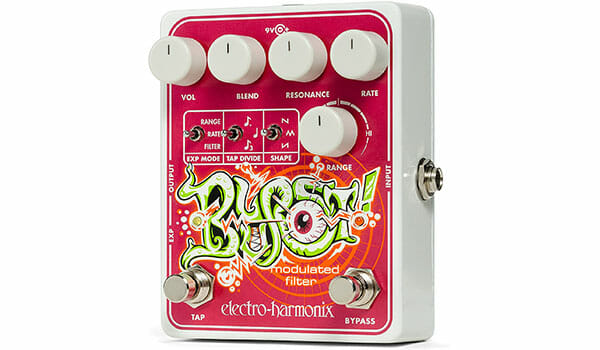 Any list of synth pedals must have at least one entry from Electro-Harmonix, and here is our first one. Besides having conspicuous looks, Blurst Modulated Filter Pedal produces some of the strangest sounds you'll ever hear. It is one of the most famous synth pedals among guitarists because of that.
But as it is multi-instrument pedal, it is perfect for bass guitar and even a keyboard as well. To be a little technical, Blurst has an analog low pass filter with adjustable resonance and features three types of waveforms, triangle, rising saw-tooth and falling saw-tooth.
The five knobs and two foot switches are hard to miss. So are the three toggle switches. Of these knobs, the resonance and range are the ones that make the magic happen. At high resonance settings, you can produce some rumbling tones and screeches. The blend knob, on the other hand, is used for finding the right mix of dry and filtered signal.
For setting the modulation rate, you can use the rate knob or a combination of the tap footswitch and tap divide toggle switch. Both of these options offer quarter, dotted eighth and triplet rhythm modulations. The EXP toggle switch has 3 reading, range, rate and filter. You'll need to buy a separate expression pedal to control these parameters.
One of the standout features of Blurst is it allows you to control the speed of the LFO. You can do this by pressing the tempo and frequency bottoms.
In terms of mastering the device, EHX Blurst has a reasonably gentle learning curve, meaning you'll quickly get the hang of it. If you are into strange or wild sounds, then Blurst is the perfect pedal for you.
Pros
Superb and bizarre sound quality at the same time.
Low pass analog filter with adjustable resonance.
Three types of waveforms.
Cons
Plastic build seems flimsy.
Need an expression pedal to get the best out of it.
EHX Blurst Modulated Filter Pedal produces the most peculiar sounds which I doubt any other pedal can replicate.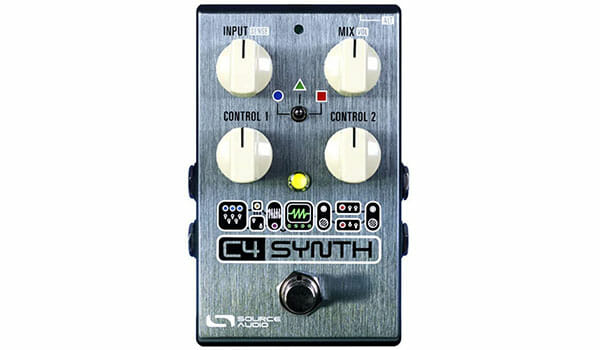 C4 from Source Audio is one of the most simplistic pedals in the market. It comes in silver-greyish matte finish with black sides. You'll see the 4 knobs and the single footswitch. But don't let C4's modest looks fool you. It was designed to do a job, and it does that job entirely. Source Audio's chief sound engineer Bob Chidlaw's Eurorack Synthesiser was the inspiration behind creating the One Series, and particularly the C4.
C4 is the best synth pedal for beginners. If you are new to bass pedals, then I strongly suggest that you choose C4. As I mentioned before, it has a simple design which is pretty straightforward to learn. There's also an app called Neuro and a Neuro Desktop editor, both of which make editing a familiar experience for the newer generations. You'll also have access to a collection of preloaded presets that will help you lay the foundations of tuning your pedal. These presets can come in handy in case you get confused while adjusting the knobs for the best sound.
The Neuro app is critical for getting the best of C4. This app also grants you access to a multitude of significant effects created by the Neuro community.
If we talk about tracking, One Series C4 is one of the best pedals in this regard. The response time is terrific, and you'll hardly notice a flaw from C4 when it comes to tracking.
In a nutshell, C4 is a pedal for newcomers or advanced players to whom tracking matters the most. If you are one of them, then, by all means, go for it.
Pros
Presets are helpful.
Simplistic design.
Wide range of possibilities with the Neuro app.
Cons
Not suitable for creating classic synth tones.
Source Audio C4 can sometimes display unmatched tracking abilities. Also, the simplistic design makes it perfect for beginners.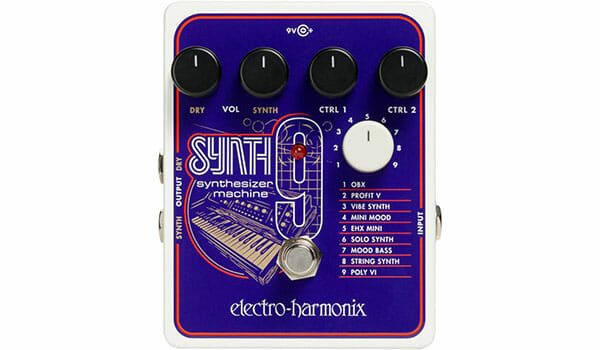 Another entry by EHX and it might not be the last. SYNTH9 is one of the newest offerings by Electro-Harmonix, and it lives up to the legacy of its predecessors. It is one of the most underrated pedals in the world but has a small niche fan following. This small group of people includes many prominent artists and musicians. These people choose SYNTH9 because they know that SYNTH9 is arguably the best pedal in the market for vintage synth sounds.
There are four primary knobs and a rotary knob for presets. To make things easy for you, EHX has provided nine presets which include many great ones such as vibe synth, mini mood and solo synth. These presets can be further tweaked using the two CTRL knobs at the right. CTRL 1 helps in adjusting the filter sweeps while CTRL 2 knob is for the octave range. In simple terms, this means that you have a lot of room to alter and modify the structure of your sound.
If all this sounds appealing to you, then you shouldn't waste more time and buy this pedal right away.
Pros
Nine presets.
Two control knobs for further tweaking.
Vast tracking range.
Superfast response time.
Cons
Expression pedal implementation is missing.
Electro-Harmonix SYNTH9 doesn't do anything wrong very often. It is one of the most immaculate pedals with an unmatched response time.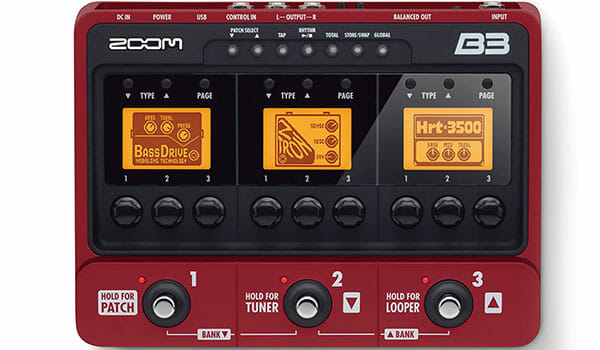 Zoom B3 is one of the most advanced bass pedals in the market. Like the Boss ME-50B, Zoom B3 is also a multi-effect pedal, capable of taking on multiple roles. You should only go for this pedal if you are a seasoned player.
The unit itself is somewhat large, and the chassis seems to be strong enough and durable. Three footswitches and nine knobs are the first thing you'll probably notice. You'll also see three small screens which are not present in any other pedal. These hardware features make B3 one of the most intuitive and fun to use devices you could ever get.
When it comes to effects, there is no match for the B3. It features a staggering 111 different DSP effects and amp models. Many of these might be your favorites, including, filters, compressors, vibrato, tremolo and much more.
Zoom B3 features simulations from many of the renowned pedals such as EHX Big Muff and MXR DynaComp.
Zoom B3 offers many features, the best of which is a built-in chromatic tuner and Tap tempo function. The former supports many standard bass tunings including drop tunings while the latter allows you to set delay times and modulation effects frequencies.
Unlike most pedals, there's a USB port present which enables you to connect B3 to a Mac or PC. Then you can use it with your DAW or Zoom's editing software which can be downloaded for free. All of this comes with a hefty price tag as well. If you think you need more than just a synth pedal, go with this pedal.
Pros
Three LCD screens.
Numerous effects.
USB port for connectivity to any computer.
Cons
Sometimes picks up radio signals.
Zoom B3 is the only synth pedal in the market that provides LCD screens. Due to the screens along with the overall design, operating B3 is quite fun and enjoyable.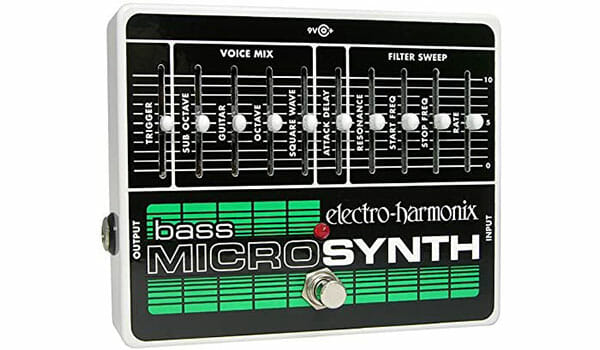 We end the list with an entry from Electro-Harmonix. To be fair, EHX makes some of the finest synth pedals in the world and it was a tedious task to choose the best from them. Many pedals from EHX could have easily made it to the list, but we thought it wouldn't be fair to other brands, so we limited the entries from EHX to three. This is Bass MicroSynth, which is an analog pedal with true bypass circuitry.
In many regards, MicroSynth is one of its kind in the world. The most prominent of these is the absence of knobs. It is one of the few pedals that have sliders in place of knobs. This gives a new experience and a fresh perspective to the players. Also, slightly on the bigger side, MicroSynth might take some of that coveted pedalboard space.
In total there are ten sliders which give you limitless possibilities when it comes to tweaking. Broadly, the sliders are divided into two sections, voice mix and filter sweep. Under voice, there are 4 options, namely, sub-octave, guitar, octave up and square wave. Out of these 4, you can use the square wave voice as a distortion tone for your sound. Under the filter section, you have the option to adjust resonance, start and stop frequency, and rate.
Overall, the tracking ability and sound quality is quite impressive as well. If you're bored from knobs and sliders seem attractive to you, then MicroSynth is the best choice for you.
Pros
True bypass analog circuitry.
Intuitive design with sliders.
Four voice settings.
Cons
Slightly big which might take extra space on the pedalboard.
The strong point of EHX MicroSynth is obviously the sliders and the unique design. Also, the true bypass analog circuitry is a definite bonus.
Top Brands: Bass Synth Pedals
1. Boss
Boss is one of the most prominent names in the music electronics business. They are a subsidiary of the Japanese multinational company Roland Corporation. Roland is the goliath of the music electronics industry and Boss is their division that takes care of pedals and similar devices. Boss has a diverse product line and they cater to the needs of all sorts of musicians.
2. Electro-Harmonix
EHX or Electro-Harmonix is an American company that was founded in 1968 by Mike Mathews. They have come a long way since then, building quite a reputation for themselves. Mainly they are known for making high-end vacuum tubes and effect pedals. Their pedals in particular are first choice of many famous rockstars.
3. Zoom
Zoom is a Japanese corporation known for making musical equipment which has been operating for more than 35 years. Founded in Tokyo, the company has established a reputation as a manufacturer of innovative and affordable products which are based on original microchip designs.
4. Seymour Duncan
Seymour Duncan is an American firm who primarily operates in the market of guitar and bass pickups. They have also released a few effect pedals that have widespread critical acclaim.
The company has been in the business for more than 40 years and now has more than 100 employees.
5. Digitech
DigiTech is one of the largest companies in the world who deals exclusively in guitar products. Their pedal range includes all version including distortion, overdrive, synth, multi-effect and many others.
FAQs About Bass Synth Pedals
What is the average cost of a bass synth pedal?
There is a wide variety of synth pedals in the market, with a diverse price range. You can get a right pedal below 100 dollars if you go for some of the low-end models. Or you can go for a used version of a high-end model, which will also come at a similar price. Brand new high-end pedals might cost hundreds of dollars.
What is the difference between a synth pedal and a distortion pedal?
As the name suggests, synth pedals are used to give a synthesiser like sound to your tone. Distortion pedals, on the other hand, are used to distort the input signal to get a more rugged or crisp output.
Can I use the same synth pedal for my electric guitar and bass guitar?
Definitely, in fact not only with guitars, but many synth pedals are also compatible with keyboards and other musical instruments. I strongly recommend you try plugging your pedal to a keyboard if you have one.
Which type of music is suited for synth pedals?
Synth pedals are used to recreate the sound of classic synthesisers. So, classic rock seems the most obvious answer. However, many modern genres of rock and metal actively use synth pedals.
How can I get the maximum out of my synth pedal?
This can be done by ensuring that tracking happens efficiently. You can do this making the input signal as clean as possible, meaning no sloppy playing. Sometimes, adjusting the tone knob yields the desired tracking results.
Conclusion
Well, this is it. There are a lot of choices when it comes to buying the best synth pedal for bass guitars. Unfortunately, we cannot buy all of them. Each pedal will give a distinct shape to the music you create and will eventually help you become the musician you want to be.
So, in the end, it is for you to decide which pedal suits you and your musical style. I hope this article helped you get some clarity, and now you can make a more informed decision.