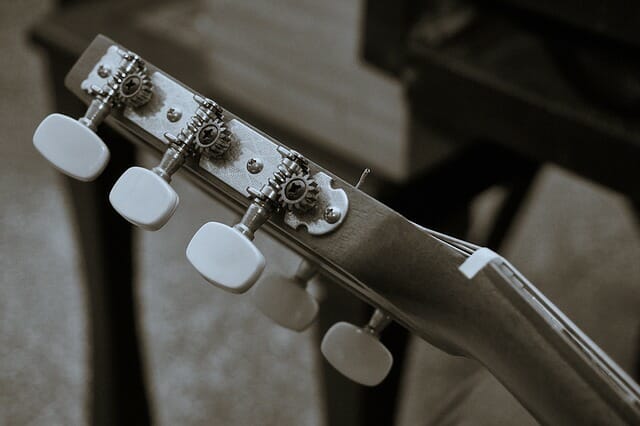 Strings are perhaps the most important part of your musical instrument. A good set of strings not only improves your playing style and speed but also the sound quality of your instrument. Nylon strings are easier on your fingers and last long. They are light in weight and produce clear and distinctive sound. They are especially helpful if you are just beginning to play a guitar.
Several companies over the world produce nylon strings and each manufacturer uses a different process resulting in varying composition of strings. Gauge of the string, its tension and composition can substantially affect the overall sound from your guitar or ukulele.
It doesn't matter if you are new to nylon strings or just replacing your old set, our recommendation for 9 best nylon strings of 2023 will surely help you. Let's have a look:
Table of Contents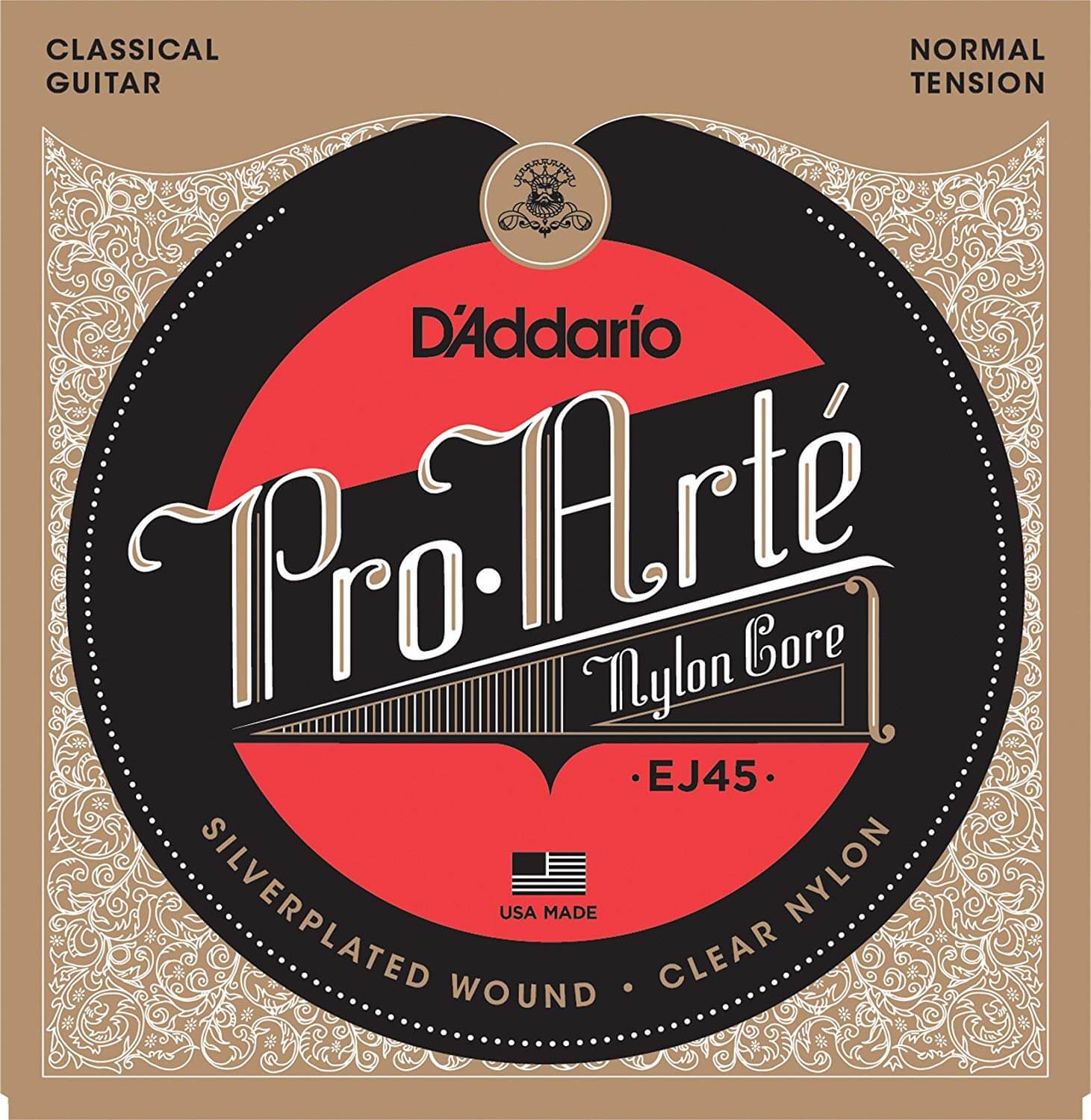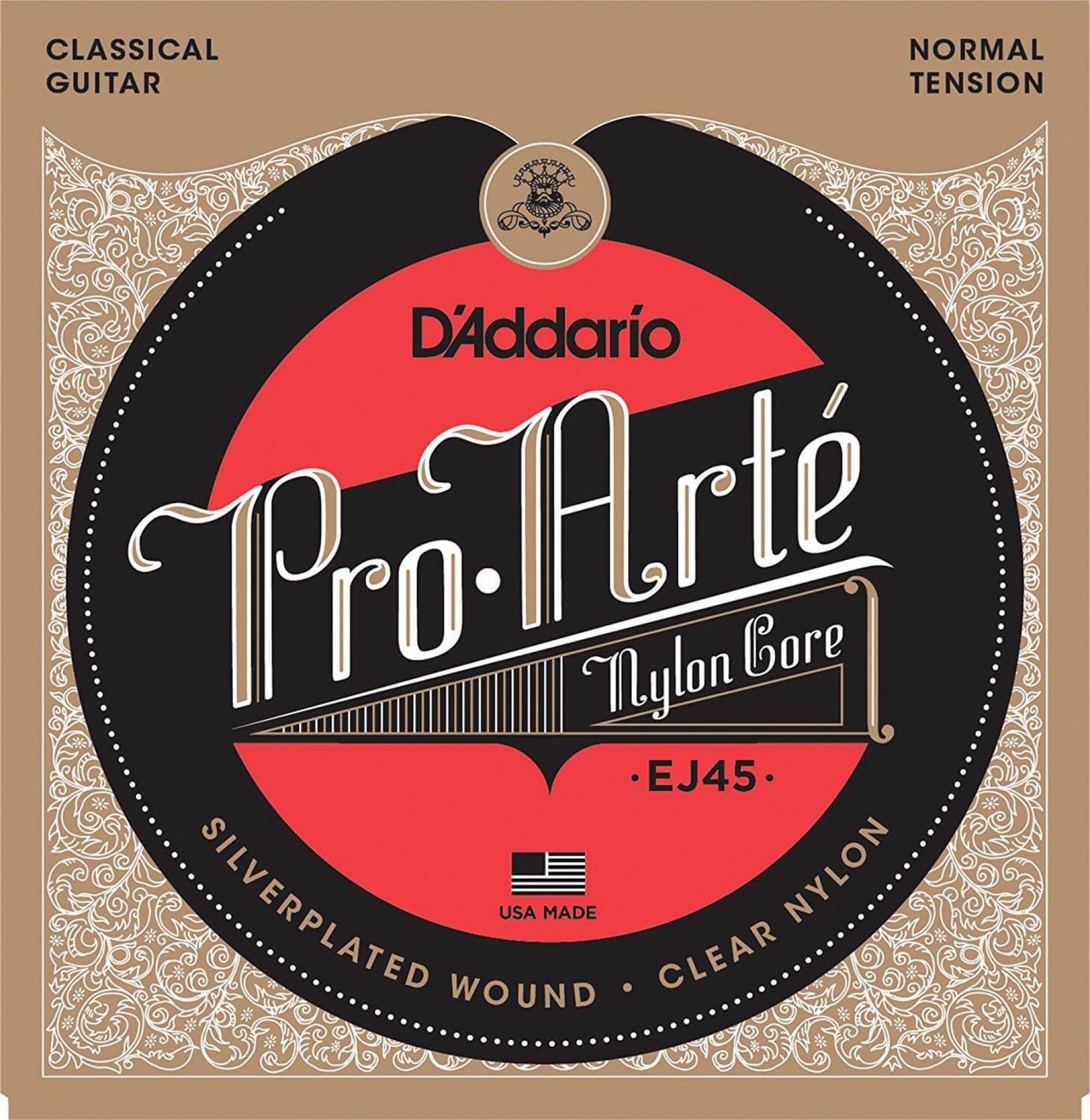 D'Addario has been one of the most reputed string manufacturers from the 70s. Their Pro-Arte series is top selling nylon strings across the globe. The Pro-Arte nylon strings use premium materials with precision manufacturing. Each string is engineered to assure uniformity. These nylon strings are available in 4 tensions; light, normal, hard and extra-hard. The normal tension strings are affordable and good for students and beginners.
Pro-Arte strings use a silver-plated copper winding on the nylon core to create bass strings. These strings produce warm and balanced tone with comfortable volume. Use of quality material results in exceptional sound quality and well-balanced clarity.
String Gauges:
Treble Strings: .0280, .0322, .0403
Bass Strings: .0290, .0350, .0430
Pros
Affordable price.
Balanced tone and volume.
Very consistent.
Cons
The strings don't stay in tune and require frequent tuning.
D'Addario's EJ45 is one of the best nylon strings in the market as its normal tension on the strings offers a balanced warmth and volume. These strings are extremely popular and offer a pleasing dynamic range and clear sound.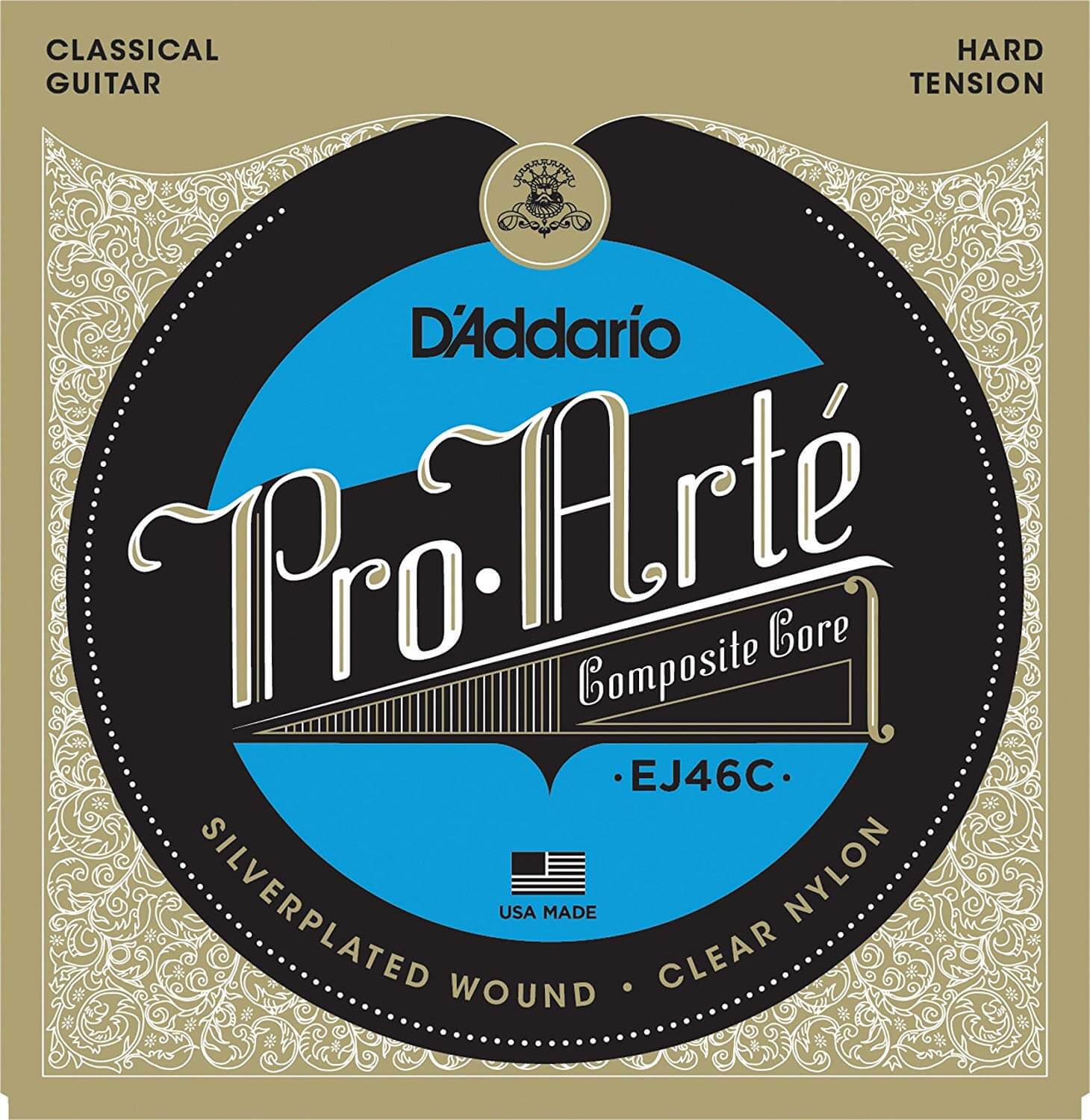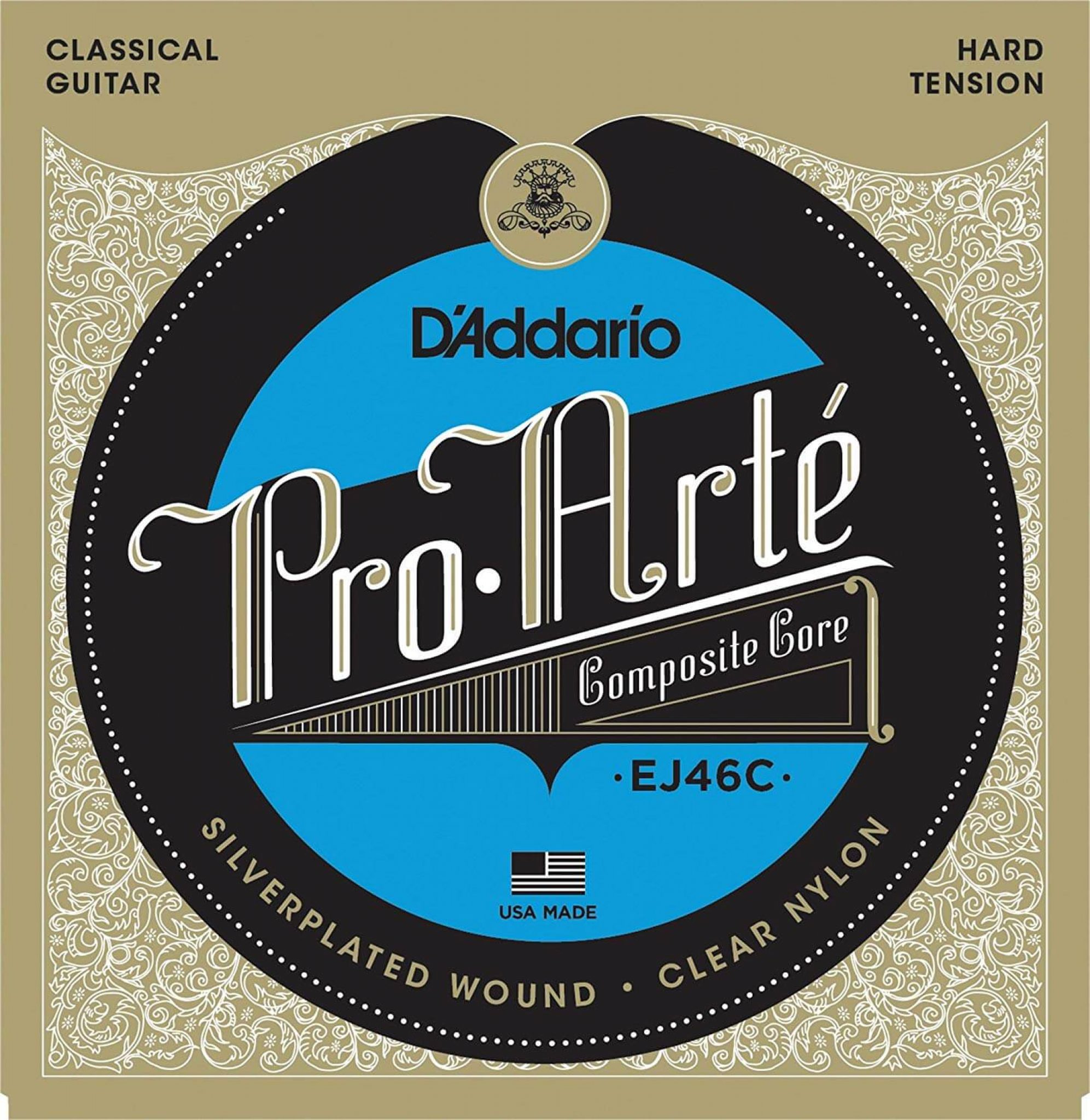 Pro-Arte EJ46C composite high tension nylon strings set is another quality product from D'Addario. These high tension strings offer increased resistance and volume while retaining the warmth. As you would expect from a D'Addario product, quality materials produce a rich and high volume sound. The strings are laser sorted during manufacturing to ensure consistency and quality. EJ46 strings are very durable and can handle aggressive playing styles of professional guitarists. The strings are quite responsive and every movement of finger is well-reflected on the tone.
The treble strings are made from nylon and the bass strings have sliver-plated copper windings on an exclusive composite core. EJ46 composite set features an additional 3rd/G string, which provides tonal options and nicely balances nylon and wound strings.
String Gauges:
Treble Strings: .0285, .0327, .0410
Bass Strings: .030, .036, .044
Pros
The composite 3rd/G string sounds richer than the nylon version.
Excellent sound quality.
Loud projection and volume.
Cons
A bit difficult to tune and requires frequent tuning.
D'Addario's EJ46C composite nylon strings is another well-machined and popular strings from a reputed company. These high-tension strings produce loud and quality sound. The strings are durable and responsive against aggressive playing styles.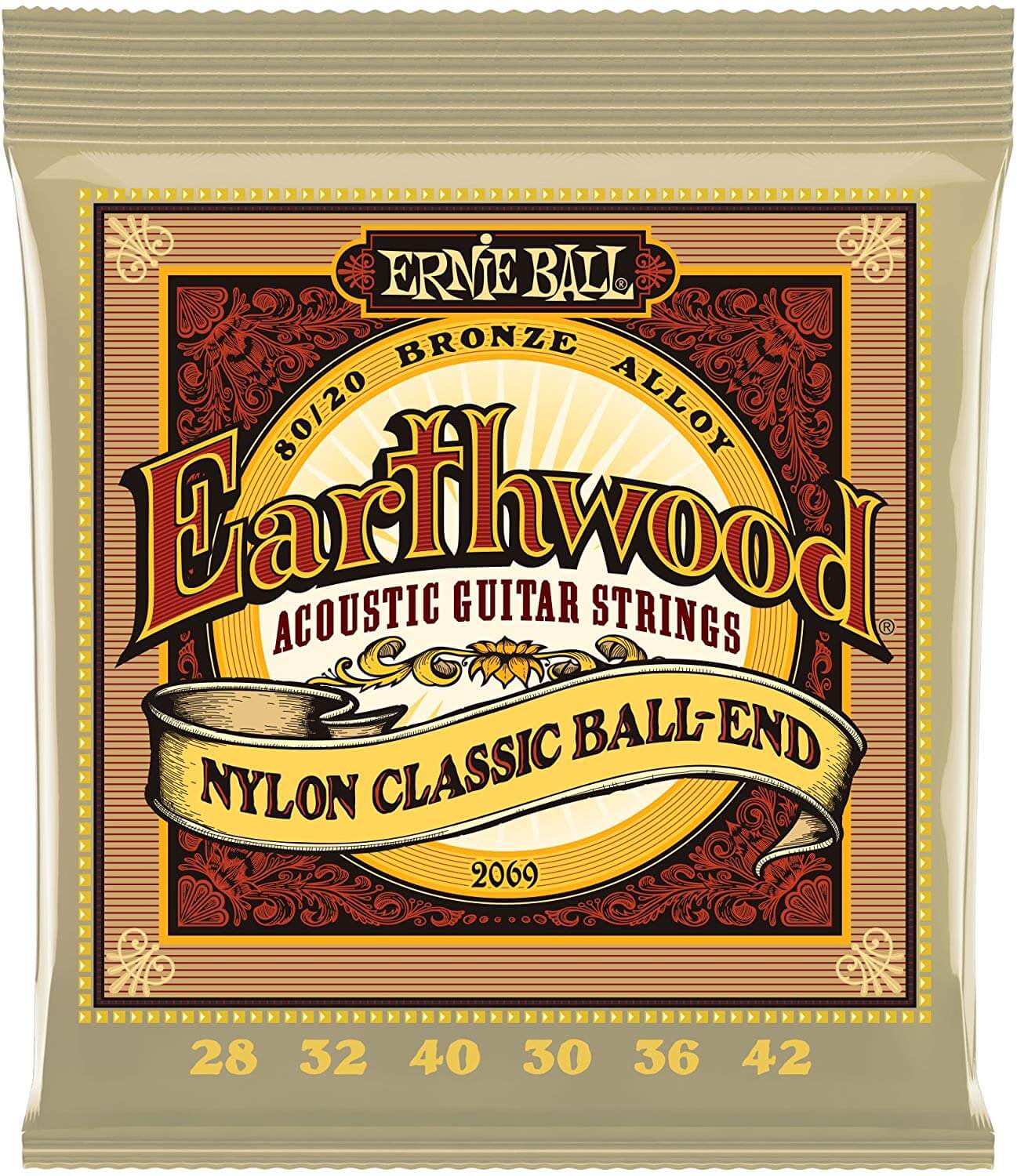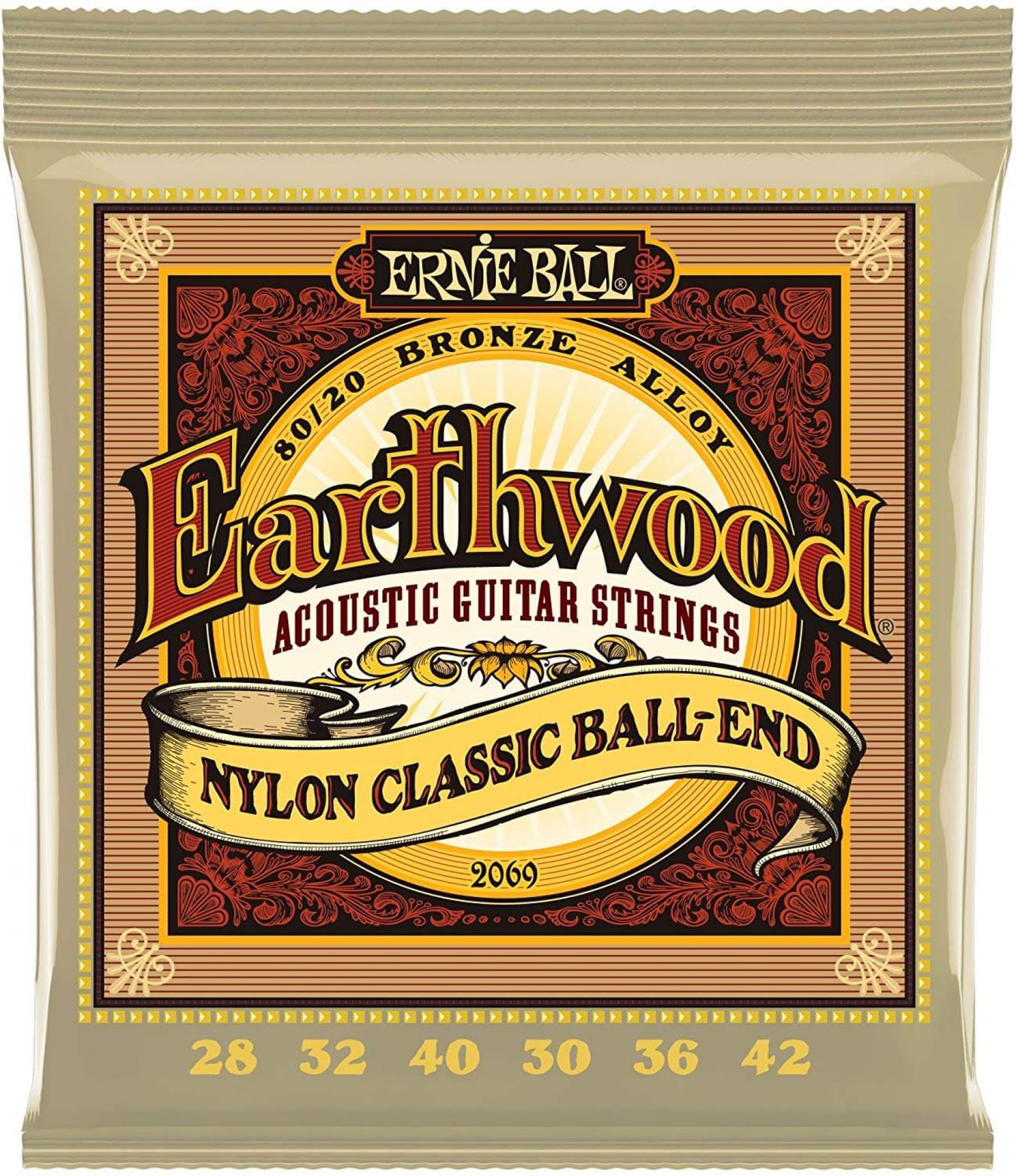 Ernie Ball produces quality guitar strings since 1962 and is probably one of the best manufacturers of nylon guitar strings. Earthwood Folk nylon strings are one of the most popular sets of strings from Earnie Ball. The normal tension nylon strings offer a comfortable playing option. The Ernie Ball Earthwood Folk strings are ball-ended and therefore easy to mount on your guitar.
The treble strings are solid nylon strings while the bass strings are made of brass alloy (80% bronze and 20% zinc) wrapped around the nylon core. Use of brass makes the strings light and sound warmer than other strings made from traditional materials.
String Gauges:
Treble Strings: .0280, .0320, .040
Bass Strings: .030, .0360, .0420
Pros
The strings are made from quality material.
Brass alloy produces soft and warm sound.
The strings are affordable and offer great value for money.
Cons
They lack a bit of clarity and are not suited for fast passages.
Lack of projection and tone.
Ernie Ball Earthwood Folk are great nylon strings. The brass winding makes these strings sound a bit different than the traditional nylon strings but they are quite easy on your fingers. These strings offer a great option for musicians who excel in steel strings but want to try playing nylon string instruments.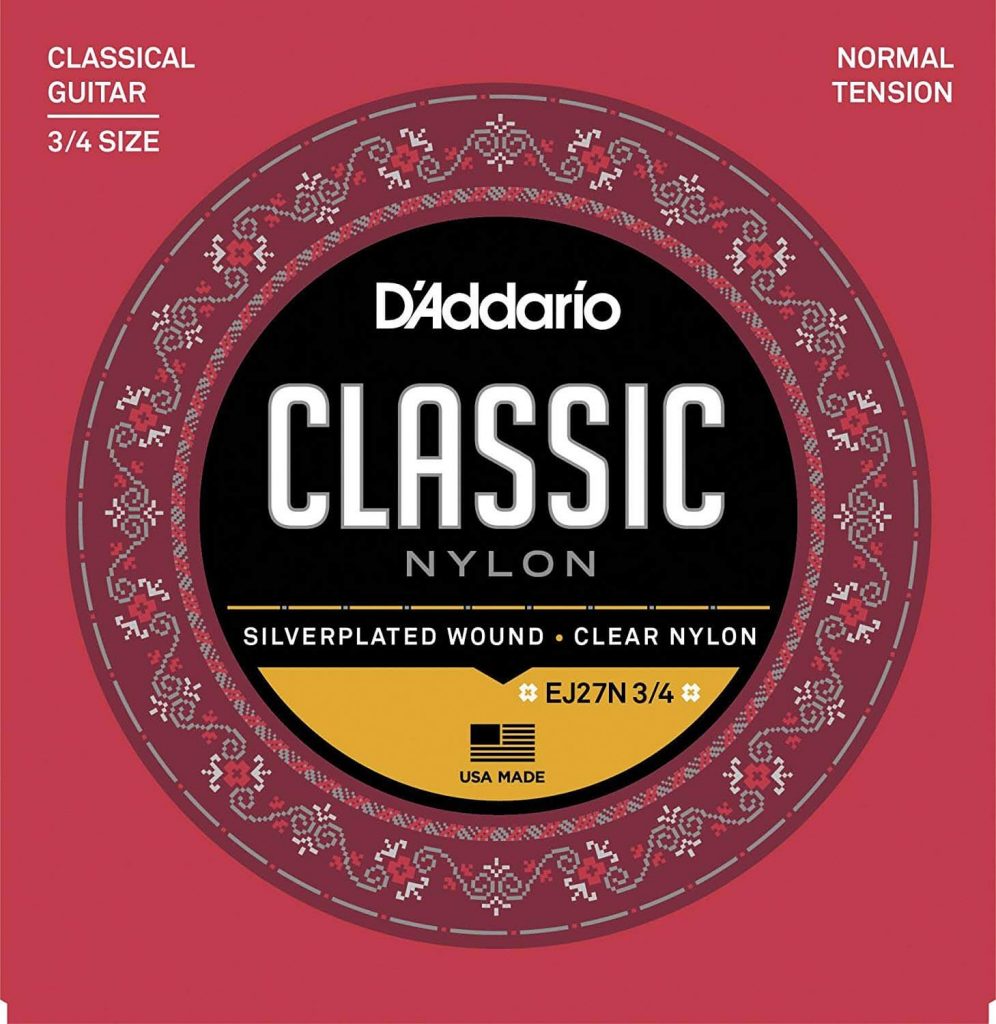 Next on our list is another popular and innovative product from D'Addario. If you are looking for a set of nylon strings for your ¾ guitar, then D'Addario EJ27N strings are just perfect for you. These strings have been designed especially for students and entry level guitar players. These strings extend the trade-mark sound quality of D'Addario to smaller guitars. You get fantastic balance and projection from these pocket-friendly strings.
The EJ27N string set contains 3 clear nylon trebles and 3 silver-plated copper wound on nylon basses for warm, long lasting tone.
String Gauges:
Treble Strings: .0290, .0340, .0450
Bass Strings: .0310, .0360, .0450
Pros
Optimized size for small guitars.
Excellent sound quality.
Affordable and ideal for students.
Cons
Can go off-tune easily at times.
D'Addario's EJ27 ¾ is ideal for occasional guitar players who don't want to compromise on the sound quality. The strings offer a balanced and wonderful tone as expected from a reputed company. A great balance between value and reliability!
Albert Augustine was established in 1947, and has been producing quality nylon strings since then. In fact, they are credited for manufacturing the very first nylon string in 1948. Their product range offers three options – Classic-Red, Imperial-Blue and Regal-Blue with minute variations.
These extremely high tension strings have a good life span and produce soft tones. The high tension in strings offers clear and loud sound.
The treble strings are made from nylon and bass strings have silver-plated copper windings over the nylon core for warmness. The trebles are bright and can tolerate heavy playing very easily.
The basses take some time to settle but once they are tuned, they hold the intonation brilliantly. These strings offer several possibilities to suit the interests and playing styles of different players. Modern manufacturing process assures quality and consistency.
String Gauges:
Treble Strings: 0.0295, 0.0334, 0.0413
Bass Strings: 0.0305, 0.036, 0.045
Pros
The strings offer value for money.
Bright projection.
Cons
The strings require cleaning every once in a while to avoid buzzing.
The strings can be easily adopted to suit the styles of different guitar players. These extra high tension strings from Albert Augustine brilliantly retain the intonation. The high frequency response is phenomenal which makes it a must have for vigorous and attacking style.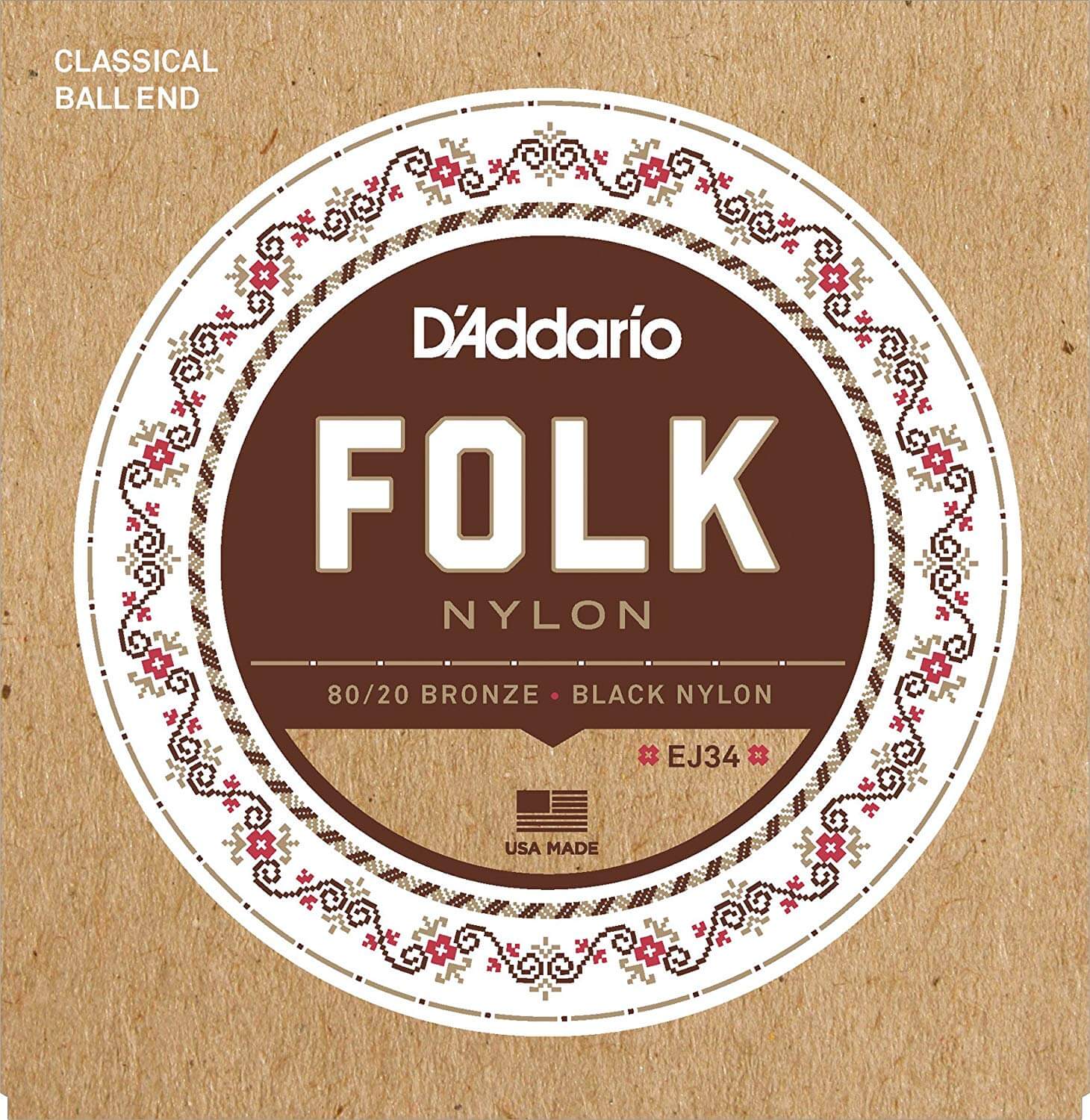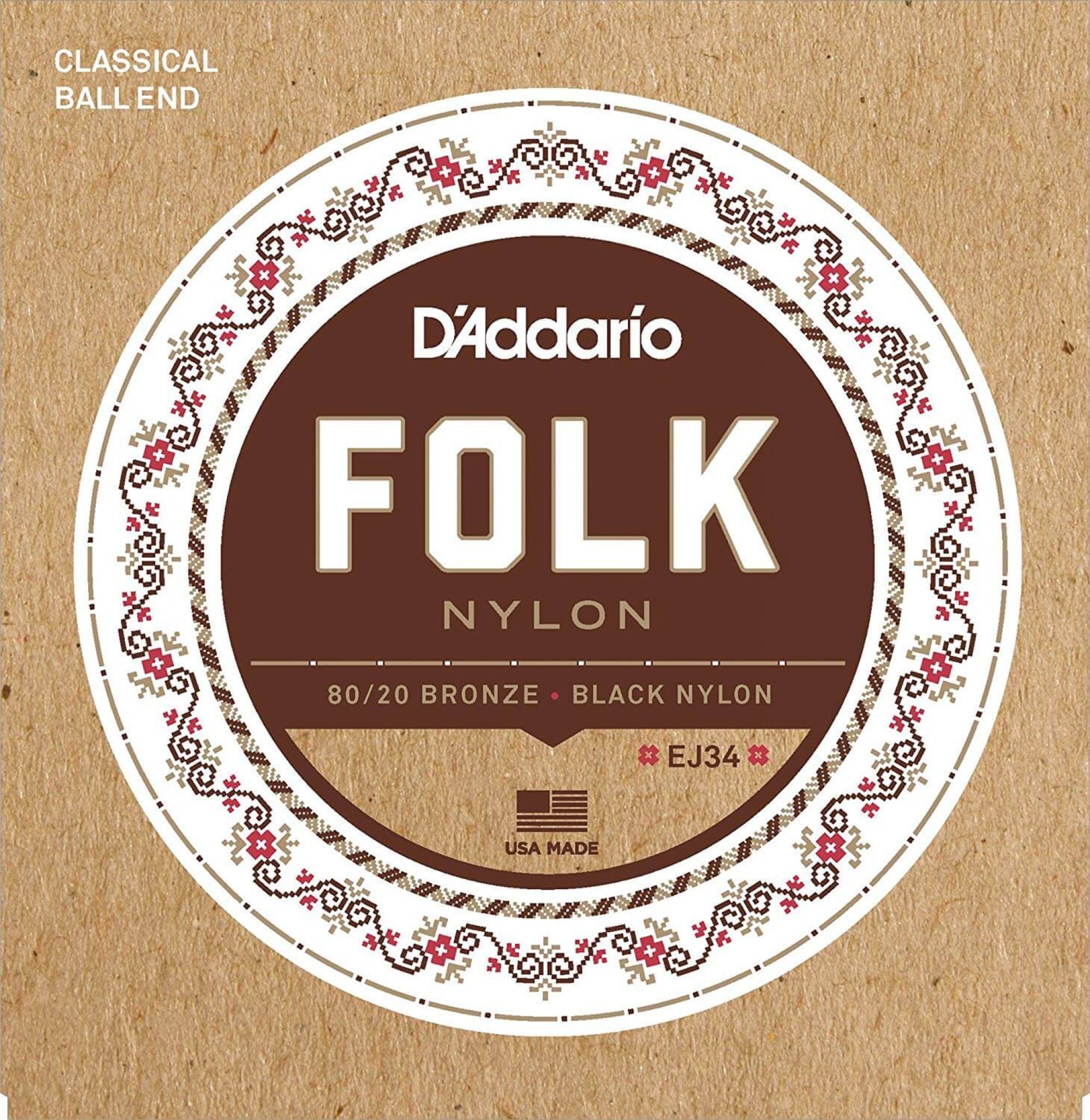 EJ34 Folk is another classic product from D'Addario. These versatile strings are ball-ended which makes it easy to install them on your guitar. The strings are normal tension and produce excellent sound quality. They are sealed in a corrosion resistant packaging to ensure freshness and longevity. These strings are strong and durable, as you would expect from a D'Addario product.
The treble strings are made from high quality black nylon and bass strings are manufactured from brass. The soft strings are easy on your fingers and produce a well-balanced loud volume.
String Gauges:
Treble Strings: 0.0280, 0.0320, 0.040
Bass Strings: 0.0310, 0.0370, 0.0450
Pros
Easy to install and convenient to play.
Terrific sound performance.
Cons
Initial tuning requires some time.
The EJ34 Folk is a brilliant product from D'Addario ideal for easy strumming. These strings extend the consistency and quality of D'Addario to folk guitarists. They are easy on your pocket and fingers as well.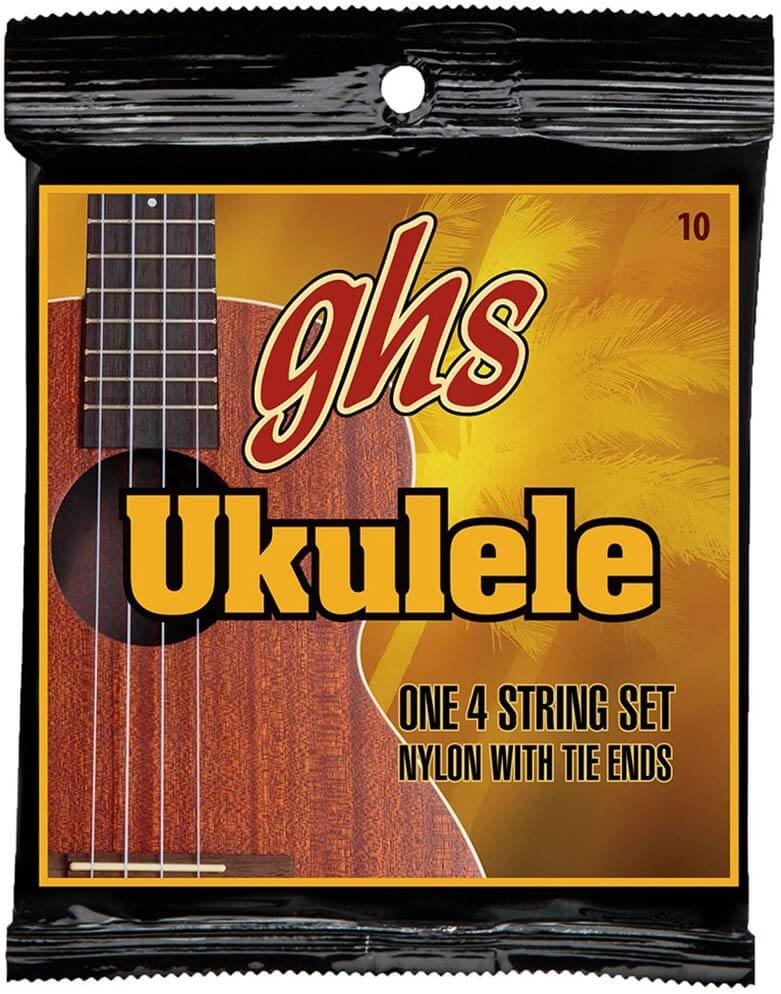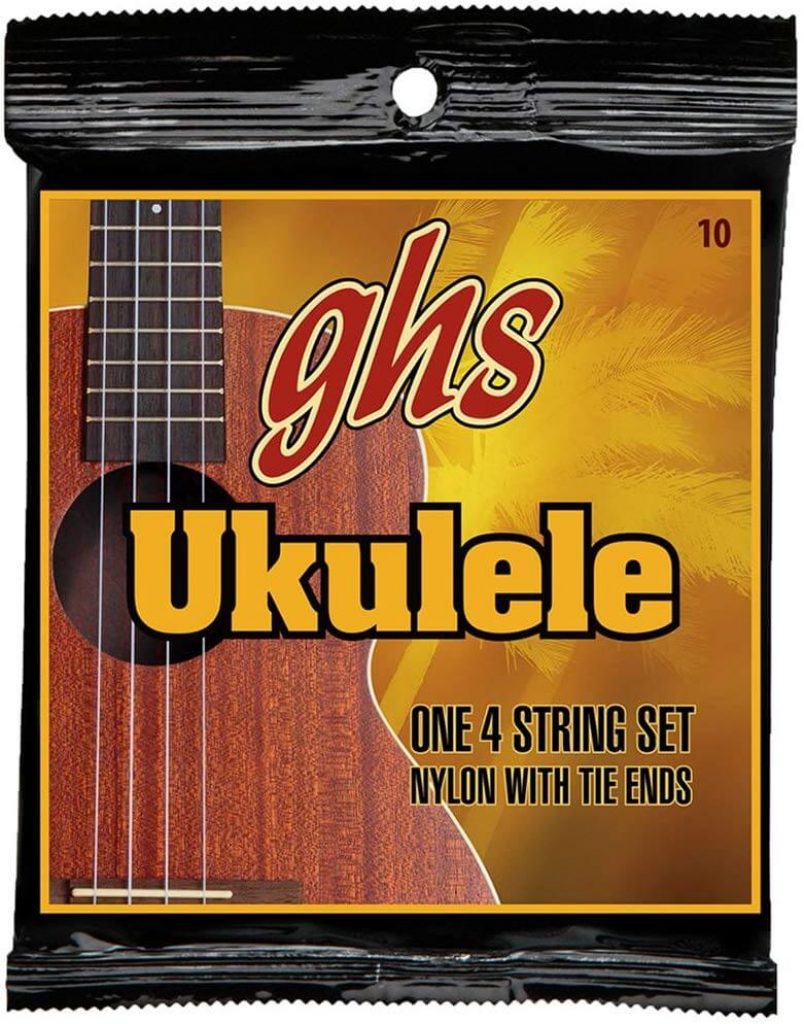 The only ukulele nylon strings set to feature on this list is Hawaiian D-Tuning set by GHS. These strings are designed to provide the classic nylon feel with a mellow tone. The slightly lower tension in strings is ideal for strumming and it works quite effortlessly for beginners as well as professionals. Additionally, the lower tension on high-pitched ukulele provides a nice balanced sound performance.
GHS have earned a reputation of producing high quality strings in a climate controlled environment. Individual strings are supplied in a nitrogen filled package and the entire set is air sealed to protect them from oxidation. The strings are made from high quality clear nylon and offer bright tone.
String Gauges: 0.022, 0.028, 0.032, 0.022
Pros
Affordable.
Comfortable to play.
Long lasting.
Cons
People have complained for occasional buzzing in these strings.
GHS have established themselves as a reputed manufacturer of strings with their state-of-the-art processing and quality control. The GHS Hawaiian D-tuning is a quality set providing harmonious sound. It is cheap and extremely easy to play.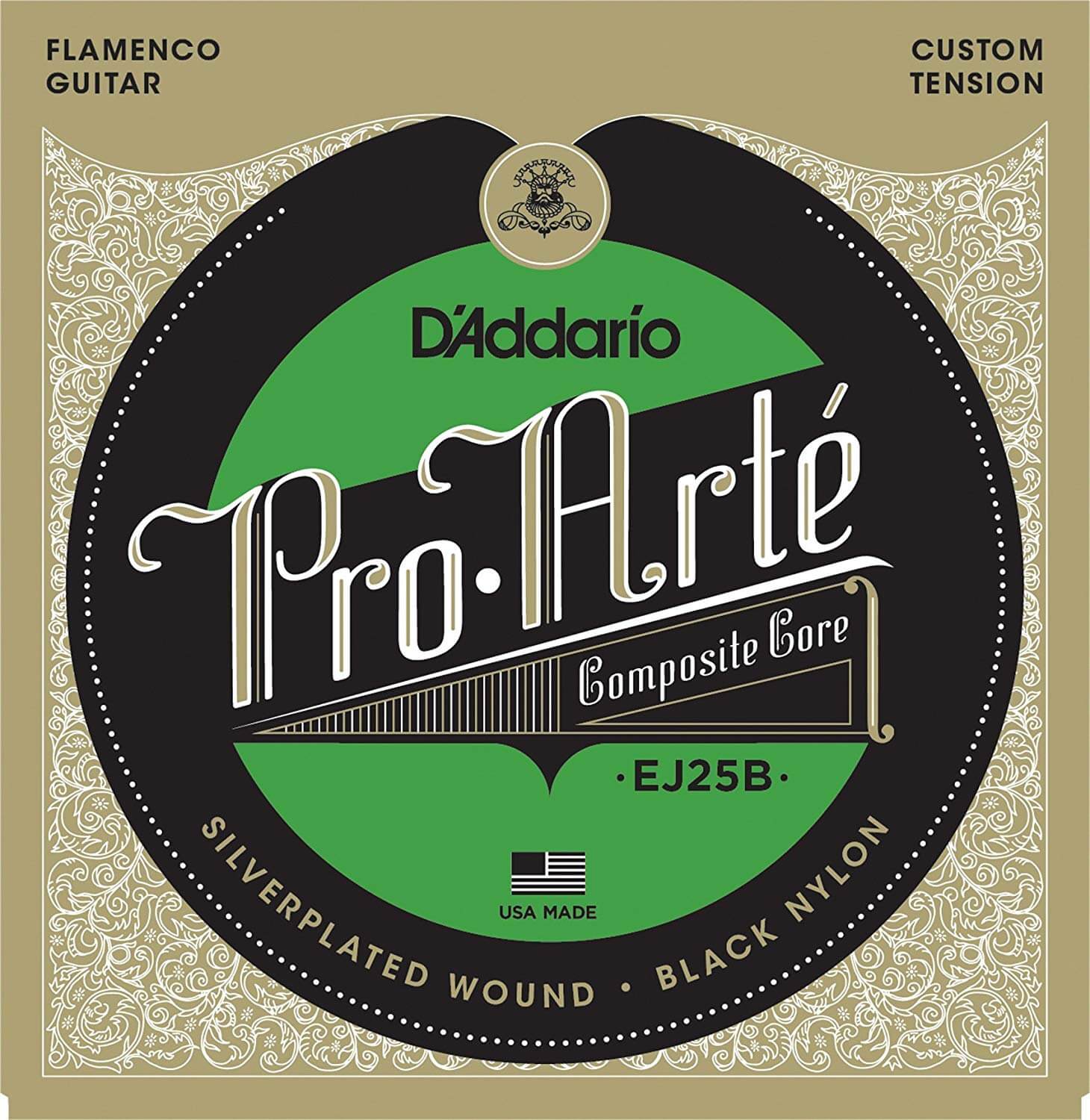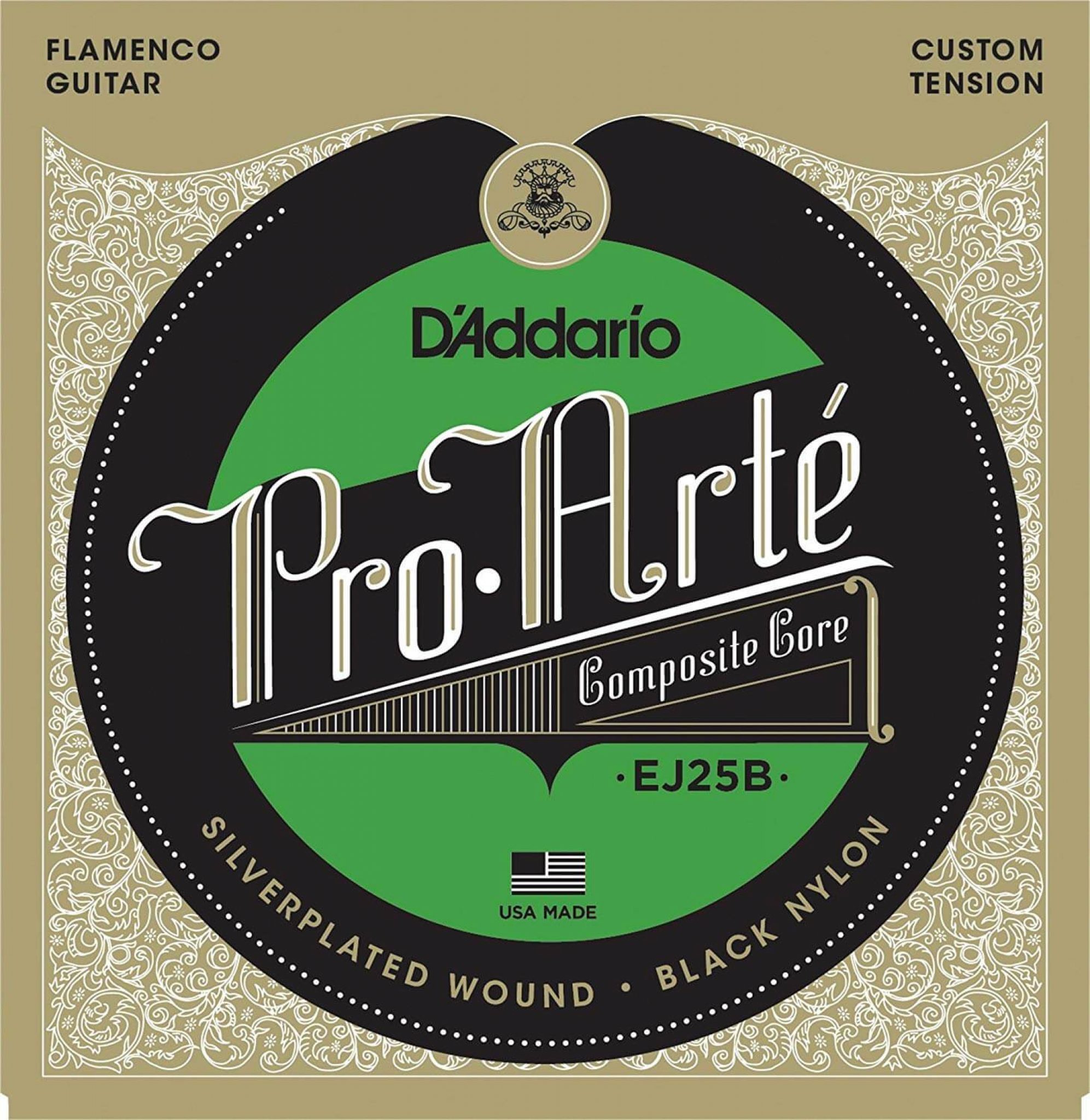 EJ25B composite nylon string set is another quality product from the oldest manufacturer of nylon strings. These strings were especially created for flamenco players and offer flexible feel while maintaining quick response to attack. Each set is laser inspected to ensure quality, consistency and performance during manufacturing.
D'Addario EJ25B Composite strings are constructed using an exclusive multi-filament stranded core material which dramatically improves the life and tuning consistency of the wound strings. The laser sorted black nylon trebles provide consistent and precise intonation. These strings provide clear and genuine sound while playing rhythmic flamenco melodies. They resonate pretty well and each string offers a unique and natural sound.
String Gauges:
Treble Strings: 0.0285, 0.0327, 0.0410
Bass Strings: 0.028, 0.0350, 0.0440
Pros
Ideal for flamenco players.
Sharp sound projection.
Excellent value for money.
Cons
Basses might give you occasional buzzing/ringing.
D'Addario EJ25B Pro-Arte composite is specially designed to provide superior sound performance from flamenco guitars. The silver and black color combination is appealing to the eye and easy to handle.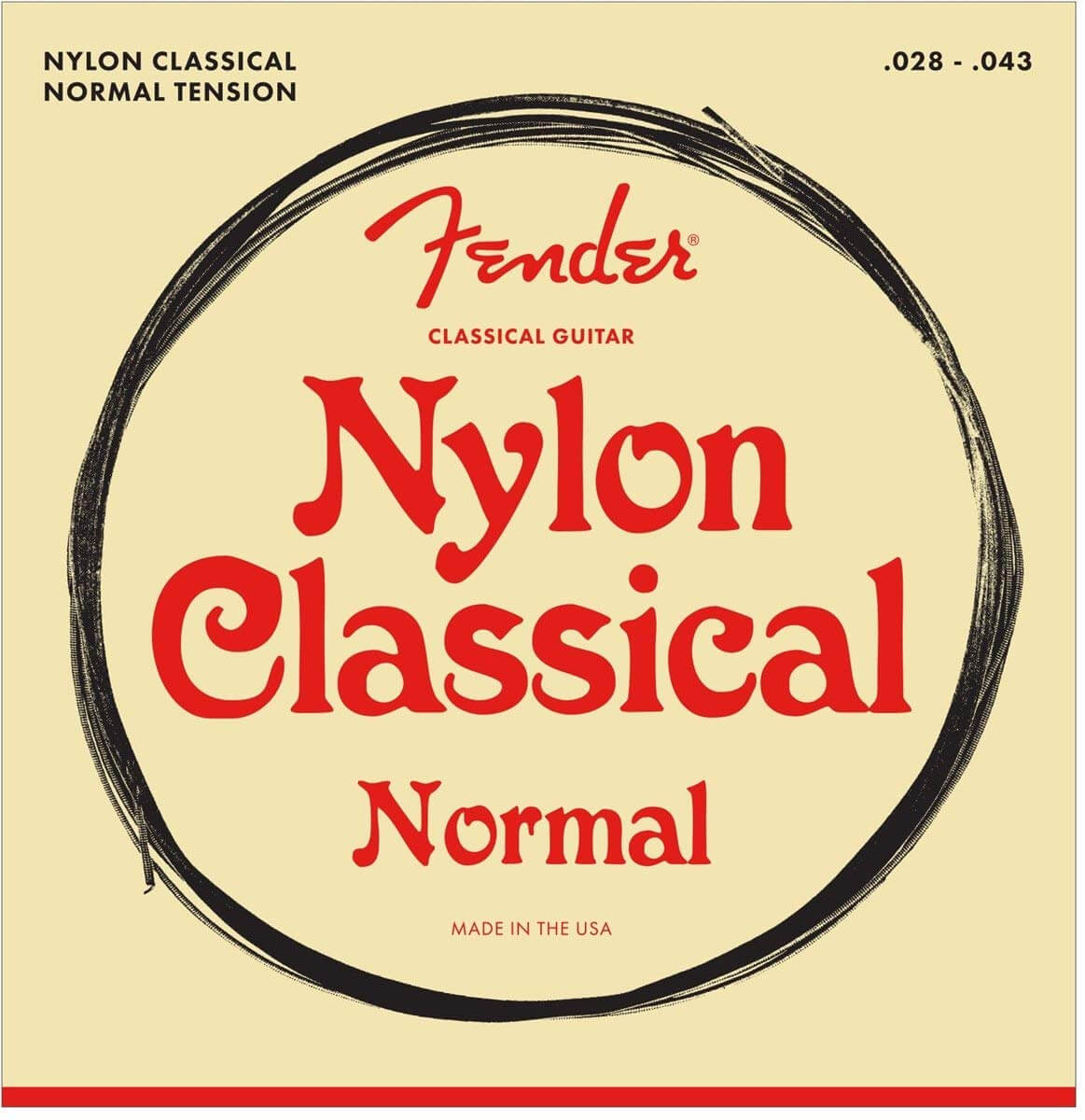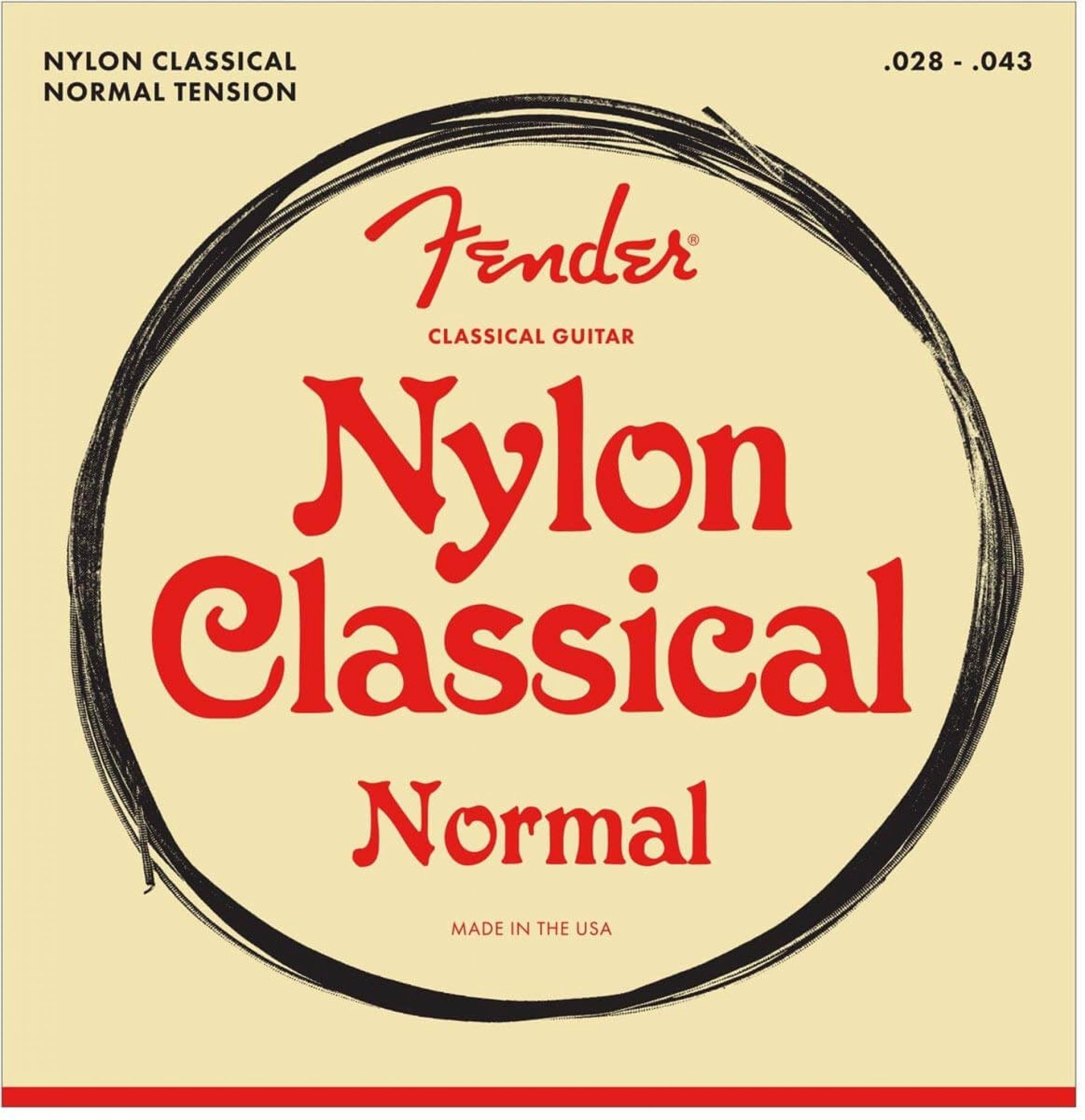 This list will be incomplete without including the classical nylon strings from Fender. Fender have established themselves as one of the most eminent manufacturers of guitars and its accessories. These strings are also known as Fender 100's and are machined to provide highest quality possible.
The bass strings have pure silver windings to offer a smooth feel with reduced finger noise. This offers sufficient clarity and projection to make your voice heard. These strings are available in ball-end as well as tie-end type to suit different players. The trebles strings are smooth and easy to pluck and basses offer a strong tone.
String Gauges:
Treble Strings: 0.0280, 0.0320, 0.0403
Bass Strings: 0.0290, 0.0350, 0.0430
Pros
Trademark fender quality.
Easy installation for ball-ended strings.
Excellent clarity.
Cons
Don't hold the tune for long time.
Fender strings have a separate fan-base and not without a reason. The nylon strings are smooth and wounded bass provide strong sound. These high quality nylon strings offer value for money and low tension is ideal for strumming.
A few last words
Selecting strings for your guitar is a personal choice and depends on your taste and playing style. If you are new to nylon strings, you must understand that while they are easier to play, they require regular tuning. It is obvious to get confused when there are so many options to select from. Here are some expert tips that might help you in making your mind up:
The tension on the strings affects the overall sound quality from your guitar. Low tension strings are easy to play, have less volume and sound. High tension strings produce loud and clear sound and normal tension strings have balanced qualities between these two extremes. If you are a newbie it's a safe bet to stick to the normal tension strings.
Same strings can provide different sound and amplification with different players so it is important that you choose the strings which match best with your playing style.
If you are looking for strings online, make sure to verify the specifications from the manufacturer's website. Since there are so many strings available, it is easy to make a mistake in dimension or tensions.
Last but not the least; make sure to try the strings yourself on your guitar before you buy it. Check if they are comfortable to play and provide clear sound without any noise or buzz.
Conclusion
We have tried to include the best nylon strings available in the market. The selected strings are from reputed manufacturers and have been around for quite a while. We are not saying that only these strings are workable for you, but they have been tried and tested by many guitar players across the globe so they might be a safe bet. We hope that the article was informative enough to select nylon strings for your guitar or ukulele.
Did we miss on your favorite set of nylon strings? Do let us know in the comments. Thank you for reading this article!