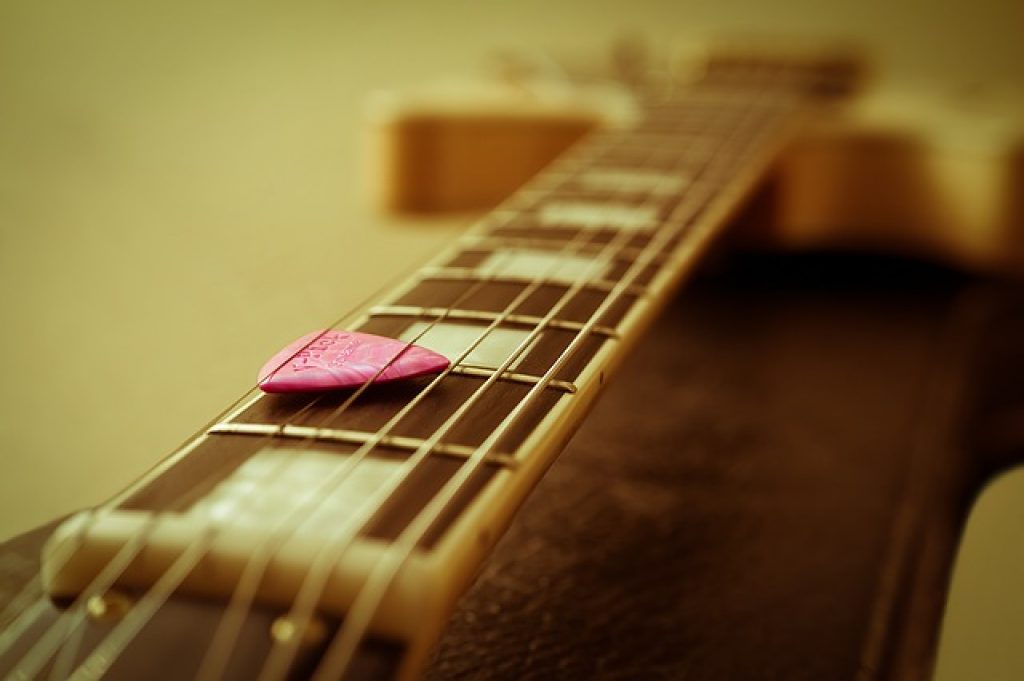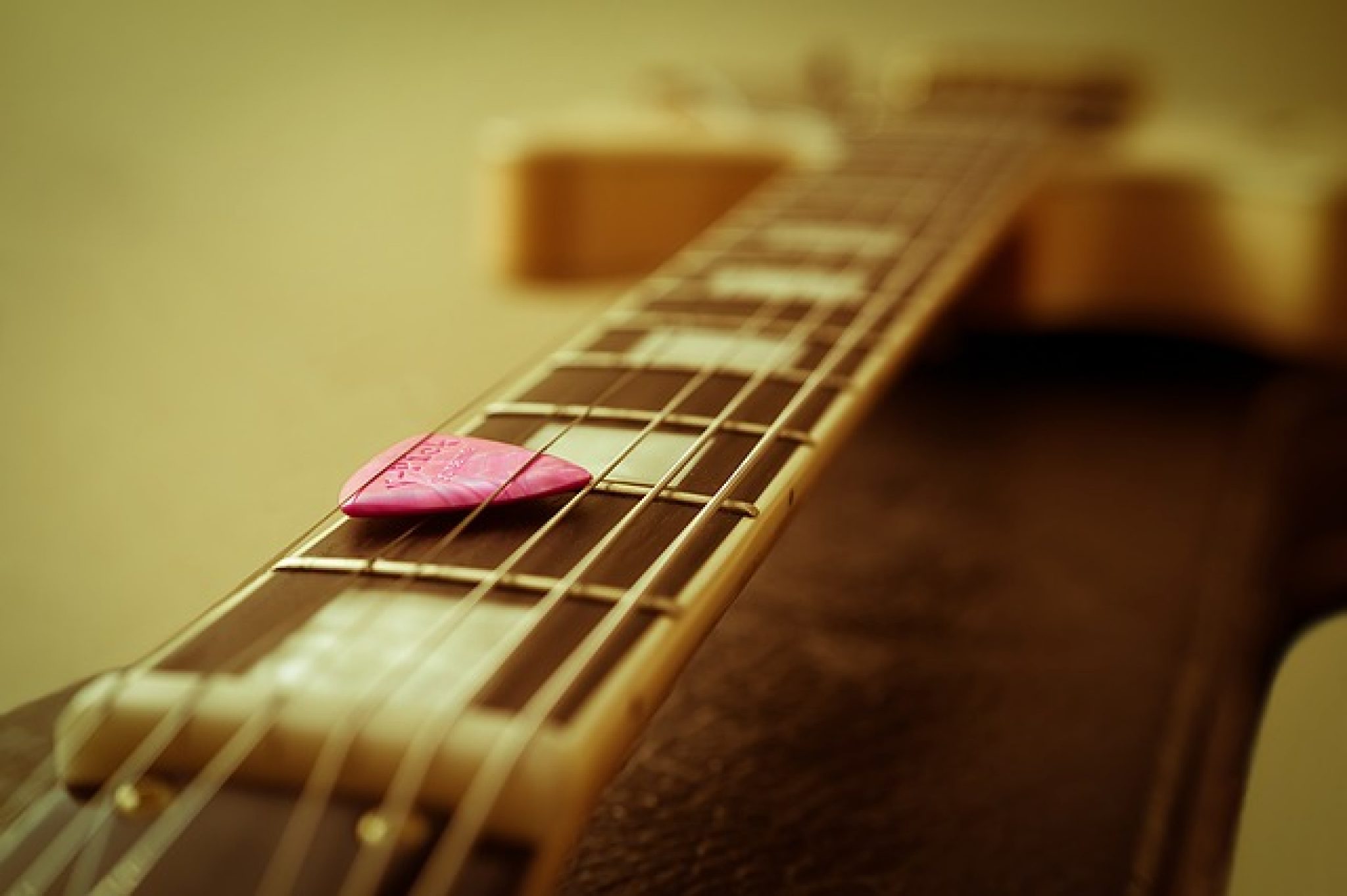 Picks or plectrums are probably the most overlooked accessories of guitars which have a dramatic effect on its sound quality. Picks play an important part in your playing speed as well as the overall dynamic range. They are an absolute necessity for beginners.
Initial guitar lessons teach how to hold and move them across guitar strings. Have you ever wondered why some plectrums are easy to hold and produce nice sound while others don't? Well, all picks are not same and even subtle differences can make a huge impact on the overall playing style and tone.
The two most important factors for guitar picks are its material and thickness. Let's quickly see how!
The most popular materials used for making guitar picks are Tortex, Celluloid (Ultem) and Nylon. Tortex is a polymer and provides a relatively mild impact on the tone. Celluloid is a plastic and is more rigid than Tortex which makes it ideal for players looking to enhance high-end frequencies. Nylon picks have warmest and richest tone among these three materials.
Thickness or gauge of the pick determines its flexibility. Lighter gauges (around 0.60 mm) are more suitable for acoustic guitars as they provide brighter and sharper tone. Picks with thicker gauges (around 0.80-1.00 mm) offer a warmer tone and are generally used with bass guitars.
Now that you have understood the basics of a guitar pick, let's take you through the 9 best guitar picks of 2023 available in the market.
Table of Contents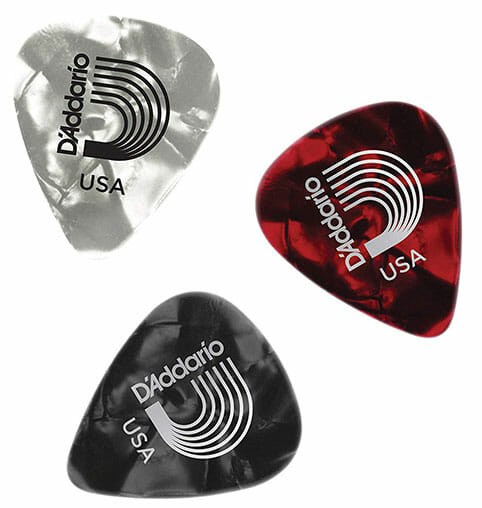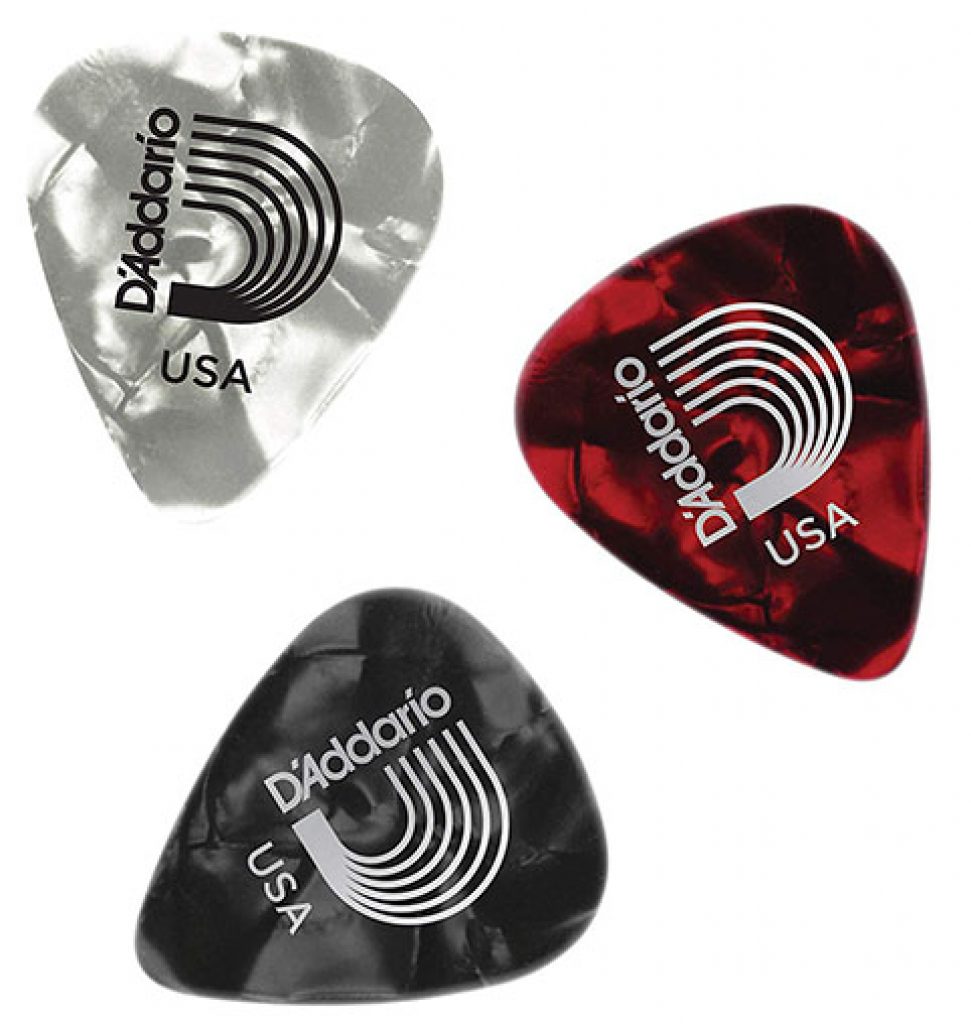 D'Addario has been a leading manufacturer of accessories for musical instruments since 1947. Although they are well known for producing guitar strings, they also make other quality guitar accessories like tuners, straps, capos and picks. D'Addario's assorted Pearl Celluloid Guitar Pick pack is worth considering for any guitar player.
The picks are made from celluloid material and are more slippery than the powdered tortex picks. The celluloid material produces a relatively neutral and balanced tone. This pack of guitar picks comes in three different gauges; light (0.50 mm), medium (0.70 mm) and heavy (1.00 mm). Lighter gauges are suitable for strumming while the heavier gauges are ideal for leads. These assorted guitar picks are available in packs of 10, 25 and 100 pieces.
Pros
Affordable and value for money.
Durable and high quality.
Cons
A bit slippery and takes a while to get used to.
This affordable set of guitar picks offer great value to any musician. There aren't any noticeable flaws when the price is considered. This is a perfect pack whether you are an experienced player with varying playing styles or a beginner trying to master picks of different gauges.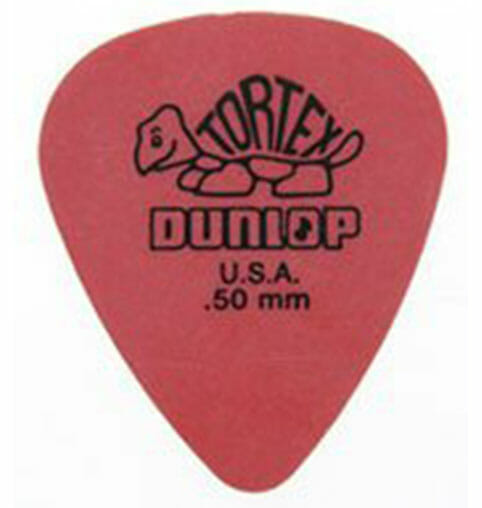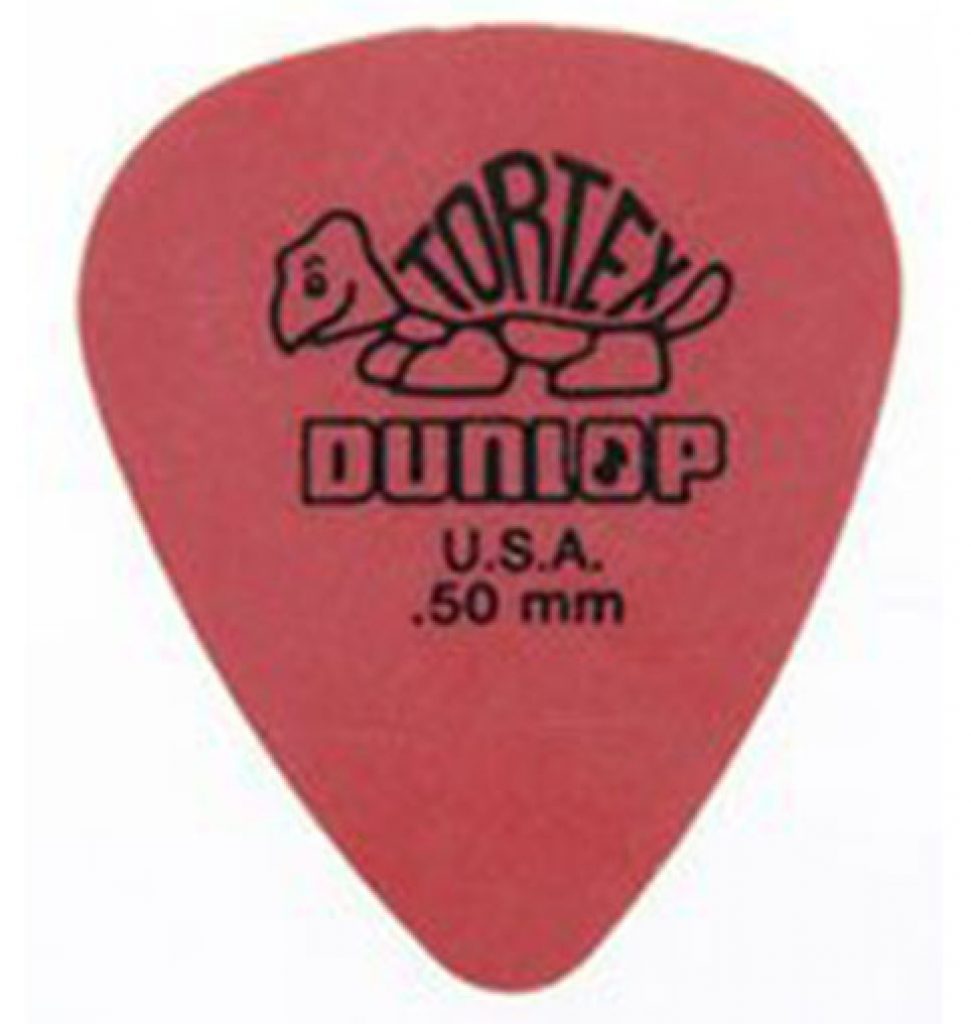 The Dunlop Manufacturing Inc. was founded in 1965 and has been producing quality accessories for musical instruments since then. The Dunlop Tortex Standard 0.60 mm orange guitar pick is extremely popular among casual as well as professional guitar players.
This pick is made from tortex which is widely available and cheap. Tortex is a clean sounding material offering a balance of warmth and brightness in tone. The tortex material is easier to grip and play as compared to plastic picks. This pick is durable and cheap making it ideal for beginners. Dunlop Tortex Standard guitar picks are available from 0.50 mm to 1.14 mm in packs of 12, 36 & 72 pieces to suit the playing styles of different types of guitars.
Pros
Bright & crisp tone.
Excellent grip.
Cheap.
Dunlop Tortex Standard picks are extremely popular and recommended by the top musicians worldwide. These are durable, well-built and cheap to experiment with. Tortex material makes it easier to hold which can be helpful for beginners. It is difficult to find any down side with them.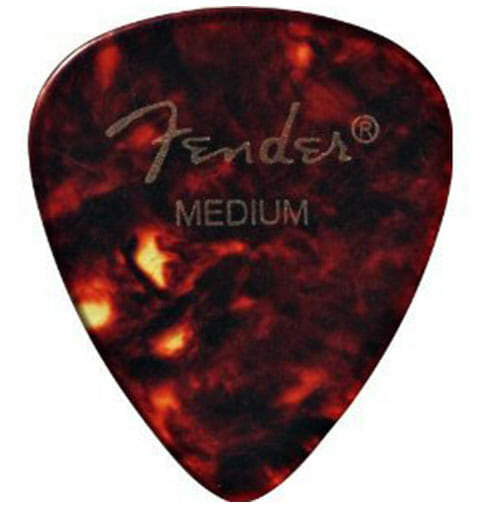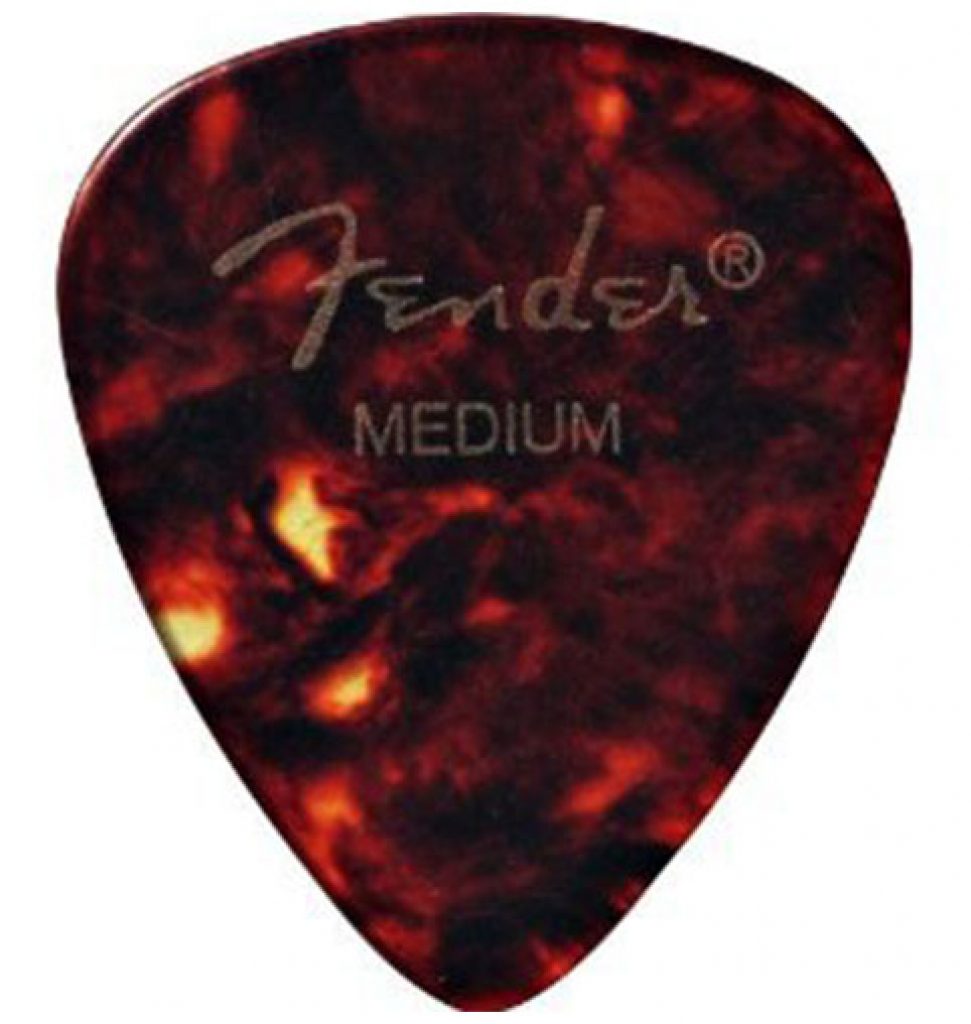 Fender is probably the most popular manufacturers of musical instruments and accessories all over the world. The company not only makes outstanding guitars, it also produces quality products to support them. Fender 351 Shape Classic guitar pick is a valuable addition to any musician's collection.
These picks are made from celluloid and offer warm sound which is ideal for rock and blues. These plectrums are good for different styles of playing and are popular with professionals. The rounded tip and standard shape are consistent in performance and well appreciated by guitar players. They are available in a variety of gauges from thin to extra heavy with a medium and heavy gauge in between in a pack of 12 pieces.
Pros
Affordable and versatile.
Provide high-performance.
Cons
Celluloid material makes it slippery.
The Fender 351 Shape Classic Pick is a historic product from the Fender company. They offer pleasing warm sound and volume. These picks are popular and highly recommended by professionals. Surely, they tend to be more slippery than tortex picks, but spend a little bit of time practicing and you will appreciate how great they are.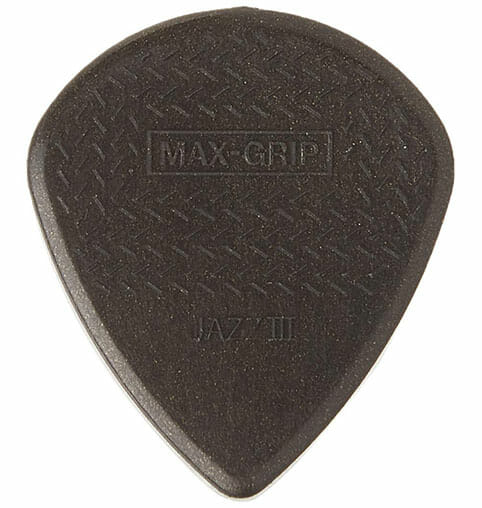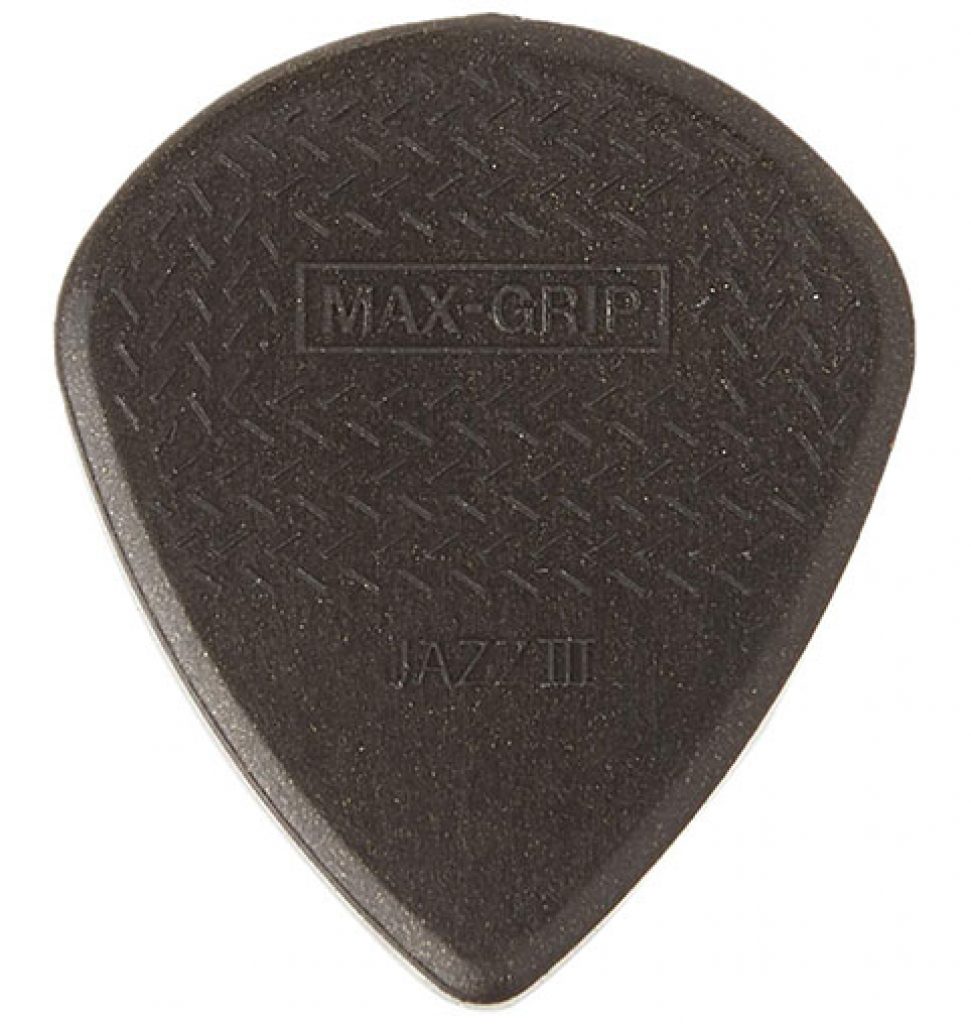 Dunlop Max Grip Jazz III Pick is another quality product from Dunlop Manufacturing Inc. It is a great option for guitar players searching for unique and durable picks. These picks are available in nylon as well as carbon fiber. They are a bit smaller than the standard size of picks and take a time to get used to.
Thickness of Dunlop Max Grip line-up ranges from 0.60 mm to 1.5 mm and Jazz III picks in particular are 1.34 mm thick. The smaller size and large thickness of the pick makes it easy to glide from one string to another. These pricks are preferred for playing fast music where pick work is detailed. They combine speed and precision to produce a quick response. These picks are available in packs of 6 and 24 pieces.
Pros
Durable.
Easy to play.
Good control.
Cons
A bit costly when compared with other options available on the market.
It takes a while to adapt to the smaller size of the picks.
Dunlop Max Grip Jazz III Pick is aimed at musicians who want to increase the speed and precision of their guitar playing technique. The smaller pick size requires some time to get used to but it helps to improve the playing technique.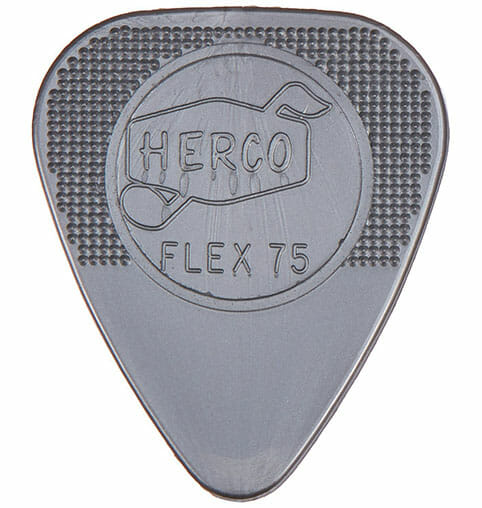 The silver colored Herco Flex 75 is one of the most popular guitar picks of all time. These are made from high quality nylon and are flexible and long lasting. These picks have been used by world famous rock guitarists like Jimmy Page, David Gilmour etc.
These picks have a consistent and uniform thickness. A unique pattern on the picks makes sure they don't slip while playing. These picks are offered in a 12 piece pack in two variants; Flex 50 (0.65 mm thick) and Flex 75 (1 mm thick). These picks are ideal for blues and rock music.
Pros
Durable and long-lasting.
Slip-proof grip and convenient to play.
Affordable.
Cons
The sound produced is on the softer side.
These are one of the best picks for rock music in the market. They have been a favorite for many rock stars. The grip on these picks is unbelievable and they provide value for money.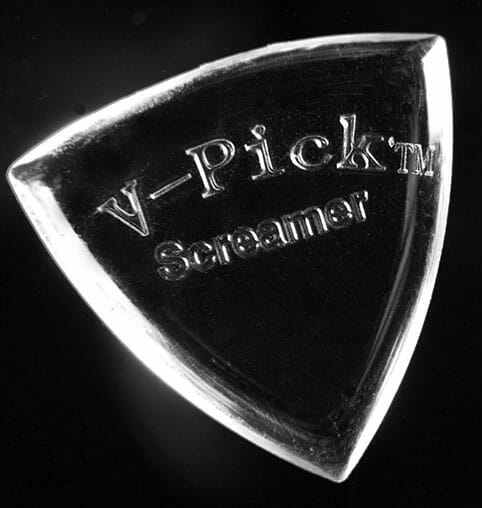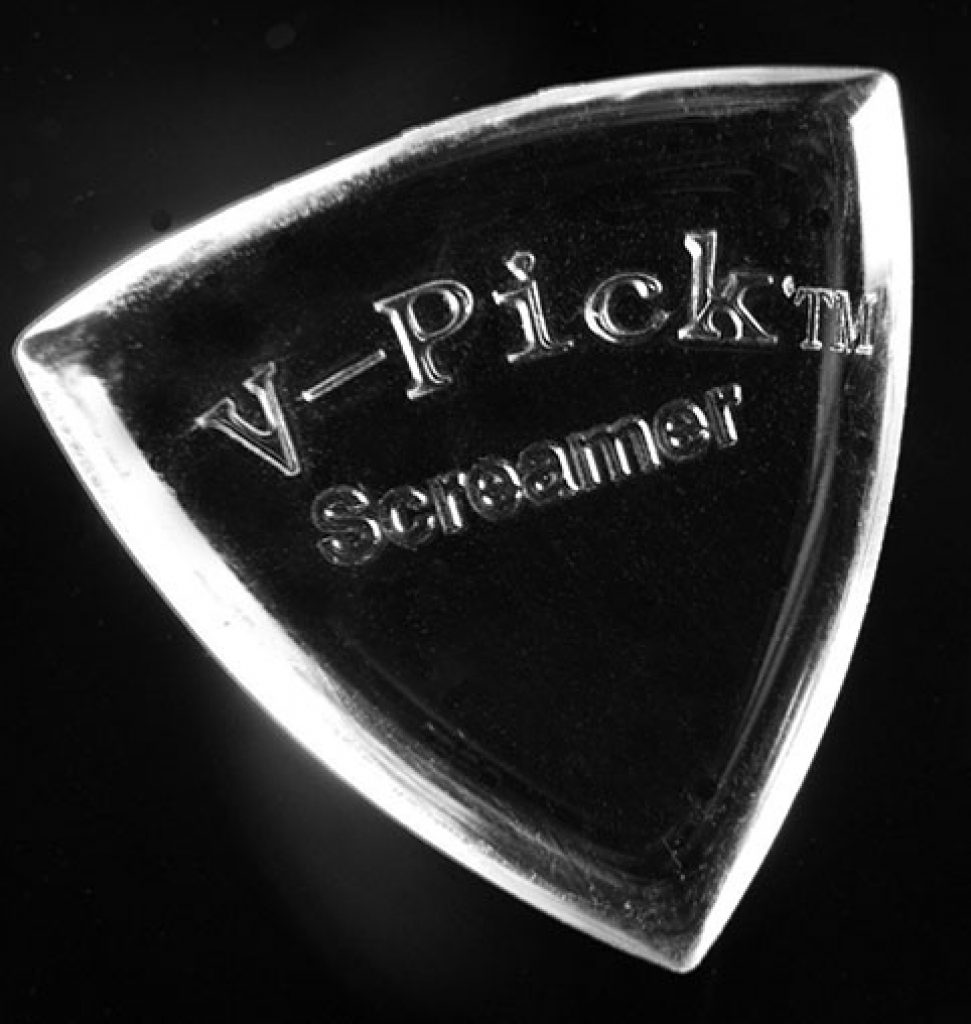 The V-Picks company is known to produce quality picks for electric guitars. V-picks are highly endorsed by rock guitarists like Billy Gibbons, Carlos Santana etc. V-Pick Screamer guitar pick is made from acrylic and is probably their most selling guitar pick.
The plectrum has a distinguish small hole in the center. This helps to know the exact position of the pick in your fingers. The pick is triangular in shape and easy to grip. This triangular shape makes it convenient for beginners to practice with different guitar pick angles. The pick produce sharp and bright tone with loud sound. The V Picks Screamer pick has a bright high and a big low end as well. This pick is 2.75 mm thick and ships as a single unit.
Pros
Excellent grip.
Strong, durable material.
Tone is rich.
V-Picks Screamer is preferred by famous lead guitarists and is suitable for any genre of music. This pick has a good grip which makes it convenient for beginners. Get this pick if you can afford it!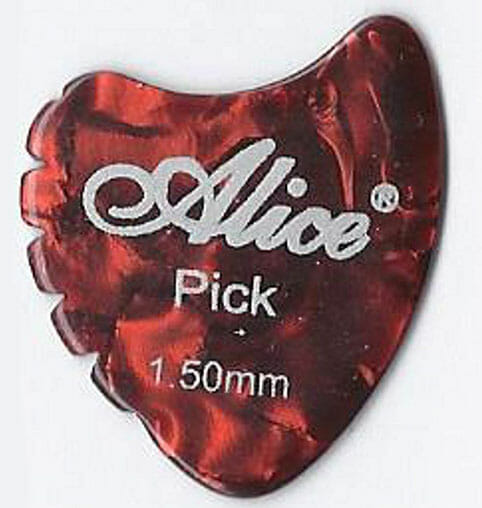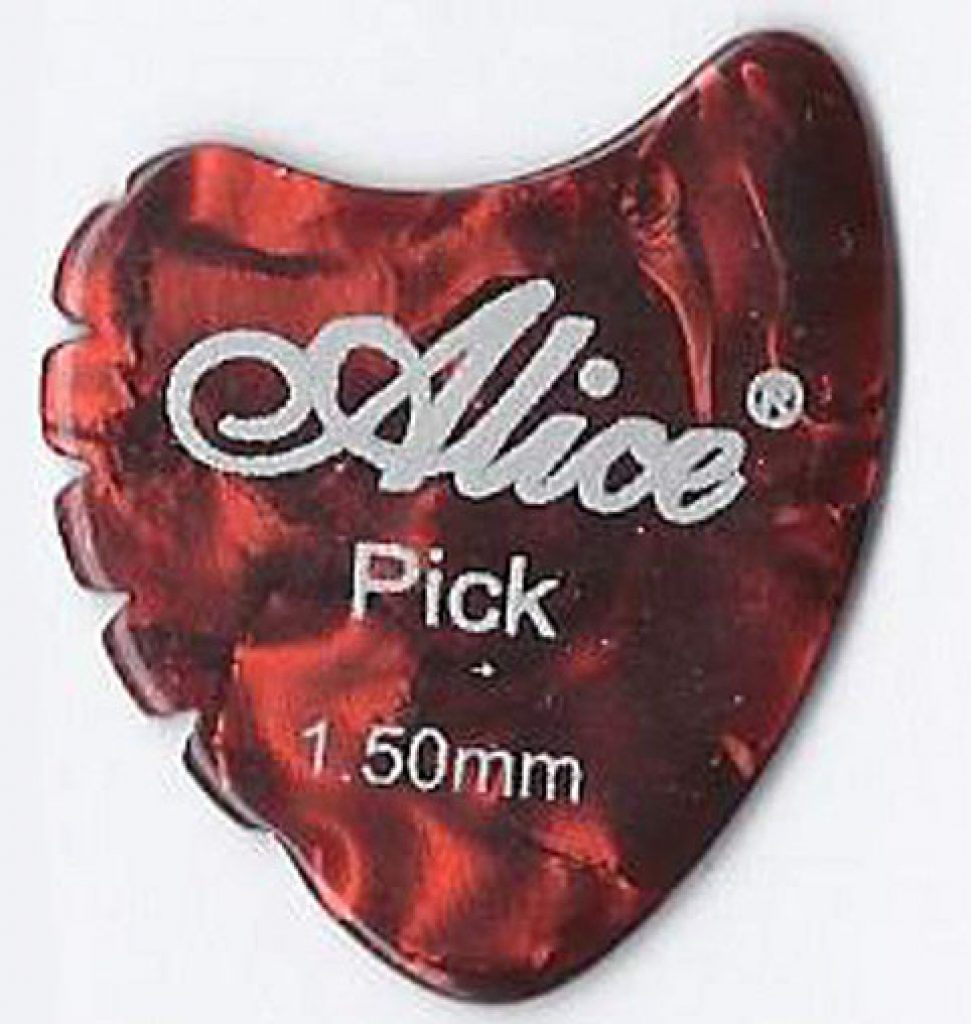 The Sharkfin picks are one of the most talked about guitar picks available in the market. These Sharkfin picks have been used by legendary bands like The Beatles, Beach Boys and many more. These plectrums are characterized by their odd shape.
Sharkfin  Alice guitar picks have different edges which suit different playing styles and the only part that resembles a normal guitar pick is its rounded tip. You can use the smooth edge for gentle strumming or dig deep on the waved edge for harder sound. These picks are made from celluloid and offer simpler grip for the beginners. They are available in heavy gauge (1.14 mm and 1.50 mm Thick) in a pack of 12.
Pros
Versatile pick suitable for any playing style and guitar type.
Long-lasting.
Value for money.
Cons
The curved side takes some time to get used to it.
This versatile and universal guitar pick can suit any playing technique for your guitar. The choice of playing edges produces different tones. The simpler grip and durability make it ideal for beginners.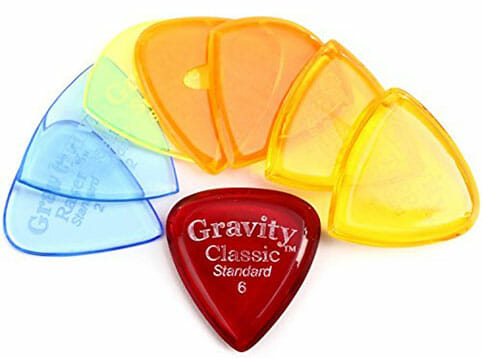 Gravity Picks is a relatively new manufacturer of guitar picks with growing popularity. They are worth mentioning due to their quality products. Their picks are made from acrylic material which makes them long lasting. Acrylic grips your fingers more and makes it easy to glide along the strings. The acrylic material also gives brighter tone and loudness to the sound.
Gravity picks are available in many variations of shape, size and thickness. The Variety pack is offered with 8 pieces of guitar picks of different thickness ranging from 0.6 mm to 3.0 mm. The Variety Pack from Gravity Picks lets you experience different playing styles. The thicker picks offer more control for fast playing.
Pros
Durable material.
Convenient to play.
Sound is rich in treble.
Acrylic picks are easy to grip and last long. The sound is loud and rich in treble. Obviously, they are pricey but the quality is worth the premium.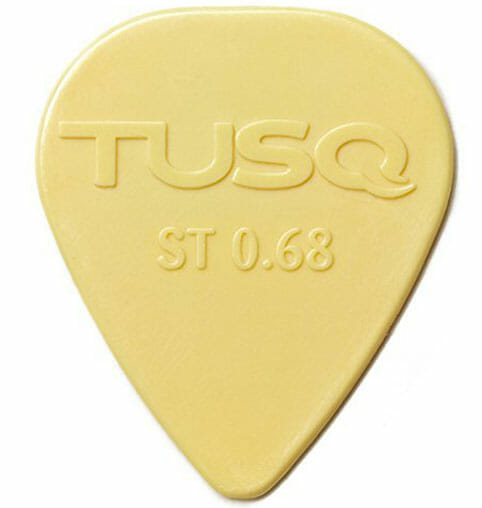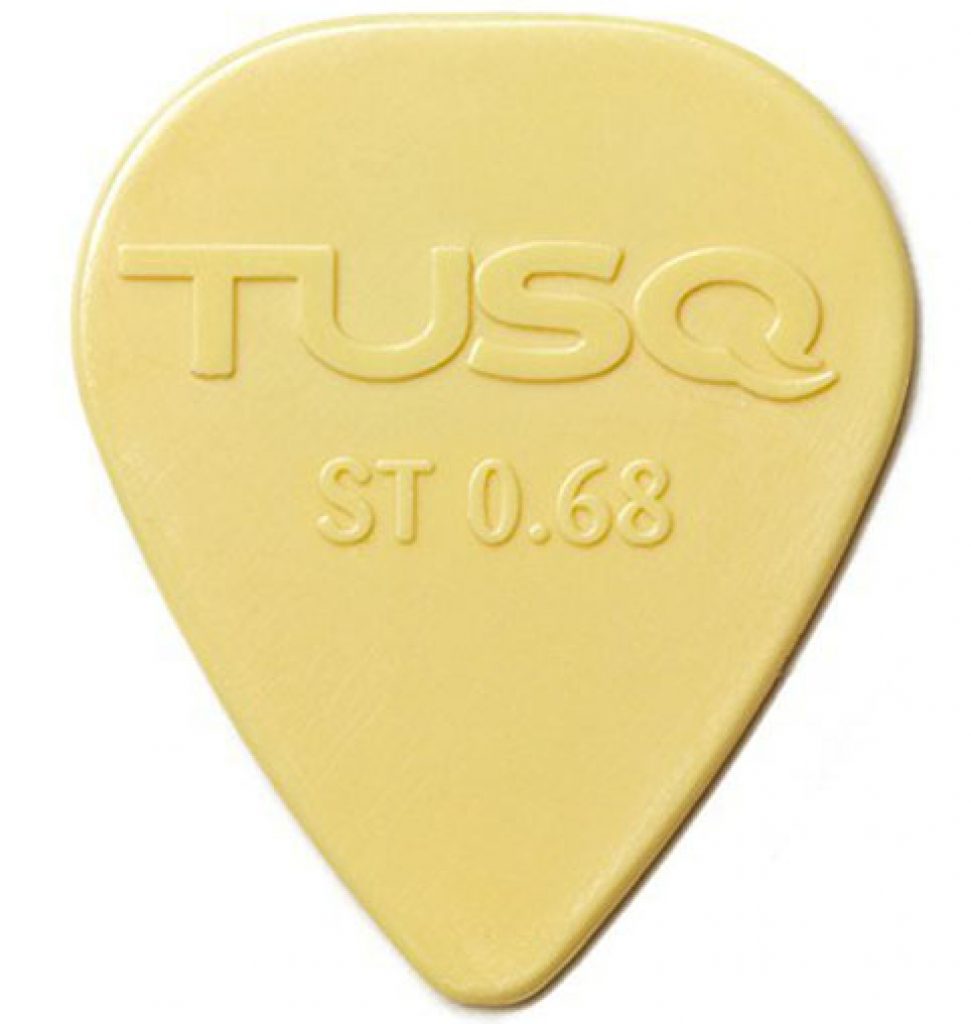 Graph Tech is a popular company known for its high quality guitar end-pins, saddles and nuts. They have been producing quality plectrums as well which feel great and sound amazing at the same time. These picks are made from a special material which is referred to as man-made ivory. This new material helps their pick to produce increased harmonics and results in a sweeter tone.
TUSQ  standard picks have high resonance and produce crisp tone. These picks are available in distinctive tones of bright, warm and deep. The bright tone picks are white in color and produce precise, clear and rich tone. The vintage yellow colored warm pick produce the classy balanced tone with warmth. The deep picks are charcoal colored and offer a smooth feel with increased warmness. These picks are available in three different shapes and thicknesses of 0.68 mm, 0.88 mm and 1.00 mm.
Pros
Increased harmonics.
Value for money.
The TUSQ guitar picks from Graph Tech are made from a new material which separates them from the other guitar picks. These picks glide off the strings better and are more suitable for speed picking.
Frequently Asked Questions About Guitar Picks
Which guitar pick is best for electric guitar?
V Picks Screamer is a great guitar pick for electric guitars.
Which is the best guitar pick for beginners?
D'Addario Pearl, Dunlop Tortex, V Picks Screamer and Sharkfin Alice are some of the guitar picks that beginners can use.
What are the most popular guitar pick brands?
D'Addario, Fender, Dunlop Tortex, ChromaCast and Mudder are some of the most popular guitar pick brands.
What guitar picks do the professionals use?
It totally depends on the musician. Material, thickness, grip or no grip, guitar pick tip and shape are some of the common factors that determine which pick they choose.
Conclusion
Guitar picks may appear mundane and not worth giving attention to but they are extremely important for your guitar playing skills. When you play guitar, picks become an extension of your fingers.
We hope that this article gave you some information about the effect of material, thickness and size of picks on the overall sound quality of your guitar. The products selected in the list are best you can find on the market. We agree that it is hard to please the taste and playing techniques of every individual and if we missed your favorite pick on this list, feel free to let us know in comments.