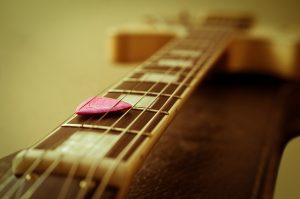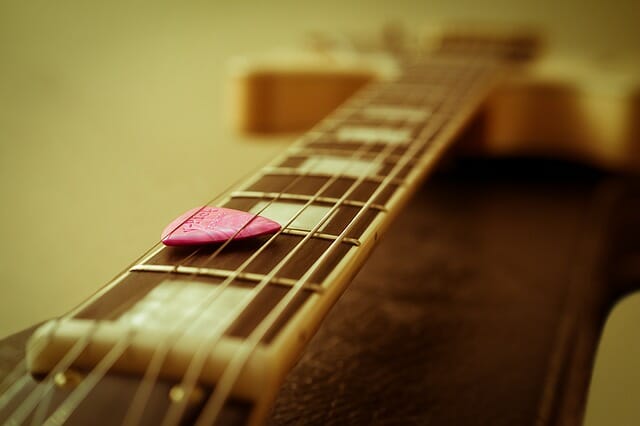 Picks or plectrums are probably the most overlooked accessories of guitars which have a dramatic effect on its sound quality. Picks play an important part in your playing speed as well as the overall dynamic range. They are an absolute necessity for beginners.
Initial guitar lessons teach how to hold and move them across guitar strings. Have you ever wondered why some plectrums are easy to hold and produce nice sound while others don't? Well, all picks are not same and even subtle differences can make a huge impact on the overall playing style and tone.
The two most important factors for guitar picks are its material and thickness. Let's quickly see how!
The most popular materials used for making guitar picks are Tortex, Celluloid (Ultem) and Nylon. Tortex is a polymer and provides a relatively mild impact on the tone. Celluloid is a plastic and is more rigid than Tortex which makes it ideal for players looking to enhance high-end frequencies. Nylon picks have warmest and richest tone among these three materials.
Thickness or gauge of the pick determines its flexibility. Lighter gauges (around 0.60 mm) are more suitable for acoustic guitars as they provide brighter and sharper tone. Picks with thicker gauges (around 0.80-1.00 mm) offer a warmer tone and are generally used with bass guitars.
Now that you have understood the basics of a guitar pick, let's take you through the 9 best guitar picks of 2021 available in the market.
Quick Summary: Our Top 9 Picks
---
---
---
---
---
---
---
---
---
Frequently Asked Questions About Guitar Picks
1. Which guitar pick is best for electric guitar?
V Picks Screamer is a great guitar pick for electric guitars.
2. Which is the best guitar pick for beginners?
D'Addario Pearl, Dunlop Tortex, V Picks Screamer and Sharkfin Alice are some of the guitar picks that beginners can use.
3. What are the most popular guitar pick brands?
D'Addario, Fender, Dunlop Tortex, ChromaCast and Mudder are some of the most popular guitar pick brands.
4. What guitar picks do the professionals use?
It totally depends on the musician. Material, thickness, grip or no grip, guitar pick tip and shape are some of the common factors that determine which pick they choose.
---
Conclusion
Guitar picks may appear mundane and not worth giving attention to but they are extremely important for your guitar playing skills. When you play guitar, picks become an extension of your fingers.
We hope that this article gave you some information about the effect of material, thickness and size of picks on the overall sound quality of your guitar. The products selected in the list are best you can find on the market. We agree that it is hard to please the taste and playing techniques of every individual and if we missed your favorite pick on this list, feel free to let us know in comments.