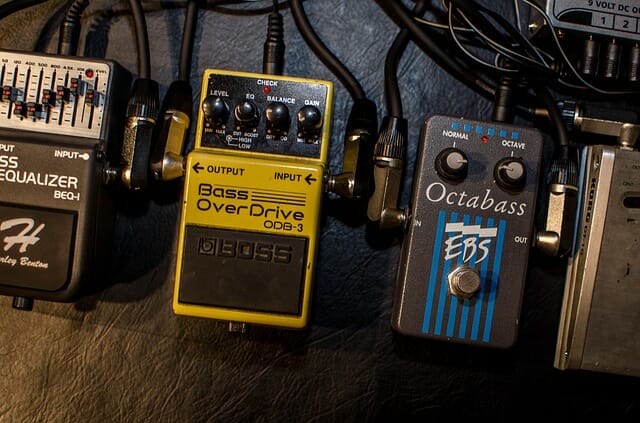 Got a guitar? Cool!
An amp? Great!
Perfect cables? Well-done!
What's next?
Now it's time to get some good guitar pedals, because you definitely need them.
Guitar pedals are used to distort and modulate the tone of the guitar.
Each pedal creates a specific effect which can modify the tone and produce a sound that enhances the music.
There are many different varieties of sound effects. Some are used frequently and some are used occasionally. You can choose your pedals depending on which effects you'll need to use more often.
With so many options available, it can be difficult to choose. So here we present the best guitar pedals of 2022 for 9 popular sound effects.
Let's take a look!
Table of Contents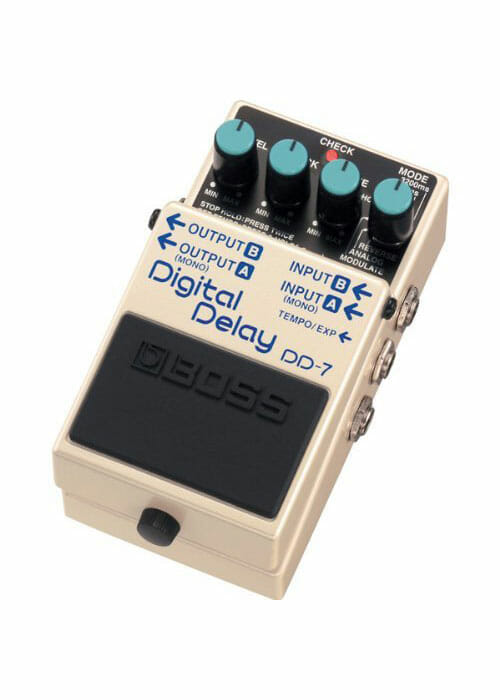 What Is A Digital Delay Pedal?
The effect of delay pedal is similar to what you experience when you shout in some mountain or canyon. You can hear echoes of your voice.
In this effect, the sound is reproduced and played multiple times. It can be used in any form of music, from country to metal!
It can be used as a slap-back delay or in a way which is similar to reverb.
The two main types of delays are analogue and digital.
With digital delay, you get more options for adjustments and customization with more control over the tone and longer delay time.
Why Boss DD-7?
It is the latest innovation in guitar pedals from Boss. It has improved the features of its predecessors and comes with two new modes: modulation delay mode and analogue delay mode.
The analogue delay offers a very warm tone. It provides external pedal control options to help you gain better control of sound effects. An external foot-switch and expression pedal can be used for hands free control.
Expression pedal can be used to control the time feedback and effect level. It also offers a longer delay time of up to 26.4 seconds. A hold mode allows up to 40 seconds of input to be recorded.
Pros
Standard Boss Construction.
External pedal.
Great sound quality.
Versatile.
Cons
May be somewhat complicated to use for some with so many adjustment options.
This is one of the best delay pedals in this price range. It has lots of features and has an external pedal which makes it really easy to adjust while playing the instrument.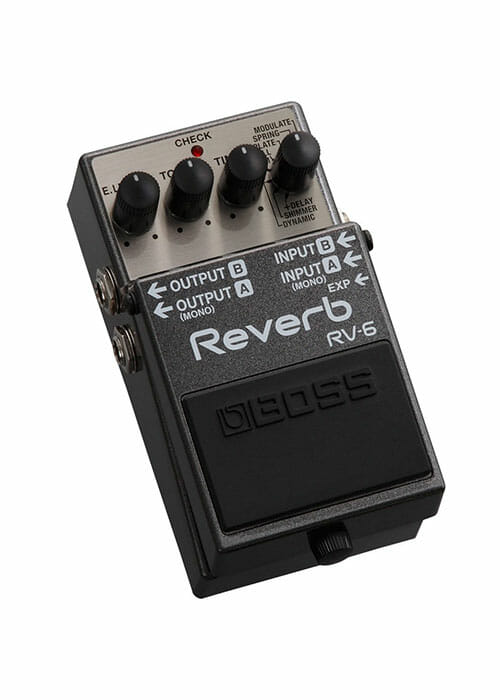 What Is A Reverb Pedal?
When sound strikes a physical object, it bounces off. This property of sound is called reverb.
This property has always been interesting to the guitarists and this resulted in the introduction of the reverb effect in pedals.
This effect adds realism and warmth to the tone of the guitar. It can be used to create unique and beautiful textures that are a pleasure to the ears.
It is a highly versatile effect which can be used in many different forms of music.
Why Boss RV-6?
This guitar pedal is highly versatile as it offers 8 different sound modes which includes a large number of effects like Shimer, Dynamic and Reverb+Delay. The effects produce warm and lush sound textures and creates amazing sound tones.
Even though it has a lot of features, operating the pedal is kept simple and easy for the user. Each mode has reverb parameters which can be adjusted according to the needs. 3 knobs are present for controlling effect level, tone and time.
You can also connect a separate expression pedal to control the reverb level.
Pros
8 different sound modes.
Impressive sound texture.
Shimmer effect.
Highly versatile.
It is an industry standard, all-rounder reverb pedal from a great company. It produces great sound quality and comes with 8 interesting sound modes which can be very useful for a guitarist.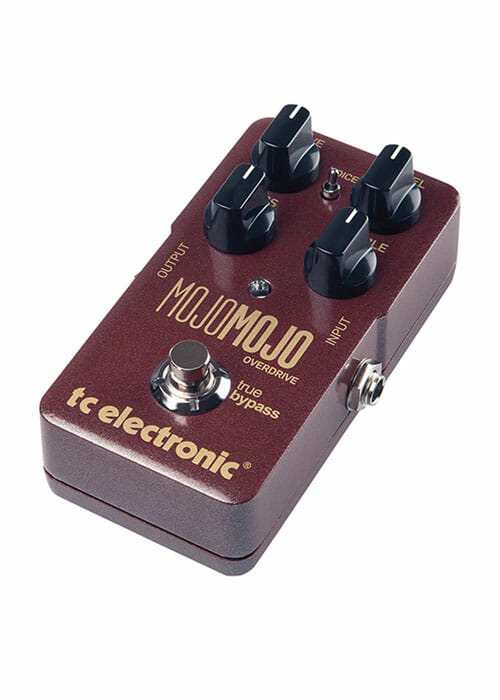 What Is Overdrive Pedal?
The overdrive effect is very similar to the distortion effect except that it is more subtle. It can also be achieved without any pedal by playing tube amplifiers at very loud volumes.
Many guitarists prefer an overdrive over distortion. They may also want to get this effect with a tube amplifier.
This effect can be used in two different ways.
The first way is to increase the volume of a tube amplifier beyond a certain level which pushes it into overdrive.
The second way is to use the circuit of the pedal to get this effect.
If you want a higher level of distortion then the second method is more preferable.
Why TC Electronic MojoMojo?
It comes with 2-band EQ with active bass. It has 4 knobs which lets you control the tone of the guitar. Even when the pedal is off, it allows true bypass of the signal with zero loss for maximum clarity.
The circuit board voltage is increased up to 3-4 times of that of an average pedal to give even more headroom and dynamics to make the sound overdrive to maximum extent.
It also has a voicing switch with two options. You can either choose to have natural and warm overdrive or a juicier tone in which the bass backs off a bit.
Pros
High circuit board voltage.
Voicing switch.
True bypass.
Cons
Cannot be used for simple boost.
Doesn't come with an adapter.
It is a great choice for guitarists because of the excellent sound quality and control options that it provides. It creates maximum overdrive for a pedal in this price range.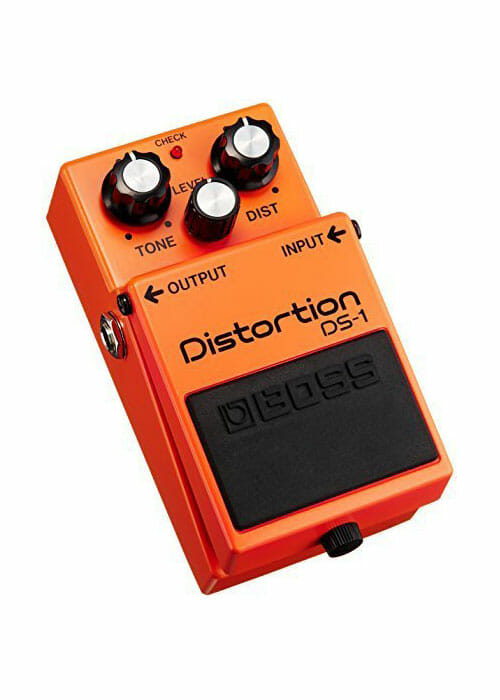 What Is A Distortion Pedal?
When we talk about the best pedals and sound effects then it is a must to include the most frequently used sound effect in the music industry. Distortion is nothing but extreme overdrive.
It is most commonly used in rock and metal songs. Some good examples include Nirvana, Arrowsmith and RadioHead. Overdrive and distortion are often used interchangeably but they are not the same.
Overdrive is a less dramatic form of distortion which is often used by blues while distortion is used in heavy metal and rock.
Why Boss DS-1?
This pedal is trusted by rock and metal guitarists. There are knobs for control which can be adjusted to produce any type of tone you want. It has a very tough construction and an analog circuit to create tone which is very loud and aggressive.
It truly makes your guitar tone shine bright as it the best distortion pedal available at this price. The sound quality is very clear and crisp and it's surely a value for money product.
Pros
Tough construction.
Optimum distortion.
Cons
When used alone, it may sound hollow.
Doesn't come with a power adapter.
It is a classic distortion pedal which produces perfect rock and metal tones. If you want to play all the good old 80's rock songs then this the one for you.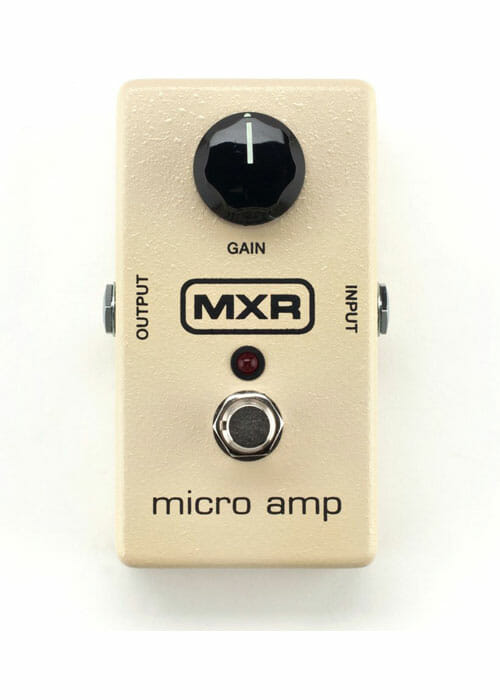 What Is A Boost Pedal?
A boost pedal does exactly what its name suggests. It boosts your signal which drives your amplifier to overdrive.
Even though an overdrive pedal can be used to boost the signal to get an overdrive but with this method, the pedal's tone will still be imparted in your signal.
A boost pedal helps to achieve a clear and subtle tone. One important thing to remember is that you need to have a tube amplifier to get an overdrive out of boost pedal.
If you don't have tube amp then you can still use a boost pedal with an overdrive or a distortion pedal.
Why MXR M133?
If you are looking for just a little bit of boost and nothing too dramatic then this might be the best pedal for you. It is powered by a Dunlop AC adapter and can be used with a 9-volt battery.
It is great to boost your tone for lead work or simply to adjust between two guitars. It not only makes your tone louder but also clears it up for a clean boost during your solos.
Pros
Natural clear sound.
Great for solos.
Cons
Needs tube amplifier for proper effect.
It is a great pedal if you need just a little boost. It does not change the original tone by compression or excessive distortion and keeps it totally natural.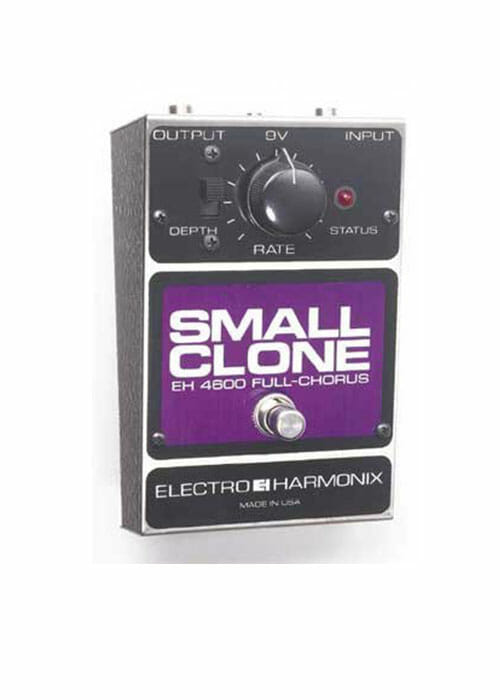 What Is A Chorus Pedal?
This effect was most commonly used in the 80's and is still used by many guitarists. Chorus is basically a slightly delayed signal which can be shortened or lengthened while the pitch is increased or decreased.
It usually creates a thickening effect to the tone. It is used by different artists for different genres of music.
Many rock and metal guitarists have used this effect to enhance the music. Analogue is preferred over digital for chorus effect.
Why Electro-Harmonix Small Clone?
It produces some of the best chorus tones of different varieties from clean, thick and rich to natural and warm tones. The tone can be controlled with the depth control feature which can be used to intensify the tone according to your needs.
Some existing doubling effects can be created by simple tweaks. It also provides true bypass for smooth conduction of signal with zero loss.
Pros
Easy to use.
Depth switch.
Small and compact.
It is the best chorus pedal available in the market. It works perfectly with any type of guitar and amp to produce excellent tone.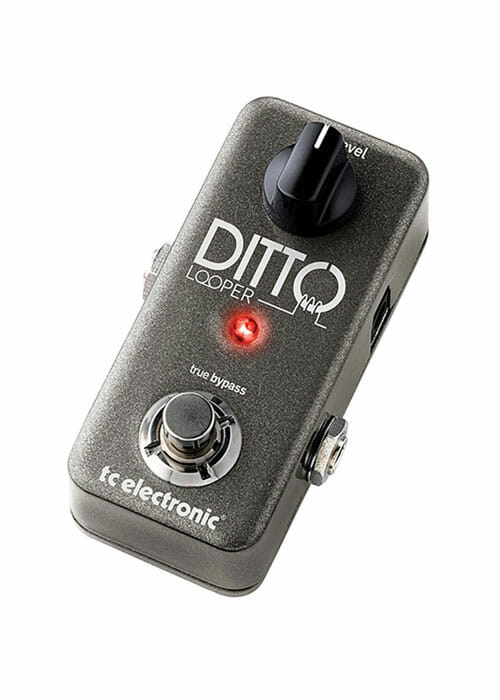 What Is a Looper Pedal?
The looper pedal tune is recorded and played over and over again on a loop. It is very useful for live shows and also for practicing by setting a rhythm which keeps repeating.
The sound feels very similar to the original tone without any distortion as it is dependent on the rig and not on the pedal.
Why TC Electronics Ditto?
It is easy to use with simple features. It provides 5 minutes of looping time with unlimited overdubs. You can also undo or redo a layer.
To record, you have to press once and to start playing again, press once more. To stop, press twice and to delete, press and hold the button. It only has a single knob for controlling the loop playback volume which makes it one of the easiest to use pedal.
There is an internal memory which stores the loops in case of power cuts. Even when the Looper is busy, the analogue dry signal path remains integrated.
Pros
Simple features.
Compact and lightweight.
Single knob.
It is a simple and easy to use looper pedal which produces great tone so that you don't have to think too much about adjusting and can focus more on playing.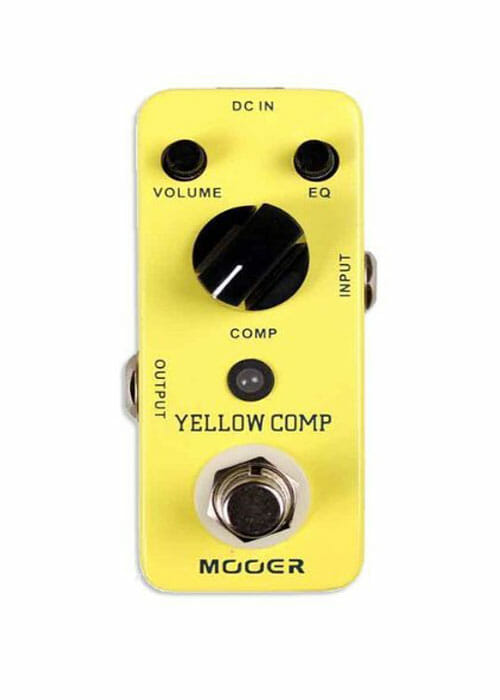 What Is A Compression Pedal?
This effect creates a uniform volume by decreasing the volume of louder signals and increasing the volume of quieter signals.
You can decide the intensity of this effect depending upon your needs. This effect is applicable to any genre of music.
It is often used by lead guitarist, especially for solo shows to even out their tones.
Why Mooer Yellow Comp?
This cute and compact pedal is for classic optical compression which can be great for your rig. It has a bright yellow color.
It provides smooth attack and delay effects which creates the classic optical compression, making the tone sound even and very pleasant. It also preserves the integrity of the original signal without coloring the tone.
It has a full metal shell which makes it durable, sturdy and always road-ready. This pedal too offers a true bypass without signal loss.
Pros
Affordable.
Easy to use.
Classic optical compression.
Cons
Tone may produce some noise.
It is the best compression pedal available in the market in this price range. It is compact and provides perfect optical compression by evening out the tone.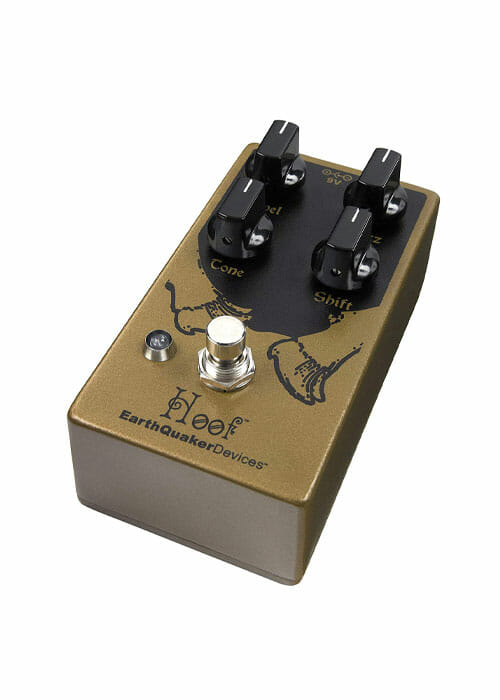 What Is A Fuzz Pedal?
It features a very simple circuit and works by altering the guitar signal and transforming it into a square wave.
Fuzz pedal can be made of two types of transistors: germanium and silicon. Both of these transistors produce different sound quality and are good in their own ways.
Sometimes two pedals of same model can sound different due to having different transistors.
Why Hoof V2?
It features a hybrid design made of germanium and silicon. The transistors have certain specifications to ensure proper consistency of the tone which is warm and natural.
It is very versatile and can produce any kind of effect from simple amp-like overdrive to an aggressive fuzz. It has a circuit which is similar to the classic green Russian muff style fuzz circuit.
It provides temperature stability with maximum tone. The frequency response is controlled by the "Shift" knob with a "Tone" control.
Pros
Hybrid design.
Amazing sound tone.
It has a hybrid germanium/silicon design which makes it unique and superior among other fuzz pedals.
Apart from the ones mentioned above, there are many other popular pedal effects including Wah, Flanger, Univibe, Phase etc.
This list is not ordered in any particular way.
Even though we have tried our best to present the most useful options for different effects, you may not find the pedal or effect you were looking for since the industry is very competitive and by listing only 9 pedals we may have missed out on some other good options.
So, if you think any specific pedal needs to be mentioned on this list; then you can comment on this article so that we can review it.