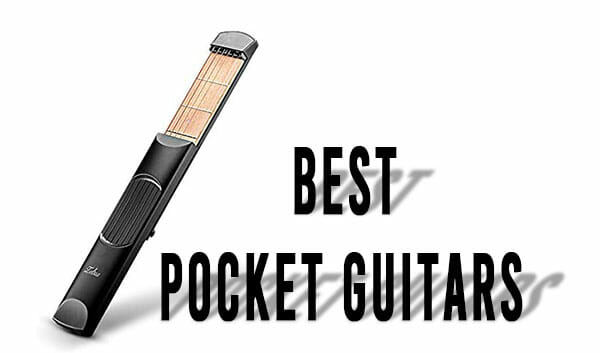 What are the things you carry in your pocket? What are the possibilities?
Phone, wallet, keys, earphones, snacks for when you get hungry, pens, tiny books and guitars.
Yes, you read that right. Guitars. Yes, it's a little crazy but not that much.
Now, if you're an aspiring musician or a super cool rockstar, the one thing that people from either side of the spectrum have to do is to practice.
No matter how good you get at playing the guitar, it's important to maintain dexterity. If you lose that, you've lost a chunk of your musical skill.
Before we dive into the various rad pocket guitars available in the market today, let's look into what it is?
Table of Contents
What is a Pocket Guitar?
We've all seen minivans, tiny handbags, small dictionaries, mini lipsticks. If you notice, all though they have shrunk in size– they still perform, more or less, the same function as their blown-up versions. A minivan will still help with transport, a tiny handbag will still carry your things, a small dictionary will still provide you with meanings of words that you don't know, and a mini lipstick with still act like a lipstick.
It's not very different for the pocket guitar.
It's basically a "honey! I shrunk our kids" version of an acoustic-electric guitar.
What it really helps with is traveling.
When you're on the road or even on a plane, a pocket guitar is handy.
How on a plane?
Well, these guitars are practice guitars. They are to help you with practicing chords, dexterity and improving skills. Pocket guitars don't really produce the kind of sound you would expect from an actual guitar. Isn't that cool?
Now that we have a fair idea of what a pocket guitar is and what we could possibly use it for, let's get into it!
Here's a list of our top picks from the array of pocket guitars available in 2023.
Top Pocket Guitar Reviews of 2023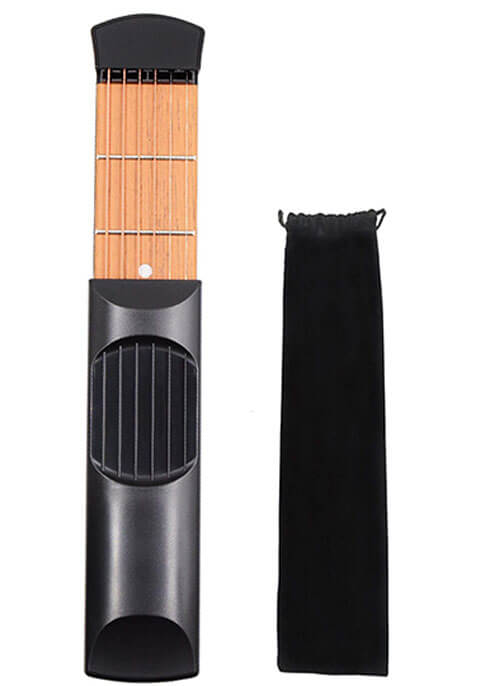 The WoGod portable pocket guitar is one of the rad-dest ones out there. If you're looking to practice and enhance your guitar playing skills, this should be the one.
WoGod is a god which helps you with your finger exercise. It helps with picking up speed and helps a ton with finger coordination. If you've recently learnt to play the guitar, you would have noticed that it's extremely hard to memorize the chords and to shift from one chord to another. Especially if you've learnt to play the guitar by yourself.
If you're devoted to learning the guitar and mastering it, you don't have to carry around your big, expensive guitar. You can just practice on this!
Portable or travel guitars are different from pocket guitars but they more or less perform the same function.
So if you're in a metro or bus and can't stop thinking about getting home and practicing on the guitar, this really does solve the problem.
The WoGod does have strings that resemble an actual electric guitar but the strings are so thin that they produce a very little sound.
This pocket guitar is light-weight. It's made of heavy-duty plastic; which helps you carry it around anywhere. Also, it's super affordable.
The strings give you the feeling of a real electric guitar, so you won't have a problem with switching from this to that.
The WoGod has 4 frets which make it perfect to practice on.
It does not come with a guide on how to efficiently use the guitar. It does come with a case! It keeps the pocket guitar in good shape and keeps the guitar functioning for a long time.
Pros
It's so quiet, you can practice it anywhere.
Made with heavy-duty plastic. It's good quality.
Comes with a case.
It's the perfect finger exerciser.
Portable and light-weight.
Affordable!
Cons
Does not come with an instruction guide.
It can't be tuned.
The WoGod has helped a lot with improving dexterity. As the name suggests, it's portable so you don't have to think about carrying a big guitar, especially to places where you can't play the electric guitar. It's affordable and it serves its purpose!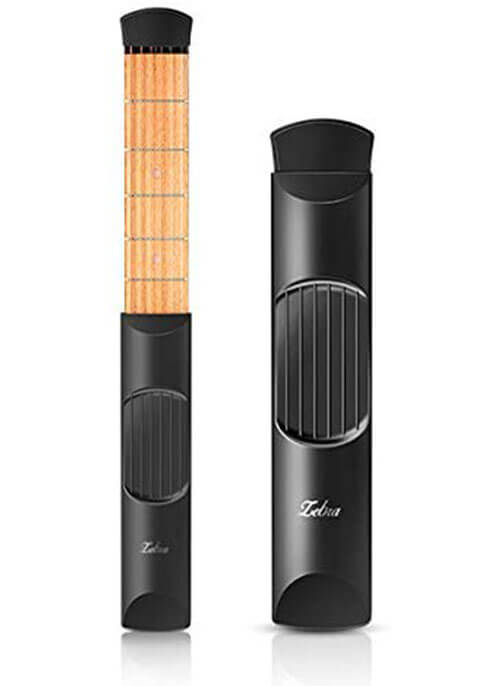 Now, this guitar is an auxiliary tool. It can't produce the sound of an acoustic guitar but–
It's super compact and lightweight.
The frame of the guitar is made with Mahogany and it looks quite beautiful. It's made with plastic that has high-strength. It's super durable.
The strings are made of steel, giving it the real-guitar feel.
Also, the Zebra 6 fret pocket guitar's strings have the right distance from each other. Just like the acoustic one.
Oh, you can also slide the fret section in and out of the guitar, that's why it's so compact.
It's an amazing choice for beginners. If you're looking to practice to improve speed and changing chords faster, then the Zebra 6 fret pocket guitar should be your first choice.
The guitar comes with 6 frets, which is not a common feature in pocket guitars. Gives you more flexibility while practicing and switching from frets. That's another hurdle most beginners have to cross. Quick fret-changing skills.
Pros
It's super durable.
Great look.
Highly user-friendly. Beginners, this one's for you!
Comes with a cool case.
Cons
Can't produce the same sound as an acoustic guitar.
Initial problems while learning the guitar are how to change frets quickly while keeping up with the rhythm. This 6 fret guitar really helps with building on that skill. The strings are made of steel, making it easy to practice on; once you switch from your acoustic to pocket. Also, we're all looking for durable pocket guitars and this one is!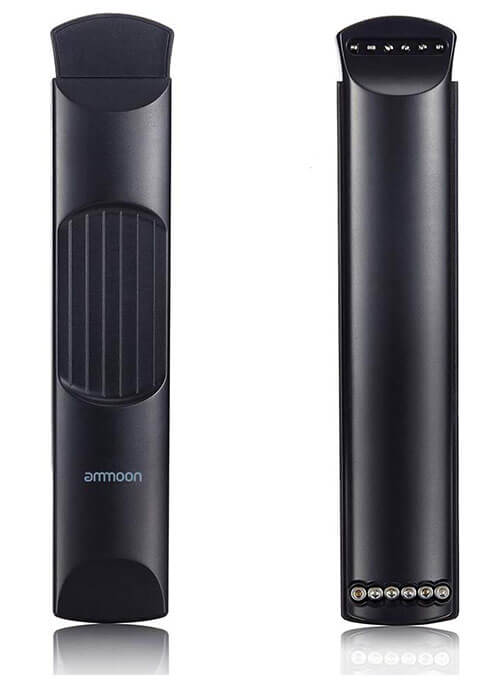 This miniature guitar is durable and will come in handy for your musical moments whether you are in a cafe or sitting by the window on a sunny day. It is made of sturdy plastic and the fretboard is made of Rosewood to provide it with a stylistic edge. It looks pretty cool!
It is perfect for travellers as it is super compact. However, it is a little bit more expensive than your usual pocket guitars.
The strings are finely made and the sound is warm and light. You surely won't get complaints from your sleepy-head flatmate.
While the price tag might make you think twice, the quality definitely makes up for it. Plus, you get a blue carry bag and a hexagonal wrench.
Pros
Super compact. Helps with improving finger exercising and dexterity.
Comes with a hexagonal wrench and a case!
A good, high-quality pocket guitar.
Cons
A little more expensive than the rest.
It's the quality of the guitar. The Amoon Pocket guitar looks so sleek and the strings are strong. It comes with a hexagonal wrench; which is a tool needed by most guitars. So not only can you use it for your pocket guitar, but you can also use it to fix your acoustic one. It's also so easy to handle and carry around.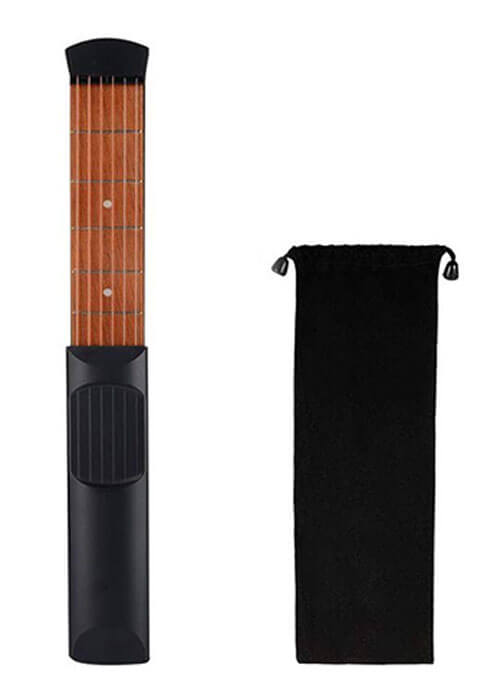 No, seriously this is a super affordable pocket guitar. You can buy this guitar even when you're on the verge of going broke (at the end of the month I mean).
The OIBTECH is super ergonomic. What that means is it has great efficiency and is very comfortable to work with.
The guitar is so light, you can carry it to the airport and not worry about paying extra money for baggage.
Like the Zebra 6 fret guitar, this one has 6 frets too. It helps with switching and practicing on different frets. The extension of two frets can retract back into the guitar. That's so cool, right?
The strings on this guitar are super thin. It produces bare minimum sound, which is what you need out of a pocket guitar.
You could possibly sit in a library and practice on the OIBTECH, and no one will hush you.
The guitar is so tiny, you can carry it anywhere without having to make a lot of room for it; in your bag. So the next time you're on your way to a band practice session or a fun meet-up with your friends, you can practice on your way. It really helps with improving speed and it fits right into your hand.
Small, compact pocket guitar. Carry it in your pocket, quite literally.
Super ergonomic. It's very efficient.
Six frets and six strings. Just like an acoustic guitar. Easy to switch.
Super affordable.
Pros
Small, compact pocket guitar. Carry it in your pocket, quite literally.
Super ergonomic. It's very efficient.
Six frets and six strings. Just like an acoustic guitar. Easy to switch.
Super affordable.
Cons
The gap between the fretboard and strings. Easy for beginners to learn on but needs adaptability.
Affordability always gets me. With the kind of quality you get, it's really a steal deal. Also, the fact that it has 6 frets and 6 strings is what you should ideally look for if you're trying to translate your practice on the pocket guitar to the acoustic.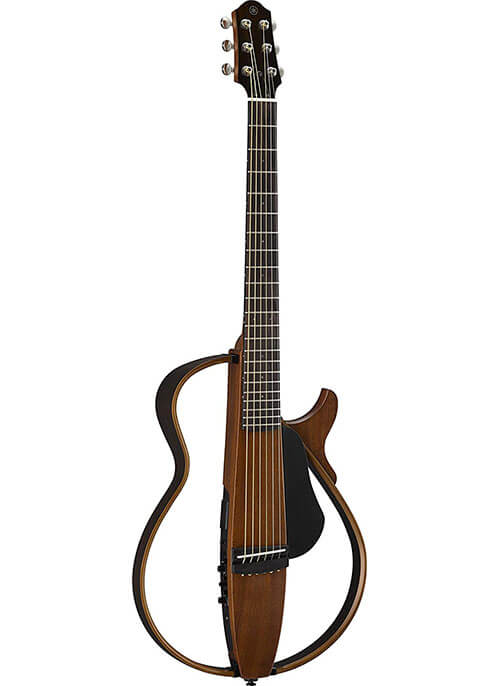 The Yamaha SLG200S Silent Guitar has 22 frets. Now, you may wonder, how in the world is this a pocket guitar?
Well, guess what?
It has a fully collapsible body. It is a proper functioning electric-acoustic guitar.
The technology that Yamaha uses provides a full body resonance. What this means is that you can get the dreadnought sound of the electric guitar without having to care about the size and the weight of an actual electric guitar.
The Yamaha SLG200s body is made with Mahogany. Frankly, Mahogany wood gives such a classy look to the guitar. The strings are made of steel.
All you need is a laptop or a guitar amp and you can play this pocket guitar like an electric-acoustic guitar. If you're looking to play this is a quiet place, that doesn't allow you to headbang to the sound of your guitar, you can choose the silent option.
The only problem that has been reported with the guitar is that a couple of notes together, it produces an unnecessary pop sound. It also requires much more tuning than other pocket guitars.
Pros
Super slim.
Portable- carry it anywhere.
Detachable frame. Reduces the size of the guitar.
Quieter than most electric-acoustic guitars.
22 frets. More practice!
Comes with necessary accessories.
Cons
Popping sound while playing multiple notes together.
The Yamaha SLG200S is your travel partner! It barely takes up any space. Also, how cool is the fully collapsible feature? That's one reason why this guitar is so different from the rest.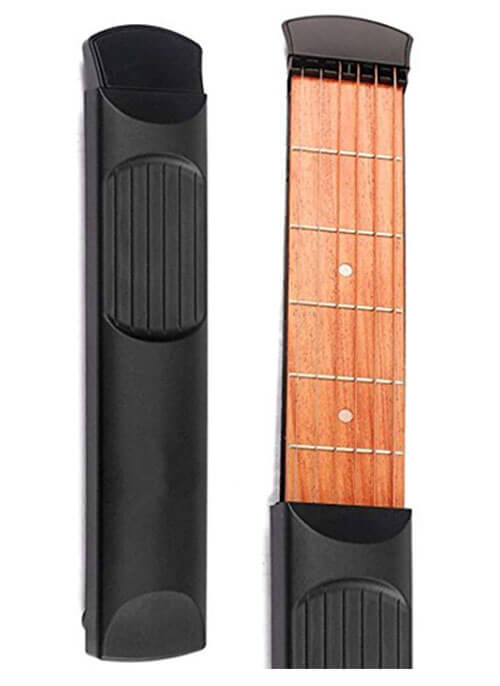 The ElecGuru Portable Wooden Pocket Guitar is made of really good quality materials. The wood shell is super durable. It's also very lightweight. So, even though the guitar may look fragile and you may experience a mini panic-attack if you drop it. Don't you worry, it's a sturdy one.
This pocket guitar is highly ergonomic. The design, the look, the feel and the kind of efficiency it provides is great!
What's cool about this guitar is that it's around 45 cms when it's opened and reduces to almost half, around 25 cms when closed.
That's what makes it an amazing travel partner.
The guitar comes with 6 frets, which contributes to its functionality. You can use this pocket guitar to its full potential and practice to become a pro!
Another cool feature about the ElecGuru Portable Wooden Pocket guitar is that it comes with a warranty; provided by ElecGuru. It's affordable but in any case, you have a warranty, which is great.
Pros
Ergonomic design and functionality.
6 fret pocket guitar.
Good quality wood shell
Comes with a warranty.
You can gift this to your fellow musician friend.
Cons
Does not come with any other additional features.
It's simple. It got me at ergonomic design. It's also super light and affordable. It comes with a warranty. The ElecGuru helps to improve picking and strumming skills and improve dexterity, this pocket guitar is your gateway.
Did I mention, it comes with a warranty. That's pretty rad.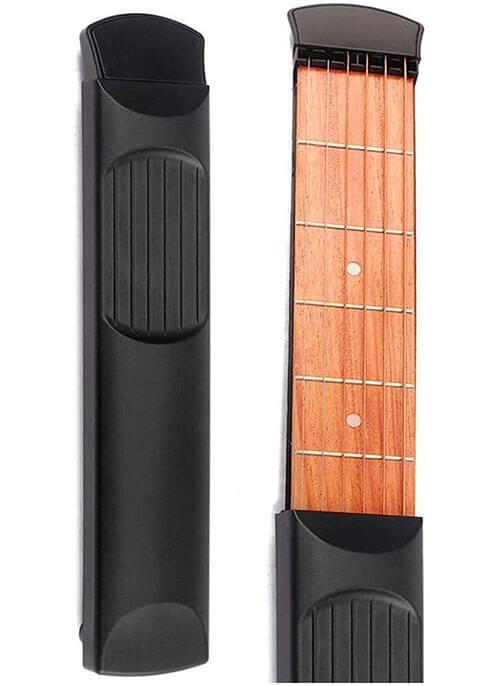 You're in for an absolute treat if you get the Jinli Pocket Guitar. It's the runners up for 'Best Affordable Guitar'.
It's a tiny, retractable pocket guitar that will fit into any pocket.
Again, this pocket guitar has 6 frets and 6 strings. It's ideal to get a pocket guitar with 6 strings because once you're done practicing on your pocket guitar, it'll always be super easy to start playing on the acoustic or electric guitar. Won't be too much of a change from the pocket guitar to the acoustic one.
The strings are sturdy and ergonomic. It's so comfortable to use.
Also, it emits a very little sound so you can practically play this anywhere; without missing out on practice time.
The fret-board is made of premium-quality Rosewood and it looks incredible!
Even the design is ergonomic.
Because of its design, it makes it so much easier to play on the Jinli Pocket guitar. For what it's worth, the quality of the Jinli Pocket guitar is remarkable. It definitely helps with reducing hand fatigue buildup.
One problem you might face with the Jinli Pocket Guitar is that sometimes it doesn't emit any sound. But hey, it's super affordable and does its job just right.
Pros
Super durable.
Retractable and easy to travel with
Got a great price on it!
Ergonomic design. Perfect to practice on.
6 frets and 6 strings.
Cons
So quiet, you probably won't be able to hear it.
It's so affordable! For the kind of quality you receive, it's so worth the money you spend. Also, the ergonomic design truly comes to so much help. You can seriously reduce the strain on your fingers while practicing on the Jinli Pocket Guitar. It helps with improving your speed, for sure.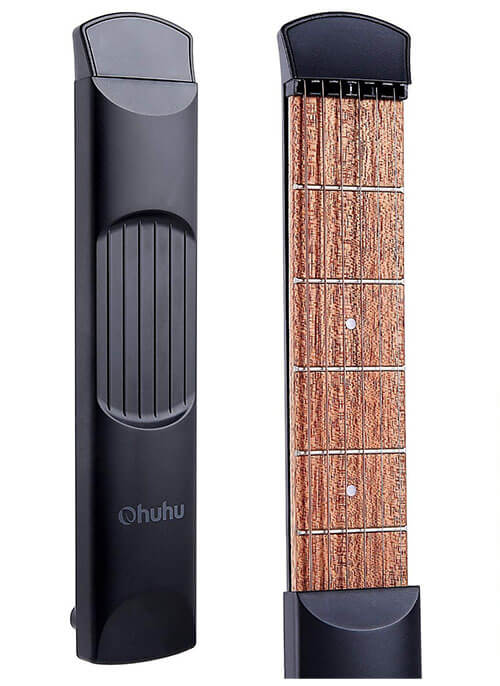 If you're on your way to mastering the acoustic guitar, the Ohuhu is ideal for it.
Here's why…
This pocket guitar produces small, barely noticeable noise which can help you practice at any given time of the day. Whether you're traveling in public transport or even in a cab, you can easily whip this guitar out of your bag and work on your fingering skills and improve your chord changing skills.
The strings on the Ohuhu Pocket Guitar are very similar to the strings on the acoustic guitar. So don't worry about how you're going to switch from a pocket guitar to any other.
What's great about the Ohuhu Pocket guitar is that it comes with a chord chart. You can practice changing chords on this super well. It's just the right tool for it.
The chord chart comes with a list of basic chords that you can practice on the Ohuhu Pocket guitar. So, beginners, this one should work for you!
It's safe to say that the guitar is close to weightless. What else could you want? It doesn't take up the strain of carrying the guitar in your hand and helps you focus on the actual skill; rather than how to carry it while playing it, kind of problems.
The only problem you could have with the Ohuhu's Pocket guitar is that it's not as compact as other pocket guitars. But hey, guess what?
It comes with a handy case that you can carry around, wherever you go!
Pros
Thin strings, makes just the right amount of sound.
Comes with a chord chart- perfect for beginners.
Comes with a protective case.
Durable and sturdy.
Affordable.
Cons
A little bigger than most pocket guitars.
Even though this one is a little bigger in size, it still is considered as a pocket guitar because of how easy it is to use and carry around. With the Ohuhu, you can master changing chords, especially because it comes with a perfect guide. It's the perfect improving speed positioning.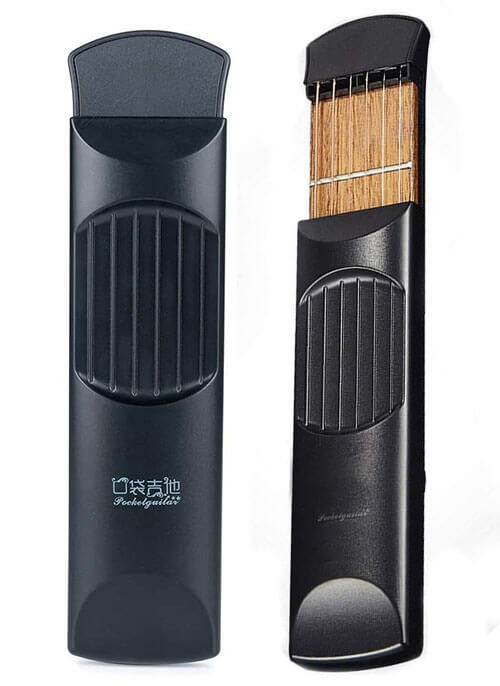 Last but not the least, we have the ELENKER Pocket Guitar. Elenker is a pretty famous brand and let's just say that they have done a great job with making this pocket guitar.
You won't be able to stop yourself from practicing on it. It'll probably annoy everyone around you because it does become an extension of you.
The best part about this pocket guitar is that it's super durable. It's made of good quality plastic material which makes it not that affordable but comes with extremely good quality.
The shell is sturdy and strong, so you don't have to worry about replacing it anytime soon. It's here to stay.
The strings are super thin so go on, practice this anywhere you want. It won't bother anyone around you.
The design is ergonomic, making it very comfortable to practice on.
It has 4 frets which will help you learn the ropes pretty well.
I mean, think about it, it's durable, ergonomic and compact. This is what you need in a pocket guitar.
A problem that you might have with this one is that the strings get pretty loose and there's no extra aid or tool to help tighten it. So, what it does best is help with improving dexterity and increasing speed and agility on the guitar.
Pros
Extremely durable.
Made with good quality plastic.
Ergonomic design. Very comfortable to practice on.
Great gifting idea.
Cons
A little more expensive than other pocket guitars.
Strings can get loose. There's no way to tighten them.
When we are looking to buy a new pocket guitar, I'm sure all of us want to buy a good one that we won't have to replace within a year to two. Well, this one is so durable that it stays with you; till the end of time. It's compact, durable and gets you addicted to staying on it and practicing till your heart's content.
Frequently Asked Questions About Pocket Guitars
What is a finger exerciser?
This is literally a workout for your fingers. If you're looking to improve finger dexterity, the pocket guitar comes very handily.
If you're a beginner, you can start with practising various notes on one fret and move up the fretboard. Moving up the fretboard doesn't mean you're moving up the difficulty level of playing. It only means that you can now start to learn how to switch from one fret to another without twisting your fingers.
For musical pros, you know what it does! Once you've got the hang and feel for the strings and fretboard, you need to master it. A pocket guitar will help you exercise your fingers, and make you really good at what you do!
Does the no sound feature help with a Pocket Guitar?
Yes! The whole point of a pocket guitar is to practice what you have been on the acoustic/electric guitar. You can fit this guitar in your pocket, as the name suggests, and play this literally anywhere. Take it to the library, a crowded bus or practise at odd hours. Nobody will ever complain. The strings are really thin, produces a faint sound. The best part is, you'll get the feel of an acoustic guitar!
Do I need a 4 fretboard or a 6 fretboard?
If you're a musical champ, you can do with a 4 fret. The point of the pocket guitar is to improve dexterity. If you've already got the hang of the strings and frets, then, you don't need a 6 fretboard because you have a pretty good memory of the acoustic.
With beginners, you will need to adjust to both the instruments. Although the pocket guitar is like an acoustic/electric, it is much smaller in size. To really get hands-on practice on both; without having to learn new skills every time you switch from pocket to acoustic, a 6 fretboard makes sense to invest in.
How long will my pocket guitar last for?
Pocket guitars are super durable. Most of them, at least the ones listed out before, is made of sturdy and ergonomic materials. The frame is strong and the strings can withstand years of practice. Don't worry about buying a pocket guitar every few months. If your pocket guitar comes with a case, then you're good to go!
What is a hexagonal wrench?
A hexagonal wrench or Allen wrench is a tool to fix your guitar. What it does is, it fixes back loose nuts or bolts back into the guitar. It keeps the pocket guitar functional for a long time and you can fix your own guitar without taking it to a professional; every time you pocket guitar gets a little flimsy.
Keep in mind, only a few pocket guitars are fixable like this. Not all pocket guitars come with a hexagonal wrench.
Conclusion
Isn't it cool that you can walk around with a guitar in your pocket! You can build on your guitar playing skills and never lose touch of practicing on the strings with a pocket guitar. Like I said, whether you're a pro at the guitar or just a beginner, the pocket guitar is a great investment. Happy shopping!