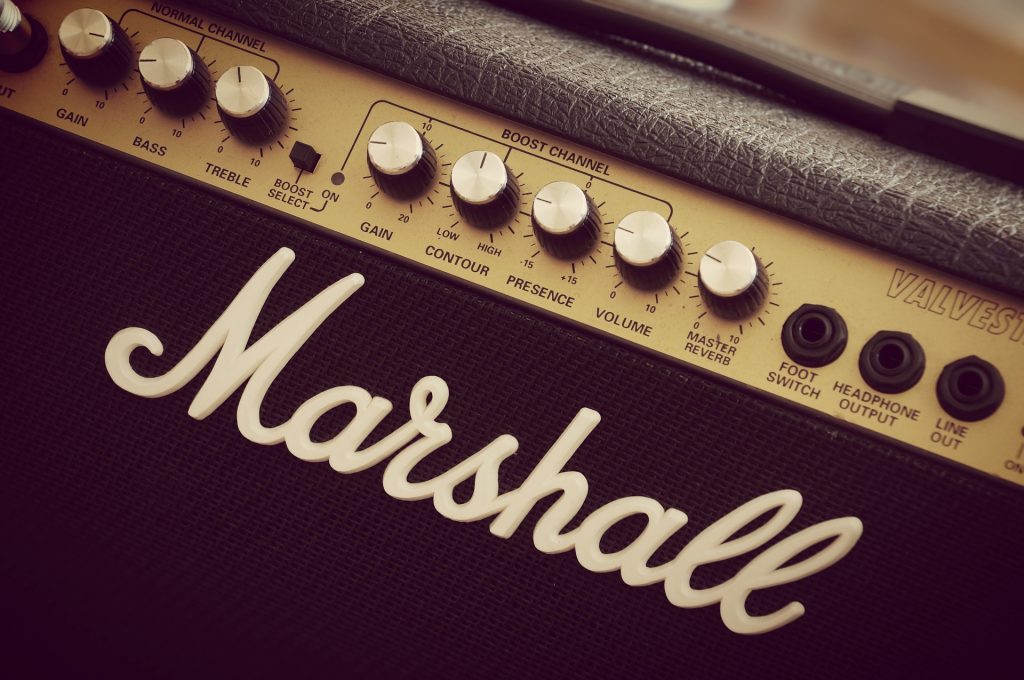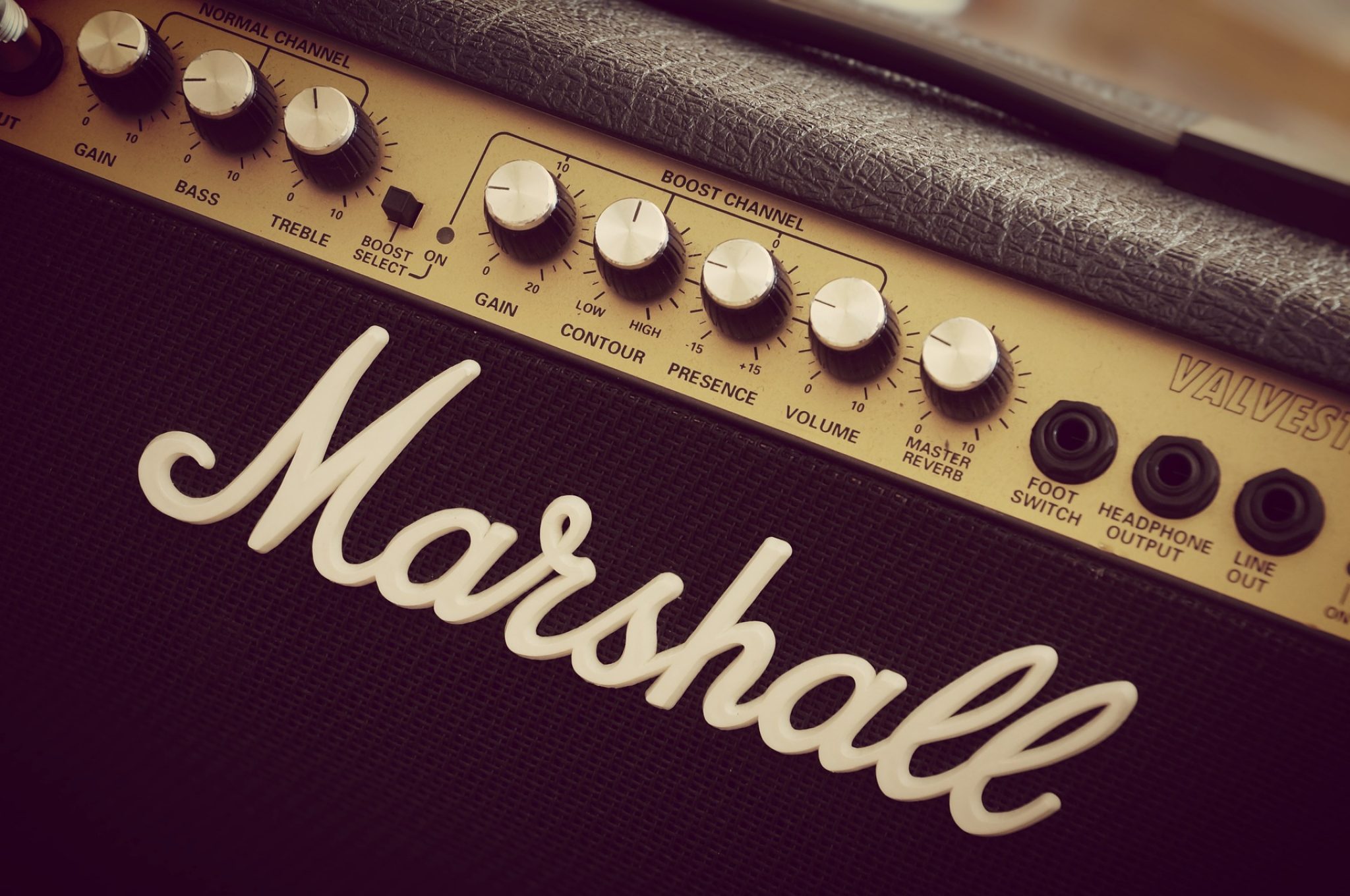 An electric guitar without an amplifier is like listening to a mute radio. Electric guitars have magnetic pick-ups inside which convert the vibration of strings into electrical signals. Guitar amplifiers are the electronic components which enhance the level of the signals coming from guitar's pick-up. The output of amplifier is then fed to the speakers. Why can't you plug an electric guitar directly into a speaker? Well, instrument level signal without the amplifier is too low to be detected by the speakers.
Now let's take a look at the best guitar amplifiers of 2023 available in the market.
Table of Contents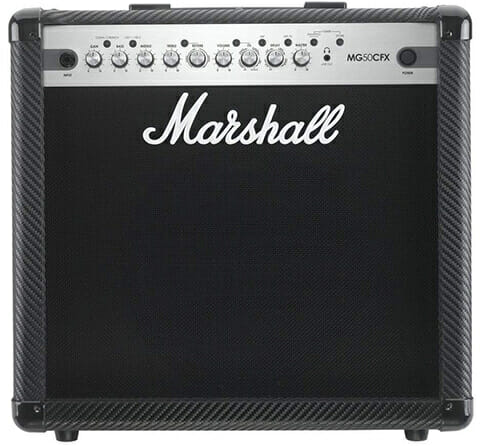 Marshall's combo amplifiers have been quite popular with professional guitarists all over the world. Marshall MG50CFX is a compact and affordable solid state amplifier for beginners. It delivers 50 Watts of power which is sufficient for practicing at home as well as live gigs at mid-sized venues like restaurants and parks. This amplifier is available in 15, 30 & 100 Watts variants as well to suit your needs. This amplifier has a neat layout and offers great control over sound. The overall build quality of the amplifier is rough to sustain all types of applications. It has a standard 3 band equalizer which makes it easier to tune. It has 4 different channels to modify the sound tone; clean, crunch, Overdrive 1 & Overdrive 2.
Pros
Neat layout.
Affordable.
Sound quality is great.
Cons
The sound produced by clean channel is somewhat bland and weak.
Marshall MG50CFX is one of the best combo amplifiers available for its price range. This amplifier looks great and sound quality is unbelievable.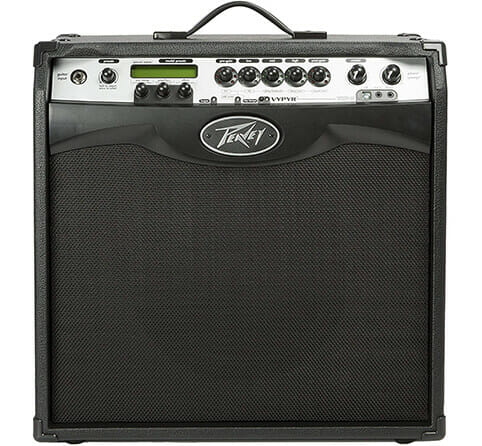 Peavey has established itself as a strong competitor to Marshall and Fender. The Peavey Vyper VIP 3 is one of the most versatile modelling amplifiers available on the market. The amplifier is sturdy, durable and economical. It features a variable instrument input to provide amplification for a variety of instruments like electric, acoustic and bass guitars. Overall sound tone and volume are outstanding. It offers a variety of features to fascinate budding guitar players. It comes in 20, 40 & 100 Watt power levels to suit any kind of playing area. Vypyr VIP 3 is a modelling amplifier and offers different presets and sound effects for experimenting. It offers USB connectivity to plug the amplifier to the computer for recording.
Pros
Great sound quality.
Large range of in-built presets.
Value for money.
Cons
Emulated sound may not be appealing to some.
The Peavey Vypyr VIP 3 is one of the best sounding modelling amplifiers in the market. The sound quality is phenomenal and presets are fun to experiment with. If offers a versatile platform and its in-built looper is very helpful with complex songs.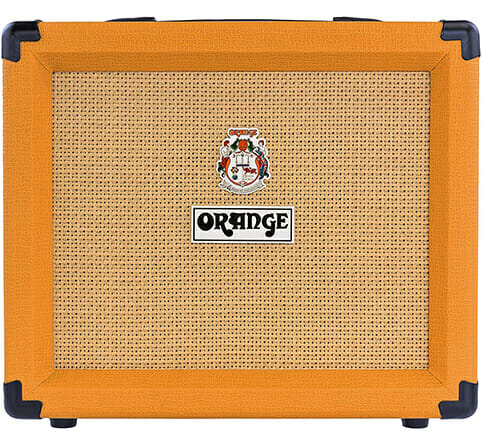 Next one on our list is British manufacturer Orange Amplifiers. Their Crush series has been extremely popular due to their heavy sound and affordability. Crush 20 features the traditional orange coloured vinyl in a simple, neat layout. This 20 Watts combo amplifier features an 8" speaker which is sufficient for home and small hall. They also come in 12 and 35 Watts power variants. Orange amplifiers are known for it clean layout and all the control knobs on Crush 20 are located on the top. This amplifier is light and easy to carry around. Its 3 band equalizer is effective and allows great control over sound. Its trademark CabSim feature allows you to use a headphone to practice silently.
Pros
Simple and neat design.
Convenient to use.
Affordable.
Cons
Low output power restricts it for home use only.
No option to connect to an external cabinet.
The Crush 20 from Orange Amplifiers provides value for money for beginner guitarists. It is cheap and provides quality sound output for practicing at home. The neat layout and catchy vinyl body is a visual treat.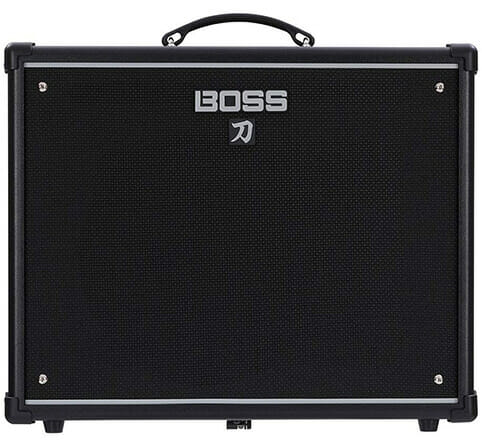 Boss Katana-100 is a 100 watt modelling amplifier offering natural tones at an affordable price. 100 Watts of power from 12" speakers are loud enough for any playing venue and output power can be switched down to 50, 10 or even 0.5 Watts. The design of this amplifier may look plain and simple but it produces exceptional tones. This versatile amplifier comes with 5 on-board amplification types; Acoustic, Clean, Crunch, Lead & Brown. Boss amplifiers are famous for their sounding effects and Katana doesn't disappoint with 58 different effects. The USB interface allows it to connect to a computer and offers real time stereo effect while recording.
Pros
Compact & sturdy design.
Excellent in-built sound effects.
Affordable.
Power splitting.
Cons
Does not include a footswitch.
Some may not appreciate the simpler looks.
Boss Katana-100 is for experienced guitarists who are serious about their music. Its versatility and affordability makes it ideal for beginners as well as experts. Its sound effects and quality are probably best in the market at this price range.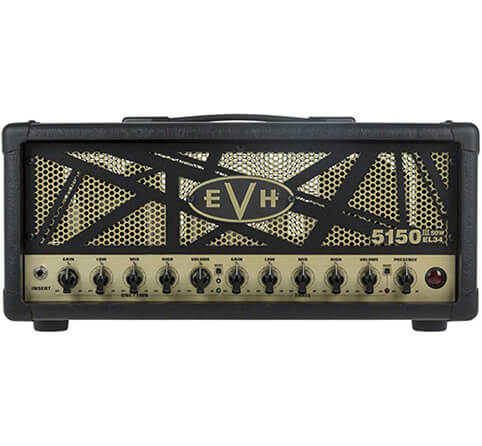 EVH 5150III EL34 is a 50 Watts classic tube type amplifier head perfect for players who are looking for loud volume. This iconic amplifier head is designed by Eddie Van Halen and built by Fender. This compact amplifier brings a distinctive clean sound from a tube amplifier. The tonal range is versatile and impressive. It is an amplifier head which means you will need an external cabinet (speaker) to play your music. This amplifier features three channels; Clean, Crunch and Lead. All these channels can be customized and four-button footswitch is another convenient feature. The instrument is available in Black or Ivory vinyl finish in 50 Watts and there is a 100 Watts version as well.
Pros
Sound quality is outstanding.
Tube amplifiers provide natural tones.
Flexible gain controls are effective.
Cons
This guitar amplifier is a little expensive.
This sensational high gain tube amplifier focuses on tone without any unnecessary complexity. EVH 5150III EL34 offers a versatile sound performance at extreme tones without any distortion. The dynamic response is phenomenal and it is probably the best amplifier head on the market.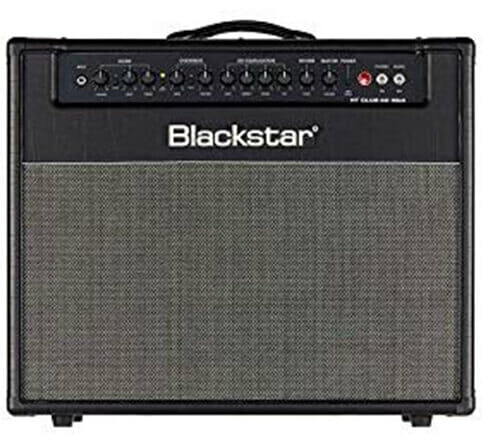 Blackstar's best-selling Venue range of amplifiers gets an upgrade. The new Blackstar HT Club 40 MKII features similar control layout as its predecessor with an improved sound performance. The amplifier is sturdy and uses quality components for long-term reliability. The control panel of the amplifier has two channels; clean and overdrive which are foot-switchable. This tube amplifier combo delivers 40 Watts from a single 12" speaker. It comes with a low power option which can reduce the output power down to just 4 Watts for practicing. This amplifier produces versatile sound and the channels have been reworked to provide richer tones. It has USB output for recording your tunes.
Pros
Build quality is great.
Versatile and responsive.
Value for money.
The Blackstar HT Club 40 MKII is feature loaded and produces versatile sound. The amplifier is built from quality materials for long-life and looks good at the same time. The controls are easy to use and the amplifier offers great value for money.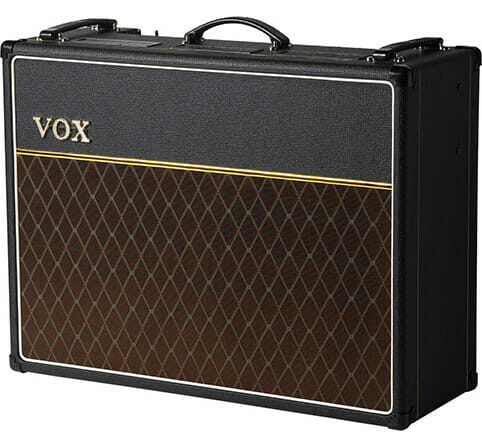 Vox AC15C2 is a classic tube amplifier combo from a popular British company. These amplifiers are known for their retro design with clean layout. Vox AC15C2 has a vintage look and sturdy built quality. It delivers 15 Watts power through two 12" speakers. AC15C2 offers two channels; Normal and Top-Boost. Each channel has its separate volume control. This tube amplifier provides amazing sound quality with rich and fluid tones. Vox AC15C2 has gained a reputation for offering impressive organic tones and its vintage sound is popular with guitarists. The power output is sufficient for practicing at home or gigs at pubs.
Pros
Balanced harmonics and natural sound.
Volume is usable.
Responsive.
Value for money.
Cons
Heavy to carry around.
Channels are not foot-switchable.
Vox AC15C2 offers the classy British design and amazing build quality. The tube amplifier combo delivers harmonically balanced natural sound. 15 Watts might appear to be a limitation with this amplifier, but it is sufficient enough for many venues. This amplifier combo is the best option at its price range.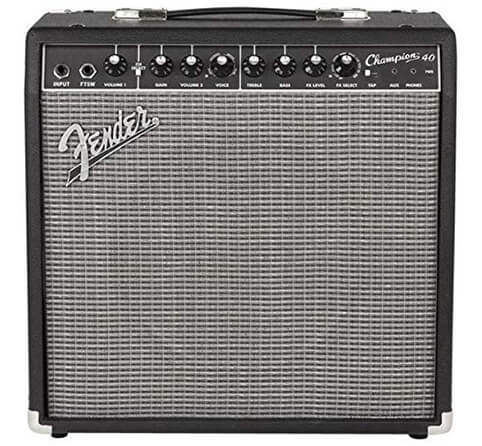 Fender is probably the most trusted and popular brand for musical instruments. When it comes to Fender, you can rarely go wrong. Fender Champion 40 is an affordable solid state combo amplifier that delivers a power packed performance from a 12" speaker. It has a recognizable face with a neat design and high quality built. This amplifier comes with two channels and you get four voice settings. The controls are straightforward and offer a wide range of sound effects. The amplifier produces clean and versatile tones which are suitable for everyone; from blues guitarists to metal-heads. This popular amplifier is available in 20, 40, 50 and 100 Watt variants and offers a headphone slot for practicing quietly.
Pros
Vintage design is a treat for eyes.
Value for money.
Balanced clean sound.
Cons
Range of sound effects could be improved.
Fender Champion has been one of the most popular amplifiers we have seen. Their clean layout and no nonsense design make it easy to operate and focus on your music. It is suitable for every guitar playing style and the tones are excellent for a solid state amplifier.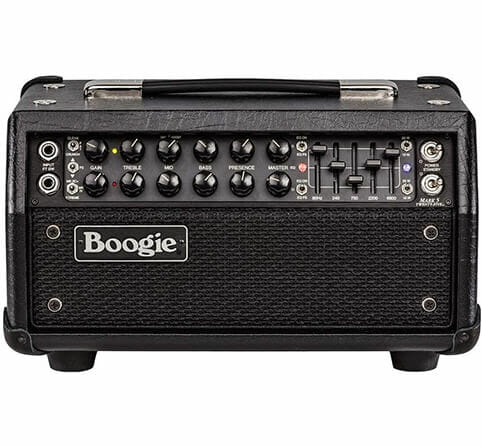 Mesa/Boogie has been a beloved guitar manufacturer from 1970 and has produced some high quality instruments. Their Mark Five: 25 is a perfectly designed tube type amplifier head. It delivers a power of 25 Watts which can be switched down to 10 Watts. Its small size and light weight make it convenient to carry around. The amplifier has two channels which are foot-switchable and have separate voice presets. Their iconic five-band equalizer offers impressive sound for a range of tones. The best feature of the amplifier is its in-built speaker emulation. Their trademark CabClone feature provides speaker-emulated output for silent recording or practicing through a built-in headphone socket.
Pros
Excellent sound quality.
Wide range of tone and sound effects.
In-built speaker emulation.
The Mark Five: 25 is one of the best small amplifier heads available in the market. The precise sound controls and different sound effects make it really versatile. The sound quality is exceptional and its practical size is convenient to carry. The only flaw in this otherwise perfect amplifier seems to be its limited power and expensive price.
Different Types of Guitar Amplifiers
Guitar amplifiers can be classified on the basis of different factors. Let's go through them one by one!
Tube amplifiers use traditional vacuum tubes to amplify the signal from an electric guitar. They have been around for more than 6 decades now and are known for their natural, organic sound. However, the quality enhancement comes at a premium and they can be really expensive and require careful handling.
Solid State Amplifiers are new generation amplifiers which use transistors to boost the signal. These are more efficient, compact and robust than their vacuum tube counterparts. However they lack the natural sound of tube amplifier and sound from a solid state amplifier appears to be flat.
Modelling Amplifiers use the latest technology for guitar amplifier. These amplifiers have a built-in digital sound processor with preloaded sound effects. Although they provide a one-stop solution for beginners, the sound produced is a bit colder with easily recognizable digital tone.
Combos & Heads
Another way of classifying guitar amplifiers is to divide them into combos and heads.
Combos are compact amplifiers with in-built speakers. You plug your guitar into one of these, and you are good to play. They are very convenient to use as you don't have to bother about matching individual components and everything you need is available in a single box. However, these combos are limited in power and are bulky.
Heads, on the other hand are amplifiers without speakers. They are less bulky and easy to carry around and provide flexibility to connect with different speakers. The drawback of heads is that they are more expensive than a combo.
Conclusion
Buying an amplifier for your electric guitar is not straightforward and depends on many factors. There are lots of options and details to consider while making up your mind. Amplifier type, portability, price, power and brand are important things to consider. Despite these considerations, we have tried to include the best models for different types of amplifiers available in the market. The selected models are quality products from well-known companies and have been around for some time now.
We hope that this article has provided you with some basic insight for guitar amplifiers and answered your questions. Quality of sound is a subjective term and depends on your taste and preferences. A guitar amplifier is an expensive instrument and not something you buy very often. So take your time, do your own survey and try them yourselves till you find an amplifier which is perfect for you.
Thank you for your time and patience!