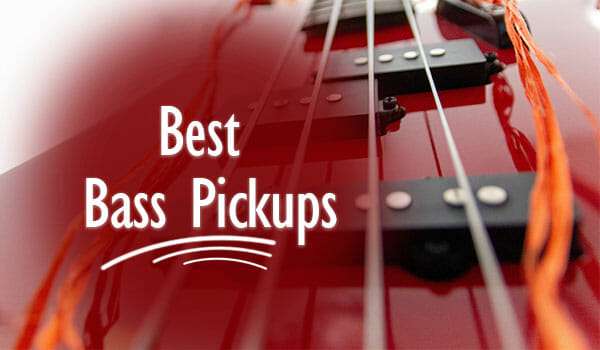 Now, the first question which you probably would be asking is, why do you need pickups in the first place? Fair enough.
If you want the sound of your guitar to be more vintage, more blooming, more clear, and with more punch, you need to have pickups.
Pickups are the heart and soul of your guitar. That might sound like an exaggeration, but trust me, it's not. A good quality pickup can infuse life into even lesser quality guitars, and can provide huge sonic upgrades. Hell, a good pickup can even make your pedal and amplifier sound better!
So, here's looking at nine best bass pickups in 2021, so you get the best out of your guitar.

Our Top Picks
Here's looking at the best bass pickups in each category:
Top Bass Pickup Reviews In 2021
---
---
---
---
---
---
---
---
---
Buying Guide: Bass Pickups
While you are off to purchase pickups, you are bound to come across different terms and specifications on the basis of which the products are described. So, here's looking at a guide to some of those specifications:
1. Single Coil vs Double Coil Pickups
In every magnetic pickup, there is a coil of wire which is wrapped around a coil-former (or a bobbin) thousands of times. You'll find only one of these structures in single coil pickups, while two such structures in double coil pickups.
Single coils show the tendency of being bright and crisp, while double coils (or humbuckers)  are mostly darker, louder, heavier. Though it doesn't mean that they strictly decide which kind of sound will be generated as output.
Depending upon the amplifiers, guitars, pedals and playing techniques, you can get thick and heavy sounds from a single coil, while bright, and crisp sounds from a double-coil.
2. Passive Pickups vs Active Pickups
The most common type are the passive pickups i.e. pickups where the electricity is completely generated through energy of strings which are coiled around magnets. There is no additional electrical energy required.
Whereas the active amplifiers have a pre-amplifier which is battery powered, which shapes the tone and boosts the pickup's output. These pickups have the highest output.
While the active pickups minimise noise while maximizing the output, passive pickups give a softer sound.
Mixing these two pickups requires a lot of clever wiring, and is done very rarely, but done nonetheless, for some models.
3. Vintage pickups
The vintage pickups literally mean old pickups, or new pickups with old technology. All of them are passive, and have a moderate output. Also, vintage-style magnets tend to get weaker as time passes, so you get a more softer, and smoother sound.
4. Pole pieces
These are elements which shape their surrounding magnetic fields. They are positioned beneath the strings. They are either ferrous steel or magnetic Alnico stock.
The steel pole pieces have a more fat and loose sound, whereas the Alnico magnet pole pieces deliver more tight and bright tones.
Most single coil pickups have single Alnico magnets, while on the other hand, most of the humbuckers have steel pole pieces, in the form of straight rods and screws.
5. Other factors
There are some other factors too, which you should keep in mind while looking for new pickups. Some of these factors are:
Potentiometer (pot)
Strings
Guitar structure
Guitar material
Top Brands: Bass Guitar Pickups
Now, there are many brands which sell accessories like pickups, be it guitar pickups or bass pickups. Only a few of them have made a name for themselves, over the years. Here's looking at seven popular companies which produce pickups:
1. Seymour Duncan
This American company is currently the world leader when it comes to guitar pickups. Headquartered in California, this company is widely known for its wide assortment of products from guitar pickups, bass pickups to effects pedals, all of which is designed and assembled in the US itself. Their wide catalogue ensures that you will find it almost impossible to not find something that is according to your liking.
Founded in 1976, this company has launched some great models so far, for example, the SPHR-1, which can awaken the curiosity of any guitarist, as it can sound like a single-coil, or a P90, or even a Humbucker.
2. EMG
This American company, based in Santa Rosa, California, manufactures guitar pickups and EQ accessories. They entered the market with their Active Humbuckers, which were high-gain sets, like the 81, and are known for their outstanding precision and amazing output level.
Founded in 1976, EMG, Inc. is mainly popular for its active humbucker pickups, like EMG 60, EMG 81, EMG 85, and EMG 89, alongwith their single coils, which are spotless.
3. Fender
Founded in 1946, Fender aka Fender Musical Instruments Corporation (FMIC), is a multinational company offering high quality pickups. Headquartered in Scottsdale, Arizona, it is the biggest seller of guitar pickups, if we were to consider the original pickups and the spare parts.
Now, while Fender is mainly known for its "solid-body" bass guitars and electric guitars, especially the Telecaster, Stratocaster, Jazz Bass and the Precision Bass, it also produces a wide range of devices from bass amplifiers, acoustic guitars to public address equipment.
4. Bare Knuckle
A privately held company, Bare Knuckle Pickups or Bare Knuckle, continues one of the bestselling brands, especially after their pickups were used for higher-end models of some manufacturers, like Ibanez. Based in England's South West, UK, this company is a specialist in electric guitar pickups which are hand-wound. Now, these pickups are entirely hand-made and hand-wound, using high quality parts which are also made in-house. All the pickups come with a lifetime warranty.
Founded in 2003, the company specialises in "knuckling" pickups, for eg., The Sinner, the single coil which is equivalent to a humbucker when it comes to loudness.
5. DiMarzio
Founded in 1972, DiMarzio, Inc., an American manufacturer, is most popular for its direct replacement guitar pickups. Headquartered in New York, this company also produces guitar accessories, like straps, cables and hardware.
A privately held company, DiMarzio became popular, thanks to its Super Distortion model, the first guitar market which is after-market replacement, and which was soon adopted by the lovers of big, fat sounds.
6. Gibson
Formerly known as Gibson Guitar Corporation, Gibson Brands, Inc., is considered the "inventor" of pickups, and rightly so. 99.9% of pickup brands have the Gibson models as inspiration.
Founded in 1902, this American company manufactures guitars and other musical instruments, as well as professional audio equipment. Currently based in Nashville, Tennessee, the company strives to get better, to manufacture newer models like the P90 Sidewinder, rather than simply relying on their vintage PAF pickups.
7. Fishman
Established in 1981, Fishman is an American company, which got popular producing high quality acoustic amplifiers.
Based in Andover, Massachusetts, they are specialists in production of amplification equipment for acoustic guitars and other stringed instruments. They mainly manufacture guitar pickups and guitar related equipment.
FAQs: Bass Pickups
1. How do bass pickups work?
Bass pickups are the most important part of any analogue instrument to get the best quality sound.
Bass pickups capture the vibrations of the strings using magnetic field
The magnetic field varies with respect to the vibrations on the string
The magnetic field vibrations are captured as electric current which get amplified using an amplifier which is then heard via a loudspeaker.
2. Why are bass pickups important?
The perfect pick up is one that helps your music instrument sound just the way you want. Bass pickups help in improving the way your music instrument sounds and gives your notes the boost it requires. If you ever feel like your guitar sounds great at home but the sound output is very less on stage, pickups can solve the problem for you.
Apart from great music and great instruments, great pick up is also an essential part of the music.
3. What are active pickups?
An active pickup has a pre-amplifier that is powered using a battery connected with it to enhance the out of the pick up and fix the tone. Active pickups produce the highest output by reducing the noise and maximising the sound signal. One of the main advantages of using active pickups is that they do not lose signal in case it has to travel via long cables. This is one of the distinguishing factors about an active pickup.
4. What are passive pickups?
Passive pickups are some of the commonly used ones as they do not have any battery source. They have coils of wire that are wrapped around magnets. The energy from the strings is converted into a varying magnetic field from which an electric output is obtained.
Passive pickups are known for their best output and retaining the originality of the sound. Most of the pickups sold in the market are passive pickups.
5. Which one is a better choice: higher pickup or moderate pickup?
At times higher outputs may seem like the better option than getting moderate output from your pickups. However, the truth is it depends on the music you make and what kind of output suits you. There is no rule of choosing moderate over high or high over moderate. However choosing the best pickup that suits your music style plays an important role.
Therefore, what you need to do is try out different levels of pickups and then determine which works best.
A simple way to identify would be, if the tone of the guitar sounds very less, use a higher pick up, if it is too distorted and misses out on some tones, a moderate one would work.
6. How to avoid distortion in high output pickups?
A high output pickup sends out a strong signal to the amplifier which leads to distortion at the amplifier's side easily. At times even moderate output pickups lead to major distortion in output. In order to avoid this, a mixing console can be connected directly to the guitar and output from the console can be fed into the amplifier for better quality output.
7. How to choose the perfect pickup?
The best way to choose the right pick up is to find one that complements your guitar or bass tendencies. Certain types of guitar materials produce naturally loud sounds while some are low. Depending on how loud your instrument is, you could choose a pickup that boosts the output or counterbalances it.
In order to find out which one is suitable for your guitar, listen to the guitar without plugging any pickups.  Find out which aspect of the sound from the instrument needs improvement and buy accordingly.
Top four factors to consider while choosing your pickup are:
Guitar's Pickup (original one)
Guitar Material
Musical Style
Output level
---
Conclusion
Hopefully, you have decided which pickups would suit you and your guitar the most. Just keep in mind the few factors like whether it is an active or passive one, or a single-coil or humbucker, and you'll be able to make the perfect decision.