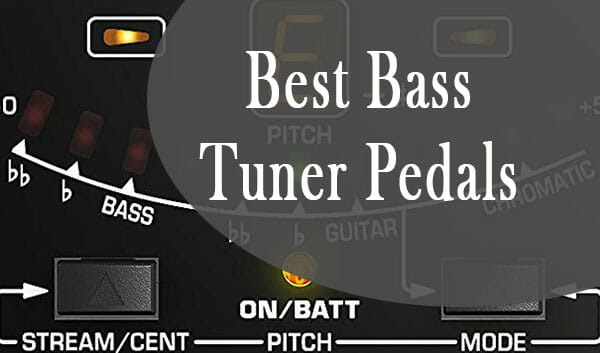 As a bassist, tuner pedals might not be the accessory that excites you. Although it's a routine piece of machinery, but let's face it, they are as critical as any other component in your setup.
You might not think of that frequently, but without a tuner pedal, you might face some difficulties when you go out of tune.
In this article, we present the 9 best tuner pedals of 2021 along with all the necessary details that will help you make a better purchase decision.
So without further ado, let's begin.
Top Bass Tuner Pedal Reviews In 2021
---
---
---
---
---
---
---
---
---
Buying Guide: Bass Tuner Pedals
Many of you might still be confused about which pedal to choose. I know it is a tough decision because if you pick one, you're sacrificing what the other is offering. We have trade-offs like this in every purchase opportunity.
In the case of tuner pedals, we can help you decide which pedal might be best suited for you. Pedals can be classified into different categories depending upon various factors. We'll list those factors below so that you can make an informed decision.
1. True bypass vs Buffered Bypass
Pedals behave differently during bypass mode or cutoff mode. The true bypass will disengage when turned off, and the signal does not pass through the pedal.
While, in a buffered pedal, the signal is always routed through the pedal's circuitry. For tuner pedals, in particular, true bypass is preferred as it maintains the purity of the signal.
2. Precision or accuracy
This is what it all boils down to. Precision is the most critical factor on which you should judge a tuner pedal.
You must have come across values like +/-1 cent while you were reading this article. To make things easy for you, just remember that a lower value is favorable.
3. Durability
Tuner pedals are generally cheaper than other pedals such as compressor or overdrive. In most cases, their build quality is not up to the mark, which puts a question mark over their longevity.
However, there are a few tuners in the market that have been designed to withstand damage and weathering. Before buying, make sure to examine the exterior and body of the pedal thoroughly.
4. Chromatic
Chromatic tuners are the most sought after due to their versatility. These tuners allow you to work with each one of the 12 notes on the western chromatic scale, hence the name chromatic tuners. Most tuners in this list are chromatic, and all are best in their own rights.
5. Polyphonic tuner
Polyphonic tuners are the most recent kind of tuners in the market. Poly means many, so polyphonic tuners are simply those tuners that can track multiple notes at a time. These tuners allow you to tune all strings at once. This relatively new technology is extremely popular among bassists, and I suggest you go for a polyphonic tuner.
Top Brands: Bass Tuner Pedals
1. Korg
Founded in 1962 in Tokyo, Korg is one of the oldest brands in the music electronics industry. They manufacture every product that could satisfy the needs of any musician. Their endless product line comprises audio processors, guitar pedals, drum machines, electric tuners and much more. Korg is especially known for making some of the finest keyboards.
2. Boss
Boss is one of the most notable names in the music electronics industry. They are a subsidiary of the Japanese giant Roland Corporation. Roland is the undisputable champion of the music electronics industry. The division Boss, in particular, is responsible for manufacturing pedals and similar devices.
3. Behringer
Behringer is one of the leading audio equipment companies in the world. They are a German-based firm and are a subsidiary of another firm called Music Tribe. Their presence is felt in every corner of the earth. Behringer's products are not always of the highest quality, but they have a very loyal customer base.
4. Donner
Donner has made a late entry into the music business but has seen no signs of slowing down since its inception in 2012. Now eight years later, their product line includes many instruments, accessories and even earphones or headphones.
5. TC Electronic
TC Electronic is a music electronics company based in Denmark. The company was set up in 1976 and is now a subsidiary of the TC group. They are known for making a host of products including effect pedals, amplifiers and even plugin software.
Frequently Asked Questions About Bass Tuner Pedals
1. What is the average cost of a tuner pedal?
Tuner pedals are not the most extravagant pieces of equipment you'll buy for your guitar or bass as they have very modest prices. Most of the tuner pedals are quite cheap, and you can get them under fifty dollars. However, there are some high-end pedals from reputed brands whose price is more than 100 dollars.
2. Are there any other types of tuners except pedals?
Pedal tuners were one of the first kind of tuners in the market. Nowadays, people have invented new and innovative types of tuners that are breaking all boundaries. One of these is the clip-on tuner. There are many apps also available that allow you to plug your instrument into an iPad for tuning.
3. What is the best placement of tuner in the pedal chain?
The perfect position would be at the beginning of the chain and definitely before any modulation effects pedals like overdrive or distortion. This way you'll be able to get the maximum out of your pedal tuner.
4. Why to use a tuner pedal in the first place?
While performing on stage or in the studio, there will be several instances when you'll go out of tune or miss a note. Tuner pedals are extremely beneficial in this case as they track which note are you playing and whether you're playing in tune or not.
5. Should I buy a pedal with or without a big screen?
Display is one of the most critical components of a tuner pedal. Often you'll find yourself playing in poorly lit studios or stages. In those situations, having a pedal with a bright and large display can be extremely beneficial. Most of the pedals in the list have an excellent display.
---
Conclusion
Tuner pedals are the dark horse of any bassist's rig. Many of you neglect them to save a few bucks but regret that decision later. They are as important as any other pedal on your pedalboard.
So if you have finally decided that you need a tuner pedal, then I suggest first you introspect on what kind of a player you are and then take the next step. Each tuner is different; some have a wide frequency range while others are more precise.
Make a list of your priorities and make a decision accordingly.