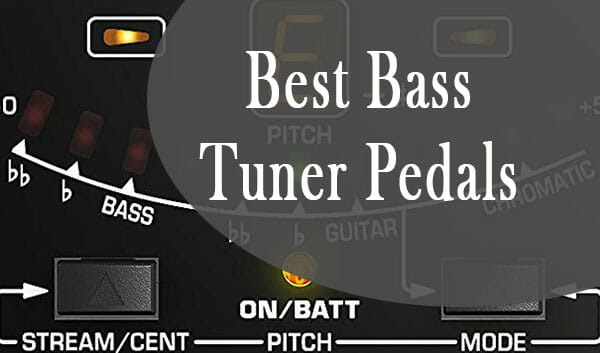 As a bassist, tuner pedals might not be the accessory that excites you. Although it's a routine piece of machinery, but let's face it, they are as critical as any other component in your setup.
You might not think of that frequently, but without a tuner pedal, you might face some difficulties when you go out of tune.
In this article, we present the 9 best tuner pedals of 2023 along with all the necessary details that will help you make a better purchase decision.
So without further ado, let's begin.
Table of Contents
Top Bass Tuner Pedal Reviews In 2023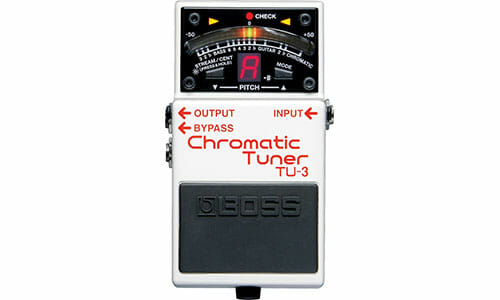 If you are making a list of any kind of pedal, be it a compressor, tuner or distortion, an entry by Boss has to be there. Just like most of their products, Boss TU3 comes with the promise of durability and excellent performance. It is stompbox style pedal and is the successor of the fabled TU2 which was highly respected by many artists and critics alike.
Instead of a big screen, Boss has put in a LED meter which has 21 segments, and a small display. This may not sound appealing to many as a big screen is helpful in poorly lit areas. However, to counter this, there's a high-brightness mode that will slightly improve visibility in dark environments.
There are multiple tuning modes, namely, chromatic, guitar and bass mode. You can tune by string numbers, and there is also an option of flat tuning using the separate flat modes. Three additional flat modes bring the effective total number of modes to six. TU3 supports seven-string guitars and six-string bass as well, and the flat mode enables tunings to drop up to 6 semitones below standard pitch.
One awesome feature is the Accu-Pitch Sign function, which gives you a visual confirmation whenever you'll be playing in tune. This can be very helpful to amateur players to maintain a consistent tone.
If you are a true bypass fan, you might be disappointed as TU3 is a buffered pedal. Those who wanted a buffered output, this might be the best one in the market.
Pros
Extremely accurate.
Accu-Pitch feature is a massive bonus.
High-brightness mode.
Superior build quality.
Cons
Screen and letter size could be bigger.
Boss doesn't fool around with its products and TU3 strictly follows the Boss legacy of being simply awesome. It is arguably the best buffered tuner pedal in the market.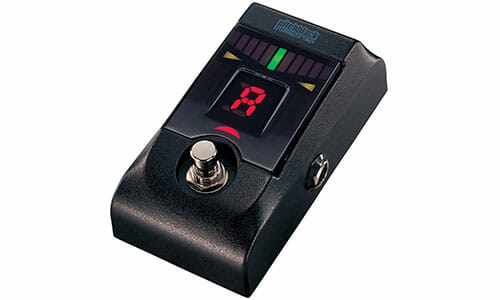 Korg is one of the leading music equipment companies worldwide, and this is their flagship tuner pedal.
Pitchblack has everything that a guitarist or a bassist could ever ask for. Firstly, it has stunning looks and is compact, which means it'll take lesser space on your pedalboard. The screen and text size is large enough, and the brightness is okay as well. It'll be easier for you to spot any deviation in your tune with this display.
Furthermore, there are four display modes to choose from, namely, Full Strobe, Half Strobe, Meter and Mirror. Each of these modes allows for a different type of tuning. For example, in the full strobe mode, both the tuning guide LEDs will light up. And in half strobe mode, the centre LED will light up whenever the pitch is correct. Most players use the default meter mode, where the red LED will turn green, and the note you're playing will be displayed on the screen.
Build quality seems reasonably good as most of the body is made of aluminium, and only a few sections are made of plastic.
Usually, there are very few controls in tuner pedals, and most of them have only a single footswitch. Pitchblack has a footswitch that can also mute the output and two additional buttons. These are display (for toggling between different display modes) and Calib (for calibration settings). You can adjust calibration between 436-445 Hz. When it comes to performance, this is one of the best tuners in the market in terms of tracking capability.
Korg Pitchblack has a 100 % true bypass circuitry, which means there's no modification to your signal in the bypass mode. If multiple display settings and true bypass function is what you're looking for, then Pitchblack Chromatic tuner is the best choice for you.
Pros
Multiple display modes.
Bright and large screen.
Easy to use.
Adjustable calibration.
Korg has a reputed brand image, and Pitchblack chromatic tuner is one from many of their brilliant offerings. Multiple display modes and adjustable calibration make this pedal truly stand out from the rest.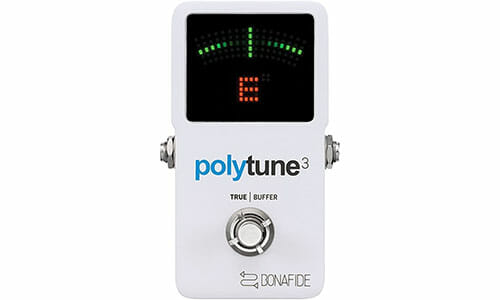 TC Electronic is the ultimate manufacturer of polyphonic tuners, and PolyTune 3 is their best tuner. Polyphonic tuners are incredibly beneficial as they allow you to tune multiple strings at once, hence the name polyphonic.
Something quite unique to this pedal is its circuitry. It is neither true bypass nor buffered. Instead, the company has put in a Bonafide buffer which they claim leads to zero signal deterioration, irrespective of the cable length. So a bonafide buffer works like this, it tunes your guitar's high impedance output to low impedance which enables the signal to flow smoothly through the entire chain.
PolyTune also features a True Bypass function which you can access by a switch. This is a terrific option that TC Electronic has provided; you can try out both of them and choose whichever works best for you.
Another great feature is the 'Always on' tuning mode, which keeps the tuner on, irrespective of the fact that it's muted or not.
When it comes to the screen, it is arguably the best of the lot with its staggering 109 LEDs. You can read from it any lighting conditions, dark or too bright; it won't matter. Moreover, the sheer number of LEDs will let you know of even the slightest of discrepancies in your tone.
It is a highly accurate pedal with up to 99.5 percent accuracy, and the Ultra-precise strobe mode gives you 99.98 percent accuracy for next-level stuff.
To make the deal more lucrative, TC Electronic offers a 3-year warranty with PolyTune 3. If you are the kind of player who'd like to experiment with the circuitry and need precision, then you should go for this tuner with your eyes closed.
Pros
Option to choose from true bypass and Bonafide buffer.
Brilliant screen with 109 LEDs.
3-year warranty.
Ultra-precise strobe mode with 0.02 cent accuracy.
TC Electronic PolyTune 3 is the only pedal tuner of its kind that offers a choice between true bypass and a buffer. There's nothing that this tuner can do wrong.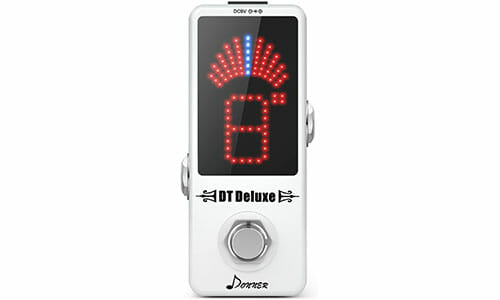 Donner is amongst the newer companies in the music machinery business. Despite their lack of experience, Donner has made a name for itself, particularly in the pedal category. They have released two tuner pedals till now, and DT Deluxe is the first one of them. It is one of the budget-friendly tuners of this list but makes no compromise on quality.
The appearance is not too shabby, and it has a classic metal body which seems pretty robust and sturdy. The size is tiny as DT Deluxe is a mini tuner, saving a lot of precious pedalboard space, which you all love so dearly. The most noticeable thing is the extra-large display featuring a bunch of LEDs and an indicator. The central light will turn to blue once you're playing in tune.
Being a chromatic pedal, DT Deluxe offers a wide tuning range from A0(12Hz) ~ C8(4186Hz). It works with low-frequency range, generally below 25 kHz, which makes it a perfect tuning instrument for a bass guitar. There's also a strobe mode that promises a high precision of +/- 1 cent.
DT Deluxe comes with a plug-n-play function, making it simple to use and perfect choice for beginners. To round it all off, this is true bypass pedal if you were wondering. Does it sound like anything you'd buy? If yes, then what are you waiting for?
Pros
Excellent display.
Perfect for bass guitar due to low-frequency range.
Compact size.
Pocket-friendly.
DT Deluxe is a no-nonsense tuner pedal from Donner. It is a simple yet highly effective device to have in your arsenal.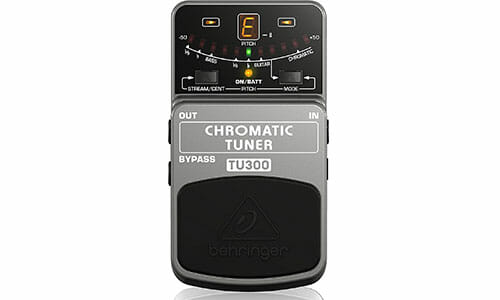 You can expect Behringer products to be of high quality. And with TU300, Behringer continues the German legacy of producing magnificently engineered products. TU300 is another budget-friendly entry of this list, just like most Behringer products.
Aesthetically, it has a grey-black chassis which I'm sure is durable, with a sizeable top portion for display. The display features an array of 11 LEDs and a small text display which shows the note being played. The LEDs are cool, and the central one glows green when you play in tune. The small text display is a let down though. But, overall, the display is decent and could've been better if the text size was larger.
TU300 features seven tuning modes in total, of which three are for bass, 3 for guitar and one is chromatic mode. Each of these modes has something that might help you to play in tune. You can choose a respective mode by toggling the mode button present at the top. The tuning range is 438-447Hz.
There are three ports, one each for in and out and 1 for power. Speaking of power, it can be powered by a nine volt battery or a Behringer PSU-SB DC power supply which you'll have to buy separately.
TU300 is one of the easiest to use pedals in the market due to its ergonomic design. Using the main out port, you can mute the signal while you're tuning, so your audience won't have to listen to you at that time.
So if you're out for a true bypass pedal that has multiple modes and is easy to use, then I suggest you go for the TU300.
Pros
Internal battery.
Several modes.
Easy to operate.
Cheap.
Cons
Text size could have been larger.
Behringer has a history of making great products, and the TU300 follows suit. It is a pocket-friendly and durable tuner pedal.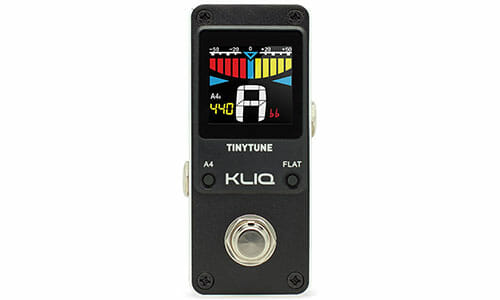 This is one of the mini-pedals that are slowly gaining popularity amongst musicians. This is because mini pedals are considerably smaller than their regular counterparts which helps in saving a lot of pedalboard space. However, small size doesn't mean a compromise in performance; these pedals do the job as efficiently as any other kind.
TinyTune has a distinct display like that of most pedal tuners. The display is super bright and full color which makes it easy to read in any lighting situations. TinyTune also has the zero noise feature which mutes the signal while you tune. This feature makes sure that no random sounds will be generated during the tuning process.
TinyTune is one of the easiest to operate pedal tuners in the market, thanks to its plug and play function. If you are a beginner, then I highly recommend this pedal. There are no extra buttons, no confusing modes or any unnecessary features. Just connect the inputs and outputs, and you're ready to go.
TinyTune is incredibly accurate for its price range and size. It has a +/-0.5 cent precision and a calibration range of 430-450Hz. Being a chromatic tuner, there's also an option to drop tunings up to 4 semitones of the standard pitch.
It is a true bypass tuner which won't color your signal in any way. However, the company offers only a 1-year warranty which might upset some of you.
Pros
Brilliant display.
Extremely accurate.
Elementary design makes it easy to use.
Cons
1-year warranty is a little less.
TinyTune by KLIQ is one of those tuners that don't offer much in terms of experimentation but do the job they were designed to do. It has everything that an excellent tuner should have.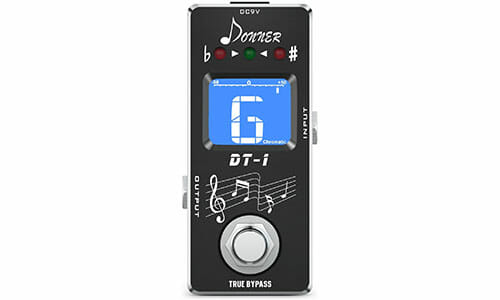 DT-1 Chromatic is the second tuner pedal from Donner (the first one was mentioned earlier). It is pretty similar to its sister pedal, the DT Deluxe. The most noticeable difference is the appearance. The DT Deluxe had a silvery/white shine to it. DT-1, on the other hand, is black in color with a bluish display. The screen is considerably smaller than the DT-Deluxe and also not that bright, but works excellent overall.
There are 3 LEDs of which symbols label the two for flat and sharp. These LEDs show the working state and the LCD screen tells the note you're playing.
Besides appearance, everything else is pretty much identical to the DT Deluxe. Some of you might not like the white color of DT Deluxe and others might be appalled by the blue colored display of DT-1. We'll leave the choice to you guys in this matter.
DT-1 is also a chromatic tuner with a tuning range of A0(27.5Hz) ~ C8(4186Hz), which is slightly different from the DT Deluxe. One of the aspects where the DT-1 falls short is the power supply. It doesn't have an internal battery and must be powered using an external 9 V power adaptor which you'll have to buy separately.
Like the DT Deluxe, DT-1 also has a true bypass circuitry and offers a precision of up to +/-1 cent. If a wide tuning range is more of a priority to you than accuracy, then DT-1 is the pedal I would recommend.
Pros
True Bypass.
Easy to use operation.
Pocket-friendly.
Wide frequency range.
Donner DT-1 is a true bypass pedal which doesn't offer too much in terms of precision but has one of the most extensive tuning range.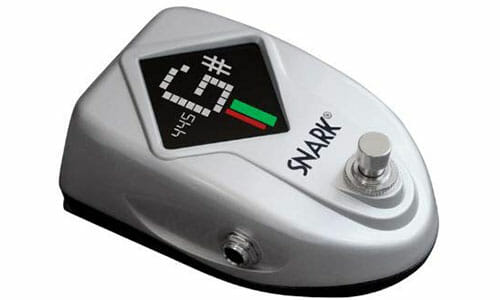 SN-10S pedal tuner is one of the tiniest tuners in the world. It is so small that it'll fit perfectly on to your pedalboard without any issues. Snark is one of the few companies in the world that deals specifically in different types of tuners.
It has a simple yet intuitive design. In the middle, there's a diamond-shaped LCD screen and a footswitch below that. All of this in a classic metal chassis that appears to be highly robust.
Don't let its size and simplicity fool you. Snark has done a brilliant job with this pedal by making this as small and efficient as possible. There are many great features built into it. One of them is that SN-10S will mute the signal whenever you're tuning, so the audiences will be very grateful for that. Also, it is one of the most fun pedal tuners to work with. While tuning, you'll see that it is highly responsive and blazingly fast. Quite impressive for a tuner at this price range. Here also you'll find the adjustable calibration range which is 415 to 466 Hz for the SN-10S.
All of this with the true bypass output, meaning no signal loss. SN-10S is a dream for any musician who is looking for a tiny pedal with a high response rate. If you are one of those people then, by all means, go ahead and buy it.
Pros
High response rate.
True bypass.
Adjustable calibration range.
Affordable.
Cons
Display not up to the mark.
Snark SN-10S Pedal Tuner offers an affordable solution who are looking for better response rate rather than the display.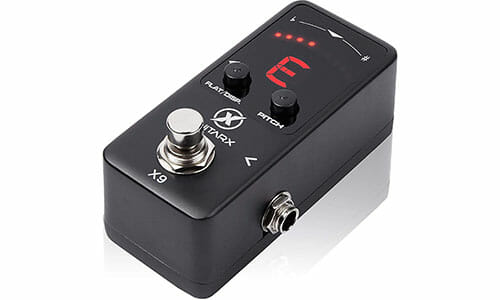 GuitarX is one of the lesser-known brands in the market, and the X9 is one of their best offerings. X9 is a mini tuner which is already a plus as it will save precious real estate on the pedalboard. The company uses four words to describe this pedal, "Small size, massive performance", and the X9 lives up to that standard.
The display is pretty basic yet very effective at doing its job of letting you know whether you're in tune or not. On top, there are 9 LEDs, and below there's the text display which shows the note. You'll have no problem working with X9 in any lighting conditions. Built for professionals and beginners alike, X9 comes with a sturdy metal chassis that can withstand substantial damage.
It is one of the most accurate pedals in the market with +/-0.5 cent precision. X9 has a tuning range from A0-C8 which is significantly broad and suited for many instruments including bass. You'll also find the pitch calibration range from 435-450 Hz.
Another superb feature is the noise-free operation, which basically means input signal is muted during use and the signal is routed to output when disengaged. X9 works on a nine v power supply which you'll have to buy separately and not on a battery.
To round it all off, the company also offers a 5-year warranty which is considerably more than any other brand. An extended warranty period suggests that the company is very confident about the durability of its products, which is a good thing.
If you're looking for a precise and small pedal that has a tiny footprint, then look no further, X9 is the pedal for you.
Pros
Highly precise.
Decent display.
Wide tuning range.
5-year warranty.
X9 by GuitarX is the go-to pedal tuner of many musicians due to ease of operability and brilliant features like wide tuning range.
Top Brands: Bass Tuner Pedals
1. Korg
Founded in 1962 in Tokyo, Korg is one of the oldest brands in the music electronics industry. They manufacture every product that could satisfy the needs of any musician. Their endless product line comprises audio processors, guitar pedals, drum machines, electric tuners and much more. Korg is especially known for making some of the finest keyboards.
2. Boss
Boss is one of the most notable names in the music electronics industry. They are a subsidiary of the Japanese giant Roland Corporation. Roland is the undisputable champion of the music electronics industry. The division Boss, in particular, is responsible for manufacturing pedals and similar devices.
3. Behringer
Behringer is one of the leading audio equipment companies in the world. They are a German-based firm and are a subsidiary of another firm called Music Tribe. Their presence is felt in every corner of the earth. Behringer's products are not always of the highest quality, but they have a very loyal customer base.
4. Donner
Donner has made a late entry into the music business but has seen no signs of slowing down since its inception in 2012. Now eight years later, their product line includes many instruments, accessories and even earphones or headphones.
5. TC Electronic
TC Electronic is a music electronics company based in Denmark. The company was set up in 1976 and is now a subsidiary of the TC group. They are known for making a host of products including effect pedals, amplifiers and even plugin software.
Frequently Asked Questions About Bass Tuner Pedals
What is the average cost of a tuner pedal?
Tuner pedals are not the most extravagant pieces of equipment you'll buy for your guitar or bass as they have very modest prices. Most of the tuner pedals are quite cheap, and you can get them under fifty dollars. However, there are some high-end pedals from reputed brands whose price is more than 100 dollars.
Are there any other types of tuners except pedals?
Pedal tuners were one of the first kind of tuners in the market. Nowadays, people have invented new and innovative types of tuners that are breaking all boundaries. One of these is the clip-on tuner. There are many apps also available that allow you to plug your instrument into an iPad for tuning.
What is the best placement of tuner in the pedal chain?
The perfect position would be at the beginning of the chain and definitely before any modulation effects pedals like overdrive or distortion. This way you'll be able to get the maximum out of your pedal tuner.
Why to use a tuner pedal in the first place?
While performing on stage or in the studio, there will be several instances when you'll go out of tune or miss a note. Tuner pedals are extremely beneficial in this case as they track which note are you playing and whether you're playing in tune or not.
Should I buy a pedal with or without a big screen?
Display is one of the most critical components of a tuner pedal. Often you'll find yourself playing in poorly lit studios or stages. In those situations, having a pedal with a bright and large display can be extremely beneficial. Most of the pedals in the list have an excellent display.
Conclusion
Tuner pedals are the dark horse of any bassist's rig. Many of you neglect them to save a few bucks but regret that decision later. They are as important as any other pedal on your pedalboard.
So if you have finally decided that you need a tuner pedal, then I suggest first you introspect on what kind of a player you are and then take the next step. Each tuner is different; some have a wide frequency range while others are more precise.
Make a list of your priorities and make a decision accordingly.