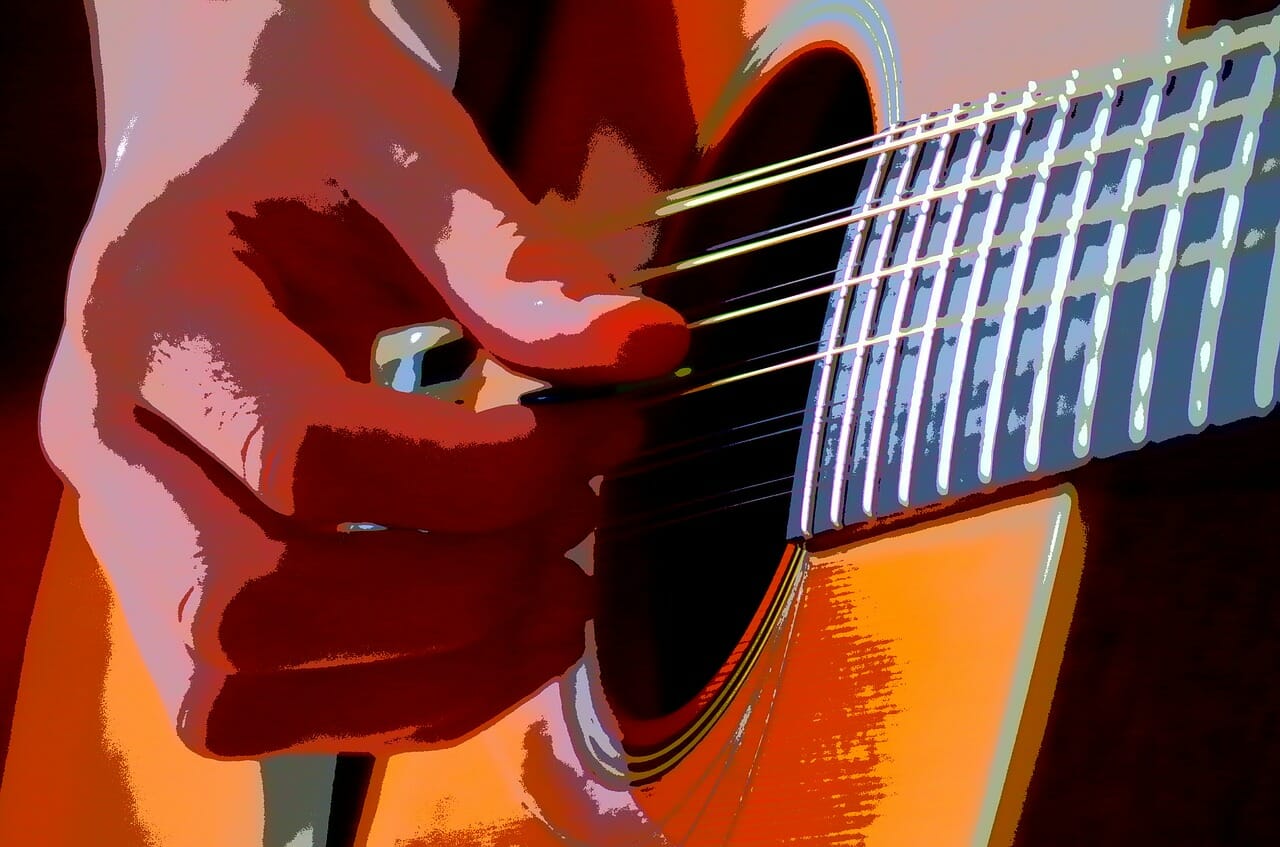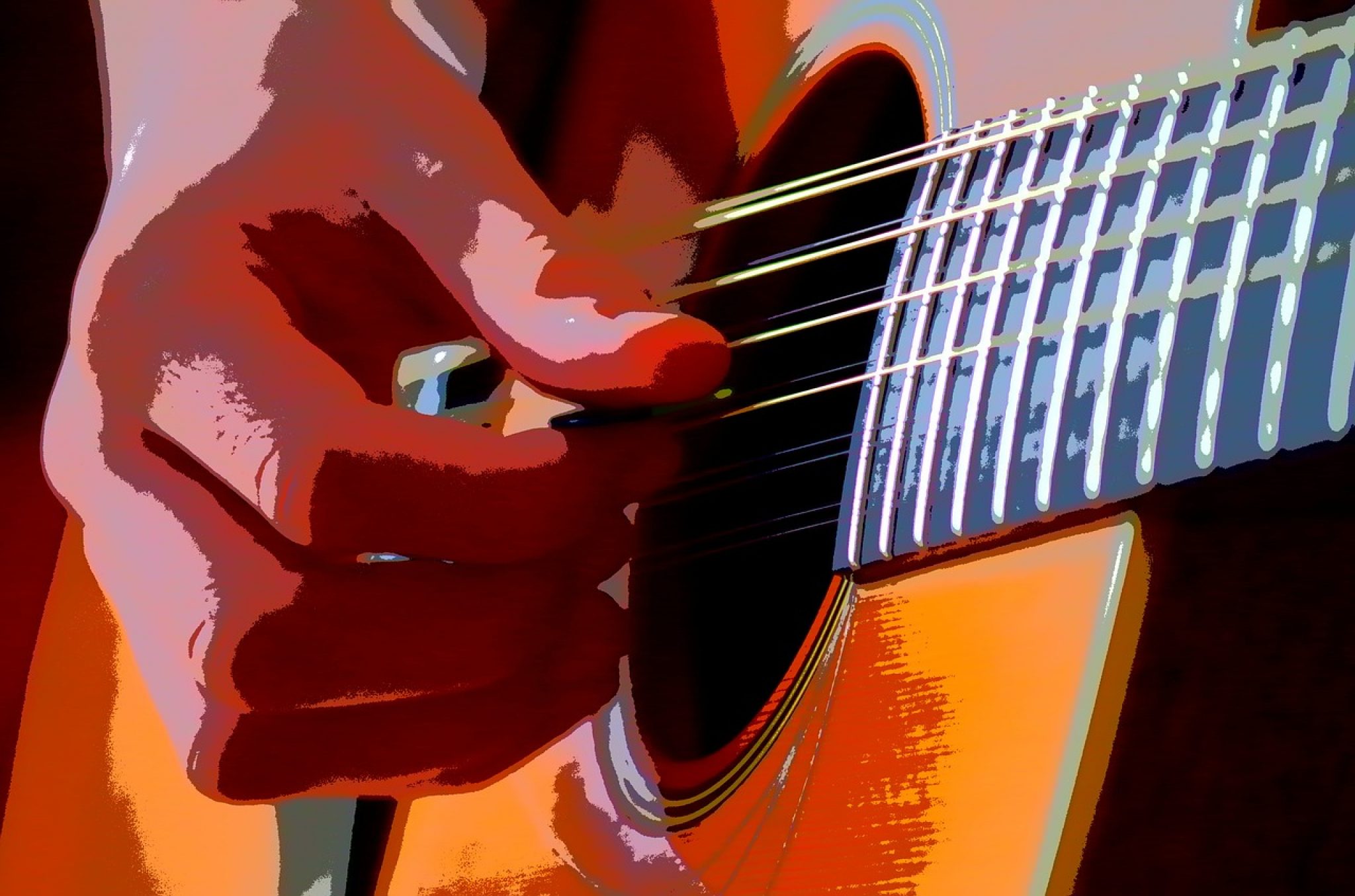 12 string guitars produce the richest, fullest and most pleasing tones among all the other types of guitars. Even though a 6-string and 12-string guitar share many similarities, they have differences which is evident in the tones they produce.
A 12-string guitar delivers much more depth and fullness, which is why it earned a reputation of being the "grand piano of guitars". Many famous guitarists like John Denver and Jimmy Page have played these beasts to make terrific music for their audience.
It is equally great for solo performers and rhythm players. So, let's take a look at the 9 best 12-string guitars of 2023!
Table of Contents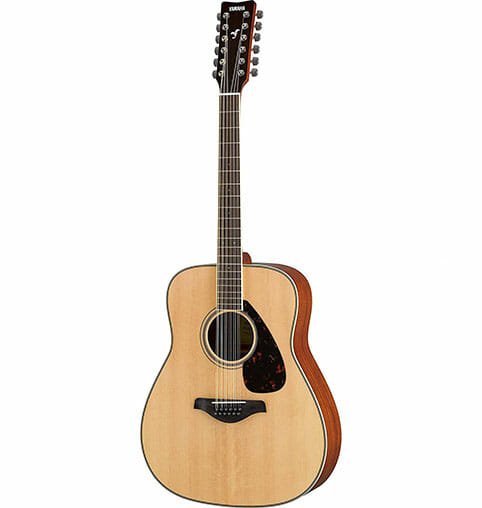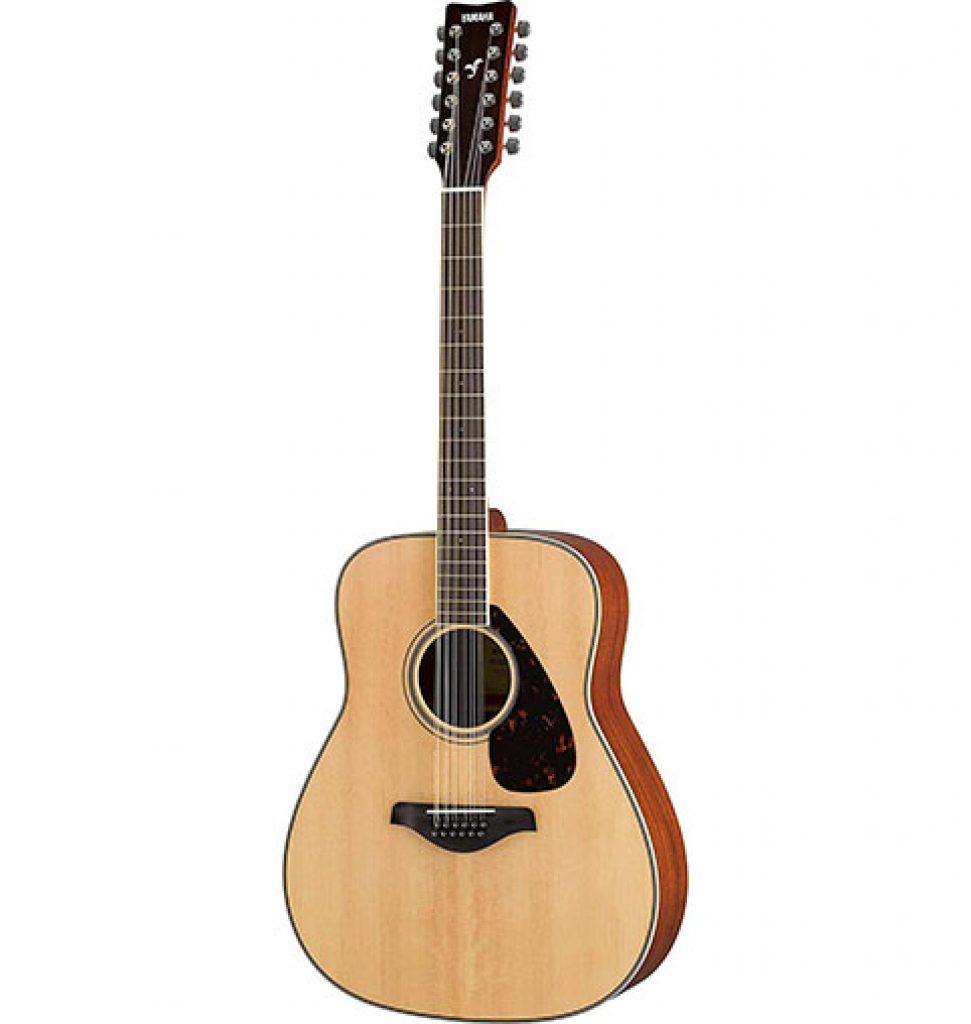 Yamaha FG series started a long time ago in 1966. Since then they have produced over 200 models, all of which were high quality. This guitar has a great build quality and is one of the best 12 string guitars at an affordable price. It is fun to play and has an outstanding tone.
Yamaha FG820 is louder and stronger due to the "Acoustic Analysis Technology" which is developed by Yamaha's talented engineers. The new scalloped bracing increases across the low and richer harmonic overtones in the mid.
The structure of the guitar can maintain the durability of the top board and enhance the natural sound of the instrument.
It is available in 2 unique shapes and a variety of colors to choose from. You can either choose acoustic or electric-acoustic model depending on your needs.
Pros
Terrific sound quality.
Inexpensive.
Classy look.
Cons
Aged yellow outlines.
May produce some buzz.
It is the best budget guitar available in the market. It has a classic look and produces loud, clear and rich sound quality.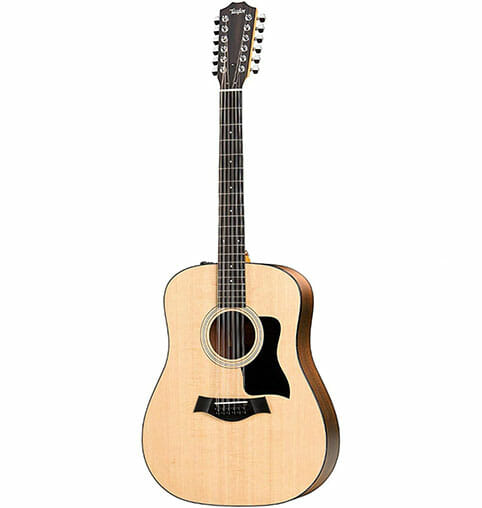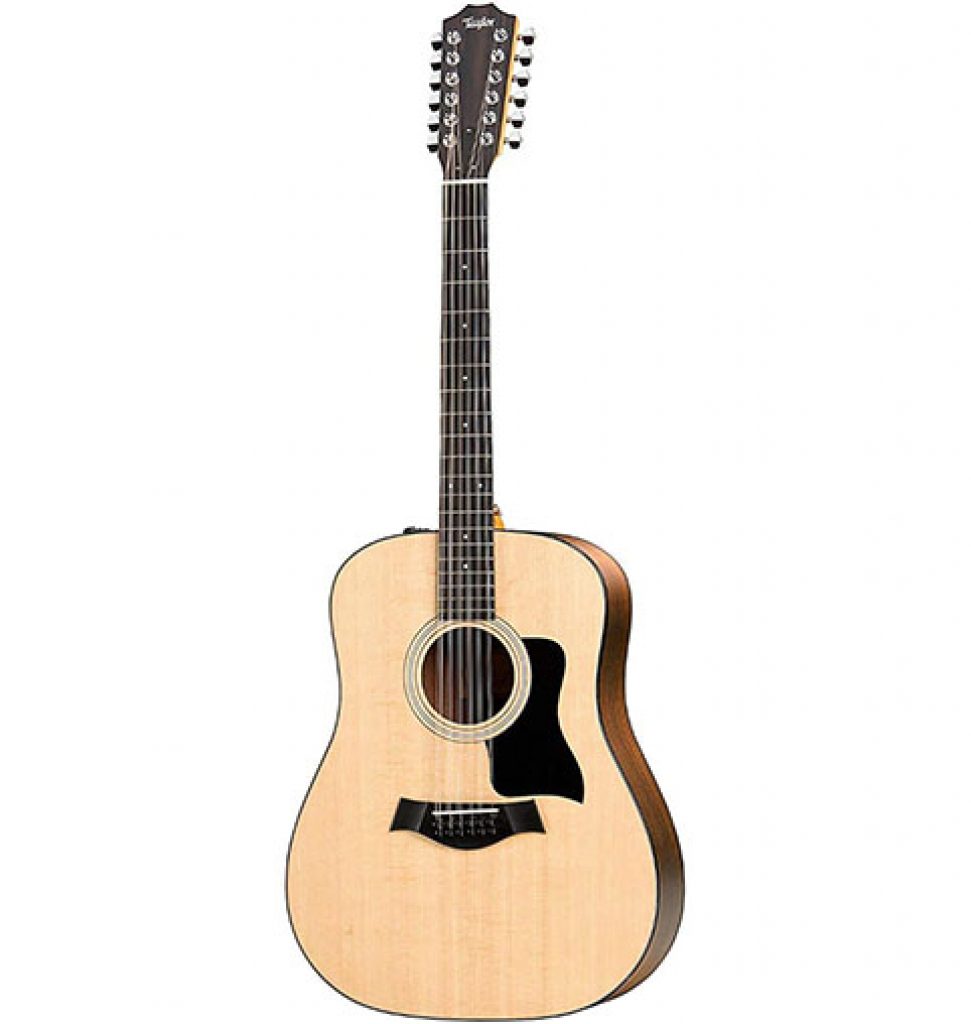 This is a premium quality guitar which is produced by a very popular brand. The body is made from sapele laminate which brings out the lower registers of the guitar perfectly and can also withstand temperature changes very well. This makes it ideal for carrying around to different places with varying temperatures without worrying about any damage.
Taylor 150e has layered walnut back and sides, mahogany neck and an ebony fretboard. It comes with solid Sitka spruce top which ensures rich and full tone. The bracing is strong, which makes the guitar body strong and durable. It has a built-in preamp which offers active pick-up.
Its control is simple with only three controls, one each for volume, treble and bass respectively. This makes it ideal for gigs because of no complexity of adjusting the tone. You can get enough customization according to your taste. This is perfect for anyone who wants to make music on the move.
Pros
Impeccable built quality.
Full and lush sound.
Simple controls.
This guitar has premium quality features and is easy to play. It can withstand different temperatures so it's perfect for musicians who are always on the move!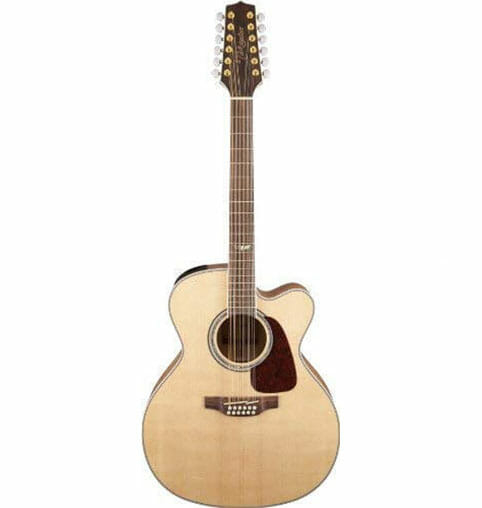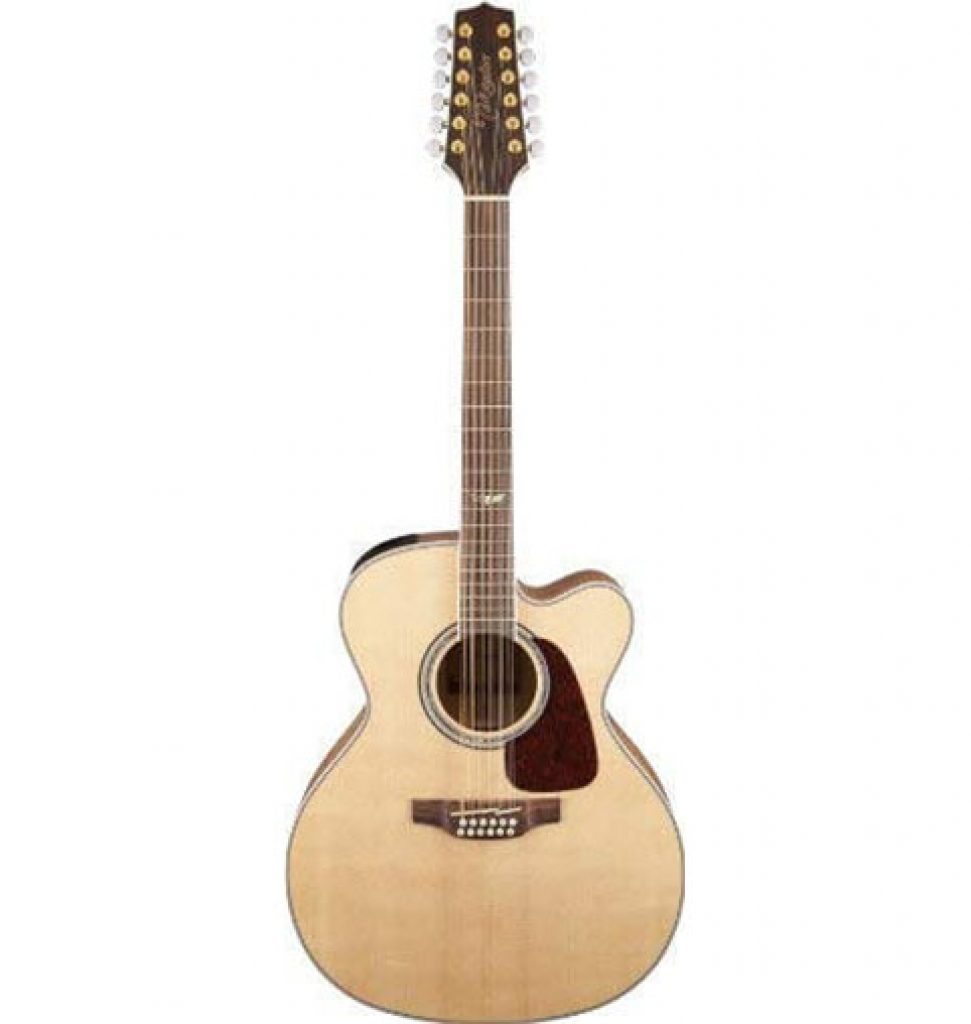 This guitar is great for gigs or some big events where perfect tone quality is required. The guitar is made of a slim mahogany neck and Rosewood fretboard which makes it very comfortable to play. It also features a spruce top and flame maple back and sides. Maple is a hard wood and makes the guitar really strong. You can make adjustments to the sound by changing the controls to suit your needs.
The guitar not only feels great but also looks beautiful because of its charming gloss finish, blond neck and gold tuners. The in-built tuner ensures that the sound remains well tuned and prevents any tension from the guitar strings. When it comes to action, the Takamine GJ72CE-12NAT can be compared to even more premium quality guitars like Martin HD-28. It is definitely a must buy for all the tone freaks!
Pros
Easy to play.
Terrific sound quality.
Maple Sides.
Cons
Tone maybe too bright for some.
It is a strong and well-built guitar with great body. This guitar looks attractive and is available at a nominal price.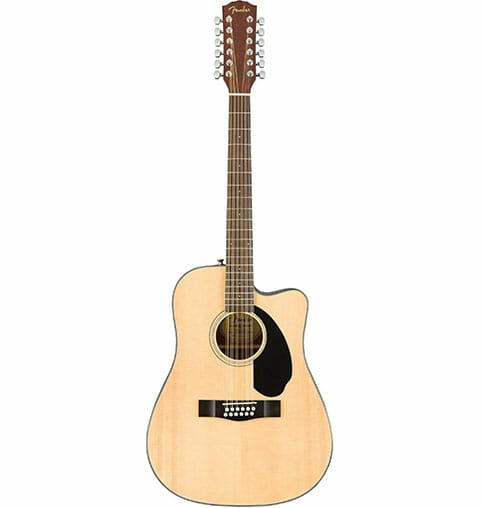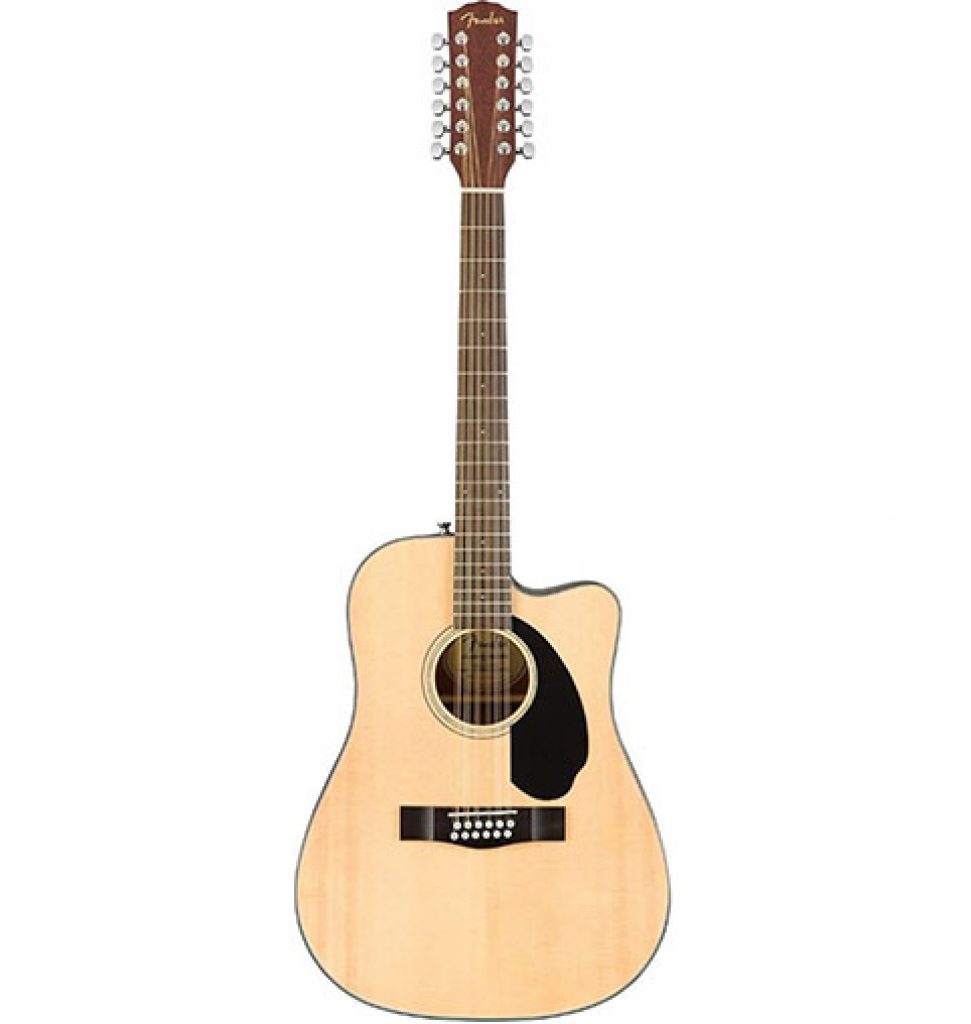 Fender is known for making professional quality guitars at an affordable price. This guitar from Fender has kept up with the standards of the company. It has very powerful on-board electronics which also includes a built-in tuner. It produces very beautiful tone and even though it is a 12 String guitar, it is quite simple to play.
Tunes are well maintained so that you can give undivided attention to playing your guitar. It is perfect for those who want to expand their experience of playing or looking to buy a 12 string for the first time. Since it's quite affordable, it could be a great option for hobbyists who just want to play it for fun.
Fender CD-60SCE has a single cutaway body which provides easy upper fret access. It features solid spruce with scalloped X bracing which provides maximum volume. Back and sides are made of solid mahogany. This guitar is available in four attractive colors. It also features an "easy to play" neck with a rolled fingerboard.
Pros
Good build quality.
Great sound quality.
Value for money.
Well maintained tune.
Easy to play.
Cons
Some frets may have some buzzing issues.
It is a perfect value for money product with awesome sound quality. It does not need to be adjusted so you can concentrate solely on playing.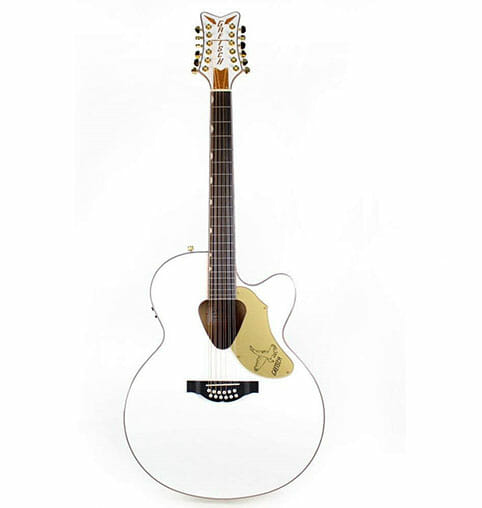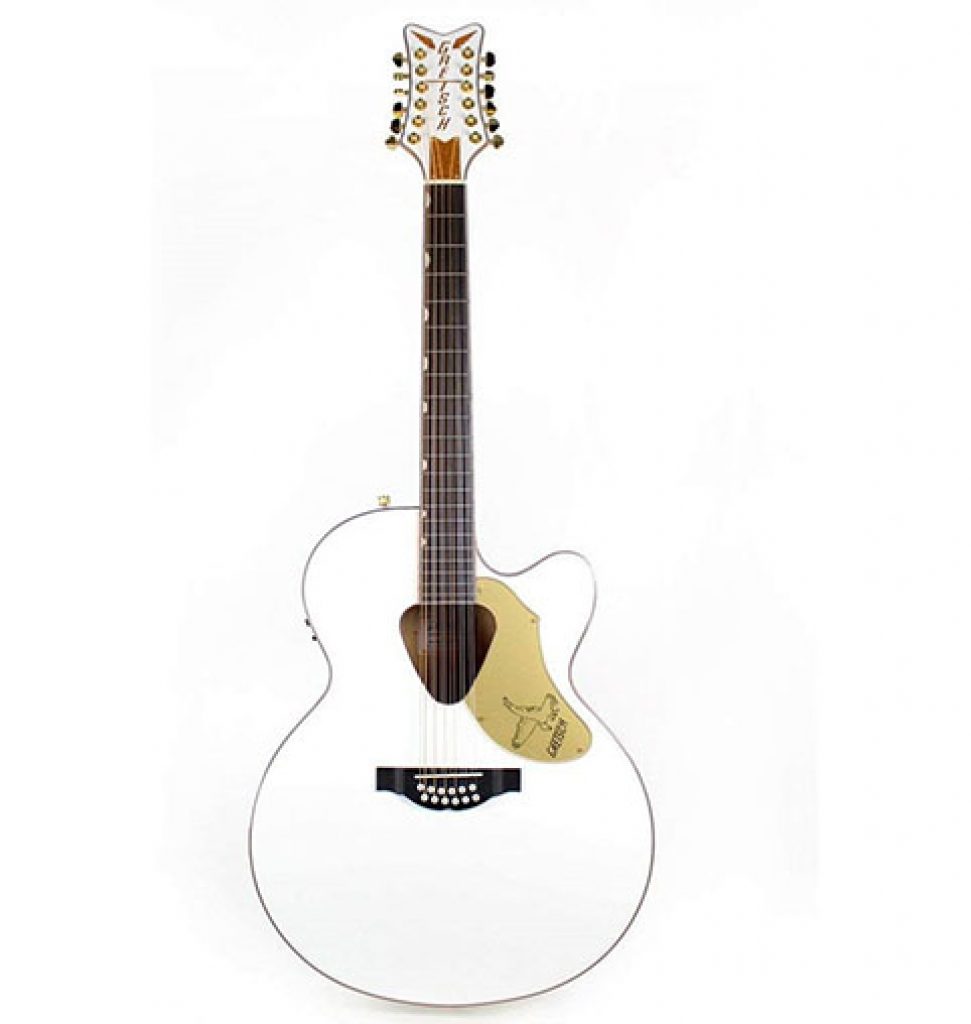 What's better than a classic combination of good looks, durability and amazing sound? This 12-String beauty provides all these with a classic Gretsch Falcon style.
Gretsch G5022CW Rancher features a top made of solid wood which gives it a stylish and premium look while the back and sides are made of laminated maple wood which makes it durable so that you don't have to stress about damage while carrying it anywhere.
The look is further enhanced with gloss white finishing with glittering gold binding all over the body including the sound-hole, fingerboard and head-stock.
Now coming to the quality of the sound, the solid wood top ensures a terrific tone. The internal bracing is "X" pattern, which is a common pattern for many guitars and provides a very balanced tone. The fingerboard is made of rosewood with classic Gretsch style thumbnail inlays.
The rosewood doesn't strain your fingers so you can enjoy playing your instrument comfortably for hours. The Fishman Sonicore under-saddle pickup is placed very close to the strings and can bring out a very bright tone with an amp, making it great for situations where you need a loud tone to cut through other sounds.
Pros
Great playing action.
Stylish look.
Great plugged in sound.
Cons
Somewhat heavy.
Thin acoustic sound.
It has a premium look and provides great sound quality. This guitar has a good built quality which offers easy playability with simple controls that makes it a value for money product!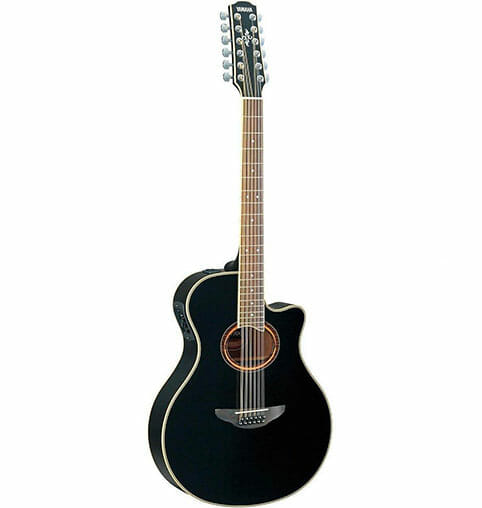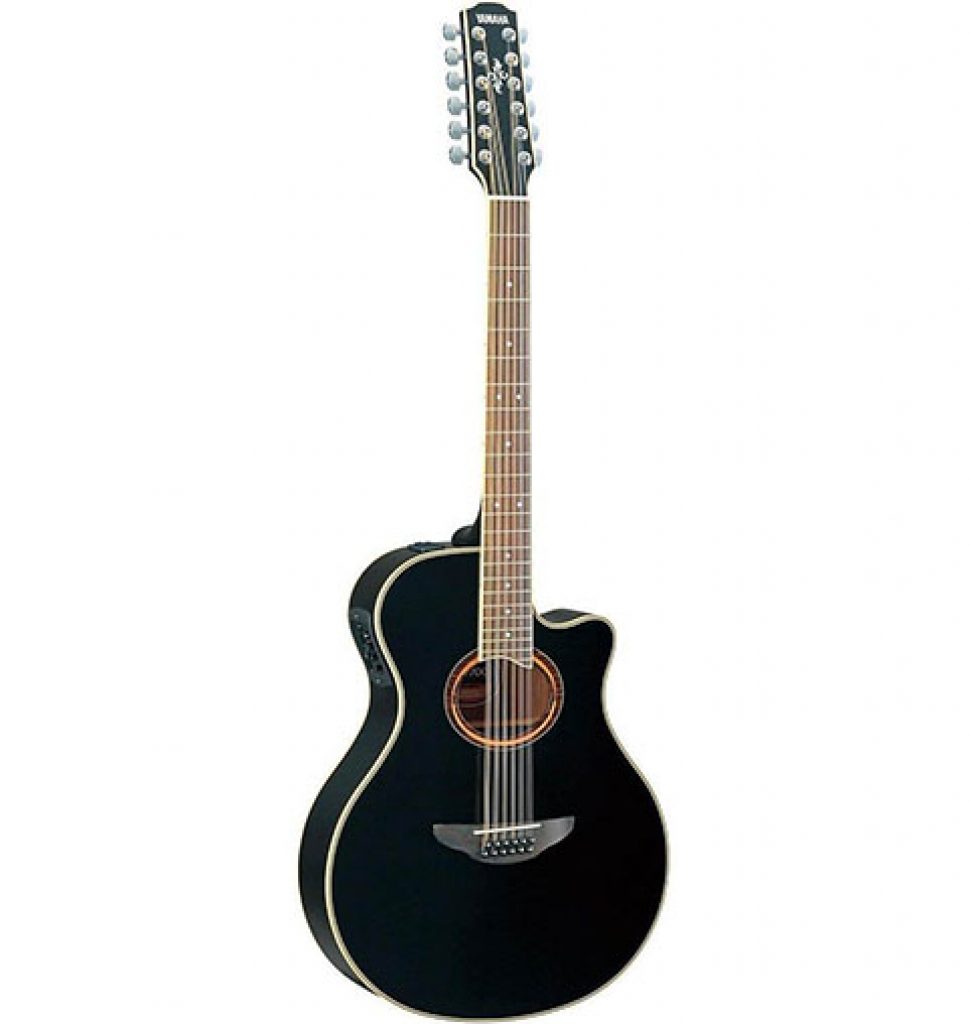 This guitar from Yamaha's APX series focuses mainly on easy playability with a stylish design. It features a thin line profile and a slim neck which gives you a comfortable playing experience.
The style and specifications are similar to the 1000 series guitars but it is even better because of the exclusive ART pick-up system. The system is designed to capture the full body resonance of the guitar. Yamaha APX700II is capable of recreating the natural tone and dynamics perfectly. It is available in two colors, black and natural. Left-handed version is also available in market.
It has a solid spruce top with mahogany backs and sides and Rosewood fingerboard and bridge. The 12 string also has a rubberized sound hole cover which is useful in minimizing feedback while playing on stage, making it great for gigs. It's more expensive than Yamaha FG820 but definitely worth it!
Pros
Thin line body.
Excellent sound quality.
ART pickup system.
Sounds decent even without an amp.
Comfortable and easy to play.
It sounds great with or without amp, and stays in tune perfectly. This is perfect for anyone who wants to get a decent quality without breaking the bank.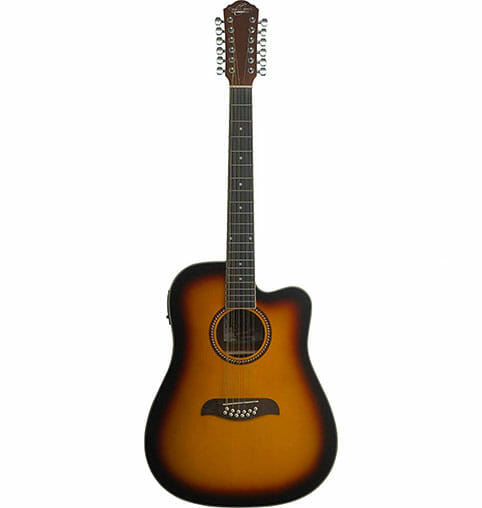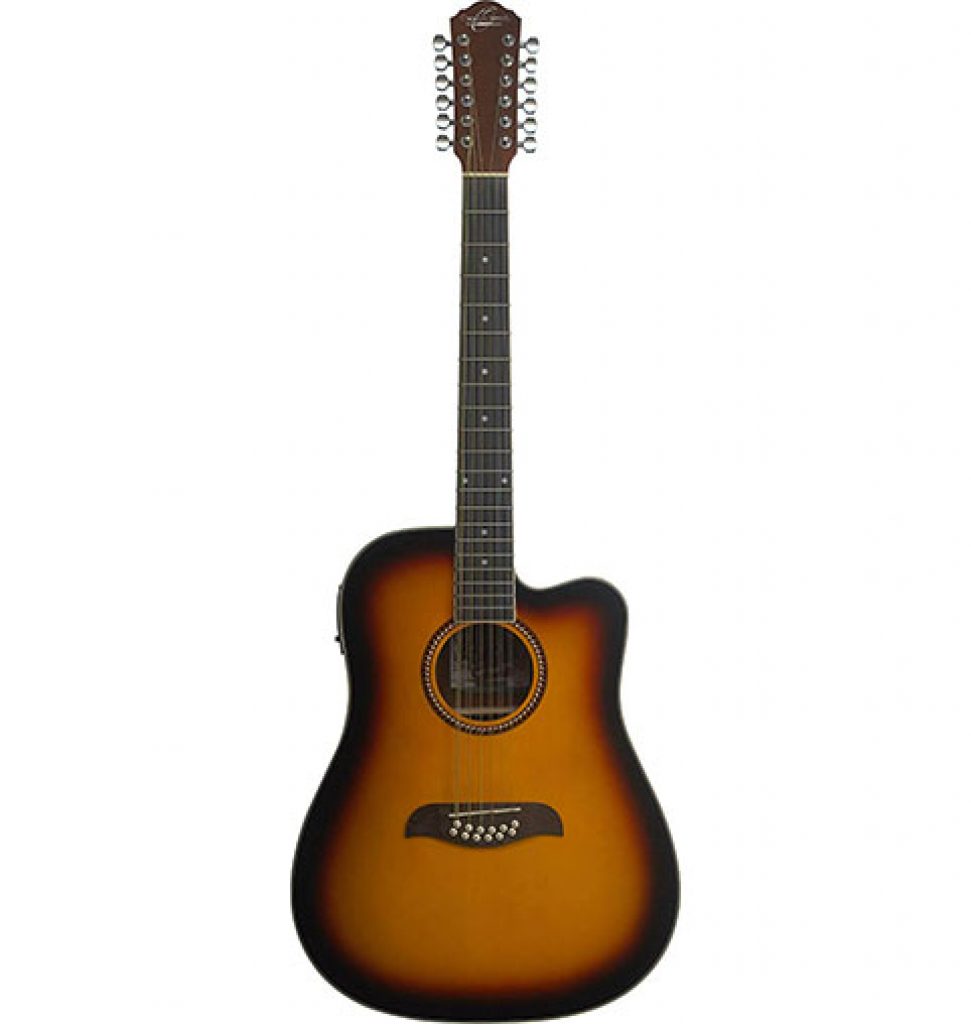 This 12-string guitar features a dreadnought with cutaway which provides easy upper fret access. It offers great action and easy playability. This stylish and comfortable guitar is available in 2 fretboard styles: Engineered Wood Fretboard and Rosewood fretboard.
The natural sound of the 12 strings is rich, lush and soulful. It is brought out perfectly by the MET-A07 Tuner which can be connected to any amp to produce the best tone.
Oscar Schmidt OD312CEB-A-U has a high gloss finish select spruce top. The backside and neck are made of mahogany. It has a fully adjustable Truss rod and inactive EQ preamp with built-in tuner but does not have up pick-guard.
Pros
Good sound quality.
Inexpensive.
Strong and sturdy.
Cons
Preamp and tuner quality.
It is a great budget friendly 12 string guitar. It includes all the important features, from tuner to preamp, at a very nominal price.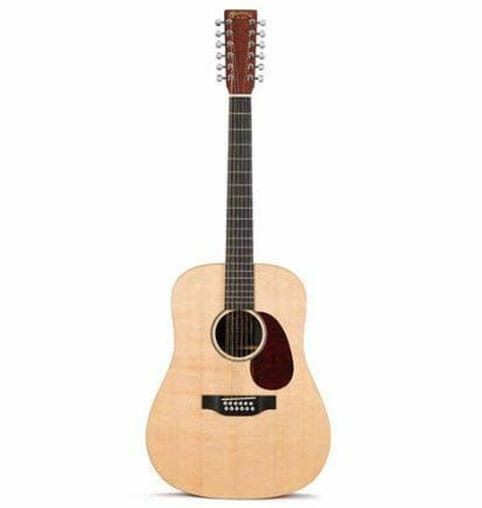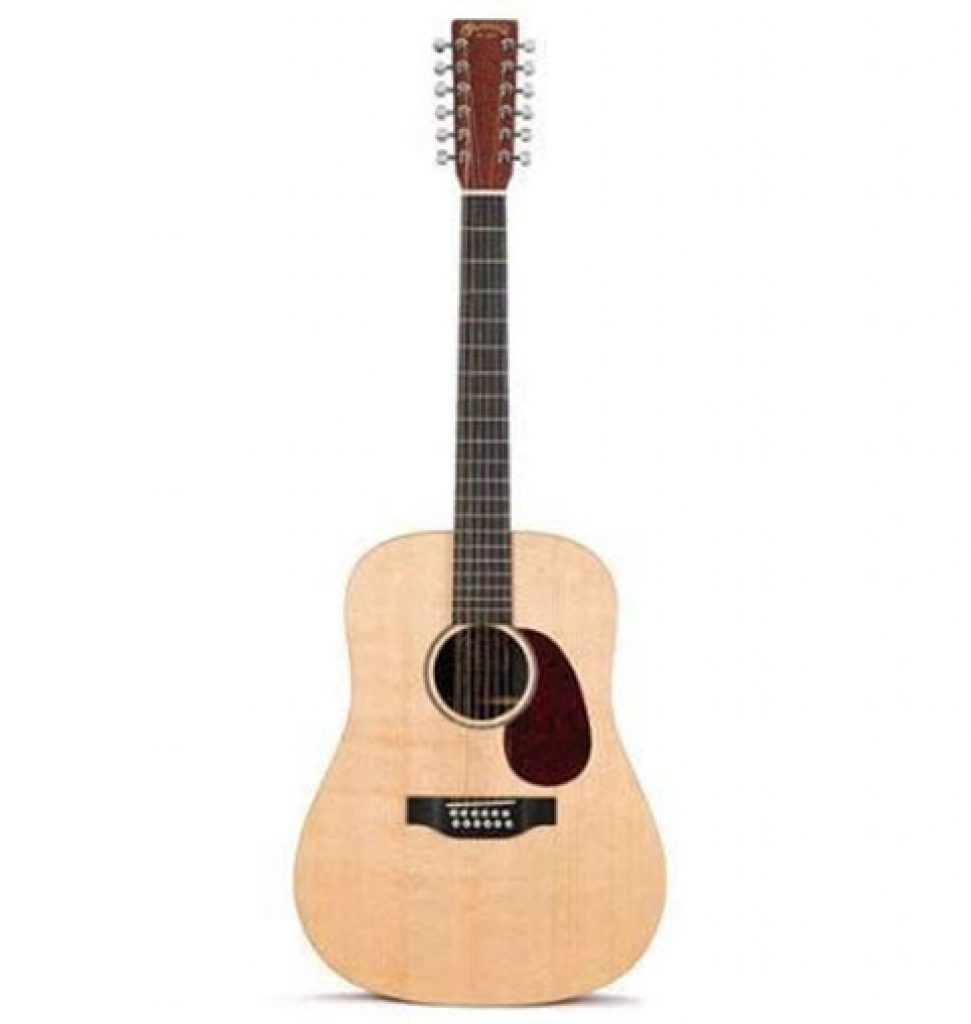 Martin is a renowned company known for its quality products. This classic and elegant guitar is no exception. The design of this guitar will surely give you some nostalgic vibes of the classic C.F Martin.
Martin D12X1AE is an amazing 12 string guitar for the price. Sound quality is very rich and play action is great up and down the neck. It has a Sitka spruce top which delivers clear and loud sound. It has tone and volume controls, so that you can adjust according to your preferences.
Mahogany grained high-pressure laminate is present on back and side which makes it highly durable. It also features Fisherman electronics with a non-cutaway style body. The neck is quite wide so there's enough room for the fingers. The pressure points on the fingers are also wide which gives a very smooth playing experience. You will not want to stop once you start playing it!
Pros
Good playing action.
Sounds great.
Spruce top.
Cons
Can be damaged by temperature changes
It produces a rich sound and has great action up and down the neck. It has a classic look and it's really simple to play.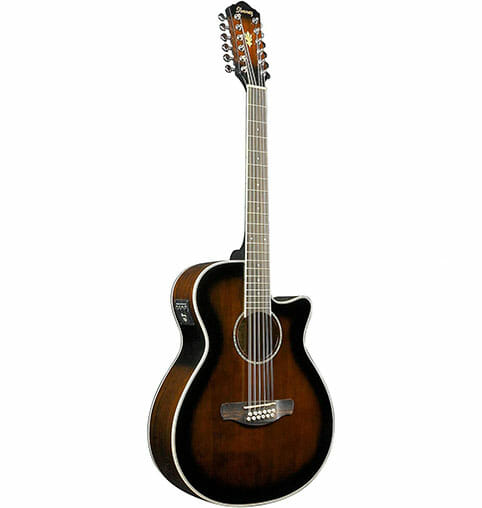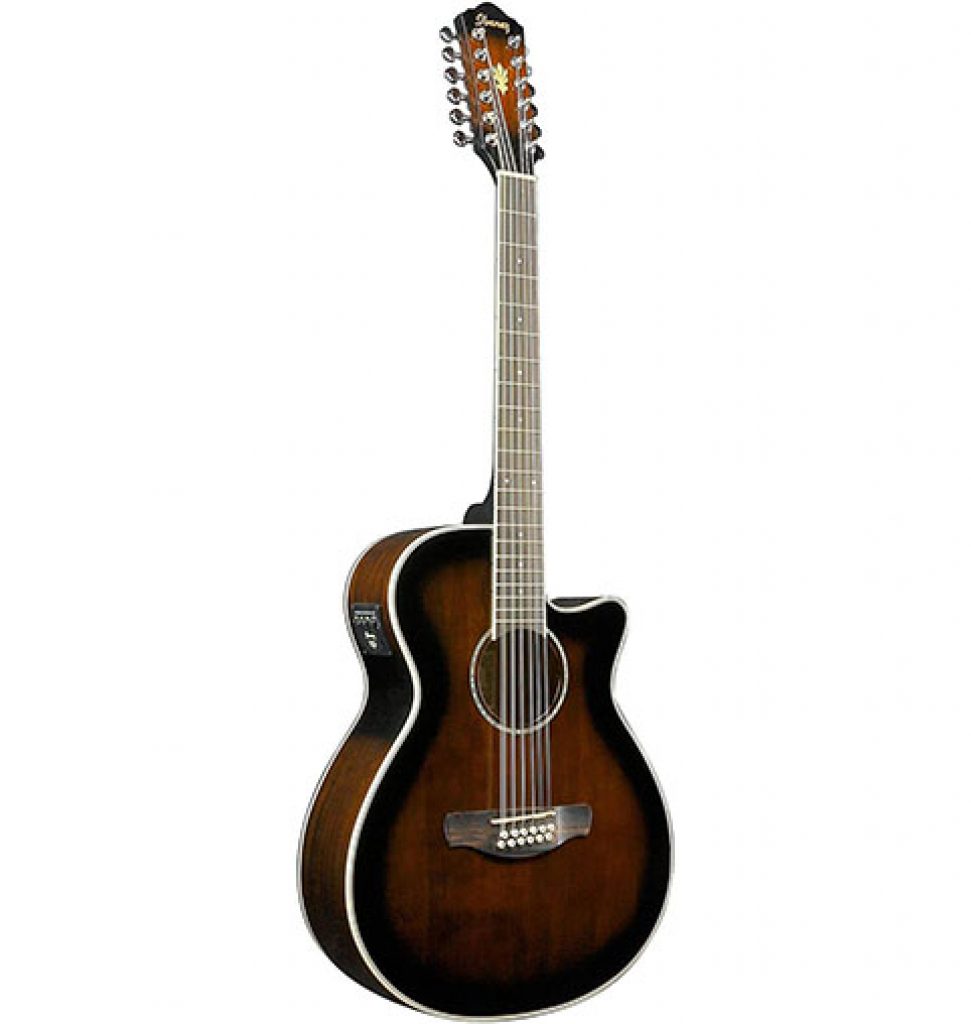 This guitar from Ibanez is a great choice for a 12-string guitar. It has body shape unique to the AEG series with spruce top.
The back, sides and neck are made of Mahogany. Fretboard and bridge are made of Rosewood. The strings are coated with bronze which gives it a classic look. The color is a beautiful dark violin sunburst. This gorgeous beauty tunes very nicely and is very easy and comfortable to play.
Ibanez AEG 1812 sounds great with an amp and also as an acoustic guitar without an amp. The mids are very great with a strong bass. You can adjust the position of the neck according to your preferences. It may be slightly bulky but the rich and full tone is an absolute pleasure to the ears, which makes it still worth it.
Pros
Sound quality.
Playability.
Cons
Improper Finish.
Slightly bulky.
It delivers great mids, is easy to play and very affordable. This guitar gives great performance both as an acoustic or through the system.
The experience of playing a 12-string guitar is heavenly and should be experienced by every guitarist. However, the neck of a 12-string is bigger and heavier. It's slightly bulkier and takes more effort to play, so consider this before choosing to buy one. If you think the tone is too bright or dull, then you can use different strings to make small changes in the tone. D'addario strings gives a very bright sound while elixir strings give a slightly warmer tone. All guitars in our list are unique and have some pros and cons. We hope this list have helped you make your choice.