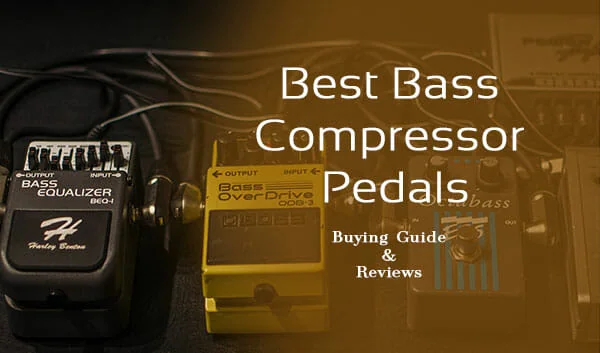 If you are a bassist, then you probably know the importance of a good bass compressor pedal. It is a device that you can use to reduce the dynamic range of the input signal. In simpler words, the compressor pedal provides much better consistency in the sounds produced. With a compressor pedal, you won't have to worry about the abrupt spikes in case you hit a specific note too hard. In this article, we have compiled a list of the nine best bass compressor pedals of 2021.

Top Bass Compressor Pedal Reviews 2021
---
---
---
---
---
---
---
---
---
Bass Compressor Pedal Buying Guide
Before you go splashing money all over the place and get the most expensive one, there are a few factors that you must keep in mind. Here they are.
True Bypass vs Buffered Output
These two terms essentially mean how the pedal will behave in a bypass mode. The true bypass will disengage when turned off, and the signal does not pass through the pedal. Whereas, in a buffered pedal, the signal is always routed through the pedal's circuitry.
There is no right answer as to which is optimum, it depends on your choice. The buffered pedal can boost your signal and prevents loss, while the true bypass pedal keeps the signal pure and clean.
Compression Types
There are four basic categories in which bass pedals can be classified when it comes to compression.
These are also called Tube compressors and are one of the earliest compressors out there. Many prominent artists, including the Beatles, used them. These are now very hard to get and can be pricey, but they deliver an authentic and vintage sound.
Voltage Controlled Amplifier or VCA converts AC bass signal to DC voltage. Which regulates the volume of the VCA. These are the most affordable and ubiquitous bass pedals due to their versatility. VCA pedals can be used for several genres of music.
FET stands for Field Effect Transistor, and it is an upgrade over the tube technology. Here, the signal goes through a transistor for control gain.
Optical is arguably the best compression type according to some experts. It uses a light source to modify the signal volume which produces subtle and smooth sounds,
Controls
These two parameters define the time taken for the compression to kick in or withdraw from the signal.
Level or makeup gain can also be interpreted as volume. In other words, compressors with the higher level parameter will produce louder sounds and vice versa. Most compressors come with a specific level which is often not explicitly mentioned.
Ratio means the proportion of the signal gets compressed when it passes through the pedal. You'll find numbers such as 3:1 or 10:1 compression, which denotes the ratio of the compressed signal and the uncompressed signal.
Best Bass Compressor Pedal Brands
Boss is one of the most prominent names in the music electronics industry. They are a subsidiary of the Japanese multinational firm Roland Corporation which is an industry leader. Besides compressor pedals, Boss offers a wide range of products including amplifiers and loop-stations.
Markbass is another household name especially when it comes to compressor pedals. They are one of the few brands that still manufactures valve (tube) compressors. Markbass is a company based in Italy and its products are renowned among artists worldwide. They also have other divisions that specialise in other musical products like high-end speakers and drums.
MXR is a New York-based brand that specialises in making effect pedals. Their product line includes a wide array of state of the art compressor pedals for guitars and bass guitars. MXR is also in the business of manufacturing musical electronic racks and drum machines. Jim Dunlop bought the MXR brand in 1987 and taken the brand to new heights.
EHX or Electro-Harmonix is an American company that is known for making high-end vacuum tubes and effect pedals. It was founded by Mike Mathews in 1968. EHX was the first company to manufacture affordable stompbox and first tube-amp distortion simulator. Many renowned artists have used their products, including the likes of David Gilmour and Kurt Cobain.
Ampeg is a subsidiary of the Japanese conglomerate Yamaha Group, although, Ampeg itself is an American company. They are known for making world-class amps and other musical instruments. Ampeg also offers a wide range of compressor pedals, each one having a unique advantage.
FAQs About Bass Compressor Pedals
1. Which is the best pedal for beginners?
TC Electronic's SpectraComp is arguably the best-suited pedal for beginners. It has a single knob that makes it very easy to operate, even for newcomers. Other pedals like the Keeley Bassist and the Opto Comp from Ampeg are great choices for beginners as well.
2. Which is the most versatile pedal?
When it comes to versatility, the MXR M87 might be the winner. The CHT or Clean Headroom Technology helps in delivering clear sound, which can be used for multiple genres. If you are on a low budget, then you can also go for the Boss LMB-3, which is also a very versatile pedal, but at a much cheaper cost.
3. Should I buy a pedal with more controls or fewer controls?
It depends on your preference. If you are a seasoned player and know what you are doing, then, of course, you can go for a complex pedal like the Markbass Compressore or the M87. However, if you are still new to compressing, then getting a simpler pedal like the Ampeg Octo Comp or the SpectraComp might be a better choice for you.
4. Which pedal can help me with noise-free operations?
Most compressor pedals claim to be noise-free, but not all of them are. The Aguilar TLC pedal might be the best choice for you when it comes to delivering noise-free sounds.
5. Which pedal offers the most customisation options?
The Markbass Compressore is the pedal you need to go for if customisation is your primary concern. The six knobs present on this pedal give you ample room to tweak the sounds as per your preference.
6. What is the cost of a bass compression pedal?
This question has no clear cut answer. Different types of pedals are available in various price ranges. The price typically starts from under a hundred dollars and can go up to three hundred bucks, depending on the brand. You can get used compressor pedals for as low as fifty dollars.
7. Which are the most trusted brands for compression pedals?
There are a plethora of brands that offer compressor pedals, but only a handful of them are trustworthy. All of the brands in this list belong to this category, although some are better known than others. MXR, Markbass and Boss are the most renowned names in this list. You can buy any of their products with your eyes closed.
8. Which compressor pedal offers the best warranty and customer support?
There is only one winner here. The Boss LMB-3 offers a five-year warranty which is far better than any other compressor pedals in this list.
---
Conclusion
In our final thoughts, we'd like to say that there is no single best bass compressor pedal. Each one of them has something special to offer, which cannot be found in any other device. Your choice should depend on the type of music you want to play and your experience with these pedals.
Whether you are a veteran bassist or a newcomer, a good compression pedal is one of the most critical components that you must have in your arsenal.