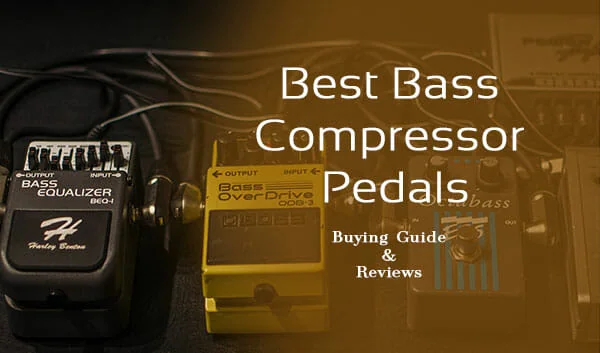 If you are a bassist, then you probably know the importance of a good bass compressor pedal. It is a device that you can use to reduce the dynamic range of the input signal. In simpler words, the compressor pedal provides much better consistency in the sounds produced. With a compressor pedal, you won't have to worry about the abrupt spikes in case you hit a specific note too hard. In this article, we have compiled a list of the nine best bass compressor pedals of 2023.
Table of Contents
Top Bass Compressor Pedal Reviews 2023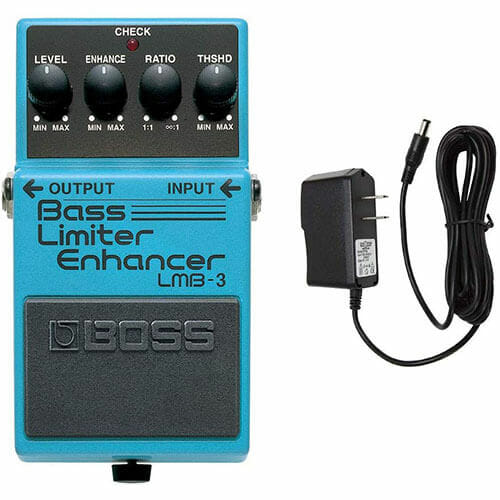 We begin the list with the most inexpensive bass pedal in the market. Boss is known for delivering high-quality pedals at a cheaper cost, and the LMB-3 is the best of the lot. It is a VCA pedal capable of transmitting digital signals.
It comes with four knobs that control four parameters including Ratio, Threshold, Enhance and Level. You can tweak these four knobs and produce sound as per your preference. We have explained the function of each of these parameters above.
The ratio and the threshold knobs allow you to maximize the full dynamic range of your bass guitar.
Pros
Four parameter controls.
Good sound quality.
5-year warranty.
Versatile.
Boss LMB-3 is the pedal you need to go for if you are on a tight budget. Its price is drastically lower than other comparable pedals in the market. Despite that, the LMB-3 has all the necessary features that you need from a decent bass pedal.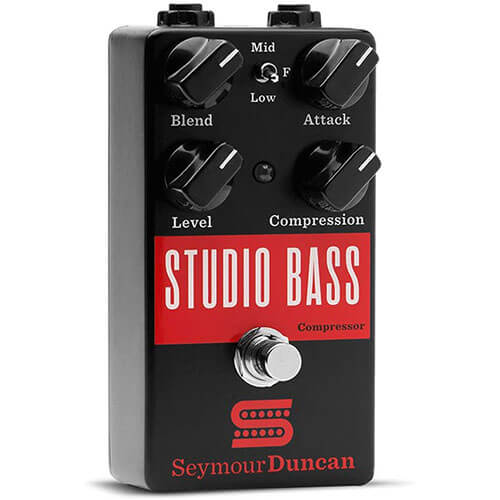 The most eye-catching feature of Seymour Duncan Studio Bass pedal is the 3-position mini-toggle and a blend knob. The blend knob is one of the rarer features, and not many bass pedals have it. It essentially gives you near limitless control over your sounds by mixing uncompressed tones alongside the effected sound. This pedal is also a VCA compressor powered by a 9 V battery.
Apart from the blend knob, three more knobs are present, namely, attack, level and compression. Seymour Duncan comes with a true bypass function which produces some of the purest sounds. Weighing only 0.67 pounds, this might be the most lightweight contender in this list.
Pros
Sleek and compact design.
Can provide a mid-boost or low-end boos.
Good sound quality.
Versatile.
The blend knob sets this pedal apart from the rest. This knob gives you the ability to produce some of the most brilliant sounds on this compressor pedal. Seymour Duncan pedal is best suited for slap style playing.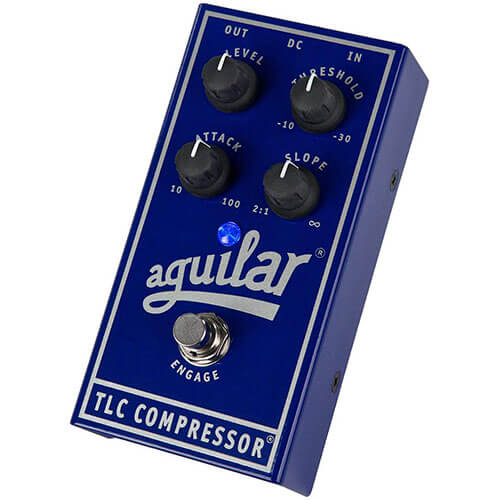 The Aguilar TLC pedal is one of the most impressive entries of this list. TLC or Trans Linear Control is a particular type of transistor that delivers top-notch performance. This TLC technology is an intellectual property of Aguilar, which differentiates it from others. Level, threshold, slope and attack are the four knobs available with this pedal. Aguilar is very easy to operate; adjust the knobs as per your preference and you're good to go.
The sound quality is pretty good too. The Aguilar doesn't transform your sound. Instead, it provides subtle enhancements. The output tone is not colored; however, it removes peaks effortlessly and alters the dynamics brilliantly. It has a very high response accuracy and is only one of the few pedals that come with the noise-free operation.
Pros
Robust and durable.
Noise-free operation.
Transparent sound.
Good sound quality.
Cons
No release control present.
The TLC technology is the USP (Unique Selling Proposition) of this pedal. This technology, combined with the ease of operating the Aguilar is the reason that it is mentioned in this list.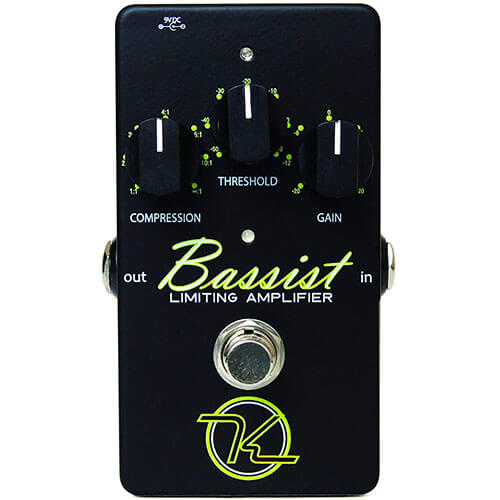 Brought to you by Robert Keeley, the bassist compressor is one of the most comfortable pedals to use. It has only three knobs that allow modifying the ratio, threshold and gain of your signal. The distinguishing aspect of this pedal is the THAT Corporation 4320 chip, which is usually found in studio-grade compressors. It can be used as a limiting amplifier, which protects your speakers from distortion and clipping.
The Keeley Bassist can handle large signals, and it has a bandwidth of over 20 kHz. The noise is very low, and you can rest assured that no detail in your tone will be lost.
Pros
High bandwidth.
Less distortion.
Good sound quality.
Easy to operate.
The Keeley bassist compressor is equipped with the THAT Corporation 4320 chip, which makes it comparable to the studio-grade compressors.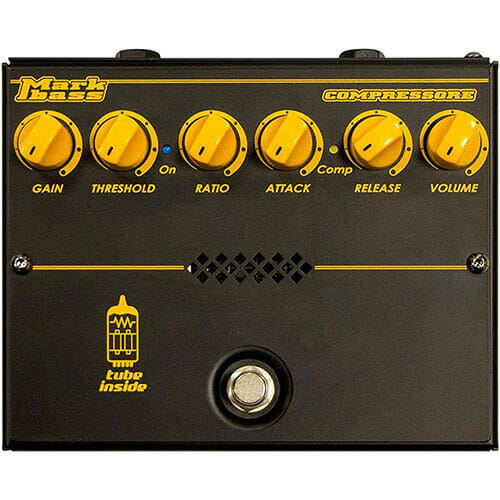 Featuring six knobs, namely, gain, threshold, ratio, attack, release and volume, the Markbass pedal is one of the most legendary pedals ever created. Despite being a bass pedal, the Markbass pedal is also compatible with guitars or any acoustic or electric instruments. The components and circuitry are splendid, which makes it perfect for both live or studio performance. Unlike most pedals in the list, the Compressore uses 12 V instead of 9 V input.
The only downside to this pedal is its size and the power requirements. It is a tube/valve pedal which is seen as a luxury by many musicians.
The tone is smooth and pure, not too colored. You'll notice a "thickness" to the mids and no loss of lows.
Pros
True bypass.
Almost no noise.
Durable.
Superior sound quality.
Six parameter knobs.
Cons
Large size might be unattractive to some players.
A bit pricey.
The Markbass Compressore is the all in one solution to your compression problems. It is a classic device with quality components that can produce premium sound.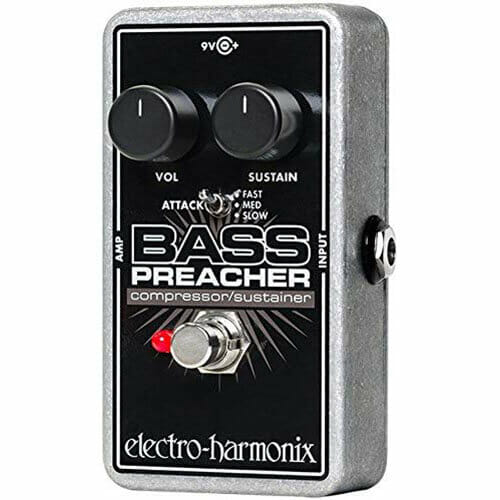 This is a compact and sleek compressor pedal designed particularly for bassists. The Preacher pedal doesn't have many controls and has a simplistic design. The sustain knob offers a broader control range which means less makeup gain is needed, which in turn reduces noise. The attack switch has three settings which allow you to modify the time taken for the pedal to begin compression.
The sounds produced are more inclined towards intense lows and reduced highs. The tone quality might not be the best and could be noisy sometimes. Despite a few drawbacks, the Preacher compressor pedal offers excellent value, given that its available under hundred bucks.
Pros
Three attack mode settings.
Sustain control.
Robust build.
Value for money.
Cons
Sound quality can be noisy.
No LED.
There are not many compressor pedals that come with the sustain knob. The EHX Preacher Compressor/Sustainer Pedal not only offers that but is also a user-friendly device.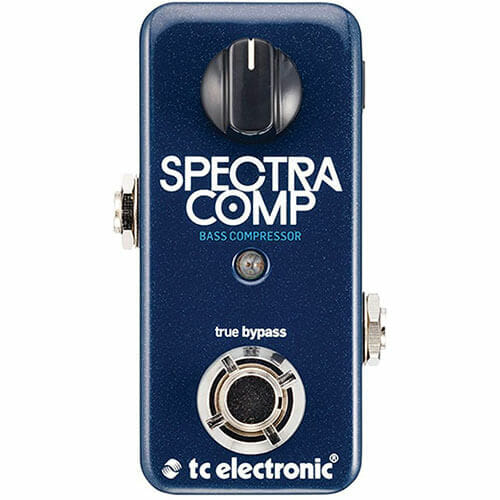 The SpectraComp by TC electronic has got to be the most straightforward compressor pedal ever made. It has only a single knob which makes it perfect for beginners. Even if you never held a bass guitar before, you can still operate the SpectraComp. Despite the single knob, this pedal is extremely powerful and offers multi-band compression. SpectraComp uses TC's TonePrint app to take care of all the other parameters. The TonePrint app is a prerequisite if you want to make full use of this pedal.
Although great for beginners, many professionals don't like this pedal due to its lack of options. Not all bassists want to download an external app to take the full advantage of their musical equipment. That being said, the company claims that this pedal allows you to focus more on music than on tweaking.
Pros
Great for beginners.
Single knob.
Easy to use.
Small footprint.
Cons
Need TonePrint editor to make the most of it.
The SpectraComp is arguably the most simple compression pedal in the market. This minimalistic design and the single knob make it stand out from others.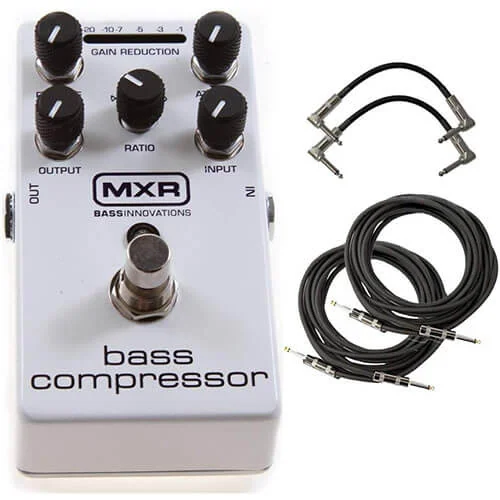 MXR is one of the most reputable names in the music equipment industry and particularly in the compression pedals industry. The M87 is a FET compressor pedal and one of their best bass compressor pedal to date. When you look at this pedal, the first thing you'll notice is the knobs and the 10 LED gain reduction meter. The M87 offers Attack, release, ratio, input, and output controls, giving you full control over the dynamics of your tone. The unique feature of this pedal is the Constant Headroom Technology (CHT) employed in its circuits. CHT boosts transparency and minimizes distortion and random clippings.
The M87 produces dry and crisp tones, with almost no loss of highs or lows. The tone is not too colored as well and is perfect for players who want subtle coloration.
Pros
Superb sound quality.
Great gain reduction.
Versatile.
Robust build.
Cons
Slightly wide release time range.
The MXR M87 offers you the most control over your tone. The five knobs and the LED gain reduction meter are its most impressive features, along with the intuitive design.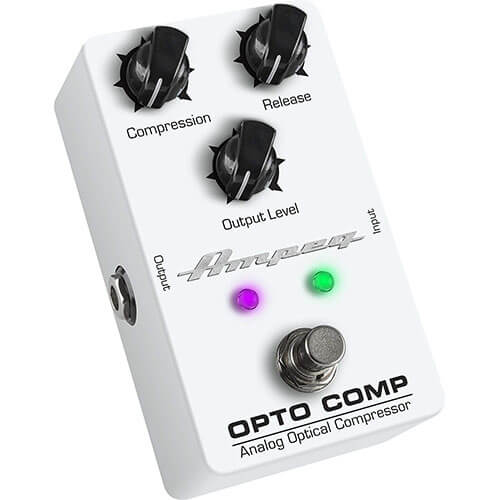 The Ampeg Opto Comp is an optical analog compressor with twp LEDs and three knobs. The three knobs are for compression, release and output level. The purple LED indicates whether the pedal is on or off and the green LED denotes the amount of compression taking place. Despite its all-metal chassis, the Opto Comp is one of the most lightweight compressors in the market, weighing only 0.6 pounds.
It delivers a smooth and vintage style compression that can effectively control your peaks and valleys. The tweaking options are limited, and the tone quality is reasonably transparent. This pedal is for the players who want a simple yet powerful compressor pedal for their musical needs.
Pros
Optical compressor.
Lightweight.
Transparent.
Easy to operate.
Cons
Fewer knobs and limited options for customisation.
The Opto comp is one of the few optical analog compressor pedals out there. Like other optical compressors, it has detector circuits and a light source that gets brighter with louder input signals.
Best Bass Compressor Pedal Brands
Boss is one of the most prominent names in the music electronics industry. They are a subsidiary of the Japanese multinational firm Roland Corporation which is an industry leader. Besides compressor pedals, Boss offers a wide range of products including amplifiers and loop-stations.
Markbass is another household name especially when it comes to compressor pedals. They are one of the few brands that still manufactures valve (tube) compressors. Markbass is a company based in Italy and its products are renowned among artists worldwide. They also have other divisions that specialise in other musical products like high-end speakers and drums.
MXR is a New York-based brand that specialises in making effect pedals. Their product line includes a wide array of state of the art compressor pedals for guitars and bass guitars. MXR is also in the business of manufacturing musical electronic racks and drum machines. Jim Dunlop bought the MXR brand in 1987 and taken the brand to new heights.
EHX or Electro-Harmonix is an American company that is known for making high-end vacuum tubes and effect pedals. It was founded by Mike Mathews in 1968. EHX was the first company to manufacture affordable stompbox and first tube-amp distortion simulator. Many renowned artists have used their products, including the likes of David Gilmour and Kurt Cobain.
Ampeg is a subsidiary of the Japanese conglomerate Yamaha Group, although, Ampeg itself is an American company. They are known for making world-class amps and other musical instruments. Ampeg also offers a wide range of compressor pedals, each one having a unique advantage.
FAQs About Bass Compressor Pedals
Which is the best pedal for beginners?
TC Electronic's SpectraComp is arguably the best-suited pedal for beginners. It has a single knob that makes it very easy to operate, even for newcomers. Other pedals like the Keeley Bassist and the Opto Comp from Ampeg are great choices for beginners as well.
Which is the most versatile pedal?
When it comes to versatility, the MXR M87 might be the winner. The CHT or Clean Headroom Technology helps in delivering clear sound, which can be used for multiple genres. If you are on a low budget, then you can also go for the Boss LMB-3, which is also a very versatile pedal, but at a much cheaper cost.
Should I buy a pedal with more controls or fewer controls?
It depends on your preference. If you are a seasoned player and know what you are doing, then, of course, you can go for a complex pedal like the Markbass Compressore or the M87. However, if you are still new to compressing, then getting a simpler pedal like the Ampeg Octo Comp or the SpectraComp might be a better choice for you.
Which pedal can help me with noise-free operations?
Most compressor pedals claim to be noise-free, but not all of them are. The Aguilar TLC pedal might be the best choice for you when it comes to delivering noise-free sounds.
Which pedal offers the most customisation options?
The Markbass Compressore is the pedal you need to go for if customisation is your primary concern. The six knobs present on this pedal give you ample room to tweak the sounds as per your preference.
What is the cost of a bass compression pedal?
This question has no clear cut answer. Different types of pedals are available in various price ranges. The price typically starts from under a hundred dollars and can go up to three hundred bucks, depending on the brand. You can get used compressor pedals for as low as fifty dollars.
Which are the most trusted brands for compression pedals?
There are a plethora of brands that offer compressor pedals, but only a handful of them are trustworthy. All of the brands in this list belong to this category, although some are better known than others. MXR, Markbass and Boss are the most renowned names in this list. You can buy any of their products with your eyes closed.
Which compressor pedal offers the best warranty and customer support?
There is only one winner here. The Boss LMB-3 offers a five-year warranty which is far better than any other compressor pedals in this list.
Conclusion
In our final thoughts, we'd like to say that there is no single best bass compressor pedal. Each one of them has something special to offer, which cannot be found in any other device. Your choice should depend on the type of music you want to play and your experience with these pedals.
Whether you are a veteran bassist or a newcomer, a good compression pedal is one of the most critical components that you must have in your arsenal.