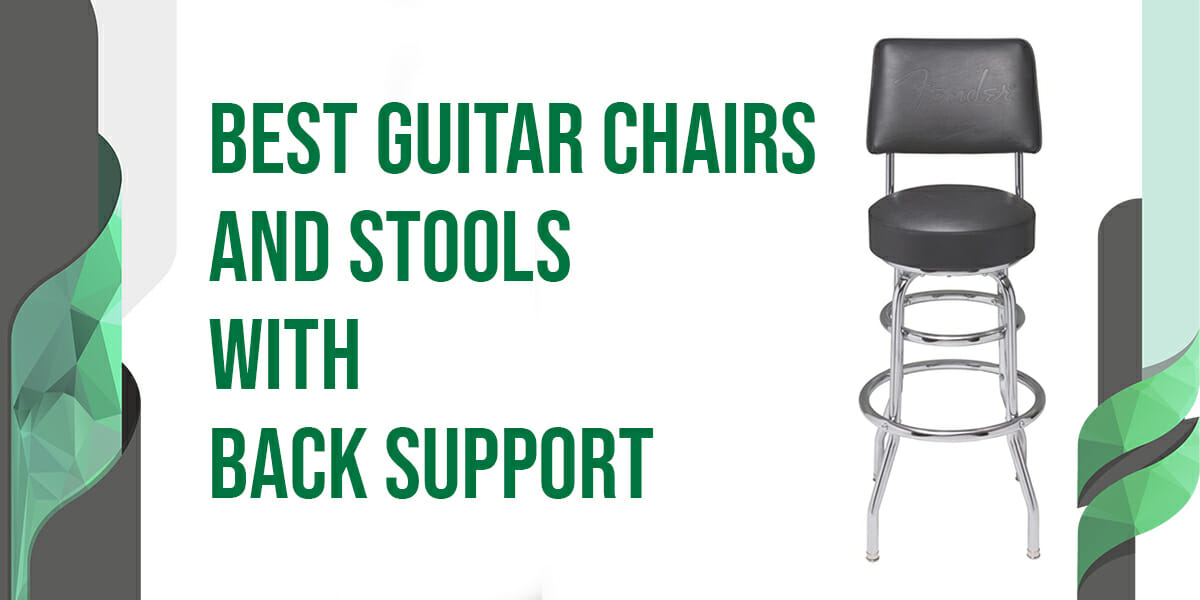 Guitar stools or chairs with back support are crucial for those who have bad posture. It is important to maintain good posture while playing the guitar as it can affect the overall performance.
Guitarists who do long gigs, teach classes for long hours or even suffer from straining issues should choose a guitar stool or chair with back support. Given below are some of the best guitar stools and chairs with back support.
Table of Contents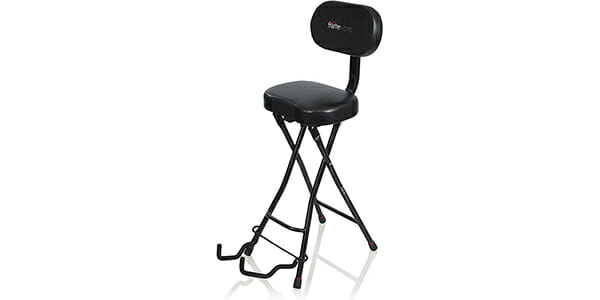 The Gator Frameworks Combination Guitar Seat combines 3 features in one including a padded seat, a backrest and a guitar stand which folds out. It is a sturdy and functional 300 pound stool with an adjustable backrest. The guitar stand arms are padded and the seat has a velvet patch to ensure safe resting of the guitar and to prevent scratches.
The stool is very easy to assemble since the main parts are already put together. It is foldable and can be conveniently put away after use. This is really suitable for travelling guitarists who are in need of a travel friendly and compact stool.
Pros
Suitable for all kinds of guitars
Affordable
Portable
Adjustable backrest
This guitar stool is equipped with all the necessary features at an affordable price. It is compact and travel friendly.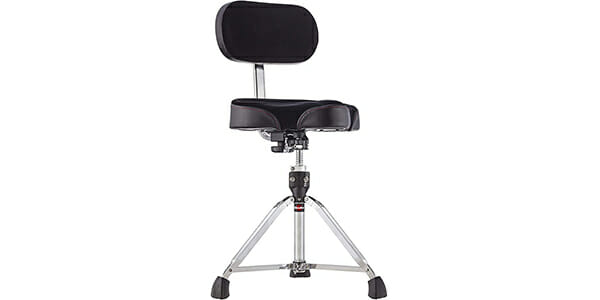 The GIBRALTAR 960 MB large Cordura Drum Throne is one of the most durable and adjustable guitar stools. It has a very solid construction which includes a double braced tripod and a double braced leg base. Both the backrest and height are adjustable so it is suitable for all heights.
The seat has a waterfall edge which ensures comfortable placement of the legs. This stool fulfils all the ergonomic criteria and is suitable for people dealing with bad posture and fatigue.
Pros
Sturdy and durable
Comfortable with padded backrest
Portable
Adjustable height
This guitar stool helps maintain your posture and ensures comfortable sessions due to features like padding and adjustability.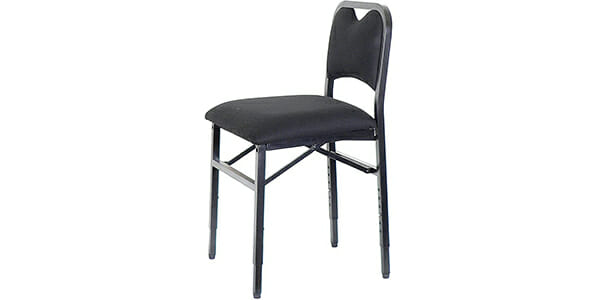 The Vivo USA ADJUSTRITE Musician's Chair is a chair for all musicians including guitarists. This chair is very comfortable offering padding on both the seat and backrest. This permits long and strain free performance or practice sessions. It is built with lightweight materials and can be easily carried or transported without any hassle.
The chair comes fully assembled and can be folded and unfolded easily. The height of the seat and the seat slope are adjustable.
Pros
Lightweight
Very adjustable
Portable
Padded seat and backrest
This guitar chair is the perfect example of a well built ergonomic chair. You don't have to bother with assembling.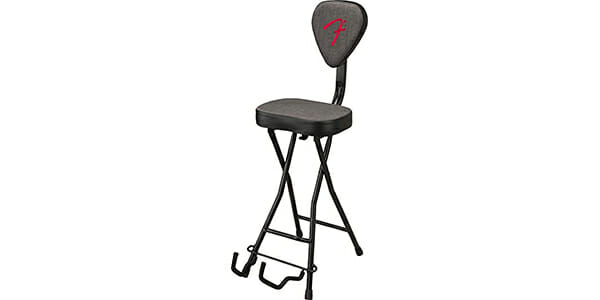 The Fender 351 Guitar Seat is a well designed guitar seat which includes a guitar stand and a padded backrest. It is rattle free, durable, and is built to survive transportation. The pick shaped backrest is removable and the legs are foldable which assists in easy storage and handling.
This seat also comes with a crossbar footrest for resting your feet. The guitar stand accommodates both electrical and acoustic guitars. It is aesthetically pleasing and very easy to assemble.
Pros
Affordable
Easy to assemble
Portable
Easily adjustable
Good design
Cons
Not suitable for short people
This guitar chair meets all aesthetic and functional needs at an affordable price.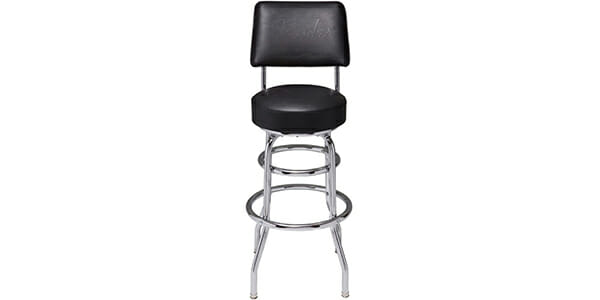 The Fender Barstool With Backrest is yet another great guitar stool by Fender. Compared to other guitar stools which are usually constructed from hard plastic, this stool is constructed from steel. This is an added advantage when it comes to durability and sturdiness.
This stool comes with a padded seat and backrest. This is great for maintaining good posture and providing back support during long sessions. It has a good height and a solid frame for foot placement. It also has a good design with the Fender logo embossed on the backrest.
Pros
Sturdy
Padded backrest
Comfortable for long hours
Durable
This stool is pretty much unbreakable. It is very durable and sturdy and will last you a long time.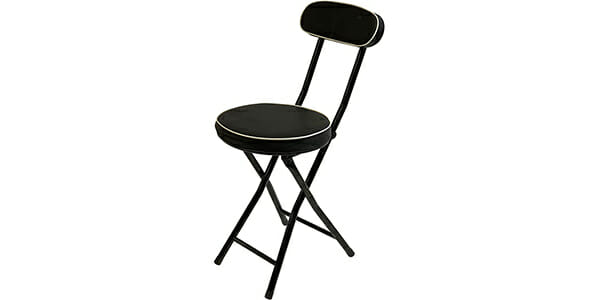 The Wee's Beyond Folding Stool is a great and comfortable stool for guitarists. It is lightweight yet surprisingly sturdy. It is easily collapsible for the purposes of storing and can be conveniently carried from one place to another.
They have the perfect height for playing the guitar. The slightly slanting backrest is good for maintaining posture. The backrest and seat are padded with a cushion. There is no need to assemble different parts together to form the stool. It comes fully assembled, all you have to do is unfold it. The stool uses a small pin which you use to fold and unfold.
Pros
Lightweight
Very portable
Very affordable
Padded backrest
Cons
Not suitable for tall people
This is the perfect guitar stool for travelling guitarists. It is lightweight and easily collapsible which makes it very portable.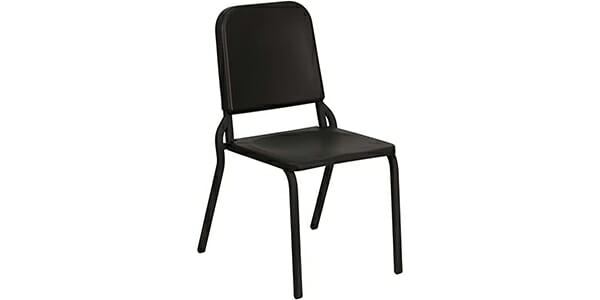 The HERCULES Series Black High Density Music Chair is one of the best quality music chairs which are perfect for guitarists. This is specially designed for ergonomic value with features like a slightly angled backrest and contoured seat surfaces. It is also designed in a way to improve playing efficiency.
Compared to other expensive guitar chairs this one is quite affordable. It is durable and has an elegant look with a black matte finish. This chair also comes fully assembled which eliminates the energy consuming assembling process.
Pros
Strong and durable
Affordable
Ergonomic
Good back support
Elegant design
Cons
Not adjustable
Not very portable
This is one of the best quality guitar chairs available in the market. It meets all the ergonomic requirements.
Frequently Asked Questions
What is the best height for a guitar stool?
The right height for a guitar stool can vary according to a person's height. A very good guideline you can follow is to make sure that your thighs are parallel to the ground when seated. This ensures proper placement of the guitar and prevents hunching your back while playing it.
Where should I sit when playing guitar?
Try to choose an adjustable stool or chair so that you can set it to a comfortable height. Good posture while playing the guitar is important and can affect your performance. If you struggle with back issues go for a stool or chair with back support.
Should I use a guitar footstool?
The footstool is designed to help with the comfortable resting of your feet. It enables you to raise your left leg up and also helps you to handle your guitar comfortably. It prevents your back from straining. The left leg elevated is the preferred position for most guitarists.
Why do classical guitarists use a footstool?
Using a guitar footstool can really help with your posture and performance. You avoid straining or hunching your back which can affect your performance and posture. Further it permits proper placement of the feet and the wrists which will effectively improve your playing.
How do you foot rest a guitar?
Place the foot rest beneath your left leg (or right leg according to your preference). Place your left foot on it so that your left knee is elevated above your right knee. Make sure that your upper body is straight and relaxed. Place the guitar body on your left knee. Make sure you are able to play the guitar comfortably without straining.
How do I stop my back from hurting when I play guitar?
Proper posture is crucial. When you sit down, you want to make sure that your back isn't hunched or bent over. Hunching your back for long periods of time is responsible for straining issues and back pain. Make sure you have your guitar strap on to prevent the guitar from moving out of place. Another tip is to get a proper guitar stool or chair with back support.
Is it easier to play guitar standing or sitting?
It depends on what you are comfortable with. When you stand and play the guitar you maintain a more accurate posture. You will also prevent hunching and straining your back. However there is more pressure on your arms and wrists while standing. When you sit and play the guitar you minimise the strain on your arms and wrists.
How should I hold my guitar sitting down?
Put the guitar body on your left leg if you are right handed or on your right leg if you are left handed. Make sure your upper body is straight and relaxed. Keep the guitar against your stomach. Also make sure that the neck of the guitar is horizontal to the floor.
Which leg should the guitar rest on?
It depends on whether your guitar is classical, acoustic or electrical. For a classical guitar, it is generally recommended you rest the guitar on your left leg if you are right handed. This is called the classical position. If you rest it on the right leg it is called the casual position. The former is better because you get better access to the frets. For other guitars you can choose what you are comfortable with.
How can I make my guitar more comfortable?
Practicing good posture is key to playing the guitar comfortably. Make sure you use a good guitar stool or chair with a backrest. It is also recommended you get a footrest for elevating your left leg. If you are resting your guitar on the right leg while playing with the right hand you will find it more difficult to access the frets.
Conclusion
If you are a serious guitarist, it is important that you find a good quality guitar stool or chair with a proper back rest. It will help you maintain good posture and improve your performance.
Out of all the chairs and stools available in the market we have compiled a list of the best ones available.