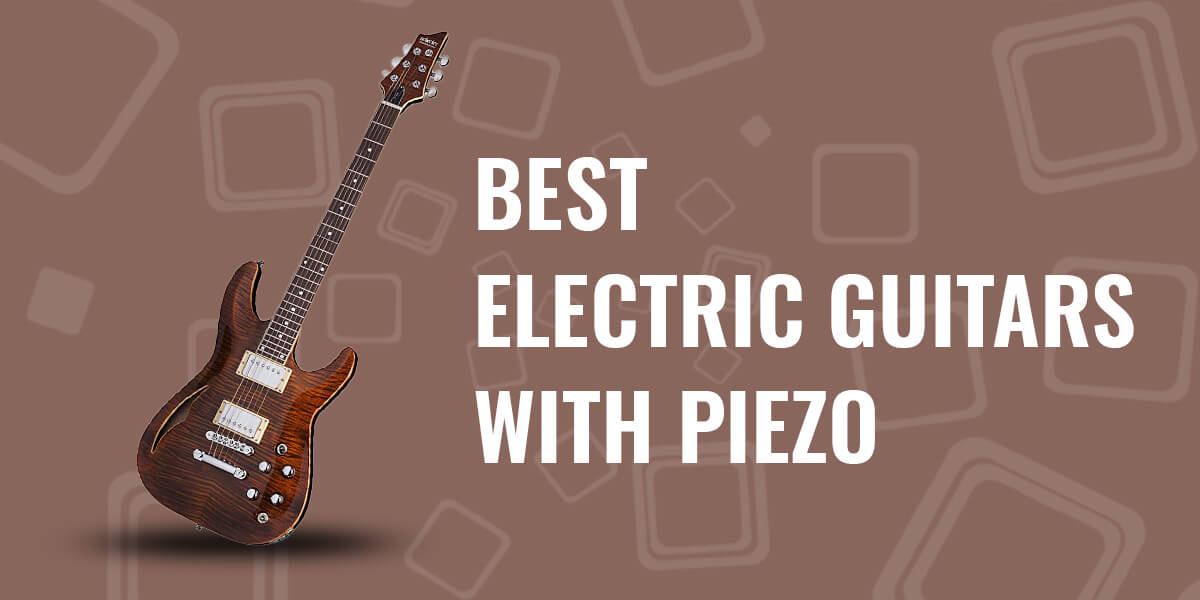 Piezo pickups are a great and versatile choice for electric guitars. They create fresh and unique tones which tend be less warm and brighter than other pickups. They tend to make an electric guitar sound more acoustic.
Unlike traditional pickups that use magnets, piezo pickups use crystals for sound amplification. They are a great addition to electric guitars and make them sound more versatile. Given below are the 6 best electric guitars with piezo.
Table of Contents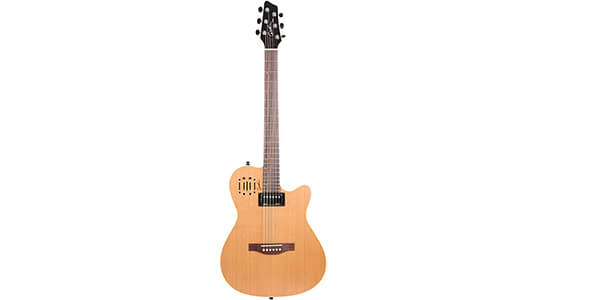 The Godin A6 Two Chambered Electro – Acoustic Guitar is a premium versatile guitar with an amazing hybrid (electro/acoustic) output. It has a mahogany neck with a spruce top. Compared to typical rosewood fretboards, the Godin A6 fretboard is made from richlite which is more smooth and slick in terms of texture. The guitar is well built with premium components and has a very good playability.
It has a dual pickup system with a piezo pickup under the saddle and a humbucker pickup in the neck position. The blend of humbucker and piezo sounds really rich and bright. It sounds good both plugged and unplugged. You can make it sound like a pure solid body electric guitar as well.
Pros
Versatile sound
Well built
Electric and acoustic sounds
Good playability
If you have difficulty choosing between an electric and acoustic guitar, go for this one. Although it is more on the electrical side you get good acoustic tones as well.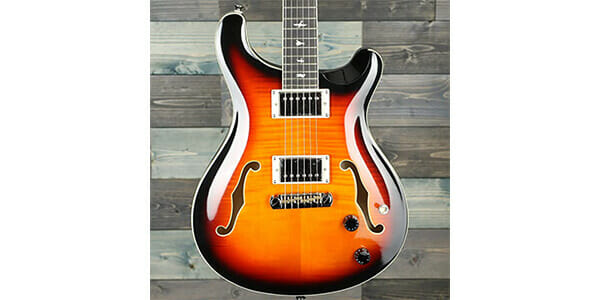 The PRS SE Hollowbody II is a beautiful guitar with an amazing dynamic range. It has a mahogany neck with an ebony fingerboard. It has a wide, fat neck profile with abalone real shell bird inlays. The entire guitar is bound in flame maple which is very well done.
It has two 5815's neck pickups and a PRS patented adjustable stoptail piezo in the bridge. One of the coolest features of this guitar is that you can blend the acoustic and electric sounds or you can play each of them purely. You can blend piezo with clean electric guitar tones for a more versatile sound. It is a very aesthetic guitar which truly showcases its beautiful craftsmanship.
Pros
Amazing versatile sound
High quality construction
Visually appealing
Good pickup output
The duality of this guitar is amazing. The construction and sound output are top notch.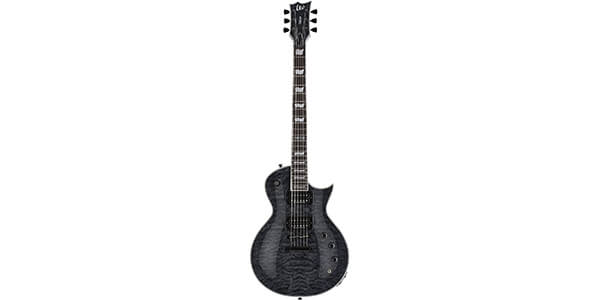 The ESP LTD EC – 1000 Piezo Electric Guitar is one of the best guitars of the LTD Deluxe series. It has a mahogany body with a quilted maple top and an ebony fretboard. The quality of every guitar component is amazing. The locking tuners are slick and the bends are easy and smooth.
It is equipped with two standard magnetic pickups and a separate piezo pickup system. This versatile pickup system allows you to play heavier genres like metal and clean mellow sounds as well. You can combine the pickup outputs to get a wide variety of tones. It is a good resonating guitar and its strings have amazing clarity.
Pros
High quality components
Amazing versatile sound
Good quality pickups
Visually appealing
This guitar has no flaw or blemish. Although it is quite expensive you will not regret this investment.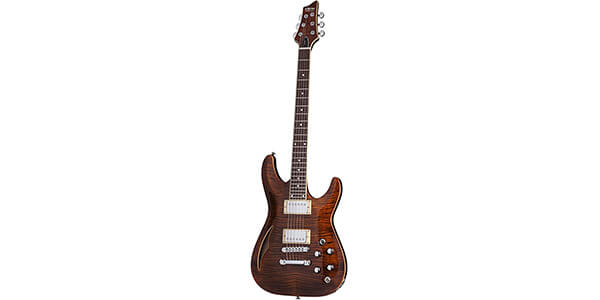 The Schecter 640 Solid Body Electric Guitar is a pretty solid guitar by Schecter. It is a simple guitar than can do everything. It has a mahogany body with a mahogany neck. The fretwork is really good and the finish of the wood is gorgeous. It is eye catching and versatile enough for many styles.
It is equipped with two Schecter diamond plus pickups and a Fishman piezo powerbridge. The pickups are great and have jazzy, bright and well balanced tones. The tuners are solid and stay in tune very well. You can easily switch between electric and acoustic styles. Overall it is a high quality and well intonated guitar.
Pros
Well intonated
Diverse tones
Well built
Good locking tuners
This is a solid guitar that is good for all styles. It is well built and very functional.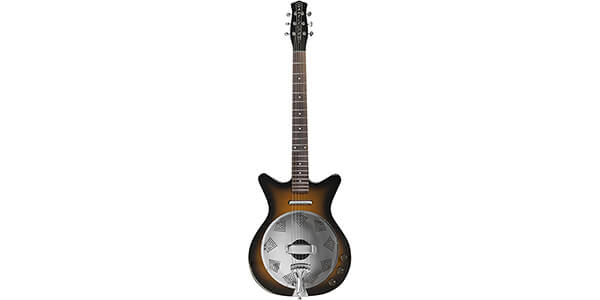 The Danelectro 59 Acoustic – Electric Resonator Guitar is a very unique resonator guitar. It has a masonite body as opposed to the traditional mahogany body. It has a maple neck and a rosewood fretboard. It has good cutaways for better playability. It also has a U shaped neck profile which is easily accessible.
It is equipped with a special design piezo with a 56 Lipstick pickup which is a classic Danelectro pickup. It has a diamond plate cover which is designed to produce a higher piezo output. It has volume, tone and pickup blend controls which are easy to navigate. The piezo adds a brittle and metallic tone which is suitable for heavier genres.
Pros
Unique sound
Unique components
Good quality pickups
Well built
Unique look
Cons
Look may not appeal to everyone
Sound may not appeal to everyone
This Danelectro guitar is one of a kind. It has a very unique look and tone which is hard to find in traditional guitars.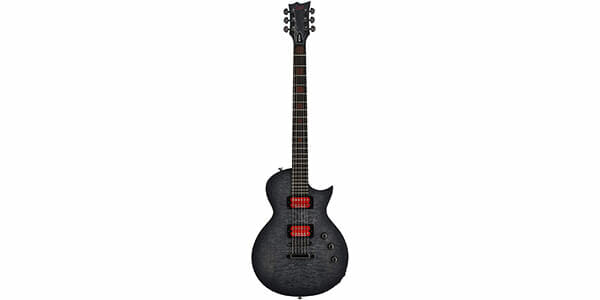 The ESP LTD BB – 600 Baritone Signature Guitar is a baritone guitar which is a signature model by ESP. It has a mahogany body with a beautiful black satin finish along with a maple cap. The ebony fingerboard is well built with red fingerboard inlays. It has a single cutaway style body for easy accessibility along with a U shaped neck profile.
It has a very diverse and versatile pickup system with two magnetic pickups and a tailpiece which has an integrated piezo pickup. The piezo pickup sounds amazing in lower scale notes and adds a gritty tone. Overall it is an amazing guitar with a great tonal quality.
Pros
Beautiful design
High quality pickups
Versatile sound
Good construction
It is a well built guitar which not only looks good but also sounds good. It has a very appealing tonal quality.
Frequently Asked Questions
What is a piezo in a guitar?
A piezo is very similar to a microphone. They transmit sound in a way which is different compared to a traditional magnetic pickup. They use the vibrations of the instrument and amplify it to create an electric signal. Most piezo pickups are located in the bridge. They give off a very bright tone which is acoustic in nature.
Do piezo pickups need battery?
Yes, piezo pickups need a battery. They need power to function and they do not generate electricity like traditional magnetic pickups. Piezo pickups generally need preamps to make them sound livelier and brighter. Inbuilt preamps require power to function. You can also use piezo pickups without inbuilt preamps and they work directly with inbuilt electronics.
Are piezo pickups good?
Piezo pickups have their pros and cons.
Pros
1. Piezo pickups have a very bright and clear sound. They have a good dynamic range and you can get a variety of sound outputs from it.
2. They almost never hum. They are very resistant to feedback which eliminates annoying humming or buzzing sounds.
Cons
1. They are difficult to install separately. It can be difficult to find the right fit for your guitar unless you buy a guitar with an inbuilt piezo pickup.
2. It can have unpleasant tones at times which may not appeal to most people.
What is a piezo bridge?
Piezo pickups are usually located in the bridge in order to pick up vibrations of the guitar and convert them into an electrical signal. Piezo pickups are usually installed on the backside of the bridge. It is built into the bridge of the guitar and can amplify the sound to add volume. Such a system is called the piezo bridge.
How does a piezo pickup work?
Piezo pickups use crystals to receive the vibrations of the guitar strings. It usually uses a strip of crystals which is placed under the bridge to detect the pressure of the vibrations. They measure the pressure to create the electric current. The signal gets amplified and boosted and is sent to the guitar output. 
How do you pick up a piezo guitar?
The voltage generated by a piezo pickup is very small. They do not generate electricity like magnetic pickups. So you will need to power your pickup with a battery. Usually guitars with inbuilt piezo pickups come with a battery. If you feel like your guitar is too quiet and doesn't sound very bright, you can get a preamp to boost the sound.
Where do you put piezo electric pickups?
They can be installed in the bridge or laid between the bridge feet. The best place to mount it is on the back of the bridge or under the saddle as some people call it. Because of this, they are also known as undersaddle pickups. They are placed under the bridge because they work by picking up the vibrations of the strings.
How do piezo speakers work?
Piezo speakers work on the principle of the piezoelectric effect to generate sound. In a piezoelectric effect, pressure is applied to the piezoelectric material to initiate mechanical motion. This motion can be converted into energy. Different electronic equipments like diaphragms and resonators are used to convert the motion into sound. The sound output depends on the vibration regions of the piezoelectric speakers.
Will a piezo pickup work with nylon strings?
Yes, piezo pickups work quite well with nylon strings. In fact it helps to amplify the vibrations produced by nylon strings. It can help improve the sound output. You cannot use traditional magnetic pickups with nylon strings because nylon is not a magnetically sensitive material. Therefore nylon strings give good results with piezo pickups.
Conclusion
Piezo pickups are unique pickups and they can add versatility and grittiness to the sound output of your guitar. We have made a list of the 6 best electric guitars with piezo if you are looking to purchase such guitars.