In the year 1998, a group of 10 men, specifically, beaver wearing guitarists sat over a bottle of wine and decided to pull the headstocks off their guitars. If you're wondering why this story remains unheard of, you are on track. It's a tale. 😉
Headless guitars have been in existence since the 18th century and the first and the first one was ever visualized and crafted by Ned Steinberger. They are really just innovations based on the concept of innovation, diversity and probably designed as a spice for a musical world.
For some people what matters is that they are ergonomic and for others they are simply amazing. Going forward, you'll be able to gain mass information on their diversities as we review the winning six models of headless guitars on the market. We are ready when you are so with your permission, let's dive right into it!
Table of Contents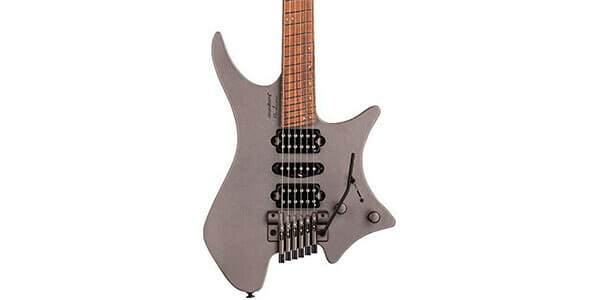 Strandberg presents versatility and excellence through its classy Boden Fusion 6 model. What's certain is that you do not need to see this Fusion 6 through a microscope to determine how much effort went into its crafting. Even outwardly, it screams everything! 
Being crystal clear in sonic depth and scope, its Ferro rosewood fretboard and HSH pickup configurations distinctively set it apart from the original and progressive models. It features a chambered Alder body, 24x stainless steel frets, anodized aluminum volume tone controls and weighs approximately 5lbs. 
We totally didn't forget to mention that it has a honey/black semi-gloss poly finish with scraped binding. Strandberg's Fusion 6 model is perfect for the fusion jazz players and perfect because in all thy getting, vouch for comfortably.
Pros
Electronic ergonomic design
Roasted maple neck-thru body construction
5-way switch
Its T-wrench tool makes string changes very quick and its tuning stability is extremely reliable.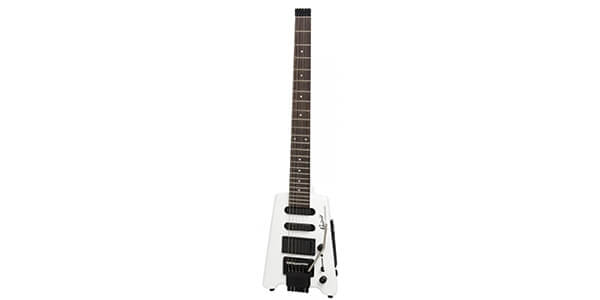 Steinberger wins at finding an amazing way of ditching guitar pegheads and there is no disagreeing with that. This modern spirit GT Pro guitar features a basswood body and delivers smooth tonal response, solid intonation and a detailed single note attack which is essential for soloists.
It has an engineered hardwood fingerboard, medium jumbo frets, Steinberger™ passive pickups and a 24 double-ball and string system. As a single body/neck design with non-standard parts you would want to handle it with extra care.
Designed as a headless guitar with a 3-pc hard maple neck exterior, the GT Pro is not sensitive to harsh temperature conditions. You can count on long-lasting value with this guitar.
Pros
Comfortable compact shape
Well-potted pickups 
Comes with a gig bag
It is a decent regular and traveler's guitar, lightweight and comes in a convenient soft bag with a strap.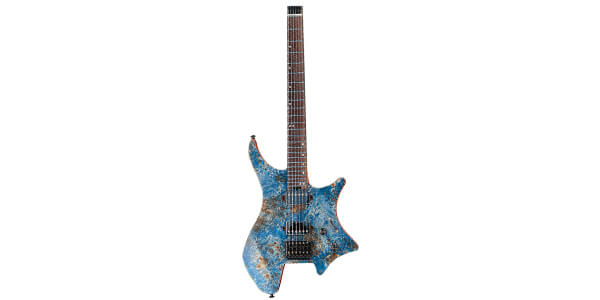 This craft features a five-piece neck with 24 satin-polished frets. It is meticulously designed with an excellent internal composition alpha parts, and a striking outward appearance and quality.
As part of its features, we would mention that it is actually a 2-but style system with a redwood back material, Indian rosewood fretboard material and a hardtail guitar bridge system.
Impressively, this on-budget guitar has the ability to withstand harsh weather conditions and resist damage. If you are looking for a good guitar with a long life span, you can be rest assured that this EART Guitar would do the trick.
Pros
High quality bridge system
Natural exotic finish
Dynamic pickup sound
This guitar emits crispy high sounds and clear low tones.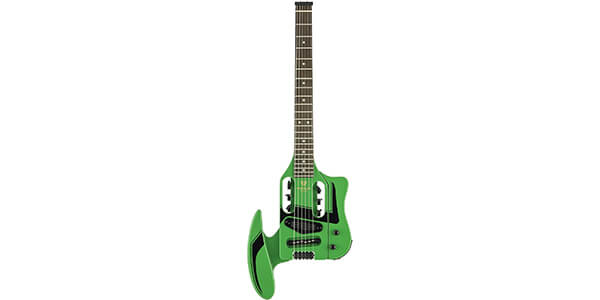 If you are in sync with bold, modern and ultra-compact headless guitars, then get your dancing shoes on! Travel Guitar's 6 String is in sync with you. This exceptional guitar would be at your beck and call.
The Speedster Deluxe is a full 24 ¾ inch scale travel guitar that fits  in airline overhead bins and comes with a removable arm support, laurel fretboard, nickel steel string material and a maple neck material design. Featuring a built-in 4 channel headphone amp, you just plug-in and rock it your way, privately.
Every single unit of the model comes with standard strings and tuners and weighs less than 5 pounds. Its custom gig bag comes in handy and protects this asset just like it should.
Pros
Good tone and playability
Built-in 4 channel headphone amp
Fully-featured compact design
For touring guitarists, this stylish traveler's guitar is a good ticket.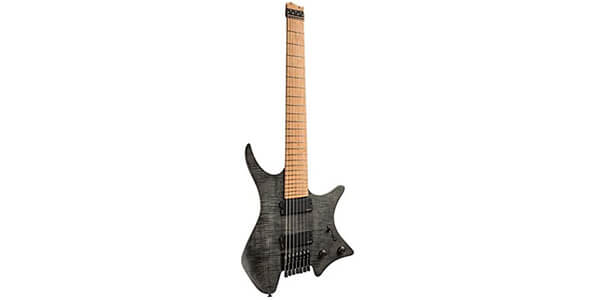 Yes, a Strandberg again! But this time we are bringing you the review on an Original 7 Model-an acoustic character and an epitome of loud and clear sounds with style and substance.
Coming in a Swamp Ash body, it has a 4A flame maple top, roasted Birdseye maple fretboard, a roster maple neck and a natural fret: 10(7-string)| 7(8-string). It features a bolt-on construction and weighs approximately 2.5kg (7-string) and 2.6kg (8-string). 
With the help of its patented EndurNeck and many thanks to its lightweight chambered body, you could enjoy long playing sessions with great focus and 100% assured comfortability. You weren't expecting anything short of perfection, were you?
Pros
Simple bridge adjustments
comes with a gig bag and a tool kit
3-way pickup switch
It is designed in a way that allows you to play your guitar in the traditional position and many other positions that might be more comfortable in your opinion.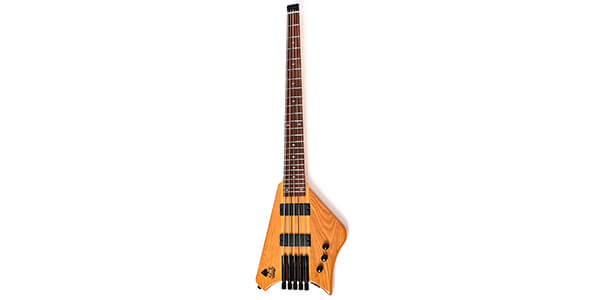 The Ace 4 and 5 strings set neck bass was developed after the spade six string was successfully developed. High demand for a bass guitar compelled the developers of this Ace Bass model to bring this craft into existence and they hands-down delivered!
As a two-pickup instrument, it is characterized by a hard maple neck wood, a 24-feet 34-inch scale, adjustable saddles, a monorail system on its bridge and a natural honey wood optional Warwick chest bow strap extender.
With this Bootlegger Ace tattooed bass guitar, you do not have to use double ball strings. Regular bass strings should work. A headless travel-essential bass with pro-quality is a perfect match for bass lovers on the go. Bootlegger is at your service.
Pros
Ergonomic design engineered for comfortability
Pro-commute bass system
Good tuning knobs
This guitar has a flatter radius and is extremely comfortable and travel convenient.
Frequently Asked Questions
What is a headless guitar?
In concise text, a headless guitar is one with no peghead popularly known as the headstock.
Unlike on normal guitars with heads where the tuners are placed on the headstock, headless guitars reverse this. These guitars have their strings fixed just beyond the nut and eliminate the use of the head.
Now you'll notice that the tuners of the headless guitars migrate all the way to the opposite end of the guitar (on its body) and are positioned at the base of the bridge. The strings then go over the nut all the way down to the base of the bridge and are connected to the tuners. Now that there is no need for a head, it definitely should be headless.
Are headless guitars any good?
Of course, they are! But that does not mean that every single guitar player would choose them over the ones with the peghead and that's totally okay. Our little world allows choices to vary with taste.
Headless guitars are lightweight and compact because they have a shorter overall length. They have a lot of other ergonomic benefits and highly stable tunings and to whom it may concern, you hardly knock them off when you are having a clumsy day.
Why do some guitars have no Headstocks?
They are just physical representations of diversity and innovation. The producers of headless guitars just found another rather exquisite and beneficial way of positioning the tuners on the body of guitars. Now the headstocks which hold the tuners have no purpose to serve. Yours sincerely, they have to be out of the way.
Despite the fact that they look quite gorgeous and artistic, they have very good qualities. You really shouldn't doubt that. Zero fret, compact size, less string tensions and so many more. These qualities have sweet impacts on guitarists and listeners as well. Oh yeah! It's a pleasing tune to your ears.
How do you hang a headless guitar?
There are quite a number of suggestions on hanging a headless guitar flying across the internet. Convenient ones and well, others that may not be secure enough. Guitars are good value so make sure the hanging method you choose would not damage your guitar in the long run or demand that you make little modifications to your guitar.
If you do not want to use a display case, we advise that you purchase secure custom-made hangers. Some hold the guitars with a sit-in base and an extended holder that travels to the neck, putting zero constraints on the strings. There are other convenient and secure holders designed to put up headless guitars. Those are the safest options.
In case these are not available to you, we recommend that you watch this video. It might work for you, just make sure your preferred method is friendly.
Are Strandberg guitars worth it?
Strandberg guitars are exceptional. Mainly designed with playability and practicality in mind, they feature stellar fretwork, good string tensions and logical ergonomic details. Most are drawn to them because their body styling is spectacular and why shouldn't they be?
But hold on. You are bound to meet people who are not intrigued by Strandberg guitars and that's acceptable. Same should apply to you. If none of the specifics suit you, move on to something else. We cannot convince you that they are flawless. They are pricey guitars but definitely worth it!
Conclusion
Headless guitars have unique styles. And oh, they are flawed instruments. Just because everything is. But these flawed pretty things are amazing. A rare kind of amazing! If by chance you know any headless guitar lovers, ask them what their idea of a perfect "under the Christmas tree" gift is. An elegant headless guitar should be tucked neatly somewhere in their answers. If not, get one anyway!