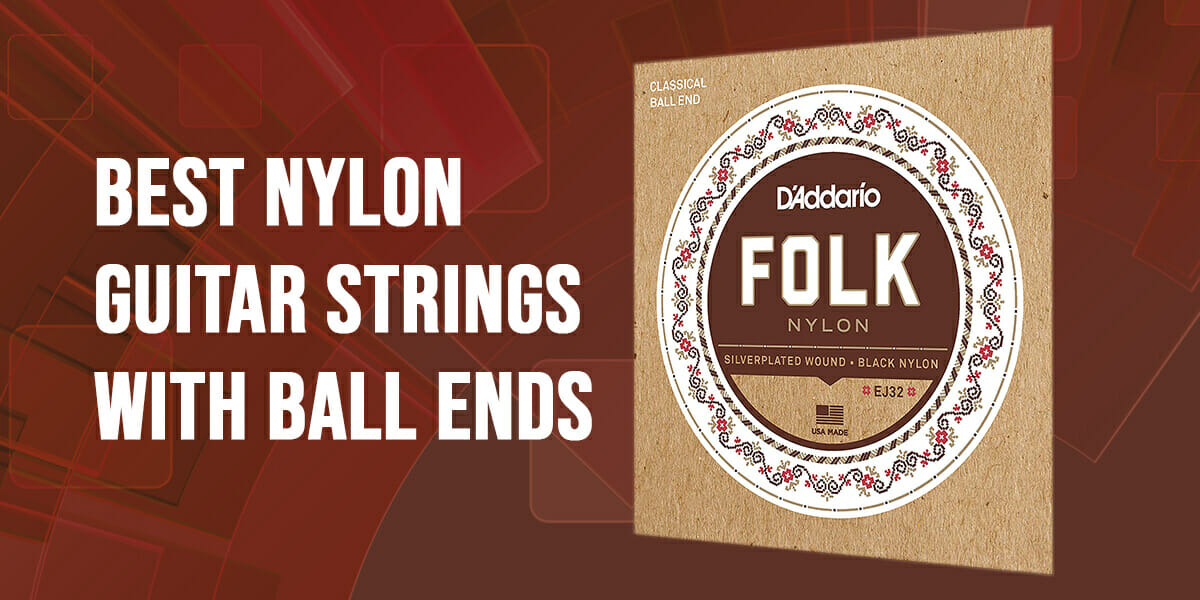 Guitar strings can be a guitarist's best friend or worse enemies. If you have been trying your hand on guitars regularly, you must realize the importance of choosing the perfect strings for your instrument which also appeals to your personal sense of music aesthetic.
Nylon strings deliver a warmer tonal quality to your guitar with richer acoustic feels that you might or might not like. Nylon strings are either purely nylon which is more common in case of treble strings, or they might be silver/bronze plated which is characteristic of basses. Nylon strings come either with regular tie ends or the highly convenient ball ends which just need bridge pins to hold the string in position.
If switching to nylon strings has been lately on your mind, here are six good options featuring ball ends that you might consider for an easy string changing experience.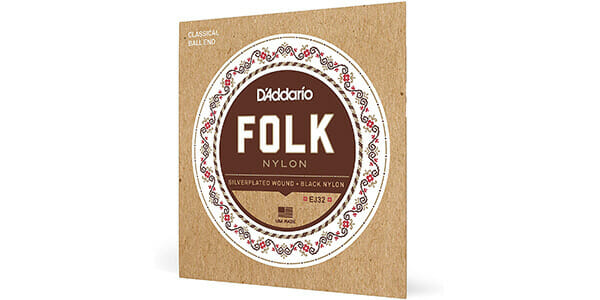 First on our list is the D' Addario nylon strings with ball ends. These nylon trebles are designed to fit with a variety of guitars and manufactured in the U.S.A. You get easy string replacement convenience with these strings. Comes in two colors: black and clear nylon. The packaging is corrosion free to keep the strings fresh and make them last. They weigh between 11.7lbs – 16.5lbs.
Pros
High quality nylon used
Easy string changing
Soft treble, low attack
Durable and long-lasting
Cons
Might not give the classical acoustic sound to some ears
D'Addario is the largest string manufacturer with a great reputation of producing high quality guitar strings, so these had to be our first choice without any doubt. The balls ends are meant to fit any standard steel string.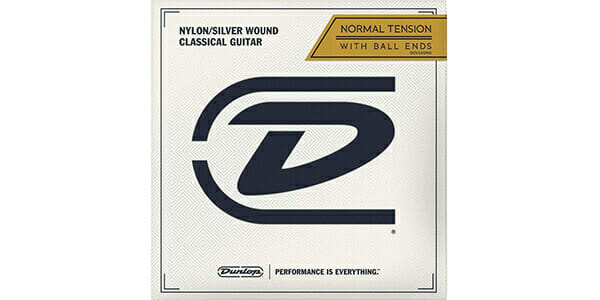 These normal tension classical guitar strings come with ball ends for no-tie convenient string changing. The Performance guitar string series are designed to produce well balanced, deep blending sound with expressive tones and highs and lows that are loud, clear and crisp. Weighing 1.06 ounces, these strings are perfect for guitarists preferring warm tones in their instrument with medium tension.
Pros
Balanced sound with warm quality
Made up of rectified nylon
Ball ends for no-tie changing
Cons
Not so durable
Nylon treble can take getting used to the sound
These Dunlop Performance strings might take some tuning but once you get used to the rich tones you are very likely in danger of not being able to put your guitar down.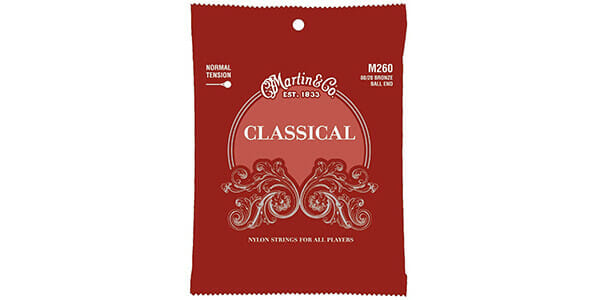 These normal tension acoustic guitar strings come with bronze ball ends for hassle free replacement and are great for flamenco, classical, folk and Spanish. The strings produce a rich mellow sound which adds a professional feel to the tuning of your guitar, whether you are a beginner or a seasoned guitarist. Easy playability, tuning stability and durability are some of the key features of these guitar strings.
Pros
Professional grade guitar strings with bronze ball ends
Flexible feel with mellow tones with tension of 85.4
Long-lasting, durable strings
Cons
Need stabilization and some playing
Need frequent re-tuning
Although these strings need a stabilization period of maybe 36 hours, they really settle-in once they are tuned and produce great warm sound. Perfect for all your late-night rehearsals and studio requirements.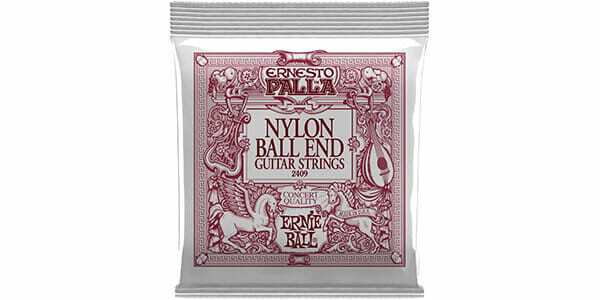 These medium tension classical guitar strings produce smooth rich tones with a comfortable normal tension and balanced projection. These strings are manufactured from solid nylon filament with silver plated copper wrapped around the nylon core to the highest standards for extra durability. The best thing is that they can easily transition without breaking a beat and are super convenient for beginners.
Pros
Classical tonal quality suitable for Spanish guitar Arpeggios
Better projection strings
Vibrant loud sound
Cons
Higher strings lose their tuning frequently
Extended break in period
The simple reason we chose these strings is because they're hugely popular and produce an acoustic sound and transition seamlessly to modern day songs when needed. They are quite easy to the fingertips as well.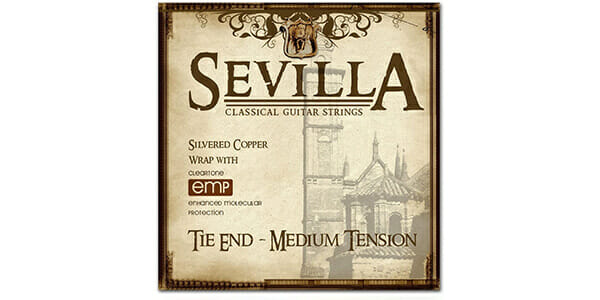 These high-tension classical guitar strings from Sevilla come with ball ends for easy string changing and a balanced tone throughout all the six strings with a great mix of highs and lows. The high tension ensures optimal volume and tonal quality while the strings are EMP treated for increasing their lifespan, sustainability and volume. These strings just go on and on without giving up on all testing they are projected to.
Pros
Extremely strong and long-lasting
Well balanced between the treble and basses
Warmer sound than medium tension strings
Cons
No individual labelling on the strings
Needless to say these strings are a total payoff and have lasted for almost a year as per many players, so you cannot question the durability part. Most guitars love the tonal quality of these strings. Great choice for the price.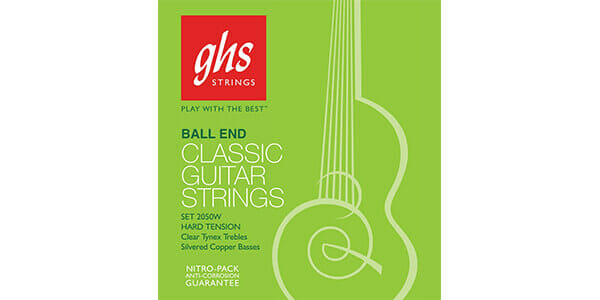 The GHS Classical guitar strings come in two varieties: black nylon trebles with bronze basses and clear nylon trebles with silver copper basses. They come in NitroPacks to keep them fresh and corrosion free. The high-tension strings with ball ends are the industry standard. With these strings you get lasting intonation, high quality, tune consistency and a superb warm harmonious sound that is noticeably clearer and brighter on your favorite guitar.
Pros
Look great with the bronze and black build
Last considerably longer
The bronze basses make render difference to the sound quality
Cons
The bronze bindings may accelerate fret wear-off much faster than normal silver windings
Upon trying these strings on different guitars you might significantly notice the distinction in their overall sound quality and richness. They also look increasingly cool in their bronze and black finish and last quite long.
Frequently Asked Questions
Conclusion
Nylon strings are great options for beginners as they're great for fingerstyle allowing you movement in picky songs and easy chord learning, soft on the fret preventing it from wearing off easily, and they last a great deal longer than steel strings which often give up on rusting. However, to some guitarists, they don't sound as bright and crisp. The choice of strings really depends on the personal taste of a player, some players do prefer the mellow, rich tones that normal tension nylon produces. But the strings must rest on your guitar well to sound good.