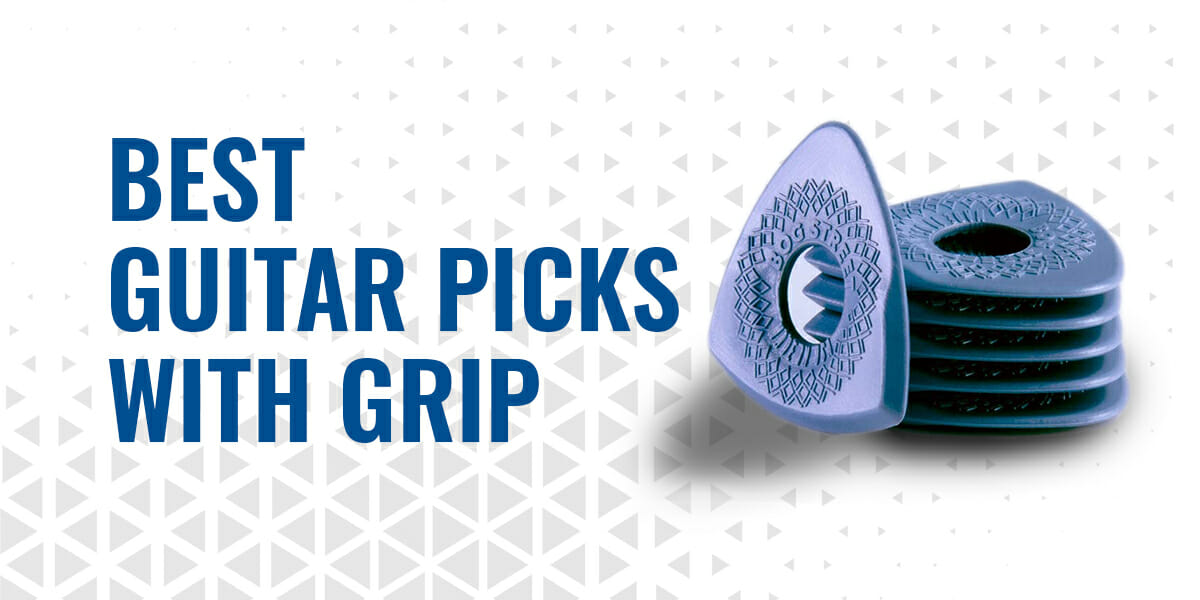 Apart from its tiny adorable look, guitar picks are of great importance to a guitar player. Most people overlook the functions of a guitar pick but, it is integral in creating different tones in a guitar.
It is important to find a guitar pick with a good grip because it helps you have a firm hold on your tones and lets you play faster notes easily.
Here we will provide you with the best guitar picks with wrip.
Table of Contents
Our Top Picks
Best in general: Fender Nylon Picks
It has a good grip and is affordable.
Best in looks: Master 8
It has multiple colors and good prints.
Best design: Bog Street
It has an innovative design.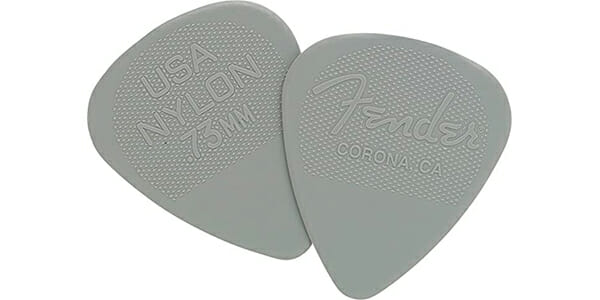 Fender picks have been in the frontline of choices for guitarists. They produce good quality guitars and accessories. This specific guitar pick is American-made.
It gives great flexibility to the guitarist as it has a non-slip gripping surface. No matter which guitar or bass you play, the pick provides you a proper grip. These are perfect for any kind of music.
You will get 12 picks in a pack at an affordable price.
Pros
Affordable
12 in a pack
Good grip
Flexibility
Fender is a trusted brand and it produces quality products. This particular product of theirs is assured in terms of its quality. It is available at an affordable price and has a great grip.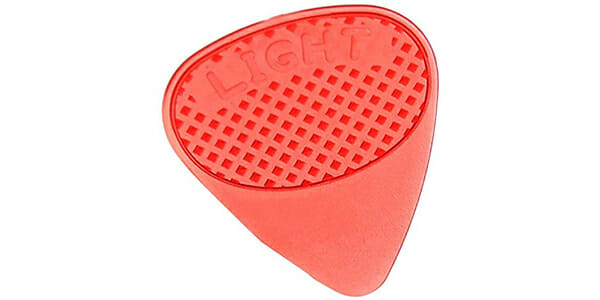 This guitar pick is chosen by a lot of guitarists as it provides an amazing grip and is made of quality material.
The pick is made up of Delrin. It is a strong material and soft to handle. It helps produce the natural sounds of the guitar strings.
The slight ridge around the thumb area provides a strong grip. It is also very lightweight and is easier for you to handle.
Pros
Affordable
Grip
Lightweight
A lightweight pick at an affordable price and great grip.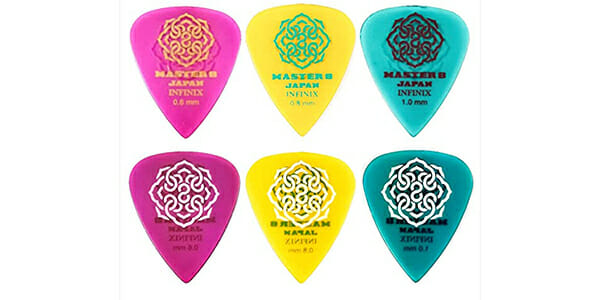 Master 8 Infinix is a Japanese product. The guitar picks produced are attractive in their looks and characteristics. These are also one of the popular choices of guitarists.
This pack has 6 picks in it. They are all of different colors and designs. The body of the pick is sleek and lightweight which makes it easier to play any tunes.
The grip provided by this pick will let you have a stronghold on your strings and hence make sure that it doesn't slip off. The grip is also helpful in playing faster notes.
The rubber body gives the perfect tune to your music.
Pros
6 picks
Good grip
Good body
You will get 6 picks with good quality and looks coming from a trusted producer.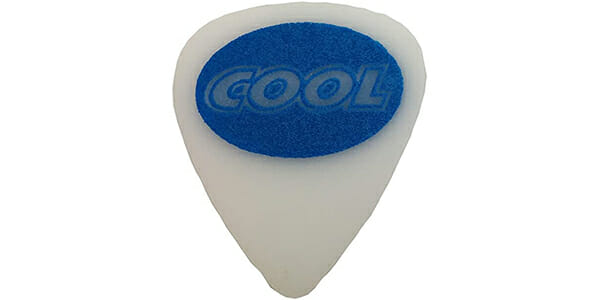 This guitar pick is as cool as its name. For all those who like to own cool accessories for their guitar, this will be the one to choose.
The pick is made up of acetyl polymer. And it has a grip that reads "cool". The grip provides you an easy move through your strings.
The pick comes in blue and off-white colors. The shape of the pick is also appealing. It has 8 picks in a pack.
Pros
8 picks
Cool look
Good quality
Cool picks provide a cool bunch of picks with an amazing grip that adds on to your musical journey some extra coolness.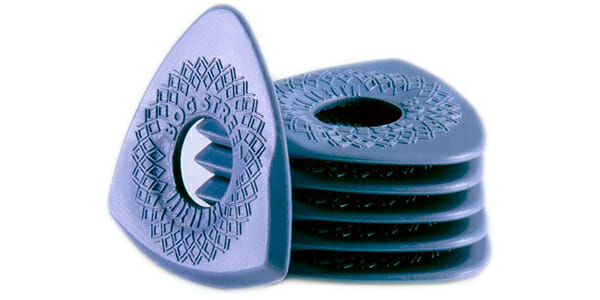 Bog street produces picks that are of great design and unique from any other picks available. This pick has extra features and is multifunctional.
The grip is provided as a hole in the center of the pick. This hole lets your index finger and thumb be in contact and hence gives an improved feel and control.
The 1mm flat tip and the 3mm sharp chisel tips around the hole allow you to create multiple pitches in your guitar as the thickness of your pick have an impact on the music you produce.
This pack has 6 picks in it.
Pros
Innovative design
Comfortable grip
6 picks in a pack
This is a unique product with innovative design and high comfort that gives you a firm grip.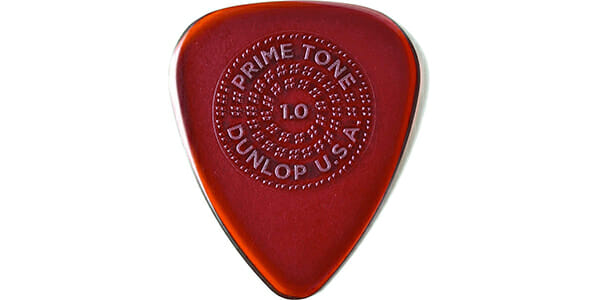 Dunlop produces picks in various colors and sizes. These are some of the trusted picks in terms of grip and strength.
This pick has sculpted edges and they are made of Ultex. The grip is firm and it is blended in the body of the pick.
The pick is available in many shapes. Hence it opens up a wide variety of choices.
Pros
Vibrant color
Good grip
Good edges
The pick comes in a vibrant look and it gives you a high grip and high quality.
Frequently Asked Questions
How do I keep my guitar pick from slipping?
You should hold your pick in a way that covers the whole pick with your index finger and thumb to give a greater grip. Many picks come with a grip in them. This will give you a proper grip and prevent the pick from slipping.
How do you put a grip on guitar picks?
There are separate grips available that can be attached to a pick. These grips are available everywhere. They can be attached to your picks like a sticker at the center where you hold the pick using your index finger and thumb. This will help you play your music without any slips.
What thickness of guitar picks is best?
Medium-sized guitar picks are the most popular pick size amongst guitarists. They are around 0.60 to 0.80mm in size. The size of the guitar pick will provide an effect on the music you play. They produce both high-ranged and mid-range tones. It is better to have this size as they will cover all kinds of pitches.
What is the best guitar pick for acoustic?
There are a lot of guitar picks that can be used for acoustics. Here are some of the best acoustic guitar picks available:
1. D'Addario Assorted Pearl Celluloid Guitar Picks
2. Fender Premium Picks Sampler
3. ChromaCast CC-SAMPLE-12PK
4. BoloPick Felt Pick for Ukulele
5. Bestpriceam 20 Pcs 0.46mm celluloid packs
What kind of pick does Eric Clapton use?
Eric Clapton uses picks that are produced by Ernie Ball which are usually heavy in size. They provide a special tone to the music he creates. The size of the pick adds effects to the pitch. Hence it is important to notice that a pick plays an important role in a guitarist's life.
Should beginners use guitar picks?
A guitarist needs to use a pick while playing guitar from their beginning stage. While playing metal strings in electric or acoustic guitars, it is better to use picks instead of bare fingers because that will help the guitarist to hit the notes with more clarity. While using fingers, there are chances of missing the notes.
Does guitar pick thickness make difference?
The thickness of a pick makes a great impact on the playability and tone. Even a tiny change can produce a great difference in the tone and playability. Thin Picks will produce a light tone and lower bass. Mid-range picks produce mid-ranged bass and tone. Thick picks produce a high tone and bass.
What is the best guitar pick brand?
There are a lot of guitar pick brands and among them there are some best brands.
They are:
1. Dunlop tortex standard
2. Fender
3. Dunlop nylon jazz
4. D'addario DuraGrip
5. Dava control picks
How hard should you hold a guitar pick?
You should hold a guitar firmly but not too tight. A solid amount of your thumb should be exposed on the pick to avoid it from slipping. But a less exposed pick surface will give more accuracy to the notes you hit. The guitar strings are to be hit well using the pick to produce the aspiring tone.
What angle should the pick hit the strings?
It is important to understand that the angle at which we hit the guitar string will make a great difference in the tone produced. It is advised to hold the pick at an angle of 15-20 degrees to get the maximum effects on the tones.