While buying a guitar, one of the most important things to note is whether it feels comfortable in your hands. People with small hands are recommended to opt for guitars with thin necks.
You must make sure the neck fits completely in the palm of your hand for hassle free playing. Given below are the best guitars with thin necks for small hands.
Table of Contents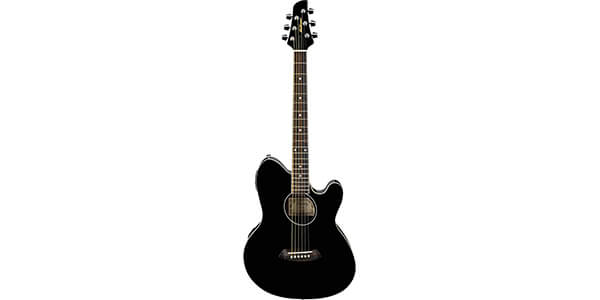 The Ibanez Talman TCY10 Acoustic – Electric Guitar is a thin bodied acoustic – electric guitar. It has a mahogany body with a spruce top and a mahogany neck. The rosewood fretboard is playable and easy to access. It has an under saddle piezoelectric pickup configuration which has bright and warm tones.
This guitar has inbuilt tuners which are easily adjustable. It can play both electric and acoustic style tones which are full and rich. The set neck has steel frets which are not very common in guitars. The neck has a thin profile which is comfortable and easy to play.
Pros
Affordable
Both acoustic and electric tones
Slim neck profile
Steel strings
Rich sound
Cons
Tendency to buzz a little
It is a very solid and well built guitar which is suitable for both beginner and intermediate players.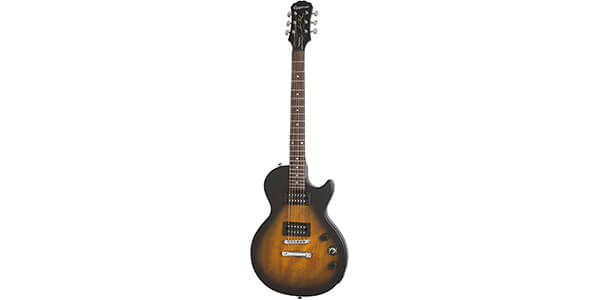 The Epiphone Les Paul Special VE is a vintage style guitar with classic Les Paul features. It has a poplar body which makes it very lightweight. They are also very easy on the shoulders. It features a rosewood fretboard with 22 medium jumbo frets. It is equipped with two Epiphone open coil humbucker pickups which sound very impressive.
It has a slim D profile neck which is suitable for people with small hands. They have a 3 way pickup selector along with tone and volume control knobs. It is a very travel friendly guitar owing to its removable bolt on neck. It is capable of playing heavy genres like metal when paired with a decent amp.
Pros
Visually appealing
Lightweight
Travel friendly
Good pickups
Affordable
Cons
Frets are a little sharp
Few tuning issues
It is a pretty impressive guitar for the price. It is lightweight and travel friendly.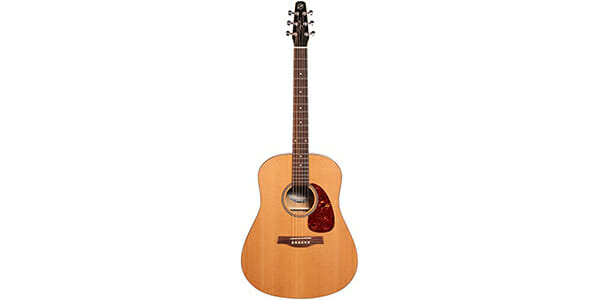 The Seagull S6 Original Acoustic Guitar is one of the best acoustic guitars available in the market. It has a unique and rustic look with a good quality cedar wood body and a maple neck. It is easy to play and comfortable in the hands. It comes with a well padded and good quality guitar bag. It is well intonated and the build quality is flawless.
It requires very little setup effort with only a few adjustments. It does not come with any pickups or inbuilt electronics which makes it stand out from the crowd. The action is superb and it has amazing playability.
Pros
Amazing build
Good action
Good guitar bag
Little setup effort
Well intonated
Cons
Finish is easy to scratch
This guitar is an example of beautiful and impressive craftsmanship.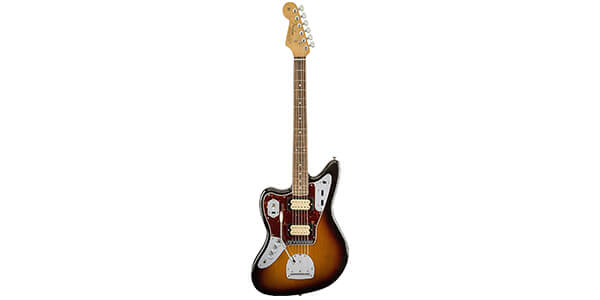 The Fender Kurt Cobain LH NOS 3 Tone Electric Guitar is a solid body electric guitar. It is very versatile and has many tonal possibilities. It has an alder guitar body with a Dimarzio DP 103 neck pickup and a DP 100 super distortion bridge pickup. It is similar to strat style guitars in its feel and finish. It is a very aesthetic guitar with a beautiful glossy finish.
This guitar comes in both left handed and right handed options. You also get a Fender hard case along with it. It is an aggressive guitar which is very suitable for shredding and rock and roll. The fretboard is well crafted and the neck profile is very comfortable.
Pros
Versatile sound
Aesthetic design
Complementary case
Left handed and right handed options
It is a modern looking guitar with modern features. It has many versatile tones.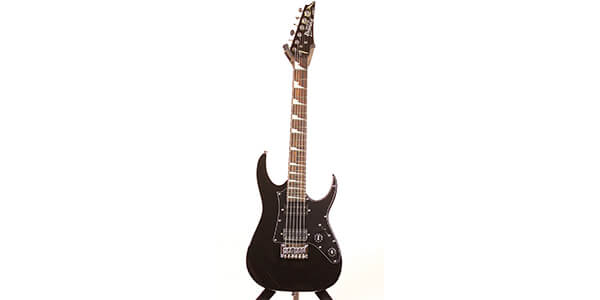 The Ibanez GRGM21BKN ¾ Size Mikro Electric Guitar is smaller than conventional guitars which makes it perfect for people with small hands. It is sturdy and well built with a mahogany body and basswood parts. They have both left handed and right handed models. They are equipped with dual humbucker pickups which have a really great output.
Although this guitar is on the smaller side, it plays like a full size guitar. It does a good job at shredding and can take on heavy genres. It does require some setup effort with intonation and filing down the frets, but it is pretty decent for the price.
Pros
Affordable
Good build
Left handed and right handed models
Visually appealing
Cons
Requires setup effort
Frets are a little sharp
This guitar has a pretty good playability for its prize. It is perfect for people with small hands.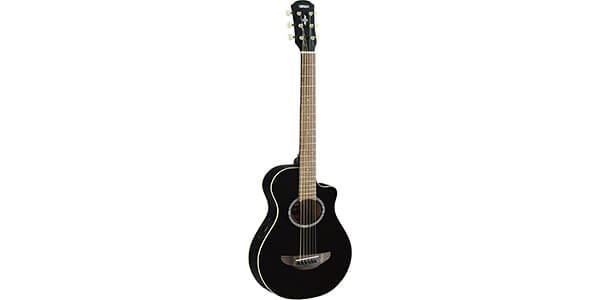 The Yamaha APXT2 Acoustic – Electric Guitar is a ¾ size guitar which is lightweight and compact. It has a meranti body with a laminated spruce top. It has a pickup system based on acoustic resonance technology. This uses a piezo pickup along with a preamp and has a well balanced sound.
It sounds good both plugged and unplugged. The steel strings are durable and surprisingly light on the hands. It has a curved rosewood fretboard which is beautifully crafted. The guitar comes with an inbuilt tuner which works great.
Pros
Affordable
Well constructed
Good pickup system
Travel friendly
Compact size
Cons
Tuning heads could be better
If you want a guitar which can play both electric and acoustic tones well, go for this one.
Frequently Asked Questions
What guitar neck is best for small hands?
Here are a few factors to keep in mind while choosing a guitar for people with small hands,
1. Make sure you choose a guitar with a flat fretboard having a fretboard radius of 12 inches or above.
2. Guitars with shorter scale lengths work better for people with small hands.
3. Big, bulky guitars are difficult to play for people with small hands. Try to go for guitars that are lightweight and have a slim body.
What guitars have the thinnest necks?
Usually, modern shredder guitars have the thinnest necks. A lot of ESP and Ibanez guitars have very thin necks. Some guitars with thin necks are,
1. Ibanez JBM100 Jake Bowen Signature Electric Guitar
2. Ibanez Prestige Wizard I
3. ESP KH – 202
4. ESP M – 400
5. Fender Kurt Cobain Jaguar
Can you play guitar if you have small hands?
Yes, you can definitely play guitar if you have small hands. If the regular sized guitars are too big or uncomfortable to play, then look for guitars that feel comfortable in your hands. Try to go for flatter fretboards since they are easier on small hands. You can also go for guitars which have shorter scale lengths.
Can I play guitar with short, fat fingers?
Although it may be hard in the beginning to play the guitar, your fingers will soon get used to stretching and moving positions. By practising the proper technique over and over again, you will be able to fret chords accurately and play without much strain. It is also good to opt for guitars which feel comfortable to play.
What instrument is good for small hands?
Although you can play any instrument with small hands as long as you have the proper technique, the following instruments are considered to be good for people with small hands,
1. Trumpet
2. Saxophone
3. Ukulele
4. Recorder
5. Tin whistle
6. Mandolin
7. Drums
8. Percussion 
9. Tabla
What is the most comfortable guitar to play?
A Stratocaster is the most comfortable guitar to play due to the following reasons,
1. Has a comfortable body shape with contours in the right places. It ensures easy fretboard access.
2. They generally tend to be lightweight and are easy on the shoulders.
3. Controls are easy to manage.
4. Strings are properly spaced.
Which Strat has the thinnest neck?
Given below are some strats with the thinnest necks,
1. Bonnie Raitt Stratocaster
2. Eric Clapton Signature Stratocaster
3. Fender Modern C
4. Jimi CIJ ST68TX
5. Squire proton Series
6. Fullerton Reissue
A few others include the 68 Japanese Fender Stratocasters and other Fender Stratocasters with modern C necks.
Do telecasters have thin necks?
Some Telecasters which have thin necks include the 70's Telecasters and the Squier CV's. Some others include the Squier Affinity telecasters, Squier CV50 BSB, fender DuoSonic Telecaster and the Highway telecaster. If you are looking for a telecaster with a thin neck, there are many options out there.
Conclusion
Small fingers do not mean that you won't be able to play the guitar effectively. There are guitars specially made for people with small hands. For this purpose, we have compiled a list of the best guitars with thin necks for small hands.