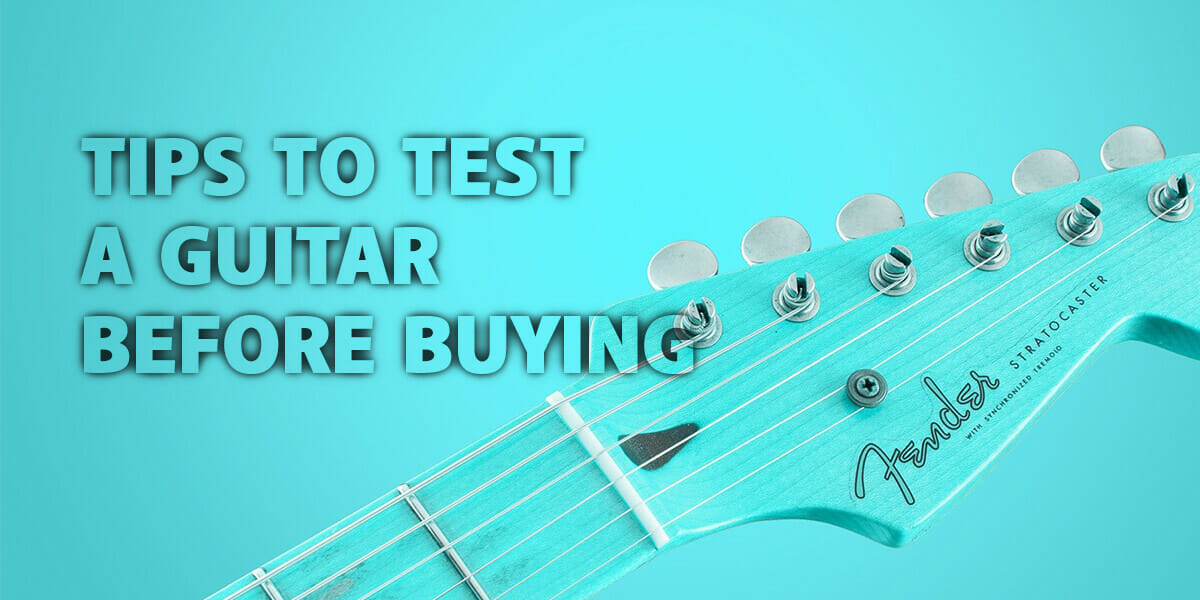 For many people buying a new guitar is like buying a new car or even a new home.
It is an exciting and thrilling process.
But it can also be stressful considering the fact you might be stuck with this guitar for a fair amount of time. I have heard of many rookie guitarists who made their way into a store only to come out with a guitar they weren't completely happy with. Some of them even skipped the testing process and impulsively purchased a cool looking guitar.
Today I am going to give you 7 tips you should keep in mind while testing a guitar in a music store.
Table of Contents
1. Polish your skills
In order to test a guitar, you need to know something to test it with.
If you are a complete newbie who knows only a handful of chords, I recommend you take up some guitar lessons before you make a big purchase. Polishing your skills will help you test a guitar to its full potential. Learn some common chord progressions, some basic strumming techniques and a few classic riffs.
If you are unable to attend physical classes, there are plenty of helpful online resources equipped with a lot of lessons. I highly recommend Fenderplay or some of these other great apps.
---
2. Note down the Essentials
Before you rush into a music store, note down some of the essential things like the budget for your guitar. If there is a particular model you are looking for note that down as well.
You do not want to enter a music store without knowing what you are looking for or how much money you are willing to spend.
You can also note down some features you want in your guitar. Some of these include the guitar body – hollow or solid, neck settings and tone wood. If you aren't a big fan of writing just make a mental note of these things.
---
3. Bring your own Pick and Capo
To test a guitar properly, you need a good quality pick and capo. I always recommend people to bring their own guitar picks.
Majority of the time, music stores offer you cheap and flimsy picks which aren't going to help. Many people underestimate how a good quality pick can improve the way your guitar sounds.
If you are someone who uses the capo a lot, I suggest you bring one to test the guitar with it. It will enable you to try out a variety of songs with more difficult chord progressions.
---
4. Avoid Impulsive Purchases
Do not rush the process.
The key to making a good purchase is patience and trial. If the first guitar you pick up makes a good impression on you, then great.
But don't stop there.
Test a fair number of them. Test their dynamic range and tonal clarity. Try out different ranges and values. Make sure it is intonated properly. It is better to stay away from guitars that are intonated poorly. Test different pitch harmonic elements.
If you are not confident to play in front of other people, request a private acoustic room if the store has one. It is always better to go to stores which offer such rooms. You will be able to play at ease and conduct a more elaborate testing procedure. This will give you an overall idea of what the guitar sounds like and whether it matches your expectations.
Do not get drawn in by shiny appearances or buy a guitar just because it looks like the one your favourite rock star possesses. I get it, shiny guitars look cool. But you don't want to go home with a guitar that looks cool but sounds bad.
It is also a bonus if you go to the music store at a time when it isn't very busy.
---
5. Do not avoid the Amp Trial
If you are planning to purchase an electric guitar, make sure to test the guitar with an amp.
A guitar amp makes a big difference.
Don't hesitate to plug the guitar to the amp and play a few tunes. If it sounds great with the amp you are good to go.
---
6. Play your Favourite Song
This sounds simple enough.
If your favourite song doesn't sound good on the guitar is it really the right one for you?
Choose wisely.
---
7. Don't Overcomplicate the Process
Buying a guitar isn't as difficult as it sounds.
There is no such thing as the perfect guitar. Don't overcomplicate the process by nit-picking every little flaw. If it sounds good, looks good and you feel comfortable playing it then you are good to go.
Try to enjoy the process. Roll your shoulders back and relax.
---
I hope these tips will help some of you in your guitar purchases. Have fun and take it easy. It is not everyday you get to pick out a new guitar.