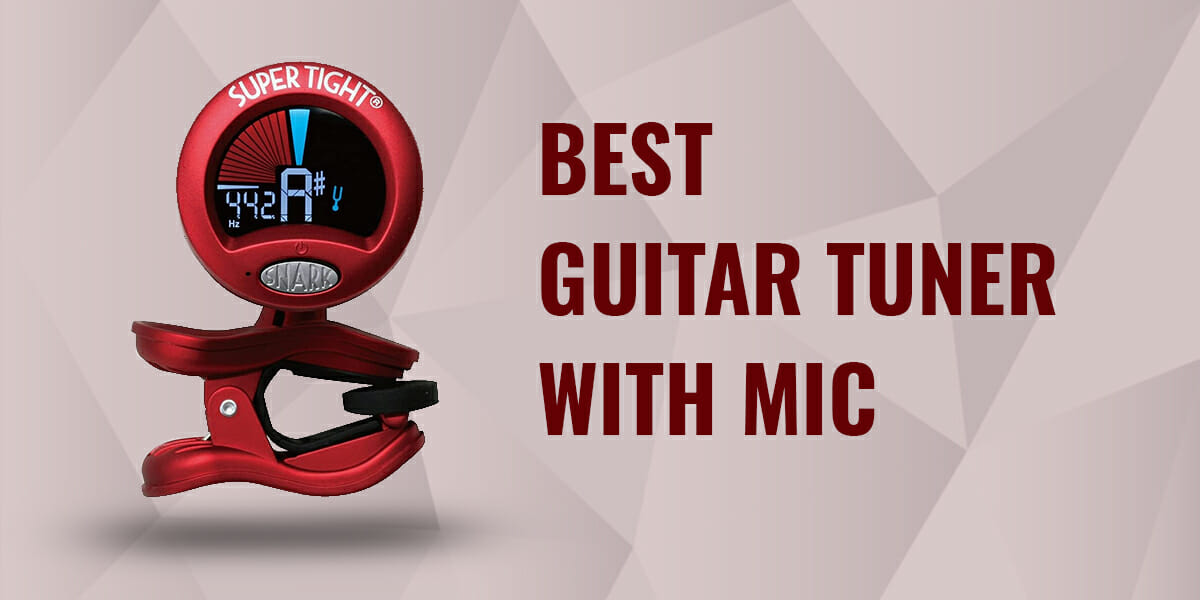 One of the easiest ways to tune your guitar for that perfect high-pitched and concert-like sound is by using an electronic guitar tuner. If you're a beginner, it's probably best to use a guitar tuner with an in-built mic. Although, these are highly useful for professionals as well.
Microphone tuners listen to the strings while you're plucking on them and display the tone on screen. Some of these also have needles which tells if your tone is too low or too high from the desired pitch.
They're typically on budget and easy to use, you simply need to pluck on the string and the microphone will detect the tone. They are built for more sensitivity to catch the sound, even in noisy environments and hence, more accurate than any other counterparts.
Check out the best Guitar Tuner with Mic below:
Table of Contents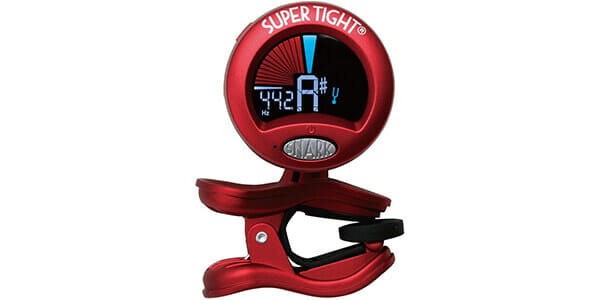 The Snark ST-2 is a perfect tuner to tune your guitar and bass, and even work with mandolin, banjo, viola, ukulele, among others. It features a built-in microphone, so even if your device is far away, it can easily catch the sound frequencies.
It also features a highly sensitive vibration detector for finely tuning. The bright and clear visible backlit display is easy to read and access. It is a compact and versatile tuner for flat tuning with transpose functions and easy pitch calibration for greater tuning options than any other chromatic tuner. Additionally, it also doubles as a tap tempo metronome which is a plus.
Pros
Full-colour 360 degrees rotating display
Super tight clip
Tap tempo metronome
415-466Hz pitch calibration
High-sensitivity vibration sensor
Flat tuning/transpose functions
Cons
Not suitable with instruments having nitrocellulose lacquer, polyurethane, French polish or oil finish.
It is a versatile and easy to use compact tuner with additional features for extended frequency range to tune any instrument. It is built with a high-sensitive vibration sensor and internal mic and also provides tap tempo metronome.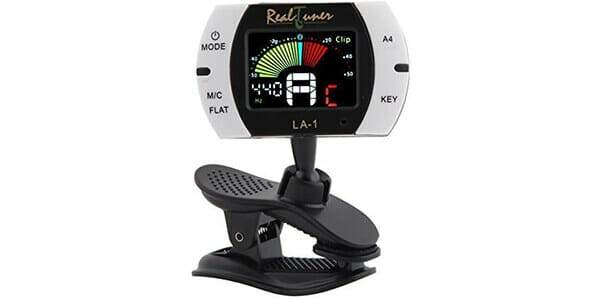 The Real Tuner LA-1 by Groovy Center is a great tuner to tune any string instrument fast so you can focus more on playing. It comes with a full-color display for clear information and more accurate, precise and sensitive tuning.
It features two methods for tuning, one with clip-on (vibration detection) for noisy environments and internal mic (sound detection). It displays the note and string number on every mode you choose – bass, violin, ukulele, and guitar. It is highly durable and comes with automatic power off feature for battery conservation.
Pros
Stylish Design
Easy to access front panel
Great Accuracy, Precision and sensitivity
Full-colour 360 degrees rotation display
Clip-on and Mic tuning
Automatic power off
Real Tuner is very handy when you're performing and want to tune your guitar in noisy settings. The display is easy to read and the tuner provides accurate, precise and sensitive tuning experience with both clip-on and mic.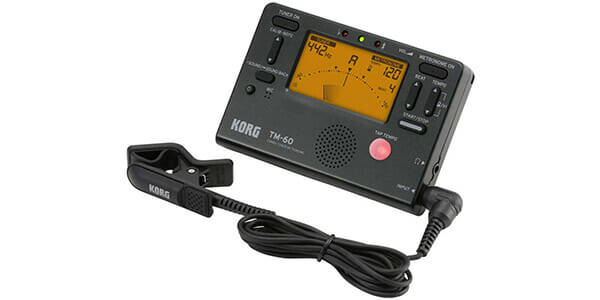 The Korg TM60BK is a two-in-one tuner and metronome equipped with high-precision function which can be used simultaneously. The display is big in size and built with a backlit LCD that ensures excellent visibility even in dark spaces.
It also features a needle-type meter which detects the pitch instantly and provides incredible response. The wide response range of C1-C8 supports a broad range of instruments and the calibration can be easily adjusted to match any concert pitch. The metronome also features a wide tempo range from 30 to 252 bpm and you can choose from 3 tempo settings and 15 rhythm variations.
Pros
CM-200 clip on microphone for more accurate tuning
Memory backup and high battery life
Versatile with C1-C8 detention range
3 tempo settings and 15 rhythm variations
Large backlit LCD display
Cons
Pricier than counterparts
It's built with an internal mic and also comes with a CM-200 clip on microphone for more precise and accurate tuning. This tuner is highly versatile and easy to use with excellent response and temp range and additional rhythm variations.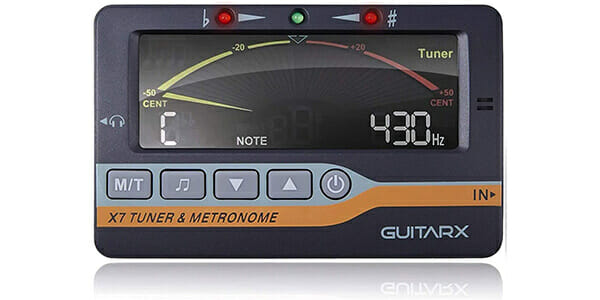 The GUITARX X7 is built with a 3-in-1 Tuner, Metronome and Tone Generator technology for more accurate readings of your instruments. It features an advanced microprocessor and high-sensitivity sensor for setting your guitar in tune within seconds. The colourful large display which provides all relevant information and offers excellent visibility even at lowly lit areas.
It comes with 5 modes- Chromatic, Guitar, Bass, Ukulele and Violin and can be used for acoustic guitar, electric guitar, banjo, mandolins and many more. The tuning range from A0 (27.5Hz)-C8 (4186.0Hz) and A4 pitch calibration from 430-450Hz gives a more precise tuning. The metronome tempo 30-250bpm/1bpm step is suitable for a variety of time signatures with multiple rhythm variations.
Pros
3 in 1 Built to last
Versatile Metronome
Easy to read display
Fast and accurate reading
Easy to use
Tone generator with higher precision
It is built with a versatile and 3 in 1 easy to use technology featuring a tuner, metronome and tone generator. Featured with advanced microprocessor and high sensitivity sensor for precise and accurate tuning.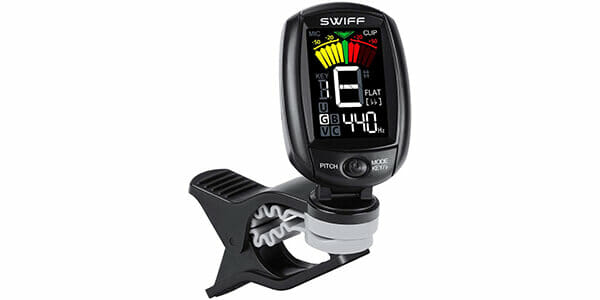 The Dulphee Clip-on Tuner is an easy to use clip-on tuner with 5 tuning modes for Guitar, Bass, Violin, Ukulele and Chromatic modes. It has two tuning ways and pitch calibration, one "microphone tuning method" for silent environments and "clip tuning method" for noisier settings to accurately and easily satisfy your tuning needs.
The large colourful LCD display provides accurate information and the screen can rotate 360 degrees with 105 degrees bent for access from any angle. It also includes a CR2032 lithium battery which is durable and is built with high-quality plastic and soft silicon pad material.
Pros
Colourful large LCD display
Mic/Clip Tuning way
5 tuning modes
3V CR2032 powered battery
360 degrees rotate and 105 degrees bent
The tuner is built with high-quality plastic and soft silicon material which is highly durable. It is easy to use and access with a large display and durable powered battery, and comes with accurate and precise reading of sound frequencies.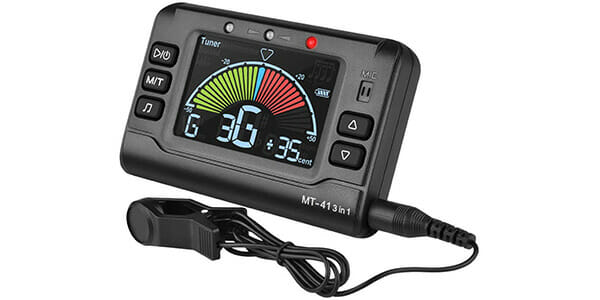 The LEKATO MT-41 Metronome Tuner is a 3-in-1 device combining a metronome, tuner and a tone generator together housed in a pocket-size compact device. It is strongly built with higher durability and resistance.
The tap tempo metronome provides 30-250 bpm and 0-9 beats per measure which will improve your timing in a variety of instruments. It comes with an easy to read large LCD colour display with LED indicator, adjustable volume, HD speakers, Mic and input jack detection method among other features. The built-in rechargeable lithium battery supports long time use and is suitable for every instrument.
Pros
3-in-1 lasting built technology
Large LCD colour display
LED indicator
Mic/Input detection method
High durability and accurate tuning
Cons
Colour might be slightly different
The tuner is built with high-quality plastic and soft silicon material which is highly durable. It is easy to use and access with a large display and durable powered battery, and comes with accurate and precise reading of sound frequencies.
Frequently Asked Questions
Can you use a guitar tuner for voice?
Guitar tuners are typically designed for tuning an instrument with 12-tone temperament and would not work with your voice. This means that each pitch is at the same distance from the other, and this might not help your intonation and lead to unpleasant tone colour. Using a guitar tuner for singing can also affect your ear practicing and flatten your voice further. But if you're just using it for practicing and checking your pitch, that should be fine. You can check if your pitch matches the one you're set to achieve with the help of a tuner. 
What is the best online guitar tuner?
Some of the best online guitar tuner include: 
1. Pro Guitar Tuner 
2. Jamplay Tuner 
3. The Tune-O-Matic 
4. Gieson 
5. 8notes 
6. insTuner 
7. Guitar Companion 
8. Guitar Tools 
9. iStroboSoft 
How do you use a built in guitar tuner?
You can use a built-in guitar tuner by following these steps:
1. Check your batteries: Most built-in tuners also require an additional battery, you should look for the battery door near the tuner display and check if it has the appropriate batteries. 
2. Switch on your tuner: Now look for a 0n/Off button and move it to "on" position, you'll be able to see the display light turned on, which indicates the tuner is ready to use. 
3. Start Plucking on every string and Check the display: You need to make sure you're plucking one string at a time, since the tuner displays if the string's tone is high or low. If you pluck more than one string, it won't display the tuning notes accurately. Tune each string separately and check they're all on the same tone.  
4. Switch off your tuner: Most tuners typically switch off after 3 minutes when they're not in use. But this might not work if you're playing your guitar immediately after tuning it. So make sure you switch off your tuner before you start playing. 
Where should a guitar tuner be placed?
If you're using a clip-on tuner, you should place it on the headstock of your guitar, then only start plucking the strings. If the tuner is placed right, it will be able to detect the string you're plucking and display the read out. This can help you determine if you need to tone it up or down to get the string to play the right tone. If you're using a microphone tuner, you can place it near your guitar within a hearing range and pluck your strings to check if the tuner displays the tone correctly. If it's a pedal tuner you're using, you can simply place the tuner within the plugging range of the guitar cable. 
What mode should my guitar tuner be in?
Your guitar tuner might have two or three modes, which are Guitar mode, Bass mode and Chromatic mode. If you want to tune your guitar to the standard EADGBE tone, you should use the guitar mode. If you want to drop your D tune to DADGBE, you should use Chromatic mode since lower D is not a standard tuning for the guitar. The chromatic mode also tells you what notes you're playing on your guitar and how accurate or out of tune they are. This also helps you better understand your guitar tone and adjust the string for a low or high tone. 
Is there a free guitar tuner app?
Yes there are several free guitar tuner apps available online. The best ones include:
1. Pano Tuner 
2. gStrings 
3. BOSS Tuner 
4. Fender Tune
5. GuitarTuna 
6. Pitchlab 
7. Martin Tuner 
8. Guitar Tunio 
9. Acousterr Guitar Tuner 
Do guitar tuner apps work?
Yes, using a guitar tuning app can be a cheap and convenient option to tune your guitar. But it's important to search for a good and accurate guitar tune app for that. However, it's important to keep in mind that these tuner apps might only work in small rooms and quiet spaces. If you're playing as a professional, or on stage, a guitar tuner app might not be suitable for you. Since these apps use your smartphone's microphone to pick up the tune, they can also catch other frequencies and sounds from the background which can result in inaccurate reading of tone. 
How can I tune my guitar without a tuner?
If you're a beginner, you can easily tune your guitar without a tuner through these three methods. But, you need to keep in mind that you need to develop "ear practice" and consistently play to master tuning without a tuner.  
Fifth Fret Method: This is the most common method used for tuning a guitar without a tuner. The steps include:
1. First, fret the low E string at the fifth fret, this is just the starting point. You need to hear how the low E string sounds. 
2. Now match the open A string or the next string to the low E string at the fifth fret. 
3. Repeat the same process for tuning the D and G strings. 
4. When you move to the B string, fret the G string at the fourth fret instead of the fifth to tune the B string. 
5. Now return to the fifth fret to tune the high E string or the last string of your guitar. 
Harmonics Method: This is a method which can be played at the twelfth, seventh and fifth frets by lightly pressing on the strings. The steps include: 
1. Touch the strings very lightly to play the harmonics, and play it at the twelfth fret on each string to check your guitar's intonation to match the pitch on each string. 
2. Now tune the low E string by lightly pressing at the fifth fret and letting the sound linger. 
3. Compare the harmonics of your low E string and adjust the tune of A string at the seventh fret. 
4. Now repeat the same process with the D and G strings, play the fifth fret on A and seventh on D, then fifth on D and seventh on G and match their harmonics. 
5. To tune the B string, play the harmonics on the seventh fret of the low E string to get the same pitch. 
6. And for tuning the high E string, use the harmonics on the seventh fret of the A string. 
Octave Or Reference Method: This method requires a reference for tuning your string to get the perfect pitch, which can include a piano, keyboard, tuning fork or other reference. The steps include: 
1. Start by tuning your D string to the reference pitch. 
2. Now, fret the D string at the second fret to tune the low E string and compare the two. 
3. Compare the same note (fret second on D) to tune the high E string, the strings should sound as one without any wobbling. 
4. For the B string, use the same technique to match the note but fret the fifth fret at the B string instead. 
5. And then tune the A string by referring to the fifth fret at the low E string. For the G string, use the note at the fifth fret of the D string for matching. 
How do I know if my guitar is tuned?
You can practice enough tuning which helps your ear to pick on tunes and match them with frequencies you require and the pitch you're aiming for. If all strings of your guitar match with the pitch of your low E string, then your guitar is tuned correctly for playing solo. To completely understand if your guitar is tuned properly, you just need to hear the pitch which each string makes when fretted and if all of these match with one another. And the easier method is to use an electronic tuner which can pick up the sound waves of your strings and display the notes. It will tell you if your guitar is in tune or not more precisely. 
Conclusion
There are a lot of Guitar Tuners with Mic available in the market, but we've listed the top rated products for you. All of these have high sensitivity sensors as well as internal mic for more precise and accurate reading of sound frequencies.
These can be used for several instruments including a guitar, bass, ukulele, violin, banjo, flute, etc. They're built with highly durable material, some also feature additional components like a powered battery. They also have numerous modes for tuning with high pitch calibration and even tap tempo metronome.