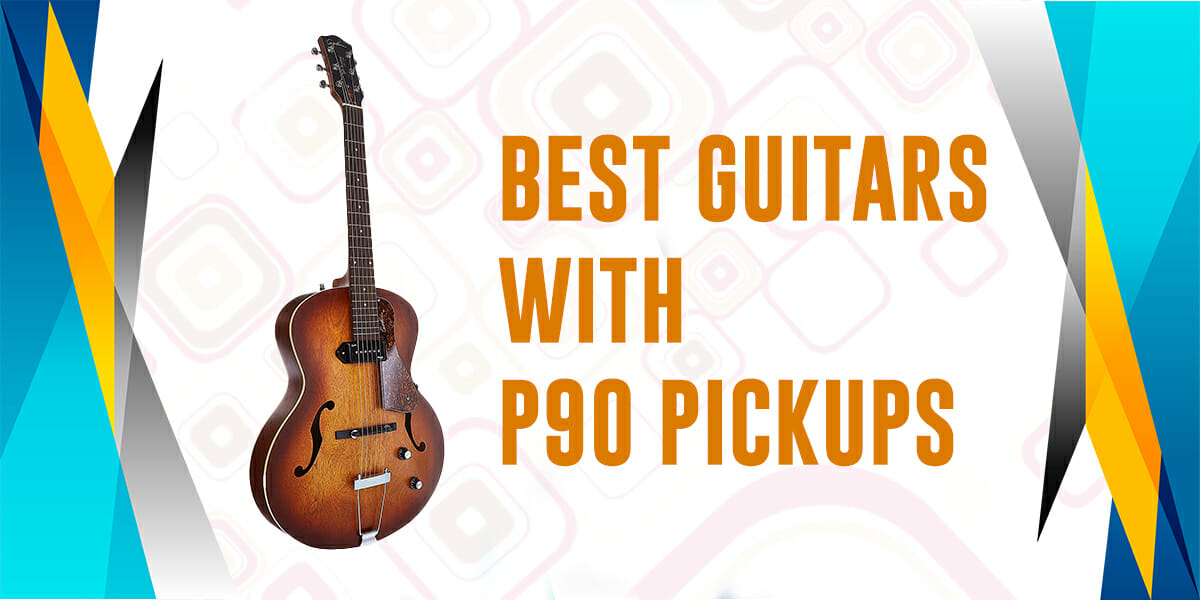 Guitars with P90 pickups are known for their versatile sound and their ability to deliver clean and crisp notes. P90 pickups include a wide range of the sound spectrum. This is due to more copper windings around their coil compared to other standard single coils.
These guitars usually have warm and punchy tones with a good mid bass response. Given below are some of the best guitars with P90 pickups.
Table of Contents
The Yamaha Revstar RS502T Electric Guitar is one of the best and classic guitars with P90 pickups. It has a mahogany body with an appealing and vintage look. This guitar uses initial response acceleration technology which enhances sound delivery and playability.
It is custom designed and is equipped with a variety of custom elements. It includes VP5 Anico P90 pickups which are custom wound. This is responsible for the earthy and punchy tones of the guitar. The hardware is custom made and the fretboard is constructed from good quality rosewood. The P90's sound very clean and have a grittiness which is perfect for heavy guitar tones. It is also a well intonated guitar.
Pros
Well balanced sound
Contoured body
Good construction
Unique look
Affordable
It is a premium quality guitar with an amazing versatile sound. The construction is also top notch.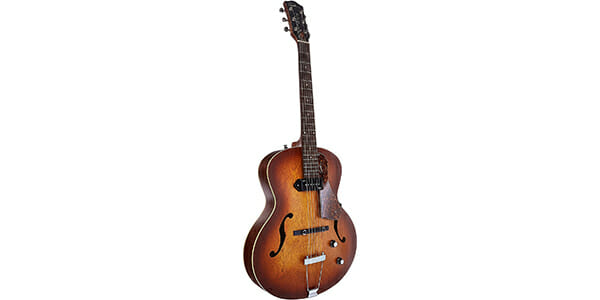 The Godin 5th Avenue King Pin P90 Guitar is a jazz style acoustic and electric guitar. It has a retro jazz style in its action, playability, look and feel. The workmanship and woodwork of this guitar is noteworthy. It has a smooth fretwork and can be played plugged or unplugged.
The tones are clear, warm and punchy without any distortion. The fretboard is made from rosewood and the guitar body has an elegant satin finish. The look, tone and quality of construction are top notch. This guitar is very suitable for genres like jazz, blues and indie rock.
Pros
Beautiful design
Quality construction
Warm and mellow tone
Good fretwork
Good sound output
Cons
Issues with tuning
Not suitable for all genres
This guitar is a true example of excellent craftsmanship. Its earthy tones are perfect for jazz and blues.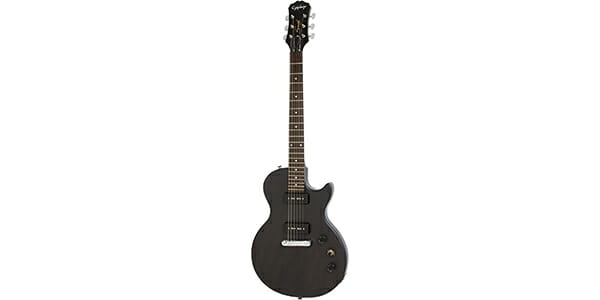 The Epiphone Les Paul Special Edition P90 Electric Guitar is an affordable, good quality and visually appealing guitar. The guitar has a mahogany body with a beautiful glossy finish. It is built with two P90 pickups which give it a twangy and jazzy tone. The fretboard has a wrap around bridge which makes it easily accessible. The built in hardware is of good quality.
This guitar is pretty lightweight compared to other Epiphone guitars. The P90 pickups have a really great dynamic range which makes the sound very clean and earthy. They also have a very good sound output. It is very affordable and is great for people who are on a tight budget.
Pros
Very affordable
Good quality construction
Easy fret access
Versatile sound
Cons
May create a buzzing sound
Slight issues with tuning
This guitar offers great quality sound at an affordable price. It has a beautiful and aesthetic look which appeals to most people.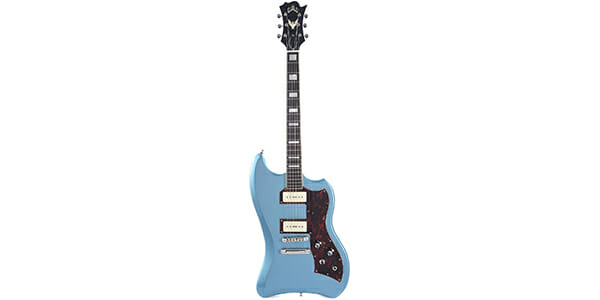 The Guild T – Bird ST P90 Electric Guitar is a popular vintage sounding guitar which is notable for its quirky shape. The body shape is not like other typical electric guitars. It is asymmetrical and very contoured which is very unique and cool. It has an old school, vintage and warm sound which is perfect for alternative rock and indie genres.
The guitar body and fretboard is made from mahogany. It is equipped with two Guild Franz P90 soap bar pickups. It has a C shaped neck profile which is neither too thick nor too thin. It also reacts very well to distortion.
Pros
Clean and crisp sound
Good quality construction
Unique looking body
Versatile
This guitar is a unique statement piece with a vintage and retro vibe. You are bound to turn eyes with this guitar.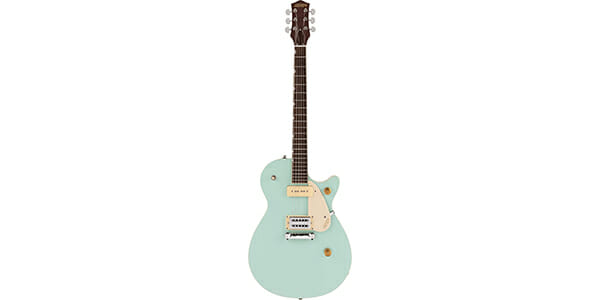 The Gretsch G2215 – P90 Streamliner Junior Jet Club Electric Guitar is a very budget friendly and clean guitar which has a telecaster style. It comes in three colours – mint metallic, sahara metallic and single barrel stain. It has a nato body and a mahogany neck which has a very nice playability. It also has a laurel fingerboard which is not very common compared to the classic rosewood fingerboard.
It is equipped with the Broad' Tron BT 2S bridge and P90 soap bar pickups. The P90 has great bass level outputs. It also has a nice broad range of the sonic spectrum. Overall it is a very well intonated and beautiful guitar.
Pros
Simple and neat design
Good bass levels
Very affordable
Well intonated
Cons
Few issues with tuning
Volume difference between the two pickups
This guitar has an amazing playability for the price range. The P90 pickup provides the bite and the depth you need for a good sound.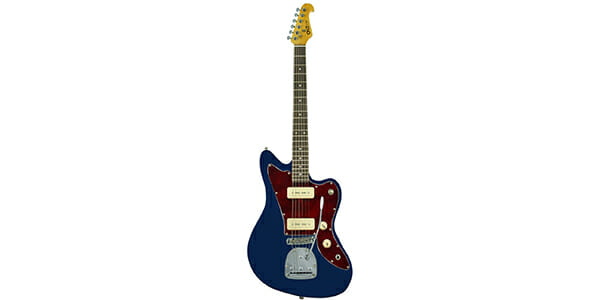 The CNZ Audio JM Electric Guitar is a solid and jazz style electric guitar with twin P90 pickups. It has a mahogany body which has a beautiful and glossy finish. It is well intonated with good quality frets. The hardware is well built and constructed.
The P90s give it a really punchy, warm and bright sound which sounds really good. The C shaped neck profile makes it really easy to access the frets. This guitar is suitable for a wide variety of genres like blues, funk, jazz and rock.
Pros
Nice layout
Very affordable
Funky and jazzy sound
Suitable for a lot of genres
Cons
May buzz a little
Few issues with tuning
This is a very budget friendly guitar packed with all the features you need for a rich and warm sound. It is also suitable for a variety of genres.
Frequently Asked Questions
What guitars use P90 pickups?
The P90 pickup is a single coil pickup with more wraps of coil than a standard single coil pickup. It was invented by Gibson and they introduced this pickup in their early ES – 150 models. The P90 pickup has a grittier and punchier tone so these pickups are great for blues, indie and jazz. They are generally used as a vintage replacement for guitars that are catered to mellow jazz riffs, blues or alternative rock. Some common guitars that use P90 pickups are,
1. Gibson Les Paul Junior
2. Gibson Les Paul Standard
3. Fender Jazzmaster
4. Epiphone Casino
Can you play metal with P90 pickups?
P90's do well with heavier music as well. They have a good midrange cut and a high output. That being said, I would advise you to get a good distortion pedal. P90's can do old fashioned metal really well but they aren't exactly suited for modern heavy metal. If that is the kind you are going for I would not recommend getting the P90's.
Are P90 pickups good for jazz?
P90 pickups are great for jazz. P90's are single coil pickups and have clarity and warmth which are great for jazz tones. They have a twang to their sound and a good mid bass response which is perfect for jazz. The P90 is a solid choice as they have a great definition.
Are P90 pickups the same size as humbuckers?
P90 pickups generally tend to be slightly smaller than humbuckers. Humbuckers use two coils and P90's use a single coil which accounts for their slight size difference. However P90's tend to be longer and narrower than humbuckers. Humbucker pickups usually do not fit in P90 pickup routes.
Can you put humbuckers in a P90 guitar?
No, there is a very small chance of a humbucker fitting into a P90 space. P90 pickups are longer and narrower than humbucker pickups and thus have different dimensions. You can fit a mini humbucker in a P90 slot. However it is not impossible. If you can trim the space or perform some adjustment procedures you might get away with it. But for this you need a professional and the chances are still slim.
Are P90 pickups noisy?
P90 pickups do tend to hum. The single coil pickups are more prone to noise and they can be a little loud and noisy. It also depends on the quality of the P90 pickups. Bad P90's tend to produce more unnecessary noise and buzzing sounds. A few things you can do to minimise the hum is to get noise cancelling back plates and shielding the control and pickup cavities.
What are the best P90 pickups?
These are some of the best P90 pickups.
1. Dimarzio DP210 Tone Zone P90 Pickup
2. Seymour Duncan Staple Dog EAR
3. Lindy Fralin P90 Soap Bar
4. Seymour Duncan SPHP90
5. Kent Armstrong Stealth 90 Noiseless P90 Pickup
6. Metallor P90 Soap bar Pickup
7. Wilkinson Cream P90 Set
What does the P in P90 stand for?
The P90 derived its name from a Gibson internal P90 reference. It was the working name for the project in the P90 factory. Pickup designer Walter Fuller at Gibson reworked one variation of the earlier P13 pickup and liked the 90th prototype he made and the production pickup was named P90 for the ʿ Pickup 90th ʾ.
Conclusion
The P90 pickups are one of the most versatile pickups. It is the perfect blend between a standard single coil pickup and a humbucker pickup so you get the best of both worlds.
Guitars with P90 pickups are great for a wide variety of genres. In this guide we have compiled a list of the best P90 guitars.