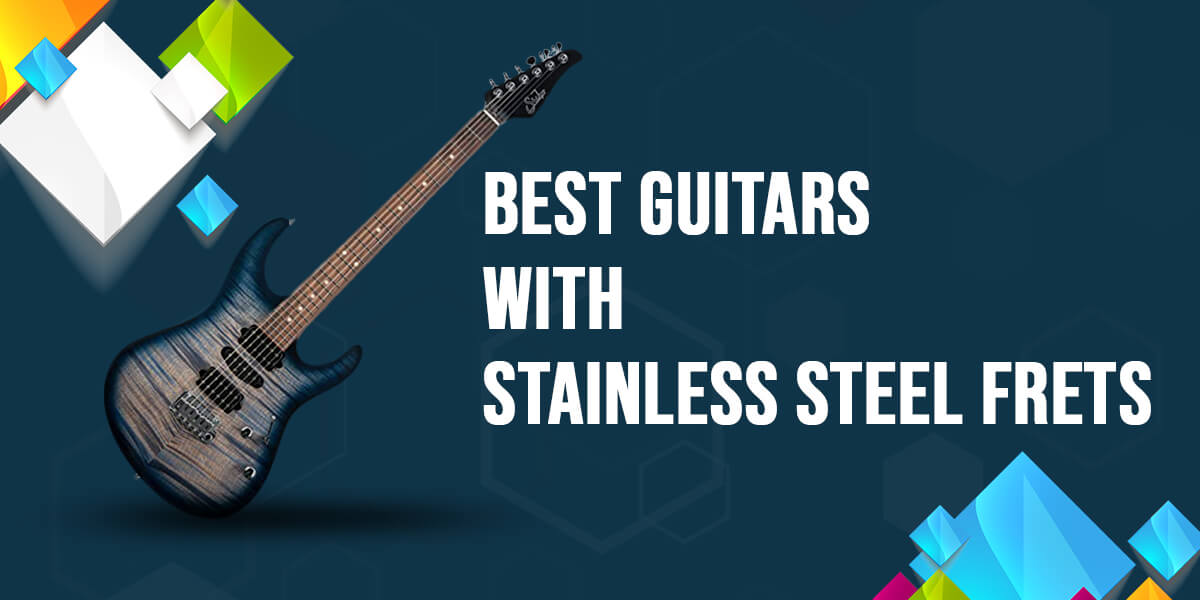 The type of frets you choose for your guitar are very important as they can affect the playability and performance. Stainless steel frets are a great choice for your guitar as they are one of the most durable fret materials.
Though they are more expensive, they last considerably longer than other fret types and you might never need to refret. They can also uplift your entire playing experience. Given below are some of the best guitars with stainless steel frets.
Table of Contents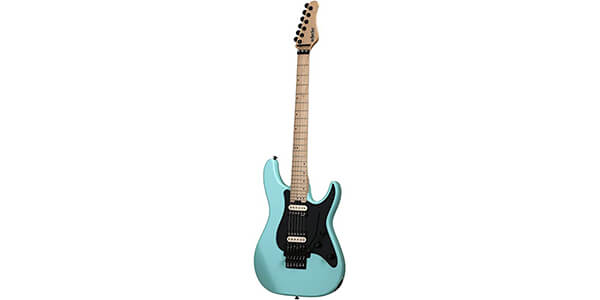 The Schecter 6 String Sun Valley SS – FR Electric Guitar is a modified strat style shredder. It has a mahogany body with a beautiful glossy sea foam green finish. It has a maple fretboard and a maple neck with a C shaped profile. The fretboard has 24 jumbo stainless steel frets which are durable and of good quality. The fretwork is nice and has a good finish.
This electric guitar is equipped with two EMG Retro Active Hot 70 Humbucker pickups. This model is the Hot 70's set which is a ceramic based bridge pickup and an El Nicole 5 based neck pickup. They give a late 70's to an early 80's vibe which is very dark sounding and perfect for metal.
Pros
Very suitable for metal
Solid construction
Good quality pickups
Visually appealing
This guitar sounds like an amazing blend between retro and modern. It can handle a lot of abuse which is very suitable for metal.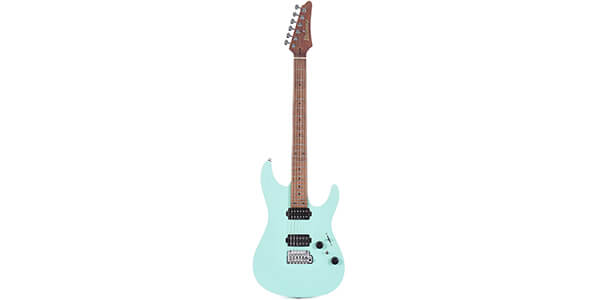 The Ibanez AZ242 Premium Electric Guitar is one of the electric guitars that belong to the Ibanez AZ series. It has an American basswood body with a matte sea foam green finish. It also features a heat treated roasted maple neck which is designed for extra resistance and durability. It has a comfortable neck profile which is slighter bigger than the standard Ibanez neck. 
The 24 jumbo stainless steel frets are super eye catching and they last very long. This guitar is equipped with the Seymour Duncan Hyperian pickups which are exclusive to the AZ series. It is accompanied with a 5 way pickup selector which brings tons of versatility in terms of sound. It is very suitable for rock and roll and heavy metal.
Pros
Versatile sound
Lightweight
Durable construction
Comfortable neck profile
This strat style guitar is perfect for heavy rock and rollers. It is very versatile in pickup configuration which is a big plus.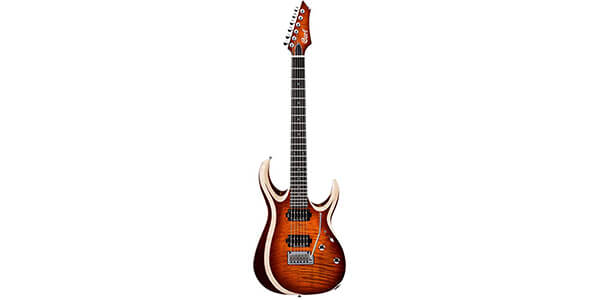 The Cort X 700 DUALITY AVB X Series Electric Guitar is a very versatile and playable guitar. It is a very unique looking guitar with a flamed maple top on a swamp ash body. The fretboard is made out of ebony which tends to be harder and brighter than typical rosewood fretboards. The 24 stainless steel frets compliment this guitar beautifully. 
This guitar is equipped with the Seymour Duncan TB4 bridge Humbucker and the SH2N neck Humbucker. The 5 way pickup switch helps you to play a wide variety of tones ranging from slow blues and jazz to metal and rock. This guitar compares in quality to high end guitars like Ibanez prestige and USA custom guitars.
Pros
Very versatile sound
Good quality construction
Custom layout
Beautiful fretwork
Cons
Few adjustments with tuning
This guitar is one of the most versatile and unique looking guitars out there. It is perfectly suitable for both mellow and heavy music.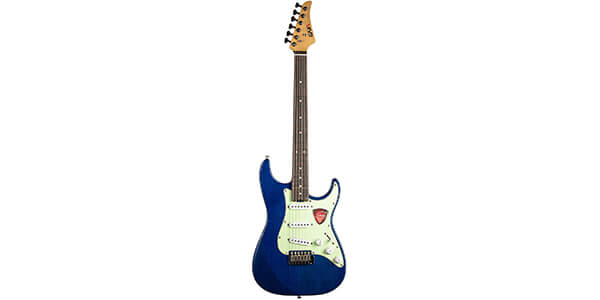 The EART SSS Single Coil Electric Guitar is a traditional strat style electric guitar. It has a mahogany body with a rosewood fretboard. The body has a satin blue finish with visible wood grain for an old school look. The fretwork is impeccable with smooth and rounded off edges. The stainless steel frets are of really good quality. This guitar is equipped with three single coil ceramic pickups.
There is a great balance of tone and volume within the chords and they have a good clarity. It has a warmer and punchier sound compared to typical strat guitars. Overall the construction quality and sound output are amazing for the price.
Pros
Very affordable
Nice layout
Smooth fretwork
No buzzing
This guitar is a very budget friendly option for people who are on a tight budget. There are few brands that offer good quality guitars with stainless steel frets at this price.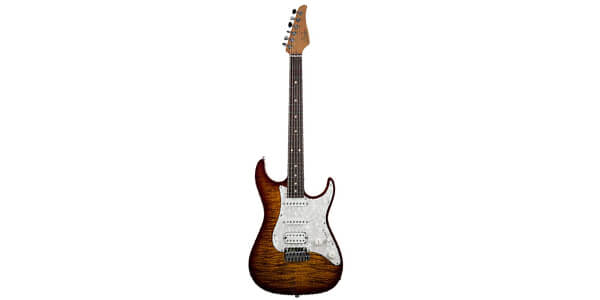 The Suhr Standard Plus Electric Guitar is an example of impeccable craftsmanship. It is a beautiful guitar with a basswood body and a roasted maple neck. It has a C shaped neck profile which has a very good playability. The stainless steel frets are visually appealing and add class to the guitar.
This guitar is equipped with two V60 pickups which have good gains and sound output. The 5 way pickup switch adds to the versatility of the guitar. You feel like you get a classic old school guitar and a modern guitar in one. It combines the best of both worlds. It also stays in tune remarkably.
Pros
Very versatile
High sound output
Good quality stainless steel frets
Comfortable to play with
This guitar excels when it comes to sound output, quality of construction and versatility. If there is one guitar you should save up for, it is this one.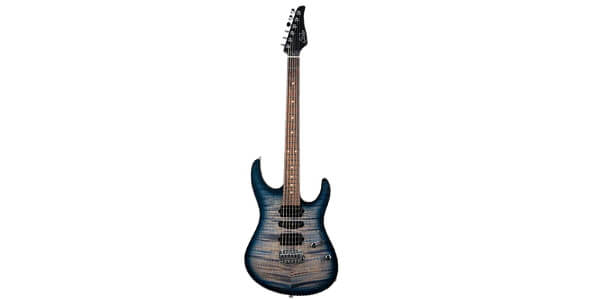 The Suhr Modern plus Electric Guitar is similar to the Suhr Standard Plus but with a few differences. It has a basswood body with a roasted maple neck. It has a very sleek and comfortable neck profile. Every string on the fretboard is clear and distinct. The stainless steel frets are perfectly dressed and the high fret access is really great.
This guitar has really great harmonics. It is very mid focused and has clear mid highs and lows. It is equipped with the V60LP pickups which are of good quality. All the positions in the guitar are amazing and it is well intonated.
Pros
Well intonated
Beautiful fretboard
Nice layout
Good quality components
Good sound
This guitar has everything you need in one package. You will not go wrong with a Suhr Modern Plus.
Frequently Asked Questions
What guitars come with stainless steel frets?
Few of the brands that manufacture guitars with stainless steel frets are Ibanez, Suhr and Schecter. Other than these, higher end Jackson guitars, Charvel, Conklin and Kiesel also have these guitars. Some of the original EVH Wolfgang guitars also have guitars with stainless steel frets. Some specific guitars are,
1. Suhr Modern Plus
2. Suhr Standard Plus
3. Balageur Hyperion Select Offset Guitar
Does Fender use stainless steel frets?
Fender does use stainless steel frets but on very few models. The Eric Johnson model uses stainless steel frets. Fender also owns the Van Halen brand and his signature models use stainless steel frets. But for the most part they don't. here are a few reasons why,
1. Nickel silver is the conventional material for Fender guitar frets.
2. Nickel silver frets are responsible for the tone of sound that fender goes for.
Are stainless steel frets better?
Stainless steel frets have their pros and cons.
Pros
1. They have a longer fret life
2. They retain shine for a longer period of time
3. Better response
4. They have smoother bends
5. Easier and smoother vibrato
6. Have a brighter attack
Cons
1. Needs more care during installation
2. More expensive
Do stainless steel frets affect tone?
It is a little bit difficult to tell if there is a big difference in tone between the standard nickel silver frets and the stainless steel frets. Stainless steel frets are harder than the nickel alloy used for regular frets so the tone does sound a little bit brighter. There might also be an extra definition in the high frequencies. Overall there is not a big discernible difference in the tone.
How long do stainless steel frets last?
Stainless steel frets wear down much slowly than nickel silver frets. The length and durability of stainless steel frets will depend on the following,
1. If the finish isn't great and the effort put in is cheap, your frets won't last too long
2. If they are not installed properly on the fretboard, they won't last very long.
How can you tell if frets are stainless steel?
There are mainly two types of stainless steel. The 300 series is non magnetic and most of the 400 series are magnetic. This can be a test. The nickel silver frets are barely ferritic and they hardly attract magnets. When it comes to looks, stainless steel frets are brighter and shinier than nickel silver frets. Stainless steel frets also tend to have a brighter ping when played.
How much does a stainless steel refret cost?
Stainless steel frets last considerably longer and are more durable than other standard frets. The cost of refretting depends on a number of factors. Installing stainless steel frets can be a time consuming job since it involves a more difficult process. You need more expensive tools to finish them properly. Typically it can cost from 25 to 40 dollars per fret.
Do stainless steel frets sound different?
Stainless steel frets can sound different in these following ways,
1. Stronger initial attack
2. Higher gain
3. Brighter zingier tone
4. Smoother vibrato
5. More pick attack sensitivity
Obviously not all the differences are visible. It does depend on the quality and finish of the stainless steel frets.
Does PRS use stainless steel frets?
PRS typically does not use stainless steel frets. They use very hard nickel frets on their guitars which compare in quality to stainless steel frets. Stainless steel frets tend to have a brighter tone which some people may not like. Plus stainless steel frets require a lot of work and expensive tools.
Conclusion
Overall stainless steel frets have a very long life and different tonal properties which can make them a very good investment. In order to make your search easier, we have narrowed this list down to the 6 best guitars with stainless steel frets.