If you're a musical beginner, it's very important to choose the right guitar to start your playing journey. There are numerous guitars available to choose from, but getting the best guitar with a wide neck might be the perfect fit for you.
These guitars allow your fingers to move more freely from one string to another and prevents unintentional muting of any string. They are excellent for people with thick fingers and large hands, since it allows wider room to play. All these guitars are built with premium-quality wood which is highly durable. These guitars perfectly fit in anybody's hand and are best suited for a warmer and pleasant sound production.
Check out the best guitars with wide necks below:
Table of Contents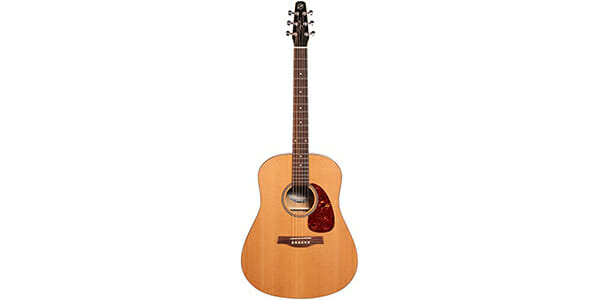 The Seagull S6 Original Acoustic Guitar is a top-rated variant of the award winning S6 original guitar series. It is made with highly durable material, the neck built with maple, top with cedar wood and the fretboard is made with rosewood material. It features Tusq nuts and compensated saddles for better intonation with clearer and sharper sound. The neck width is about 1.8 inches that gives the player much room to change chords and practice efficiently. It also has a tapered headstock for more open, precise and stable tunings. It comes in three variants: Natural, LE Blue and LE Tennessee Red.
Pros
Tusq nuts
1.8" neck width
Tapered headstock
Three colours
Durable material
It is built with highly durable material and provides extra features for more precise intonation and tuning. It comes in three beautiful colour options which have a shiny finish.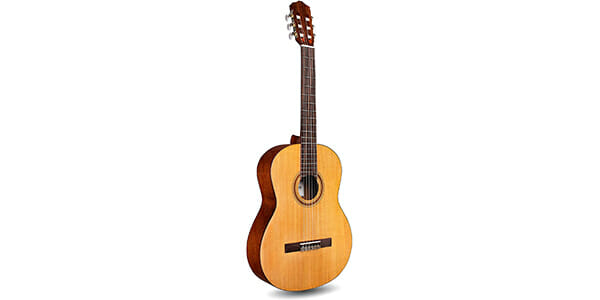 The Cordoba C3M is made with high-quality material and has a mahogany wood body with Nato neck and Morado material fretboard. It is very light-weight and comfortable to play since it features soft nylon strings. A very popular staple model in the Iberia series, it is a full-sized handcrafted guitar. The 'M' for C3M stands for its matte finish which gives a classy look to the guitar. It is built with 52mm nut width and two-way truss rod fitted into the neck which allows to adjust the amount of relief in the neck.
Pros
High-quality durable material
Light matte finish
52mm neck width
Two-way truss rod
Soft nylon strings
Cons
Might need practice to stabilize strings
It has a hand-inlaid wooden rosette and nickel plated tuning machines with pearl buttons for better intonation and tuning. It is a well-built long lasting guitar made with durable material and provides a warm and rich sound.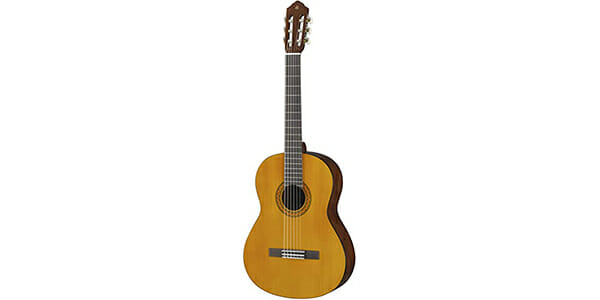 The Yamaha C40 II is constructed with durable Meranti wood body and spruce wood top with Rosewood fretboard material. It has nylon strings which are light and produce rich and warm sound. The neck width is 2.15" which is best for players with large hands and moving from one string to another without muting any string. The guitar comes in a natural colour with gloss finish which looks stylish and elegant. This guitar delivers excellent and exceptional playability with superb tone at an affordable price.
Pros
Spruce top
Rosewood fingerboard and bridge
Gloss finish
2 1/8" nut width
Nylon strings
Cons
Built structure could be better
The guitar features nylon strings which are light and gives warmer and richer sound production. It has a wide neck which makes the guitar comfortable to hold and the right feels in hands.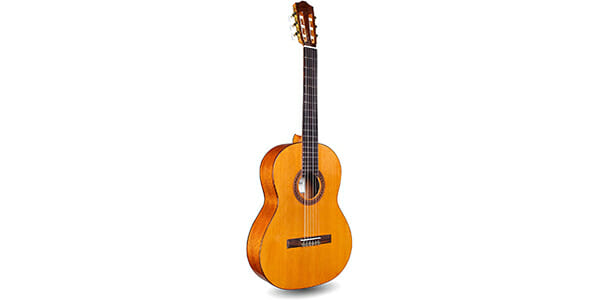 The Cordoba Dolce is another well-built classical acoustic guitar in the Iberia series of Cordoba Guitars. It is constructed with a solid cedar top, mahogany back and sides, and morado material fretboard which is highly durable. It is a slightly smaller 7/8 size lightweight classical guitar which is super comfortable to hold and play. It has nylon strings which can be adjusted with the in-built toss rod in the neck. The neck width stays at 50mm, giving the player ample room to change and practice chords easily.
Pros
Solid Canadian cedar top
Mahogany back and sides
50mm nut width
Lightweight
Nylon strings
It is a beautifully designed guitar which is lightweight and extremely comfortable to play and hold. It has nylon strings that can be easily adjusted and tuned for richer, warmer and pleasurable sound.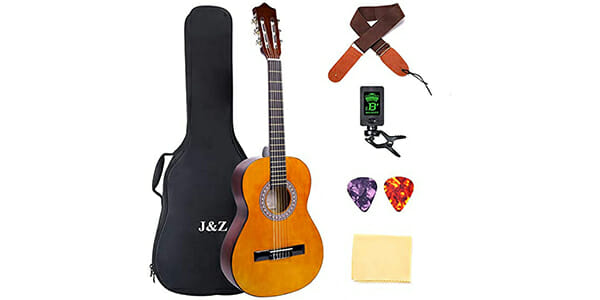 The J&Z Beginner series guitar is a classical guitar built with basswood body material and maple nylon strings. The perfectly fitted 6 nylon strings are more soft and easier on the fingers. The guitar has a well-constructed dreadnought body built with quality material. It is a complete playing kit that comes with one waterproof bag, guitar tuner with battery, nylon strap with leather ends, a guitar wipe and two guitar picks. The neck is constructed with 1.77" nut width which is perfect for beginners and professionals alike.
Pros
Complete kit
1.77" nut width
6 nylon strings
Attachable strap
Quality built
3 size variants
Cons
Nylon strings might need practice to adjust
It provides a complete kit to start your music journey. The guitar is well-built and constructed with quality material.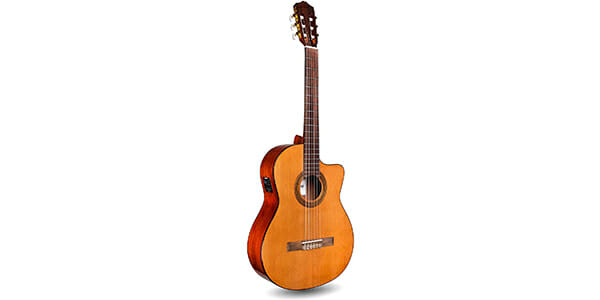 The Cordoba C5-CE CD is a great guitar built with solid cedar top and mahogany back and sides. The classical design has a soft cutaway and slightly thin neck and it also features nylon strings. It comes with Fishman Isys and 2-band piezoelectric pickup for rich and natural sound whenever the guitar is amplified. The neck is constructed with cedar wood and has a nut width of 50mm for extra support and comfort while playing. This guitar is perfect for gigging and recording with a superior sound production.
Pros
Nylon strings
50mm nut width
Quality wood construction
Fishman Isys + 2band pickup system
It is a superiorly built guitar constructed for all styles be it classical, acoustic or electric. It features nylon strings and 52mm nut width which are perfect for producing rich sound and comfort feel.
Frequently Asked Questions
Which guitars have the widest necks?
Some of the guitars with widest necks include:
1. Washburn Vintage Series R314KK Acoustic 
2. Seagull Coastline S6 Cedar Folk 
3. Recording King Ros-16 Studio Series 
4. Seagull S-6 Original 
5. Takamine EF740FS TT Thermal Top Acoustic Electric 
6. Yamaha C40II Classical Guitar 
7. Cordoba C-4CE Acoustic Electric Classical Guitar 
Are wide neck guitars easier to play?
Yes, wide neck guitars can be easier to play, largely depending on your circumstances and the style you want to play it for. These are highly beneficial for people with large hands and thick fingers, since it gives some free movement. And if you're a beginner, a wide-neck guitar can help you learn to play faster since you have more space to work with and easier movements to move from one fret to another.
Why do classical guitars have wide necks?
Most classical guitars have wide necks which can be really beneficial for beginners or people with wide fingers. Classical guitars have nylon strings which provide large amplitude when plucked, and produce a soft and pleasant sound. These guitars have wider necks to allow the players' fingers to easily press down on each string without coming in contact with the other string. These are also good for fast musical pieces. Classical guitar's wide neck changes the way the strings are played, it also allows the player to rest their thumb at the back of the fretboard for extra support and using the other four fingers for pressing the strings.
What electric guitar has the widest neck?
Electric guitars built by brands like PRS, Ibanez and Gibson have typically wider necks than the standard electric guitars. It ranges from 1.687 inches to 1.695 inches. Some of these wide neck electric guitars include:
1. Gibson Les Paul Custom/Junior/Studio/Standard 
2. Gibson SG Standard
3. Ibanez J Custom RG8570Z 
4. Ibanez Joe Satriani Signature JS1CR 
5. Ibanez Steve Vai Signature JEM77 
6. PRS SE Standard 
What is a wide fat guitar neck?
A wide fat guitar neck is a thick front to back guitar neck which has the same nut width as the wide thin neck, about 1 11/16". But these have a deeper profile and strength with longer "heel" which helps in producing warmer tones with a lot of sustain. These are widely used by fast and lead guitar players.  
Do guitars have different width necks?
Yes, different types and brands of guitars make different neck widths guitars. Electric guitars typically have a neck width that's slightly under 1.7 inches, while a standard acoustic guitar might have a neck width of 1.72 inches. And additionally, a standard classical guitar is typically designed with a neck width of about 2 inches, which is wider than any other counterpart. A small neck might be easier to play fast and change chords but it can also lead to unintentionally muting of some strings. While on the other hand, a large wider neck can be beneficial for better finger-picking and more room to play and also makes it easier to not mute the strings when playing chords. 
What is the best guitar neck shape?
Guitar necks are made in primarily three shapes: C, V and U. But the oval C-shape guitar neck is the most comfortable shape for every playing style which is suitable for small to medium hands. The C-shape is the most common type of guitar neck shape, since it's nearly flat and highly comfortable to play. Many modern guitars like Fender Stratocasters, Ibanez JEM, Wizard Super, etc. have a flat oval C-shape. These comes is various versions like slim, extra-slim, nut-shaped, fat and huge and have plenty of options for all players. These necks may also help in increasing the speed and provide an excellent space to keep your thumb. 
What guitar neck radius is best?
Different guitar neck radius might be best-suited for different players, based on your style of playing and other circumstances. But a rounder radius of about 9.5 to 10 inches is widely popular for open position chords. And a flatter radius of 12 to 16 inches is highly suitable for guitar soloing and bending notes. While a compound radius typically offers both, it helps in rounder starting in open position and flattening out as you move higher up the neck of the guitar. 
How thick should a guitar neck be?
This depends on your preference and how the "neck" of the guitar 'feels' in your hands. Guitar neck thickness typically comes under three groupings, which are: 
1. Thin – any neck with 17-19mm thickness at the nut,
2. Medium – any neck with 20-22mm thickness at the nut, and 
3. Thick – a neck with 23+mm thickness at the nut 
If you have large hands, you'd want to go for a thick guitar neck, and if you have small to medium hands, you can try out guitars with medium or thin guitar necks. 
Can your fingers be too big to play guitar?
No, it is very unlikely that the size of your fingers would affect your learning or playing capabilities. You just need to learn the best technique that works for you. In addition, you also need to choose a guitar which suits your needs. For example, if you have big fingers then you can go for a classical guitar which has a wider and thick neck which will feel right in your hands. But you can always learn to play guitars with the right technique and right choice of guitar. 
Conclusion
There are a lot of Guitars with Wide Necks available in the market, but we've listed the top-rated products for you. These guitars are constructed with superior quality wood with stylish design and gloss finish.
The wider neck provides excellent support and comfort to the player. They produce a highly rich, pleasant and warmer sound from nylon strings. Additionally, most of these are typically under budget which is perfect to start your playing journey.