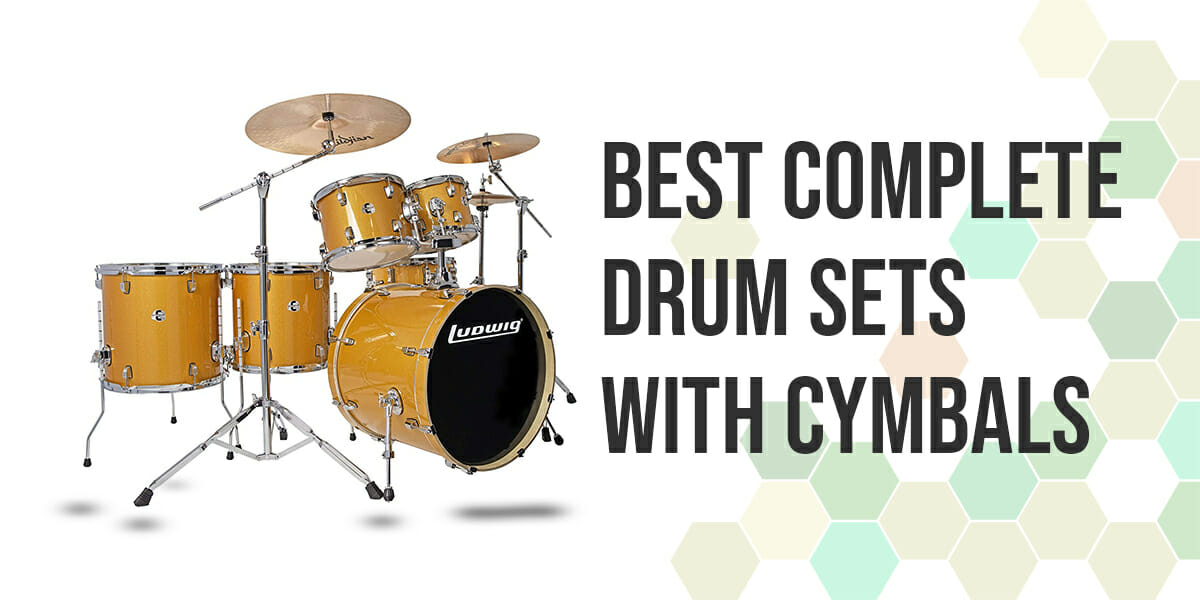 Cymbals add extra effects to music and it is an integral part of drum sets. How can a drum set be complete without cymbals?
Here we provide you with the Best Complete Drum Sets With Cymbals that can help you to upgrade your performances.
Table of Contents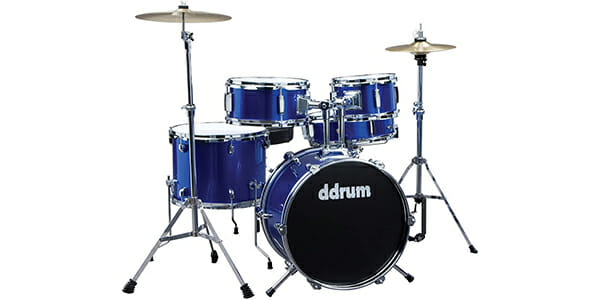 If you are looking for a smaller drum set for a beginner, this one's for you. ddrum D1 junior has all the features that a beginner needs. But it doesn't compromise on the quality and the components of the set. It has cymbals and other integral parts to make it a complete set.
The drum set is made of the finest material and hence makes it durable. It comes at an affordable price and it has all the integral components in it. Like, the cymbals, hardware, and a tiny throne. The drums are tunable and come in a diminutive size.
Cons
Might not be suitable for professionals
At a beginner's level, this is the best, affordable, quality drum set with cymbals that you can receive.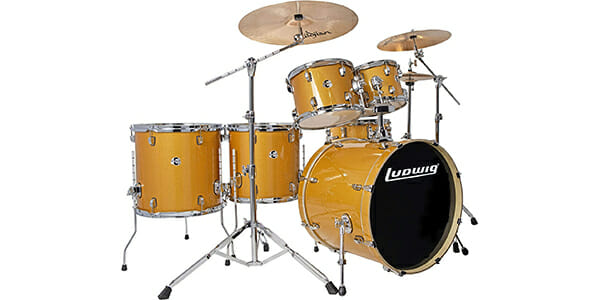 Ludwig's band sets are recommended by musicians because of their quality and looks. This drum set comes with cymbals and is a complete package for your musical journey.
Apart from the quality, the product has different color choices. The gold sparkle set gives an elegant touch to your musical set. The whole set including the cymbal is made of high-quality material.
The cymbals are manufactured by Zildjian and hence the quality is granted.
Pros
Affordable
Great look
High quality
Ludwig drum sets can adorn your whole musical journey with elegance and high quality. Coming from a trustworthy brand at an affordable price, this product is the best choice for you.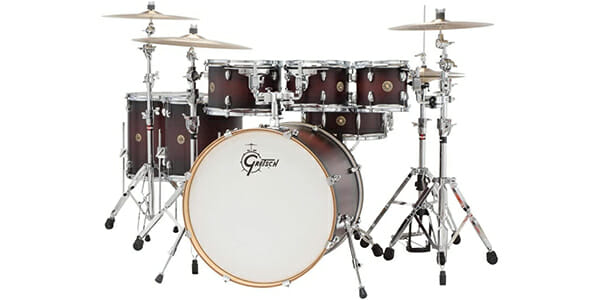 Gretsch drum set has a very long history of proving its worth to the customers. They believe in the beauty of the old. Hence, their products keep on updating from the old version to the new ones.
To be very specific about its components, all of them are made of quality material. They are designed in a very specific manner, to create magic. They add extra effects to the music you produce.
This drum set comes in a satin deep cherry burst color. They also have a new tom holder design.
Pros
Branded
High quality
Good design
Coming from a traditional brand and with all the requirements, this drum set provides the magic you need for your music.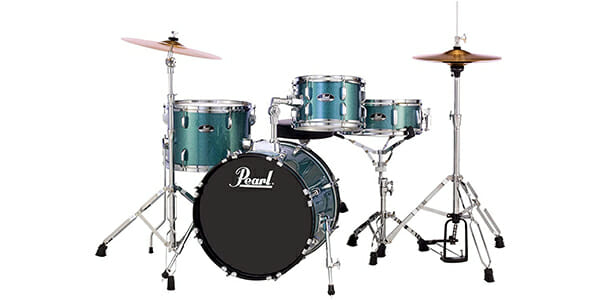 For all the touring drummers, this one is specially made for you. Pearl has been pioneering in producing touring drum sets for a long time. It has earned the trust of its customers too.
This drum set comes in an aqua blue color. The looks are attractive and it is long-lasting. It does not lose its shine even after a hustle filled journey.
The set consists of cymbals and all other important elements. All the elements are consistent in their sound and make your music rhythmic.
Pros
Affordable
Road ready touches
Good color
It is important to choose a very durable and quality drum set for a touring drummer. This set serves the purpose at an affordable price.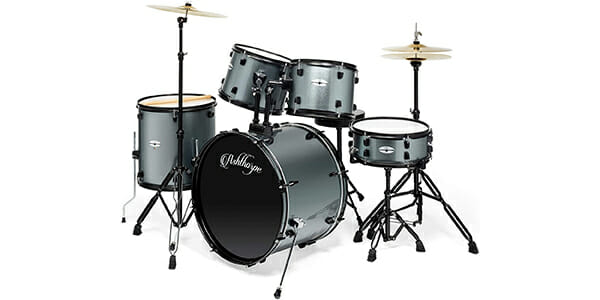 This specific drum set produced by Ashthorpe has very high quality. It is a complete drum set suitable for every category of users.
The drum heads are made of Remo batter heads. Remo is the largest producer of drumheads and hence the quality increases. It also produces an acoustic effect to the whole music.
Its looks are presentable. This drum set is easily fixable and readable making the job of the musician much less.
Pros
Affordable
Sleek body
Remo batter heads
Remo batter heads, presentable looks, and easily fixable features are available at a cheap price.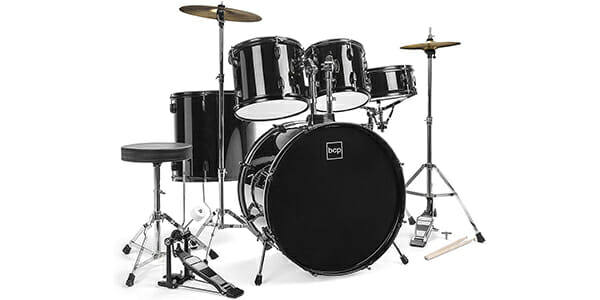 This product has a complete set of 5 drums, cymbals, stands, stool, drum pedal, sticks, and floor tom. It is suitable for all adult drummers. As the name suggests, the products of BCP are also the best.
The looks of the drum set are catchy as it has a high-gloss finish. The size of the drums is very versatile and it provides an easy read to the drummers.
These drums are made of high-quality materials and it is a long-lasting product.
Pros
Affordable
Long-lasting
Great look
Cons
Might not be suitable for professionals
At this price, it is the best product available with all the components and an everlasting body.
Frequently Asked Questions
Do drum sets come with cymbals?
While purchasing most of the drum sets, you will require to mention the need for cymbals, to receive it with the drum set. Hence, it is only very few brands that provide cymbals along with the drum set without an additional mention.
What is a complete drum set?
A complete drum set comprises 5 basic drums consisting of small and large drums, cymbals, sticks, stands, a stool, tom-toms, and a floor tom. But, according to the interest of the drummer, they can add on to this basic drum set. Cymbals might not be available in all drum sets but most of the drummers look for cymbals along with the drum kit.
How do you arrange drum cymbals?
There are three types of cymbals.
1. Ride cymbal- set it up on your right side, over the floor tom.
2. Crash cymbal – set it up on your left side, between your snare drum and your mounted tom.
3. Second crash cymbal – set it up in between your mounted tom and your floor tom.
How much does a full drum kit cost?
There are different categories of drum kits available. Junior drum kit, intermediate drum kit, and professional drum kit. All three of them have different price ranges. Junior drum kit costs between 30 to 200 dollars. Intermediate drum kit costs between 700 to 1500 dollars. Professional drum kit costs between 3000 to 10000 dollars.
What is a good starter drum set?
There are a lot of drum sets that are suitable for a beginner. But some of the best ones are:
1. Pearl roadshow – best in general
2. Pearl export- best selling
3. Ddrum d1 20B- best acoustic
4. Ashthorpe- best for adults
5. Alesis nitro- best electronic
What cymbals do you need for a drum set?
Cymbals add a significant effect to the drum set. There are a variety of ways in which you can use cymbals.
1. Ride – a large cymbal used for jazz music
2. Hi-hats- 2 cymbals of the same size played together
3. Crash – large cymbals with a fast attack used for accents
4. Splash – small cymbals used in similar ways to crash cymbals
5. China – harsh trashy sounding cymbals
How high should a snare drum be?
A snare drum produces a sharp staccato sound and is placed between your legs. Your snare drum should be placed at least 1 or 2 inches above your knees to avoid contact between the two.
Are drums hard to learn?
Drums are just like any other musical instrument. With proper practice, you can learn to play drums and can master it. A drummer needs to have a rhythmic knowledge of the music he is playing. With interest and practice drumming becomes an enjoyable job.
What does a beginner drummer need?
A beginner drummer requires a complete drum set with cymbals to take his steps towards becoming a professional drummer. The complete drum kit consists of basic components like a hi-hat, snare drum, bass drum, and a seat. With this equipment and interest, a beginner is all set ready to become s professional drummer.
What is the best drum kit for an intermediate?
There are a lot of drum kits available in the market. These drum kits are available according to the need of different categories. For an intermediate, there are a lot of drum kits. But here are some of them:
1. Ludwig breakbeats drum kit
2. Yamaha stage custom birch drum set
3. Natal arcadia
4. Pearl export
5. Gretsch renown drum set
There are a lot of brands that produce drum sets but there are only a few that give cymbals along with it. The above mentioned 6 Best Complete Drum Sets With Cymbals will help you choose one of the best drum kit available in the market.