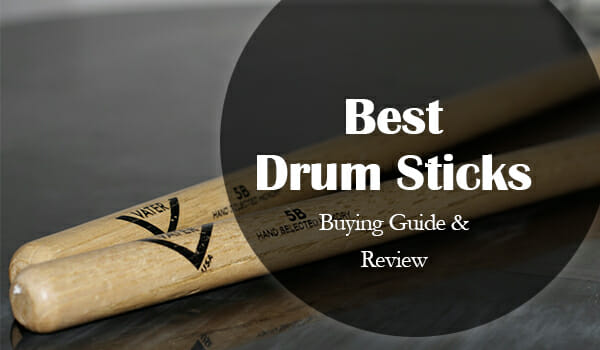 Drum sticks are often neglected and overlooked by drummers due to their small size and low price when compared to other accessories.
However, you shouldn't make this mistake as the quality of your drumstick has a significant impact on your performance. Even though drumsticks don't cost a lot, they are still one of the most critical components in your drumming arsenal.
Throughout history, legendary drummers have time and again stressed on the importance of having the right drum stick.
However, choosing the perfect drum stick isn't so easy. There are many factors that come into play here.
To make things easy for you, we have compiled a list of 9 best drum sticks of 2023.
Check them out below.
Table of Contents
Top Drum Sticks Reviews of 2023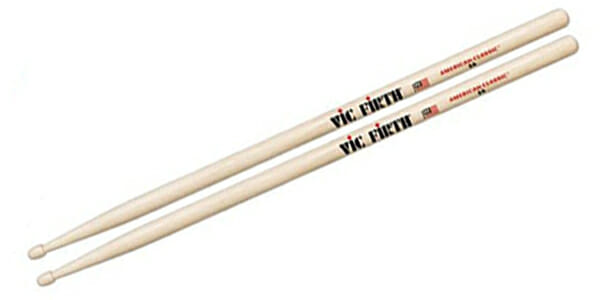 Vic Firth is one of the oldest brands of drumsticks that are still around and produces some of the highest quality drumsticks. Vic Firth began operations more than 50 years ago and is a household name among drummers now.
American Classic is a whole line of first-class drumsticks that are released in different sizes. These are of 5A size which is most used by drummers across genres. Rock drummers especially like these sticks a lot.
The sticks are made of high-quality hickory and the weight is evenly distributed across which preserves the richness and originality of the sound after being hit.
Vic Firth has provided a teardrop tip for rich and more defined sounds on the cymbals. Besides the sound, these are some of the most durable drumsticks in the market, mainly due to its material as hickory is quite a strong variety of wood.
There is no doubt that you'll very quickly familiarize yourself with these sticks due to their ergonomic design.
These are 5A sticks that are slightly longer than 40 cm and have a diameter of 1.44 cm with a medium taper length.
Moreover, American Classic 5A is the best selling pair of drumsticks worldwide. Whether you're a beginner or a pro, this is one set of drumsticks that you can buy with your eyes closed.
Pros
Medium taper size.
Even weight distribution.
Teardrop tip.
Highly durable.
Cons
Not ideal if you're looking for a rounder tone.
American Classic 5A by Vic Firth is the best-selling drum sticks for a reason. It is the go-to product for many drummers worldwide.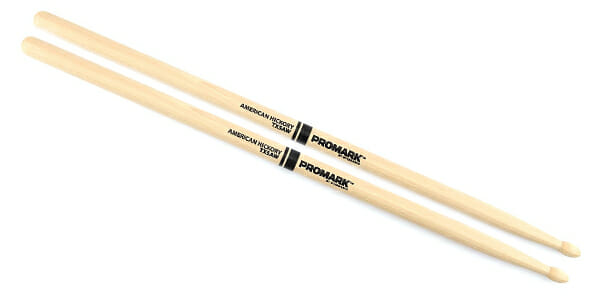 Promark is one of the big names when it comes to drumsticks. They are among the few brands who deal exclusively in drumsticks. Again, these are wooden sticks made from hickory, which is the most popular type of wood among musicians.
Hickory stands in between oak and maple in terms of hardness which gives you an ideal playing experience. Hickory is also particularly famous for its resilience, classic feel and durability.
Promark has also released a complete series of drumsticks under the name of American Hickory. These drumsticks come in different sizes, but for this list, we decided to choose the 5A version.
The diameter is 1.39 cm which is slightly less than Vic Firth 5A sticks, while the length is 40.6 cm. These sticks are quite similar to the Vic Firth 5A in almost every respect except one.
Vic Firth has the teardrop tips, whereas Promark has oval tips in this product. Oval tips have their own advantages, for example, the tone is darker and warmer which is suitable for many genres of music.
Finally, the taper length is medium for a balanced response and rebound. Moreover, these are available in many colors, including, yellow, red, blue, green and the standard no colored version.
All these features suggest one thing, that these sticks were designed to be extremely versatile. Even if you're a heavy hitter or a fast player, American Hickory 5A will take care of your needs.
If you like to play different types of music with varying tempos, then these are the best choice for you.
Pros
Highly versatile.
Made using hickory wood.
Medium taper size.
Multiple colours.
Promark American Hickory 5A is a pair of state of the art drumsticks that is highly versatile and one of the few oval-shaped tipped sticks in the market.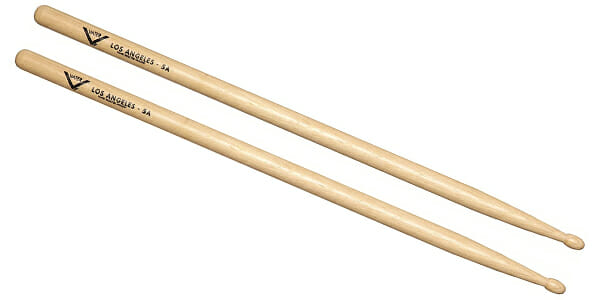 This is one of the most popular drumsticks among the most legendary rock and metal drummers of the 80s and the 90s. Vater was and still is a household name in the drumstick business.
VH5AW has seen some of the legends of drumming, including Chad Smith of Red Hot Chilli Peppers and Mike Mangini of Dream Theater, among many others.
The reason for this unmatched popularity of VH5AW is the superior quality. Vater conducts stringent quality tests for its drumsticks; as they measure the moisture content, straightness and grain structure among many other aspects, before rolling out the product to the market.
These are also wooden drumsticks made from Hickory, and also of the size 5A. The diameter is 1.45 cm which might feel a little bulky, and the length is 40.6 cm, same as that of the Promark 5A.
Vater has done a minor tweak with these drumsticks. They have made these slightly heavier towards the tip for fast attack and response. This little experiment by Vater goes a long way in making these sticks one of the most well-balanced drumsticks in the market.
Vater VH5AW comes with a short taper length. The length of the taper, when combined with other aspects including the weight balance, make them perfect for rock or metal drummers where a lot of heavy-hitting is required.
If you think you'll be doing plenty of heavy-hitting or playing crazy drum solos in a metal song, then Vater VH5AW are the drumsticks you need to go for.
Pros
Well balanced sticks.
High quality.
Short taper.
Hickory.
Cons
Not suitable for blues or jazz.
Vater VH5AW was (and still is) the choice of rock legends. Its well-balanced structure and supreme quality earned it a spot on this list.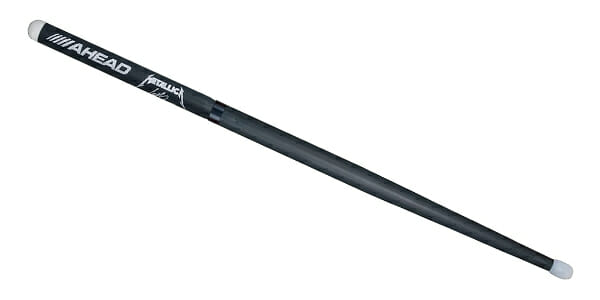 If you're a metal fan then you're probably aware of who Lars Ulrich is. For those of you who don't know, Lars is the drummer of one of the great thrash metal band – Metallica.
AHEAD which stands for Advanced High Efficiency Alloy Drumsticks had designed this pair of drumsticks specifically for him. These are made of carbon fibre which is one of the lightest and strongest materials developed by mankind.
As you probably have guessed by now, AHEAD Lars Ulrich has been designed for metal or hard rock drummers which require heavy hitting. The material goes a long way in this regard.
The company claims that these sticks can last for up to 10 times longer than traditional wooden sticks.
The design is perfect as per ergonomics and you'll feel fifty percent less shock and five percent more rebound than normal drumsticks. The alloy core provides unmatched weight balance. One awesome feature is that you can replace the tips, covers and rings.
Talking about tips, they are oval-shaped and made from nylon. The company has also added a built-in Vibration Control System (VRS) for better sound quality and playing comfort.
These are also 5A sticks but a bit bulkier than other entries, as the length is 41.275 cm and diameter is 1.51 cm. If you're also a metal drummer and want a pair that lasts for years, then, by all means, go for the Ahead Lars Ulrich Drumsticks.
One thing you should know before you buy, these are significantly costlier than wooden sticks.
Pros
Extremely durable.
Inbuilt Vibration Control System.
Less shock than wood sticks.
More rebound.
AHEAD Lars Ulrich is the most durable and the best pair of drumsticks for metal or hard rock musicians in the market. No way we were going to skip this one.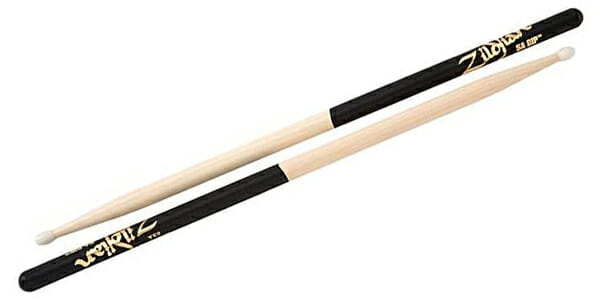 Zildjian is one of the oldest companies in the world, not only in the case of drumsticks but the oldest companies in general. Founded in 1623 in Constantinople, it might be the oldest surviving company to ever exist.
Anyways, they currently deal in drums and related instruments. In fact, they are the biggest drum maker in the world.
Nylon Black DIP drumsticks is one of their flagship products from the legendary DIP series. There are many other sticks in this particular product line, including many other colors and sizes.
These are again 5A sticks as it is the most popular and in-demand size for drummers. The exact length is 40.6 cm and the diameter is 1.42 cm. The material used is Hickory due to its numerous advantages. The taper length is medium and the hickory tips are oval-shaped. Oval shaped tips are best if you're looking for versatility. You can always modify your tone by turning your hand, reducing the surface area that actually touches the drums.
However, the most impressive feature of these sticks is their coating. They come with a black colored nylon coating which the company calls DIP material. The logic behind the coating is that it significantly improves your grip and leads to effortless playing if your hands get sweaty.
This water-resistant coating reduces the chances of slipping dramatically. If you are looking for a non-slip pair of drumsticks that is also highly versatile, then Zildjian Nylon Black DIP is the right pick for you.
Pros
Non-slip DIP material coating.
Water-resistant.
Versatile.
Oval shaped tips.
Zildjian is a household name when it comes to drum manufacturing and Nylon Black DIP Drumsticks is their best selling product.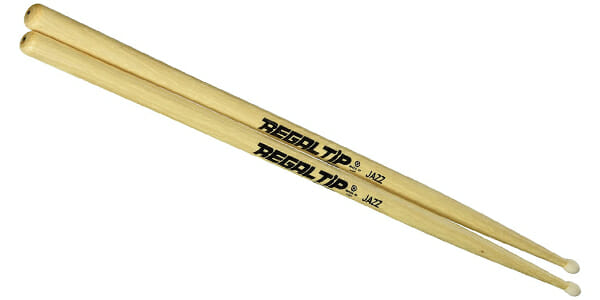 RegalTip is another renowned name in the drumstick business as they have been around for more than 60 years. They have a massive collection of sticks, mallets and other drum related instruments in their arsenal.
Specifically for drumsticks, they have an assortment which is classified according to the types of material they are made from, namely, hickory, maple and nylon.
For this list, we went for a product from the nylon series. Although the series is Nylon, the sticks are actually made from hickory wood, only the coating is Nylon.
The 111NT is also known as Jazz Regal Hick Sticks and was designed especially for Jazz musicians. All the specifications and parameters were crafted by keeping Jazz drummers in mind. Like the previous entry from Zildjian, the 111NT also improves your grip in sweaty conditions. Although, users have commented that 111NT's finish is slightly stickier than other sticks with coating, which will surely keep it firmly in your hand, without worrying about slipping.
Another fact worth mentioning is that these are one of the slimmest sticks in the world with a diameter of approximately 1.32 cm. The overall length is 40.6 cm or 16 inches.
This is one of the long tapered sticks as it is ideal for jazz or blues music. The tips are made from nylon as well and are teardrop-shaped. 111NT is also one of the lightest sticks, making it perfect for fast playing, although, being lightweight leads to low amplitude sounds.
If you're a jazz drummer, then you won't find any better pair of sticks in the market. I recommend you buy these the first you get.
Pros
Nylon coating for superior grip.
Extremely thin.
Long taper suitable for Jazz.
Lightweight.
Cons
Not suitable for rock or metal music.
RegalTip 111NT Regal Hick Sticks is a Jazz drummer's paradise. They have everything that a Jazz drummer could need, from long taper to non-slip coating.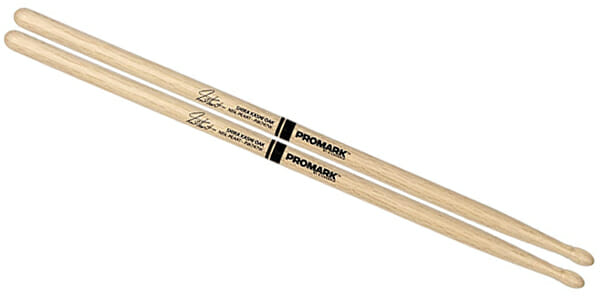 This is the second entry by Promark in this list and as we have mentioned before, Promark is known to deal exclusively in drumsticks – which means when they release a product, they do it after thorough research and testing. PW747W-4P Shira Kashi Oak is no different in this regard.
These are again 5A drumsticks made from wood. These sticks are made from Oak and are the sole Oakwood entry of this list. However, this is not your standard Oak, this is Shira Kashi Oak which is a Japanese strain and is known to be heavier and denser than the regular oakwood.
As you know that oak is one of the hardest woods out there; and this drum stick is made from one of the densest oakwoods in the world. What I essentially want to say is that if hard-wood is what you're looking for, then this is the right product for you. Japanese oak is also known for its durability and tensile strength.
The length of PW747W-4P is almost 41 cm or 16.1 inches, while the diameter is about 1.33 cm. Instead of a long taper, Promark has provided a medium taper so as to maintain a bit of versatility.
Medium taper also brings about a balanced response and rebound. The tips are wooden as well and are oval-shaped, which makes it more versatile and helps in producing darker and warmer tones than usual. If you're the kind of player whose primary genre is Jazz but who also likes to experiment with other genres, then this is the best choice for you.
Pros
Heavier and denser Japanese oakwood.
Oval shaped tips.
Medium taper length.
Promark PW747W-4P Shira Kashi Oak is not only the sole oakwood drumstick pair of this list but is also the first choice of many Jazz musicians due to its balanced rebound.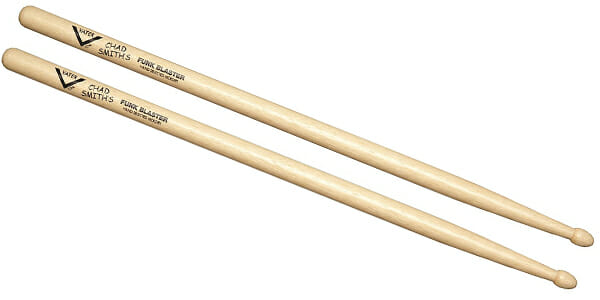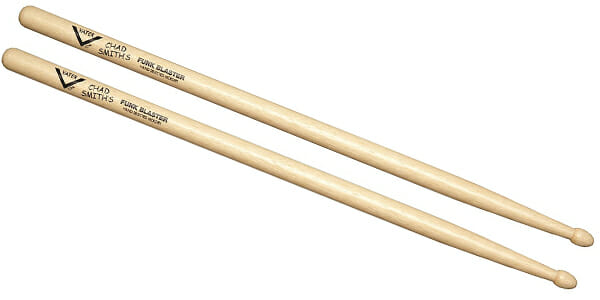 As we mentioned earlier, Vater is a popular name among rock drummers. So much so, that they released a drumstick model dedicated to one of their most loyal customers. Vater CHADW is named after Chad Smith who is the drummer of the famous rock band Red Hot Chilli Peppers. Chad is a fan of Vater sticks and this particular model is his first choice.
Like most entries, this again belongs to the 5A club. The material is hickory like the others. However, there are certain points that distinguish CHADW from other sticks in the market.
Firstly, it has a slightly beefy taper and has acorn-shaped wooden tips. The beefy taper adds extra weight at the end which leads to solid and heavy playing for long hours.
Another terrific feature of Vater sticks is the added moisture content which improves the longevity of the sticks, also increasing the weight slightly. The primary focus of Vater sticks is quality. Like all of their sticks, CHADW comes with a promise of being more straighter and consistent than any other stick in the similar price range.
The length is standard 40.6 cm, while the diameter is slightly bulky with 1.54 cm. As we have mentioned earlier, the taper is short and is thicker than usual. All of these attributes suggest one thing only, that CHADW is perfect for heavy playing in rock or metal genres.
If you think you can get the best of these, then, by all means, go for the Vater CHADW.
Pros
Beefy and short taper.
Acorn shaped tips.
Extra weight towards the end for solid playing.
Cons
Offers little in terms of versatility.
Vater CHADW has been the first choice of RHCP drummer Chad Smith for more than 20 years now. If such a legend can trust these drumsticks, then so should you.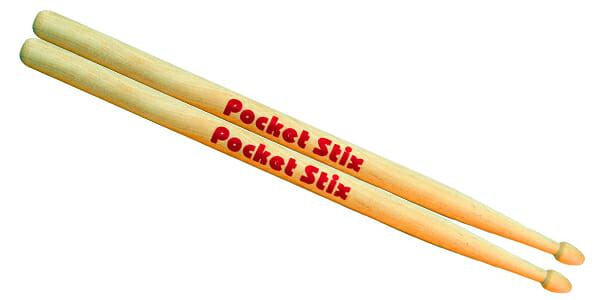 Aptly called Pocket Stix due to its size, these are the best pair of drumsticks for a beginner (or you want a pair for your child). Although the size is still 5A, the length is significantly shorter than usual drumsticks.
These can easily fit in your pocket due to its small size. Available in three variants, 11 inch, 13 inch and 15 inches, you can choose the size which fits your playing style and grip.
These are the only sticks that are made from maple. Maple is not that popular among professional drummers due to its less density, softness and weight balance.
However, all these attributes make it equally perfect for beginners and children. The smaller variants can be used by children, while the 15-inch variant can be used by adult players who'd like to play with a smaller stick than the standard 16-inch sticks. You can use these for your practice sessions even if you're a professional. The tips are wooden and teardrop-shaped.
To make these even more lucrative for kids, Pocket Stix come in many vibrant colors including pink, blue, green among many others. If you're looking to buy a pair for your child or yourself if you're an amateur, then Pocket Stix is the perfect choice for you.
Pros
Teardrop-shaped tips.
Great for beginners and children.
Comes in three variants.
Vibrant colors.
Cons
Not suitable for professionals.
Pocket Stix Maple might not be the most popular pair of drumsticks in the market but it is the best choice in case you're a child or a beginner.
Best Brands: Drum Sticks
1. Vic Firth
Vic Firth is one of the most prominent names in the drumming business. The company was founded by a musician named Vic Firth in 1963 with headquarters in Boston.
They specialize in making world-class sticks and mallets.
2. Promark
Promark was founded in 1957 by percussion instructor Herb Brochstein and is one of the few brands that deals exclusively in drumsticks.
Their products are famous among drummers all over the world. They were the first to bring Japanese oakwood sticks to America.
3. Zildjian
One of the oldest companies in the world, with a history dating back to the 17th century, Zildjian or Avedis Zildjian Company is an Armenian-American company.
They are known for being the biggest drum manufacturer in the world.
4. Vater
Vater Percussion is an American Company with headquarters in Holbrook, Massachusetts. They have been in this business for more than 60 years.
Vater is known for making better quality, straighter and more consistent drumsticks which are popular among many rock and metal legends.
5. AHEAD
Advanced High Efficiency Alloy Drumsticks or AHEAD is a company that focuses primarily on manufacturing synthetic drumsticks.
Their priority is to make the most durable sticks and their products are usually more expensive than their competitors.
Frequently Asked Question About Drum Sticks
What is the best drumstick for metal?
Metal requires plenty of heavy-hitting where you need to hit the drums with a resounding force. In those situations, hard sticks are preferred with short or medium tapers.
Many drummers go for the wooden sticks, mainly hickory, while there are others who prefer synthetic drumsticks due to their durability. Ahead Lars Ulrich and Vater VH5AW are the best ones that can help you in this regard. 
What is the best drumstick for jazz music?
Jazz doesn't require a lot of heavy-hitting, but there might be some instances where you need to play at a fast tempo. In those situations, wooden sticks are best which have long tapers, although medium can work as well.
Also, make sure that the tips are either oval-shaped or teardrop-shaped. I would recommend that you go either for Promark PW747W-4P Shira Kashi Oak or the RegalTip 111NT.
What is the ideal size of a drumstick?
Drumsticks come in various sizes, each of which is suitable for a specific music genre. However, the most commonly used size among drummers of all genres is 5A.
What is the cost of an average drumstick?
The range is not that broad. The cheapest ones you can get for less than 10 dollars.
However, the high-end models, particularly the synthetic ones can cost up to 40 dollars. The high price is justified as synthetic sticks last far longer than their wooden counterparts.
Should I buy a wooden drumstick or a synthetic one?
Although wooden sticks are cheaper than synthetic ones, they are not as durable. Especially if you are a rock or metal drummer, you might find yourself changing sticks every few months.
So, if you want something long-lasting, then synthetic could be a great choice, whereas wooden sticks have an authentic feel to them.
Conclusion
Drumsticks might not be the most popular equipment but as you probably know they are as vital as any other.
Whether you're a jazz drummer or a rock drummer, drumsticks are the first accessory that you need to buy. Surely, after going through all the entries in the list, there must be some favorites by now.
The only request is that you don't make a rash decision and weigh all the options before the final purchase. I hope this article helped you find the best drumsticks that suit your playing style and your genre.