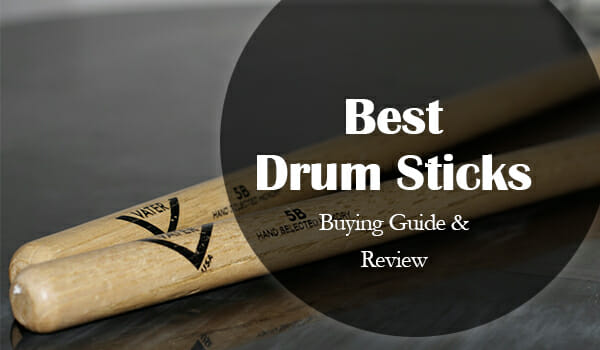 Drum sticks are often neglected and overlooked by drummers due to their small size and low price when compared to other accessories.
However, you shouldn't make this mistake as the quality of your drumstick has a significant impact on your performance. Even though drumsticks don't cost a lot, they are still one of the most critical components in your drumming arsenal.
Throughout history, legendary drummers have time and again stressed on the importance of having the right drum stick.
However, choosing the perfect drum stick isn't so easy. There are many factors that come into play here.
To make things easy for you, we have compiled a list of 9 best drum sticks of 2021.
Check them out below.
Top Drum Sticks Reviews of 2021
---
---
---
---
---
---
---
---
---
Buying Guide: Drum Sticks
As you must have seen in the list, each of these drumsticks is special in its own and has something to offer. So which one should you choose?
Well, that question has a complicated answer which depends on your playing style, preferences and genre.
But broadly speaking, drumsticks can be categorized into the following categories.
1. Size
Size is the first parameter you should consider as one size is suited for a specific set of genres or playing styles. There are a bunch of different sizes available in the market and they are denoted by a mix of alphabets and numbers.
If you're new to this, these alphanumerics might confuse you and you may end up buying drumsticks that are either too thick, too thin, too long or too short for you. The most common sizes available in the market are:-
1A – The longest stick around.
7A – One of the thin ones. Suitable for jazz and blues.
8D – Slightly longer than 7A but quite similar.
5A – The standard and most common size.
3A – Marginally longer and thicker than 5A.
5B – Shorter but thicker version 3A.
2B – The thickest drumstick. Most commonly used for rock/metal and practising.
2. Material
Material is the second parameter that one should keep in mind before buying drumsticks. Mainly, three types of material are used – wood, aluminium and synthetic (mostly nylon).
Among these, wooden sticks are more-widely used than the other two because most people believe that drums should be played only using wood.
Despite that aluminium and synthetic sticks are becoming increasingly popular these days due to their superior durability and features like replaceable heads. Although, these sticks cost significantly more than their wooden counterparts.
It is true that wooden sticks break more easily but they still remain the most popular choice of drummers due to the price and originality. Wooden sticks are further made of three different types of wood. These are:-
These are the lightest sticks for fast playing.
These provide the most ideal balance of density, mass and strength.
These are heaviest and the densest best suited for heavy hitters.
Tip
The logic behind different types of tips is that the sound varies with the amount of surface area that touches the drum upon hitting. The general rule of thumb is that with increased area, the sound is less defined and vice versa.
In the end, it is up to you what kind of tone you want. Although there are many drum tip types, these are the most common.
Teardrop
Pointed
Round tip
Barrel tips
Oval tip
4. Taper
Taper length is the length of the conical part of the drumstick, between the tip and the part where the stick becomes almost cylindrical.
Sticks have three types of tapers in general, namely, long, medium and short. Short tapered sticks are mostly used by rock and metal drummers, while jazz drummers use long tapered ones as they require more dynamics. Players who want the best of both worlds go for medium tapered sticks.
Best Brands: Drum Sticks
1. Vic Firth
Vic Firth is one of the most prominent names in the drumming business. The company was founded by a musician named Vic Firth in 1963 with headquarters in Boston.
They specialize in making world-class sticks and mallets.
2. Promark
Promark was founded in 1957 by percussion instructor Herb Brochstein and is one of the few brands that deals exclusively in drumsticks.
Their products are famous among drummers all over the world. They were the first to bring Japanese oakwood sticks to America.
3. Zildjian
One of the oldest companies in the world, with a history dating back to the 17th century, Zildjian or Avedis Zildjian Company is an Armenian-American company.
They are known for being the biggest drum manufacturer in the world.
4. Vater
Vater Percussion is an American Company with headquarters in Holbrook, Massachusetts. They have been in this business for more than 60 years.
Vater is known for making better quality, straighter and more consistent drumsticks which are popular among many rock and metal legends.
5. AHEAD
Advanced High Efficiency Alloy Drumsticks or AHEAD is a company that focuses primarily on manufacturing synthetic drumsticks.
Their priority is to make the most durable sticks and their products are usually more expensive than their competitors.
Frequently Asked Question About Drum Sticks
1. What is the best drumstick for metal?
Metal requires plenty of heavy-hitting where you need to hit the drums with a resounding force. In those situations, hard sticks are preferred with short or medium tapers.
Many drummers go for the wooden sticks, mainly hickory, while there are others who prefer synthetic drumsticks due to their durability. Ahead Lars Ulrich and Vater VH5AW are the best ones that can help you in this regard. 
2. What is the best drumstick for jazz music?
Jazz doesn't require a lot of heavy-hitting, but there might be some instances where you need to play at a fast tempo. In those situations, wooden sticks are best which have long tapers, although medium can work as well.
Also, make sure that the tips are either oval-shaped or teardrop-shaped. I would recommend that you go either for Promark PW747W-4P Shira Kashi Oak or the RegalTip 111NT.
3. What is the ideal size of a drumstick?
Drumsticks come in various sizes, each of which is suitable for a specific music genre. However, the most commonly used size among drummers of all genres is 5A.
4. What is the cost of an average drumstick?
The range is not that broad. The cheapest ones you can get for less than 10 dollars.
However, the high-end models, particularly the synthetic ones can cost up to 40 dollars. The high price is justified as synthetic sticks last far longer than their wooden counterparts.
5. Should I buy a wooden drumstick or a synthetic one?
Although wooden sticks are cheaper than synthetic ones, they are not as durable. Especially if you are a rock or metal drummer, you might find yourself changing sticks every few months.
So, if you want something long-lasting, then synthetic could be a great choice, whereas wooden sticks have an authentic feel to them.
---
Conclusion
Drumsticks might not be the most popular equipment but as you probably know they are as vital as any other.
Whether you're a jazz drummer or a rock drummer, drumsticks are the first accessory that you need to buy. Surely, after going through all the entries in the list, there must be some favorites by now.
The only request is that you don't make a rash decision and weigh all the options before the final purchase. I hope this article helped you find the best drumsticks that suit your playing style and your genre.