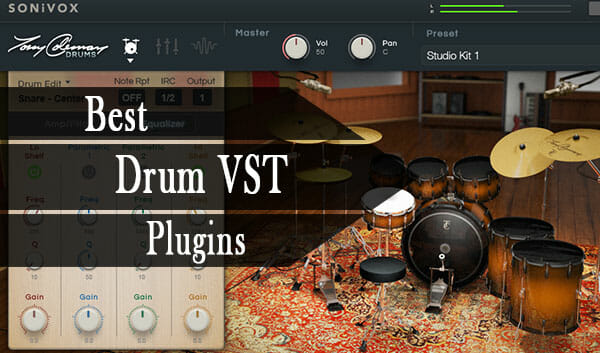 Drum VST plugins are an essential component of your DAW. It can be a costly affair to buy hardware like drumming machines and set up a professional studio. VST plugins are a boon in this regard as they provide us with a virtual way to create music. Drum plugins, in particular, are a must if you want to create beats on your DAW.
After conducting thorough research, we have compiled this list of 20 best drum plugins of 2021. If you think you have what it takes to make beats, then you should definitely check out this list.
Top Drum VST Plugin Reviews of 2021
---
---
---
---
---
---
---
---
---
---
---
---
---
---
---
---
---
---
---
---
Buying Guide: Drum VST Plugins
There are a plethora of VST drum plugins in the market. Here we have listed mostly the paid ones; if you include the free plugins, then the number might go into hundreds. However, most of the drum plugins are quite similar to one another. In fact, there are only a few differentiating factors which lead to some relevant distinction between any two VST plugins.
If you are confused on what kind of plugin you should buy, then let us help you. The kind of plugin you want depends on these four factors listed below.
1. Compatibility with Windows or Mac
Most plugins are compatible with both Windows as well as Mac. However, there are a few VST plugins that are compatible with only one OS. So before buying, make sure that the product you have chosen is compatible with your computer.
2. Budget
Budget is another factor. If you don't want to spend anything at all, you can get a free VST plugin for practice. On the other side of the spectrum , you'll find many VST plugins whose cost is equivalent to some of the best drum machines. So, any product you choose must be in line with your budget.
3. Features
Due to the sheer number of options available, each VST plugin brand tends to offer some unique features to its customers. Many of the items in this list have special features which won't be found in any other plugin. In the end, it is up to you which features you want to choose and which you want to pass.
4. User Interface
This is the final differentiating factor for VST plugins. Particularly for drum plugins, you'll find that there is a significant disparity in the quality of user interface. Many are relatively easy to use and can be mastered quickly even if you are a beginner. While others are confusing and complicated. So if you are a beginner, choosing a plugin with a comfortable UI design would be best.
5. Genre
While most plugins are suitable for multiple genres, many are designed exclusively for particular genre types. For example, the Abbey Road Drummer from Native Instruments is made for music from the 60s. So before buying, you need to consider what kind of music you'll be creating and choose the optimum plugin accordingly.
6. System Requirements
This is one of the most critical factors that you must keep in mind before you shop for a VST drum application. Most of them will run on average computers and will have minimum system requirements. However, there are some entries in this list that require a lot of hard drive space and RAM. Some even need a professional sound card. Make sure that the product you choose is in line with your computer.
Best Brands: Drum VST Plugins
1. FXpansion
FXpansion is a limited company based out of London that is famous for its music software including BFD3, Geist2 and Strobe2. Soon after their inception in 1999, they expanded their operations to international locations. They were the recipient of "Electronic Musician Editors' Choice Award" four times.
2. Native Instruments
Native Instruments was founded in 1996 in Berlin and now they have 6 offices in 3 continents. They are a renowned vendor that supplies state of the art musical electronics and software. One of their famous hardware line is the Maschine drum machine series.
3. ToonTracks
ToonTracks was founded by Mattias Eklund around fifteen years ago for providing technological solutions to drummers. They are one of the few companies who exclusively deal in drum VST plugins.
4. Arturia
Arturia is a Frech technology company based in Grenoble. They specialise in making electronic equipment for musicians including high-end drum machines, MIDI controllers, sequencers and much more.
5. Xfer
Xfer Records is a company that specialises in making software for musicians from different genres. Many of their world-class products include Cthulhu, which is a chord and arp tool, and Serum, which is a synthesiser.
FAQs About Drum VST Plugins
1. What are the system requirements for a good VST drum plugin?
Most plugins are compatible with both Mac and PC, and can run on quite basic requirements. However, some high-end plugins require a heavy machine to run it. To be on the safe side, make sure you have the latest operating system, 4 GB RAM and ample amount of
2. What is the average cost of a VST drum plugin?
The range is pretty diverse. There are many free plugins and some of them you can buy for a few dollars. On the other end, you'll find VST plugins that cost hundreds of dollars. As the price increases, so does the features and specifications.
3. Should I go for a VST drum plugin or buy an external drum machine?
It is a complicated question whose answer depends on your skill level and your preference. Drum machines offer much more than a plugin ever will. But that comes with an extra cost. Operating a drum machine also requires extra skill which many of us don't have.
4. Can I use VST plugins on a Linux based computer?
Yes, but most of the high-quality plugins are not compatible with Linux computers. Nearly, all of the plugins that we have featured in this list run on Mac or PC. Some plugins run exclusively on PC and don't support Mac. There are some free plugins like the MT Power Drum Kit which can run on a Linux based machine.
5. Where can I buy VST plugins?
VST plugins are software that you won't be able to buy on your traditional eCommerce websites. However, many vendors deal in such applications like Sweetwater.com and pluginboutique.com.
---
Conclusion
When it comes to VST drum plugins, there are many choices available in the market. Some are suited to modern genres while others are perfect for classic genres like blues or psychedelic rock. However, not every plugin might be for you.
Some of these applications require a specific skill set and expertise to operate. If you think you have what it takes to master a VST plugin, then, by all means, take your pick.