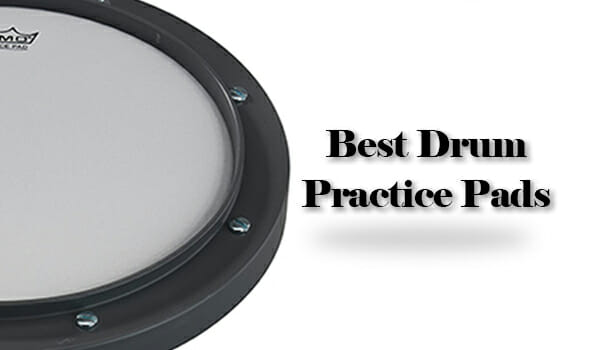 We all want to practice and get better at what we do. But drumming is one thing that is really hard to practice. Not because of the lack of trying on our part but because drums are one of the bulkiest musical instruments and it is quite tiring to carry them from one place to the other.
Also, if you're going to be practicing at home, then your neighbors might have a word or two with you. That's why we have drum practice pads for all these troubles.
In this article, we'll be discussing the 9 best drum practice pads in 2023.
We'll also help you in finding the perfect practice pad that meets your requirements and guide you through the whole buying process.
Table of Contents
Top Drum Practice Pad Reviews of 2023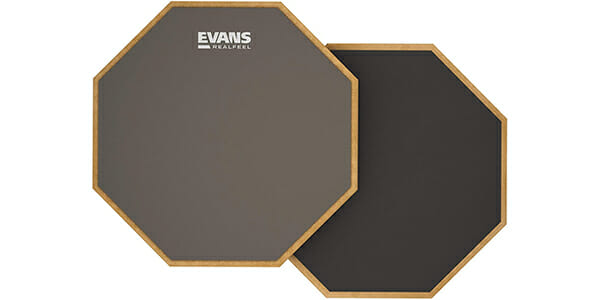 When it comes to drum practice pads, there are not many brands that you can trust. Evans is probably the number one on the list of most trustable brands for practice pads.
Evans is a subsidiary of the multi-national corporation D'Addario that deals in drum related instruments.
Realfeel is a series of high-quality drum practice pads that are available in different sizes. We have picked the 2-sided 12 inches model as it is the best one of the lot. At 12 inches, it is not too big nor too small, just the perfect size that even fits perfectly in a snare basket.
This pad is one of the best substitutes in the market for an acoustic drum. The primary material is gum rubber which is quite durable and is also engineered to adhere to the most stringent quality standards of the industry.
As we mentioned, this is a 2-sided pad, but both the sides are made of slightly different materials. One side is made from natural rubber that provides realistic and authentic rebound. The company has used a dark grey fabric for finishing that significantly improves its resistance to wear and tear, increasing its longevity in the process.
While the other side is made from recycled rubber which is a bit harder than the first side, this hardened side is better for your practice sessions as it gets you more familiar with the snares and cymbals.
If you're looking for a portable, small practice pad that also has excellent sound quality and is double-sided, then look no further, Evans Realfeel 2-Sided 12 inch practice pad is what you have been looking for.
Pros
12 inches.
Double-sided.
Realistic rebound on the natural rubber side.
Dark grey fabric finish that improves durability.
Cons
You can face some issues while mounting it.
Evans Realfeel 2-Sided Practice Pad is one of the best sounding pads in the market. Features like two sides and realistic rebound earn it a place on this list.
Drumeo is also one of the household names when it comes to practice pads, and the P4 is their trademark product. P4 is one of a kind drum practice pad with plenty of terrific features.
On first look itself, P4 sets itself apart from the crowd. You will not find a similar practice pad anywhere else in the market. The company is so confident and proud of their product that they have openly labelled it as the world's most versatile practice pad.
The reason for all these praises is the superb design. P4, as the name suggests, has four different surfaces, each made of a different material. Each of these surfaces are different colored and produce a different sound when struck.
The blue area is made of standard gum rubber which sounds like a snare drum and takes most of the area.
Then there's the black and cream surfaces, which are made from slightly harder neoprene rubber. This black portion resembles the high tom while the cream surface is more like a quiet floor tom.
Lastly, there's the red area which is the hardest of them all and mimics the sound of the ride cymbal. Drumeo P4 effectively offers you four practice pads at the price of one.
For those who are wondering whether to buy multiple pads for the different types of sounds they want to practice, P4 is a great all in one solution for you guys.
Also, it is reasonably small and carrying it around in your backpack should not be much of a problem. If you're looking for a multi-surfaced pad and want to avoid buying multiple pads, then Drumeo has come to your rescue with the P4 practice pad.
Pros
Four surfaces.
Small and easy to transport.
Hardest red surface emulates the ride cymbal.
Black and cream areas for high and floor toms.
Drumeo has rightly labelled it as the world's most versatile practice pad. There is no other practice pad in the market that offers anything similar to the P4.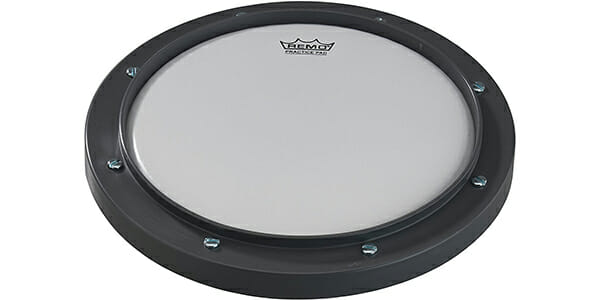 Remo is another big name in the drumming business, particularly in the Americas. They are known for making drums that use cutting edge technology for best acoustic sounds. They came out with this terrific practice pad for those who want to test their skills at home.
The RT-0008-00 Tunable Practice Pad from Remo is their flagship product in this category. Available in two colours, black/red and grey; this practice pad is designed for the amateur player and the pro alike.
Your skill level doesn't matter, you'll feel right at home as soon as you start hitting it with sticks. It is a tunable practice pad that comes in 3 sizes, namely, 6-inch, 8-inch and a 10-inch variant. You can choose either of these depending on your preference.
Another great feature about the RT-0008-00 is that it can be mounted on a stand, which you'll have to purchase separately if you want to get the feel of a real drum. The bottom also has a protective rubber which prevents slipping and also protects it from scratches and other damage.
However, the best feature by far of this pad is that it comes with a replaceable Ambassador Coated drumhead which gives the rebound and bounce of a real drum.
It is also one of the drum practice pads that your wallet will like due to its impressive price. If you think that you can get the best out of this pad, then you should go for the RT-0008-00 without hesitation.
Pros
Protective rubber bottom which prevents slips and scratches.
Ambassador Coated drumhead.
Available in two colors.
Mountable.
Cons
Only single-sided, which means it lacks versatility.
Remo RT-0008-00 Tunable Practice Pad is one of the few pads in the market that provide a great deal of features at a low price. Also, it looks great in both the colors.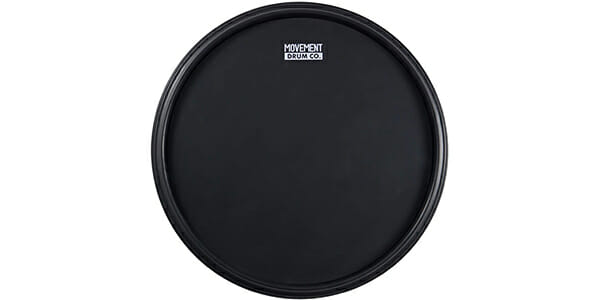 Movement is probably the only company in the world that deals exclusively in drum practice pads.
Instead of having a diverse product line, they decided to cater to the needs of a specific practice pad market. They have not released too many pads till now, and for this list, we have chosen their best practice pad till date.
The 12-inch double-sided practice pad by Movement might be the most complete pad ever built. It has everything that a drummer could ever ask for.
In addition to being 2-sided, this pad comes with four different playing surfaces, each with a distinct sound and also two inserts. Of the four surfaces, the top surface is made of silicone rubber with a laminated insert and produces the most realistic sound. Without the insert, it resembles a snare drum. Another one is the conditioning surface that has low rebound and is perfect for technical performance.
This surface also absorbs shocks while maintaining the bounce. There is also a dual surface which is softer than others and has lesser rebound. In all, these four surfaces provide a comprehensive solution to all your practicing needs.
Another fact worth mentioning is that Movement has done a marvellous job by keeping this pad lightweight and durable at the same time.
It might be a little pricier than others, but if you consider the features, then you'll agree it is worth every penny. If you're out to buy a pad that has multiple surfaces then there's no better choice in the market than Movement's 12 inch 4 in 1 practice pad.
Pros
Four surfaces.
Double-sided.
Durable and lightweight.
Versatile.
Movement's 12-inch Double Sided Practice Pad is an all in one solution to all your practice problems. It has multiple surfaces which you can customise for different types of sound and rebound.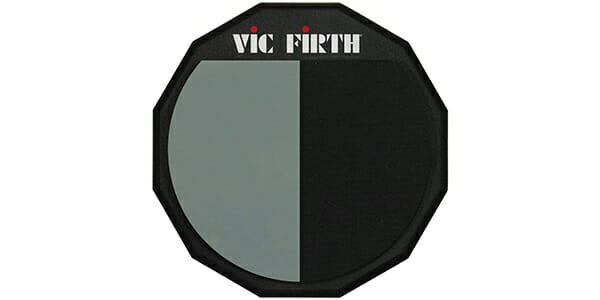 Vic Firth is another big name in the drumming industry. They are mainly known for their high-quality drum sticks, but their product line is far more significant than that.
They manufacture drums, drumkits, drum sticks, drum practice pads and many other drums related equipment. This particular pad is not only one of their most extraordinary products, but it is also a unique pad.
The reason for its uniqueness is in its design. Although it is only a single-sided practice pad, Vic Firth has managed to provide two drumming surfaces on a single side. They have split the pad into two surfaces which are made of different types of rubber, one hard and the other soft. The harder side produces a more realistic sound and rebound.
If you want to practice with less noise due to any reason, then the softer surface is preferred. The base is wooden like many other practice pads out there.
Vic Firth Double Surface pad might not be the most flashy or the most eye-catching practice pad of this list, but it certainly is one of the most reliable.
It is cheaper than other pads and is one of the best practice pads in the market for beginners. If you are new to drumming and want an affordable drum pad for practice, then this 12-inch pad from Vic Firth might be the perfect choice for you.
Pros
Two surfaces despite being single-sided.
Suitable for beginners.
Cost-effective.
Cons
Experienced players might not be satisfied.
Vic Firth is a name that has to be in any drum related list. This 12-inch practice pad by them probably isn't the most fancy in the market, but it is perfect for beginners.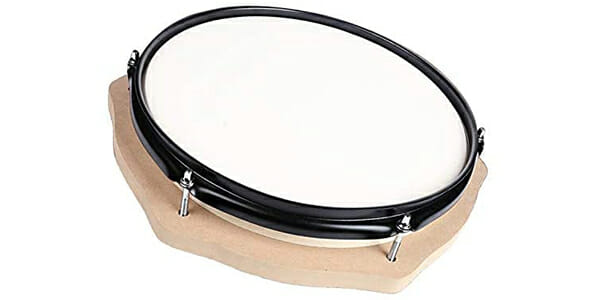 Tosnail is one of the lesser-known names in the list. That being said, their 12-inch Silent practice pad is quite popular in a few sections of the drumming community. Those who are aware of this pad know that it can easily compete with the other heavyweights in this list.
Although, it is slightly bulkier than any other entry in this list. It is a 12-inch single-sided pad with a wooden base. However, this is not your standard wooden base; this wooden base has a maple wood resonating chamber.
This chamber ensures that the sound echoes inside it after you hit the drum head and produces one of the most authentic sounds possible. It has to be noted that what this practice pad lacks in portability, it more than makes up with its sound quality.
Some might even say that its sound quality is better than the priciest practice pads of this list. The drumhead is attached to the wooden base using six screws, which you can always unscrew if you ever want to replace the drumhead.
Tosnail 12-inch Silent pad is also one of the few pads in the market that can be mounted on a stand to give you an experience similar to a real drum.
If lack of portability isn't a problem and sound quality is the priority for you then you'll find no better practice pad than Tosnail's 12-inch Silent Practice pad.
Pros
Superb sound quality.
Mountable on a stand.
Realistic rebound and feel.
Maplewood resonating chamber.
Cons
Single-sided which means it lacks versatility.
Bulkier than other practice pads available.
Tosnail 12-inch Silent Drum Practice Pad is one of the old school pads that is made for those who care only about the sound quality and a realistic drumming experience.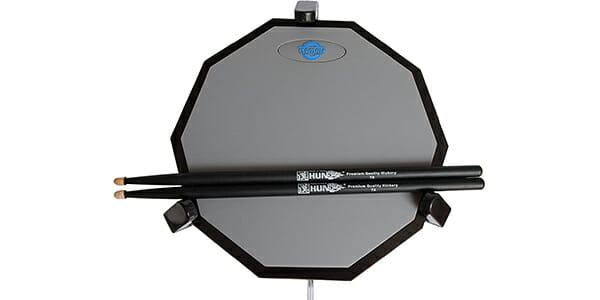 Tromme is not as famous as many others in this list, but they do make some high-quality practice pads. This pad is no exception.
The feature that makes the Tromme practice pad stand out from the rest is their choice of material. Unlike most pads that are made from gum rubber, this pad is made from high-quality silicone which has numerous advantages over the former.
Silicone is non-toxic and far more durable than gum rubber. Silicone is also quite soft and provides a realistic rebound that gives you the feel of playing on a real drum. It is a single-sided pad with a wooden base and is available in two colors, blue and grey. The company has released a perfect snare drum practice pad of 12-inch diameter.
Tromme practice pad is also one of the quietest practice pads in the market. Your neighbours will love you if you end up buying this one.
To be a little extra generous, the company has also thrown in a complimentary carrying case, so you don't have to worry about carrying it around everywhere. If you're looking for a pad that is made from a different material than gum rubber, then there's no better choice in the market than the Tromme Drum Practice Pad.
Pros
Silicone material.
Mountable.
Complimentary carrying case.
Realistic rebound and response.
Tromme Drum Practice pad is one of the few pads in the market that is made of higher quality silicone rather than gum rubber. Also, the complimentary carrying case guaranteed it a place in our list.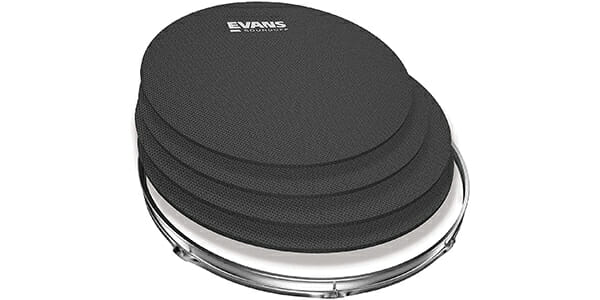 Evans is one of the leading names in the drum practice pad business. If you are adamant on buying an Evans pad, you have one more choice to ponder on. SoundOff Drum Mute Pak might be the best entry of this list, but that comes at an added price.
The Mute Pak is one of a kind drum practice pad. The most apparent feature that differentiates it from the rest is that it is not a single pad. Instead, it is an assortment of 4 pads of different sizes. You'll have 12, 13 and 16-inch toms and a 14-inch snare drum pad.
This is more than any drummer could ask for. Another standout feature is the company's claim that Mute Pak provides a 95% volume reduction. This essentially means that you can practice like you're playing on a real drum, without worrying about the noise and disturbance to your neighbours.
It is also one of the most durable pads in the market. The four mutes sit directly on top of the drumhead and are made of durable rubber which can withstand wear and tear.
The company has also made sure that drummers belonging to different skillset feel equally comfortable while playing it. Whether you're a pro or an amateur who's just recently began drumming, you'll find yourself right at home with the SoundOff Drum Mute Pak.
And for those who insist on buying American made products, you're in luck. You'll be pleased to hear that Mute Pak is manufactured and assembled entirely in the United States.
If you are one of these people who are looking for a high-end drum practice pad, then there's no reason you shouldn't go for Evans SoundOff Drum Mute Pak.
Pros
Three toms of 12, 13 and 16-inch.
14-inch snare.
95% volume reduction.
Durable.
Evans SoundOff Drum Mute Pak is the pad for you if you're looking for an American made pad that has been manufactured adhering to the most stringent quality control standards.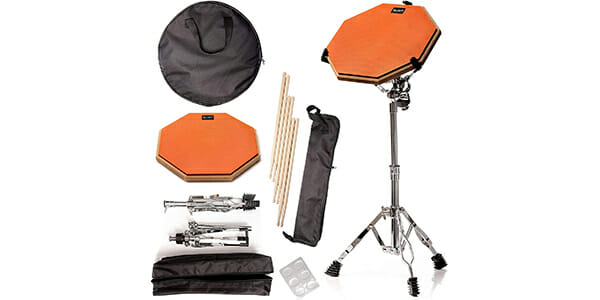 This is the only full kit that we are featuring in this list. Slint has released this complete bundle that has everything that you would need alongside the practice pad.
This is for the ones who don't want to buy the different pieces like sticks and stand separately. Slint Practice Pad & Snare Stand Bundle is a one-stop solution for any drummer out there.
The components include a double-sided pad, one snare stand, three pairs of drum sticks, six gels for drums and three portable covers for your drum sticks.
The company has also thrown in audiobook and Ebook versions of the bestseller book "Drumming for Beginners". Talking about the pad specifically, it is a double-sided pad made from gum rubber on one side and a soft rubber on the other.
As you might've guessed, the gum rubber side is harder, which resembles a real drum, while the soft side offers less rebound. All this sits on a wooden frame to provide stability.
The stand is double braced and fully height adjustable and has rubber-faced clamps that won't leave a mark on your snare. Also, the stand is quite sturdy and won't budge too easily. It can hold any drum pad which lies in the range of 8 inches to 15 inches.
Although, the feature that makes it stand out from the rest is it comes with a lifetime warranty. The company will return every penny if you're not satisfied with their product. If any of this sounds pleasing to you, then you shouldn't waste any time and buy the Slint Practice Pad & Snare Stand Bundle first chance you get.
Pros
Double-sided.
Stand and drumsticks included.
Lifetime warranty.
Complimentary ebook and audiobook.
Cons
Can be bulky if you're looking to buy only a pad.
Slint Practice Pad & Snare Stand Bundle is the best complete drum practice pad kit in the market. The complementary stuff that the company is offering should alone be enough to persuade you to buy it.
Buying Guide: Drum Practice Pads
Best Brands: Drum Practice Pads
1. Movement
Movement Drum Co. is not the biggest name in the music industry. Nevertheless, they are popular among drummers due to their cutting edge practice pads.
A couple founded the company and their offerings are targeted towards a niche market of drum pads.
2. Vic Firth
Vic Firth is one of the leading names in the drumming industry. The company was founded in 1963 in Boston by a musician named Vic Firth.
They make everything that is related to drums, including state of the art drumsticks, drums, mallets, drum practice pads among many other products.
3. Remo
Remo is one of the oldest musical instrument companies in the world, having been established in 1957.
The company was founded in California by Remo Belli, and their products include drumkits, practice pads, drums and many other types of instruments.
4. Evans
Evans is a subsidiary of D'addario, an Italian music instruments company that manufactures everything from guitars to saxophones.
Evans is the division which deals in drum practice pads, drum sets, drum keys and similar equipment.
5. The Drumeo
Drumeo is a Canadian company that is known for making high-quality drums related products. The P4 is one of their best products to date and brought them into the limelight.
Since then, they have come a long way, and they even provide online drumming classes for anyone who is interested.
Frequently Asked Question About Drum Practice Pads
What is the best practice pad for metal music?
There is no specific type of practice pad that is suited for metal music. However, as metal music requires a lot of heavy-hitting, it is advisable that you go for a pad that has a hard surface.
You can go for a dual-surface pad, where one is hard, and the other is softer for the times when you need to mix it up a bit.
Should I buy one pad or a full kit set?
Buying a single pad is great, but you'll always need a few of them if you want to get a holistic drumming experience that resembles a real drum.
However, buying a full kit set can be a costly affair, so you should only go for it if you can afford it.
Which one should I buy? Single side pad or double-sided pad?
Double-sided pads are better than single-sided pads for obvious reasons. They are more versatile and offer the perks of two pads in one.
However, if you're a beginner and just trying out drumming, then a single-sided pad might not be too bad either. Besides, there are pads like the Tosnail 12-inch Silent pad, that despite being single-sided produce better sound than many double-sided pads.
What is the cost of an average drum practice pad?
Practice pads are not that costly when compared to real full-sized kits. However, there are some that can cost significantly more than other practice pads.
In general, the range is between 20 dollars to 70 dollars with most pads costing nearly 30 to 40 dollars on average.
What kind of drum practice pad is best suited for beginners?
Beginners should go for a single-sided pad and avoid more complicated pads with two or more surfaces.
We advise you to go for a pad that is in your budget so that you first get familiar with drumming first. As you get more experienced, you can go for more complex practice pads to test your skills.
Conclusion
Buying a drum pad requires every bit of your attention as if you were out to buy a full-fledged drum kit.
It is your hard-earned money that you're gonna be spending after all, so it makes perfect sense to buy the best drum practice pad that suits your needs.
There's no point in buying a practice pad that doesn't suit you which you have to return or throw away eventually. Our whole purpose behind writing this article was to guide drummers like you who are looking for some advice to best the best drum practice pad for them.
I hope you managed to pick your favourite and this article was of any help to you.