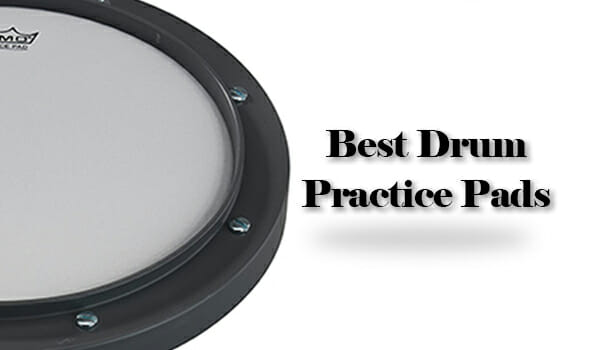 We all want to practice and get better at what we do. But drumming is one thing that is really hard to practice. Not because of the lack of trying on our part but because drums are one of the bulkiest musical instruments and it is quite tiring to carry them from one place to the other.
Also, if you're going to be practicing at home, then your neighbors might have a word or two with you. That's why we have drum practice pads for all these troubles.
In this article, we'll be discussing the 9 best drum practice pads in 2021.
We'll also help you in finding the perfect practice pad that meets your requirements and guide you through the whole buying process.
Top Drum Practice Pad Reviews of 2021
---
---
---
---
---
---
---
---
---
Buying Guide: Drum Practice Pads
Not all drum practice pads are the same; some are big, some are small, there is a whole range of pads out there, just waiting to be explored.
What this means is that each pad has something unique to offer. Unfortunately, we can't pick all of them, we have to choose the one which suits our style. However, if you choose one pad, you'll be giving up what the other one has to offer.
So, to make the best possible choice, you need to keep a few things in mind before you go out and actually buy a drum practice pad. Here are some of the most crucial factors that should guide your final purchase decision.
1. Portability
Well, this is the reason anyone buys drum practice pads as it is not possible to carry around bulky drum sets.
So it makes perfect sense to buy smaller pads that are lightweight and fairly easy to carry around. It is not so straightforward; there is an inherent tradeoff. Smaller pads are no doubt portable, but they don't give the feel of a real drum set in terms of playing experience and sound quality.
Larger pads, on the other hand, are bulky to move around but they do sound more authentic and similar to real drum sets.
So if you're going to travel a lot, then a small pad is best for you. If not, then stick to a medium-sized or a large pad for best sound quality.
2. Feel
Feel can be defined as how close the sound and the experience is to a real drum. Of course, everyone wants a practice pad with the best feel, a pad that sounds and feels like an original acoustic drum.
Well, you'll have to pay a premium for that. That's right, the more the pad sounds like an original drum, the higher the price. You can either go for a soft drum pad if you're looking for deep sounds or a hard one if you need to practice on your snares.
3. Noise
This is one of the most critical yet often neglected factors. Some of the pads tend to be particularly noisy. They can be a real pain if you have a small apartment or house where you'll be practising.
Your neighbours might give you some trouble if you end up buying a pad that produces too much noise. So it is advisable that you buy a pad that isn't too noisy, and if you do buy a noisy one, make sure to apologize to your neighbours. ?
4. Material
There are many different materials out which drum pads are made, including rubber, wood, neoprene, among many others.
Many drummers go for gum rubber pads as they are quite soft and provide a significant amount of bounce. Others go for some harder material. If you want the best of both worlds, you can always go for a dual-sided pad, in which one side is soft and other is hard.
This way you can get the benefit of 2 drum pads at the cost of one.
5. Budget and Type of practice
Although the market is overflowing with single-piece sets, many companies are selling full kit practice pads. These are more expensive and take a lot more space than single piece sets.
So if you can afford them and want to practice like it's the real thing, while keeping the noise low at the same time, then you should go for it.
Best Brands: Drum Practice Pads
1. Movement
Movement Drum Co. is not the biggest name in the music industry. Nevertheless, they are popular among drummers due to their cutting edge practice pads.
A couple founded the company and their offerings are targeted towards a niche market of drum pads.
2. Vic Firth
Vic Firth is one of the leading names in the drumming industry. The company was founded in 1963 in Boston by a musician named Vic Firth.
They make everything that is related to drums, including state of the art drumsticks, drums, mallets, drum practice pads among many other products.
3. Remo
Remo is one of the oldest musical instrument companies in the world, having been established in 1957.
The company was founded in California by Remo Belli, and their products include drumkits, practice pads, drums and many other types of instruments.
4. Evans
Evans is a subsidiary of D'addario, an Italian music instruments company that manufactures everything from guitars to saxophones.
Evans is the division which deals in drum practice pads, drum sets, drum keys and similar equipment.
5. The Drumeo
Drumeo is a Canadian company that is known for making high-quality drums related products. The P4 is one of their best products to date and brought them into the limelight.
Since then, they have come a long way, and they even provide online drumming classes for anyone who is interested.
Frequently Asked Question About Drum Practice Pads
1. What is the best practice pad for metal music?
There is no specific type of practice pad that is suited for metal music. However, as metal music requires a lot of heavy-hitting, it is advisable that you go for a pad that has a hard surface.
You can go for a dual-surface pad, where one is hard, and the other is softer for the times when you need to mix it up a bit.
2. Should I buy one pad or a full kit set?
Buying a single pad is great, but you'll always need a few of them if you want to get a holistic drumming experience that resembles a real drum.
However, buying a full kit set can be a costly affair, so you should only go for it if you can afford it.
3. Which one should I buy? Single side pad or double-sided pad?
Double-sided pads are better than single-sided pads for obvious reasons. They are more versatile and offer the perks of two pads in one.
However, if you're a beginner and just trying out drumming, then a single-sided pad might not be too bad either. Besides, there are pads like the Tosnail 12-inch Silent pad, that despite being single-sided produce better sound than many double-sided pads.
4. What is the cost of an average drum practice pad?
Practice pads are not that costly when compared to real full-sized kits. However, there are some that can cost significantly more than other practice pads.
In general, the range is between 20 dollars to 70 dollars with most pads costing nearly 30 to 40 dollars on average.
5. What kind of drum practice pad is best suited for beginners?
Beginners should go for a single-sided pad and avoid more complicated pads with two or more surfaces.
We advise you to go for a pad that is in your budget so that you first get familiar with drumming first. As you get more experienced, you can go for more complex practice pads to test your skills.
---
Conclusion
Buying a drum pad requires every bit of your attention as if you were out to buy a full-fledged drum kit.
It is your hard-earned money that you're gonna be spending after all, so it makes perfect sense to buy the best drum practice pad that suits your needs.
There's no point in buying a practice pad that doesn't suit you which you have to return or throw away eventually. Our whole purpose behind writing this article was to guide drummers like you who are looking for some advice to best the best drum practice pad for them.
I hope you managed to pick your favourite and this article was of any help to you.