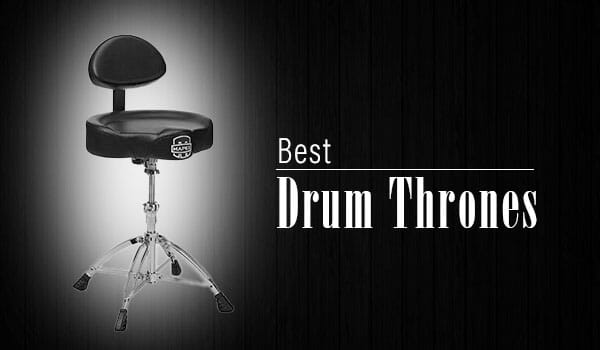 Being a drummer, a drum throne is something that you might not pay much attention to. Most of the time, drummers buy the thrones without giving it a serious thought.
And before they know it, problems like back pain (or discomfort playing) start to resurface. Although drum thrones are not an instrument, they can still significantly affect the quality of your music.
You cannot expect a drummer who is in discomfort to play at his full potential for a longer duration. So, we advise you not to make the mistake most drummers tend to make.
Conduct a thorough research before buying and choose the throne that is best for you. If you think that is too much, then don't worry. We have done all the hard work for you.
In this article, we'll discuss the 9 best drum thrones of 2021.
We'll also guide you on the things to keep in mind before you go and make the final purchase decision.
Without further delay, let's begin

Top Drum Throne Reviews of 2021
---
---
---
---
---
---
---
---
---
Buying Guide: Drum Thrones
Consider you're about to buy a car, you won't buy the first car you set eyes on. You'll have some criteria that must be met before to decide to buy a particular car.
Same is the case with drum thrones. While cars might have criteria related to fuel efficiency and other attributes, drum thrones have their own characteristics. You can't expect a drum throne to score high on all attributes.
Some thrones will have high values of a specific attribute, but they'll lag behind in others. You have to choose which attributes are the ones that are of the highest priority and which ones you're willing to overlook.
Below we have mentioned some of the critical factors that you should consider while comparing the thrones we have presented and also before making the final decision to buy.
1. Comfort and Ergonomics
Back problems are a common occurrence with drummers. This can be due to lack of proper posture while playing or choosing an uncomfortable throne in the first place.
Being a professional, you'll be playing for years to come and sitting in an uncomfortable position for this long can cause serious back issues. Keeping this mind, comfort and ergonomics should be the first thing you should consider before you splash any cash.
2. Your Experience level
Your experience plays a key role in deciding which throne is best suited for you. While many thrones are equally suitable for pros and amateurs alike, there are some that are tailor-made to the needs of pros or beginners.
The primary difference is the price; the ones designed for pros tend to be more expensive than the ones made for amateurs. The reason is obvious; a professional drummer knows what he wants, and he would want the best throne in the market regardless of the price.
For amateurs, on the other hand, the price would be a deciding factor. Pros would want a throne that would last for years and is designed in such a way that makes it easy for them to move around while playing. While amateurs would like a throne that would fit in their budget.
3. Backrest
Backrest can be your best friend when it comes to saving your back from excruciating pain. They help in keeping your spine straight and upright all the while you're playing.
Unfortunately, there are not many drum thrones that offer the option of a backrest. For those who do, there also you'll have to pay some extra money and buy the backrest separately.
4. Seat Adjustment
Drum thrones can be classified into three types on the basis of their seat adjustment. These are:
1. Hydraulic
These thrones come with hydraulic height adjustment. This is similar to what you might have seen in many office chairs. All you need to do is pull a lever to adjust the height to a desirable level.
However, you must keep in mind that you need to be careful with these. If you abuse these thrones, there is a high chance that the hydraulics will malfunction and will sink every time you sit down.
2. Manual Spindle
These are a bit complicated and require a bit of labour on your part for adjustment. You'll need to rotate the seat itself to adjust it to the desired height.
Although it sounds cumbersome, the chances of them malfunctioning are very less.
3. Adjustable Height
These types of thrones are pretty straightforward to adjust and operate like a cymbal stand.
You need to manually tighten or loosen the wingnut to go to the desired height.
Best Brands: Drum Thrones
1. AHEAD
Advanced High-Efficiency Alloy Drumsticks or AHEAD is a company whose primary focus has been on manufacturing synthetic drumsticks.
Not only drumsticks, they sell everything that is even remotely related to drums including thrones, drumkits and among many others.
2. Drum Workshop
Drum Workshop or DW is an American company based in California that manufactures all kinds of drumming stuff, including drum thrones.
Their products can range from being modestly priced with very few features to being on the other end of the extreme with high-class products with over the top features.
3. Pork Pie Percussion
Pork Pie Percussion is one of the premium brands in the drumming world. They cater to the needs of professionals who have been playing for many years with high-quality products that look stunning as well.
Since their inception in 1987, they have come a long way and established themselves as one of the most preferred choices of rock and roll musicians.
4. Tama
Tama is a Japanese firm and one of the only few companies worldwide that can rival the American companies in the drumming industry.
They began operations in 1965, and now they sell drums, thrones, sticks, pedals and many other related instruments. Despite not being American, their products are top-rated among American and British artists.
5. Mapex
Mapex is a Taiwan based company known for selling high-quality drumming equipment all across the globe. They were established in 1989 as a subsidiary of KHS Musical Instruments, which is also a Taiwanese firm.
Though not as popular as Tama and other American companies, Mapex has a loyal base of customers worldwide who trust their offerings.
Frequently Asked Question About Drum Thrones
1. I am an amateur, should I go for an expensive drum throne?
Being an amateur, we strongly advise you against this decision. Even if you can afford an expensive high-end throne, you should still avoid buying one.
An expensive throne is like an investment, and you should invest after giving it a serious thought. We recommend going for a budget throne like the Gibraltar 6608 or Drum Workshop DWCP3100 Throne, and as your skill improves, you can treat yourself with a fancy throne.
2. What is the average cost of a drum throne?
The price spectrum of drum thrones is quite diverse and spread out, with most of the items being at the extreme ends of it. This means either you go for a budget option or go for a high-end variant, there's not much in between.
The price can start from as low as $40 or $50 for budget options and go well beyond $200 in case of high-end ones.
3. Should I buy a throne with a hydraulic seat adjustment? Are they as durable as others?
Hydraulic lift is one of the best types of seat adjustment that a throne can offer. All you need to do is pull a lever to get the throne to your desired height.
However, there is a downside to this, if you abuse the hydraulic lift regularly and for a prolonged period, it tends to malfunction which can render the entire throne redundant.
4. Should I buy a drum throne made from leather or any other material like Nylon?
Though leather is one of the most popular materials to make the seat of a drum throne, it has its fair share of drawbacks. Leather can make your butt sweaty and can cause irritation if you'll be sitting on it for a long time.
To counter this, many manufacturers are shifting away from it to other materials such as fabrics made from Nylon and other synthetic materials. If a sweaty bottom is not a problem for you, then, by all means, go for a leather throne. If it is, then you should look for other options.
5. How important is the width of a drum throne?
Width, though not the most crucial, but still is one of the critical factors that you must consider in a drum throne. Usually, thrones don't topple over, but there's always a chance of that happening if the throne is not wide enough.
So, to avoid that, we suggest you buy a throne with a wide seat and a wide base.
---
Conclusion
Well, there it is, the nine best drum thrones of 2020. By now you probably have made your choice and picked your favorite. Our only advice to you is that don't go overboard and pick the most expensive throne, even if you can afford it.
Make a list of the parameters that are of highest priority to you. If comfort is what you want, focus on that aspect only. Or if it is the ability to move around while playing.
The truth is each throne has something unique to offer, and it is you who has to decide whether it solves your problem or not. Identify the problem you're facing and buy the throne that best solves that problem.
I hope this article helped you in your search for the best drum throne.