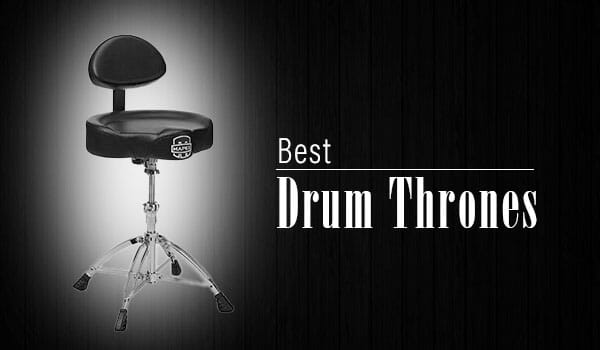 Being a drummer, a drum throne is something that you might not pay much attention to. Most of the time, drummers buy the thrones without giving it a serious thought.
And before they know it, problems like back pain (or discomfort playing) start to resurface. Although drum thrones are not an instrument, they can still significantly affect the quality of your music.
You cannot expect a drummer who is in discomfort to play at his full potential for a longer duration. So, we advise you not to make the mistake most drummers tend to make.
Conduct a thorough research before buying and choose the throne that is best for you. If you think that is too much, then don't worry. We have done all the hard work for you.
In this article, we'll discuss the 9 best drum thrones of 2023.
We'll also guide you on the things to keep in mind before you go and make the final purchase decision.
Without further delay, let's begin
Table of Contents
Top Drum Throne Reviews of 2023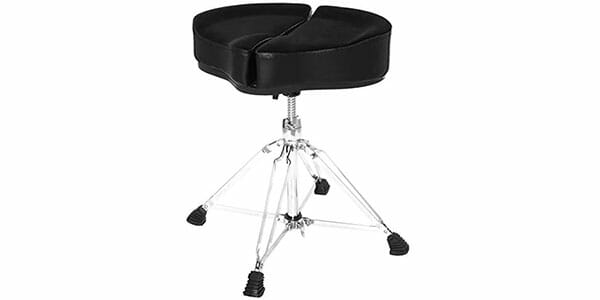 AHEAD (or Advanced High-Efficiency Alloy Drumsticks) is one of the leading drumming companies around the world. They are particularly famous among rock and metal drummers.
They have a whole range of thrones both with or without backrest, and each of them is loaded with superb features. We chose the SPINAL-G throne because it is the preferred choice of prominent metal drummers all over the world.
The seat is quite comfortable and good for your back ailments in the long run. The Spinal G uses AHEAD's trademarked Ergokinetic technology which removes the compression of your tailbone and supports the natural movements of your body.
Your pelvis will have the freedom to move around in all three dimensions like never before and give you maximum manoeuvrability. This technology could be a friend to your back, but also to your butt, hips, legs and even shoulders.
You'll have unmatched flexibility when moving around to reach the far-off elements of your drum kit.
Spinal G's frame is four-legged and double-braced as you would've expected. All the four legs have rubber feet for extra stability. The height adjustment mechanism is also pretty straightforward and quite reliable. It uses a double locking system which makes it extremely stable even at maximum height which makes it very suitable for drummers of every size.
AHEAD Spinal G Drum Throne (SPGBL) was designed by keeping stability and comfort in mind. It is made for the metal drummers who can get pretty rough and enthusiastic while playing.
Again, this is one of the high-end thrones of this list, so we'll recommend it only to those who have some experience and can afford it.
Pros
Great for your back.
Ergokinectic technology which supports natural body movements.
Very stable and highly durable.
Double braced four legs with rubber feet.
AHEAD Spinal G Drum Throne (SPGBL) is one of the best thrones for your body in the market. Their trademarked Ergokinectic technology takes care of your tailbone like no other drumming throne.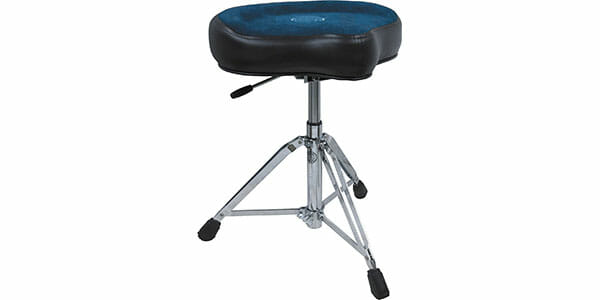 ROC-N-SOC is one of the most preferred brands by drummers all over the world. They have made quite a reputation for themselves among the drumming community for producing the highest quality and most comfortable thrones.
To begin this list, we chose the best thrones that they have manufactured until now.
Just like all of their thrones, ROC-N-SOC's primary focus behind designing the Nitro throne was ultimate comfort for the player. The ergonomic design is meant to take care of those dreadful back problems in the long run.
The Nitro throne is equipped with high-quality gas shock absorbers which dampen the effect of any force that is applied on it. When you add the padded bicycle-style seat to the mix, it all makes for a delightful drumming experience for your back.
To add the cherry on top, Nitro thrones are among only a few in the market that are compatible with a backrest. Unfortunately, you'll have to buy the backrest separately, which is a slight letdown.
Not only is the Nitro throne great for your back, but your legs will also love it for the same reason. The company has placed leg cutouts and dips in the perfect places which will minimize leg fatigue. These extra features will enhance your comfort to another level, and you'll have no issues even if you need to play for continuous hours.
Coming to the hardware, it is rock solid as you would expect in any high-quality drum throne. The build is double braced and is rounded off with non-slip rubber feet.
These rubber feet will allow you to play on any surface without any worries of getting hurt. It is available in three colors, namely blue, black and red. Black is the most popular as you might've guessed
ROC-N-SOC Nitro Throne checks all the boxes which an ideal drum throne should. If comfort, ergonomics and better leg mobility are the priority for you, then there's no better choice in the market than the Nitro throne.
Pros
Gas shock absorbers.
Padded bicycle-style seat.
Backrest compatible.
Non-slip rubber feet.
Cons
Backrest sold separately.
ROC-N-SOC Nitro Throne is arguably the best drum throne available in the market. It might be slightly expensive, but if you consider the features that it offers, you'll realise it's worth every penny.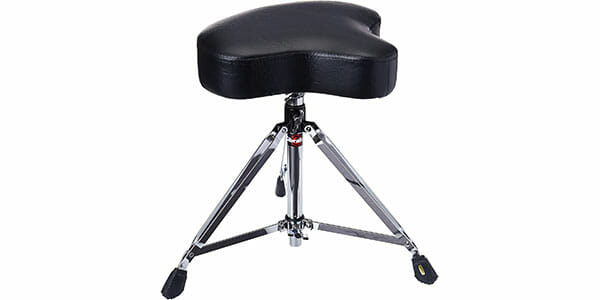 Gibraltar is another leading name in the drum thrones industry. Their thrones are not top-loaded with over the top features, but they instead focus on the simple things which can be equally crucial.
By not spending too much time on non-essential features, they can dramatically cut their costs. This, in turn, allows them to price their thrones much cheaper than others.
Gibraltar 6608 is no exception to this.
The 6608 also comes with a bicycle-style saddle seat. The foam and vinyl seat might not be as comfortable as the Nitro throne, but that is what you'll get at the third of Nitro's price.
However, the foam quality is top-notch, which makes the seat moderately comfortable and shouldn't cause you any significant problems down the road. You can adjust the seat height from 18 inches to 24 inches which can be very beneficial for tall drummers. Many tall drummers have faced the issue of having to bend their legs on short seats. Gibraltar 6608 is a massive sigh of relief for them.
Although, the seat tends to be a little wobbly at its maximum height. The company has thrown in a brilliant feature in the form of memory lock. Now you won't have to adjust the seat height every single time you play; just sit and start playing.
Now coming to the build, it is a double-braced tripod similar to the Nitro throne, which improves stability and makes the whole unit robust. Double bracing also makes sure that the braces don't bend or disfigure after prolonged use, making the throne highly durable in the long run. All this, combined with a bargain price, makes the Gibraltar 6608 an excellent choice for beginners.
The 6608 is a budget throne that is designed to cater the needs of amateurs and pros who are low on funds. It is the best possible choice in a tight budget and hits all the notes perfectly that are essential for a good throne.
If you are one of these people who can't afford a high-end throne at this time, then Gibraltar 6608 is an excellent choice for you.
Pros
Pocket friendly.
Top grade foam and vinyl seat.
Double-braced hardware.
Rubber feet.
Cons
Seat can be wobbly at maximum height.
Gibraltar 6608 might not be the flashiest or the most popular drum throne in the market, but it surely has a unique fan following. It provides some excellent facilities at a fraction of the cost.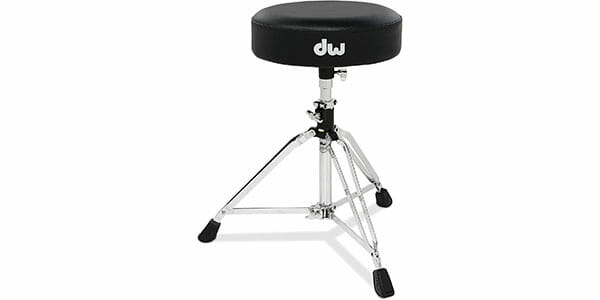 Drum Workshop or DW is a name that is quite popular among drummers all over the world. Initially, their products were limited to drum pedals and double bass pedals, but now they sell all kinds of musical instruments. Drums and related products are what they're known for now, particularly drum thrones.
DWCP3100 Throne is one of their best and most reliable drum thrones, and it has been around for quite a while.
DWCP3100 Throne is slightly different from the previous two entries of the list. It is a modest throne with not so many lavish features and is targeted towards those drummers who are looking for a simple and affordable option.
That being said, DWCP3100 Throne makes no compromise in terms of quality. The materials used are top-notch, and you can trust them to hold steady for years to come.
The first difference from the other two entries is that the DWCP3100 features a padded round seat instead of a bicycle-style seat. The seat is made of high standard vinyl and is 13 inches in diameter and 3 inches thick. These dimensions are industry standards for round seats and can comfortably seat a fully grown drummer.
There is no gas chamber for absorbing shocks and no hydraulic seat adjustment. As we said before, you won't find high-end features in this throne.
The DWCP3100 does have a double-braced stand which appears to be sturdy and can withstand weights up to 250 lbs without any major difficulties. A sturdy build ensures that the throne will remain stable in case you get a little feisty while playing. The base is rounded off with a tripod which has rubber feet that will avoid slipping. Although there are no screws or hydraulic lever for adjusting the height, the procedure is quite easy, and the seat holds once set a desired height.
Overall, the DWCP3100 throne by DW is for those who don't like to flash their goods. It's for those who are looking for durability and sturdiness while paying a nominal amount for the same. If you identify yourself as one of these people, then DWCP3100 is the one you should go for.
Pros
Highly durable.
Robust and sturdy.
Easy height adjustment.
Double-braced stand.
Cons
Lacks few modern features like gas shock absorbers.
Although the Drum Workshop DWCP3100 Throne lacks many features that are mundane in modern thrones, it still is an excellent choice if durability and affordability is what you're looking for.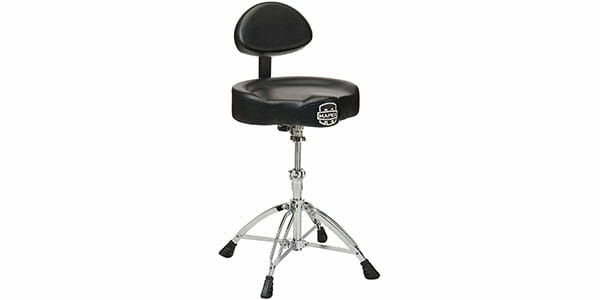 After talking about a couple of budget drum thrones, now we're back with a high-end drum throne.
You must have heard about Mapex; they're one of the leading names in drumming due to their top-notch thrones and other drums related equipment.
For this list, we have mentioned one of their best thrones. To be honest, it was a tough choice between the bicycle-seat version (T775) and the round seat one (T770). After thorough consideration, we decided to go for the T775.
Mapex has thrown in some breathtaking features in this throne to compete against other thrones in the market. One of them is the pre-installed backrest.
That's right; the T775 comes with a backrest, so now you can forget about all your back pain worries. To add to this extra comfort, they have used top-notch seat material, and the seat is also wider than most thrones in the market.
Furthermore, the leg openings are sloped, which provides you with some extra room to manoeuvre yourself and increases your overall mobility. T777 could end up being the best friend of your back, legs and even your butt due to its ergonomic design.
All this sounds pretty amazing; however, these are not the only features that make the Mapex T777 stand out from the rest. It is one of the few thrones in the market that come with four legs. And it goes without saying that the entire frame, including the legs, is double braced.
The height adjustment procedure is also pretty straightforward, and it can seat short as well as tall drummers. The only thing that might bug you about this throne is the price; everything else is nearly perfect.
If you're in the market for an all-in-one throne which also includes a backrest, then the Mapex T775 Double Brace Throne is perfect for you, given that you can afford it.
Pros
Preinstalled backrest.
Wide saddle seat.
Double braced four legs.
Rubber feet to avoid slipping.
Mapex T775 Double Brace Throne is unique in a few aspects. Two of them being that it is one of the few thrones in the market with four legs and a preinstalled backrest.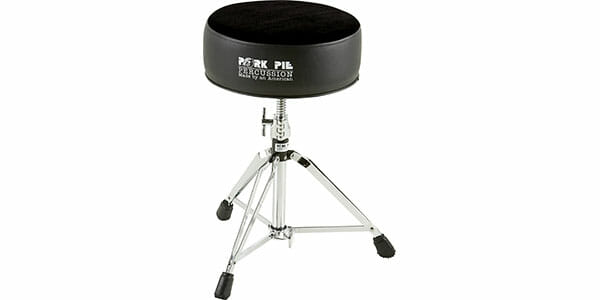 Pork Pie is a highly popular drum throne brand all over the world. They make many other products, but their thrones are particularly famous for extra comfort and simplicity.
You can deem it as one of the premium brands of drum thrones. Moreover, their thrones are available in stunning colors like camo and silver, which you won't find anywhere else in the market.
The talking point about this throne is its seat. It is a round seat which is made from ultra heavy-duty high-density foam. This foam is of higher quality than the one used in other contemporary drum thrones. With a thickness of 6 inches, the seat is also much thicker than other market offerings.
This high standard foam and depth of the seat makes it one of the most comfortable yet equally solid drum thrones to be ever created. You can count on the seat to not lose its firmness over prolonged use.
Even after years of playing, you'll find the seat to be firm as a brand new one. Due to this extra comfort and quality, the Pork Pie round throne has been used by many renowned drummers over the years including Robin Diaz (the drummer for Daughtry) and Walter Earl (drums for Duff McKagan) among many others.
Similar to other entries in the list, it has a tripod for a base, and the frame is double braced as well. Double bracing not only improves the stability while you're heavy-hitting, but it also ensures that the braces can take substantial damage before finally giving in to the pressure and bending.
The height adjustment process is also easy, quick and holds firm when finally adjusted.
Although not perfect, Pork Pie Round Drum Throne is a great throne for drummers. The only thing that will bother you is its price, but keep in mind that the extra amount you'll be paying is for premium quality.
We don't suggest this throne for beginners but only to seasoned players who are looking for a superior throne that has previously been used by drumming legends of the past.
Pros
Superior quality foam.
Highly comfortable and firm seat.
Double braced frame for stability and durability.
Available in stunning colors.
Pork Pie Round Drum Throne is a high-end drum for those of you rich folks out there. It doesn't have over the top features but is made from the best materials that one can get his hands on.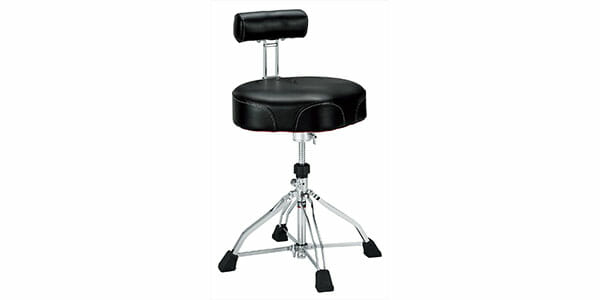 Tama is probably one of the few renowned drumming brands that does not originate from America. Tama Drums is a Japanese firm that deals in drum sets, thrones and other drum related items. Despite being based out of the USA, they are now highly popular among musicians from all over the world, including the USA and Britain.
They have many other great thrones that could have very easily made it to this list, but due to high competition, we chose what we thought was their best creation.
The highlight of the Tama HT741B is the backrest, of course. The height of this backrest is slightly lower than the others, but it does a great job nonetheless. The interesting thing is that the backrest can be folded on top of the seat if you'll be travelling with this throne.
Coming to the seat, it is a marvel of creativity and unlike any other in the market. The reason being that it is a unique hybrid between a round and a bicycle-style seat. Tama has done an excellent job to provide you with the best of both worlds, by combining the manoeuvrability and stability of both seat types.
The height adjustment is quite steady and easy to understand. The throne is very stable even at maximum height. Also, the frame is sturdy as hell, with four double-braced legs providing maximum stability. An impressive feature about the structure is Tama's "Rocklok", which essentially is a Nylon Bushing at the bottom of the throne's rod that prevents side-to-side motion. This "Rocklok" further enhances stability which probably makes it the most stable and durable throne in the market.
However, all these impressive features might cost you a little more than an average throne. Both in terms of money and weight, as the Tama HT741B is heavier than most and also a bit pricey.
We recommend this if you're an experienced drummer who has the budget and is looking for a throne that will go on for years.
Pros
Double braced four legs.
Rocklok feature.
Backrest available.
Extremely stable and durable.
Cons
Heavier than most thrones.
Expensive.
Tama 1st Chair Ergo-Rider HT741B Drum Throne is one of the best thrones that we have featured in this list. Its unmatched stability and durability makes it stand out from the rest.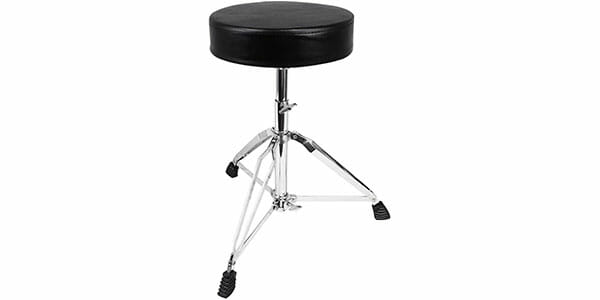 After some high-end drum thrones, let's get back to one of the budget thrones out there. You might have heard about Rockville before as they are not only into the drums business.
They sell everything from drums to car stereos and many other items in between. They have a few drums in their portfolio, but the RDS30 Deluxe takes the cake.
Despite being a budget throne, the RDS30 Deluxe might surprise you with the features it offers. Its unique selling proposition is its portability. RDS30 can be fully dismantled and can be carried in a small box if the situation requires it.
Also, it is so light that you won't even feel that you're holding a drum throne. If you are travelling a lot, then this throne can be very beneficial in that regard. The seat is a standard round seat and not anything too fancy.
It is made from regular foam and vinyl and is 3 inches thickness. The thickness is not too much, which might cause some discomfort when used for long hours continuously.
The stand has three legs and is double braced with rubber feet to avoid slipping. The seat adjustment requires adjusting a few knobs and is very easy and stable. You can change the seat height from 19 inches to 24 inches, which makes it perfect for short as well tall drummers. RDS30 Deluxe also has a gas shock-absorbent chamber which will protect you and the throne as well in case of a harsh landing.
Rockville RDS30 Deluxe is a budget throne that checks all the boxes of a decent throne at a marginal price of the high-end entries. If you're a beginner and don't have too much cash to spare, RDS30 Deluxe can provide you with a taste of all the features of high-end drum thrones.
Of course, the quality of the features will not be the same as more expensive options.
Pros
Affordable.
Collapsible design makes it highly portable.
Super lightweight.
Double-braced legs with rubber feet.
Cons
Might get uncomfortable when used continuously.
Rockville RDS30 Deluxe is an excellent affordable choice if you don't want to compromise on features and portability is a high priority.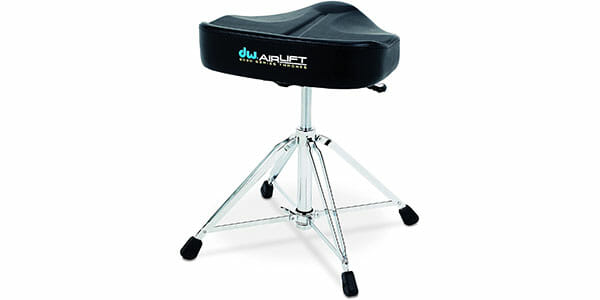 To end this list, we chose a throne from Drum Workshop (DW). Unlike the previous DWCP3100 Throne by DW that we mentioned, the CP9120AL is a high-end throne with all the brilliant features that you would expect in a high-quality throne.
Although these features come at an extra price, we chose the second entry by DW to demonstrate that they can cater to the needs of the less wealthy and also of the affluent drummers among us.
The most prominent feature is the seat, which is neither bicycle nor round. It is a tractor seat which is much broader than either of the two options. Also, the seat is reasonably thick and made from high standard foam padding. So comfort won't be a thing that will bother you if you decide to buy the DW CP9120AL. It is also compatible with a backrest which you'll have to buy separately.
The frame is robust as you'd like it to be. It has four legs which are double braced and also have rubber feet at the bottom for extra stability and steadiness.
DW Air-lift Throne's height adjustment mechanism is also effortless to understand as it has a hydraulic system for that purpose. Within seconds you'll find the desired height without having to screw and unscrew bolts repeatedly.
There is no area where the DW Air-lift Throne falls short of expectations. Everything has been well thought and taken care of. Due to its high price, we only recommend this to seasoned players who are looking to upgrade their current throne to a more advanced one. If you are one of them, then DW Air-lift Throne is one of the best choices for you.
Pros
Extra-wide seat for extra comfort.
Hydraulic lift.
Double braced four legs.
Robust and durable.
Drum Workshop Heavy Duty Air-lift Throne is one of the most expensive thrones in the market. That high price is justified by the state of the art features like the hydraulic lift and wide seat.
Buying Guide: Drum Thrones
Best Brands: Drum Thrones
1. AHEAD
Advanced High-Efficiency Alloy Drumsticks or AHEAD is a company whose primary focus has been on manufacturing synthetic drumsticks.
Not only drumsticks, they sell everything that is even remotely related to drums including thrones, drumkits and among many others.
2. Drum Workshop
Drum Workshop or DW is an American company based in California that manufactures all kinds of drumming stuff, including drum thrones.
Their products can range from being modestly priced with very few features to being on the other end of the extreme with high-class products with over the top features.
3. Pork Pie Percussion
Pork Pie Percussion is one of the premium brands in the drumming world. They cater to the needs of professionals who have been playing for many years with high-quality products that look stunning as well.
Since their inception in 1987, they have come a long way and established themselves as one of the most preferred choices of rock and roll musicians.
4. Tama
Tama is a Japanese firm and one of the only few companies worldwide that can rival the American companies in the drumming industry.
They began operations in 1965, and now they sell drums, thrones, sticks, pedals and many other related instruments. Despite not being American, their products are top-rated among American and British artists.
5. Mapex
Mapex is a Taiwan based company known for selling high-quality drumming equipment all across the globe. They were established in 1989 as a subsidiary of KHS Musical Instruments, which is also a Taiwanese firm.
Though not as popular as Tama and other American companies, Mapex has a loyal base of customers worldwide who trust their offerings.
Frequently Asked Question About Drum Thrones
I am an amateur, should I go for an expensive drum throne?
Being an amateur, we strongly advise you against this decision. Even if you can afford an expensive high-end throne, you should still avoid buying one.
An expensive throne is like an investment, and you should invest after giving it a serious thought. We recommend going for a budget throne like the Gibraltar 6608 or Drum Workshop DWCP3100 Throne, and as your skill improves, you can treat yourself with a fancy throne.
What is the average cost of a drum throne?
The price spectrum of drum thrones is quite diverse and spread out, with most of the items being at the extreme ends of it. This means either you go for a budget option or go for a high-end variant, there's not much in between.
The price can start from as low as $40 or $50 for budget options and go well beyond $200 in case of high-end ones.
Should I buy a throne with a hydraulic seat adjustment? Are they as durable as others?
Hydraulic lift is one of the best types of seat adjustment that a throne can offer. All you need to do is pull a lever to get the throne to your desired height.
However, there is a downside to this, if you abuse the hydraulic lift regularly and for a prolonged period, it tends to malfunction which can render the entire throne redundant.
Should I buy a drum throne made from leather or any other material like Nylon?
Though leather is one of the most popular materials to make the seat of a drum throne, it has its fair share of drawbacks. Leather can make your butt sweaty and can cause irritation if you'll be sitting on it for a long time.
To counter this, many manufacturers are shifting away from it to other materials such as fabrics made from Nylon and other synthetic materials. If a sweaty bottom is not a problem for you, then, by all means, go for a leather throne. If it is, then you should look for other options.
How important is the width of a drum throne?
Width, though not the most crucial, but still is one of the critical factors that you must consider in a drum throne. Usually, thrones don't topple over, but there's always a chance of that happening if the throne is not wide enough.
So, to avoid that, we suggest you buy a throne with a wide seat and a wide base.
Conclusion
Well, there it is, the nine best drum thrones of 2020. By now you probably have made your choice and picked your favorite. Our only advice to you is that don't go overboard and pick the most expensive throne, even if you can afford it.
Make a list of the parameters that are of highest priority to you. If comfort is what you want, focus on that aspect only. Or if it is the ability to move around while playing.
The truth is each throne has something unique to offer, and it is you who has to decide whether it solves your problem or not. Identify the problem you're facing and buy the throne that best solves that problem.
I hope this article helped you in your search for the best drum throne.