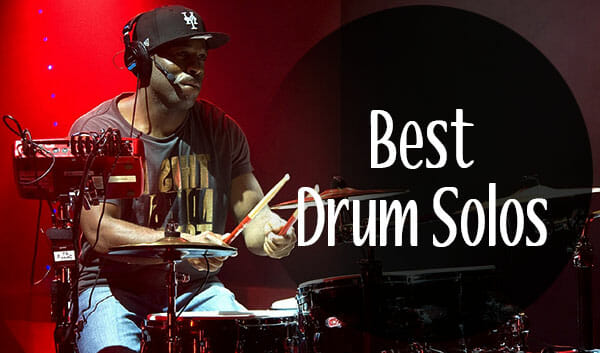 With a chilled beer in your hand and your favorite band on the stage, how else would you be spending your weekend?
Music is a very integral part of our lives. Sometimes, there is more music in my head than the actual things that I have to remember.
It's true!
The whole point of listening to music is that; somehow the rhythm of the beat and that of your heart synchronizes.
That's the best feeling in the world.
Do you know what my favorite part about a rock band is?
The D-R-U-M-S!
Bdm-tss.
That's the sound that drummers make, when a joke delivers. Not in this case.
The drums set the pace, they keep you moving and of course, the drummers are always exceptionally attractive.
But that's not all, the point is, they're the life of the party in some sense. Could you imagine how dead a song would sound without some kick drum?
Queen's 'We Will Rock You' wouldn't have worked out the way it did!
You get the point. Drums are important to me. I can't help but listen to the drums even when I'm consuming music through my earphones. Which is why I want to make this only about drums!
Here is my list of top 25 songs with best drum solos of all time.
1. Moby Dick – Led Zeppelin
If you watch the video of Moby Dick Drum Solo (Madison Square Garden 1973)'s on YouTube, you'll find it extremely hard to keep up with John Bonham's hands. He's the reason you will either pick up the drum sticks or break them against a wall. I know, there are some really good drum solos, some even a little better than Moby Dick, but it is my favorite and I'm hoping I convert you too.
Blast the song out loud, it's a ride.
---
2. Tom Sawyer – Rush
Have you seen the number of drums Neil Peart has around him? It's a hoola-hoop of drums. You can see how skilled Neil Peart is. He's the heart and soul of the song apart from the electric guitar. During the guitar solo, when the drums kick in, you will get literal goosebumps. It's hard to keep up with the drums when you hear the song, let alone play it yourself. He's taking 16 notes high octave which sets the whole groove. It's a super cool layer added.
You have to headbang to Tom Sawyer by Rush!
---
3. In The Air Tonight – Phil Collins
The most iconic drum roll of the century. At 3:16 in the music video summarizes my love for this song. You might have noticed that the drums sound a little different.
Fun fact: that's because the recording studio had a new feature called reverse talkback that helped with getting this feature. The drum solo even got Mike Tyson! You can't help but love the drums on the song.
---
4. The End – The Beatles
If this song is not in your top 5 best drums of all times, you and I can never be friends. Ringo Starr is the actual star of the song. No jokes. According to me, and contrary to popular opinion, he is the reason this song sticks in your head like gum to the shoe sole. A lot of people love the guitar and believe me, it's pretty darn cool but, man does Ringo get your heartbeat pumping. This song is an absolute treat and the drums solo is a cherry on the top!
---
5. Beast And The Harlot – Avenged Sevenfold
Jimmy Sullivan is called the revered for a reason. Can you imagine this song without his perfect drumming skills? I can't. It's the reason why I almost hit my head against a wooden cupboard once. It really gets you going. Pumps you up. In fact, I'm typing to this song and it's all happening in supersonic speed. That's what this song does to you. Did I mention that the drums are incredible in this song? I'm not kidding, It's i-n-c-r-e-d-i-b-l-e.
---
6. Hook, Line and Sinker – Royal Blood
Here's one song that's so underrated, it makes me mad and happy. Mad because it deserves the recognition and happy because I get to keep it as my little secret; along with my loyal Royal Blood fans. The drums played in this song are out of the world! It's not even a 1 second into the song and it kicks right in.
Hook, Line and Sinker is the kind of song you can master on the drums.
---
7. YYZ – Rush
They call Neil Peart 'your favorite drummer's favorite drummer' and it makes sense if you listen to YYZ by Rush. I don't know how else to say this but this song is mean! The drums solo goes on for almost 3 minutes but you will always want more. Neil Peart is a treat in this song.
---
8. Rock And Roll – Led Zeppelin
This is one of the classics that you can't help but swing (probably aggressively) to. Try matching up with the beats of this one because it's so upbeat. John Boham is known for his steady bass drum beats locking along with the guitar riffs. He does it just right in Rock And Roll. Not too much; not too little. Just right.
---
9. 21st Century Schizoid Man – Michael Giles (King Crimson)
Let me just tell you, the drum parts are aligned to the feel of the song. The drums really sets the pace. The drummer is using all the right drum pockets. The drum fills seamlessly join the bridges. You need to go listen to the intro. If you have already, I urge you to go do it again and again. It starts off with a basic groove; you can't help but get into it.
---
10. Smells Like Teen Spirit – Nirvana
Who doesn't love this song? I have learned how to sing this song. Pretty average at the guitar but attempting to play the drums to this song got a little impossible to do. The drumbeat is power-packed. It locks with the intro guitar riff. If you listen to the song on repeat (or not actually) you'll realise that the instruments flow into each other so seamlessly. You have to give it to the drummer Dave Ghrol who sets the texture of the whole song.
---
11. Kashmir – Led Zeppelin
Here's one masterpiece that will never leave my memory. It's etched in my heart and it's going to be a part of me. That's my story. About the drums, the part of the drums in 4/4 which is aligned in the guitar riff which is in 3/4.
It's a very simple drum beat but it's so effective. That's the beauty of it. Kashmir, a place drowning in conflict; has so much history to it. It's overwhelming to listen to the song, almost every time. It's offbeat aligned, which makes it such a cool song.
---
12. Pot – Tool
The Tool is such a cool band. I mean it. If you can't hear the initial echo at the beginning of the song at 0.03 seconds, you're not playing it loud enough. It's got such a groovy time signature. The song has one of the best accurate accents. What are accurate accents? These are the notes played louder than the notes.
If you listen to the song carefully, you will notice how subtle but grand these accurate accents are.
---
13. Master of Puppets – Metallica
Here's another classic. Metallica demands to headbang and you will be insulting the song if you don't do so. The Intro is logged with guitar riffs. It's like how honey slides down your throat. So smooth! The dynamic changes throughout the song are so impressive. The steady 4/4 beat that serves the riff. It's vv cool.
---
14. Highway to Hell – AC/DC
I can't stop bringing in the classics. Highway to Hell is a song that's played through Gen X, Y and Z. There's a very low chance that nobody will recognize this song. This song has a steady drumbeat. The drummer Phil Rudd creates a pocket but doesn't overplay any other instrument. That's the beauty of it. Now the song is fairly simple to play on the drums but you have to get the timing right.
---
15. Psychosocial – Slipknot
Get your energy going with this song. Crack your neck, there's some rapid headbanging coming ahead of you. Psychosocial has a nice double pace. It also has incredible linear fills. Even if you're not a big fan of metal, this song will be an exception. Good use of percussion in the bridge. Psychosocial will get you growling at the chorus.
---
16. In-A-Gadda-Da-Vida – Iron Butterfly
Here comes another legendary song. Ron Bushy nails his drum solo. You should look at how unbelievably good he is. From 6 minutes to almost the end of the song, there's not one beat you would want to miss. Ron fills the pockets so seamlessly. Did you know that the song was originally called "In the Garden of Eden."
---
17. The Mule – Deep Purple
A song that created history, The Mule sets right off with the drums. You can't miss them! Notice how Ian Paice creates the perfect pockets without overpowering the other instruments. This song wouldn't be what it is without the drums. In the song, Ian Paice performs 85 non-stop tremolos. This was the first time something of this sort was achieved in the history of drum players. If you ever take on the challenge of learning the drum solo by yourself, it's going to take you endless nights and days to get it right but it's so worth the try!
---
18. Opeth – The Grand Conjuration
In my opinion, The Grand Conjuration is the Pink Floyd of metal. Actually, you could even fit Jimmy Hendrix into this equation and it would make sense. Gene Hogland, the drummer, sets the pace for the song. He bags the solo in the song! If you could take off your attention from the growling (which is pretty hard because the vocals are so good in this song), the next thing that you'll notice is the drums. The song is pretty incredible. It has the potential to convert someone into a metalhead, for sure.
---
19. Rat Salad – Black Sabbath
Yes, it's a peculiar song name. The song in itself is not any less peculiar. The intro is logged into the guitar riffs so perfectly. It's very hard to tell them apart, that's how easily they flow into each other. Now, if you're looking to enter the advance zone of playing the drums, this song should be your go-to practice song. Don't kill me, but bits of the song sounds like Brooklyn 99's theme song. There's a slight resemblance but I can't help but notice. Especially at the end, from 2.19 minutes on.
---
20. Pantera – Slaughtered
This is one band that single-handedly made metal better for me. Here's where some of the greatest metal drumming histories were made. The drums just organically roll into the guitar riffs. This may make it sound really soothing but this is the band known to have "b*lls of steel." They are the definition of heavy metal and that's why they set such high standards. If you're looking to learn the drum solo, I'd suggest you have a cold pack beside you; at all times. This is one song that requires you to flick the wrist.
---
21. 7 Nation Army – The White Stripes
It's a different experience altogether; when you watch a video of Meg White playing his drum solo during live performances. His performance is always extended on stage. Man, do you need some herculean strength to keep playing such a heavy-duty drum solo piece. Right in the beginning, the drums go off and blend in with the guitar riffs. Meg White maintains a steady beat but during his live performances is when you'll truly see how talented he is!
---
22. Ticks & Leeches – Tool
Danny Carey is the legendary drummer who you can't afford to miss in this song. You think that his work is not subtle but in my opinion, he has mastered to be subtle in this song. He presents an unbelievably good groove in Ticks & Leeches and maintains the pace throughout. If you ever decide to play this song on the drums, you'll realise that it's so hard to keep up with the pace. Danny Carey is supremely talented and you can't skip that!
---
23. As I am – Dream Theatre
Dream Theatre's drummer Mike Mangini played the snares so rigorously that it started to crackle and finally crack; in one of his drum solos. This is the kind of power you require to play the drums of As I am. Mike often tells people that his drumming skills can be compared to that of a Bruce Lee punch. As a matter of fact, it is. He lays out the best pockets for other instruments to fit in. This song requires hard work and perseverance; if you want to perfect the drums. I mean it.
---
24. Slayer – Angel of Death
Dave Lombardo is the master of riffs. In this song, he really aces the double snare stroke. If you're a drums lover, this is a detail that you can't afford to miss! Dave Lombardo keeps the pace so steady, it's almost impossible for the rest of the band members to ever lose track of the pace. It's excruciating to watch Lombardo's legs and you almost feel like you're at the kick drum. It's impossible to not move your limbs while listening to this song.
---
25. Won't Get Fooled Again – The Who
Saving the best one for the last. Keith Moon annihilates his drum solo (in a really good way). Won't Get Fooled Again has one of the best fills and the drums log into the guitar riff like butter on toast. Keith Moon has set the bar so high. So, if you're looking to learn the drums solo in this song, you will need to watch and learn before you even start to practice. He is quite hard to keep up with, owing to his incredible drumming skills, but once you've kept up with him, you can ease yourself into learning.
---
That's it, folks! I have tried my best to remember all the classic and mind-blowing drum solos that exist. I may have missed out on some few good ones but if you're looking to dive into the world of drums, these are the songs you should definitely look into. Whether it's learning how to keep up the pace, or learning how to log your drums to the guitar riffs, these are the songs that will help you understand drumming as a skill better.
Don't wait too long now. Pick up your sticks and let's start drumming!