Ocean drums are the most soothing musical instruments out there and are a latest addition to the world of music. Who doesn't love the soothing sound tones of crashing and rolling waves? Now you can easily recreate those sounds even when you are nowhere near the sea. You just need the right ocean drum to relax your nerves after a busy day. Professional musicians can also use them to add a whole new dimension to their music. The products given below are some of the best ocean drums that you can consider if you are interested in buying this instrument.
Table of Contents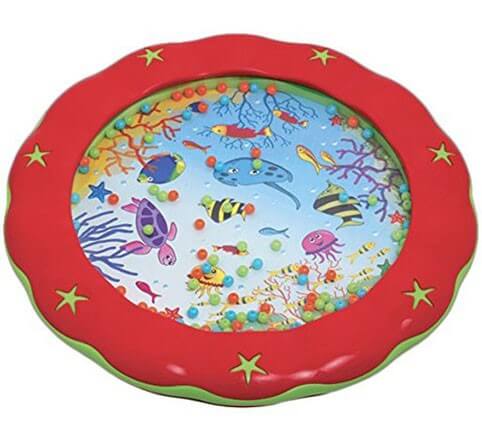 A brightly patterned ocean drum decorated with fishes, Edushape Sea Sound Drum is perfect to recreate sea crashing and rolling sounds. This product is generally meant for kids as it is a perfect fit for their hands.
Pros
The product is safe for babies above twenty-four months.
It comes with a mallet that is also easy to transport.
The soothing tones can be made through the mallet or by shaking the ocean drum.
Pleasing to look at and perfect for small kids who are musically inclined.
A good product in a reasonable price range.
Cons
The mallet is safe to play but unnecessary at times.
Not meant for professional music players.
Buying this product is a great way to introduce your kids to musical instruments. The soothing sound tones are guaranteed to win the hearts of children and adults alike. Also, the product is made of safe materials and comes without any BPA, lead and phythalate.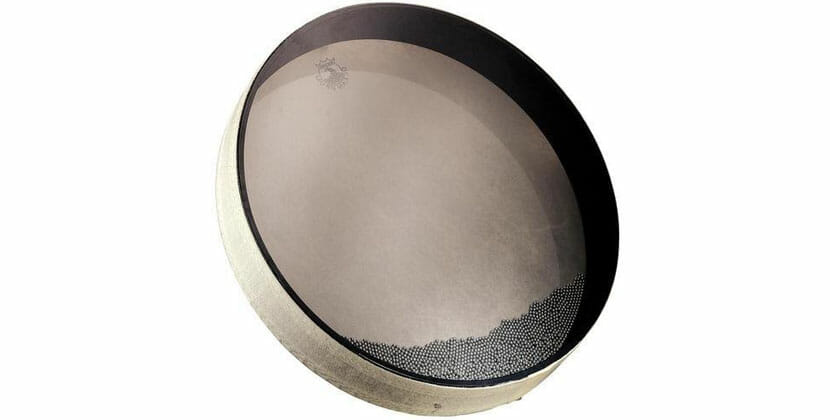 Professionals looking for a durable and high-quality ocean drum should definitely consider Remo ocean drum. Sized about sixteen inches in diameter, two and a half inches in depth, it comes with metal beads that produce the perfect oceanic sounds when shaken or moved in the right way. This two headed ocean drum follows all the standard specifications required.
Pros
A synthetic drumhead with perfectly sized metal beads to produce the perfect oceanic sounds.
It is meant for professional players wanting to add a new dimension to their music.
Cons
little practice is required before mastering this instrument because random movements won't produce the required sound tones.
A little expensive as it is meant for professionals.
The instrument is perfect for recreating all kinds of oceanic wave sounds. From fast moving wave sounds to slow moving wave sound tones, there is little that this drum can't do if handled properly.
Remo Ocean Drum with fish heads is a colorful two headed drum with fish motifs. It comes with accurately sized tiny metal beads that reproduce soothing sounds of sea waves of all kinds. The drum can either shake or tilted in the correct way to produce the required sound effects. The drum has a height of 5 inches and a diameter of about 16 inches.
Pros
Pleasing to look at due to the brightly colored fish motifs.
Ideal for professional music players who want to recreate soothing sound tones.
Cons
The price is higher and therefore not ideal for small kids.
Overall, this ocean drum is perfect for professional music players because of the crisp and wide ranges of oceanic sound tones it produces.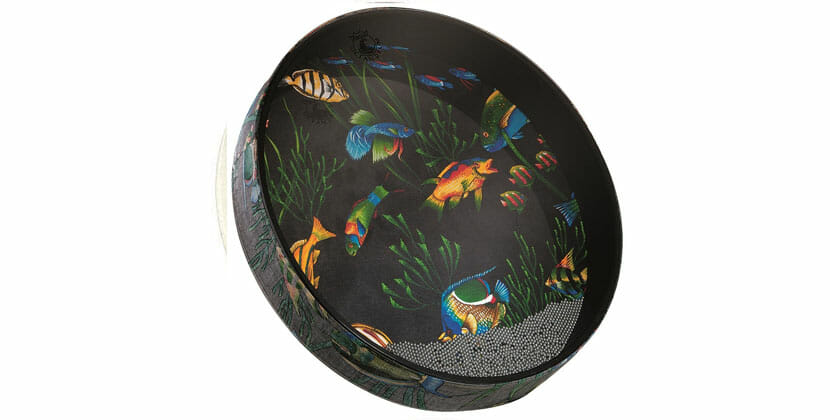 Remo Ocean Drum with fish Graphic is similar to the previous one in graphics and the only difference here is the size. A 12 inch diameter is easier to hold and comes in a smaller price range than the previous one.
Pros
The small size makes it easier to hold than the bigger ones.
This instrument is perfect for practicing musicians or even adult beginners.
Cons
The bigger version gives more realistically perfect sound tones of waves.
Overall, this product is meant for professionals and not kids. The instrument is easier to hold and can be carried everywhere.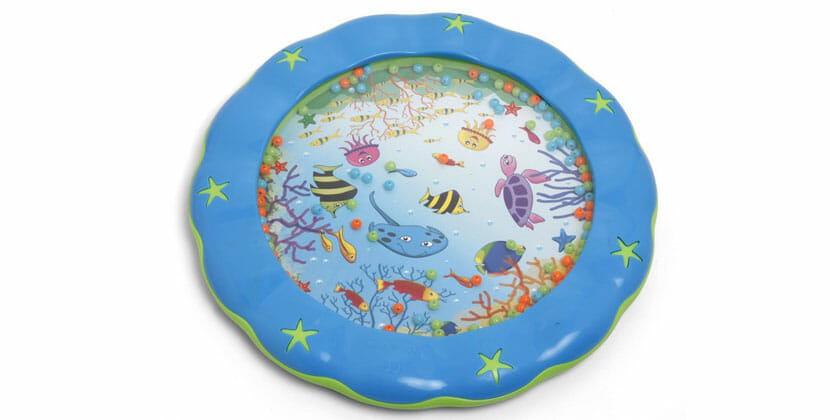 Hohner Kids Musical Toys MP483 is meant for kids because of its small size, colorful patterned drumhead and gentle sound tones.
Pros
The rim is soft and easy to hold and play.
It is ideal for kids above 12 months and helps them develop their motor skills.
Cons
Only for very small kids and not meant for adults.
Though not meant for adults, this ocean drum is perfect for very small kids because it helps them to relax and develop their motor skills.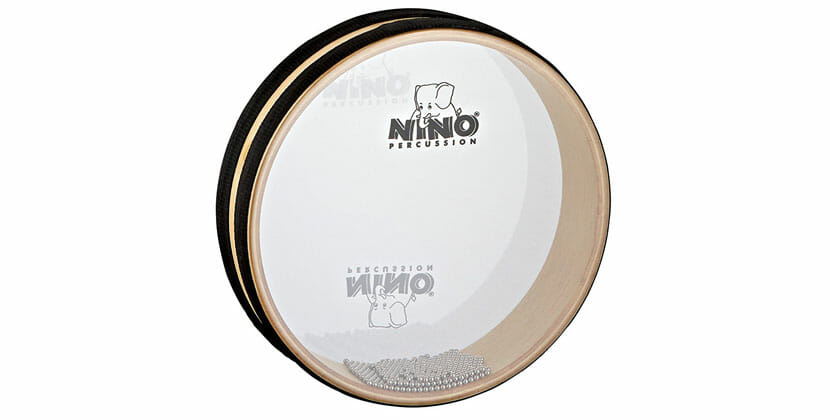 Nino Percussion NINO44 drum is 8 inches in diameter and has a rubber wood frame with synthetic heads that are tuned from before. Due to its smaller size, it is lighter in weight and also easier to hold.
Pros
It is ideal for kids (above 3 years) and also adults.
A trusted manufacturer.
Oceanic sound tones can be easily created.
Cons
The small size might not recreate the exact sound of crashing or moving waves.
This product comes from a trusted manufacturer and therefore the quality of construction is good. Both adults and kids above a certain age can use this product quite easily.
This ocean drum from X8 Drums & Percussion recreates oceanic sound waves when played in a circular motion. It is also moderately sized with a diameter of about 14 inches and a height of 1 inch.
Pros
The shell is made of a synthetic material and therefore is very tough.
The filling of metal beads can be adjusted via an end cap.
Crashing waves sound tones are easy to recreate.
Cons
A higher price tag might be a problem for some.
Not the best option for kids.
This ocean drum is durable and therefore can sustain hours of rough playing. It is mainly meant for adult players and is not recommended for small kids.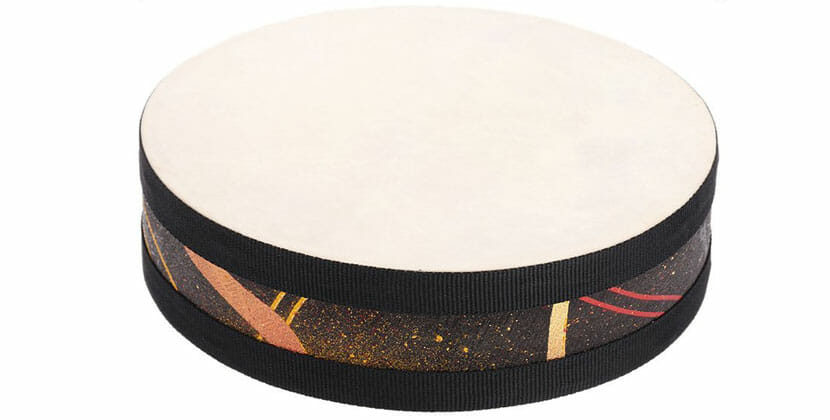 Andoer Ocean Wave Bead Drum gives gentle sound tones of crashing waves and even slow moving waves easily. A true professional can recreate a variety of oceanic sound tones from this single instrument.
Pros
A superior construction makes the ocean drums last longer and recreate relaxing sound tones easily.
The ocean drum has low quantity of steel balls to give the most realistic sound tones.
Reasonably priced as compared to others.
Cons
The sound tones might not be too realistic but they are authentic to listen to.
Not suitable for small kids
If you do not want to spend too much and want a ocean drum on an experimental basis, then do try this one.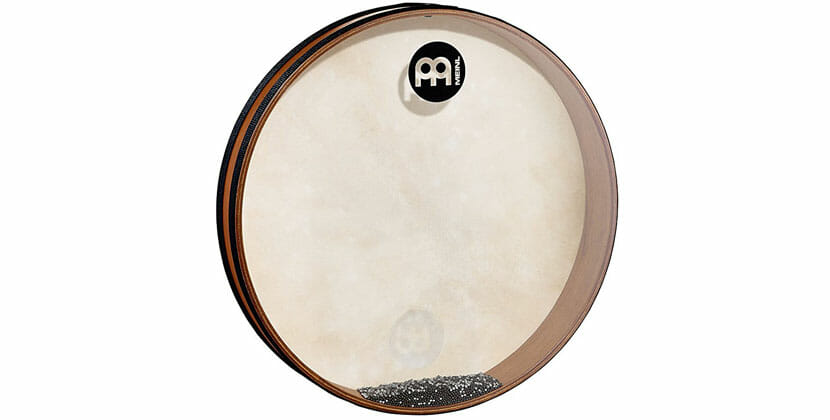 The Meinl Ocean drum is available in three sizes—16, 18 and 20 inches. The drumhead is made of natural goat skin and helps to recreate a variety of sea wave sound tones. The 2.75 inches deep rubber wood shell has a dark brown finish and the amount of metal balls present inside the drum can be modified.
Pros
This is a multipurpose oceanic drum—for creating music and for aiding in meditation.
Realistic Sounds of ocean waves can be recreated easily.
Cons
Expensive cost wise as compared to other ocean drums.
Only for professional use due to the high cost and superior quality.
This ocean drum is perfect for a number of purposes and also has a superior construction. For professional musicians and adults who want to relax, this ocean drum is a great buy.
Ocean drums are either for small children or for adults wanting some moment to relax or create some amazing music. If you are a professional music player and want to recreate oceanic sound waves for a musical piece, go for Remo OCEAN DRUM or Meinl Percussion FD16SD Sea Drum. If you want to buy an ocean drum for your kid then Edushape Sea Sound Drum and Hohner Kids Musical Toys MP483 Ocean Drum are good choices. For adults who just want to relax by listening to oceanic sound waves, Andoer Ocean Wave Bead Drum Gentle Sea Sound Musical Instrument Percussion and Nino Percussion NINO44 8-Inch Sea Drum are good options.