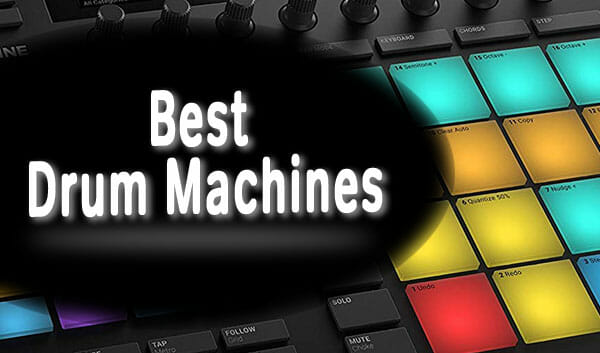 Drum machines are used to produce percussion sounds using electronic signals. They are the instruments responsible for the success of genres like Electronic Dance Music. From being bulky pieces of machinery to the elegant and compact devices that they are today, drum machines have had an extraordinary journey.
Since the 1980s, programmable machines are on the rise, which made these machines extremely popular amongst musicians. Even today, in the age of technology and artificial intelligence, the drum machine still remains the number one choice for artists.
In this article, we have prepared a buying guide for you along with a list of the 9 best drum machines of 2021. Check it out.
Top Drum Machine Reviews In 2021
---
---
---
---
---
---
---
---
---
Buying Guide: Drum Machines
Just like any other product, you need to keep some things in mind before you buy a drum machine. Price, of course, is a critical factor. However, there are many other factors such as your skill level and experience, your style of playing etc. that should guide your choice. Buying is a process of choosing the best option in a trade-off.
Each machine has something unique to offer. By selecting one, you are letting go of what the other device is offering. Our job is to enlighten you, which are the factors that you should value when making a decision.
Whether you want a portable drum machine or something a little more immobile, you need to decide before you splash the cash. Portability is only one dimension; there are many others like it which we have discussed below.
1. Size and Portability
There are machines that will fit inside your backpack and are effortless to move around. At the same time, there are also some devices that are pretty large and transporting them can be a cumbersome task.
So, if you're going to be moving around a lot, then a smaller, more compact machine would be a better choice for you. But remember, larger machines will have more features and control.
2. Memory
Memory is the ability of the drum machine to store patterns. If you'll be using your drum machine indoors, for recreation or personal use, then a small memory shouldn't be a problem.
That changes dramatically in case you are a live performer. Then you need to have a machine that has a large memory so that it can store as many readily available patterns.
3. MIDI
MIDI or Musical Instruments Digital Interface is a protocol that allows musical equipment to communicate with each other and with other digital devices. This is one of the crucial aspects that you must not neglect.
Having a machine that connects to digital devices like the iPad or any laptop is a massive bonus for musicians.
4. Sound Quality
This is what it all boils down to, the end product. Some machines do everything right, but their output sound quality is often substandard.
Also, most machines produce a sound that is unique to them only. It might be thick, sharp, warm or fuzzy. Before buying, have a clear idea in your mind as to what kind of sound you want to produce in the end.
5. Analog or Digital
Drum machines can be classified into two types at a fundamental level, namely, analog and digital. Analog circuits are older technology, while digital is newer. On the basis of recency only, you can't conclude that digital is better than analog.
Digital machines are indeed superior to analog ones in some aspects like customisation and versatility. However, analog devices have their own benefits; for example, the sound quality of analog machines is considered better than their digital counterparts.
6. Ease of operation
Machines can be easy to operate, or they can be more complicated than calculus. Some drum machines come with so many controls that it can be frightening for some people. On the other hand, there are some with far fewer buttons and knobs.
If you are new to this, then buying a complicated device is a no brainer. However, if you buy a simple machine, you'll master it in a few months and would have to dump it soon after. So, it's a tricky choice in the end.
7. Customisation
Most drum machines, at least the higher-priced ones, would allow you to upload your own sound and customisation. This feature is a big deal for many musicians who like to play around with music and create new stuff.
However, if you choose a low-priced machine, you might end up with one that doesn't have this feature. Many of the budget machines come only with a single set and limit your tweaking options.
If you are a fan of customisation, then it might be best to save a little more and buy a machine that has what you need.
Best Brands: Drum Machines
1. Roland
Roland Corporation is one of the most reputable electronic musical equipment manufacturers. It is a Japanese firm with its headquarters in Shizuoka. Musicians all over the world trust their products even with their eyes closed. With the passage of time, the name Roland has become synonymous with superior quality.
2. Akai
The music equipment manufacturing division of Akai goes by the name of Akai Professional. Originally from Japan, Akai Professional was taken over by an American firm inMusic Brands. They have a reputation for manufacturing some of the best samplers, synthesisers and drum machines worldwide.
3. Korg
Founded in 1962 in Tokyo, Korg is one of the oldest brands in the music electronics industry. They manufacture everything that a musician could ever need. Their endless product line includes state of the art audio processors, guitar pedals, drum machines, electric tuners and much more. Korg is especially famous for making some of the finest keyboards.
4. Novation
Novation Digital Music Systems Ltd. is a British musical equipment company, founded by Ian Jannaway and Mark Thompson in 1992. They specialise in MIDI controllers, keyboards, audio interfaces and drum machines among many other products. Their most iconic product was the Launchpad which came out in 2009. In 2004, Focusrite Ltd. acquired Novation, and it has been the parent company ever since.
5. Elektron
Elektron is a 22-year-old Swedish firm that manufactures musical equipment which primarily includes electronic devices like drum machines and synthesisers. Recently, they have also entered the business of effect pedals and musical software. Their customer base includes many prominent artists including the likes of Timbaland, Depeche Mode and Nine Inch Nails.
Frequently Asked Questions About Drum Machines
1. What is the cost of an average drum machine?
This question is pretty simple, but it does not have a straightforward answer. The market is full of a wide variety of drum machines whose price range is quite diverse. If you look on the cheaper side, then you might get a decent machine for a few hundred bucks. However, the price can go into thousands of dollars if you delve into the realm of high-end machines.
2. What are the uses of drum machines?
Drum machines are used across a plethora of genres, from dance to psychedelic.
Drum machines are one of the most vital pieces of instruments for electronic music genres. It is the single most crucial device in those musician's arsenal.
In other music genres like rock and metal, you'll witness the use of drum machines but not that frequently.
3. What is the difference between analog and digital drum machines?
In layman's terms, analog signals are produced using older technologies like transistors and capacitors. While the digital signals are generated using software that interprets your playing intentions and delivers the optimum sound. In terms of music, analog sounds are generally considered to be more original and more transparent than its digital counterpart.
4. How does a drum machine work?
A drum machine is a musical instrument that creates, drum beats, percussion sounds and patterns using electronic signals. They imitate drum kits or produce unique sounds, such as synthesised electronic tones. A lot of modern-day drum machines allow users to program their own rhythms and beats.
5. Can I use my drum machine to make beats?
To make beats for Hip-Hop or any other kind of music, you need to have a set of different components. A drum machine is just one of those components. Besides the machine, you'll also need a computer, a DAW software, MIDI controller and a drum sampler among many other things.
---
Conclusion
Summing up, we'd like to say that the market of drum machines has a lot of exciting products to offer. In this list, we have featured some of the truly exceptional machines from both digital and analog circuitry. You'll be faced with a number of dilemmas while making the final buying decision. We suggest that before buying you should do some introspection to get a clearer picture of what kind of musician you are. After that, you can choose a drum machine that suits your style perfectly.