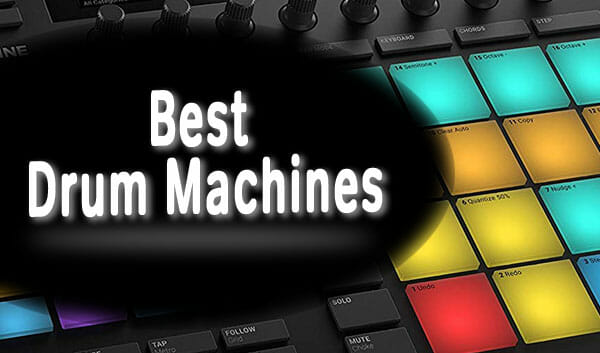 Drum machines are used to produce percussion sounds using electronic signals. They are the instruments responsible for the success of genres like Electronic Dance Music. From being bulky pieces of machinery to the elegant and compact devices that they are today, drum machines have had an extraordinary journey.
Since the 1980s, programmable machines are on the rise, which made these machines extremely popular amongst musicians. Even today, in the age of technology and artificial intelligence, the drum machine still remains the number one choice for artists.
In this article, we have prepared a buying guide for you along with a list of the 9 best drum machines of 2023. Check it out.
Table of Contents
Top Drum Machine Reviews In 2023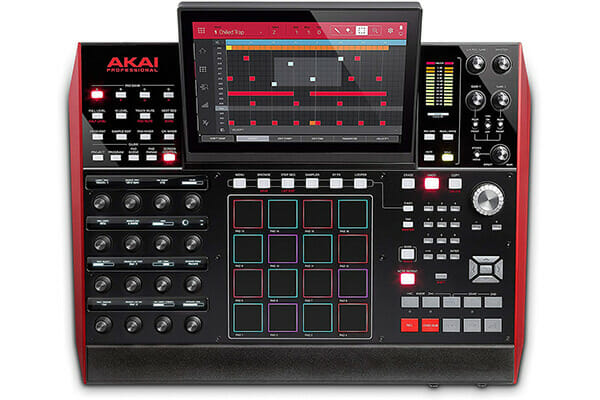 We start this list with one of the most popular devices, the Akai Professional MPC X. This product is from the legendary MPC series from AKAI which has been in service since the 1980s. And just like every other MPC machine, the MPC X is a fine piece of engineering.
Unlike most MPC devices, the MPC X is a standalone unit, meaning it doesn't need DAW software on a computer. MPC X comes with an embedded OS, a 16 GB drive and 2 GB RAM. It also has a 10.1-inch which has a high-resolution multi-touch display that makes using this machine a pleasing experience.
In terms of connectivity, the MPC has innumerable options. Many input and output ports are present in which you can plug-in your guitar or any other instrument. There are eight CV/Gate outputs, two 5-pin DIN MIDI In, four MIDI Out ports and eight 1/4-inch TRS outputs among several others. So saying that MPC X has good connectivity options would be an understatement.
MPC X comes with 16 fully assignable Q-Link knobs which help in controlling different parameters. There is also a dedicated OLED display above each knob, which lets you know which setting you're tweaking.
Working on the MPC X feels awesome due to the many new features such as the looper and step sequencer. The X can also warp audio to fit any BPM, and the results are usually pretty impressive. The 'slice' feature, which allows you to place your chops in sampling mode manually is one of the reasons we like this machine so much.
Pros
Several options for connectivity.
Highly responsive touch screen.
Impressive MIDI interface.
Standalone.
Cons
Only offers eight stereo audio tracks in standalone mode.
Expensive.
MPC X's brilliant connectivity and superb standalone functionality earn it a spot on this list. Also, the touch screen is a massive bonus. If you can afford the MPC X, then there's no reason you shouldn't go for it.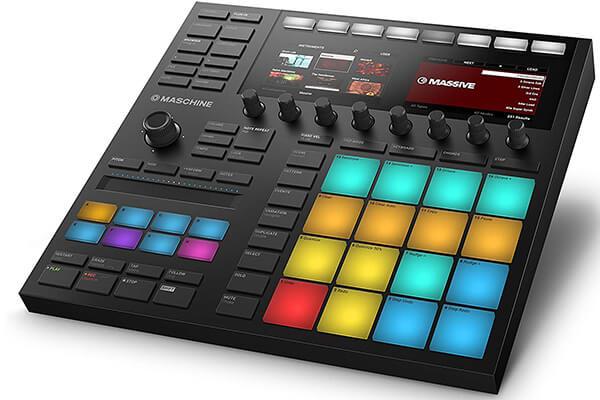 Native Instruments is one of the most underrated brands when it comes to musical instruments. Inspired by the MPC by Akai, they came out with their own drum machine line by the name of Maschine. The Mk3 is the most popular product from the Maschine series. It is a state of the art device that comes with an integrated hardware/software system. This system is pretty impressive as it can do the job of a sampler, arranger, mixer, FX, and a built-in audio interface.
Following the footsteps of the MPC X, the Maschine Mk3 goes one step further. Instead of one screen, Mk3 comes with two screens that make it easy to browse and preview sounds, slice samples, tweak FX, and mix and edit your projects. The screens eliminate the need to open a computer to do all those tasks.
If you are a beginner, this might be the best drum machine for you. It comes preloaded with a 25 GB collection of high-quality sounds, drum kits and samples.
Mk3 is one of the coolest looking machines, the placement of the pads and knobs is perfect. Also, the knobs are touch-sensitive which means effortless tweaking.
You can use the smart strip as a pitchwheel to experiment with perform FX, bend sounds, or strum notes. They have also enlarged the pads in this version of the Maschine. The pads are highly responsive and can be used in three different modes, namely, pad mode, keyboard mode and step mode.
In terms of connectivity, there is everything you could ever ask for. So many ports including TRS inputs and outputs, mic inputs, footswitch and many more might overwhelm you.
It is compatible with all popular DAWs including Cubase, Ableton Live, Logic Pro and many more.
If you are looking to buy your first drumming machine, then you might struggle at first. However, as you fiddle with it, you'll find that Mk3 is really fun to work with, arguably the best in this regard.
Pros
Cool and Intuitive Design.
Pleasing on the eye.
Smart strip.
Two high-resolution screens.
Cons
Back legs are not provided.
Not only Maschine Mk3 is one of the best looking machines, but it is also arguably the most fun to play with. Native Instruments has done you guys a favour by putting in those giant pads.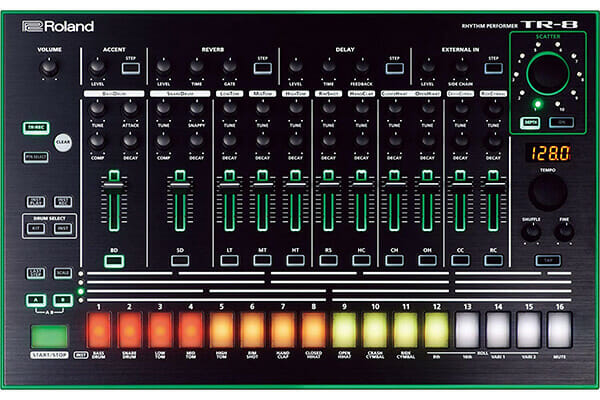 You must be wondering, where are the entries from Roland, well, here is one of them. Roland is a non-disputable leader of Music Electronics worldwide, and Roland Aira TR-8 is one of their best products.
You must've heard about the legendary TR-808 and TR-909. If you have any of those (or you are a fan), then you'll love the TR-8 too. Roland calls this machine a successor to those two legends. TR-8 allows you to relive that classic sound once again, but with a modern touch. Imagine that both of them had a child, and it is better than both of them (bad joke, I know). The ACB (Analogue Circuit Behaviour) circuitry allows TR-8 to recreate analog sounds, despite being a digital machine.
All the buttons and knobs have a green backlight which makes it easier to use in poorly lit situations. And the build quality is pretty robust as well. On the outside, TR-8 looks stunning, and its small size makes it very easy to carry around.
The most prominent features of TR-8 are its knobs. There are plenty of them with the largest one being the Tempo. You'll also notice a Fine and Shuffle knob and a tiny Tap button near to the Tempo knob.
Apart from the tempo knob, many tiny dedicated knobs feel pretty solid. If you are a beginner, then the TR-8 might not be the best for you. All those controls and knobs might scare you at first. However, if you are an intermediate player who is looking to buy a top-notch drum machine at an affordable price, then TR-8 is the way to go.
Pros
Backlit controls.
Superb sound quality.
Lots of controls.
Cons
Not suitable for beginners.
TR-8 captures the sound of TR-808 and TR-909 brilliantly and gives you an analog experience on a digital machine. We highly recommend it if you have some experience.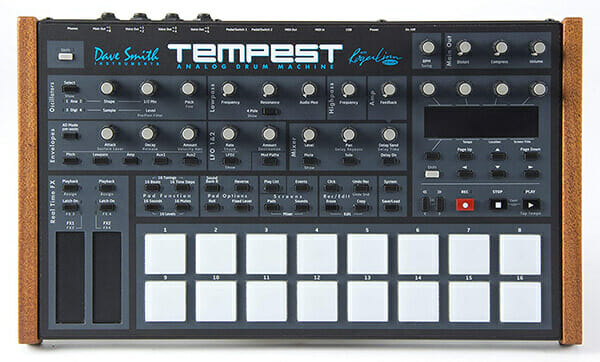 Tempest is one of the most fabled drum machines of all time. That's because it was designed by two legendary musical instruments designers who go by the names of Dave Smith and Roger Linn. Tempest is an old school type machine as it does not allow you to upload your own samples. This is a bit of a letdown. Otherwise, this drum machine is a beast in many regards.
The first thing you'll come across are the sixteen pads that are laid out in 2 x 8 configuration which allows for comfortably playing with your fingers. These pads are velocity-sensitive, and you can use them to play thirty-two drum sounds, mute/unmute the thirty-two sounds on playback and much more.
For connectivity, a number of ports are present which includes the usual MIDI in/out and USB. Apart from these, direct voice outputs and two inputs for foot switches are also present. The wood and metal hardware is highly durable and unique. In total, there are 49 switches, 24 dials and a 256 x 64 dot OLED screen. All this works in tandem with the performance-oriented OS to deliver a highly integrated non-stop workflow.
You may find the absence of removable storage media a bit disappointing, but the sound set is thankfully very versatile. Tempest works on an 8-voice system powered by two oscillators. There is also a broad range of LFOs, filters, envelopes, and modulations.
Overall, Tempest is one of the most comfortable drum machines to operate. It won't amaze you at first, but as you use it more, you'll understand why it is one of the greatest.
Pros
Comfortable to use.
Multiple controls.
Classic analog drum machine.
Cons
Very expensive.
No sampling ability.
In this day and age, Tempest is still one of the most coveted drum machines available in the market. It produces some of the most authentic analog sounds.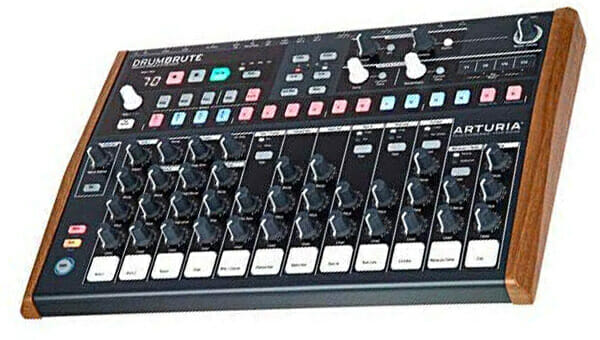 This one is for the hardcore analog fans who find digital machines repulsive. Arturia DrumBrute is a fully analog 12-track drum machine with 17 drum sounds. It offers 64 patterns, each with its own step, which means there are endless possibilities while producing on the DrumBrute.
Arturia is a French firm, and they have a reputation for making some of the highest quality products at a cheaper cost. The DrumBrute is no different as it is one of the most budget-friendly machines that you can buy.
A vast array of controls is present, which allows for countless new and unique sounds. You'll also find many types of drums including snare, clap, kick, hi-hats and many more. All of this makes DrumBrute one of the most versatile devices in the market. Musicians from several genres including rap and dance music can use it to produce natural analog sounds.
Using it feels more like playing an instrument rather than programming or creating beats.
DrumBrute offers multiple options for connectivity including USB, MIDI and several ports, both for input and output.
But the feature that makes this machine stand out is the Steiner-Parker filter. This filter allows you to create quirky sweeps and do on-the-fly tricks. Steiner-Parker is a big name when it comes to filters, and you'll mostly find it on costlier devices.
If you are an analog loyalist and looking for an affordable but outstanding machine, then Arturia DrumBrute should be your first choice.
Pros
Powerful 64-step sequencer.
Ideal for creating complex polyrhythms.
Value for money.
Steiner-Parker filter.
Cons
Parameters can't be recorded or automated.
The price factor combined with the exceptional 64-step sequencer makes DrumBrute one of the best analog drum machines in the market. Moreover, the staggering amount of controls is always a plus.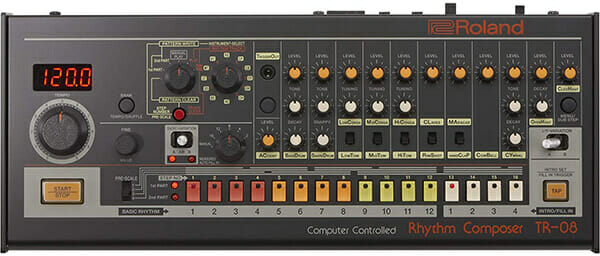 Another entry from Roland, and this time it is a digital resurrection of a discontinued analog model. TR-08 is dubbed as a new and improved version of the original TR-808. If you want to know how much better, it is or even better at all than 808 is a controversial topic amongst musicians. For now, let's only talk about the TR-08 and what it has to offer.
TR-08 is one of the smallest drum machines in the market, so portability shouldn't be a problem. At the surface, it looks like an adorable vintage device, but make no mistake, TR-08 has all the modern features. Using it almost feels like playing with a toy. The tiny knobs and buttons are very usable and extremely fun to play around.
TR-08 has all the advanced connectivity options, including MIDI in and out ports and a micro USB port. Unlike the 808, which had three trigger outputs, clap and accent sequences. The TR‑08 has just one.
For creating or clearing patterns, you'll have to switch between different modes which might seem cumbersome at first but is not a big deal once you get the hang of it.
Overall, the TR-08 is an excellent recreation of the TR-808. If you are a fan of the original 808, then this is your only option to reproduce those analog sounds once again, using a digital machine of course.
Pros
Portable and compact.
Highly customisable.
Sturdy build.
Cons
Requires another audio driver and DAW to access additional outputs.
Any list of drum machines is incomplete without an entry from Roland, especially when it's a modernised version of a fabled device. Also, this is arguably the cutest machine that you can get.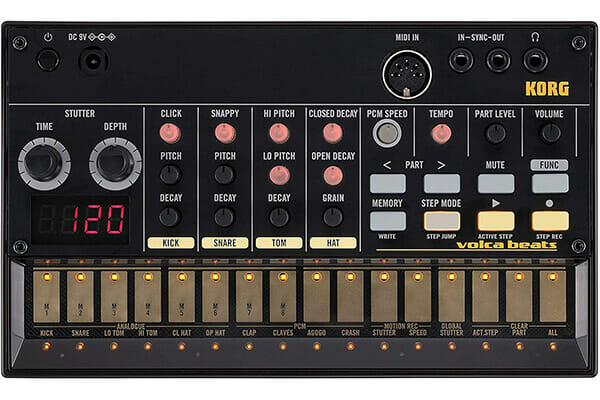 Volca Beats by Korg is a direct competitor of Roland TR-08. Volca Beats is also inspired by the TR-808, which puts it in a complicated situation concerning TR-08. Not only this, there is a considerable price difference in these two products, with Volca Beats being much cheaper. Both these companies are toe to toe in this battle.
There is a popular misconception that Volca Beats is an analog machine, but in reality, it is a hybrid machine. It has an analog sound engine with digital control that enables dial tweaks and note info to be recorded into the sequencer. This also helps in accessing this information over MIDI. Volca Beats is perfectly capable of functioning as a standalone unit or plugged in with a computer.
It has a brilliant 16-step sequencer that has eight memory patches. The sequencer allows you to add or remove parts in an innovative way while visually monitoring the timing of the notes.
It also features six analog and four PCM-based drum parts—the analog parts have one knob per function for effortless editing. The four PCM parts, on the other hand, provide speed control for sudden changes in pitch. You'll find there are very few parameters which makes the learning curve somewhat less steep. Volca Beats is one of the most popular drum machines among EDM musicians.
In terms of connectivity, Volca Beats has limited options. The MIDI In port allows you to play sequence beats from any other MIDI controller or a computer running music software. But there's no MIDI Out or MIDI Thru. Korg has also provided Sync In and Sync Out connections, which use a 3.5 mm cable to communicate pulses.
If you are on a tight budget but want to get the best drum machine possible, then Volca Beats is probably the best option.
Pros
Quite cheap.
Terrific sound quality at a low price.
Portable yet robust.
Easy to use.
Korg Volca Beats is a machine that produces some of the purest analog sounds, and that too at a fraction of other competitors. Moreover, the small size and build quality make it an excellent choice.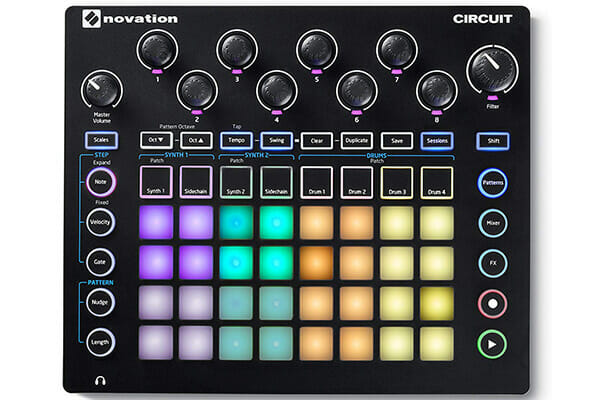 Circuit Groove Box from Novation is arguably the king of drum machines when it comes to pads. It has 32 medium-sized backlit pads which will probably be the first thing you'll notice about it. These pads are velocity-sensitive and change colours which makes it very pleasing on the eye. According to the company, the Circuit was designed to arouse inspiration among musicians, and that it does.
It is a standalone unit that allows you to produce tracks without using any external computer. Circuit is a synthesiser cum drum machine, and it offers 4 parts of the latter and 2 parts of the former. This dual feature is one of the things that makes Circuit so unique.It is also one of the most enjoyable drum machines to work on.
It is probably one of the tiniest devices and it even has a built-in speaker. Now you don't need any external device, everything you need is in here. You can create your music in any place you want.
For tweaking, you'll find eight macro knobs that perform subtle edits or can even transform the patch completely. There are several options for connectivity including USB, ¼ inch outputs, and 3.5mm MIDI In/Out ports.
Novation is one of the few music machinery manufacturers that release regular software updates for their products. With Circuit as well, you can rest assured that you'll receive timely software updates.
In simple terms, Circuit is a 4-part drum machine that can store up to 64 drums, samples, and one-shots. It can also combine up to 128 steps of synth and drum patterns and save up to 32 sessions, each comprised of up to 8 patterns per track.
All in all, Circuit offers a broad sound palette, smooth workflow and a brilliant sequencer. If all these things appeal to you, then passing up on the Novation Circuit Groove Box might be a no-brainer.
Pros
RGB backlit pads.
Portable and lightweight.
Two-part synthesiser and four-part drum machine.
Built-in speaker.
Cons
Build quality seems a bit flimsy.
Novation Circuit is the most colourful and most enjoyable drum machine to work on. It is a standalone unit that does not require any other device, not even a speaker.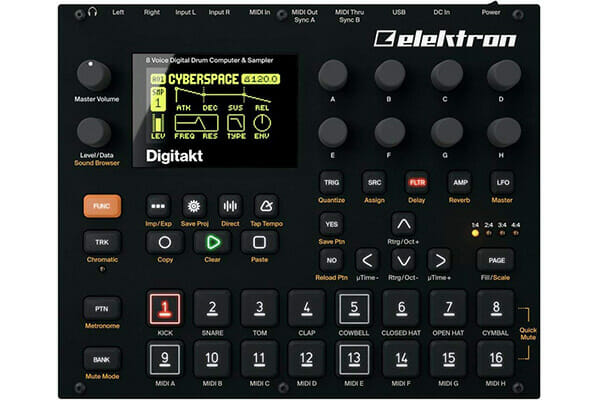 Elektron Digitakt is among the few drum machines that can function as a sampler as well. It features eight internal audio tracks, eight dedicated MIDI tracks and it can also be used as a groove sequencer. Digitakt is an entirely digital device which was also the first by Elektron.
Talking about the design and build, Digitakt is arguably the most robust machine you'll find. It was made for heavy use and is built to last longer than your average machine. Also, the square design in a matte black finish rounded off with an OLED gives Digitakt its stunning looks.
One thing that most of you will miss in this drum machine is the presence of the velocity-sensitive pads. Pads are not central to mixing or producing but having them can make it a fun experience.
Digitakt does not disappoint when it comes to connectivity. It offers two inputs and two outputs as well as a headphone output, all on jack. Furthermore, input and thru output MIDI connections are also included along with a USB 2.0 port.
Interestingly, Digitakt samples in mono despite stereo input jacks. This basically means that recordings taken from both the L/R input at once will be summed to a single channel.
Elektron also includes dedicated software, Overbridge Basic which enables perfect integration of the Digitakt in your DAW.
What makes Digitakt a winner is the depth of its sequencer. Also, the parameter lock capability allows you to automate and tweak most parameters.
Overall, if you are looking to buy a digital drum machine that will last for years, then look no further and go for the Digitakt.
Pros
Robust.
Highly durable.
Parameter lock ability.
Perfect for sampling.
Cons
Workflow might be not as smooth sometimes.
Elektron Digitakt is one of the best digital drum machines available in the market. Moreover, it is highly durable and most suitable for sampling.
Best Brands: Drum Machines
1. Roland
Roland Corporation is one of the most reputable electronic musical equipment manufacturers. It is a Japanese firm with its headquarters in Shizuoka. Musicians all over the world trust their products even with their eyes closed. With the passage of time, the name Roland has become synonymous with superior quality.
2. Akai
The music equipment manufacturing division of Akai goes by the name of Akai Professional. Originally from Japan, Akai Professional was taken over by an American firm inMusic Brands. They have a reputation for manufacturing some of the best samplers, synthesisers and drum machines worldwide.
3. Korg
Founded in 1962 in Tokyo, Korg is one of the oldest brands in the music electronics industry. They manufacture everything that a musician could ever need. Their endless product line includes state of the art audio processors, guitar pedals, drum machines, electric tuners and much more. Korg is especially famous for making some of the finest keyboards.
4. Novation
Novation Digital Music Systems Ltd. is a British musical equipment company, founded by Ian Jannaway and Mark Thompson in 1992. They specialise in MIDI controllers, keyboards, audio interfaces and drum machines among many other products. Their most iconic product was the Launchpad which came out in 2009. In 2004, Focusrite Ltd. acquired Novation, and it has been the parent company ever since.
5. Elektron
Elektron is a 22-year-old Swedish firm that manufactures musical equipment which primarily includes electronic devices like drum machines and synthesisers. Recently, they have also entered the business of effect pedals and musical software. Their customer base includes many prominent artists including the likes of Timbaland, Depeche Mode and Nine Inch Nails.
Frequently Asked Questions About Drum Machines
What is the cost of an average drum machine?
This question is pretty simple, but it does not have a straightforward answer. The market is full of a wide variety of drum machines whose price range is quite diverse. If you look on the cheaper side, then you might get a decent machine for a few hundred bucks. However, the price can go into thousands of dollars if you delve into the realm of high-end machines.
What are the uses of drum machines?
Drum machines are used across a plethora of genres, from dance to psychedelic.
Drum machines are one of the most vital pieces of instruments for electronic music genres. It is the single most crucial device in those musician's arsenal.
In other music genres like rock and metal, you'll witness the use of drum machines but not that frequently.
What is the difference between analog and digital drum machines?
In layman's terms, analog signals are produced using older technologies like transistors and capacitors. While the digital signals are generated using software that interprets your playing intentions and delivers the optimum sound. In terms of music, analog sounds are generally considered to be more original and more transparent than its digital counterpart.
How does a drum machine work?
A drum machine is a musical instrument that creates, drum beats, percussion sounds and patterns using electronic signals. They imitate drum kits or produce unique sounds, such as synthesised electronic tones. A lot of modern-day drum machines allow users to program their own rhythms and beats.
Can I use my drum machine to make beats?
To make beats for Hip-Hop or any other kind of music, you need to have a set of different components. A drum machine is just one of those components. Besides the machine, you'll also need a computer, a DAW software, MIDI controller and a drum sampler among many other things.
Conclusion
Summing up, we'd like to say that the market of drum machines has a lot of exciting products to offer. In this list, we have featured some of the truly exceptional machines from both digital and analog circuitry. You'll be faced with a number of dilemmas while making the final buying decision. We suggest that before buying you should do some introspection to get a clearer picture of what kind of musician you are. After that, you can choose a drum machine that suits your style perfectly.