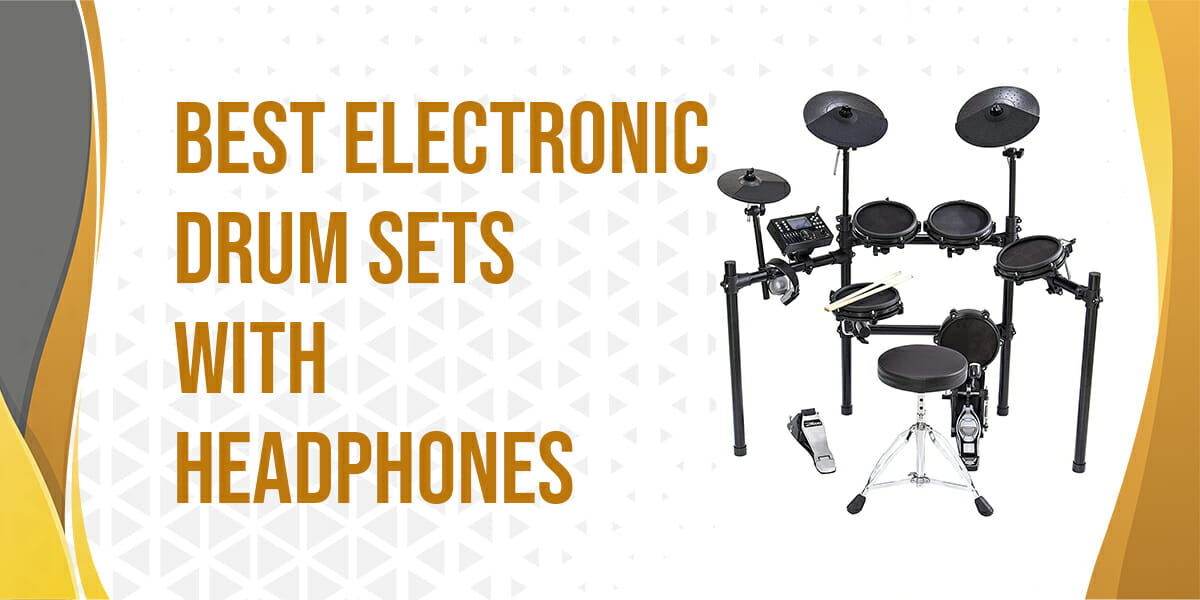 Hearing your beats with clarity, avoiding the stage noises, for greater recording quality, for your practice sessions, be it any of these reasons you will require a headphone with your electronic drum set. Not many brands provide headphones along with an electric drum set. Here we will provide you with the Best Electronic Drum Sets With Headphones from some of the best brands available.
Table of Contents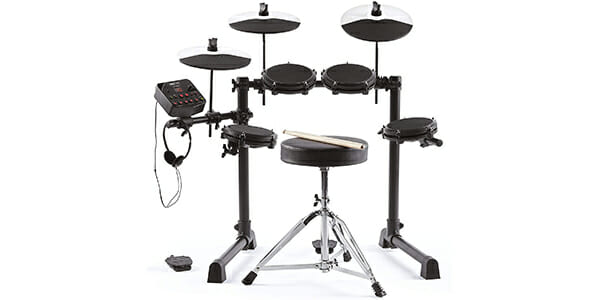 This electronic drum set is the best choice for kids who are aspiring drummers. It is sold along with a headphone that lets your kid have an amazing practice session. 
This electronic drum set is made of quality metal and keeps your kid from any danger. It has a powerful educational feature along with it which is packed with a debut drum kit module with a drum coach and play-along tracks. It also got some exercises to keep up the learning experience of your child.  
It has all the sounds for your child's creativity. And it also has an amazing amplifier system that will let your child show off their talents to their friends or family members.
Pros
Affordable
Quality headphones
Multi Featured
This electronic drum set will add skills to your child's drumming experience. Multi features included in this set will enhance the confidence of the drummer in your kid.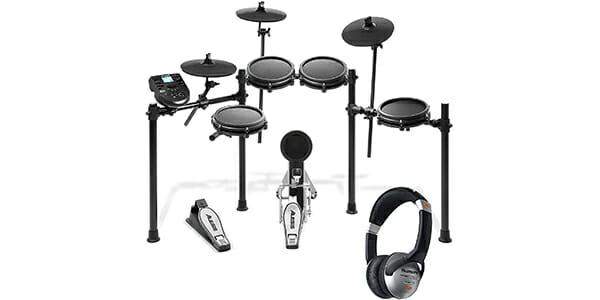 This electronic drum set has elevated itself with its updated features. It has all the features, a modern drummer is looking for. 
Coming in a premium 8 piece configuration, it got cymbals and headphones along with snare pads and tom pads. The headphones are of high quality and make every beat count.
The drum set has 40 ready-to-play classic and modern kits, 60 play-along tracks, and 350+ sounds. 
The headphone is designed in a very lightweight manner. Its hearing quality keeps you focused on what is important. It also cuts down on ambient noises. 
An added perk is you can connect your drum set to any other devices.
Pros
Affordable
Noise reduction headphone
Multi connectivity
A multi-functional electronic drum set with quality headphones and you can also connect your drum set to any other device easily.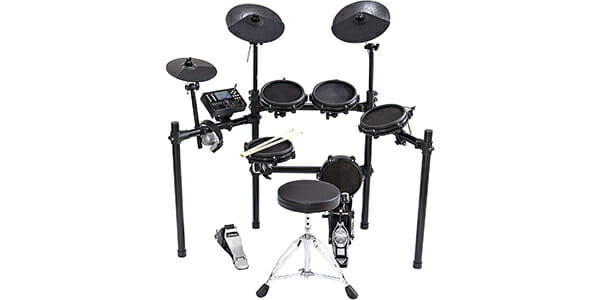 ZHRUNS assures you a true-to-life drumming experience. It has quality components and the headphones come with a great warranty.
The drum skins of this drum set are made of quality material. The sound it produces is very apt for acoustics. 
This drum set can be used by both beginners and professionals. They have play-along patterns with 300 sounds and 30 demo songs. You can use this drum set to explore different genres.
The components of this pack can be tuned separately and hence it can be used for experimenting with tunes even if you are a beginner.
This electronic drum set can be easily set up and disconnected. It can be used to play any type of music.
Pros
Multi-genre
Beginners and professionals
Easy to connect and disconnect
Both beginners and professionals can equally play and experiment with their tunes from the different genres in this electronic drum set.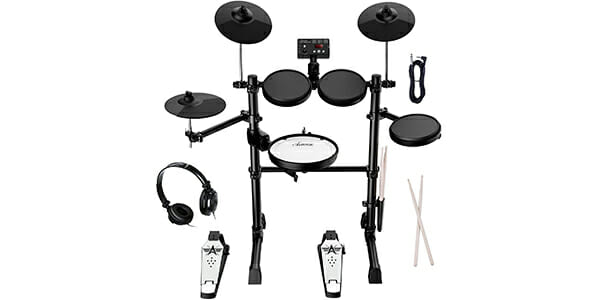 Asmuse electronic drum set is perfect for all adult beginners. It has all the important components including a headphone.
This electronic drum set can be set up in just 7 simple steps and hence it saves a lot of your time.
It has the simplest way of functioning and it consists of 12 drum sound kits and 242 sounds for all your crazy experiments.
It got a real percussion hand feeling with its snare drum. It also has AUX input and USB MIDI output that helps you to experiment and showcase your talent. 
The headphone helps you to create a self practicing mode without disturbing anyone around. You can create your bedroom into a practice room and keep learning from your mistakes.
Pros
Simple to setup
Multiple sounds
Personalized
The cool features of the drum set are available at an affordable price and it also lets you practice in your solitude without disturbing others by providing a headphone.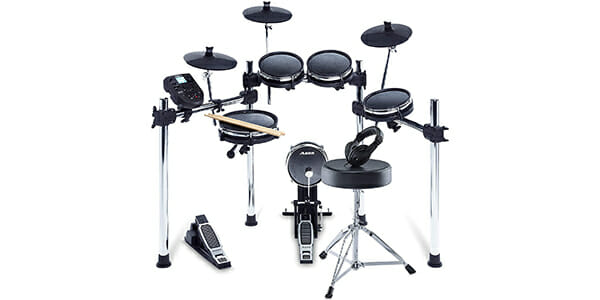 This Electronic drum kit keeps up with the Alesis products and it has a higher quality too. 
This set gives you an immersive playing experience. It has 3 sets of cymbals and 8" drum sets. 40 ready to play classics, 60 play-along tracks, and 350+ expertly curated sounds are also included in the pack.
60 free lessons from melodics and other necessary components included. The headphone helps you to have your personalized learning experience.
Pros
Quality
60 lessons
Good headphone
It is a complete set up for all aspiring drummers. The headphone quality gives an extra effect to the experience.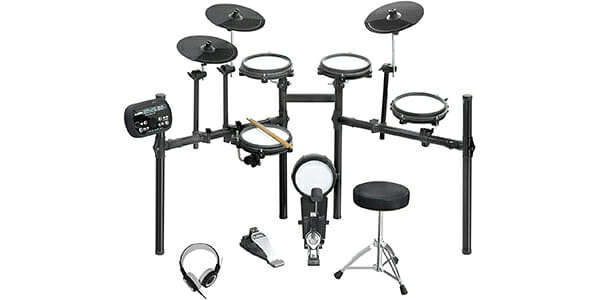 LAGRIMA electrical drum set has an LED LCD and an imported sound source. This set is a complete package for all the drummers out there.
It includes a GM standard sound library and it has an adjustable volume. The tom drums are all upgraded to 8-inch dual-trigger mesh drum heads. This reduces the noise and prevents the drum heads from loosening.
The headphones are also of high quality and it lets you practice in full ease.
Pros
Quality 
Good headphones
LED
It has a headphone along with the electrical drum set and all components are of high quality and are available at an affordable rate.
Frequently Asked Questions
Can you use headphones with electronic drums?
Every drum kit consists of headphones or an amplifier portal. All the drummers use headphones for their practices. Most of the drum set has a specific headphone portal and they also provide a headphone along with the electronic drum set. If not provided, it is important to have good quality headphones to enjoy the drumming experience.
Are electronic drum sets any good?
Electronic drums are amazing in terms of playing acoustics and it is an inspiration to a lot of beginners. But the feeling you receive from playing a real drum with cymbals is different. It might not have the power as a real drum. The electronic ones are weightless and easy to carry. People who had entered into the times of real drum sets might find the electrical ones difficult to play.
What is the best electronic drum kit for beginners?
There are a lot of brands that produce amazing electronic drum sets for beginners. Some of them are:
1. Alesis nitro mesh
2. Yamaha DTX402K
3. Roland TD- 1DMK
4. Alesis Turbo Mesh
5. Roland TD-07KX
Can you hear electronic drums without headphones?
Yes, for that you will require amplifiers and speakers. You will have to connect to these to adjust the volume in which the music can be played. Headphones once connected, the audio will be heard only to the person who is wearing it. Without connecting any of these, the music can be heard only by the player. Hence a speaker or amplifier is a must.
Why do drummers wear headphones?
Most of the drummers wear headphones to get a clear focus on all the components of the drum set that is played. This is a way of preventing any external noises or simply stage noises. A headphone helps in understanding the music played without any disturbances. Drummers also use headphones while practicing at home or other places to avoid disturbing others.
Why are electronic drums so expensive?
The main reason behind this is that electronic drums are very complicated in manufacturing. They involve complex mechanisms and hence it will require a lot of money. They also come in lightweight and it requires an amazing volume and sound quality. All of the parts need extra care and specific sounds. These concepts add to the price.
Should I buy acoustic or electric drums?
Acoustic drums are the real drums and they produce the real sounds from hitting the drums and cymbals. These drums can be difficult to carry and it will be a great disturbance to your neighbors and others during your practice sessions.
An electric drum set produces the same sounds like an acoustic drum but the power might be a little less. They are lightweight and can be carried around easily. They also help you to practice anywhere without being a disturbance to others.
Hence, it is your choice as to which one will be suitable for your situation.
We hope that the above-listed 6 Best Electronic Drum Sets With Headphones will help you choose a perfect one for your needs.