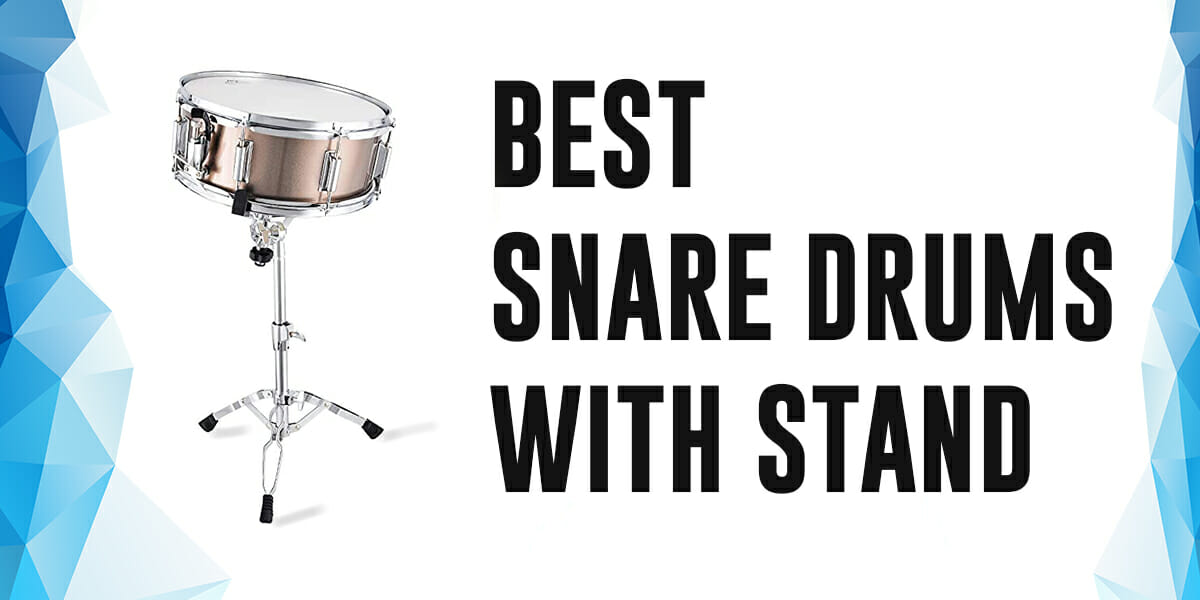 Snare drums are the most important drum in any drum kit and it's important to invest in a quality one for long-term use. You can easily start your drumming passion with the best snare drums that come with a stand. These are easy to sit by and play and enhance your drumming experience.
These are built with high-quality durable material which is super-sturdy and the drumhead produces crisp and high sound. These are the perfect match for any percussionist who's just starting and even professional drummers. You can easily adjust the stand according to your height and even keep it high for standing while playing. They're also equipped with all necessary accessories for playing.
Check out the best Snare Drums with stand below:
Table of Contents
Our Top Picks
Best Snare Drum For Beginners: GP Percussion SK22 Complete Student Snare Drum Kit
It has all necessary accessories needed to start and is built with a metal shell for producing high-quality sound.
Best Snare Drum For Marching: EASTROCK Snare Drum
It comes with an adjustable neck-strap which can be easily attached to the drum and play while marching.
Best Snare Drum For Professionals: Pearl SK910C Snare Drum
It is built with long-lasting material and can be easily used to complete your drum set and play at any professional gig.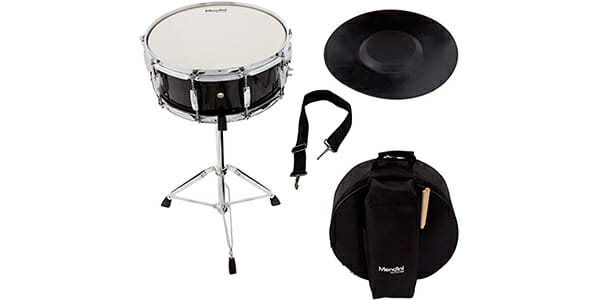 The Mendini MSN-1455P-BK is the perfect drum kit for beginners and students starting their drum band. It is a 14"-5.5" snare drum with 10 lugs for better tuning and crisper sound experience. The snare stand comes with 30 inch height which is perfect for students and even adults to sit by and play. The kit also includes a rubber pad to mute the drum's sound when you're practicing. It also comes with a padded gig bag, sticks and adjustable neck-strap for extra comfort and convenience to carry around.
Pros
Complete Snare Drum Kit
Padded gig-bag
14"-5.5" Snare Drum
10 lugs
Additional Rubber pad
Affordable
It comes with 10 lugs which can finely tune your snare drum for a more crisper and high sound. It is also made with durable material and has all necessary accessories to start your drumming sessions right away.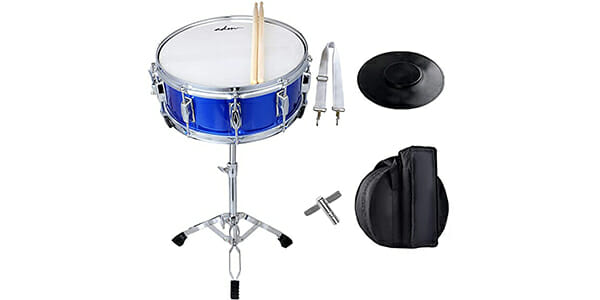 The ADM Snare Drum is a 14"-5.5" standard size drum with high-quality and deluxe construction and gloss finish. It is a beautifully crafted snare drum with 10 durable tuning lugs which makes the drum head more stable and produce a nice high sound. It also comes with a sound level drop pad to practice without disturbing others. The adjustable stand and adjustable strap can be used for playing in both sitting and standing position. And the high-quality portable carry bag makes it easy to carry around.
Pros
High-quality 19" Adjustable stand
Drum Mute Practice pad
10 logs for excellent tuning experience
Adjustable strap
Two Colour options (Black & Blue)
Quality Carry bag
It is a superior quality snare drum with 10 lugs for adjusting the tuning and producing an incredible high and even sound. It has all accessories included in the kit- drum sticks, tuning key, practice pad, carry bag and neck-strap which is perfect for starters.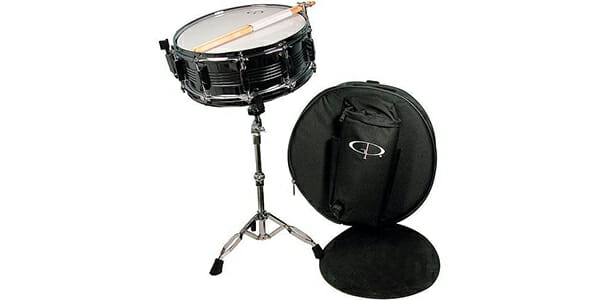 The GP Percussion SK22 is a top-quality 14"-5" snare drum built perfectly with a metal shell for the best sound and fun playing experience. It comes with the complete kit you need to start playing, featuring a practice pad, drumsticks, stand, with drum keys and carry bag. The double braced adjustable stand is built with highly durable material and sturdy to use. The nylon backpack also has shoulder straps and carry handles for easy portability.
Pros
14"-5" high-quality snare drum
Metal shelled
Complete playing kit
Double Braced adjustable stand
Nylon quality backpack
It is a complete playing kit for beginners with all necessary accessories. The highly durable shelled snare drum is built for producing crisper and high sound, it also comes with a double braced sturdy stand.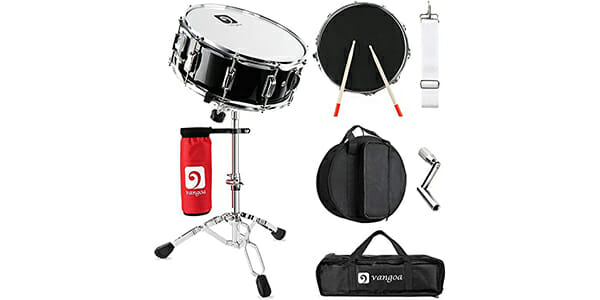 The Vangoa Snare Drum is a standard 14"-5.5" size drum which has an open and well-balanced sustaining sound production. It is built with a 6mm Poplar shell with 45 degrees Round over bearing edge on each side which even transmits the tension across the drumhead. It comes with 10 sturdy lugs which provides the perfect tuning and enhances the tension between head and shell evenly. The upgraded stand comes with double-braced legs with anti-slip rubber feet and memory lock with tightener to easily adjust the drum height.
Pros
10 lugs for stable tuning
Double-braced upgraded stand
14" quality drum head
6mm Poplar shell
Heavy duty bag
Drum mute pad
5A drumsticks
It is made with metal rims and parts, while the shell is built from birch wood which offers a warmer, richer and deeper sound. The 10mm padding made from 600D Oxford cloth is highly durable and sturdy to hold and carry the drum set anywhere.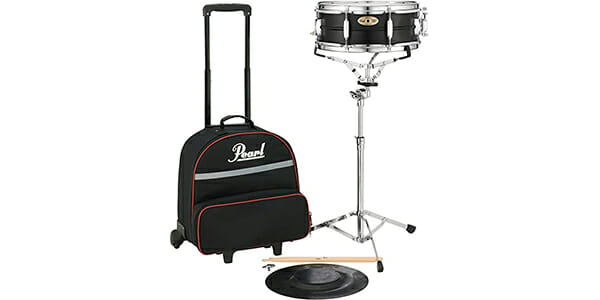 The Pearl SK910C is a standard 14"-5.5" steel shell snare drum for the most amazing playing experience. It features a 14" Gladstone style practice pad with two-level rubber which can easily be used to cancel the noise when practicing indoors. The drum set is easy to assemble and gives a professional feel with full-size format and adjustable sturdy snare stand. The custom fit padded rolling bag comes with wide-stance easy roll wheels and heavy duty retractable handle which can carry all equipment easily. It also comes with 5A wood sticks which are long-lasting.
Pros
Fast and easy to assemble
Umbrella style bell stand
Gladstone practice pad
Heavily padded custom cases
Heavy-duty bag
5A Wood sticks included
It is made with the best durable material and gives a professional feel with high-quality sound reproduction. The portable carry bag with handles and umbrella style stand is definitely a plus point which completes this playing set.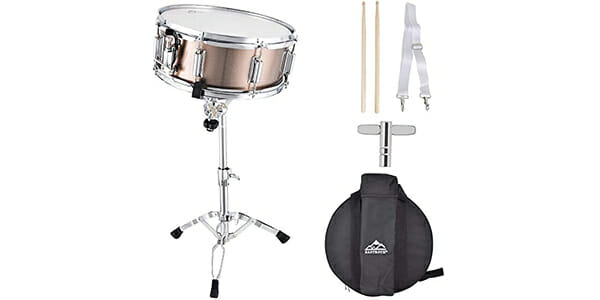 The EASTROCK Snare Drum is made with superior quality thick drum barrels, imported drum skin and solid drum circle for creating your own exclusive band. It is a standard 14"-5.5" snare drum with 20 wire sand bell and all-steel cavity which produces heavy and fuller sound. It comes in 4 different colours to choose from and all of these have a highly glossy and beautiful finish. The whole kit includes every accessory needed for starting your playing journey, featuring a snare drum, snare drum stand, strap, gig bag, drum keys and drumsticks.
Pros
PVC material drum skin
Adjustable stand
Unique backpack
4 colour options
All accessories included
Affordable
It is an affordable snare drum made with superior quality durable material and thick skin for better sound production. The whole kit comes with all necessary accessories for playing at any professional occasion.
Frequently Asked Questions
How do you put a snare drum stand together?
You can easily put a snare drum stand together through this method: 
1. Get all the pieces out of the box. Now, take your bottom piece and spread its legs to the desired position. Place it on the floor. 
2. Take the top section and attach it by fitting it on the bottom part. You can adjust it with the help of side adjustments to your desired height (and tilt it to position accordingly).
3. The upper part is called the basket, you need to open all the pieces of this section apart. You'll find a knob attached right at the centre of this, which can be used to tighten and loosen the basket. 
4. You can easily put the snare drum now and tighten it up or loosen it to take the snare drum out. 
Can you use a snare stand for a tom?
Yes, you can easily use a snare stand for mounting a tom. You just need to make sure that the snare stand basket is not super tight, you just need to rest the tom and prevent it from choking. Loosen the basket a bit, and add foam pieces at the bottom of the basket, or the stand altogether. Many people actually prefer using a snare stand for a tom since it's easier to position, gives much better sound, has an adjustable basket with flat base, and is more solid with less movement. 
What are the parts of the snare drum?
Snare drums has following different parts:
1. Batter Head 
2. Snare Beds
3. Shell 
4. Counter Hoop/Rims 
5. Tension Rods 
6. Snare Strainer/Lever (Release and Adjustment Screw)
7. Air Hole 
8. Butt Plate 
9. Lug Casing 
10. Snare Head 
11. Snare Wires 
What makes a snare drum sound good?
Many factors are responsible to make the snare drum sound good, the most important being the way a snare drum is being played. It's very essential to get proper stroke and see how the sticks make contact with the rim and drumhead. Make sure the end of the stick always contacts the centre of the drum. Another factor is tuning, you need to decide if the snare should be high or low. Get the drumhead intonation under control and ensure the head is placed evenly on the drum, and then tighten the tension rods. And the perfect snare sound comes from the bottom head or the snare-side head. You need to ensure that the snare wires are set in place and the strainer (tighten it for crisper sound and loosen it for buzzy sound for a long time) should be adjusted properly. 
Why is it called a snare drum?
Snare drum has a long and ancient innovative history which started in Medieval Europe around 1300 B.C. It originated from a tabor, which was a double-headed drum with only one snare drum strand at the bottom. It gained popularity in the 1400s since they were used for military purposes along with a flute. Then over time, the snare drum started getting smaller and being used for classical music. It is made with two heads and they're usually made from plastic, earlier from calf or goat skin. This is accompanied with a rattle of metal, nylon, or gut wires on the bottom head which are called Snares. 
How do you mount Tom on a snare stand?
You can easily mount a tom on a snare stand by adjusting the snare stand's basket. Open it widely by loosening the pieces, and place your tom over the basket. Make sure the basket is not too tight, which can choke the tom. You can also adjust the height of the stand and place the tom at the desired position with the help of the adjusting knobs. If you want to prevent the snare stand from leaning over or falling with tom's weight, you can also add some foam pieces into the basket or place them under your snare stand's legs.  
How do I lower my snare drum stand?
Snare drum stands have an adjusting knob at the middle of the stand, you can loosen it to adjust it according to the desired height. If you still want to lower it further, you can cut and shorten the snare drum stand. You need to unscrew the adjusting knob or rivet from the bottom of the leg which joins it to the centre tube. Now remove this screw and take out the centre tube and shorten it with the help of a hacksaw or tubing cutter.  
How do you tune a snare drum set?
You can easily tune a snare drum set through this method:
1. Flip the snare drum over and check the bottom head. 
2. You need to make sure that the bottom skin of the drum is tight, but not too tight since it's quite thin. It might snap if it's very tight. 
3. Now place the snare drum head on the shell and get the hoops. 
4. Put all the tension rods in and tighten them roughly with your fingers. 
5. Once there's even tension across the head, put your palm across the head, press it and let the skin stretch a bit across the shell. (This helps the snare drum to go out of tune frequently when it's on the desired pitch). 
6. Now get your tuning key and start tightening the tension rods up one at a time, at full–rotation in clockwise direction to ensure each one is tightened equally.
7. When you're done, the skin should be tight enough to produce a crisp sound. You can check by tapping each spot at the edge of the tension rods and see if they sound the same. 
8. You can check if the snare drum sounds in the tune that you like, or tighten the tension rods further. 
How can I make a cheap snare drum sound better?
You can make any cheap snare drum sound better by ensuring the following:
1. Make sure all the hardware is tightened and fastened to the shell to prevent any rattles.
2. You can also replace both drum heads and install an upgraded pair of snare wires. 
3. And all the parts of the drum are properly lubricated and tuned. 
What does Hi Hat mean?
A Hi Hat is a standard part of the modern drum kit which is a type of cymbal and stand. It is used by percussionists in R&D, hip-hop, metal, rock and roll, jazz and other contemporary music. The Hi-hat has two cymbals which are mounted over a stand, one on top of the other, and has an adjoining pedal which is used to clash and hold these cymbals together. 
Conclusion
There are a lot of Snare Drums with Stand available in the market, but we've provided the top-rated products for you. These are made with durable material and come with every accessory required for initiating your playing journey.
They're easy to assemble and carry around since they come with high-quality carry bags. These are made with thick skin drum heads and metal cavities for producing high, rich and fuller sound. Again, most of these are highly affordable and under budget without compromising on the quality. You can either use these for standalone practice or include these to create your complete drumming set.