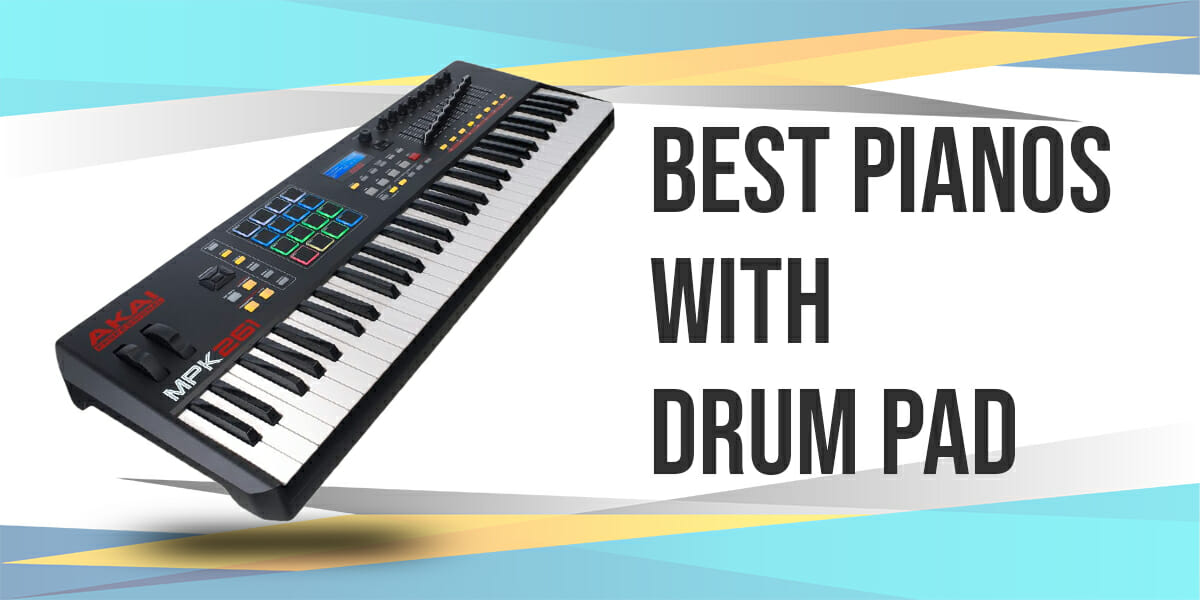 Are you someone who loves playing drums as much as you like playing piano? Most pianos don't come with a drum pad but there are some that do. To cater to the needs of piano enthusiasts, some brands have a drum pad attached to the piano.
Here, we will give you a list of the Best Pianos With Drum Pad that allows you to explore the various dimensions of a Pianist.
Table of Contents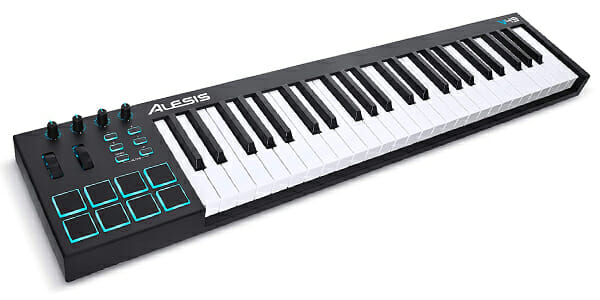 Alesis V49 provides quality time to its users. The piano has velocity and pressure-sensitive pads in it, which can be used to produce a beat. These pads can be used to play multiple virtual instruments including drums.
This drum pad is designed innovatively. Each button has a backlight and it adds beauty to the music played. There are 8 drum keys and all of them produce the different sounds of a drum kit. These keys can also be used to produce other musical instruments' sounds.
Other keys present on the drum pad is used for adjusting the beats produced from the drum keys and also to adjust the piano music. There is some premium pro software included in this set. They are Pro tools, First Alesis edition, etc.
Pros
Affordable
Pro software
Quality drum pad
At an affordable price, you get a piano with a drum pad, that can produce sounds of different instruments.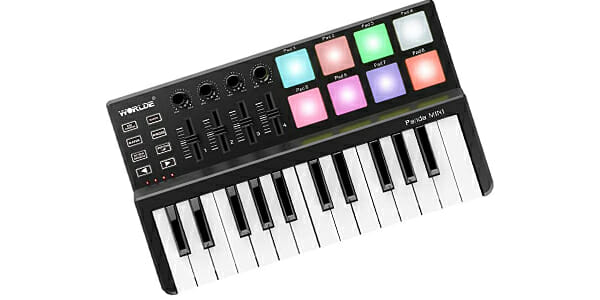 This Piano has an amazing drum pad that will attract its buyers with its colors and its price. At a very cheap rate, Worlde Panda provides you an amazing Piano with a drum pad.
The drum pad is colorful like a rainbow with its backlit keys. They support their users by providing them a powerful ambiance.
The keys of the piano are velocity-sensitive and they are effective too.
It has all the necessary settings and it is available at the cheapest price.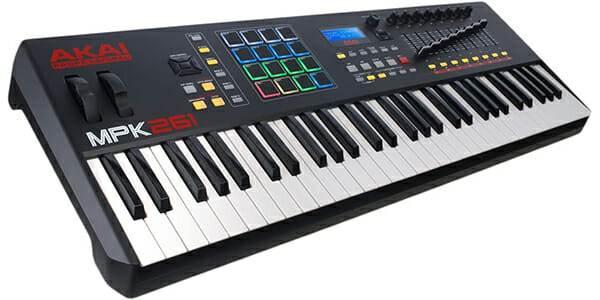 Akai Professional has created this specific Piano with professional pianists in mind. This piano stands out of all other pianos because of the extra features attached to it. It has all that you need for a professional journey.
The keyboard consists of extra keys and this adds to the music you create. The presence of 16 RGB backlit keys in the drum pad, gives a magic touch. These keys are all velocity-sensitive.
The music produced in this keyboard can experiment with various features attached to it and hence it becomes the favorite of professional pianists.
Pros
High quality
Extra features
This piano is the best choice for all professional pianists and it has all the features to make it cost-effective.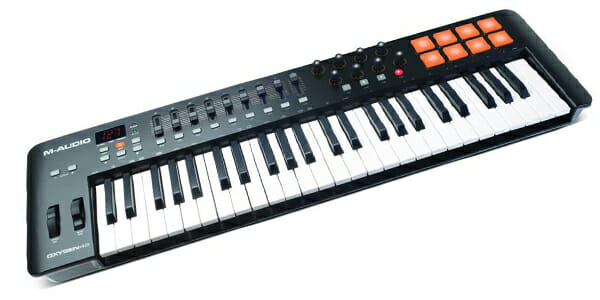 M Audio Oxygen provides a performance-friendly keyboard with a drum pad. The keys of the piano are ultra-sensitive and also effective.
This piano has multi portability and hence it makes your stage performances easier. You can use this piano for any of your stage performances with ease. There are multiple settings in this piano that makes it a DJ board.
You can produce your music with multi-faceted drum keys and it adds rhythm to your music. They can be used for any of your parties too.
Cons
Might not be suitable for beginners
All those who are looking for a piano with a drum pad for a stage performance can get this at an affordable price.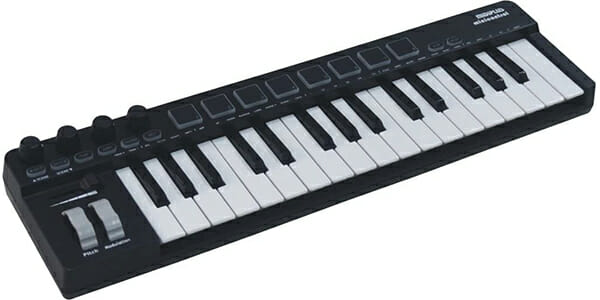 Midiplus is a decent piano with a drum pad for all the beginners. It has 32 keys and the drum pad consists of 16 sensitive keys.
The drum keys produce all kinds of dynamic beats. Hence, producing a complete concert of musical instruments. They are also velocity-sensitive.
The quality of the music produced is satisfactory.
Cons
Might not be suitable for professionals
At an affordable rate, you get all the necessary features you are looking for in a piano with extra dynamics.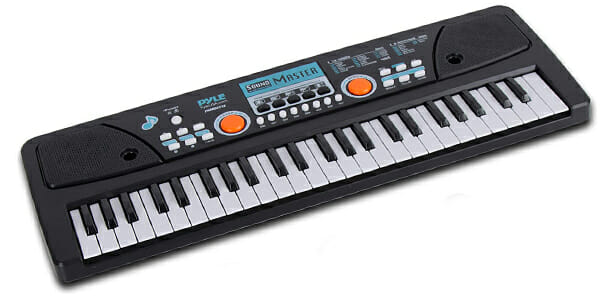 Pyle produces quality products for a long time. This particular electrical piano has a drum pad and is made especially for kids.
This keyboard has 49 keyboard keys and all of them are velocity-sensitive.
These keys are also attached to some preset piano tones to add joy to your kid's experience. You can add any instrument's sound by using this function.
The drum pad allows you to add drumming effects to your music. It has an aux audio interface and a record and playback mode as added perks to this piano.
The karaoke mode of this keyboard lets your children to showcase their singing talents too.
Pros
Multifunctional
Affordable
As a growing musician, your child needs to be provided with the best experience. This piano makes sure that your child grows in all aspects of becoming a pianist.
Frequently Asked Questions
Is it harder to learn drums or piano?
Every instrument has its difficulty in learning. It depends on one's interest on which would be difficult. Piano requires a lot of finger movements and coordination. While drums require a lot of leg and hand movements with coordination. Drums consume a lot of bodily energy than a piano. But the piano requires double the concentration required for drums.
Can you learn to play piano on a MIDI keyboard?
A MIDI keyboard is a piano styled electronic keyboard with other extra keys or drum pads in it. This can be used to learn a piano as it is very similar to a piano. If you can get a 88 key midi piano with hammer weighted keys, it will be enough for your piano classes. This will help you, master the art.
Which digital keyboard is most like a piano?
There are a lot of digital keyboards that are similar to a piano. Some of them are:
1. Yamaha Piagerro NP-12
2. Casio Privia PX-770
3. Roland RD-88
4. Yamaha CP88
5. Nord piano 4
These keyboards are digital and are very small like a piano with the effects as a piano too.
Can you learn piano on a midi controller?
A midi controller is usually a hardware or software that can produce the sounds of musical instruments in a digital format. You can learn piano with such devices too. The only requirement is that you need to understand the notes and the causes of production. You will be required to play at least once on a piano to get a clear cut idea.
Can I use my digital piano as a MIDI controller?
Yes, you can always use a Digital piano as a midi controller. The requirement for the same is a USB connection. With a proper USB connection, it becomes easier to connect your digital piano to other devices and makes it a midi controller.
How do drum practice pads work?
A drum practice pad is a portable and light version of a drum set. It produces all the sounds of the instruments in a drum set. They are very tiny and light. This feature makes it portable and also easy to play.  It produces all the sounds in its utmost perfection.
What's the best launchpads for beginners?
There are a lot of launchpads available in the market but here are some of the cost-effective ones.
1. Novation Launchpad Mini
2. Akai Pro APC Mini Ableton Performance Controller
3. Arturia minilab
4. Novation launchkey
5. IK multimedia iRig keys & iRig pads bundles
A pianist needs to know how to grab his audience with his music. Pianos with drum pads help them to add beats to their music. This is proven effective among the audience and hence, we hope that the above listed 6 Best Pianos With Drum Pads will help you choose to grab your audience.