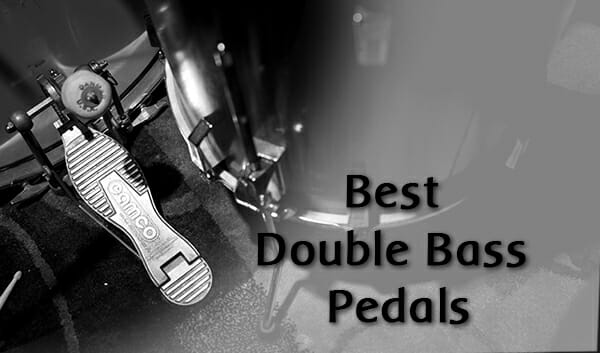 So you finally mastered the art of drumming. Great!
Or at least you are at the point of mastering. Along the way, you were introduced to several accessories for your drum set that will enhance your skills (and make your job a little less strenuous).
We are pretty sure at this point, you already know about bass pedals (particularly double bass pedals). If you are not sure about which one to choose for your music sessions, we have listed the top double bass pedals of 2023 and the features each one brings to your drum set.
Table of Contents
Top Double Bass Pedal Reviews in 2023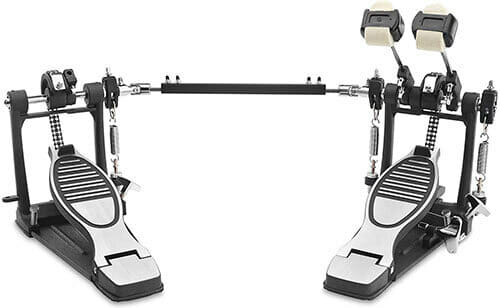 If you are just starting to use a bass pedal while drumming and need to practice to hit in the right beat with the right force (as too much force might damage the pedal), you can pick this piece.
And thus, you can experiment and practice without worrying about the money you've put in (as the price is relatively low).
This double bass pedal is a delight to use.
Both the pedals come with dual chains. The base plate is strong and intact enough to take your foot's blows when you practice.
The screws are too tight to adjust in the beginning but as the pedals get used more, the screws become rightly tight letting you adjust when needed. Sophisticated adjustments cannot be made, obviously for the price tag. But, you can adjust the pedal height and do other such basics.
Pros
Affordable price tag.
Additional beater.
Value for money.
Cons
Not for professional usage.
While just beginning to learn working with the bass pedals, spending too much doesn't really appeal to many. XDrums Pro is the most inexpensive beginner double bass pedal without settling to a cheap sound quality.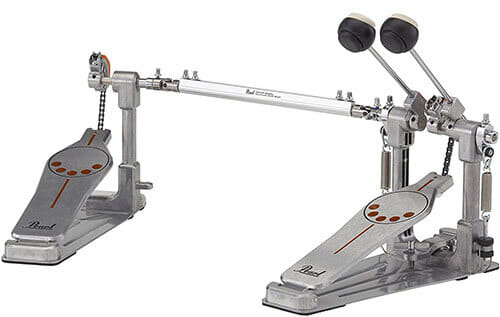 This double bass pedal comes with a single chain and is right footed.
If you are left footed, you can interchange and convert it as the design of both the pedals is almost identical.
The footboard is long (only those who could rarely find a shoe of their size know how relaxing it is to have a long footboard) and small footed people have the option to shorten the footboard. The design is slick and too good to come with this price range.
The pedals are light but that does not imply they are not sturdy enough. At first glance, you may feel they are not durable but that's not the case. You'll know it soon.
Though they look solid, they are not heavy and you can carry them out without breaking a sweat.
The task of assembling is actually easy and so are the (multiple) adjustments. The beater angle is not limited and hence, you are free to customize it according to the output you want. Power shifter cams are built-in making their movement smooth.
Eccentric cams can be removed and it is observed that on their removal, the playing seemed to take lesser power from the foot with an improved result.
The output is more than satisfactory. The pedals are quite responsive and with no noise.
Pros
Long footboard.
Powershift cams.
Light weight.
Easy to set up.
Multiple adjustments.
For professionals looking for a double bass pedal in an affordable price range, this is the one. The long footboard and unlimited beater angle adjustment are cherries on top.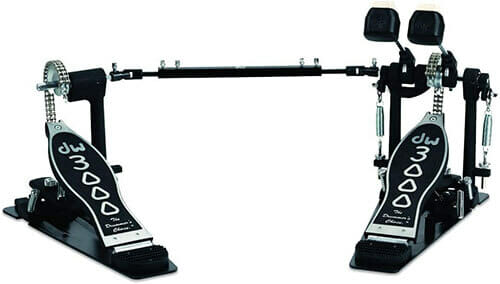 This double bass pedal comes with a dual chain which holds the pedal.
The 3000 series is a mid range pedal suitable for drummers with skill levels ranging from intermediate to pro.
It takes some adjustment and setting up before the pedal could flow smooth and fast. The pedals remain intact with your feet and do not take a lot of pressure to hit the beat.
The footboard is not ideal for big feet. The chain drive could also be hard for few drummers.
The base has a drum key that helps in adjusting the features. The key holder is not reliable.
The build quality is great and less complicated for you to dismantle and reconstruct when needed.
The base plate, shaft, beater and base frame are similar to those of other high end models. The sprocket is smooth for the price range. The hinge is noisier and is suitable for jam sessions and live concerts but not recordings.
Though this pedal's compatibility with an acoustic drum kit is good, it is better with an electronic drum kit.
The beaters are heavy and if you wish, you can replace them with light beaters. The heavy beaters' output is impressive, though.
You can customize the right pedal as you wish but the left pedal is not alterable enough.
The strokes and punches are as impressive as a high end pedal.
Pros
Solid dual chain.
Perfect for an electronic drum kit.
Smooth playability.
Cons
Tension spring cannot be adjusted.
Noisy hinge.
A mid-range double bass pedal for all drummers with a professional sound output and decent customization options. High-end quality with an average price tag.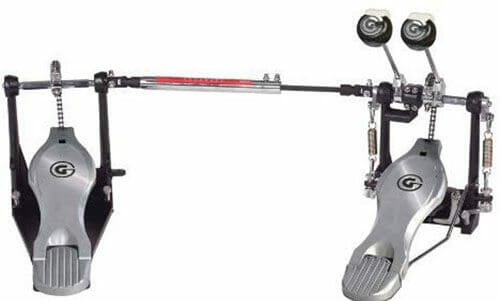 This simple and basic double bass pedal comes with a single chain, cam drive and steel rock stabilizer plates.
The cam does not require any adjustments and gives greater speed to the pedal.
The pedal board is of fast touch sleep board design and is comfortable for playing barefoot.
The slave pedal has a rock plate and instead of that, the master pedal is equipped with a radius rod. You can also swap the radius rod and rock plate between the pedals and it works just fine.
The dual surface beater is felt on one side and plastic on the other. You can opt for the one you need.
For beginners or for those who want to practice and improve working with a pedal, without many confusing options, this minimal double bass pedal is ideal.
The hoop clamp can be tightened or loosened with a drum key screw.
The twin stabilizer spurs support the velcro in holding fast to the carpet.
You can connect the master and slave pedal with the connector arm.
Pros
Cam need not be adjusted.
Easy to set up and use.
Good grip and no slipping.
Unique radius rod feature.
Cons
Customization is not vast.
Those who want a no mess double bass pedal with as little options as possible to avoid confusion can pick Gibraltar 5711 Double Bass Pedal without compromising on the sound quality.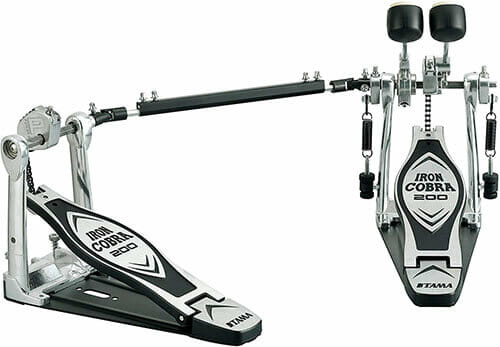 This set of double bass pedals are efficient and reliable.
The cam's weight is low resulting in an increased speed in the pedals' movement.
They are super sturdy and robust. So, no matter how hard you hit, there is no shaking or wobbling or damage. We don't tell you to deliberately hit hard, though.
The bottom of the pedal is wide enough but the screws to keep it steady in place (or to the carpet) are slightly loose. It is advised to fix them as needed.
Swivel spring tight reduces friction at the point of pedal's contact with the frame. The footboard moves faster as the spring moves in a linear fashion.
The lite sprocket which is a remarkable feature in other high end Cobra models is available in this moderately priced model too.
The pedal has a clamp to get hooked with the bass drum so that the pair remains intact and does not make a difference in sound because of unwanted movements. Rubber support increases the gripping power.
The shaft of the beater is long and you might want to replace them with the good old short beaters. Those who can get habituated to the long beaters easily work their way, though.
Pros
High end lite sprocket.
Tension spring adjustment.
Less friction, more reliability.
Cons
Not everyone prefers beaters with long shafts.
Iron Cobra 200 is a high end professional bass pedal you should get when you don't wish to shell out a lot of money.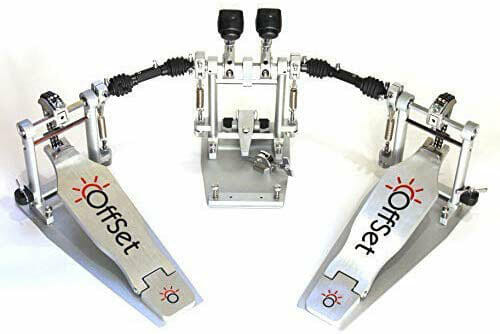 This pedal deserves a 10 on 10 in offering you the best and practical posture while drumming.
Usually, drummers through experience possess the ability to reach out to different parts of the drum kit located in different angles.
But let's admit it. At one point of time, we might have wished we could hit the drums without having to bend or twist in crazy angles.
This double bass pedals' standalone features include symmetrical pedal so that you can line up your bass drum, snare drum and the pedal comfortably. Therefore, you do not have to stretch your body to various positions to reach out to each. Everything is there, nice and in line.
That may not sound as a worthy benefit but when you get the comfort, you shall admit it by yourself.
It comes with a double chain but also has an optional direct drive version, which should be bought separately. The beaters are reversible.
The response and sensitivity are quite good because of quad drive springs. Each pedal's height can be altered individually.
These pedals are one of the largest pedals and are comfortable for both heel-up and heel-down techniques.
As the pedals are identical, master and slave pedals can be interchanged.
Pros
Perfect posture.
Identical and large pedals.
Middle pedal.
Cons
Clamps could have been better.
This double bass pedal's main motive aims at an unsung feature called 'better posture for drummers'. Getting identical pedals with this comfort in a suitable price range is amazing.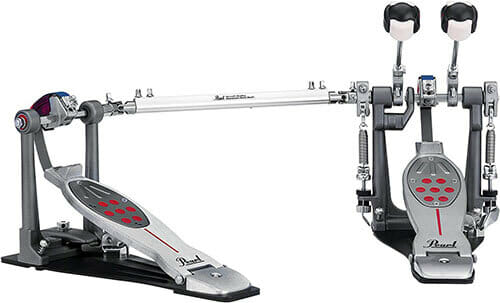 We are now moving towards checking out the high pricey models.
Pearl's P2025B Eliminator is equipped with 4 interchangeable cams. Because of their switchability, the pedals can be fine-tuned.
The chain (belt) drive is amazing and the feel is similar to that of a direct-drive system.
With many options, it is obvious that the pedals are customisable on many levels.
For a relatively high price you put in, the footboard is long and can be adjusted and the construction of the pedals is neat.
The bearings are neither too light nor too heavy. Click-lock spring adjustment is intact.
The beater has 4 surfaces (2 of felt and 2 of plastic) with a central core elastomer center.
The pedals come with a case that has pockets to hold tuning keys.
As the entire set is strongly built, you can take it around to your tours without worrying about any damage. The pedals can take any kind of rough handling.
If you are a pro and crave for a lot of options to choose from, your jam with this double bass pedal is going to be fun. Beginners and intermediate players may get confused, though. They are advised to not panic by clicking them randomly but to go with the default settings first and check each option taking time.
Pros
Quad-beater.
Belt drive.
Admirable construction.
Smooth sound quality.
Cons
Too many options, well, not a con if you are a pro.
A real professional, high end double bass pedal with countless options and cool construction.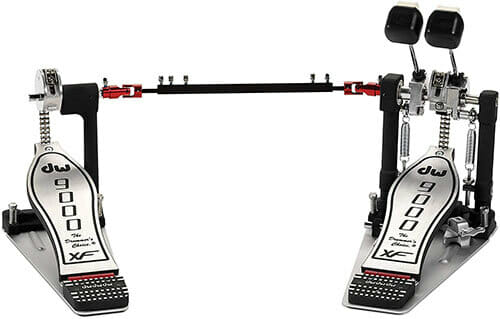 Another high pricey piece in this list.
The set comes in a case/bag that lets you carry it around. You can disassemble and pack up. Assembling is easy as all the bolts and screws are smoothly stiff.
Toe stoppers, non-skid rubber pads, allen wrenches are provided.
Nylon straps are provided while the chain straps are mounted to the pedals.
Every part moves independently because of the detailed construction. The backward springs are filled with soft material to prevent noise.
The beaters can be adjusted at any angle desired. Pedals' height can be adjusted independently without adjusting the chain. The chain's level of contact can be adjusted.
The cams can be adjusted easily and infinitely and you can switch from Accelerator to Turbo-style sprockets.
Rubber grip base plate increases the stability of the pedal.
Both the master and slave pedals are equally smooth but the master pedal is more responsive than the slave. Therefore, we do not advise you to interchange them but you can try if it is mandatory.
The speed is awesome and you can increase the BPM without  worrying about accuracy.
Sound quality is top notch as there is no noise or squeak.
The pedal's long footboard along with the professional output and quality is what all tall drummers out there are looking for.
Pros
Long footboard.
Adjustable chain and cam.
Nylon strap alternative.
Easy to assemble and disassemble.
Cons
Slave's little lag compared to the master.
For professionals, this pedal is apt with rightly needed options and in providing value for money.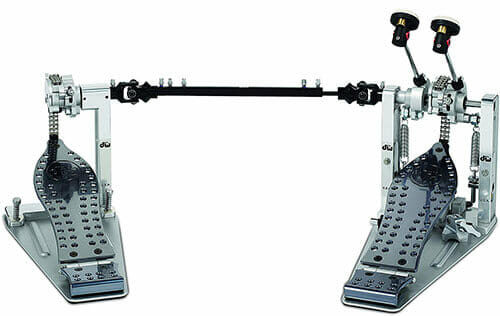 Yes, we know that's a lot of money to put in. But remember, you are not just paying for it but investing in a solid double bass pedal to give that glory to your drum kit.
Its shout out features include Vertical Sliding Tension Adjustment and Tri-Pivot Swivel Toe Clamp.
The bearings are threaded and finely made.
The sprocket-less cam can be adjusted through Lever Drive Adjustment in such a way that you can switch from one position to the other swiftly.
The footboard is perforated and of high grade aluminum and the heel plate is contoured.
The pedals are of equal height and the slave when interchanged with a master makes no difference in the output.
The beaters are sensitive to impact just like the touch feature in keyboards.
The sound quality and the response are ultimate and worth every penny. Your feet and the pedals stay glued to each other cozily.
You can start playing right away with the default set up.
This is the slickest pedal you can get your feet on.
Pros
Sprocket-less cam.
Cozy footboard.
High grade construction.
Super strong and reliable.
Cons
Not everyone likes a perforated footboard.
Professionals looking for a marvelous double bass pedals without compromising about the cost can pick this and add that elegance to their drumming.
Frequently Asked Questions About Best Double Bass Pedals
Why should I consider getting a bass pedal?
Because it eliminates the job of hitting the bass drum exclusively plus giving work to your feet is fun.
How long does it take to get habituated to use the pedals?
It depends on how long you practice with them. Usually within a few weeks your skills become decent enough.
Should I b3. Is it worth spending a lot of money on the double bass pedal?uy a pedal with more controls or fewer controls?
Just like we said before, if you are a professional and want the best, you are making an investment more than a purchase.
How is a double bass pedal different from a single bass pedal?4. Which pedal can help me with noise-free operations?
Well, in brief, a double bass pedal is double the fun and quality of a single bass pedal. You can use the master pedal of a few double bass pedals as a single bass pedal too.
Do all double bass pedals come with a case/bag?
No. Please check with the seller as few economic pedals are not given with a case. However, most high end models come in a case.
Why are long footboards preferred?
Not only tall people but everyone like long footboards as they provide a sweet spot to try out heel toe techniques thereby encouraging your skills.
We hope you found your 'one' from the above. You can start from a beginner model and upgrade to higher ones as time passes by or you can pick a high end one and make it your permanent bass pedal. Set your pedal and hit the groove. Happy drumming!