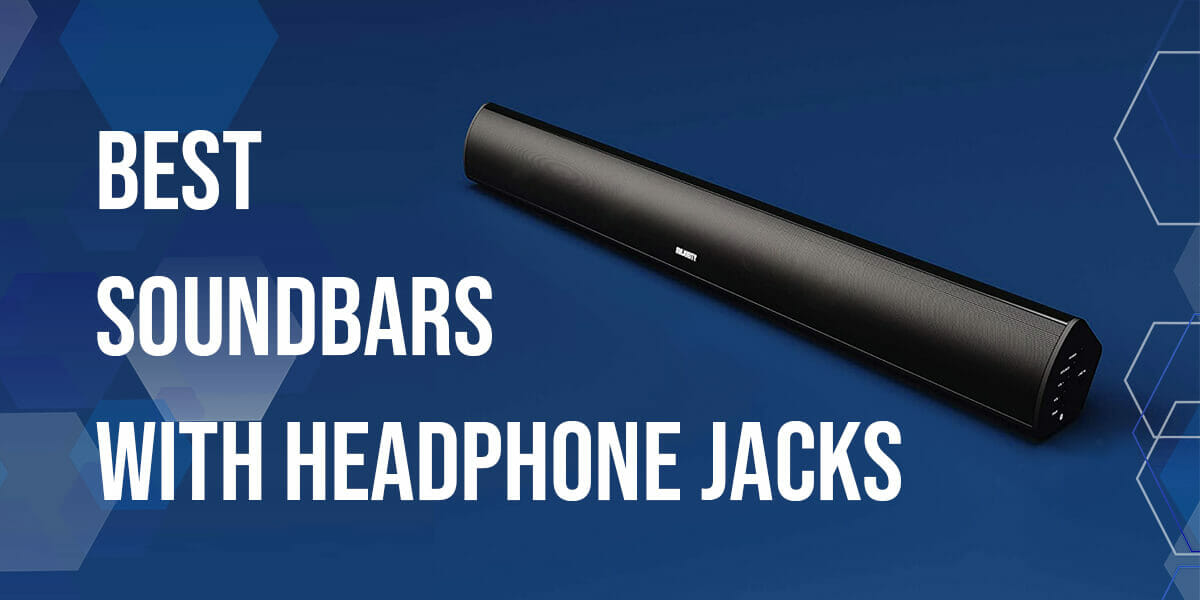 Soundbars are generally used to upgrade your TV's audio performance. Soundbars with headphone jacks can be useful if you want to hear the audio through your headphones.3.5 mm audio ports in soundbars can also be used as headphone jacks.
There are many affordable options for soundbars with headphone jacks which deliver good quality sound. Given below are the 6 best soundbars with headphone jacks.
Table of Contents

The TCL Alto 5 2.0 Channel Home Theatre Sound Bar is a budget friendly and good quality soundbar. It has a very sleek and slim design which does not take up a lot of space. It is compatible with most televisions and can be connected through HDMI, AUX or optical inputs. There is also a 3.5 mm audio jack which you can use to connect headphones. It is easy to set up and comes with wall mounts, an instruction manual, and other necessary accessories.
There are 3 sound options for movies, music and news. The soundbar connects to a wireless subwoofer. The sound is crisp and clear with good middle and high frequency response. The sound is also distortion free. It comes with a wireless Bluetooth feature which you can use to stream music from your phone or any other device.
Pros
Good sound quality
Compact design
Easy setup
Wireless Bluetooth
Affordable
If you want a good sound experience without breaking your budget, this soundbar is the perfect option.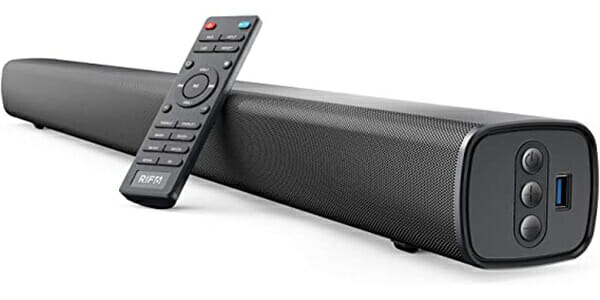 The RIF6 35 Inch Home Theatre TV Soundbar is a very affordable soundbar with various features. It has 4 speakers including 2 built in subwoofers for enhanced bass. It is a lightweight and slim soundbar which easily fits in any narrow space. You can also mount it with the help of the mounting kit. It has plenty of connection options so you can choose the best one for your television.
It comes with an LED display which shows the volume level. It also comes with a remote which can be used to control all the features and functions. The bass and treble levels of the sound are adjustable. You can pair any device of your choice with the wireless Bluetooth feature. You can also listen to digital music files through the USB connection.
Pros
Affordable
Adjustable sound features
Easy setup
Many connection options
Bluetooth and USB
Cons
Bass could be better
Not suitable for big rooms
This soundbar has a very minimalistic and compact design. It is a good tool to enhance your TV audio.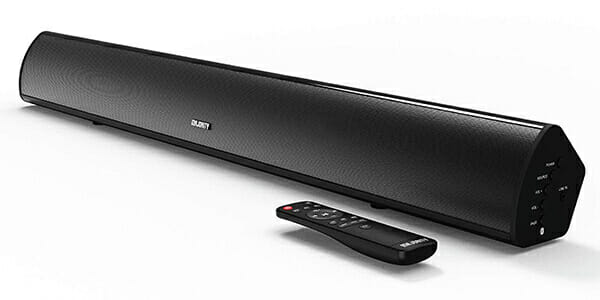 The Majority Taton 32 Inch 2.1 Channel Bluetooth Soundbar is one of the most economic sound bars available in the market. It comes with a 3 year warranty. The packaging is done very well with appropriate cushioning for the soundbar. It comes with instructions that are clear and easy to follow. The mounting process is also very simple. The soundbar has every possible connection option including a 3.5 mm audio jack which can be used as a headphone jack.
You can easily connect to your phone or laptop through the wireless Bluetooth feature. It can even connect to Bluetooth enabled Alexa. The connections are colour coded with the LED display showing a different colour every time the connection changes. It has different sound preset options for movie, dialogue and movies.
Pros
Very affordable
Wireless Bluetooth
Sleek design
Sound preset options
The design of the soundbar is appealing to the eye and it performs surprisingly well for the price.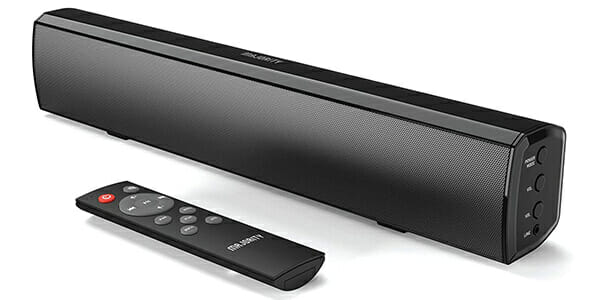 The Majority Bowell Small Soundbar is a mini soundbar notable for its sleek and compact design. It is neither bulky nor does it take up a lot of space. It is well packaged and comes with all the connection cables required to set it up. It comes with a remote to adjust the different sound settings. You can also control the functions through the buttons arranged on the lateral side of the soundbar.
This soundbar is a very good replacement for the inbuilt speakers in the TV. It elevates the sound quality and makes it clearer and louder. It can receive audio through Bluetooth and play mp3 files through USB. The soundbar is very useful for people who have small spaces for sound setups.
Pros
Very compact
Very affordable
Easy setup
Satisfactory sound quality
Cons
Does not come with HDMI connection.
Although this soundbar might fool you with its small size, it delivers really audible and clear sound.

The Bose Solo 5 TV Soundbar is a very premium and well built soundbar which features modern technology. There are two buying options – one which includes a mounting kit and one which comes with the soundbar alone. It has a very elegant design which compliments every television. It comes with a universal remote with which you can control every function including the bass level.
It has voice enhancement options which make the TV dialogues very crisp and clear. The sound has a nice dynamic range with plenty of bass. You can connect to smart TV's with the wireless Bluetooth feature. It has an auto shut off feature where it shuts down automatically after a period of inactivity. The speakers are slightly angled towards left and right for proper sound transmission.
Pros
Good dynamic range
Easy to operate
Easy setup
Wireless features
Good connection options
Although it a more expensive soundbar, the sound is a clear demonstration of its quality.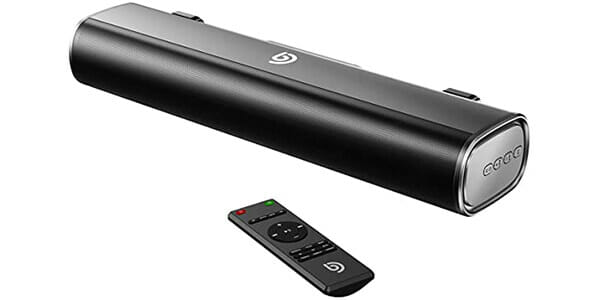 The Bomaker 50 W Soundbar is a very versatile and functional soundbar. It has plenty of input options with wired and wireless connections. It comes with all the essential cables and tools for operation. It is very lightweight and portable with a simple installation process. It is also very suitable for televisions and computers and helps in boosting the sound.
The sound is clear and has well balanced frequencies. This soundbar comes with two passive bass radiators instead of subwoofers but there is still a sufficient amount of bass. There are three equalization options which you can control using the remote. You also have control buttons on the end of the soundbar. It is also suitable for gaming stations and can contribute to a more lively gaming experience.
Pros
Versatile features
Compact size
Good sound boost
Affordable
Easy setup
This soundbar can give your TV or computer the appropriate boost it needs.
Frequently Asked Questions
Do soundbars have a headphone jack?
Many soundbars offer the option for connecting a headphone but they do not directly provide a jack specially designed for headphones. Many soundbars come with coaxial, aux or 3.5 mm audio inputs which can be used to connect headphones. You can also make use of the dual RCA inputs present in some soundbars.
How do I connect my headphones to my soundbar?
Here are a few ways you can connect your headphones,
1. You can connect your headphones to the 3.5 mm audio jack if your soundbar provides one.
2. You can connect your headphones to an AUX input with the help of a headphone amplifier.
3. If your soundbar has an RCA input you can purchase an RCA to 3.5 mm adapter to connect your headphones.
Is it better to connect my soundbar with HDMI or Optical?
HDMI is the preferred connection option for most people since it can pass higher resolution audio. HDMI connections are also simpler to set up. It is also the universal cable choice and most of the modern televisions have this option. Optical cables also produce good quality sound. There can even be a few digital optical cables that work better than HDMI cables.
How do I connect my soundbar to my aux?
Many soundbars have aux inputs to allow connections to other audio devices. You can use aux inputs to transmit sound signals. First you need to get a good quality aux cable if it does not come with the soundbar. You can also connect the TV to your soundbar using the 3.5 mm aux connection option.
Can you connect a soundbar with USB?
There are many soundbars in the market that offer USB options with which you can play music files. If your soundbar does not have a USB feature, connect your USB to the TV. Then you can connect your TV to the soundbar using an optical or HDMI cable. If this doesn't work there are always affordable options for soundbars with a USB connection option.
Conclusion
Soundbars with headphone jacks can be a little tricky to find especially if you don't know which input can be used as a headphone jack. To make your search easier we have made a list of the best soundbars with headphone jacks.